Top 10 nightlife moments in New York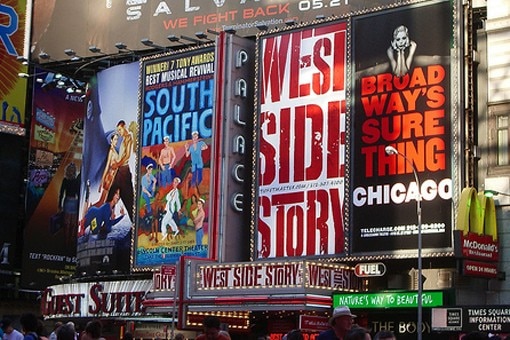 Broadway shows, innovative dance performances, or sizzling live jazz – you can pick a different experience every night in New York. See the city shine under its bright lights with this guide to the best of New York City nightlife.
Take me out to the ball game
Summer is baseball season in New York, and the New York Yankees host night games in their new stadium. A 30-minute subway ride to the Bronx puts you right in the stands with a hot dog in your hand.

River Avenue at 161st Street, Bronx.


Laugh out loud at a comedy club
Come and laugh at the clubs where Jerry Seinfeld, Jay Leno and Jim Carrey got their starts. Comic Strip Live and Caroline's on Broadway are two of the best clubs in town where you might even catch one of tomorrow's stars.



City lights from the top of the Empire State Building
There's something about seeing New York City from 102 floors up. Time your visit just as the sun sets, and see a dazzling display of color and movement in the city below.

350 Fifth Ave., at E 34th St.


New York elegance at the Café Carlye
For a classic New York evening out, it's hard to top a perfect martini and a performance at the sophisticated Café Carlye. The discreet club with its colorful murals has hosted stars like Eartha Kitt and Ute Lemper. Be sure to buy tickets in advance.

35 E 76th Street, between Madison and Park Avenues.


A sunset Cruise on New York Harbor
The New York skyline is reflected in the New York Harbor waters on the Circle Line sunset cruise. The boat sails past the Statue of Liberty, then up the East River under the arches of the Brooklyn Bridge.

Pier 83 at W 42nd Street.


A night on Broadway
There's nothing quite like seeing a live Broadway show. The opening overture pulls you into a performance embellished with lavish sets and creative costumes. Expect to be transported into another world.



Jazz at the Village Vanguard
The "Carnegie of Cool" resonates with the innovative sounds of modern jazz at this famed club. Its warm acoustics provide great sound, and you can see the stage from every seat in the club. Best of all, on weeknights you can wander in when the club opens and still get a good seat.

178 Seventh Ave., between W 11th and Perry Streets.
A Hollywood premier at the Ziegfeld
With its chandeliers, crimson décor and stellar sound system, the Ziegfeld is the place to see the newest films. The vintage movie palace even hosts the occasional red-carpet openings and galas.

141 W 54th St., between Sixth and Seventh Avenues.


Dress up and dance at Cielo
The Meatpacking District sizzles at night with its über-chic restaurants, hip bars, and trendy clubs. One of the hottest spots to get down with the latest techno sounds is Cielo. Soak up the grooves on its sunken dance floor, or sip cocktails and watch the nightly stream of beautiful people.

18 Little W 12th St., between Ninth Avenue and Washington Street.


A Classical Concert at the Lincoln Center
With its huge plaza and soaring fountain, this modern temple of performing arts hosts jazz, dance and music performances as well as seasonal festivals. But it's a stirring classical performance by the New York Philharmonic orchestra that will live in your memory.

W 62nd Street to W 66th Street, between Sixth and Seventh Avenues.