Top 10 Thanksgiving holiday destinations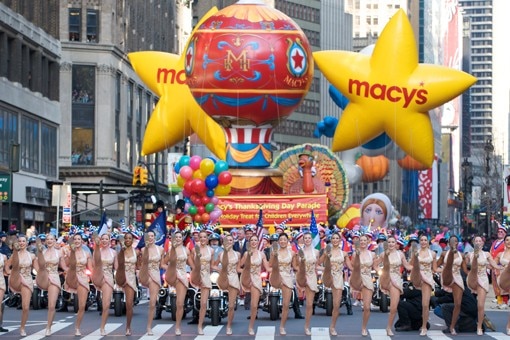 Whether you're looking for a traditional turkey dinner or a break from the cold, our guide to the top 10 Thanksgiving holiday destinations will help you find a hotel just right for your Thanksgiving getaway.
Relive Thanksgiving's beginnings in Plymouth, Massachusetts
Englishmen bake cornbread and Wampanoag Indians carve canoes at Plymouth Plantation, where Puritan settlers and Native Americans celebrated the first Thanksgiving. Besides walking through the 17th-century village you can dine on turkey, board a replica Mayflower ship and see Plymouth Rock.

See all hotels in Plymouth


Parades and shopping in New York
Giant balloons soar overhead, marching bands fill the street and Santa rides into Manhattan at Macy's Thanksgiving Day Parade. The procession can only be topped by the city's window displays, decorated with animatronic elves and shiny new toys for good girls and boys.

See all hotels in New York


Texas-sized celebrations in San Antonio
More than 200,000 lights brighten the River Walk at San Antonio's Holiday River Parade Lighting. Visitors watch a procession of illuminated boats on the San Antonio River heralding the start of the American holiday season.

See all hotels in San Antonio


Traditional dinners in Colonial Williamsburg
Dig into roast turkey and sweet potatoes at taverns throughout Colonial Williamsburg. Adorned with candles and evergreen sprigs, this Virginia town gives a taste of America's earliest days, with authentic blacksmithing, wig-making and costumed revolutionaries lobbying for independence.

See all hotels in Williamsburg


Working off the turkey in Dallas
America's largest Thanksgiving Day road race, the Turkey Trot welcomes 30,000 runners to Dallas to run off a few calories before the holiday feasting. Afterward football fans watch a Dallas Cowboys football game or visit Thanks-Giving Square, with artwork that encourages gratefulness.

See all hotels in Dallas


German markets in Chicago
After the Thanksgiving Parade the nation's largest German Christmas market opens, with wooden booths, glass ornaments and German carolers. Merry-makers snack on sausages and pretzels before visiting the window displays on Michigan Avenue, filled with prancing reindeer and festive lights.

See all hotels in Chicago


Embracing the cold in Vancouver
Give thanks for winter in Vancouver, where a long holiday weekend provides an excuse to reserve a hotel room and hit the slopes. Grouse Mountain offers skiing, skating and snowshoeing and the romantic Whistler Mountaineer train leads to snowy Whistler and Canada's most dramatic alpine skiing.

See all hotels in Vancouver
Sip cranberry margaritas in Mexico
Exchange your turkey dinner for frozen margaritas at a palm-lined beach in Mexico. Cold weather-weary Northerners take advantage of the long Thanksgiving holiday to escape to Caribbean resorts in Cancun and Cozumel and explore Mayan history at Chichen Itza.

See all hotels in Mexico's Yucatan


The mother of malls in Minneapolis
Thanksgiving ushers in the holiday shopping season, and no place says shopping like the Mall of America. 400 stores tempt gift-givers with fur coats, jewelry, chocolates and the latest toys. If you need a break, entertain yourself with miniature golf, an aquarium and Nickolodeon Universe, a full-size amusement park, all under one roof.

See all hotels in Minneapolis


American history in Washington DC
Celebrate the American holiday in her capital, Washington DC. Dine on turkey and pumpkin pie at 1789, a Federal house turned restaurant in Georgetown. Red brick houses and cobbled streets conjure up images of stocking-clad men arguing for independence. When the feast is over, see American history come to life at the Smithsonian Institution.

See all hotels in Washington
Discover
Find your perfect holiday in Plymouth
From 10 hotels.