Hanoi Sightseeing Guide - Visit notable attractions and landmarks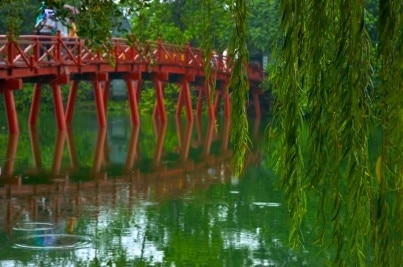 Visitors to Hanoi will be able to spend several days taking in the sights as there are a wide range of different things to see and do including world famous museums, temples and parks.
The people of Hanoi are deeply religious and a large number of stunning temples and shrines can be found here as well as interesting and informative museums. Those with a thirst for knowledge can learn all about the ethnic people of Vietnam at the Museum of Ethnology. While the Temple of Literature provides an interesting insight into the city's culture.

The former revolutionary leader Ho Chi Minh is still highly revered here and there are a number of memorials to his greatness such as the Ho Chi Minh Museum and Ho Chi Minh mausoleum.


Museum of Ethnology
Popular with visitors who want to learn about the 54 ethnic groups that live in Vietnam, this informative museum features displays of artifacts as well as photographs and videos. The Museum of Ethnology is located in the Cau Giay district and can be reached by taking bus number 14.


Ho Chi Minh Museum
Dedicated to Ho Ch Minh, the Ho Chi Minh Museum is a great pace to learn all about the former great leader as it features photos, letters and diary pages relating to his life. This museum is located on Ngoc Ha Street and can be easily reached by bus or taxi from most parts of the city.


Temple of Literature
Founded in the 11th century by Emperor Ly Thanth Tong, the Temple of Literature was once the most holy residence of the disciples of Confucius. Visitors will find several small buildings here and a series of walled courtyards, and visitors can get here by asking a taxi driver to take them to Van Mieu.


Ho Chi Minh Mausoleum
Located in the centre of Ba Đình Square, Ho Chi Minh Mausoleum contains the embalmed remains of Ho Chi Minh. Known affectionately as 'Uncle Ho', people travel from all over the world to pay their respects to the former leader.


Hoan Kiem Lake
This pretty park is located in the very heart of Hanoi and can be reached by taking a short walk from the Old Quarter. A favorite leisure spot with local people, this is a good place to relax and unwind for a while.


Hanoi Water Puppet Theater
Located on the northeast bank of Hoan Kiem Lake, the Hanoi Water Puppet Theater is one of the city's most popular indoor attractions. This is the ideal pace to learn about the ancient art of water puppetry and hear tales told by the talented puppet masters.


Hoa Lo Prison
Known locally as the Hanoi Hilton, this 20th century prison can be found in the Hoan Kiem district. Open daily, this is the site where the French imprisoned and executed a large number of Vietnamese freedom fighters.