Osaka Shopping Guide - Find where and what to shop and buy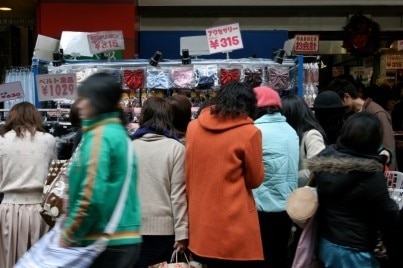 Shopping is what Osaka does best. It has an absolute huge collection of malls and arcades, many of which are set underground to keep the heat off of shoppers. Electronics and clothing items are the most popular buys and you can find some good bargains in the height of summer and winter low seasons
Along with Osaka's main flashy malls and arcades are loads of markets where a large selection of Japanese fabrics and second-hand items can be had. There are also some good deals in quality, traditional and modern Japanese furniture, while many outlets have traditional Japanese toys and dolls.

The emphasis in Osaka is firmly on trendy fashion boutiques and electronics stores, however, and the American Village (America-Mura), in Shinsaibashi, has a bit of everything and is fun for people-watching.


Shinsaibashi
Shinsaibashi is the top shopping spot in Osaka, with its blend of department stores and boutiques and you can pick up items at all price ranges. The busiest area in Shinsaibashi is the American Village (Amerika-mura), a popular shopping and dining area covering seven square blocks and featuring all sorts of ethnicities and associated shopping. The Shinsaibashisuji Shopping Center is also here.
Shensekai
People come from far and wide to shop at Shensekai, which appeals to those after the latest electronics items. There are scores and scores of shops selling all types of items, although prices are not mouthwateringly cheap and you'd be better off buying that new laptop at home. Side attractions in the 'New World' include the Festivalgate amusement park and the Tsutenkaku Tower.


Umeda
Umeda is a bit of an expensive shopping area of town and is particularly favored by the trendy, moneyed crowd. There are several underground malls and arcades here, including the popular and chic, yet expensive, Hep Navio and Hep Five. There are also cheaper shops here with everyday items that are best visited in the week.


JR Osaka Station
Beneath this busy station is a massive network of underground malls from where you can get some of the latest fashions down to secondhand gear. It is especially good for music and fashion and also has a ton of cafés.


Tenjinbashi-suji
This must-see, covered shopping street is the longest and straightest of its type in Japan, measuring a huge one and a half miles north-south. It has every type of shop imaginable and also comes with a fair amount of eating. Get here via JR Station.


Namba
Namba is a less high profile shopping area, though nonetheless has a vast amount of options. There are plenty of shopping arcades to gawk at as well as a bunch of bars, like the city's Hard Rock Café. The Swissotel Nankai is also located in Namba.


Tachibana-Dori
Those after some stylish furniture for export should take a look along Tachibana-Dori Street, which is another covered arcade with some of Osaka's best furniture stores. It is also known as Orange Street, and although prices are somewhat marked up, it gives good insight into the types of furniture items available here.


Osaka shopping tips
When it's too hot in the summer and too chilly in the winter, make way to the underground and the warrens of arcades and malls. You won't find the best deals here, however, yet the scenery and comfort levels are good. When at the markets, be sure to bargain hard, even for the cheap, second-hand stuff. For chilling out, try America-Mura with its boutiques and people-watching.
Discover
Find your perfect holiday in Osaka
From 2600 hotels.