A Berlin city guide – sightseeing, partying, eating and hotels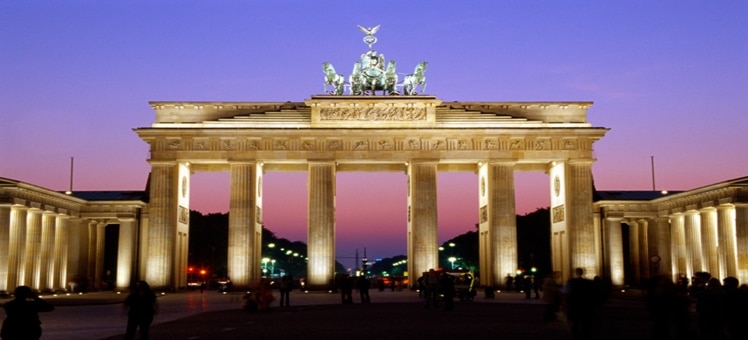 Full of glamor and grit, Berlin will captivate anyone in love with history, art, architecture, restaurants and nightlife. This multifaceted city has evolved into a vibrant and relaxed destination, where people come to unwind in the parks, party in the clubs or explore the city's history. Reinventing itself with the fall of the Berlin Wall this laid back city has broad appeal; snack on a Currywurst before watching an opera or dance the night away by the River Spree.
What to see and do in Berlin
Historical and rustic sightseeing opportunities can be found in the busy and dynamic capital of Germany. Berlin has a wonderful array of exciting attractions that have made their mark on the world thanks to Berlin's long history. Check out Mitte in central Berlin and come face to face with Brandenburg Tor and watch people take in the iconic picture through their viewfinders in the quintessential square. Head east and follow the Berlin Wall, taking in the East Side Gallery which displays around 105 paintings from artists all over the globe.
Where to eat in Berlin
Many cultures have permeated Berlin through food and today, Italian and Turkish foods remain to be the capital's best loved alongside authentic German cuisine. They remain popular with the locals and visitors alike as they take in the bratwurst and the currywurst in funky market halls and forgotten corners. Many hotels offer a luxurious dining experience in Mitte and in contrast cafes in Prenzlauer Berg are suitable for snacking visitors looking for local customs.
Where to party in Berlin
Berlin is known for its contemporary music and its obsession with electronic raving music throughout the scattered nightclubs in East Berlin. Kreuzberg and Fredrichstain are best for budget partying through the late nights and stumbling back to low budget hotels. For those looking for the gay scene, Schoneberg is Berlin's gay quarter with rainbow flags flapping against balconies of bars, clubs and cafes that line these quintessential streets.
Shopping in Berlin
Berlin is a shopper's paradise for visitors of all budgets. Explore the luxury department stores in KaDeWe and find the perfect extravagant item to bring back home to your family. Check out the flea markets around Berlin but the most famous and comprehensive is the Mauerpark Flea Market that has rows and rows of stalls all around the area. In the afternoons, you will be able to hear the sweet and enthusiastic crooning of karaoke from the amphitheatre in the middle. But if it's trendiness you are looking for, take a stroll past the dazzling River Spree and be pleasantly invited into the cool and calm courtyards of the shop fronts.
Where to stay in Berlin
There are different districts where a certain type of traveler may want to stay. For sightseeing visitors, Mitte has a wide variety of hotels along the River Spree to meet any budget type. For the partying visitor, Kreuzburg is recommended as many hotels are within walking distance from the nightclubs. For gay-friendly hotels, check out Schoneberg. Finally, for families looking to relax in the cultural capital of Germany, Prenzlauer Berg is the best district to enjoy breathable spaces and walking distances to sights.