A guide of where to eat and what to eat in Phuket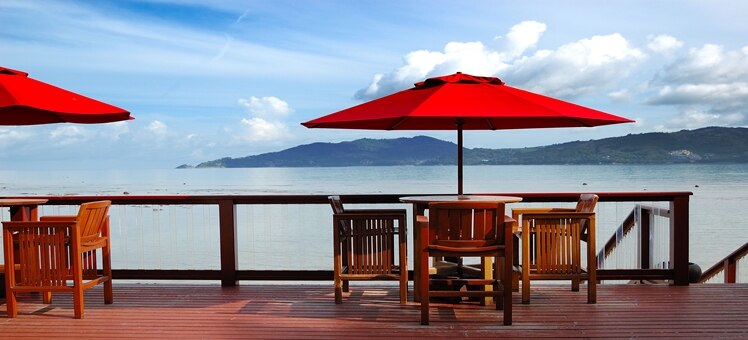 The island of Phuket is full of cosmopolitan food as a result of the booming tourist trade. Many visitors never returned home after setting foot on the island and have since set up restaurants and cafes catering to the taste-buds of their fellow travelers. Seafood is an obvious favorite on the island. There are many beachside restaurants and bars on the island that serve Thai food and are discovered through word of mouth. They're well worth a try; just ask a local for a good one!
Local food
: Try fried or boiled noodles with pork or chicken which is a staple food. Khanom Jin is a popular breakfast noodle served with a spicy curry sauce and fresh vegetables. A popular dish is Nam Phrik Kung Siap, which is dried chilies and smoked shrimps with fresh vegetables. Cashew nuts and pineapples are grown locally and eaten all year round.
West Coast
On the busiest side of the island, there are still quiet places to eat. The food is good, especially the seafood, however, it is the view that people come here for in the relaxed atmosphere. Perhaps the most well-known restaurant on the island, Baan Rim Pa provides the ultimate dining experience. Serving authentic Royal Thai food at its seaside location at Kalim Beach just north of Patong. Watch the sun set into the Andaman Sea with a cocktail; the best way to spend an evening here.
•
Baan Rim Pa
, 223 Prabaramee Road, Kalim. Tel: +66 7634 0789
North West Coast
In this laid back area of Phuket, restaurants are literally on the beach. Food is cooked either in tents on the beach, or nearby in homes. Decor ranges from brightly colored plastic chairs, to bamboo seats and tables. This is a great way to enjoy the beach in a different way. Western food and Thai food are both popular and cheap. The Coffee Club Café Bar and Restaurant at Turtle Village in Mai Khao Beach offers international and Thai food. Satisfy your cravings for Western food on all-day breakfasts, sandwiches, salads, pastas, cakes and coffee.
•
The Coffee Club Café Bar and Restaurant
at Turtle Village in Mai Khao Beach. Tel: +66 7632 4805
South East Phuket
Originally a thatched roof and sandy floored restaurant by the beach that was set up more than 30 years ago by a local family, recent renovations have produced a classy and chic setting right at the Chalong waterfront. Always a favorite amongst locals and expats, Kan Eang@pier, diners can choose live seafood from the tanks and have it cooked how they'd like. Thai dishes, BBQ and Japanese dishes are also served.
•
Kan Eang@pier
, Chalong Bay pier, Chalong. Tel: +66 7638 1212
Interior Phuket
DiVine serves an organic gourmet cuisine with many of the fresh ingredients coming from Thanypaura's organic farm at Khao Sok National Park with international dishes being served. Diners can sample some of the world's finest biodynamic wines with their meals. Enjoy the modern décor with lots of wood and warm orange lighting and the open kitchen, enabling you to watch your food being specially prepared for you. Sit outside during the dry season for beautiful views. Try the sea food Boston lobster if you're a sea food fan.
•
DiVine Restaurant
, Thanyapura Sports & Leisure Club (TSLC), Thalang. Tel: +66 7633 6000
Phuket City
A fun and inexpensive place to eat in town is The Natural Restaurant or 'Thammashadd' in Thai. It has a unique setting with innovative décor of plants, vines, waterfalls, sculptures, fountains, antiques, old radios and bicycles. The quirkier décor includes goldfish tanks in old televisions and computer screens. It has long been a favorite of Thai locals and expats not only for the ambience but also for the food. Try the deep fried soft skin crab, pork satae hot plate and fried tiger prawns with garlic sauce.
• T
he Natural Restaurant (Thammashadd)
, 62/ 5 Soi Phutorn, Phuket City. Tel: +66 7622 4287