A Seoul city guide – bright lights, tradition, street food, sky scrapers and shopping malls
A Seoul city guide – bright lights, tradition, street food, sky scrapers and shopping malls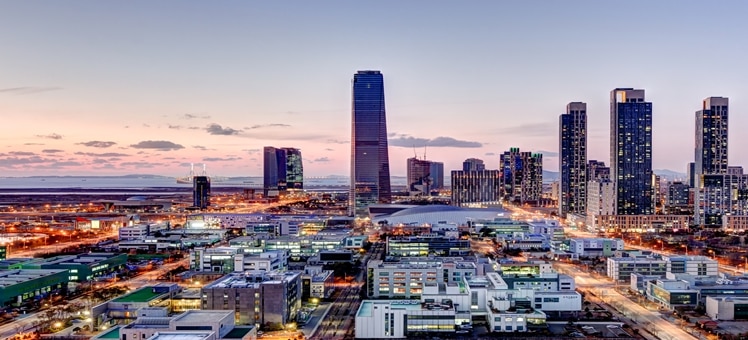 Welcome to Seoul. A vibrant amalgamation of the traditional and the modern. Teeming markets, street food stalls and historical architecture juxtaposed by bright lights, shopping malls and skyscrapers make the capital South Korea's number one destination. Seoul is easy to navigate with the Han River dividing the city into two main parts. Gangbuk, the more traditional and older side of the city, and Gangnam, which is south of the river and generally more affluent.
Historical architecture
Seoul has a long and extravagant history, much of which is reflected in the historical architecture that is scattered throughout the city. As the home of the Joseon dynasty (which lasted from the 14th to the 19th centuries), the city holds five grand palaces, all situated in the Jungno district. These are a must see for any history enthusiast - all beautifully extravagant in their own way.
Natural surroundings
Namsan Mountain and the surrounding park is a beautiful landscape from where you can view the whole of the city. Ride the Namsan Cable Car to N Seoul Tower for wonderful views or reacquaint yourself with nature with a short trek round the park. For a proper hike take a trip to Bukhansan Mountain, the highest mountain in Seoul, with a rich history and culture. The Han River runs through Seoul and boasts walkways and cycling paths for much of its length - a perfect afternoon treat.
Museums
Visitors flock to the National Museum of Korea all year round. Admission to the museum is free and is well worth the trip. There are over 13,000 relics on show to the public at any given time so the best way to approach this mammoth museum is floor by floor. The third floor features Asian sculptures and ceramics, the second, paintings and artwork and the first floor is home to archaeology and history, with some of the artefacts dating back to the 14th century. For those interested in the arts look no further than Seoul Museum of Art (SeMA), a modern art museum popular with permanent residents and visitors. It boasts six exhibition halls, a lecture hall and a library. Renowned exhibitions are held twice year, with previous years boasting the likes of Picasso, Van Gogh and Matisse.
Festivals
Everyone loves a good festival! Hi Seoul Festival is the biggest street festival in the city. 2013 marks ten years since the festival began and it's only getting bigger! It starts at Han River Park and makes its way down to downtown Seoul. It takes place during the autumn period over five days and features performances and activities suitable for the whole family. Why not try the Seoul International Fireworks Festival for a display that will light up your life? The festival features a multi-media display of music, fireworks and a water screen. People of all ages will enjoy this show.
Discover
Find your perfect holiday in Seoul
From 1600 hotels.