Where to eat in Sri Lanka - a food and dining guide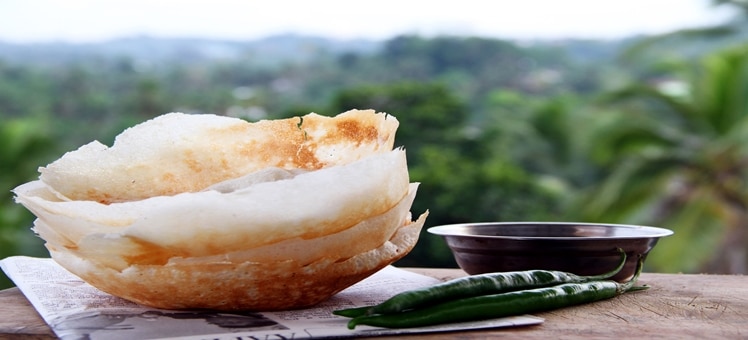 Not for the faint hearted, Sri Lankan food is a gastronomic explosion of fiery spices and flavors. As a result of its dynamic colonial past, the cuisine is a colorful blend of global cooking styles. While strong influence draws from the fare of its Indian neighbor, traces of Portuguese, Dutch and British culinary favorites are woven into its style, creating one of the world's most dynamic cuisines.
The staple dish of Sri Lanka will normally consist of rice and curry, infused with an aromatic blend of spices and a generous serving of chili. While the spices used in cooking are similar to that of Southern India, Sri Lankan's add their signature by incorporating a number of local ingredients, such as Maldive fish or coconut. The cuisine can also vary depending on the region, with coastal towns or hill-top villages producing some localized dishes unique to their area.
Dining in Colombo
By far the best place for eating out, Colombo is Sri Lanka's number one city for foodies. A vast selection of restaurants offer all sorts of cuisines from around the world, yet the best place to get a flavor for the local fare is at the smaller independent eateries. Sample some of the national dishes such as string hoppers, roti or kiribath, or opt for smaller snacks and quick eats from a mouthwatering selection of pastry stalls and cafes. The Lagoon is one of the top places to go in Colombo for seafood, and the man-made lagoon makes for a great view while waiting for your dish to arrive.
•
The Lagoon
, 77 Galle Road, Colombo 3, Cinnamon Grand Colombo, Colombo 00100, Sri Lanka. Tel: +94 1124 97371
Dining in Kandy
Distinct in flavor, Kandyan food features dishes such as Kavum or Kokies, and is popular for its signature sour fish curry called Ambul Thiyal. A selection of cafes in the centre of town offer quick snacks and savoury eats, while hotels usually cater for both Sri Lankan and Western tastes. Helga's Folly is the perhaps the most unique option, offering delicious fusion cuisine in a bizarre and colourful setting.
•
Helga's Folly
: 70 Rajaphilla Mawatha, Kandy. Tel: +94 81 2234 571
Dining in Galle
As the island's European gem, Galle is famed for its cafe culture and high-end eateries. For Sri Lankan fine dining, try the top boutique hotels such as Amangalla or Galle Fort Hotel Restaurant, which serve up delicate mango salads or sumptuous Thai curries with yellow fin tuna. Thanks to its situation right on the south coast, the seafood is fantastic in Galle – particularly at the vibrant beach bars and restaurants on the seafront.
•
Amangalla
, 10 Church Street, Inside the Fort, Galle, Sri Lanka. Tel: +94 91 223 3388•
Galle Fort Hotel Restaurant
, 28 Church Street, Galle, Sri Lanka. Tel: +94 912232870
Dining in Jaffna
With stronger influence from Southern India, the food in Jaffna is distinct from anywhere else in Sri Lanka. Mutton and seafood are prominent ingredients in its cuisine – both of which are flavored with an aromatic blend of local spices. Regional dishes include Jaffna crab curries, Kool seafood soups and bone Rasam, which often feature on the menus at the traditional local eateries in the centre. Start your day with a delicious breakfast served on a banana leaf for true authenticity. Manattrii is the perfect place to try traditional Jaffna cuisine while Cosy Restaurant wins people over with its tandoori oven.
•
Cosy Restaurant
, 15 Sirampiyadi Lane, Stanley Road. Tel: +94 21 222 5899•
Manattrii
, 250 Palali Road, Kantharmadam. Tel: +94 21 320 7665
Eating Tips
At incredibly cheap prices, delicious fare can be found at street vendors for as little as one US Dollar. If you struggle with spicy food, don't be afraid to ask for food to be cooked using a lower chilli content - and when out at restaurants, look out for the western menu, which incorporates milder options. Although this might seem less authentic, it is a common request in Sri Lanka.
Discover
Find your perfect holiday in Sri Lanka (all)
From 4760 hotels.