Where to eat in Tokyo - a guide to cafes, restaurants and everything in-between
Where to eat in Tokyo - a guide to cafes, restaurants and everything in-between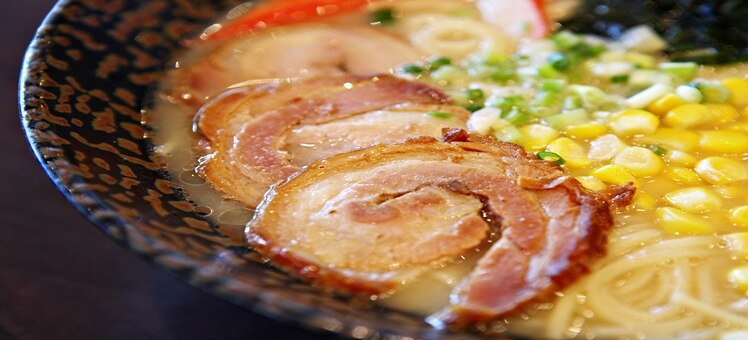 Tokyo is known as the city with the most Michelin star restaurants in the world, 17 of which have three stars. However, don't be fooled into thinking this is all Tokyo has to offer; it is a core of all foods from sushi to European influences of French and Italian and South East Asian food. Similarly to the range of food on offer, cafes and restaurants vary from being located above or below offices, in malls or on top of hotels.
Local food
: Sushi is huge in Tokyo, small pieces of raw seafood such as tuna and salmon are wrapped in seaweed and partnered with rice and vegetables. Tempura is another popular dish; prawns, fish and vegetables are covered in egg and deep fried in vegetable oil making a crunchy thin batter. Also try Sukiyaki, which is thinly sliced beef cooked at the table on hot plates with tofu and vegetables.
Anderson in Shibuya
Located in the area of Omotesando just outside of Shibuya is the Danish café, Andersen with floor to ceiling windows, making it a bright breakfast retreat. Steering away from the many American pancake places to eat breakfast, this café embraces the simpler things in life from eggs and bacon (or sausage) and refillable tea or coffee to fresh Danish pastries, not to mention the bread baskets that come filled with a dozen different varieties of bread.
•
Omotesando
, Minami-Aoyama 5-1-26, Tokyo. Tel: +81 3 3407 4833
Sushi Sawada in Ginza
As Tokyo houses a large majority of Japan's sushi restaurants, it is fair to say standards are high, hence why bookings are made months in advance. On the third floor of the MC building in Ginza is Sawada, a two star Michelin restaurant, owned by chef Koji Sawadsa and his wife. Six seats surround the minimalistic wooden counter where the use of plates and chopsticks are encouraged not to be used. Sawada believes in loosely packed rice and is generous with wasabi. His specialities include sea urchin roll and giant clam which are cooked to perfection.
•
M Building
, 3F. 5-9-19 Ginza, Chuo-ku, Tokyo. Tel:+81 3 3571 4711
Peter in Hibiya
In east Tokyo's Hibya district, situated on the 24th floor of the famous Peninsular Hotel is Peter; a modern and very trendy restaurant with a contemporary French menu which even gives you the novelty of putting together your own meal of up to five courses. Highlights are the grill and Sunday brunch. Coloured lights and metallic trees adorn the restaurants dimmed light mood, whilst floor to ceiling windows allow for excellent views across the city and Hibiya Park.
•
24F The Peninsular Tokyo
, 1-8-1 Yurakucho, Chiyoda-ku, Tokyo. Tel: +81 3 6270 2763
Dhaba India in Kyobashi
Indian food seems to be a lunch time buffet favourite. Highly regarded in the Kyobashi region is Dhaba India. The menu mainly consists of southern Indian food from Tamil and Kerala and is great value for the price. Authentic curries combined with light dosas distinctive flavor dominate the wide menu. Finish lunch with some expertly made chai. The no PC rule at the table along with little emphasis on the décor creates an atmospheric restaurant.
•
Yaesu 2-7-9
, Kyobashi, Tokyo. Tel: +81 3 3272 7160
Kush Garden in Chiyoda
Tokyo doesn't scream vegetarianism, although there are a few veggie only eateries. Near Takebashi station in east Tokyo is Kushi Garden Deli and Café, located on the ground floor of an office building. Casual dining and healthy eating are at Kush Garden's core. They also believe macrobiotic eating of staple foods and chewing thoroughly balances out over eating. Enjoy the veggie food in a pleasant surroundings decorated with potted trees which makes Kush Gardens a relaxing place to spend lunch.
•
Hiotsubashi
, Chiyoda, Tokyo. Tel: +81 3 3215 9455
Kyushu in Shibuya
Serving Kyushu cuisine along with eight specially chosen sakes and shochu (alcoholic beverages) from the southern island, Kyushu restaurant is one of Shibuya's best Japanese restaurants. Highly recommended on the menu is Kagoshima style tonkotsu, which is pork and daikon stewed in shochu and Nagasaki style sara udon with vegetables and meat, served over crisp fried noodles. The basement's lively atmospheric dining room has plenty of tatami seating and is open until 3am during the week.
•
Shibuya
, Kyushu, Udagawacho 17-2, Tokyo. Tel: +81 3 3463 0442
Discover
Find your perfect holiday in Tokyo
From 2410 hotels.