A Slice of Paradise - the Pristine Beaches and easy-going Charm of Punta Cana
A Slice of Paradise - the Pristine Beaches and easy-going Charm of Punta Cana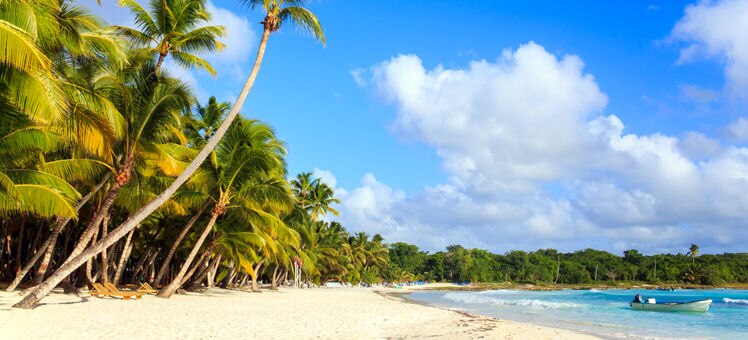 Year-round sun, powder-sand beaches, friendly locals, and tall rum punches: Punta Cana is the quintessential Caribbean getaway. Barely inhabited until the 1970s, it's a boomerang-shaped stretch of unspoiled coastline on the easternmost tip of the Dominican Republic. Beyond the world-class golf courses and all-inclusive megaresorts, there are deep waters to fish, jungle trails to explore, and 500-year-old cities to visit.
100 km of beaches
Nicknamed the Coconut Coast for its signature palm trees, Punta Cana runs from Cap Cana in the south to Bávaro Beach in the north. Seven other beaches lie between, their smooth white sands dividing vast hotel complexes from the turquoise sea. Even during high season, the beaches are uncrowded, and each has its own quirks and attractions. The barrier reef at Bávaro creates a shimmering lagoon that is perfect for casual bathing, scuba diving, and snorkeling. Less protected, Macao Beach attracts bodyboarders and surfers. Parasailers catch the warm breeze, and sun seekers always find what they're looking for.
A mecca for golfers
For golfers, there is no off-season in Punta Cana. It's a year-round destination for those looking to hone their swing in the sunshine. More than a dozen courses dot the region, each bunker, fairway, and dog-leg the work of renowned designers like Jack Nicklaus and Tom Fazio. Of the picturesque oceanside courses, Punta Espada is ranked by many as the best in the Caribbean. Set back from the coastal clifftops, inland courses like Cocotal Golf & Country Club blend in with lush Dominican flora.
Tropical adventures
Away from the beach, Punta Cana has plenty to offer thrill seekers, who can head out to sea or track back inland. Adrenaline junkies can swoop through the jungle canopy on a zip-lining excursion, or skim across the waves on a speed boat ride. Nature lovers might head south to see bottlenose dolphins and turtle sanctuaries at National Park of the East. Aquatic adventures include sea kayaking, coral reef dives, and swimming with stingrays. In season, deep-sea fishing trips take you beyond the shallows in search of blue marlin, mackerel, and swordfish.
500 years of history
Punta Cana's lavish developments are new arrivals in a country with a rich indigenous and colonial history and a distinctive culture. Founded by Spanish conquistadores in the early 16th century, the city of Higüey is a half-hour drive from the coast. Its most important monuments are ecclesiastical: the modern Basilica of La Altagracia (visited by Pope John Paul II in 1992) and the 500-year-old Church of San Dionisio. Day trips to capital city Santo Domingo, with its UNESCO-protected Colonial Zone, offer rich rewards for history buffs.