The Punta Cana Dining Scene - from Elaborate French Cuisine to Hearty Bean Stew
The Punta Cana Dining Scene - from Elaborate French Cuisine to Hearty Bean Stew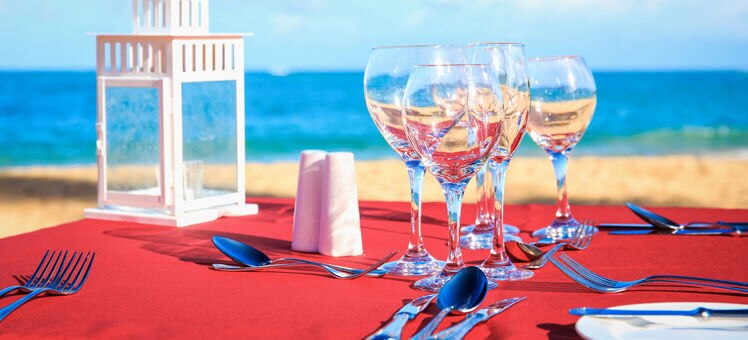 Most Punta Cana resorts have several restaurants and bars serving international food, so "dining out" may simply mean swapping a poolside terrace for a thatched beach hut. Don't leave without sampling traditional Dominican food, dished up in cheery, low-key joints up and down the coast.
Typical dishes
The local cuisine is starchy and colorful, with red beans, rice, and plantains among the staples. Try favorites such as mofongo (a fried-plantain dish) and chicharrón de pollo (fried chicken).
Resort restaurants: the best of
Foodies will find themselves hopping from resort to resort, sampling the inventions of top chefs in upscale spaces designed by the likes of Oscar de la Renta. At Passion, you can enjoy an elaborate 7-course tasting menu in a cool, black-and-white dining room. For French haute cuisine and sea views, try Gourmond, whose 8,000-bottle cellar is an Aladdin's cave for wine lovers. Musicians stroll from table to table at La Yola, where you can dine on Spanish-style octopus, tuna tartare, and Australian Wagyu burgers.
Passion, Paradisus Palma Real Resort, Playa de Bávaro, Punta Cana 23000; Tel.: +1 809 6885000; Website: Passion

Gourmond Restaurant, Sivory Punta Cana Hotel, Playa Sivory Uvero Alto; Tel.: +1 809 333 0500; Website: Gourmond Restaurant
Bávaro
Expats, visitors, and locals mix easily in Bávaro, home to many restaurants. For authentic Dominican food, try La Casita de Yeya, a no-frills canteen with a friendly vibe. After a bowl of soup, some fried plantains, and a helping of fish stew, you won't leave hungry. Spicier dishes like sesame garlic chicken and tamarind shrimp highlight the menu at Balicana Asian Food, where thatched huts nestle in a lush garden. Hung with old charts and a rusty anchor, La Cofradía de los Hermanos de la Costa has an ancient mariner's vibe. Come here for Spanish potato tortillas and lobster paella.
La Casita de Yeya, Carretera Veron - Barcelo, Punta Cana 23000; Tel.: +1 809 466 1096

Balicana Asian Food, La Piscina, Residencial Los Corales; Tel.: +1 829 898 4479; Website: Balicana Asian Food
South of the airport
Amid the string of high-end resorts stretching south from Punta Cana Airport, a number of local restaurants draw tourists craving a change of scene. It's hard to miss the bright red façade of Acentos Bistro, which offers a cozy dining room and a terrace. Foie gras, moules marinière, and crème brûlée among the classic French options. At beach-facing Capitán Cook, you can sip an ice-cold Presidente beer or a soothing Mama Juana (a local specialty made from rum, red wine, and honey) while an expert grill master cooks your lobster or crab.
Acentos Bistro, Puntacana Gallery, Puntacana Village, Puntacana 23000; Tel.: +1 809 9590161

Capitán Cook, Punta Cana 23000; Tel.: +1 809 5521061