Travel Tips for Vacationing in Jacksonville
Travel Tips for Vacationing in Jacksonville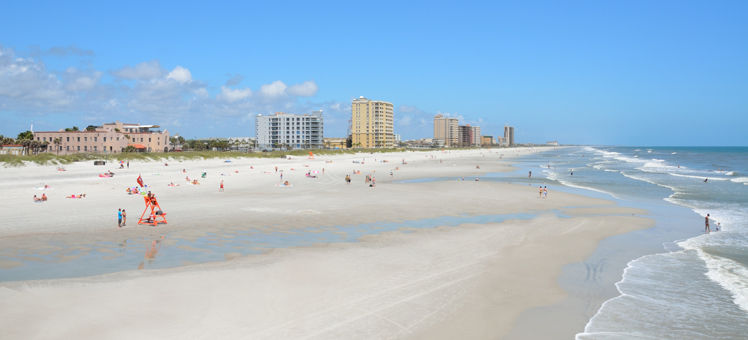 Jacksonville's year-round warm climate attracts beachgoers and boaters, while the city's urban districts provide many dining and drinking options and fun activities. Three interstates circle the city, and its large river and proximity to the Intracoastal Waterway provide plenty of boating activities. As a major transportation hub, it gets busy at peak travel times, but its 22 miles of beaches provide a great counterpoint for rest and relaxation.
Best time to travel
Summer brings droves of families to soak up the sun and temperatures in the 80s and 90s. Spring and fall are also inviting seasons, with temperatures in the 70s and 80s, fewer visitors, and cheaper accommodation. Winter temperatures drop to the 60s by day and 40s by night, so plan to spend some time indoors. Halloween weekend gets very busy with visitors to the Florida-Georgia football game at Jacksonville's downtown NFL stadium.
Not to miss
Don't miss Jacksonville's oceanfront, which boasts miles of uncrowded beaches and its famous quarter-mile fishing pier. Golfers will want to hit the TPC Sawgrass course or come for The Players Championship in May. You can catch other top sporting events as Jacksonville has several professional teams. Shopping excursions to Jacksonville's neighbourhoods could easily fill a week's vacation. Make time for inland nature activities too, like visiting state parks. You'll also find many music festivals here, such as the free Jacksonville Jazz Festival in May, which attracts upwards of 30,000 people.
Getting around
Jacksonville International Airport (JAX) is about a 20-minute drive from downtown, and arrivals can rent a car or take a shuttle, taxi, or shared-car service. Once downtown, Jacksonville Transportation Authority provides city buses, trolleys, shuttles, and Skyway - a free automated system with service to several downtown stops and across St. Johns River to Southbank and San Marco. Bicycle and river-boat taxis are also available. Avoid travelling during rush hours if possible since many residents are commuters and several highways intersect here.
Cuisine
Jacksonville's cuisine has been heavily influenced by its oceanfront access to great seafood and its Southern location. Yet, as a large urban destination, Jacksonville's culinary scene also offers a variety of international cuisines, such as Vietnamese, French, Mexican, and Spanish. The hip Riverside neighbourhood provides many eclectic options, like Mediterranean, an organic bakery with Southern favorites infused with a modern twist. The waterfront restaurants along the river and beaches feature fresh fare from the ocean, in both fine dining and informal fish camp settings.
Customs and etiquette
Being surrounded by water influences Jacksonville's culture, and casual clothing suits most activities. But you'll also find opportunities to dress up for some nightclubs, restaurants, and theatres. Tourism is a vital part of Jacksonville's economy, and tipping hotel housekeeping and servers is recommended. You might want to brush up on your beer terminology too, as the number of Florida's craft breweries continue to skyrocket.
Fast facts
Population: 843000

Spoken languages: English, Spanish

Electrical: 110 volts, 60 Hz, plug type A, B

Phone calling code: +1 904

Emergency number: 911