Family-Friendly Jacksonville - Fun for Beach Babies and NFL Football Fans
Family-Friendly Jacksonville - Fun for Beach Babies and NFL Football Fans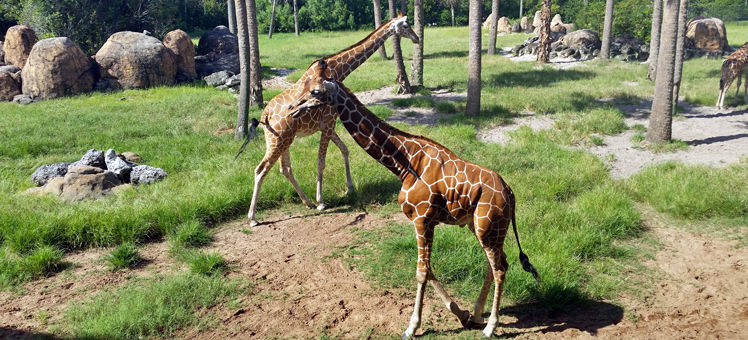 Jacksonville is a huge city with enough activities to please any family. A lively city centre offers museums, restaurants, and attractive landmarks. Twenty minutes east, miles of wide beaches offer days of fun in a low-key and laid-back setting. Several parks teeming with maritime wildlife provide excellent inlets for kayaking or fishing. Don't miss Jacksonville Zoo & Gardens, or catch a professional sports event.
Beach days
Three main beaches east of Jacksonville attract the most visitors, but other sandy shores can be explored north and south of this sprawling city. For a relaxed beach-town vibe, set up on Neptune Beach. Families looking for more action should head towards Jacksonville Beach Fishing Pier. Atlantic Beach, northernmost of the 3, generates the best waves.
Neptune Beach
This small, sparsely developed beach makes for perfect lazy days, and nearby Jarboe Park has a playground and pond.
116 1st St., Neptune Beach 32266Tel: +1 904 270 2417
Neptune Beach website
Jacksonville Beach Fishing Pier
This long pier stretches about a quarter of a mile and features fish-cleaning stations, a bait shop, and fishing concessions.
503 N. 1st St., Jacksonville 32250. Tel: +1 904 241 1515
Jacksonville Beach Fishing Pier website
Animal attractions
Kids and zoos are a winning combination, so a visit to Jacksonville Zoo & Gardens makes for a great family excursion. Considered one of USA's top zoos, it offers visitors more than a dozen exhibits, including Range of the Jaguar and a Play Park and Splash Ground for cooling off during warm months. Tours such as Behind the Scene Tours and RiverQuest Eco Tours make for an extra-special experience.
Jacksonville Zoo and Gardens
Home to over 2,000 animals, Jacksonville Zoo has won various awards over the years for its top-quality exhibits and zoologists.
370 Zoo Pkwy., Jacksonville 32218. Tel: +1 904 757 4463
Jacksonville Zoo and Gardens website
Activities on the water
Surrounded by water, Jacksonville's city centre is divided by St. Johns River, while 22 miles of oceanfront await minutes from downtown. Adventurous families might sign up for a sailing or fishing charter through Now and Zen Sailing Charters or Beaches Fishing Charters. Kayaking through Little Talbot or Big Talbot state parks also makes for memorable family adventures. Or cruise St. Johns River on a river taxi for a low-key excursion.
Now and Zen Sailing Charters
Cruises with this company take place on a 42-foot catamaran, and tour options include sunset or day sails.
4234 Lakeside Dr., Jacksonville 32210. Tel: +1 904 803 8843
Now and Zen Sailing Charters website
Beaches Fishing Charters
You'll be in good hands and are likely to catch fish with Captain Jeff Wansor, a US Coast Guard licensed captain with many years of experience fishing off the coast of Jacksonville's beaches.
3355 Eunice Rd., Jacksonville Beach 32250. Tel: +1 904 343 3474
Beaches Fishing Charters website
City lights after dark
Nighttime in Jacksonville means bright lights. Take a stroll along Southbank's Riverwalk for a spectacular view of Main Street Bridge, also called John T. Alsop Jr. Bridge, awash in blue lights. At Friendship Fountain adults and children alike will enjoy watching its nightly light show and 120-foot sprays. Jacksonville Landing also lights up at night with live music performances and firework displays during specified events.
Southbank Riverwalk
Redesigned in 2015, Southbank has miles of Riverwalk in addition to new docks and slips available for boats and dinner cruises.
1001 Museum Cir., Jacksonville 32202. Tel: +1 904 630 2489
Southbank Riverwalk website
Jacksonville Landing
This multi-level structure houses a variety of family-friendly restaurants and shops, like Bill's Caricatures. Kids of all ages will enjoy the nautical displays at the Maritime Heritage centre, along with expansive river views provided by the landing's wraparound deck.
2 W. Independent Dr., Jacksonville 32202. Tel: +1 904 353 1188
Jacksonville Landing website
Bike tours and ball games
Parents wishing to mix in some exercise and exploration during their Jacksonville visit will find biking options at e2ride bike tours. Seven tour options cover historic sites and other points of interest in Riverside, San Marco, and even along Jacksonville beaches. Sports fans have easy access to 3 sports venues clustered downtown for baseball, basketball, and football games - NFL team Jacksonville Jaguars also have spectator swimming pools at EverBank Field for game days.
e2ride bike tours
Tours vary in length from 5 to 20 miles with many stops along the way and along mostly flat terrain.
5208 Rollins Ave., Jacksonville 32207. Tel: +1 904 945 1571
e2ride bike tours website
EverBank Field
The Jacksonville Jaguars, a National Football League team, have been playing in this stadium for over 20 years.
1 Everbank Field Dr., Jacksonville 32202. Tel: +1 904 633 6100
EverBank Field website