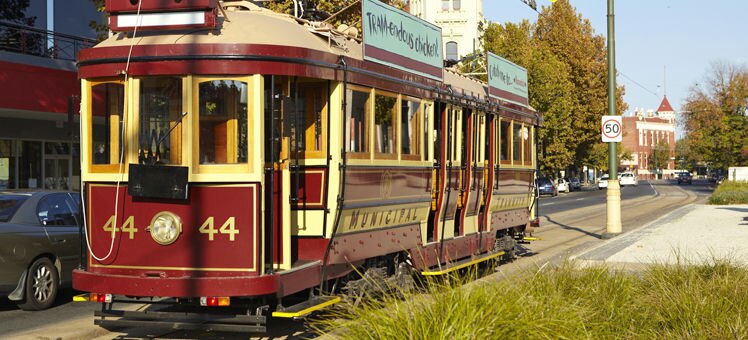 Hub of Australia's Goldfields region, art capital of Central Victoria, and charming city break, Bendigo has a lot going for it. Once a boomtown during Australia's gold rush, it now attracts many newcomers drawn to its wealth of heritage architecture, fine food and wine, and world-class museums. A string of enticing towns and villages around Bendigo means there is plenty on offer beyond its borders.
Best time to travel
"Four seasons in a day" is how most Victoria residents describe their state's famously unpredictable weather. If you come in spring or fall, be prepared for a variable climate. Summers, which kick off in January, are hot and long, with temperatures reaching mid-to-high-30s C (80s F) before sudden cool dips. Winters can be relentlessly cold and grey, but there are plenty of indoor activities to keep you occupied. The Bendigo Easter Festival sees the city celebrate its important Chinese heritage with Sun Loong - the world's longest Chinese dragon.
Not to miss
The Bendigo Art Gallery is the town's biggest draw - an engaging mix of 18th-century landscape painting and high-caliber temporary shows. The Central Deborah Gold Mine will give you an understanding of Bendigo's boom years. Rosalind Park and the Bendigo Botanic Gardens are perfect picnic spots, and a tour on a vintage tram is a fun way to see it all. Out of town, smaller enclaves such as Castlemaine and Maldon offer an olden-days ambience and an eclectic mix of shops, cafés, and galleries housed in period architecture.
Getting around
Bendigo's nearest airport is Melbourne (MEL), situated 150 kilometers south. There are a few direct shuttle buses a day directly from the airport to Bendigo, or you can take a regional train from Melbourne's Southern Cross station (1.5 hours). Central Bendigo can be navigated on foot or tram, but a car is essential for most trips out of town.
Cuisine
Restaurants and cafés in Bendigo swing from very basic to quite upmarket. In the centre of town, you will find elegant places serving modern Australian cuisine, while fish and chips and fast food are more common on the outskirts. Bakeries, often with sit-down tables, are everywhere, and good for pies and sandwiches. Most pubs offer "counter meals," which range from simple grilled steaks to more sophisticated pub grub. Australians are big on breakfast, and you'll find lots of places doing gourmet eggs as the sun rises. Look for wines from the nearby Heathcote region, which excels in shiraz.
Customs and etiquette
Australians are naturally friendly and gregarious. This is doubly true in the rural areas, when strangers may give you a nod and "G'day" as you walk down the street. Service staff in Australia is generally well paid, so tipping is not common. That said, it is becoming customary to leave a 5-10 percent tip after a good meal. Smoking laws are strict, even in some outdoor areas.
Fast facts
Population: 83000

Spoken languages: English

Electrical: 230 volts, 50 Hz, plug type I

Phone calling code: + 61 3

Emergency number: 000; 112 on cell phone