Travel Tips for a Mooloolaba Vacation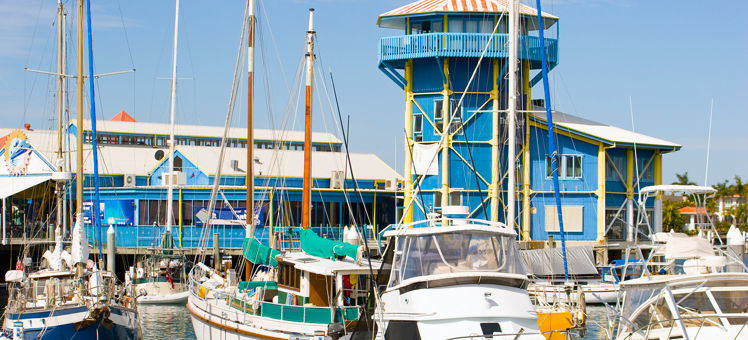 They don't call this the "Sunshine Coast" for nothing. With a mild winter and spring, and sun-baked summer days, Mooloolaba has an unbeatable all-year climate. Its main beach is popular for water sports such as surfing and snorkeling, as well as safe swimming. While many restaurants serve seafood caught in local waters, international cuisine has a strong presence. Nightlife is also a top draw.
Best time to travel
While there are generally sunny skies over Mooloolaba, the highest rainfall happens between January and March. Temperature fluctuations are mild, with daytime beach temperatures in July averaging around 20 degrees C (68 degrees F) and rising to 28 degrees C (82 degrees F) in January. Sea temperatures are similarly welcoming, ranging from 19 degrees C (66 degrees F) in winter to 26 degrees C (78 degrees F) in summer. Whale-watching season starts in June and runs through October. This is also the time that many Australians head to Queensland to escape cooler weather elsewhere, so accommodation can be more costly.
Not to miss
A trip to Mooloolaba wouldn't be complete without a stroll down The Esplanade. Many of the area's best restaurants, art galleries, and shopping options are found along this oceanfront pedestrian strip. Mooloolaba Beach is another spot not to miss, and arguably the biggest draw for travellers. Calm waters are perfect for swimming, while point breaks offer great waves for surfing. With a tunnel that lets you come face-to-face with more than 8 species of sharks, UnderWater World Sea Life Aquarium is also a must-see attraction.
Getting around
Most international visitors arrive via Brisbane International Airport (BNE) - about an hour and 15 minutes drive from Mooloolaba. Regular shuttles run from the airport to the Sunshine Coast. Daily flights from Sydney and Melbourne arrive at Sunshine Coast Airport (MCY) - a 13-minute drive from Mooloolaba. Compact in size, you can walk to just about anywhere in town, though renting a bicycle is also a great way tour Mooloolaba's attractions.
Cuisine
A hub for commercial fishing, fresh catches are promptly served in Mooloolaba's restaurants. Prawns are popular, and most bars and pubs offer fish and chips, usually made with locally caught whiting. Seafood cuisine has strong competition from international offerings that range from Indian and Asian-inspired restaurants, to Greek and a host of Italian eateries. Most restaurants are concentrated along the oceanfront esplanade and surrounding streets.
Customs and etiquette
Life along the Sunshine Coast is about as relaxed as it gets, and you're bound to see many people going barefoot, both on and off the beach. Casual dress is accepted just about anywhere, though you might want to dress up a bit for fine-dining establishments or trendy wine bars. Tipping isn't mandatory, though 10 to 15 percent is common and appreciated when dining at restaurants. Smoking in Australia is banned almost everywhere, including many outdoor areas.
Fast facts
Population: 7000

Spoken languages: English

Electrical: 230 volts, 50 Hz, plug type I

Phone calling code: +61 7

Emergency number: 000; 112 on cell phone