Eating Out in Mysore - Where to Get a Delicious All-day South Indian Breakfast
Eating Out in Mysore - Where to Get a Delicious All-day South Indian Breakfast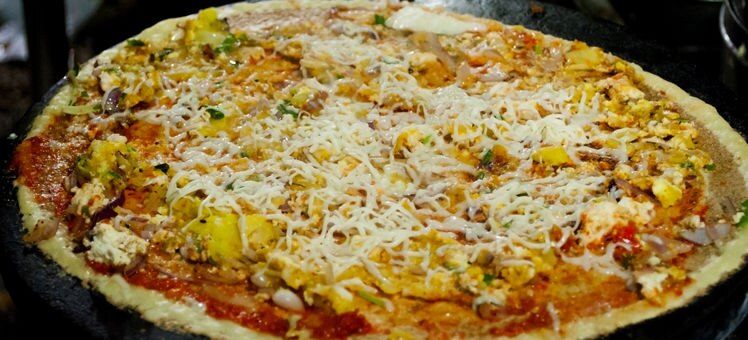 Mysore is an ideal place for getting to grips with the fragrant flavors that characterize Kannada cooking. Classic South Indian breakfasts include idli (round, spongy, rice-and-lentil cakes) and vada (fried-gram doughnuts), which come accompanied by coconut and green-chilli chutneys. It's easy to find western or regional Indian food as well, with popular items like pasta or rogan josh on many menus.
Typical dishes
The city's culinary claim to fame is sweet Mysore Pak, a wafer-thin chappati filled with dried coconut, then fried on a skillet, cut into squares, and served dripping with ghee.
North of Mysore Palace
There are lots of cheap and cheerful eateries conveniently near the Palace, where you can experiment with a traditional Mysore breakfast. People pack into Vinayaka Mylari to pick from a huge range of dosas (large papery crepes). The most popular are stuffed with masala (spiced potato mix), and served with blobs of chutney and a vegetable sambar sauce. Pretty much a local institution, Hotel RRR serves up good-value veg and non-veg thalis on a banana leaf. They are also famous for their rich and fragrant biriyani, rice mixed with spices, usually cooked with chicken or mutton.
Vinayaka Mylari, Shop No. 79, 769 Nazarbad Main Road, Near the Police Station, Mysore 5700 , Karnataka; Tel: +91 94486 08710

Hotel RRR, Gandhi Square, Sri Harsha Road, Lasker Mohalla, Shivarampet, Doora, Mandi Mohalla, Mysore 570001, Karnataka; Tel: +91 821 2442878
Heritage hotel dining
Dining in Mysore can be a regal experience, enjoyed in a palace-hotel with bags of atmosphere. Sapphire restaurant is in the grand ballroom of the Lalitha Mahal, under a soaring ceiling with stained-glass skylights. Their signature meal is the royal Mysore silver thali, a spread of vegetarian curries, sweets, and breads. Meat-lovers should head to Tiger Trail, renowned for authentic tandoori dishes, but also serving grills, kebabs, and fish. The restaurant is modelled after a hunting lodge, with shuttered windows, mirrors and a chandelier. Or, you can dine alfresco in their courtyard lit with flickering fairy lights.
Sapphire, Lalitha Mahal Palace Hotel, Mysore 500011, Karnataka; Tel: +91 821 2526100; Website: Sapphire

Tiger Trail, Royal Orchid Metropole, 5 Jhansi Lakshmibai Road, Mysore 570005, Karnataka; Tel: +91 821 4255566; Website: Tiger Trail
Jayalakshmipuram
This upmarket neighbourhood has a wide variety of options, ranging from simple holes-in-the-wall to European-style cafés with cooling air-conditioning. Western fast-food joints also serve students from the surrounding university campuses. If you're tiring of Indian spices, seek out Elements Bistro for an authentic Italian meal served by well trained staff. An ethical choice is the Malgudi Café, in the courtyard of the restored Chittaranjan Palace, run by women and with profits going to disadvantaged communities. It offers snacks and cakes to go with the excellent strong coffee and Himalayan tea, in a space that's peaceful and breezy.
Malgudi Cafe, The Green Hotel, Chittaranjan Palace, 2270 Vinoba Road, Jayalakshmipuram, Mysore 570012; Tel: +91 821 4255000; Website: Malgudi Cafe

Elements Bistro, No. 18, 1st Floor, Temple Road, Next to St Joseph School, Jayalakshmipuram, Mysore 570012, Karnataka; Tel: +91 821 4242333
Gokulam
The relaxed ambiance and bougainvillea-lined streets of Gokulam are the favorite haunt of yogis and students of Ayurveda. It's where you'll find laid-back rooftop restaurants catering to western tastes, offering healthy muesli breakfasts, smoothies, and fresh tropical juices. Seek out Anokhi Garden Café for a vegetarian or vegan brunch in lush and flowery surrounds. The tempting pastries, French crepes, and soy milkshakes are all homemade, plus there are yoga clothes for sale. For Indian vegetarian food, try Green Leaf food centre. This functional cafeteria-style restaurant serves up exceptional South Indian breakfasts, as well as north Indian staples.
Anokhi Garden House & Café, 408 Contour Road, Gokulam 3rd Stage, Mysore 570002, Karnataka; Tel: +91 821 428 8923; Website: Anokhi Garden House & Café

Green Leaf, KD Road, VV Mohalla, Mysore 585101, Karnataka; Tel: +91 821 655 0857; Website: Green Leaf