Live Music and Cool Drinks - Nightlife in Columbus
Live Music and Cool Drinks - Nightlife in Columbus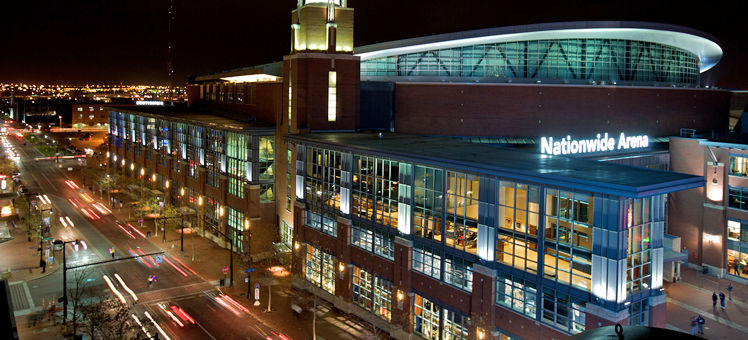 After a busy day out and about in Columbus, you might want to settle down with a refreshing local beer and a late-night bite. From traditional college bars near Ohio State University to local microbreweries in the Brewery District, you'll find lots of options. And if nightlife for you means big-name entertainment, Columbus has you covered here, too.
Big-name concerts
The Columbus live music scene has something for everyone, whether you're looking for a stadium-style concert from a chart-topping act or something a little more intimate. Nationwide Arena hosts superstars like Taylor Swift and Shania Twain, plus Blue Jackets hockey. Historic Newport Music Hall offers an impressive rock lineup in a handsomely renovated building near Ohio State. Lifestyle Communities Pavilion, in the Arena District, presents indoor and outdoor concerts.
Newport Music Hall
Known as the longest continually running rock club in the U.S., Newport Music Hall has been bringing stars to the stage since the 1970s. The lineup includes favorites like Neil Young, the Foo Fighters, and Sleater-Kinney.
1722 N High Street, Columbus 43201Tel: +1 614 294 1659
Newport Music Hall website
Beers all around
If you love beer, you've come to the right place. In fact, brewing beer is so big here that the city even has an area named after it: the Brewery District. Columbus's breweries specialize in local microbrews, and many offer tasting rooms and flights, as well as tours and special brewmaster programs for real aficionados.
Land-Grant Brewing Company
This brewery was founded by 2 Ohio State alumni. Stop by the taproom to sip one of Land-Grant's 4 craft beers; seasonal brews are available, too. If you're hungry, grab a bite to eat from a local food truck.
424 W Town Street, Columbus 43215. Tel: +1 614 427 3946
Land-Grant Brewing Company website
Cocktail bars
If beer isn't your drink of choice, Columbus has plenty of cocktail bars serving the classics as well as unique house creations. Whether you're downtown, in Short North, or in the Arena District, you're within easy reach of a hand-crafted drink. To cap off your evening, try a Moscow mule at Mouton or sip a creative cocktail at Euro-chic Denmark.
Mouton
The cocktail list at Mouton offers classics like Manhattans, Cuba Libres, and Greyhounds. If you're feeling a little more adventurous, you can opt for a house cocktail like the Path to Hades, made with absinthe.
954 N High Street, Columbus 43201. Tel: +1 614 732 4660
Mouton website
Denmark
Denmark is a European-inspired bar serving vintage and modern cocktails, plus a food menu with flatbreads and Danish sandwiches. If you're not looking for a cocktail, you can choose from an assortment of wines and local beers.
463 N High Street, Columbus 43215. Tel: +1 614 914 6700
Denmark website
Pianos and local bands
Want to add some excitement to your evening? Look beyond the traditional bars, and you'll find that Columbus nightlife scene is rife with live-music venues. If you know where to go, you can experience local bands or the interactive fun of a dueling piano show. Many of these spots can be found in the Arena District, but they're scattered throughout the city as well.
The Big Bang
Grab a drink and watch as 2 piano players go head-to-head. You can sing along, dance, and even request your favorite song. Drink specials and a food menu are available.
401 N Front Street, Columbus 43215. Tel: +1 614 233 9999
The Big Bang website
Park Street Patio
Located in the Park Street Complex, this bar features live music inside and on its outdoor patio. Designed to make you feel like you're partying in your friend's backyard, Park Street Patio serves beer, drink specials, and a full menu.
533 Park Street Columbus 43215. Tel: +1 614 220 9151
Park Street Patio website
Pubs galore
Almost everywhere you turn in Columbus, you're bound to find an Irish pub. While some are chains and some are locally owned, all offer the same casual, neighbourhood atmosphere, cold beers, and hearty fare. If you're looking for entertainment, check the calendar to see if there's live music. Or, if you prefer, just stop by for a drink and a game of darts.
Three-Legged Mare
This Arena District pub specializes in Irish dishes, including Scotch eggs, bangers and mash, and shepherd's pie. Guinness and Harp are on tap, and the calendar features a lineup of local bands.
401 N Front Street, Columbus 43215. Tel: +1 614 222 4950
Three-Legged Mare website
Discover
Find your perfect holiday in Columbus
From 250 hotels.