Family-Friendly Santa Cruz - Tide Pools, Surf Schools, and Fun Beyond the Beach
Family-Friendly Santa Cruz - Tide Pools, Surf Schools, and Fun Beyond the Beach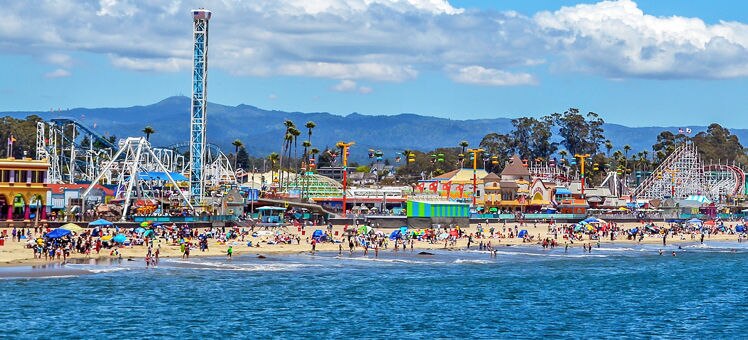 With temperatures generally around 70 degrees F (21 C) year-round, Santa Cruz naturally inspires kid-friendly activities outdoors. Younger children enjoy tide pools along the county's 29 miles of coastline, while older kids love the challenge of water-sports lessons. Many museums and walking tours in town are free, so you can stack the itinerary with arts and culture and still have pocket money for ice cream.
Sea creatures and natural history
At low tide, the Santa Cruz coastline reveals prime spots for tide pooling. Kids love to search for creatures that inhabit the pools, from sea anemones to octopuses. Natural Bridges State Beach is an easy first stop, with its namesake natural bridge just offshore and eucalyptus groves that attract migrating monarch butterflies. Farther northeast, Wilder Ranch State Park preserves a historic adobe, a dairy farm, and a Victorian farmhouse on 7,000 coastal acres.
Natural Bridges State Beach
Head straight to the beach or stop by the visitor centre to join a docent-led tour of tide pools and the eucalyptus groves. The groves shelter up to 100,000 migrating monarch butterflies from late fall through winter each year.
2531 West Cliff Drive, Santa Cruz 95060Tel: +1 831 423 4609
Natural Bridges State Beach website
Wilder Ranch State Park
Wilder Ranch State Park features not only tide pools along its beach but a working dairy, hiking and biking trails, and exhibits on the history of farming and ranching in Santa Cruz County.
1788 Coast Road, Santa Cruz 95060. Tel: +1 831 423 9703
Wilder Ranch State Park website
Free museums
Santa Cruz is known for its commitment to free, educational exhibits - perfect for kids whose interest might not last more than a few minutes. They'll learn about marine life at the Monterey Bay National Marine Sanctuary Exploration centre, located next to the Santa Cruz Wharf. Young surfing fans can stop by the Santa Cruz Surfing Museum, located on historic Lighthouse Point, above the famous Steamer Lane surf break.
Monterey Bay National Marine Sanctuary Exploration centre
Open Wednesday through Sunday, this centre introduces the 4,601-square-mile ocean sanctuary. Exhibits include a touch pool of sea life, a model kelp forest, and a remotely operated robot exploring the ocean floor.
35 Pacific Avenue, Santa Cruz 95060. Tel: +1 831 421 9993
Monterey Bay National Marine Sanctuary Exploration centre website
Santa Cruz Surfing Museum
Squeezed into a historic lighthouse along the West Cliff Drive walking/biking trail, this museum showcases the history and freewheeling nature of surf culture. Exhibits include antique surfboards and biographies of pioneering surfers.
701 West Cliff Drive, Santa Cruz 95060. Tel: +1 831 420 6289
Santa Cruz Surfing Museum website
Learning made fun
Most children love trains and the clickety-clack along the tracks. At historic Roaring Camp, about 7 miles north of Santa Cruz, families can take a ride on an old-time steam train and enjoy special events, with a focus on interactive fun. For hands-on experiences indoors, the Santa Cruz Children's Museum of Discovery offers a chance for little ones to learn while they let off excess energy.
Roaring Camp Railroads
See living-history demonstrations and ride a restored steam train through the "Big Trees" or down to the Santa Cruz Beach Boardwalk.
5401 Graham Hill Road, Felton 95018. Tel: +1 831 335 4484
Roaring Camp Railroads website
Oceans of adventure
It's almost impossible to visit Santa Cruz without dipping into the ocean. Whether you and your kids are beginners or experts in water sports, you'll find knowledgeable training from some of the nation's best instructors. Students of any age can take surf and paddleboard lessons at Club Ed Surf School.
Club Ed Surf School
The Santa Cruz coast has consistent waves and diverse surf breaks to captivate every level of rider. Founded by master instructor and gear designer Ed Guzman, Club Ed offers private and group lessons for surfing and stand-up paddleboarding.
2350 Paul Minnie Avenue, Santa Cruz 95062. Tel: +1 831 464 0177
Club Ed Surf School website
Time to dine
As befitting a beach town, Santa Cruz offers plenty of casual, family-friendly eateries. You and your kids can feast on burgers, grilled fish, sandwiches, pizza, or chowder at one of the casual spots near the beach. For dessert, treat your family to ice cream, made in-house, at the Penny Ice Creamery.
Penny Ice Creamery
This is no ordinary ice cream parlor. Here, the ice cream, cones, and even the marshmallows are made from scratch, and the focus is on fresh, organic ingredients. Flavors vary and may include Straight Up Strawberry and Rocky Lane.
913 Cedar Street, Santa Cruz 95060. Tel: +1 831 204 2523
Penny Ice Creamery website
Discover
Find your perfect holiday in Santa Cruz (and vicinity)
From 90 hotels.