Mysore - South India's City of Palaces and Home of Ashtanga Yoga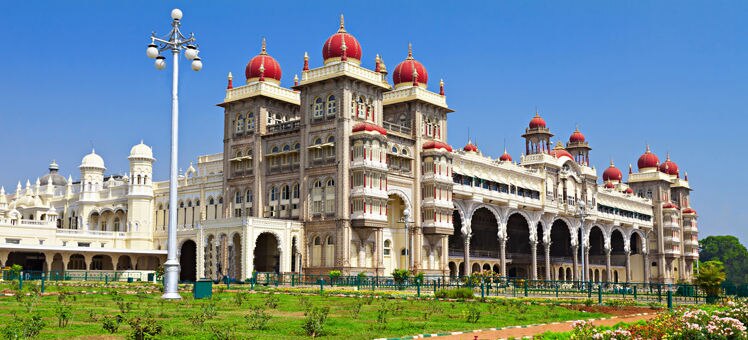 The City of Palaces, the Ivory City, and - officially - Mysuru; Karnataka's second city has many names. Glorious royal mansions and impressive monuments lie on tree-lined boulevards, while the old town's rambling alleys and local markets make an intriguing contrast. It's one of India's most popular destinations for students of Ashtanga yoga and Ayurveda, as well as being a shopping hub for silk and sandalwood.
City of palaces
The city's main attraction is Mysore Palace, an edifice of canopies and colonnades, which is decorated like a jewel box inside. To the west lies older Jaganmohan Palace, built in 1861 in a Hindu style. With an intricately carved front pavilion, Jaganmohan has been home to an impressive collection of art for more than 100 years. A couple of miles out of the centre, Jayalakshmi Vilas Mansion dates from 1905 and houses a folklore museum. You can also have an imperial moment taking afternoon high tea in the grounds of Lalitha Mahal, a pure-white palace that's now a grand hotel.
Mysore Palace, Sayyaji Rao Road, Mysore 570001, Karnataka ; Tel: +91 821 2421 051; Website: Mysore Palace

Lalitha Mahal Palace Hotel, Lalitha Mahal Quatras, Mysore 570011, Karnataka ; Tel: +91 821 2526100; Website: Lalitha Mahal Palace Hotel
Ayurveda and yoga practice
The Ashtanga yoga capital of the world, Mysore attracts thousands of Indian and international students to its yoga schools. This is where Ashtanga yoga was born in the 1930s, under the guidance of guru Sri Krishna Pattabhi Jois. You'll find it cooler for practice in wintertime, and it's usual to stay for at least a month. Most well-renowned yoga schools are found in the suburb of Gokulam, where there's also cheap accommodation and western-style cafés. Another big draw are the city's Ayurveda centres, where you can experience traditional Indian treatments and take Ayurvedic cooking or Ayurveda therapy training courses.
Arts and cultural experiences
Mysore's rich culture is defined by the colourful Dasara festivities, introduced by Raja Wodeyar I in 1610. For 10 days, buildings and houses are decorated, music and cultural events organized, and carnival-like processions take over the streets. Culture-buffs should also visit the Indira Gandhi Rashtriya Manav Sangrahalaya, which includes an anthropology museum and hosts classical and folk performances of dance, music, and theatre.
Colonial-era architecture
Sprinkled across the city are some fine buildings in the Indo-Saracenic style, which add to Mysore's architectural mystique. You won't miss the twin spires of St. Philomena's Cathedral, constructed to a Neo-Gothic design and rising 55-meters high. Another central landmark is the Silver Jubilee Clock Tower, built during the reign of Wodeyar IV in 1927, mixing Rajput and English features. The 1805 Government House, on Irwin Road, is a Tuscan-Doric delight that was the former British Residency. Numerous other impressive 19th-century buildings will catch your eye as you wander round town.
Day trips from Mysore
Less than 10 miles north of Mysore is historic Srirangapatna. Once the capital of Tipu Sultan, the "Tiger of Mysore," it fell to the British in 1799. You can enter Tipu's mausoleum and summer palace, surrounded by ornamental gardens and decorated with arabesque details and paintings. The Friday mosque also dates from Tipu's time, while nearby Ranganathswamy Temple has been a Hindu pilgrimage site for millennia. Next to Srirangapatna is Ranganathittu Bird Sanctuary, a breeding ground for ibis, stork, and heron species, where you can take a boat trip to look for crocodiles and flying foxes.