Blues to Barbecue - A City Guide to Memphis
Blues to Barbecue - A City Guide to Memphis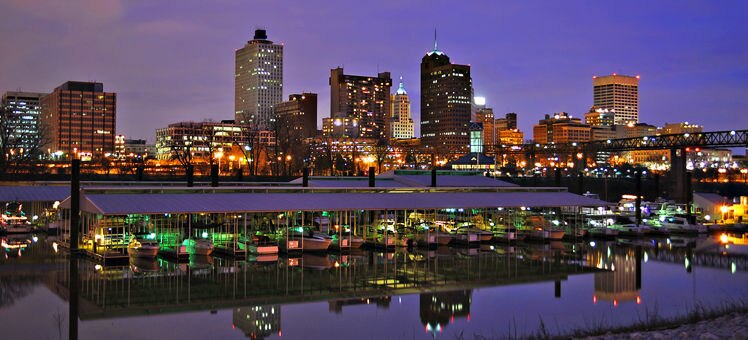 When you think of Memphis, 3 things come to mind: blues music, barbecue, and Elvis. This city that sits along the banks of the mighty Mississippi nurtured the blues, gave birth to rock 'n' roll, and played a pivotal role in the American Civil Rights Movement. Modern Memphis is a melting pot of history, culture, and delicious food for you to enjoy.
Memphis landmarks
You can't visit Memphis without exploring Beale Street or Graceland, 2 of its most popular attractions. Lined with blues clubs and bars, world-famous Beale Street is the place to experience the city's unparalleled music scene. For visitors of legal drinking age, the street has an open container policy, so you can grab a drink and take a stroll to soak up the atmosphere. Elvis, the King of Rock 'n' Roll, called Memphis home. Each year, thousands of visitors flock to tour his iconic house, Graceland, and a tour is an absolute must on any trip to the city.
Beale Street, 203 Beale Street, Memphis 38103; Tel: +1 901 526 0117; Website: Beale Street

Graceland, 3717 Elvis Presley Boulevard, Memphis 38116; Tel: +1 901 332 3322; Website: Graceland
Museums
Rich in history and culture, Memphis has a wealth of museums to explore. You can delve into its musical past at places like the famed Sun Studio and the Stax Museum of American Soul Music. Located in the South Main Historic District, the National Civil Rights Museum is housed in the hotel where Martin Luther King, Jr. was assassinated in 1968. If you're in search of art, the Memphis Brooks Museum of Art houses works by American artists and European masters.
Family attractions
There's plenty for grown-ups to enjoy in Memphis, but the city also welcomes families with kid-friendly attractions like Overton Park's Memphis Zoo. This acclaimed zoo is home to over 3,500 animals from around the world. Here, kids can get an up-close look at everything from penguins to lions. Little ones are also sure to love the Children's Museum of Memphis, which houses interactive exhibits on subjects ranging from science to waterworks. There's even a splash area for them to play in.
Sports
If you're looking for sports, Memphis won't disappoint. The FedExForum is home to the NBA's Memphis Grizzlies basketball team. Check the calendar to see if they're playing during your visit. If not, you might be able to catch a concert from a chart-topping act; the arena hosts several of these each year. For baseball, head over to AutoZone Park and cheer on the Memphis Redbirds, the local Minor League Baseball team and a Triple-A Affiliate of the St. Louis Cardinals.
Dining and nightlife
Barbecue is the name of the game in Memphis, and you can find some of the best in and around downtown at spots like Charlie Vergos' Rendezvous and Central BBQ, which cooks its meat for 14 hours. The city also has an assortment of "meat and three" restaurants and spots serving soul food. In the evening, Memphis comes alive with music, and Beale Street is lined with popular venues like B.B. King's Blues Club. Spots in Midtown's Cooper-Young neighbourhood host everything from alternative bands to local acts.