A Clearwater Beach City Guide - Beaches, Parks, and Pirates
A Clearwater Beach City Guide - Beaches, Parks, and Pirates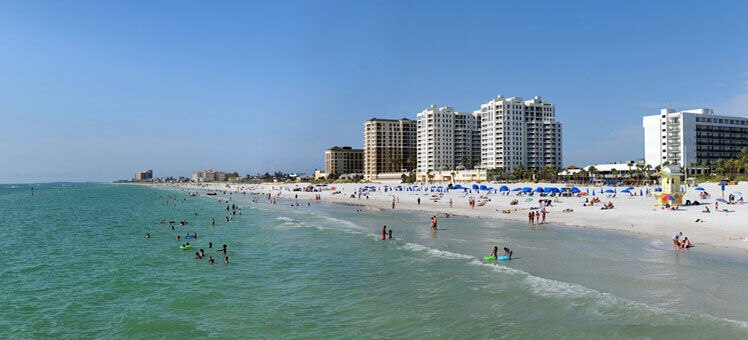 Clearwater Beach is in reality a small island located off Florida's west coast. For most people, it brings white sandy beaches and tranquil, blue-green Gulf of Mexico waters to mind. But there's plenty to do aside from work on your tan. You could cast for fish on the pier, take a dolphin-spotting cruise, or even explore nearby Tampa. Whatever your beach vacation dreams are, you can fulfill them here.
Beaches for miles
Clearwater Beach is dotted with shops, restaurants, hotels, and resorts. If you're looking for a beach scene that's packed with a lot of action, this is your hotspot. You can spread out your towel and strike up a game of sand soccer with fellow travellers. Those who prefer a more tranquil setting can head to Sand Key Park, where you can walk far enough to pretend you have a private beach. Regardless of which beach you choose, you'll want to look for warning flags. The Gulf of Mexico is typically calm, but there are sometimes rip currents and jellyfish.
Sand Key Park, 1060 Gulf Boulevard, Clearwater, FL 33767; Tel: +1 727 588 4852; Website: Sand Key Park
Pier 60 and the Beach Walk
travellers and locals alike enjoy walking the length of Pier 60, whether to gaze out over the gulf or try their luck at fishing. If you want to take a cast, but didn't bring a pole, you can rent one here. Once the sun sets, Pier 60 comes to life with street performers, live music, and local vendors selling trinkets. Pier 60 is also where "The Beach Walk" begins. You can revel in cool coastal breezes as you stroll down the paved pathway, popping in and out of shops as you go.
Clearwater Beach Boat Tours
If you love a good boat tour, you'll be thrilled with what you find in Clearwater Beach. You can climb aboard a 40-footer to watch dolphins frolic with Mega Bite Dolphin Tours. Tour guides will also point out the homes of celebrities who vacation in the area. (Tip: Book tickets in advance, as they sell out.) Kids may like to join the swashbuckling crew of Captain Memo's Pirate Cruise on the "Pirate's Ransom." You can hunt for treasure, play water-gun games, and enjoy a few drinks as you explore the gulf waters.
Clearwater Beach shopping
Those looking to spruce up their beach wardrobes can check out Ron Jon Surf Shop, where you can easily while away a few hours in the aisles. You can grab some stylish new sunglasses or a bright tropical shirt, on top of souvenirs and postcards. If you need to stock up on beach gear such as goggles, totes, and rafts, head to WINGS Beachwear.
Day trips to Tampa
Tampa is a 45-minute drive from Clearwater Beach, making it a great option if you need a break from the shore. You can spend a day touring old Ybor City, where you can sip cafecitosand pick up hand-rolled Cuban cigars. Or you can get wild at Busch Garden. A cross between a theme park and zoo, you can ride across a faux-savannah, marveling at zebras, giraffes, and ostriches. Afterwards, hit up the rides, including one of the tallest freestanding drop towers in North America.