Blue Water, White Sand, and Unspoiled Bush - Getting Acquainted With Hamilton Island
Blue Water, White Sand, and Unspoiled Bush - Getting Acquainted With Hamilton Island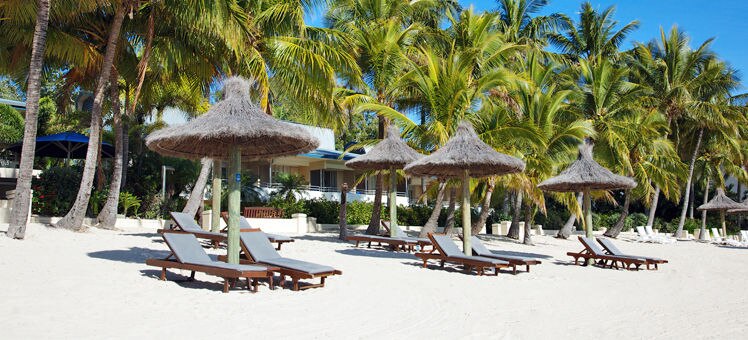 Gateway to the Whitsunday Archipelago, Hamilton Island sits like an emerald in the aquamarine Coral Sea. Although a tourist magnet since the 1970s, it's only since wine magnate Robert Oatley purchased the island in 2003 that it's become a sought-after destination for well-heeled celebrities and ordinary families alike. With a commitment to sustainability, and a consummate balance of amenities and unspoiled nature, Hamilton Island is a singular tropical island destination.
Getting to know the village and Marina
Your first port of call will probably be the Resort Centre, where you can get all the information you need, book activities, have a dip in the pool, or stop for coffee at Verandah Bar. A few steps away is the Marina, a mooring station for yachts, and casting-off point for Whitsunday Islands and Barrier Reef cruises. Guarding the entrance to the small harbor is Hamilton Island Yacht Club, its design inspired by the soaring silhouettes of full sails. Here, you can watch the sun sink behind the Whitsundays over champagne and oysters.
Hamilton Island Resort Centre, Resort Drive adjoining Sails Restaurant, Hamilton Island QLD 4803; Tel: +61 7 4946 9999; Website: Hamilton Island Resort Centre

Hamilton Island Yacht Club, Front Street, Hamilton Island QLD 4803,; Tel: +61 7 4946 8353; Website: Hamilton Island Yacht Club
Exploring Hamilton Island by buggy and bus
Cars are not allowed on Hamilton Island, which means "good-bye" to traffic and noise. The most popular mode of transportation is golf carts, known as "buggies." Some hotels include one in your booking price, or they can be hired on a daily basis. They're a great way of exploring the island under your own steam. If you'd rather be a passenger, the free Island Shuttle bus gets you to all the sights quickly and comfortably.
Water sports and relaxation on Catseye Beach
Catseye Beach - on the resort side close to most accommodation - is the island's most accessible strand. This long, curving stretch of fine white sand between turquoise water and swaying palms is the water sports hub. Whether you're into windsurfing or snorkeling, paddleboarding or sailing a catamaran, you'll find all the necessary gear for hire here. The beach is still peaceful enough for lazing on the sand and listening to the ripple of the water. When the tide is low, you can take a stroll on the sand flats for a different island perspective.
Hiking Hamilton Island's nature trails
All of Hamilton Island's development is concentrated on its northwestern tip, with the remaining two-thirds unspoiled wilderness. There are more than 20 kilometers of hiking trails crisscrossing the island. A walk up to Resort Lookout is a vigorous way to get your bearings, with panoramic views of the marina and the surrounding islands. The hike through eucalyptus bush to Passage Peak rewards you with awe-inspiring views over the Whitsundays from the island's highest point. Pack a picnic and follow some of the other trails, and you'll discover secluded coves and deserted beaches.
Getting acquainted with Hamilton Island's wildlife.
As well as offering breathtaking scenery and a wealth of things to do, Hamilton Island is home to an array of native Australian wildlife, including wallabies, goannas, and kookaburras. At WILD LIFE you can breakfast with koalas, or have your photo taken with Ruben the Wombat or Freddie the Cockatoo. There are twilight tours, including an Aussie barbecue, where you can see what the nocturnal creatures get up to after dark.
Discover
Find your perfect holiday in Hamilton Island
From 100 hotels.