A City Guide to Broome - Pearls, Beaches, and Natural Wonders
A City Guide to Broome - Pearls, Beaches, and Natural Wonders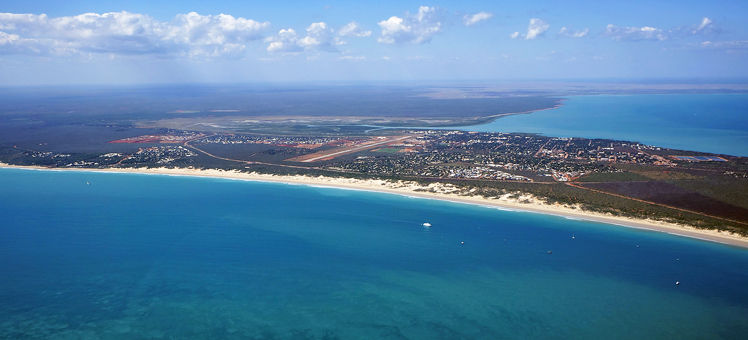 Broome, also known as Yawuru Country, is nestled on a peninsula in Western Australia, and lapped by the Indian Ocean's turquoise waves. With balmy temperatures and long beaches, it's a sun seeker's paradise, but there's something for everyone with the town's colourful pearling history and unusual natural wonders. Perched on the edge of the rugged Kimberley region, you can take trips to the wilderness by 4x4, plane, or boat.
Choice of beaches
If you are looking for the ultimate family beach holiday, the 22-km Cable Beach, with its fine white sand and safe swimming conditions, is sure to hit the spot. As the huge 9-meter tide recedes, you can hop on a camel tour for an exotic sunset experience. On the other side of the peninsula in Roebuck Bay, the unique "Staircase to the Moon" natural illusion, created by lunar reflections on tidal flats, is not to be missed. Roebuck Bay is also visited by millions of migratory shorebirds.
Culture and history
Broome's pearling history goes back some 150 years, and has shaped the town into a vibrant melting pot of Aboriginal, European, and Asian cultures. To get a flavor of these influences, and a sense of their impact over the years, you can visit the Japanese Cemetery, Chinatown's pearl stores, and the Short St. Gallery for indigenous art. Be sure to swing by Broome Museum to get to know all the area's historic artifacts.
Short St. Gallery, 7 Short Street, Broome WA 6725, Australia; Tel: +61 8 9192 2658; Website: Short St. Gallery

Broome Museum, 67 Robinson St, Broome WA 6725, Australia; Tel: +61 8 9192 2075; Website: Broome Museum
Markets and pearls
The weekend markets are an ideal way to mingle with friendly locals and to discover the town's many cultural facets. At the Broome Courthouse Markets, you can get a taste for local delicacies, and stock up with original souvenirs, all to the tune of didgeridoo performances. Broome's main shopping district, and the best place to shop for pearls, is Chinatown - head to the Johnny Chi Lane open-air mall for a good selection of stores, and an easygoing Sunday market.
Natural wonders
Huge tidal movements are characteristic to Broome. Their most spectacular manifestation is at Horizontal Falls in Talbot Bay, where tidal seawater powerfully gushes through narrow gorges. If you are feeling intrepid, you can hop on plane, or a boat for a thrilling close-up of the phenomenon. At low tide, an exciting natural history experience awaits at Gantheaume Point, where you can board a hovercraft to discover 130-million-year-old dinosaur footprints in the tidal flats.
Daytrips from Broome
The red and rocky Kimberley outback can be discovered with a 170-km drive along the scenic Cape Leveque Road to Dampier Peninsula, or Ardi as indigenous Australians call it. You can go snorkeling in the secluded waters of Middle Lagoon, or try your hand at mud crabbing with a local guide. A huge population of migrating humpback whales can be found in the Buccaneer and Bonaparte archipelagos for up to 7 months of the year - head to a vantage point with a pair of binoculars, or get up close with a cruise.