Where to Shop in Broome - From Chinatown Pearls to Beachfront Markets
Where to Shop in Broome - From Chinatown Pearls to Beachfront Markets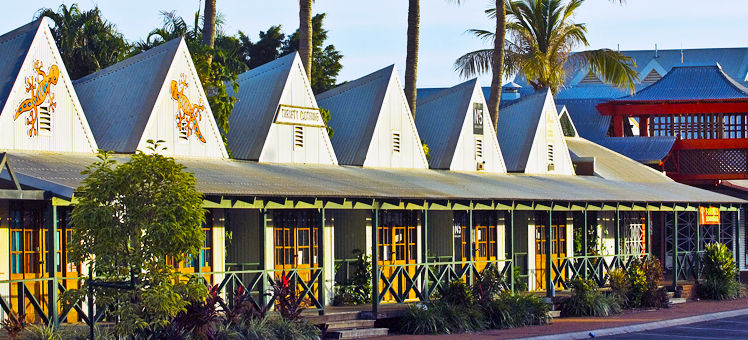 Given the area's strong links to the pearling industry, it's no surprise that these shiny white treasures are a favorite souvenir for many visitors to Broome. You'll also find jewelry stores, Aboriginal and contemporary art, and a range of other handicrafts. For food and household items, Broome Boulevard mall should stock everything you need.
Chinatown pearls and jewelry
Broome's main shopping district - and also the town centre - is Chinatown. You'll find souvenir shops and jewelry outlets a plenty here. For a good selection of stores, try looking along Johnny Chi Lane, an open-air mall. Chinatown is also home to some of the world's finest pearl showrooms. In Cygnet Bay Pearls you can see the world's largest fine pearl, found in 2004. You can buy loose pearls, and then ask the store's jeweler to create a unique piece for you. You can also watch a live pearl harvest. For other bespoke art and jewelry, visit nearby Artissimo.
Cygnet Bay Pearls, Shop 2, 21 Dampier Terrace, Broome WA 6725; Tel: +61 8 9192 5402; Website: Cygnet Bay Pearls

Artissimo, Shop 2, 15 Dampier Terrace, Broome WA 6725; Tel: +61 407 096500; Website: Artissimo
Arts and crafts in Broome
Broome is home to a vast array of galleries specializing in local and indigenous art and handcrafted products. Short Street Gallery is a long-running exhibition space and shop. You'll find works by Aboriginal artists from the local region, and the rest of Australia, displayed here. Hidden Valley Handcrafts sells aromatic handmade soaps, candles, and oils. The company has a showroom in northern Broome, as well as a stall at the Broome Courthouse Markets.
Short St. Gallery, 7 Short St., Broome WA 6725; Tel: +61 8 9192 2658; Website: Short St. Gallery

Hidden Valley Handcrafts, 2 Harriet Rd., Blue Haze Light & Industrious Area, Broome WA 6725; Tel: +61 8 9193 7036; Website: Hidden Valley Handcrafts
Weekend and monthly markets
Broome Courthouse Markets makes the centre of town buzz on the weekends. Stalls sell artifacts created by local talent; clothing, home decor, gifts, and jewelry. You'll also be able to snack on homemade delicacies. Johnny Chi Lane hosts a smaller market each Sunday. Between March and October, the reflection of the full moon on tidal mudflats creates the famous "Staircase to the Moon" illusion. When this happens, a fun night market sets up on Town Beach. Here you'll find handicrafts, delicious food stalls, and a party atmosphere.
Djugun and Cable Beach
While Broome's main souvenir shops are found in Chinatown, Cable Beach and Djugun will look after your everyday needs. Located right beside Broome International Airport (BME), Broome Boulevard in Djugun is home to over 25 retail outlets. These include a supermarket, and a branch of the Target department store. If you're staying on Cable Beach and need a new toothbrush, or have forgotten any other household item, try Cable Beach General Store & Cafe.
Broome Boulevard, Frederick St., Broome, WA 6725; Tel: +61 8 9192 3939; Website: Broome Boulevard

Cable Beach General Store & Cafe, Corner of Murray Road and Cable Beach Road, Broome WA 6726; Tel: +61 8 9192 5572; Website: Cable Beach General Store & Cafe