Where to Stay in Mysore - From Budget-friendly Backpackers to Palace-hotels
Where to Stay in Mysore - From Budget-friendly Backpackers to Palace-hotels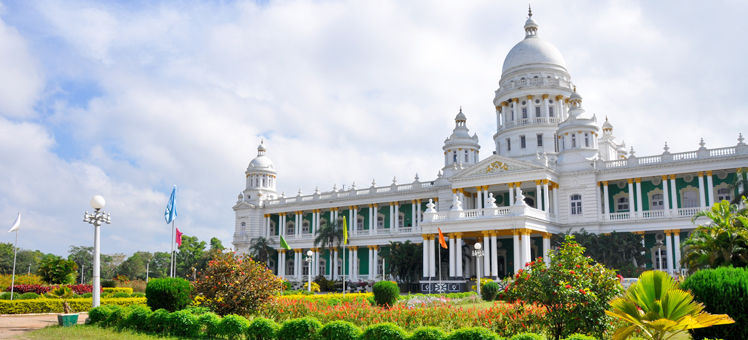 Mysore has hotels to suit all tastes and budgets, ranging from opulent heritage hotels to friendly little guesthouses. Many visitors are attracted by converted palaces once used by the royal family, which offer a romantic escape alongside history and style. Meanwhile, long-stay yoga students have their pick of budget hotels and lodges to choose from, which are often family-run.
North of Mysore Palace
Staying just north of the Palace allows easy access to a huge number of restaurants and shops. Although close to Mysore's main commercial streets, this area still offers plenty of quaint buildings and conserved colonial architecture. You'll get a feel for everyday life and see plenty of local colour in the jumble of smaller laneways. Transport links are also good, as you're near the train station and have a pick of bus routes.
Many small modern hotels are found in this bustling area, suited to backpackers or mid-range travellers. These vary from basic, no-frills affairs to comfortable 3- and 4-star properties. In addition, on the outskirts of Nazarbad, there are a couple of resort-style hotels enjoying plenty of space, and providing full leisure amenities including swimming pools and gyms.
Heritage hotels
Many visitors come to Mysore looking to enjoy a few nights in a royal palace that's been converted into a hotel. As the city has sprung up around these 19th-century mansions, Mysore's cultural sights, restaurants, and shops are usually within close range. A major benefit of the old heritage buildings is their extensive gardens with mature trees, manicured lawns, and outdoor seating areas. Palace-hotels also offer in-house dining in elegantly decorated surroundings.
Mysore's converted royal mansions vary in their levels of luxuriousness, some offering swimming pools and health facilities, and others charming their guests with an old-fashioned ambiance and antique furnishings. All of them have delightful bars, meaning you can kick back with a sundowner after a day's sightseeing.
Jayalakshmipuram
A mile or so west of Mysore Palace, Jayalakshmipuram has good transport links to the city centre. The main artery of Hunsur Road leads straight to town, with plenty of auto-rickshaws and buses running along it. The nearby university means there are cheap local eats in the vicinity catering to students, as well as western fast-food places and coffee shops. An added bonus is the proximity to expansive Kukkarahalli Lake, where you can take a breezy stroll and look for bird life.
The upper-class neighbourhood of Jayalakshmipuram has some good mid-range and value-for-money hotels. Modern hotels here offer decent facilities in smart rooms, as well as efficient service appealing to couples and families. You can even find a room in a converted palace for an affordable price, with period features, characterful public spaces, and neat flower-filled gardens.
Search for Jayalakshmipuram hotels
Gokulam
A 10-minute ride from the city centre by auto-rickshaw, this affluent neighbourhood is one of the quietest and most peaceful areas of Mysore. Pleasant to stroll, with western-orientated restaurants, grocery stores, and cafés, Gokulam is where yoga students congregate. It's a short walk to the most well-respected Ashtanga centres, while its many villas and bungalows shaded by palm trees add to a relaxing ambiance.
Known for being the yoga district of Mysore, Gokulam is where international students almost always find themselves. For an extended stay, visitors can seek out aparthotels, or there are plenty of small guesthouses that welcome long-term guests on a budget. Hotels often enjoy green gardens, and a tranquil vibe.