Where to Stay in Nainital - Lake Views For All Budgets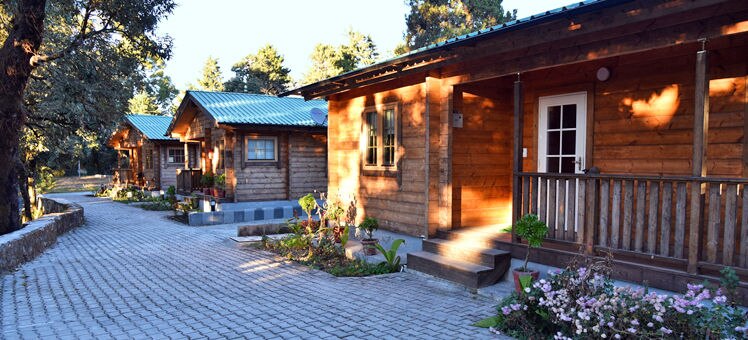 Nainital's emerald lake, surrounded by a lush, pine-forested valley, has long attracted tourists to the town. The cluster of hotels running along the lake's promenade on Mall Road, ranging from budget to luxury, all offer lake views. Even hotels tucked in quiet alleyways usually offer an inspiring outlook of Himalayan peaks or Naini Lake.
Mallital
The largest concentration of places to stay, from luxury 5-star hotels to budget guesthouses, is found in Mallital, at the northern end of the lake. All hotels in this area offer enchanting views of jade-green waters and boatmen rowing the lake's length with tourists in tow. If your bedroom doesn't look out across the water, many hotels compensate with scenic terraces and rooftop restaurants. Staying in some of Mallital's hotels, you'll also awake to panoramas of the distant Himalayas.
Accommodation options in Mallital include staying in heritage buildings featuring high ceilings and elegant rooms. Many of these hotels endure from the colonial period. There are plenty of options if you're seeking neat and clean budget accommodation with character and stylish decor, too. Breakfast is not usually included unless stated otherwise.
Tallital
Staying in Tallital, at the foot of the lake, you'll be near popular attractions such as the Tibetan Market, Mall Road, the Boat Stand, and Nainital Zoo. The local bus stand is conveniently close too. It's a bustling area with a stream of tourists ambling around these local attractions. Hotels around Tallital mostly offer budget accommodation.
Even if you're on a budget, you can stay in brightly furnished, simple, and clean rooms with modern amenities. As with most of Nainital's hotels, the properties in Tallital offer lake or mountain views. You can choose between waking up to the volcanic, green waters of Naini Lake or gazing at snow-capped Himalayan peaks.
Around Nainital
Radiating away from Nainital and tucked amid mountainous pine and deodar forests, the villages of Bhimtal, Pangot, Bhowali, and Khurpatal offer mid-range accommodation. You'll drive for 45 minutes to an hour to reach hotels in these areas, but they offer the added benefits of waking up to exotic birdsong, crisp mountain air, and hiking opportunities.
In Bhimtal, Pangot, Bhowali, and Khurpatal, your room might offer views of lush valleys, pine-covered mountains, or rugged peaks. Some accommodation options in the hills surrounding Nainital even have an in-house spa for a spot of pampering while you're on vacation. Many hotels are staffed by locals and offer attentive hospitality as well as a glimpse of life in the hills.
Search for Around Nainital hotels