Historic Hotels, Ocean-view Apartments, Beach-front Campgrounds - Staying in and Around Lorne
Historic Hotels, Ocean-view Apartments, Beach-front Campgrounds - Staying in and Around Lorne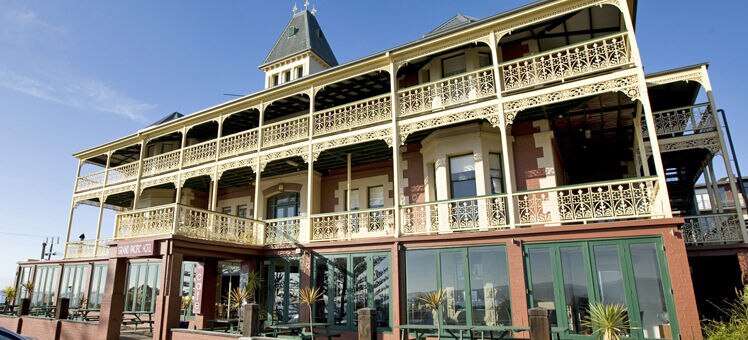 The Lorne region's wide variety of accommodation makes it easy to find a place to stay that really suits your needs. Whether you're after a rural-chic cabin in the bush, a luxury apartment with ocean views, or a family-friendly holiday house near the beach, Lorne has what you're looking for.
Lorne
The centre of Lorne is where to stay if you want to be close to the town's eclectic shops, cafés, and restaurants, and a short stroll from the beach. If you feel like a break from the buzz, it's a short drive to the tranquility of Great Otway National Park.
Lorne's accommodation runs the gamut, from upscale ocean-view hotels to convenient holiday parks. You'll find comfortable, family-friendly beach houses and apartments, heritage bed-and-breakfasts, modern and functional motels, and a backpackers hostel.
The Otways
The Otways is the place to put your bags down if you want to retreat from the crowds to the serenity of the countryside. You'll be surrounded by the pristine beauty of the national park, and have a host of hiking trails on your doorstep. Dining and swimming in Lorne are never more than a short drive away.
You'll find a range of options geared toward a peaceful stay, including quaint cottages, cozy bed-and-breakfasts, and architect-designed cabins. You can also opt for a farm-stay, or a spot in a holiday park.
Aireys Inlet
Aireys Inlet, a 20-minute drive from Lorne, is where to head if you want to set out on the Surf Coast Walk, or ride the beach on horseback. There are breathtaking coastal views from Split Point Lighthouse, and surf's usually up at Fairhaven Beach. You'll be close to excellent Greek dining at A La Grecque and relaxed drinks at Aireys Pub.
Airey's Inlet offers a range of cottages, holiday houses, and apartments, ranging from comfortable and cozy to contemporary and indulgent. There's also a campground with cabins close to the beach, as well as a functional motel.
Search for Aireys Inlet hotels
Wye River
Wye River, a 20-minute drive from Lorne, is the place to stay for a quiet beach vacation with a rugged mountain backdrop. The rainforest of the Otways meets the ocean at Wye River, and the local pub is perched above the beach, making it a relaxing spot for whale watching.
Wye River offers a campground with a selection of cabins, surrounded by bush and close to the beach, as well as a comfy motel. There's a choice of holiday houses and apartments, ranging from functional to luxurious.