Where to Stay in Milwaukee - From Historic Hotels to Budget-Friendly Chains
Where to Stay in Milwaukee - From Historic Hotels to Budget-Friendly Chains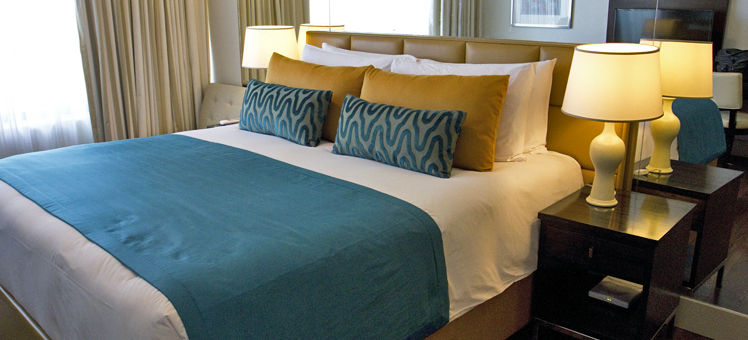 Accommodation in or near Milwaukee meets the needs of a broad spectrum of travellers and a range of budgets. If you prefer a faster pace and diversity of dining options, you'll love staying downtown where hotels are interspersed among businesses and attractions, including dozens of restaurants. Families and visitors seeking the quiet of the Wisconsin countryside can choose from many options in the outlying areas.
Downtown Milwaukee is a masterpiece of urban resurgence, with lodging properties sitting shoulder-to-shoulder with boutiques, restaurants, and attractions. Visitors, particularly couples and families, opt to stay here for easy access to a wide selection of dining and nightlife options, many within walking distance. If you're coming in for one of Milwaukee's many festivals, you'll want to book in advance as accommodation fills up quickly.
Lodging in this area includes traditional hotels and high-end properties, many of which are located in reclaimed buildings that feature original architecture. You can also book a bed-and-breakfast in a stately historic home.
This suburban neighbourhood is a 15-minute drive from downtown Milwaukee and is home to attractions including Sprecher Brewing Co., the city's original microbrewery that offers production tours and tastings. Families appreciate the relative ease of navigating this friendly outlying community that sits along a scenic stretch of the Milwaukee River.
Lodging in Glendale includes traditional motels and hotels, and suite-style accommodation ideal for families and visitors planning a longer stay. Most options are situated along Highway 43, which connects directly to downtown Milwaukee.
If you choose to stay in this district, you'll enjoy the convenience of being within a 7-minute drive of General Mitchell International Airport, as well as a 15-minute drive south of downtown. If you're travelling with your family or for business, you'll find readily available and affordable lodging here, as well as easily accessible outlying attractions like Lake Geneva, which is a 45-minute drive away.
South Milwaukee features traditional hotels, many of which offer airport shuttle service. You'll also find boutique accommodation along the shores of Lake Michigan that offer cooked-to-order breakfast and on-site coffee and cocktail bars.
Known locally as Tosa, this affluent village, a 15-minute drive northwest of downtown Milwaukee, has a historic central district reminiscent of Old World Europe. The mix of businesses includes boutique shopping, dining, galleries, and cafés. Outdoor enthusiasts will especially love Wauwatosa's offerings, which include abundant green spaces, plenty of biking and hiking trails, and several golf courses.
Lodging near Wauwatosa includes traditional inns and hotels, many with direct access to Highway 45 and Interstate 94, which connect to downtown Milwaukee. If you choose to say here, you'll enjoy conveniences like on-site restaurants, fitness facilities, and parking.
Nearly midway between Milwaukee and Chicago, Racine overlooks Lake Michigan and is the headquarters of the SC Johnson company. You can tour the Johnson family's once private home, Wingspread, designed by world-renowned architect Frank Lloyd Wright. You'll find several historic buildings here, including St. Patrick's Roman Catholic Church, as well as Regency Mall, which houses over 100 brand name retailers.
Hotels in this area range from well-known mid-range properties to privately owned properties, some with waterfront views. Parking is widely available, as many hotels are located along highways and Interstate 94.