Fremantle Hotel Accommodation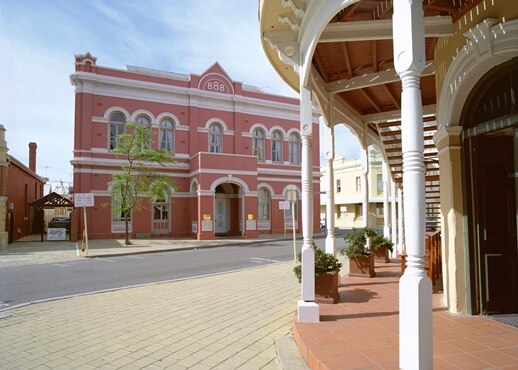 Search 37 hotels in Fremantle
Find out more about Fremantle
Where to stay in Fremantle
Exploring Fremantle
The Western Australia port city of Fremantle is surrounded by the state capital of Perth, but is very much an individual, historic settlement in its own right. Set around the Swan River estuary as it opens into a flat, tree-lined coastline, the Georgian and Victorian city and its roads were built by convict labour during the early to late 19th century. The city centre comprises six districts and is famous for its architectural heritage, including colonial-era mansions, the port area itself with its jetty, and its early 20th century Edwardian enclave.
Fremantle is a favourite with visitors and Perth residents alike for its restaurants, pubs, and lively nightlife, as well as for its varied shopping opportunities. As in port cities the world over, there's plenty of late-night fun, with the added bonus that Fremantle's port area is far safer after dark than its Perth equivalent. South Beach is simply beautiful, especially in the early evening when it's bathed by the spectacular Indian Ocean sunset. There's a varied choice of hotels to suit all tastes and pockets, from historic to ultra-modern, most of which are conveniently set for exploring.
Sights nearby
Visitors to Fremantle will need to plan their sightseeing carefully as there's so much to see and do in this unique port city. From exploring the streetscapes of its historic districts to watching street performers in buzzing Fremantle market or taking one the city's heritage trails, there's never a dull moment in Fremantle.
- Fremantle Arts Centre
Once a lunatic asylum, the Fremantle Arts Centre is a Victorian Gothic treasure and one of the city's most famous landmarks. It's yet another of Fremantle's hubs for musical evenings, art exhibitions, and the like, and is a vivid reminder of the city's colonial heritage.
- Fremantle Market
Opened in 1897, the city's vast Victorian covered market boasts everything from handicrafts through fish and fresh produce markets, to a section offering specialty food. Buskers and other street performers are a feature, and the building is now listed by the National Trust of Australia. The Bannister Suites Hotel is just a short stroll from the market.
- Fremantle City Trails
Taking one or several of the city's heritage trails is the best way to get an overview of the history, architecture, and maritime development of this fascinating settlement. On offer are the Art and Culture Trail, the Convict Trail, the Fishing Boat Harbour Trail, the Maritime Heritage and Waterfront Trails, and many more, including the Breweries and Hotels Walk.
Eating and drinking and shopping nearby
Eating out in Fremantle gives a choice of international cuisines to suit all pockets as well as hearty Australian foods. Italian restaurants are the most numerous, and there are Greek, Southeast Asian, and traditional British fish and chip restaurants, as well as a choice of fine dining outlets in the major hotels. Award-winning local beers are found in Fremantle's pubs, and shopaholics will love the market and its nearby boutiques and niche stores selling eco and new-world mystique-related goodies. The Esplanade Hotel is surrounded by eateries, bars, and stores.
Public transport
Getting around central Fremantle is free via the bright orange CAT buses, easily identified by the black cat painted on their sides. CAT bus stops display the same logo, and you should look for paw-prints on the footpath by the stops. The downtown area is flat and can be explored on foot, and passenger ferries run to offshore Rottnest Island and upriver to Perth.