10 Best Things to Do in Whistler, BC
What Is Whistler Most Famous For?
Whistler is famed for its breathtaking, blockbuster-worthy backdrop. Think soaring snow-capped mountains, mirror-like lakes and fragrant alpine forests woven with picturesque trails. Year-round, it provides a sprawling adventure playground for outdoorsy types, where you can hike and bike in the summer, or glide down snow-powdered slopes in the winter at Whistler Blackcomb – one of North America's largest ski resorts. Après-adventure, charm-laden Whistler Village welcomes you back with its top-notch buffet of restaurants, alluringly fashionable shops and lively nightspots where you can mingle with the up-for-it into the early hours.
What are the best things to do in Whistler, BC?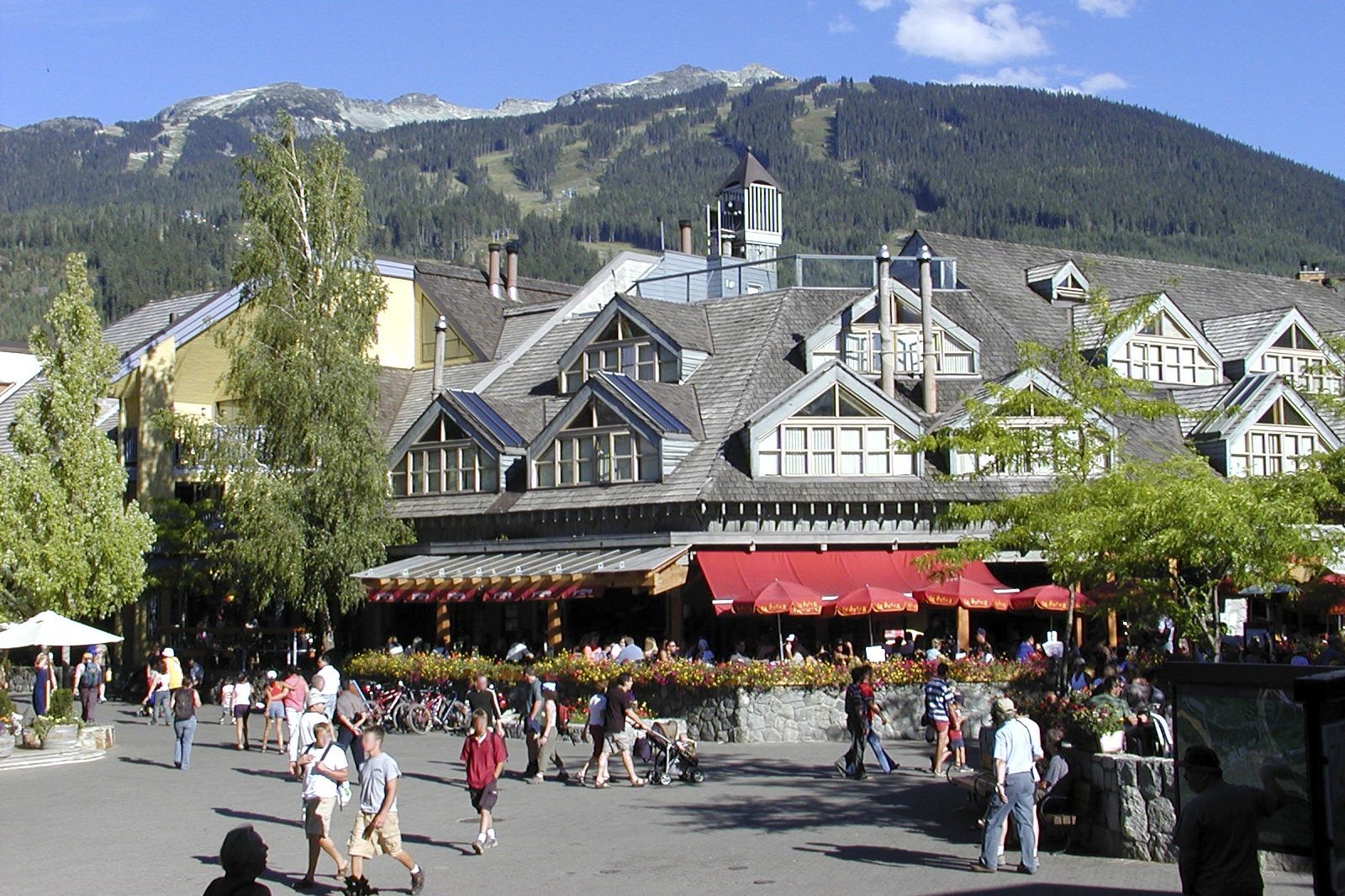 Start the day in Whistler Village
The region's basecamp, with shops, restaurants and après-ski
Located at the base of the Whistler and Blackcomb mountains, Whistler Village is the quaint heart of this dramatic region. A pedestrianised chalet-style town with a lively, upbeat atmosphere, it's home to a volley of shops selling everything from art and fashion to outdoor sportswear and equipment, not to mention everyday groceries for self-caterers. Après-ski, you'll find plenty of spots to unwind, with bars, clubs and variety of eateries ranging from rustic pubs to swanky restaurants.
Couples
Families
Shoppers
Nightlife
Luxury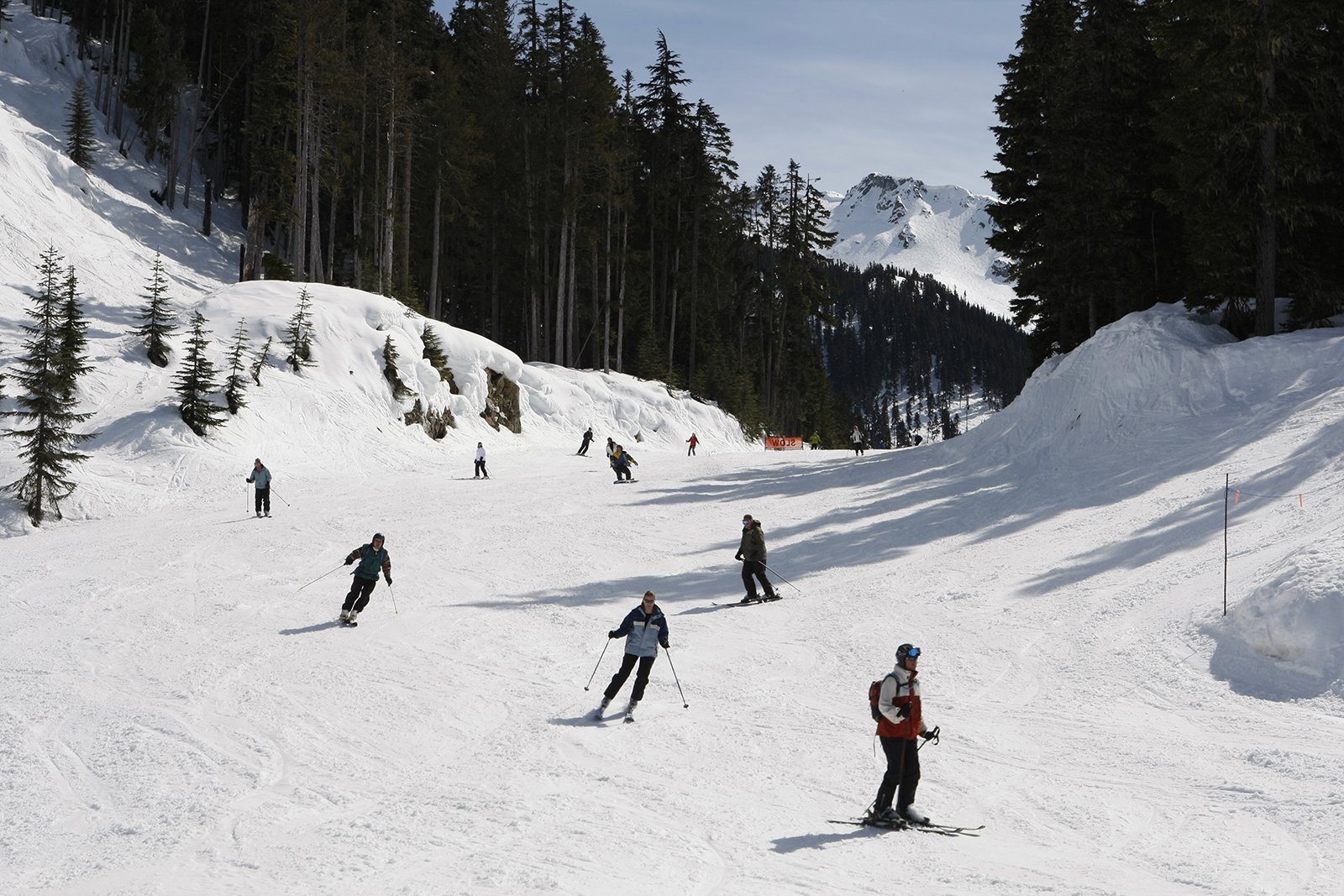 Go skiing or snowboarding
Whistler Blackcomb is paradise for skiers and snowboarders
For many visitors to Whistler, it's all about the skiing and snowboarding. The ski season takes place between November and May, over spectacular mountains boasting over 8,000 acres of sweeping, snowy slopes. Winter sports junkies will have plenty to get their skis into here, with 200 marked trails, 16 alpine bowls and world-class terrain parks to boot. If you've never skied or snowboarded before, then you're in the right place to get started – Whistler Blackcomb is home to several ski schools and equipment rental companies, as well a variety of other winter sports operators should you want to try something new like tobogganing or snowshoeing.
Location: 4545 Blackcomb Way, Whistler, BC V8E 0X9, Canada
Open: Nov-December 9th 7.30am to 5.30pm. December 10th to January 13th 7am to 7pm. January 14th to February 24th 7.30am to 6.30pm. February 25th to April 21st 7.30am to 5.30pm. April 22nd through summer 8.30am to 5.30pm. (Reservation centre)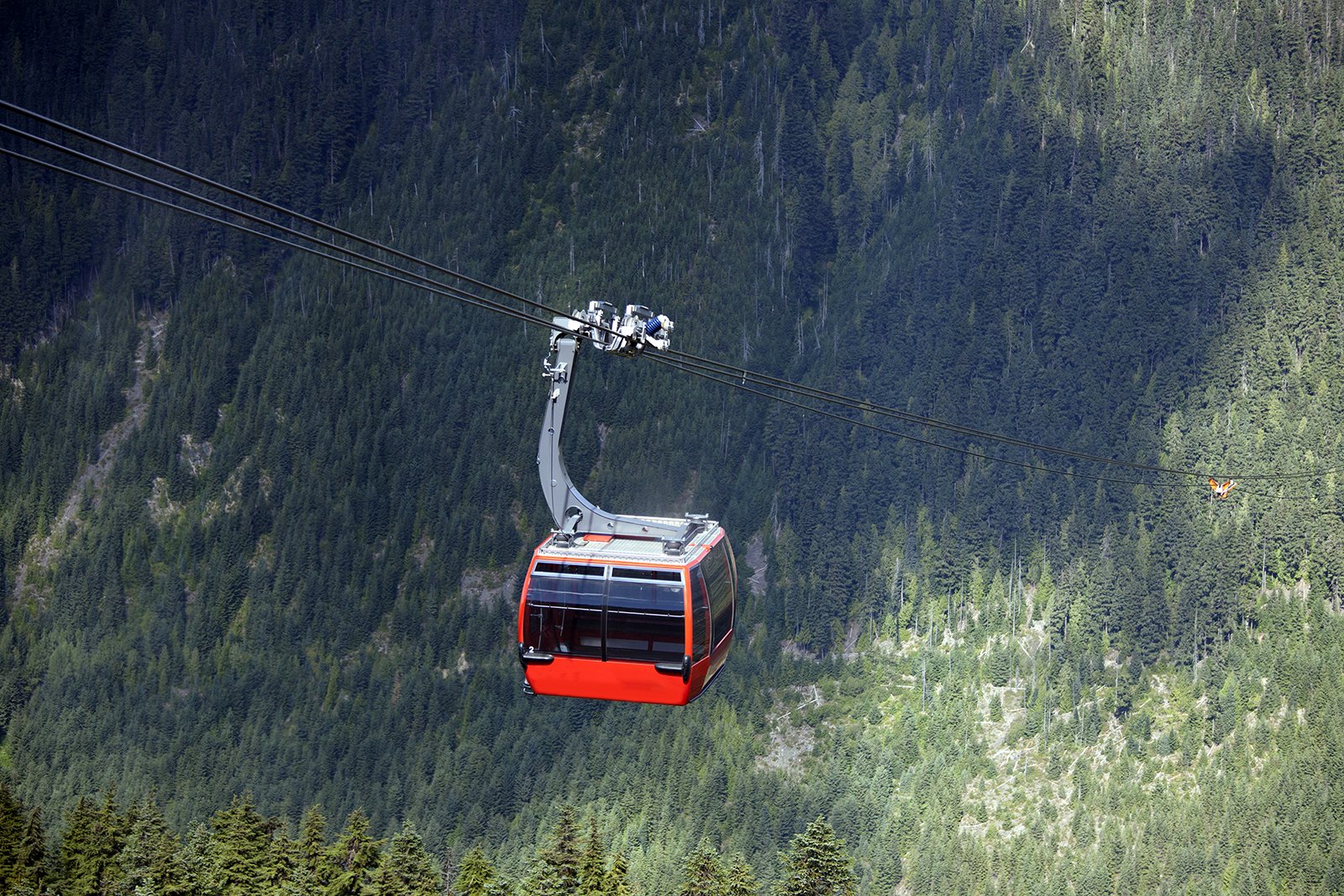 Ride the Peak 2 Peak Gondola
A world record-breaking and breathtakingly scenic route between 2 mountains.
While awesome scenery is everywhere you turn in Whistler, the Peak 2 Peak Gondola provides the most spectacular way to admire it. Transporting skiers and sightseers between Whistler and Blackcomb mountains, its riders are treated to 360-degree views of the landscape, with sprawling forests, towering mountain peaks, gleaming glaciers and sparkling lakes below. When you make it to the Roundhouse Lodge, be sure to visit the on-site restaurant for delicious grub with a mountaintop view, and don't miss the Cloudraker Skybridge & Raven's Eye Cliff Walk – a 130-metre suspension bridge.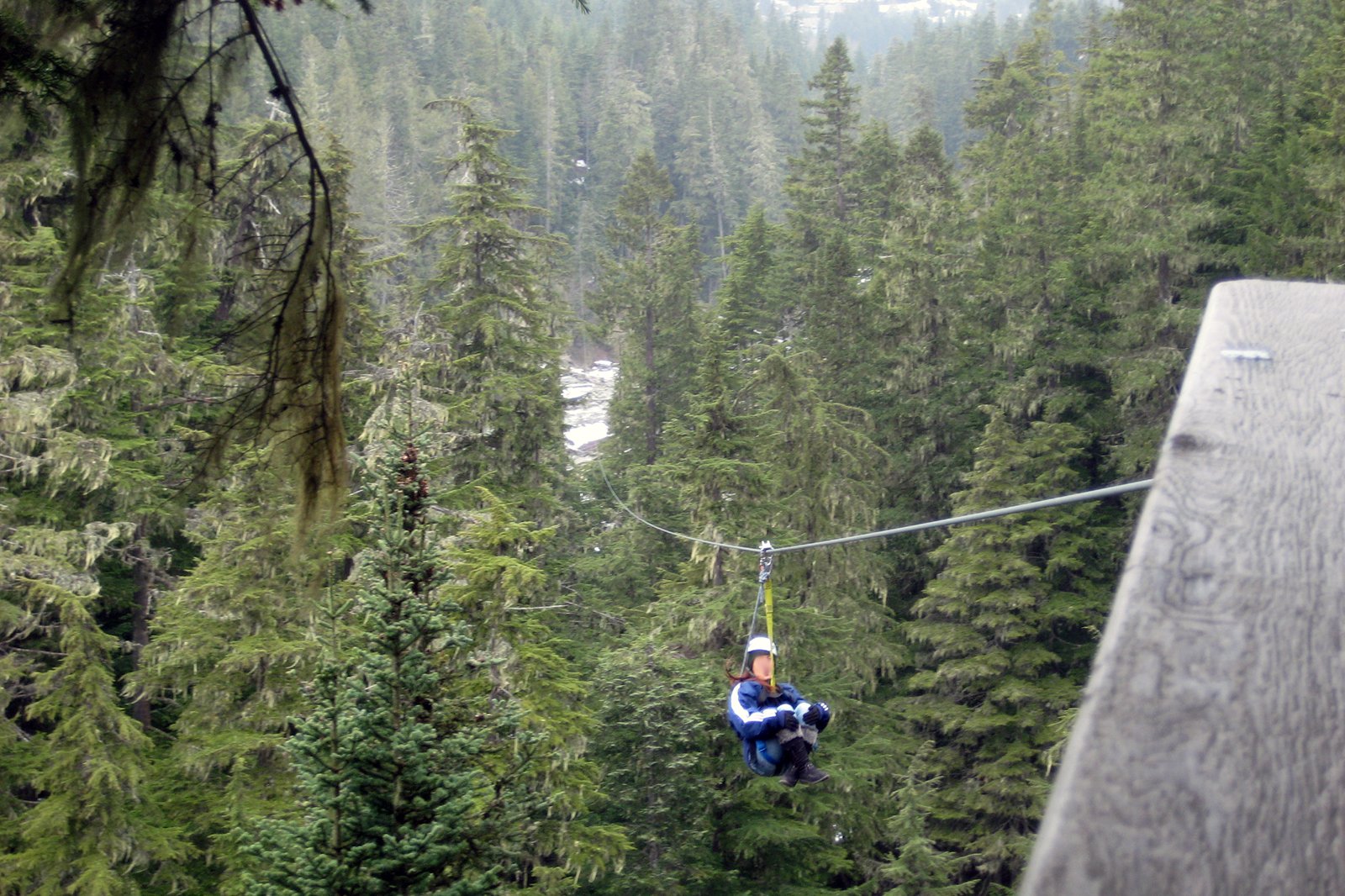 Zipline through the trees
Take in the gleaming scenery of Whistler as you fly over forests and valleys
If you've ever wanted to soar like a bird, then a zipline ride is probably the next best thing. You can go whooshing across the epic scenery of Fitzimmons Valley, between the soaring mountains, with convenient access right in Whistler Village itself. Or, you can head out around 10 minutes from the village to another ziplining site for more adrenaline-charged adventures over craggy creeks and ancient trees. Romantic couples and fun-loving families will all relish the high-wire experience.
Couples
Families
Photo
Adventure
photo by Antony Stanley (CC BY-SA 2.0) modified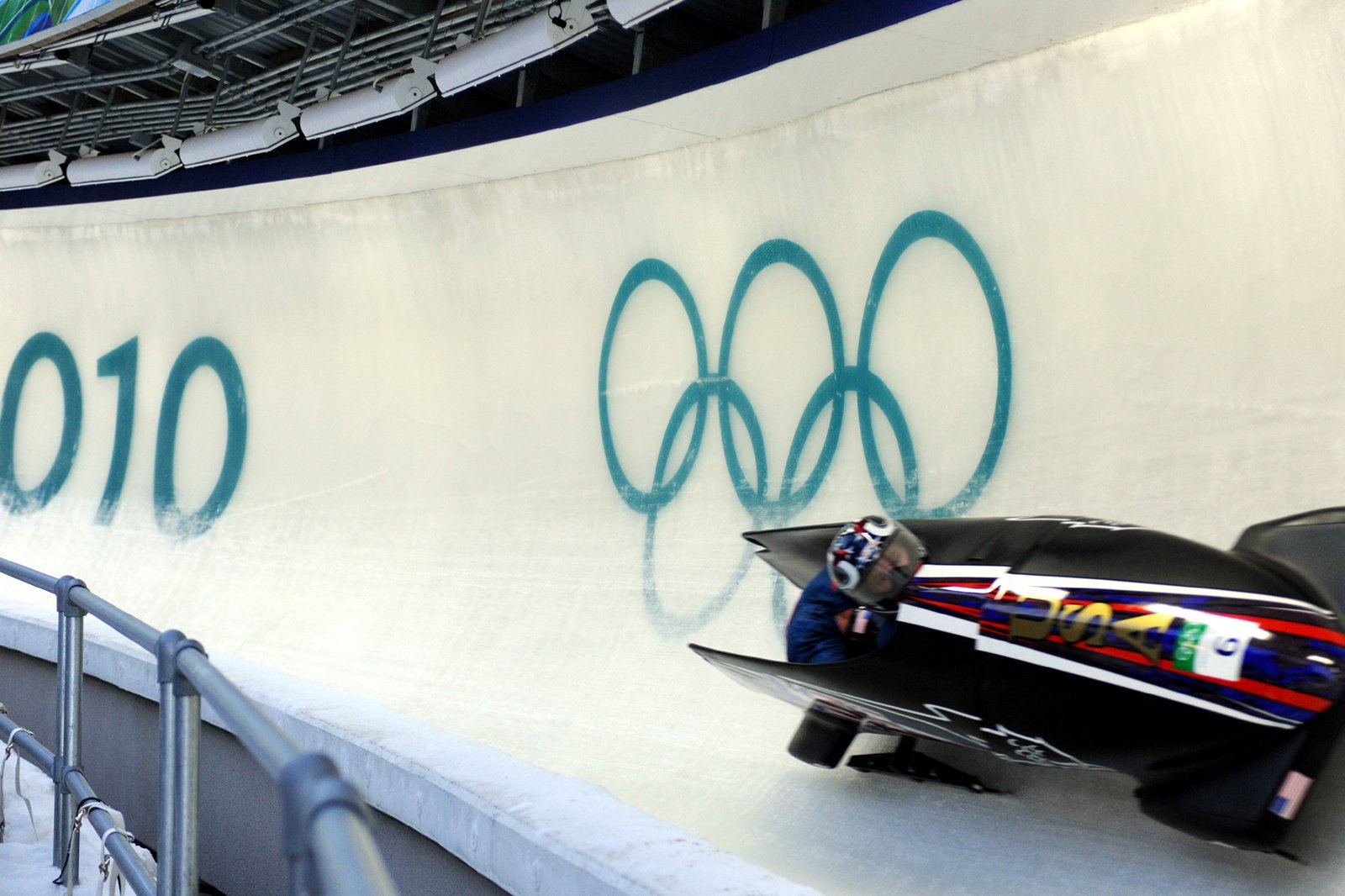 Learn to bobsleigh at Whistler Sliding Centre
Feel the rush on an exhilarating bobsleigh ride over the ice
For any adrenaline junkie, bobsleighing is a must-try – and where better than the venue that hosted the bobsleigh, luge, and skeleton competitions for the 2010 Winter Olympics? The Whistler Sliding Centre welcomes guests to experience the fast-paced sport, with a full safety orientation, trained pilot and tour of the Olympic venue included in the experience. For those really wanting to test their mettle, then there's no rush quite like the headfirst skeleton – and the Whistler Sliding Centre is the only place in Canada where you can do it.
Location: 4910 Glacier Ln, Whistler, BC V8E 0C2, Canada
Open: Daily from 9am to 5pm (on-ice activity times vary seasonally)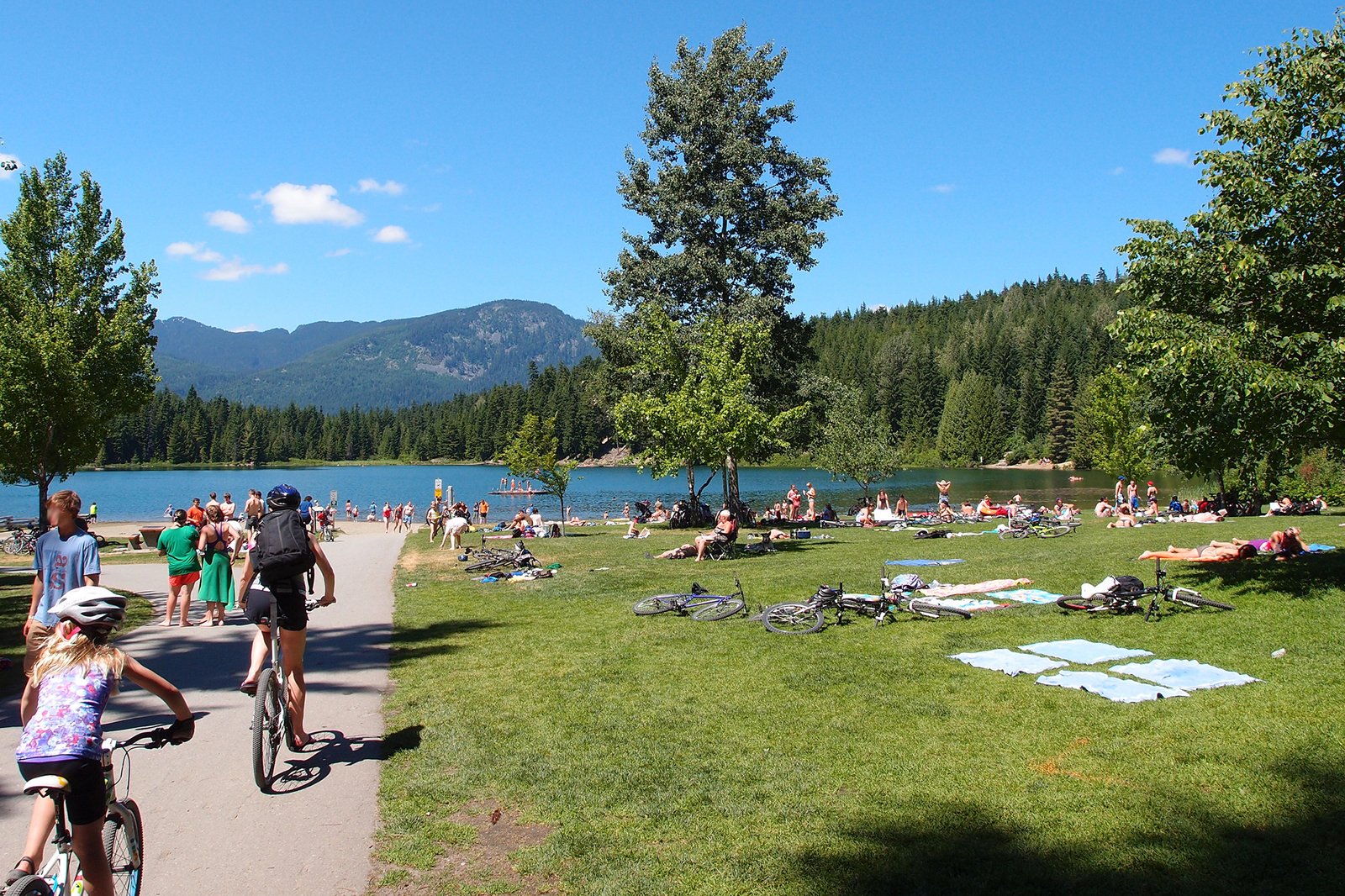 Hike along Valley Trail
Whistler's Valley Trail provides a picture-perfect route for walkers and cyclists
If you're more into enjoying the great outdoors at a peaceful pace, then a hike along Whistler's Valley Trail might be just the ticket. A long, paved trail and boardwalk network, the idyllic attraction links many of Whistler's neighbourhoods, picnic areas and dramatic beauty spots, making it as convenient as it is pretty. By summer, you can follow the route by foot, bike, or rollerblades, while in the winter, sections are kept suitable for both walking and cross-country skiing.
photo by Guilhem Vellut (CC BY 2.0) modified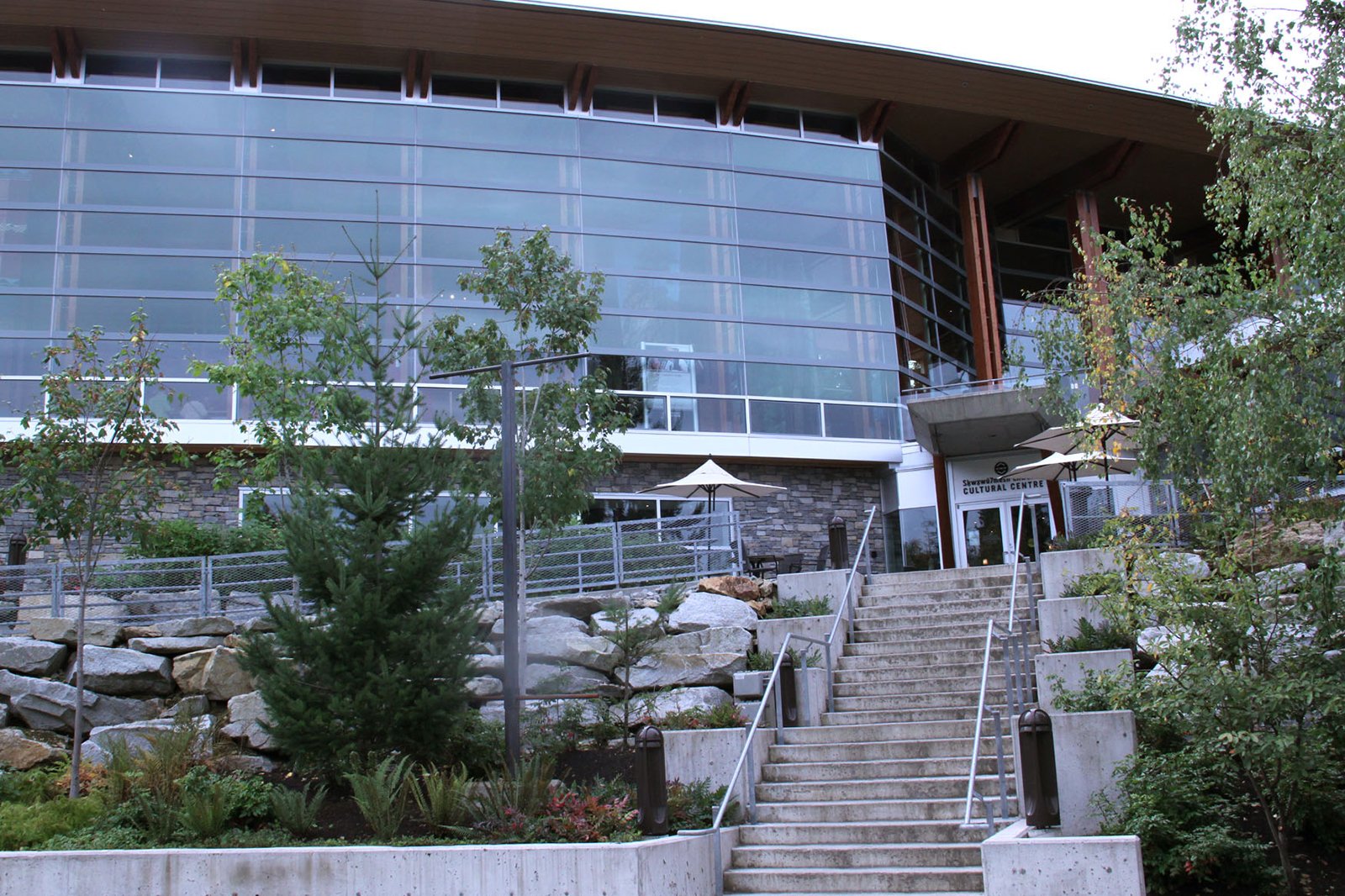 Get some culture The Squamish and Lil'wat Cultural Centre
Learn about the captivating cultures of the Whistler region's indigenous people
Whistler isn't all about tearing down the slopes and gawping at postcard-perfect scenery – there's a good dose of culture here too. Set within a building inspired by a traditional longhouse, the Squamish and Lil'wat Cultural Centre is a great place to learn about the region's indigenous people, through a trove of displays and hands-on exhibits. Visitors will get to experience the folk legends, art, fashion, songs and ceremonies of these fascinating people, as well as take part in craft workshops where they can make everything from wool bracelets to dream catchers. Don't miss the centre's centrepiece – a 40-foot Salish hunting canoe, carved from a single cedar tree.
Location: 4584 Blackcomb Way, Whistler, BC V0N 1B4, Canada
Open: Open Tuesday–Sunday from 10am to 5pm (closed Mondays, hours may vary seasonally)
Families
History
Photo
Budget
photo by US Embassy Canada (CC BY 2.0) modified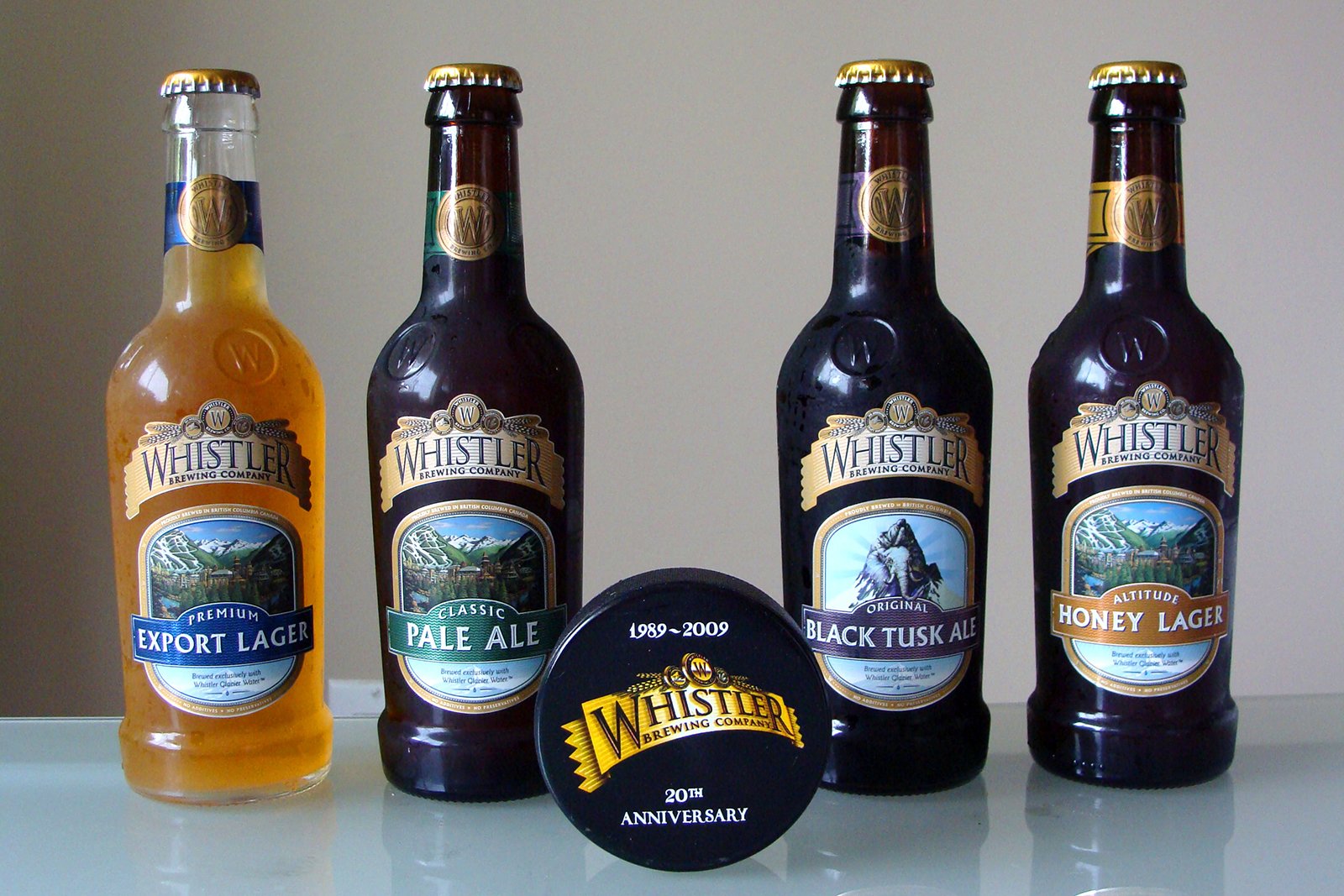 Drink some craft beers at Whistler Brewing Company
Take the delicious and tipsy tour
The Whistler Brewing Company in Function Junction is a must-visit for any artisan beer aficionado – especially fans of the hipster-approved brand. A fully guided tour takes visitors through the brewing process, with (of course) plenty of opportunities to sample the fruits of their labour along the way. Afterwards you can enjoy a few pints of your favourite in the Tap House, before purchasing kegs and wearable merch to take home. Oh, and be sure you bring your appetite as well as your liver – the on-site restaurant offers a variety of comfort food favourites, from indulgent nachos and pizza, to pulled pork smothered in BBQ sauce.
Location: 1045 Millar Creek Rd, Whistler, BC V8E 0W5, Canada
Open: Sunday–Wednesday 12pm to 8pm. Thursday–Saturday 11am to 10pm
photo by radiobread (CC BY-SA 2.0) modified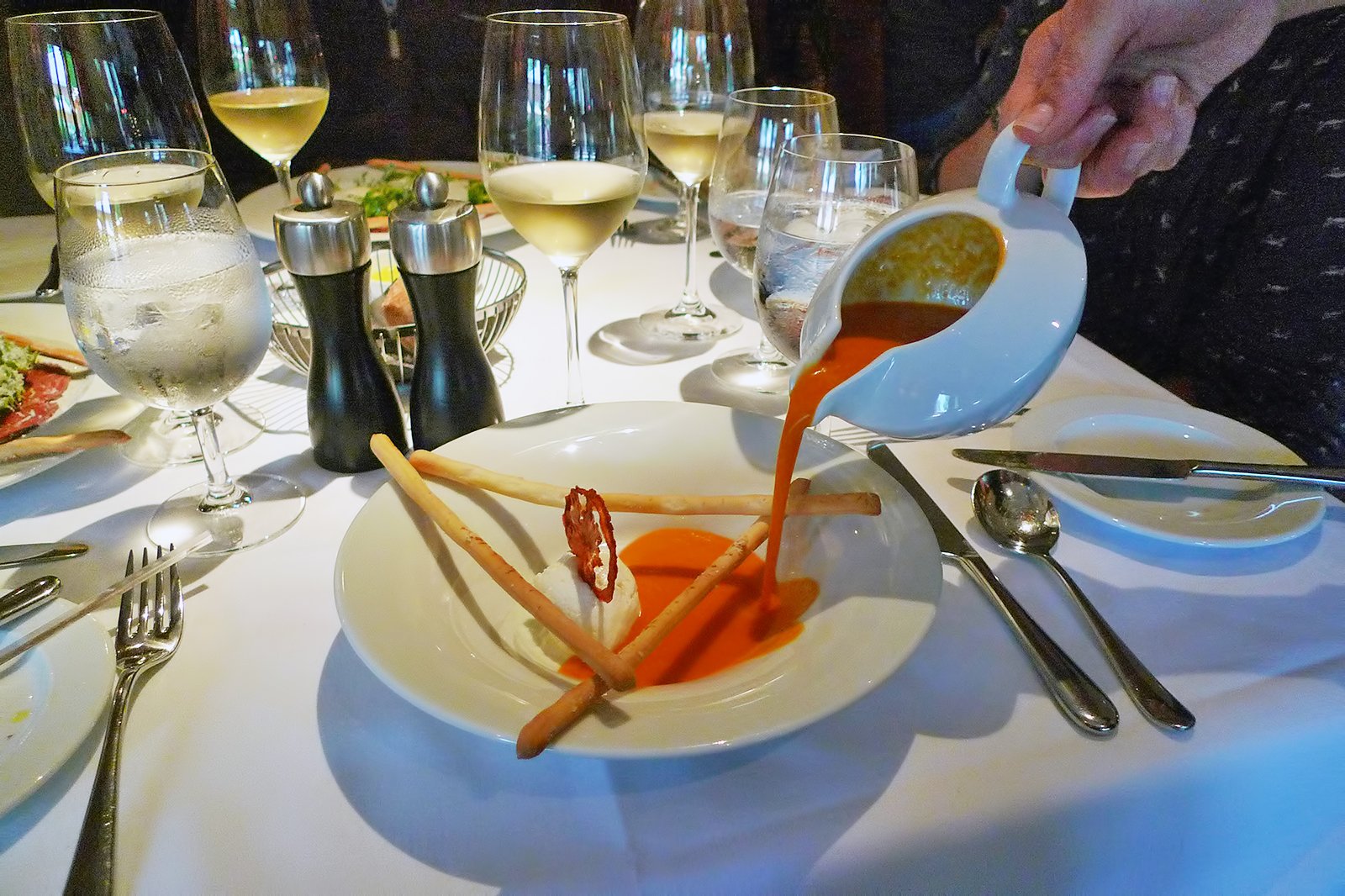 'Eat local' at Araxi
Whistler's Araxi restaurant is a chic après-ski hangout
Situated in the beating heart of town, Araxi is one of Whistler Village's chicest après-ski hangouts. The swanky restaurant features a warm and inviting dining space, and serves up classy Pacific Northwest dishes created with locally sourced ingredients, with some top-notch wine selections to boot. After dinner (or instead of), you can kick back at the glamorous rosewood cocktail bar for some beautifully crafted cocktails – a must-do after a day on the slopes.
Location: 110 - 4222 Village Square, Whistler, BC V0N 1B4, Canada
Open: Daily from 2:30pm to midnight
Couples
Food
Nightlife
Luxury
photo by Ruth Hartnup (CC BY 2.0) modified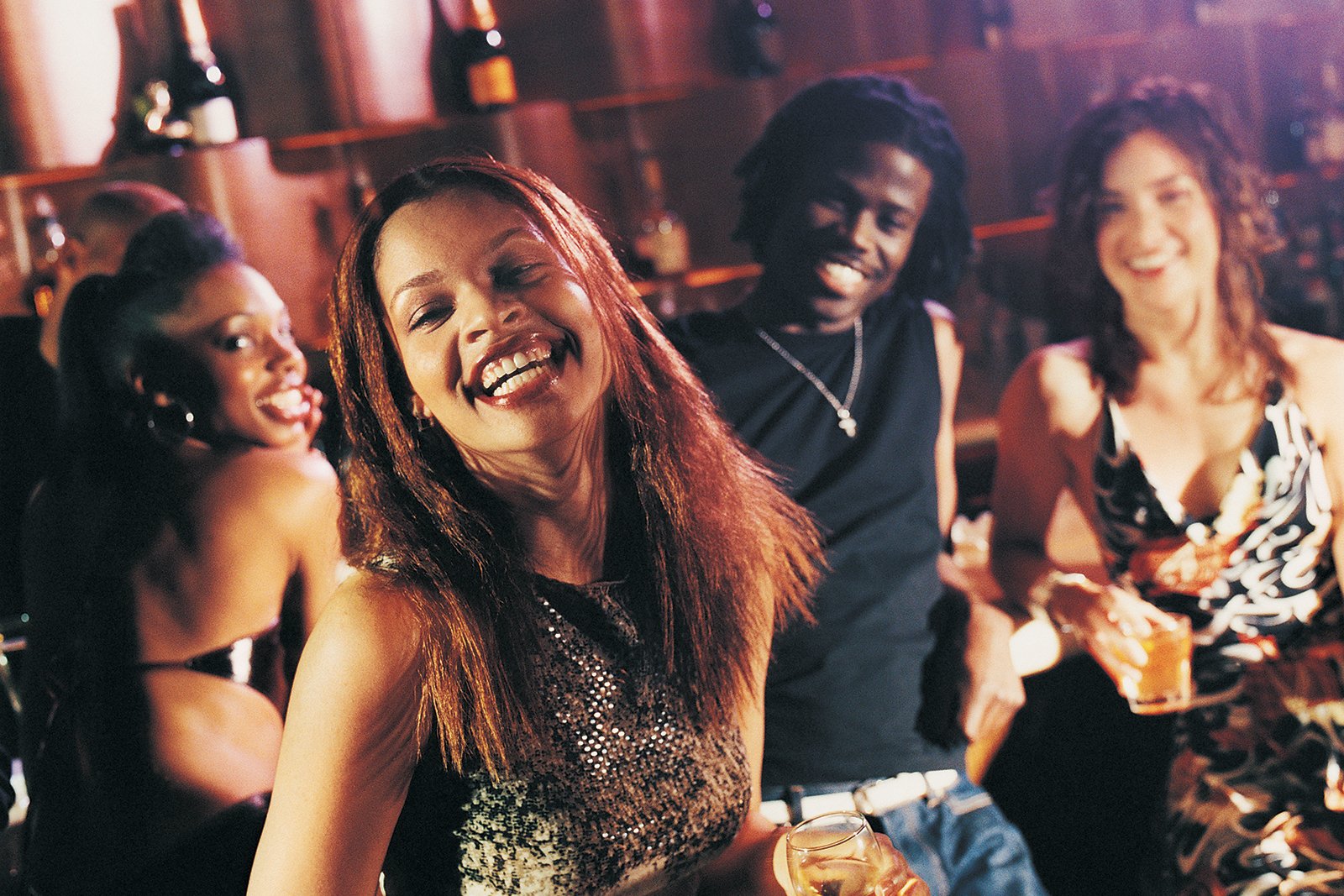 End the day at Buffalo Bills Bar & Grill
Eat up and get down at this rustic and raucous nightspot
Whether you want a more down-to-earth dining experience, an evening of beer and pool, or a nightcap and boogie, Buffalo Bill's Bar & Grill is the place to go. One of Whistler's most happening nightspots, here you can chow down on comfort food favourites ranging from classic burgers to fully loaded nachos, before hitting the dance floor and partying the night away. With a tempting menu, fully stocked bar, top DJs and a crowd of lively locals, it's never a dull night.
Location: 4122 Village Green, Whistler, BC V0N 1B4, Canada
Open: Daily from 7pm to 2am