10 Best Things to Do in Nottingham
What is Nottingham Most Famous For?
Nottingham has a unique place in British history and folklore, being the old home and hunting grounds of none other than Robin Hood. Even besides that remarkable claim to fame, it's a city with an extraordinary past and future. It was once famous for its lace and remains an important place in the fashion world, being the birthplace of designer Sir Paul Smith.
There is more to this East Midlands town than old buildings and men in tights, though. The city centre is packed with shopping malls, sports stadiums, nightclubs and restaurants. It's a lively place with interesting things to see and do around every corner and an award-winning public transport system to get you there.
What are the best things to do in Nottingham?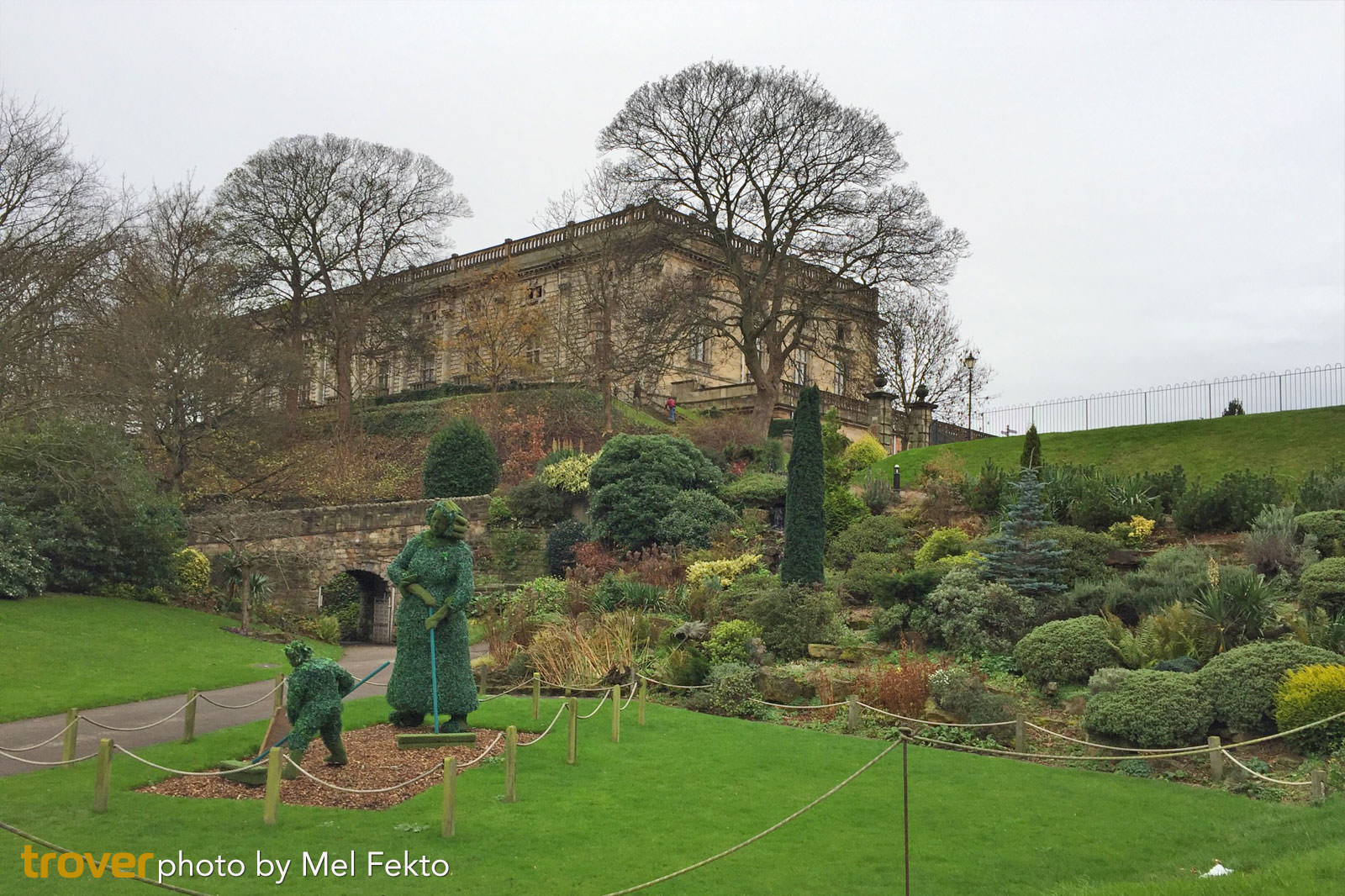 Start your day in the Castle Quarter
Have a pint in some of England's oldest pubs
The historical Castle Quarter of Nottingham is a great place to really get to grips with the remarkable history of the city. The building still known as Nottingham Castle is actually a ducal manor house instead of a strategic fortification, but the museum and art gallery it contains are a good place to start your day. From there, you can explore the wooded grounds, see the statue of Robin Hood and visit some of the oldest pubs in England – the famous Ye Olde Trip to Jerusalem and the arguably older Ye Olde Salutation Inn.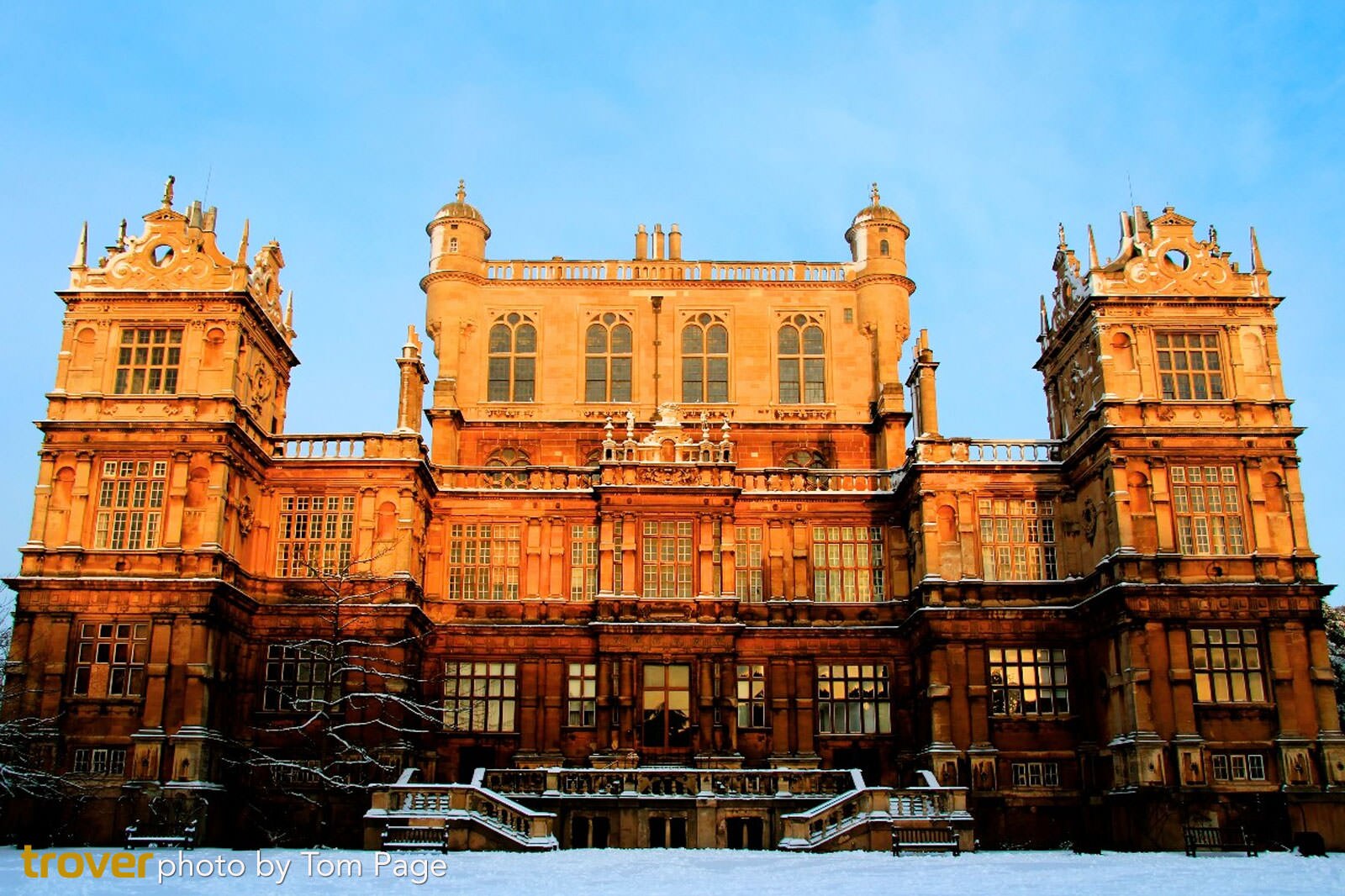 Visit Wayne Manor at Wollaton Hall
See the wild deer in the grounds
The dramatic Elizabethan country house to the west of Nottingham city centre will probably be familiar to fans of the 2012 movie The Dark Knight Rises, since it played the role of Wayne Manor. In the real world, the mansion is home to Nottingham's Natural History Museum, the Nottingham Industrial Museum, and regular concerts and festivals. The house itself, built in 1588, is spectacular in its own right, and is surrounded by 500 acres of equally beautiful parkland, with herds of red and fallow deer roaming free.
Location: Wollaton, Nottingham NG8 2AE, UK
Open: Monday - Friday from 8am to 8.30pm, Saturday - Sunday from 9am to 8.30pm
Phone: +44 (0)115 915 2733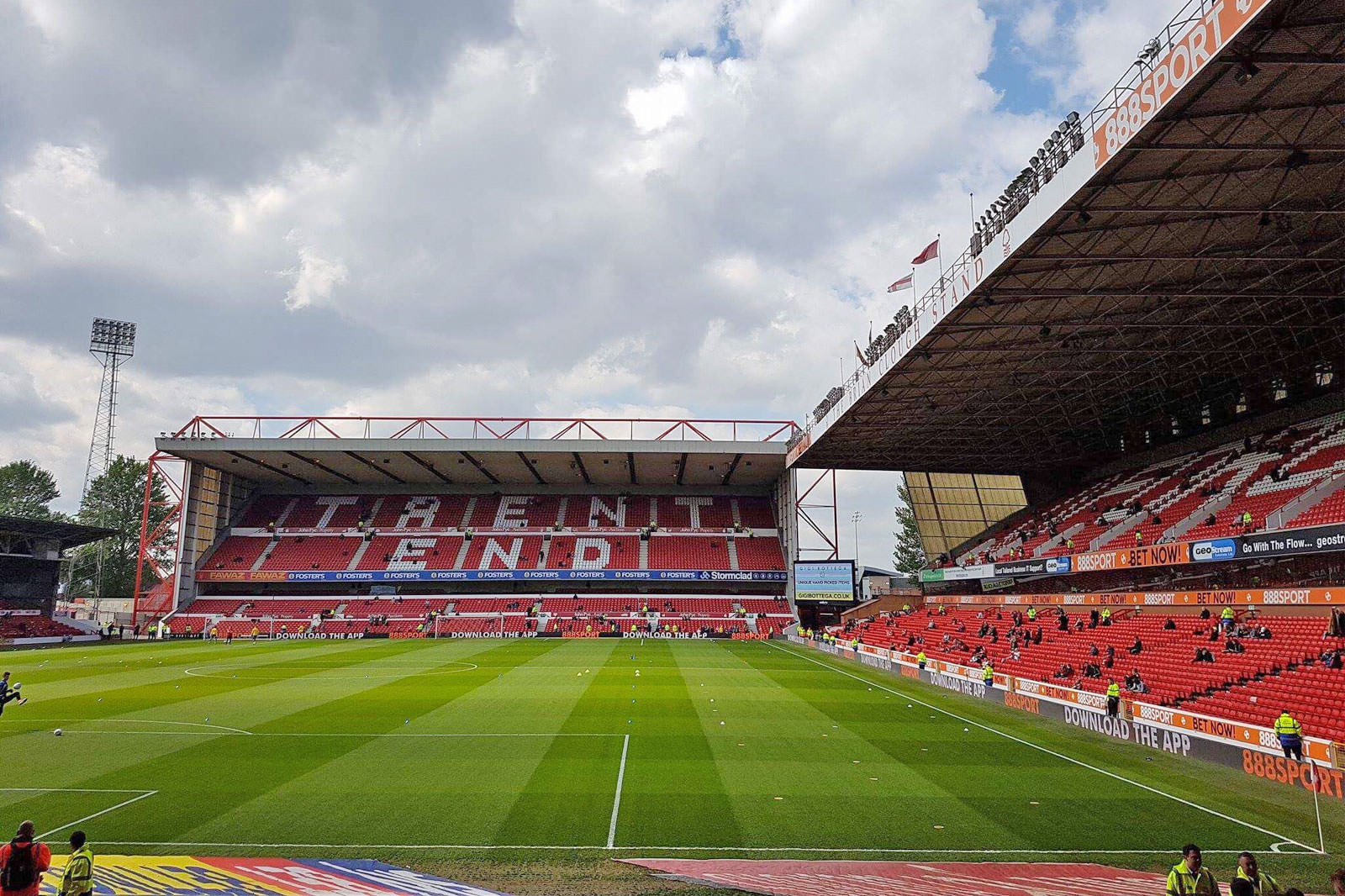 Watch the world's oldest football league team play
There's a lot of sport in a small area in Nottingham
While it's not that usual for English cities to have more than 1 football stadium – Manchester, Liverpool, Birmingham, Sheffield and London all have at least 2 each – it's very unusual to find them as close together as they are in Nottingham. The home grounds of Notts County and Nottingham Forest are only about 730 ft apart, though they are separated by the River Trent. The local rugby and cricket grounds are also both close by. The excitement of watching a good match live is unrivalled. Enjoy a bit of football history by going to Meadow Lane Stadium to watch Notts County – the oldest league team in the world!
Location: Meadow Lane, Nottingham NG2 3HJ, UK
Phone: +44 (0)115 952 9000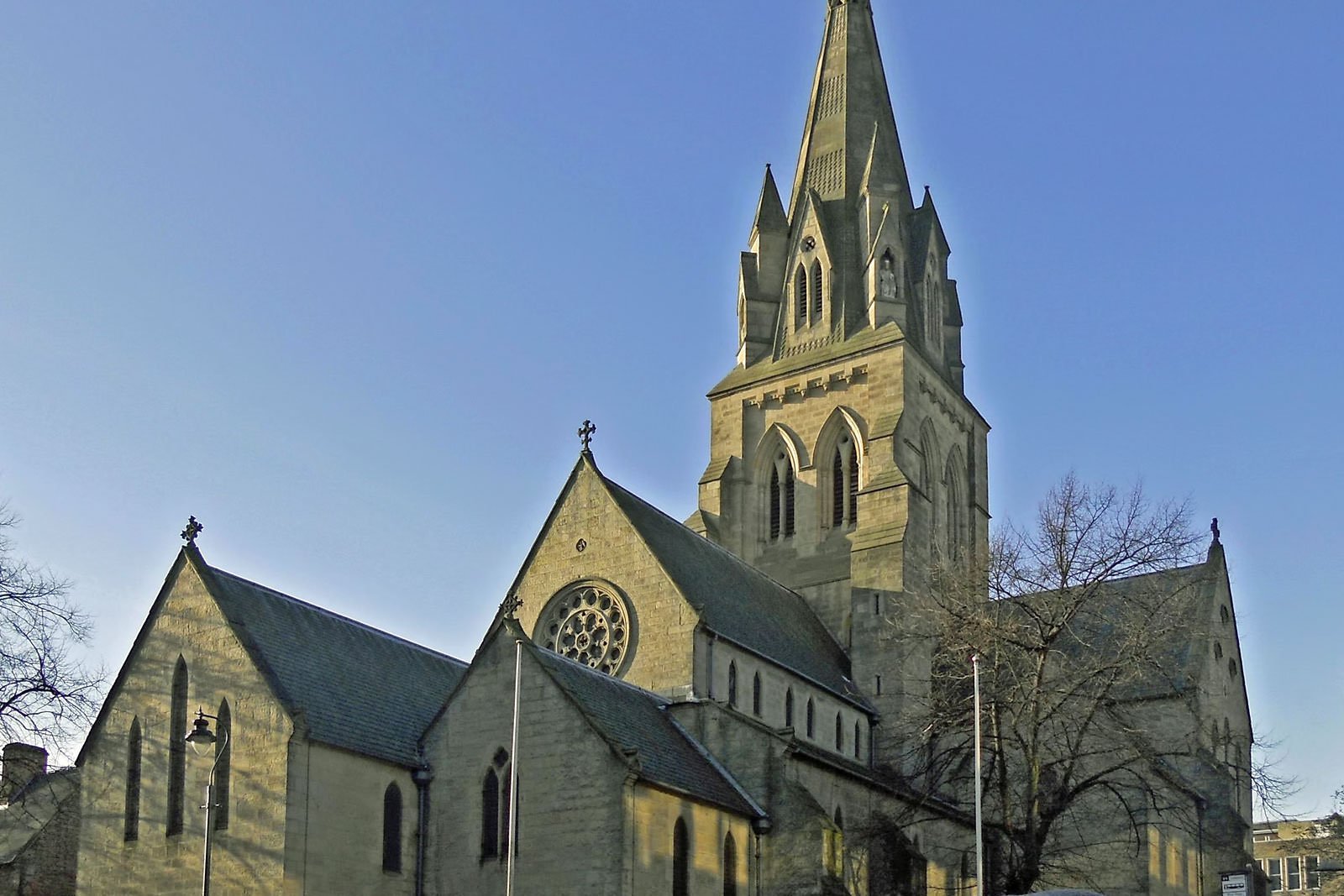 Must-See: Nottingham Cathedral
Check out the Blessed Sacrament Chapel
The Cathedral Church of St. Barnabas is the seat of the Bishop of Nottingham – and what a seat it is! Fairly modest from the outside, the interior is very bright and quite colourful. Designed by the same architect responsible for the interior of the Houses of Parliament, the Blessed Sacrament Chapel is especially beautiful. Aside from the amazing historical surroundings, Nottingham Cathedral provides a little bit of peace during your busy day (or two).
Location: North Circus Street, Nottingham NG1 5AE, UK
Open: Daily from 7am to 7pm
Phone: +44 (0)115 953 9839
photo by Rabanus Flavus (CC BY 2.0) modified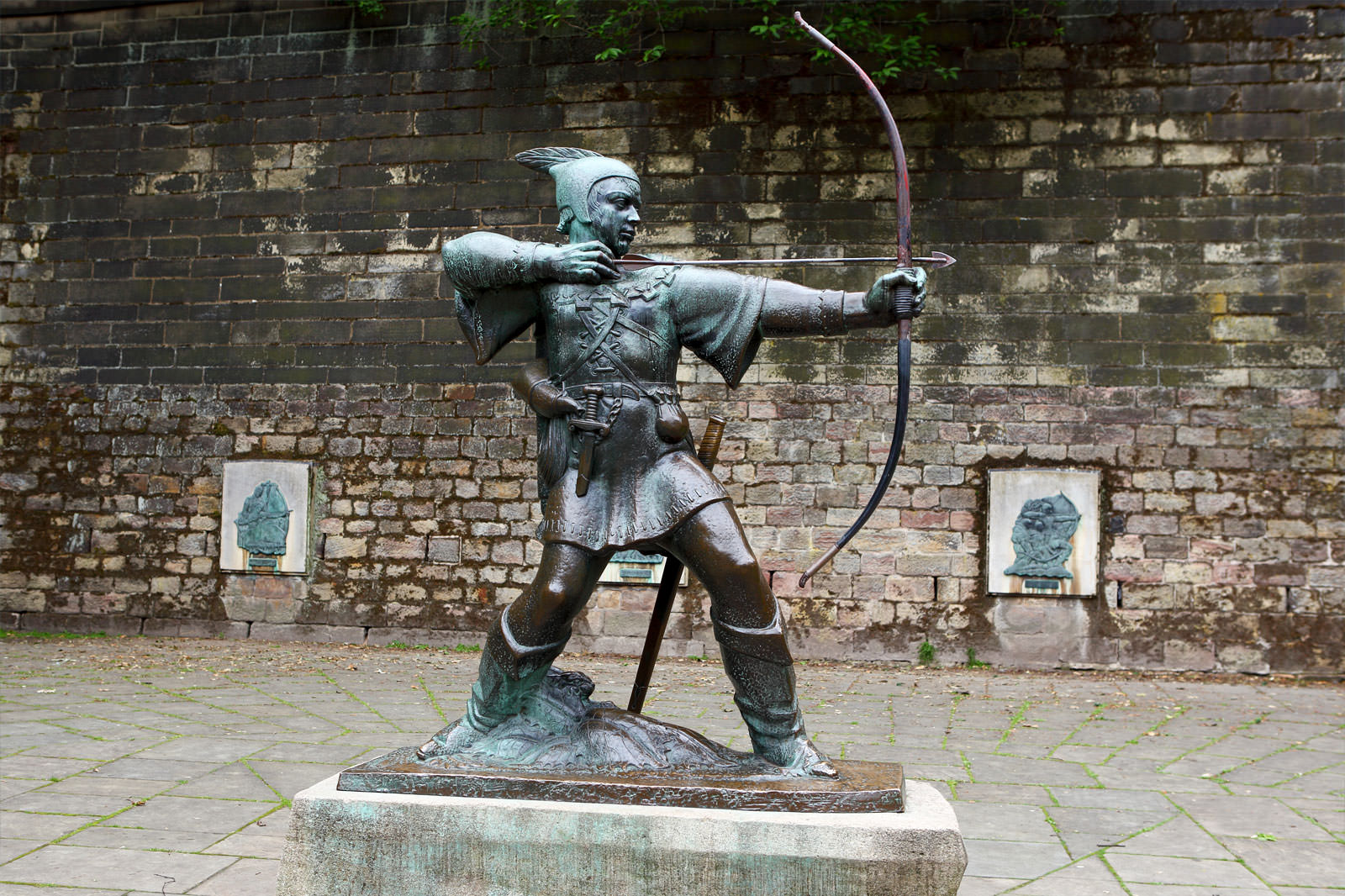 Take the Nottingham Robin Hood Town Tour
Let the Prince of Thieves be your guide
Nottingham is obviously best known for its association with Robin Hood, so who better to guide you around the city than the Prince of Thieves himself? Providing an infinitely more immersive and memorable experience than any other kind of city tour, the legend himself (or, at least, an excellent actor in full costume) will take you around the major historical sites of Nottingham, including the Lace Market, the old jail, Nottingham Castle and, finally, Ye Olde Trip to Jerusalem. Other tours are available, but this one has deservedly achieved international acclaim.
Location: Starts from The Cross Keys pub, Fletcher Gate, Nottingham NG1 2GJ, UK
Phone: +44 (0)844 477 5678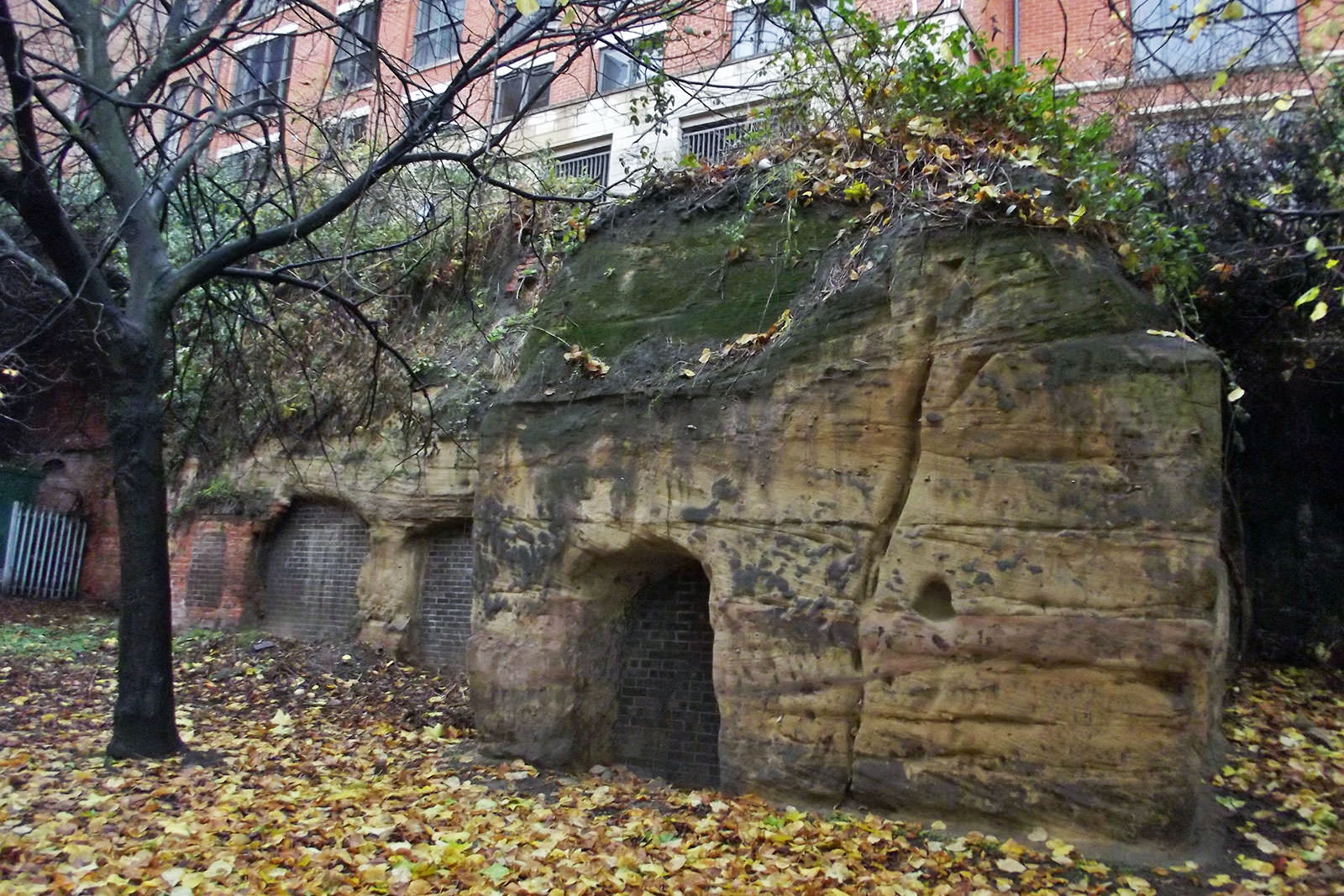 Get lost in the City of Caves
Explore Nottingham's social history
The City of Caves is an ancient network of about 500 manmade caves dug out of the sandstone under Nottingham. They are thought to date back as far as the Dark Ages, and have had various uses throughout history. They have housed Britain's only underground tannery, one of the country's worst slums and even a public air-raid shelter during the Second World War. You can learn more about the caves and their uses through actor-guided or audio-guided tours. The caves are operated by the National Justice Museum and you can get a joint ticket, giving you access to both venues.
Location: Upper Level, Broadmarsh Shopping Centre, Nottingham NG1 7LS, UK
Open: Daily from 10am to 5pm
Phone: +44 (0)115 952 0555
photo by Elliott Brown (CC BY-SA 2.0) modified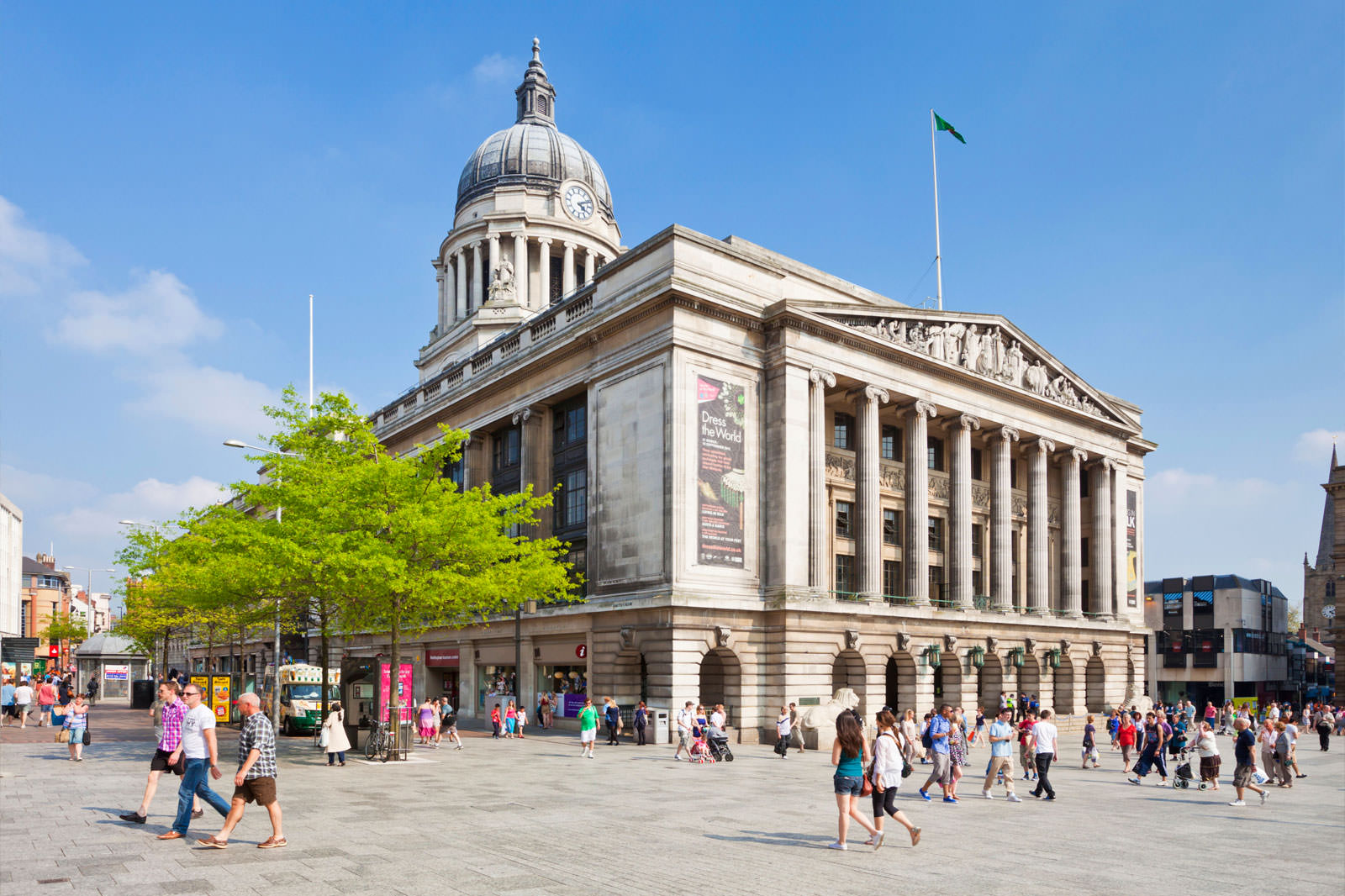 Shop at The Exchange
High-class stores in swanky surroundings
Nottingham has several big shopping malls around the city centre, but The Exchange stands out from the rest. Sometimes called Exchange Arcade, it's comparatively small, with only about 20 stores in the opulent setting built in the late-1920s. There's a distinct leaning towards women's fashion in the stores here, which include Oasis, Radley and Karen Millen. There are a couple of small cafés where you can enjoy the surroundings and a break between purchases. If The Exchange doesn't satisfy your retail itch, take a walk around the surrounding streets for more high-street brands.
Location: High Street, Nottingham NG1 2DD, UK
Open: Monday - Saturday from 9am to 6pm, Sundays from 10am to 5pm
Phone: +44 (0)115 947 0591
Shoppers
History
Photo
Luxury
Must-See: Sherwood Forest
Visit Robin Hood's camp
It's impossible to say that Sherwood Forest is really in Nottingham – it's about 25 miles north. However, it's one of the city's most popular attractions, making it impossible for us not to include it here. Famously the hideout of Robin Hood, there are dozens of walking and cycling routes between the ancient oak, silver birch and rowan trees (among others). The golden sunsets, blinking through the leaves, are especially beautiful. Be sure to see Major Oak, which is said to have been the site of Robin Hood's main hideout. If you're around Nottingham in late-August, you should also check out the Robin Hood Festival.
Location: Edwinstowe, Mansfield NG21 9HN, UK
Open: Monday - Friday from 10am to 4.30pm, Saturday - Sunday from 10am to 5pm
Phone: +44 (0)1623 823202
Families
History
Photo
Budget
Adventure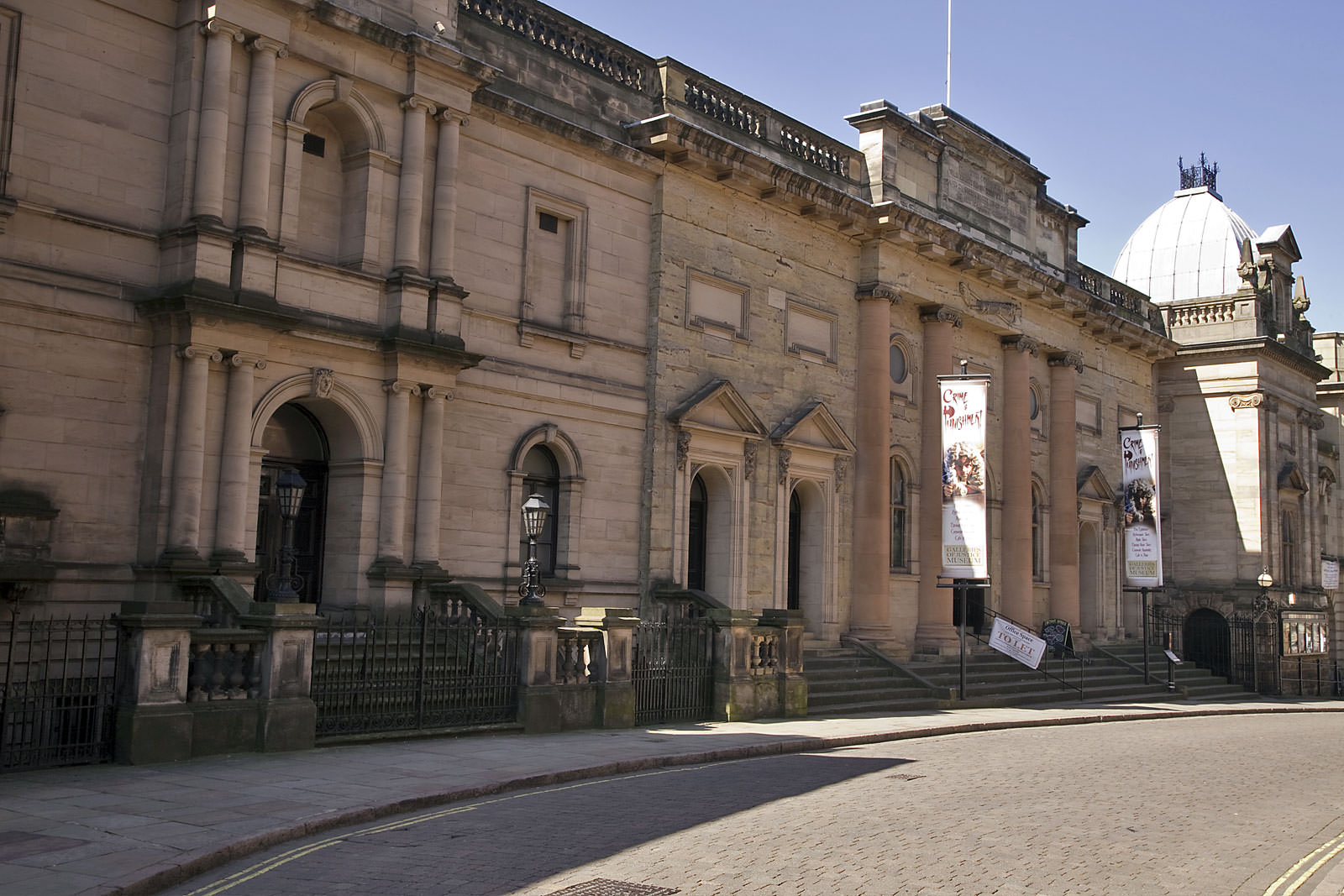 See the ghosts at the National Justice Museum
Or maybe just learn more about British law and order
Once the home of the infamous Sherriff of Nottingham, the National Justice Museum is said to be one of the most haunted buildings in Britain – not surprising, given that it's housed in the old county jail. For those who want a spooky encounter, there are ghost tours every Friday from 6pm. If you're not into the supernatural, the museum itself is very interesting. The history of law and order in the UK is brought to life by actors and over 40,000 exhibits, including original evidence from the Great Train Robbery.
Location: High Pavement, Nottingham NG1 1HN, UK
Open: Monday - Friday from 9am to 5pm, Saturday - Sunday from 10am to 5.30pm
Phone: +44 (0)115 952 0555
photo by Fayerollinson (CC BY-SA 3.0) modified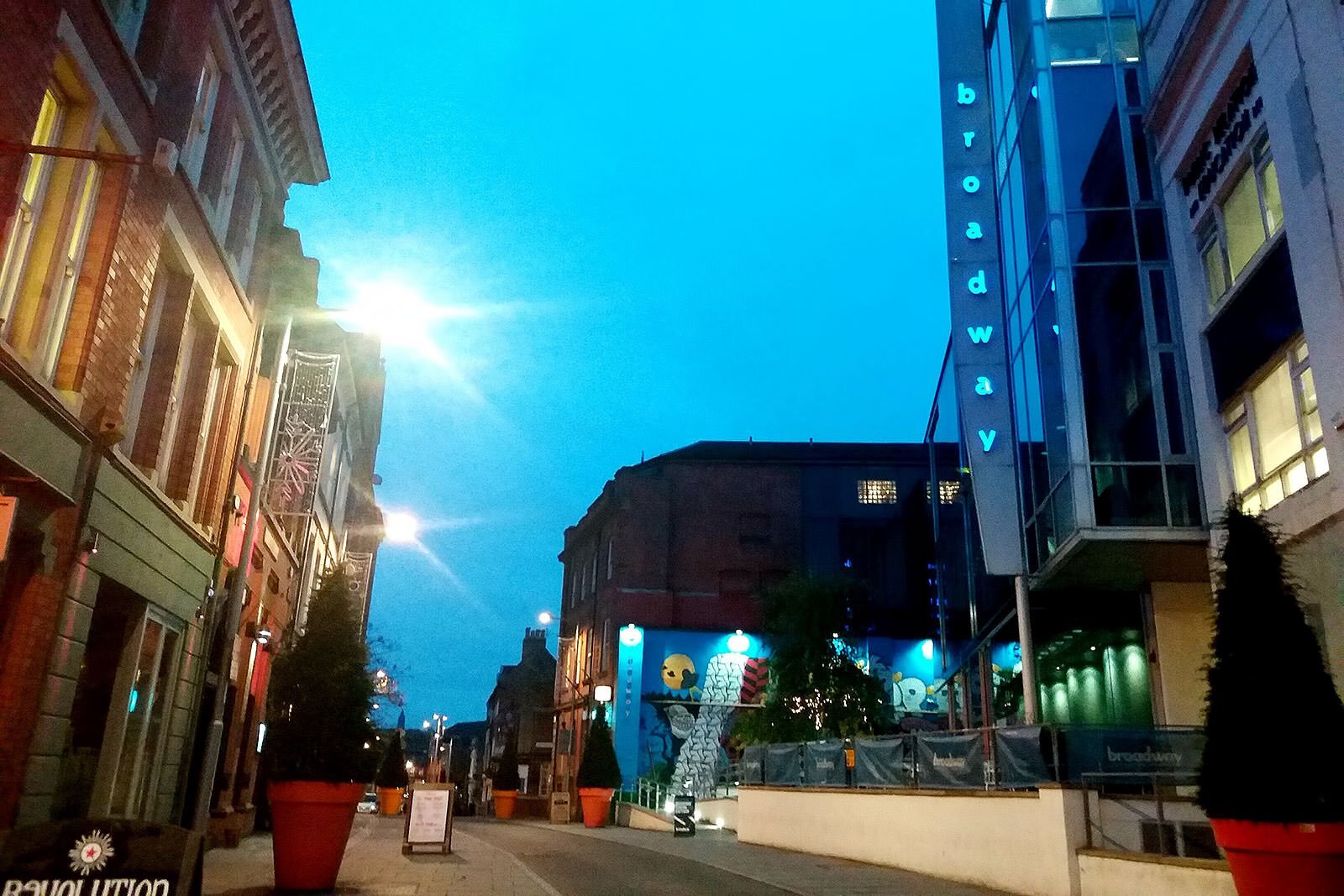 End the day in Hockley
Dine and party in Nottingham's Creative Quarter
Hockley is in Nottingham's Creative Quarter, and it shows. The place is packed with innovative shops, restaurants and bars. Check out Goose Gate, in particular, for an impressive range of places to eat. After that, you can wander up Broad Street to the Broadway Cinema or head to the Nottingham Arts Theatre on George Street. If you want to party, Hockley is known as the Soho of Nottingham, with top venues including Baa Bar, Jam Café and Boilermaker.