10 Most Charming Villages in the Lake District
Disclaimer: A Couple of Them are Towns
The Lake District is well-known for its scenic landscapes, but sprinkled around its lakes and green valleys are towns and villages that brim with Cumbrian charm and history. Aside from their spectacular surrounds, these villages have ancient cobblestone streets, bustling market squares and Medieval churches to explore. And though steeped in history, they're far from stuffy with lively festivals, Michelin-starred restaurants and 3D entertainment among the more modern town attractions.
The cottage-lined lanes of Grasmere were once the home of poet William Wordsmith, who was inspired by the area's natural beauty and golden daffodils dancing in the breeze. The village of Hawkshead is just as endearing today as it was when Beatrix Potter conjured up her Peter Rabbit world of flower-laden gardens and quaint cottages. Here are more colourful towns and villages to discover in the Lake District.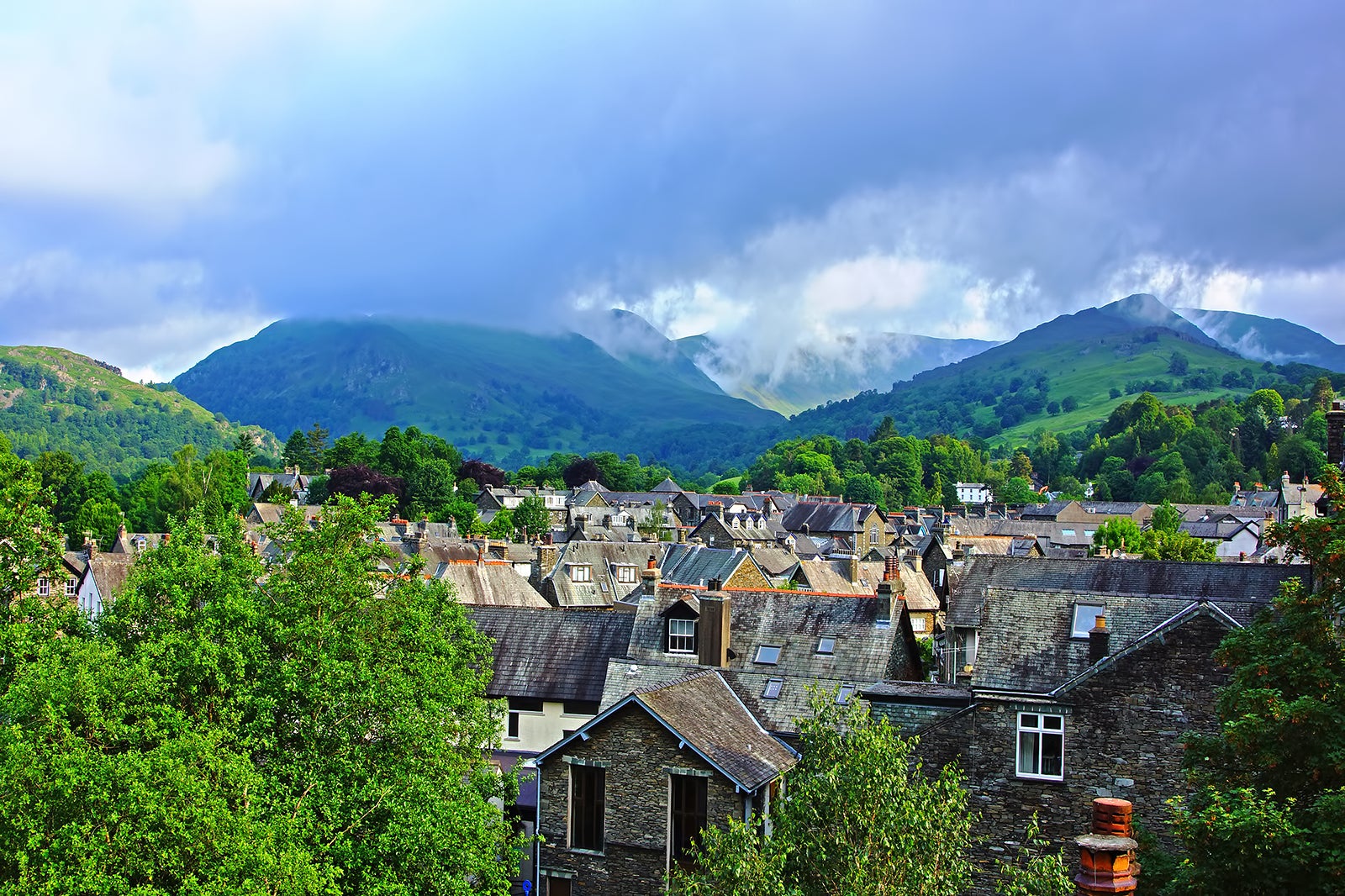 Ambleside
Lake cruises and scenic walks
Set on the edge of Windermere Lake, the picturesque town of Ambleside is a great base for exploring the Lake District. It's a fun place to wander and get lost in the mazes of narrow roads lined with cottages and old farm buildings, or stop to soak up the sight of the Gothic spire rising from the valley at St. Mary's church.
The town's distinctive Victorian stone buildings house an array of shops, tea rooms and pubs to explore. Take a short walk to Stock Ghyll Force to see the soft mists of the 20-metre waterfall, or hike further to enjoy the beautiful views from atop Loughrigg Fell.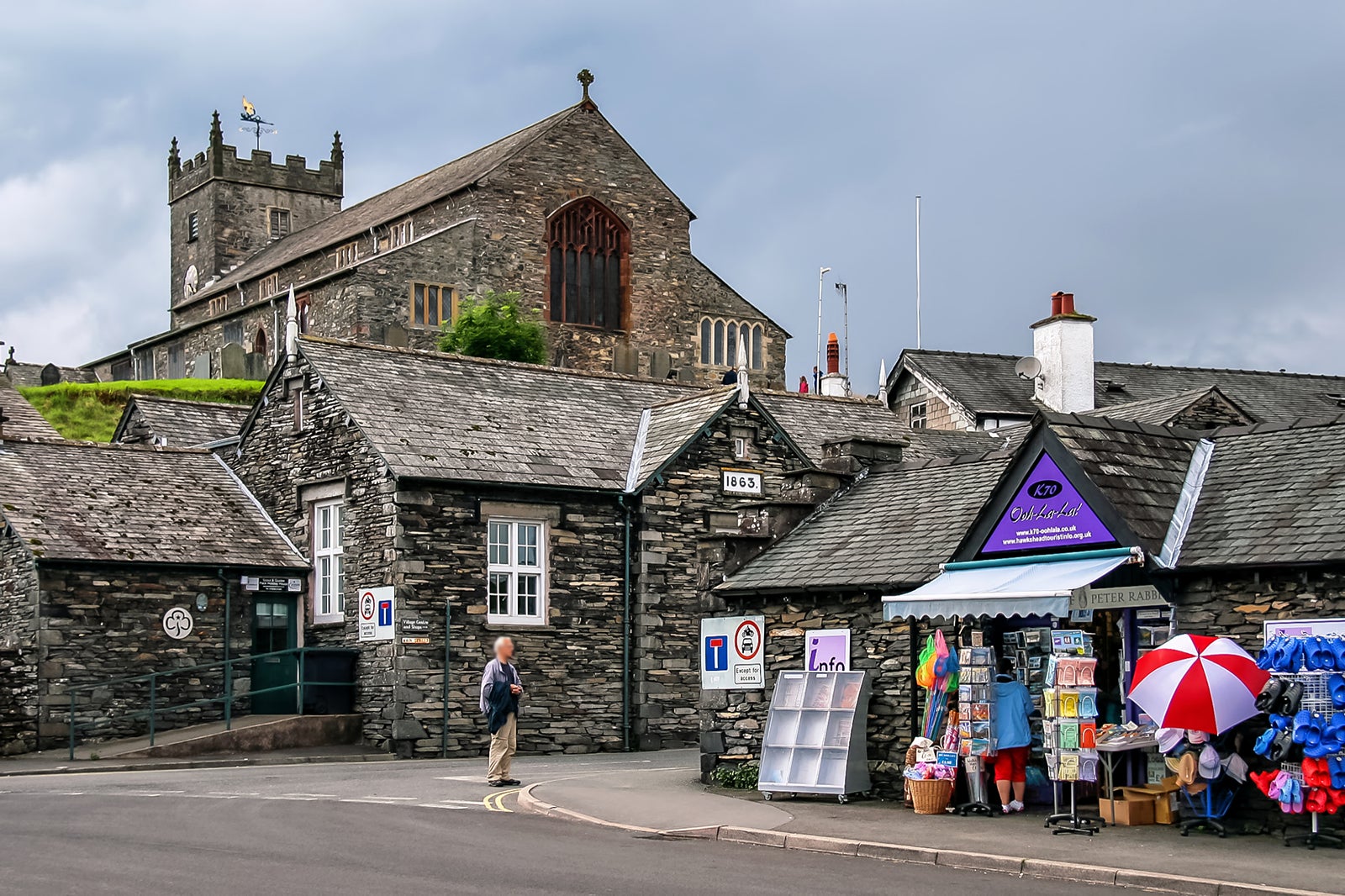 Hawkshead
Car-free village near Grizedale Forest
Hawkshead is an ancient township dating back to Norse times that immerses visitors into a storybook setting with cobbled streets, whitewashed cottages, courtyards and squares. Dozens of historic buildings around the town offer a peek into the past, with such architectural features as cutaway rounded corners that gave space for horse-drawn wagons to trundle past.
Take a literary journey to the former grammar school of poet William Wordsworth, who carved into the desks during his studies there. Beatrix Potter Gallery lets you explore the whimsical works of the creator of "Peter Rabbit" tales, while at the 17th century Hill Top, Potter's former home, you could easily imagine Peter and his naughty bunny family hopping around the beautifully tended gardens.
photo by Jorge Franganillo (CC BY 2.0) modified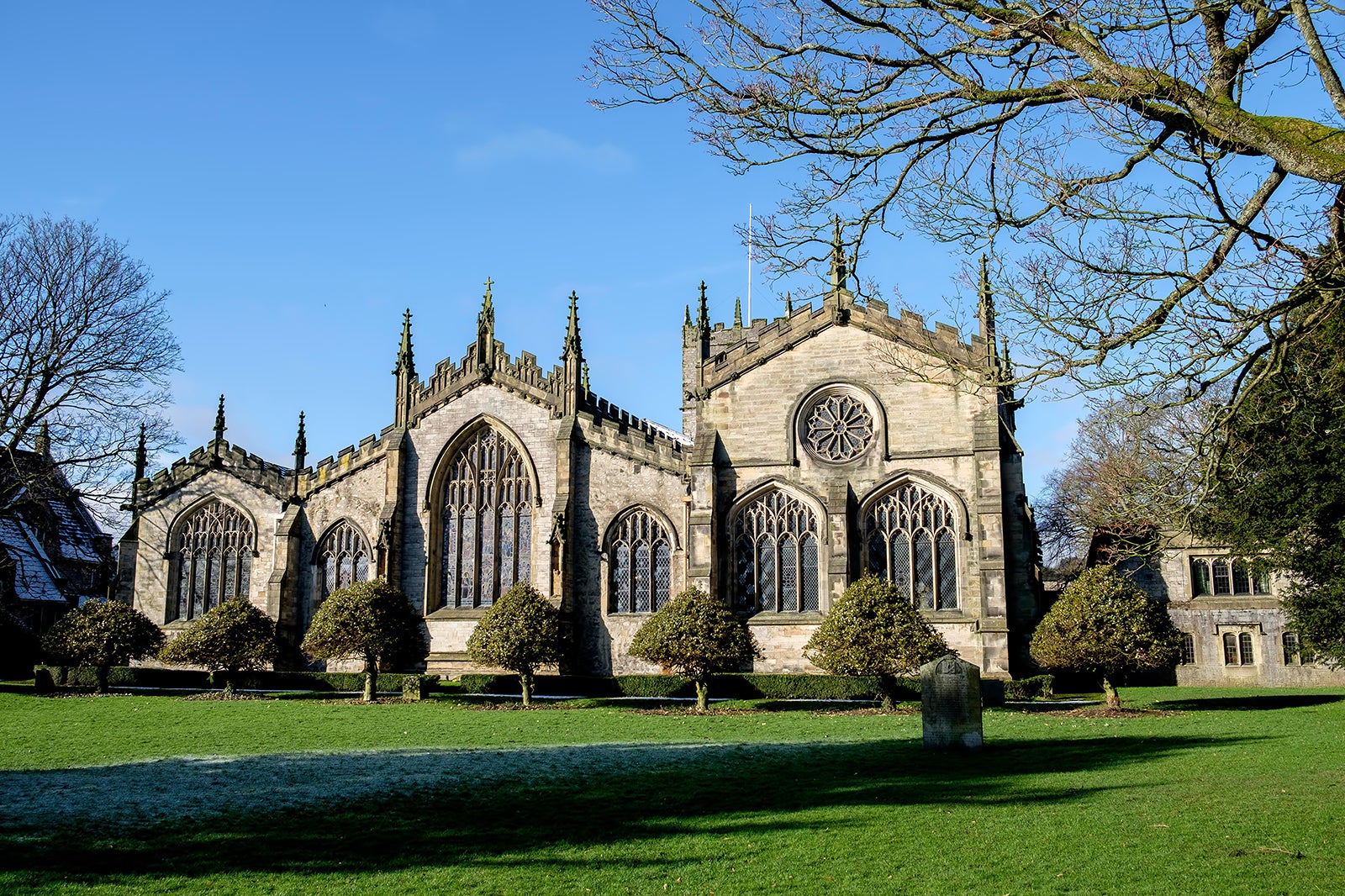 Kendal
Home of the famous Mint Cake hiking snacks
This former woollen textile centre is now a charming market town with shops, pubs and cafes lining its streets. Delve into history and local culture at the Quaker Tapestry, Kendal Parish Church, the Museum of Lakeland Life, or the Museum of Natural History and Archaeology – one of the oldest museums in Britain.
Worth a stop is Abbot Hall Art Gallery, which exhibits centuries of British works of art in a stately Georgian mansion. To see vestiges of exquisite 13th-century stonework and enjoy superb views over the town, explore the ruins of Kendal Castle.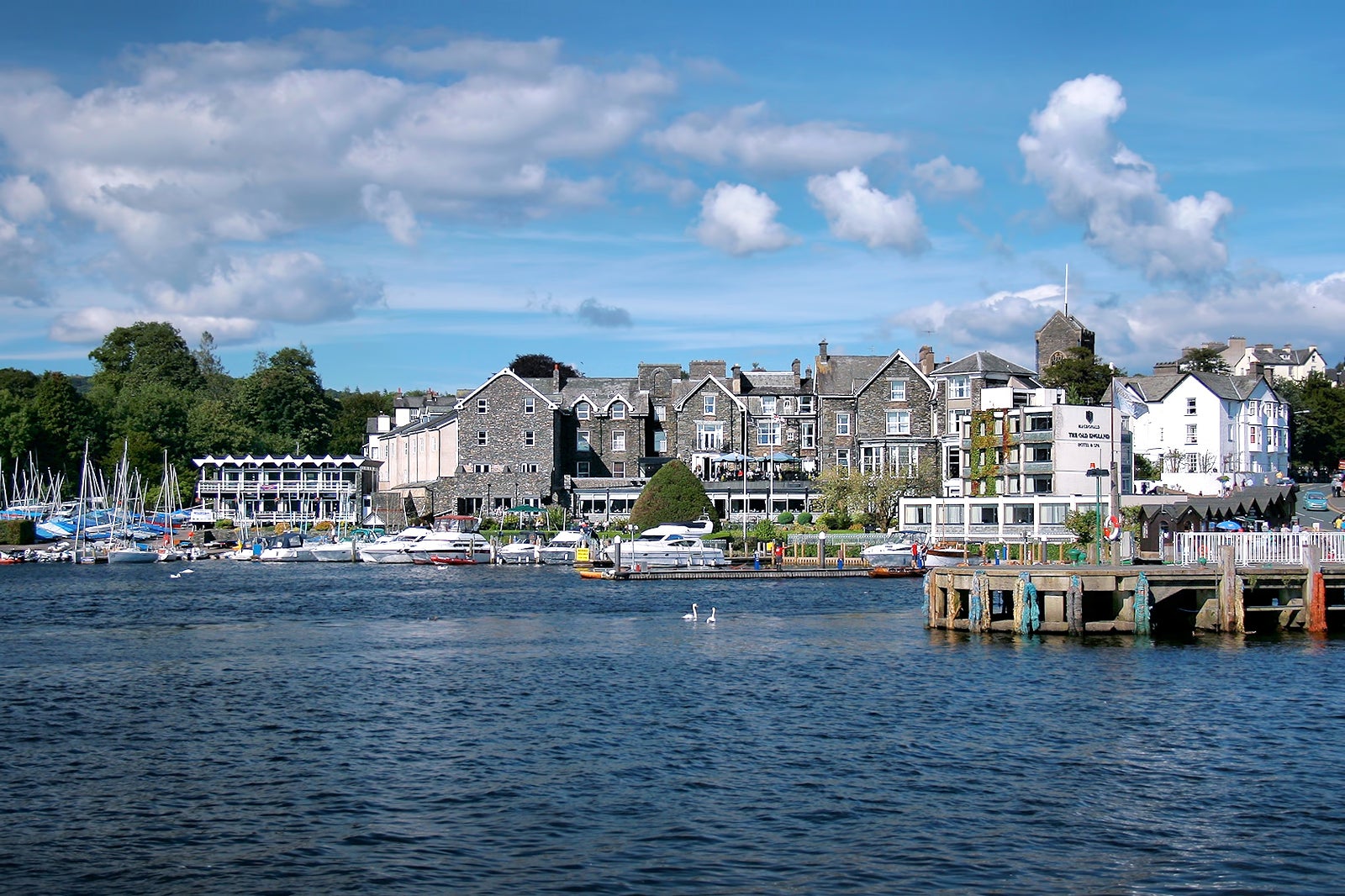 Bowness-on-Windermere
Bustling lakeside destination
Surrounded by the natural splendour of Windermere Lake, the former fishing village of Bowness has lured visitors to its tidy streets since Victorian times. One of the busiest towns in the Lake District, its long street is chock-a-block with boutique shops, antique stores, art galleries and cafes extending to the lakeshore. More shops can be found in the connected town of Windermere.
Bowness is the launching point for ferries to Hawkshead, and also a good spot to start your walk along Windermere Way, the 72 km path around the lake. Bring the kids to the World of Beatrix Potter with its 3D scenes of Peter Rabbit characters or stop by Blackwell House to see some fine examples of the decorative style of the Arts and Crafts movement.
Couples
Families
History
Photo
photo by Jorge Franganillo (CC BY 3.0) modified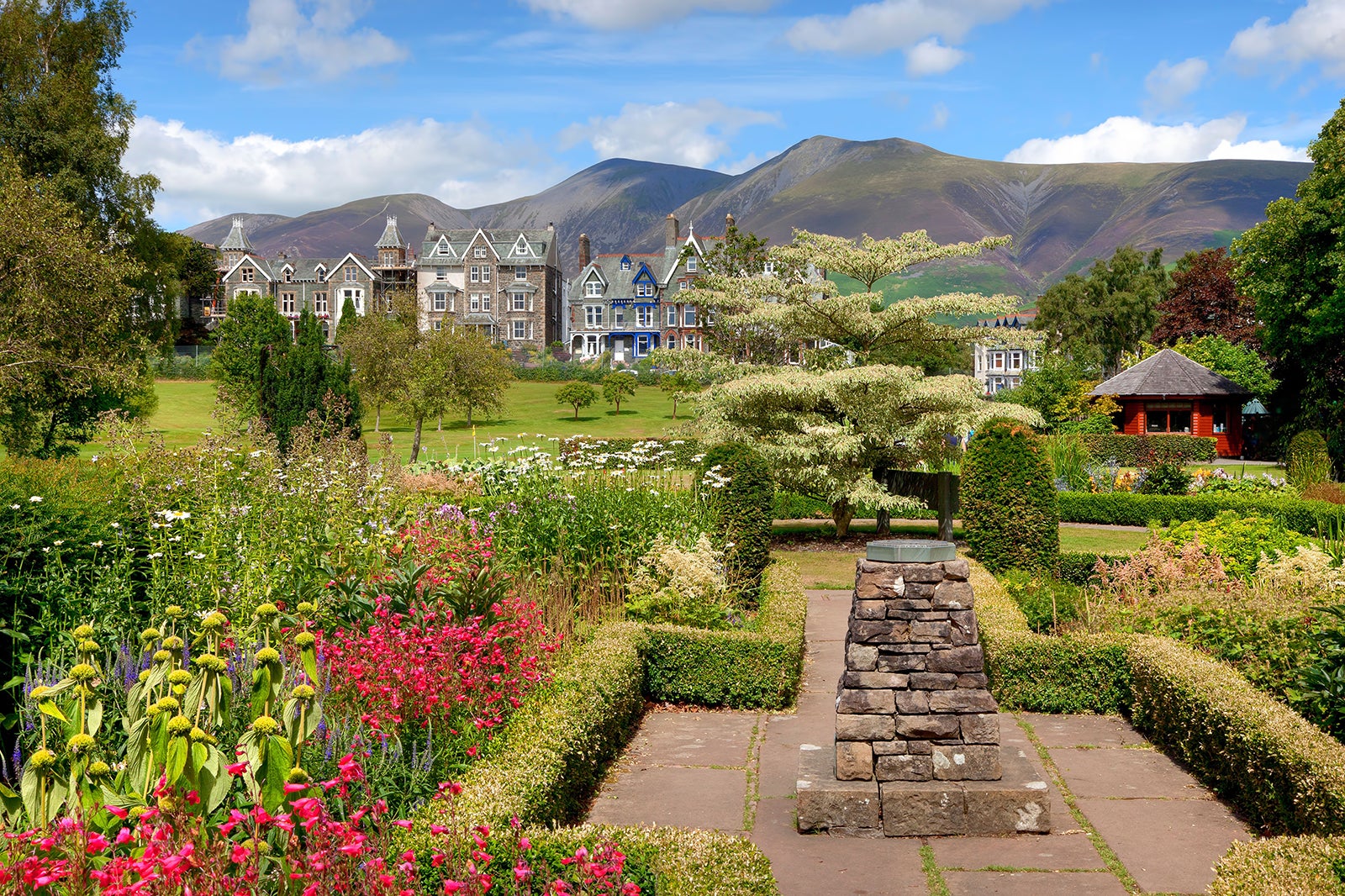 Keswick
Nature poets' muse and pencil-making centre
Keswick is a lovely lakeside town nestled between Siddaw mountain and Derwentwater. Its vibrant arts and literary scene has evolved over centuries since Wordsworth and other Romantic poets exalted the area's enchanting beauty.
Keswick's Saturday market still thrives some 700 years since it was established, and there's an eclectic mix of shops selling locally made paintings, pottery and other arts and crafts in Market Square and the surrounding streets and alleys. Unwind after a day of exploring the fells by catching a show at the Theatre by the Lake, visiting Keswick Museum & Art Gallery or Derwent Pencil Museum or enjoying a drink at one of the cosy pubs around town.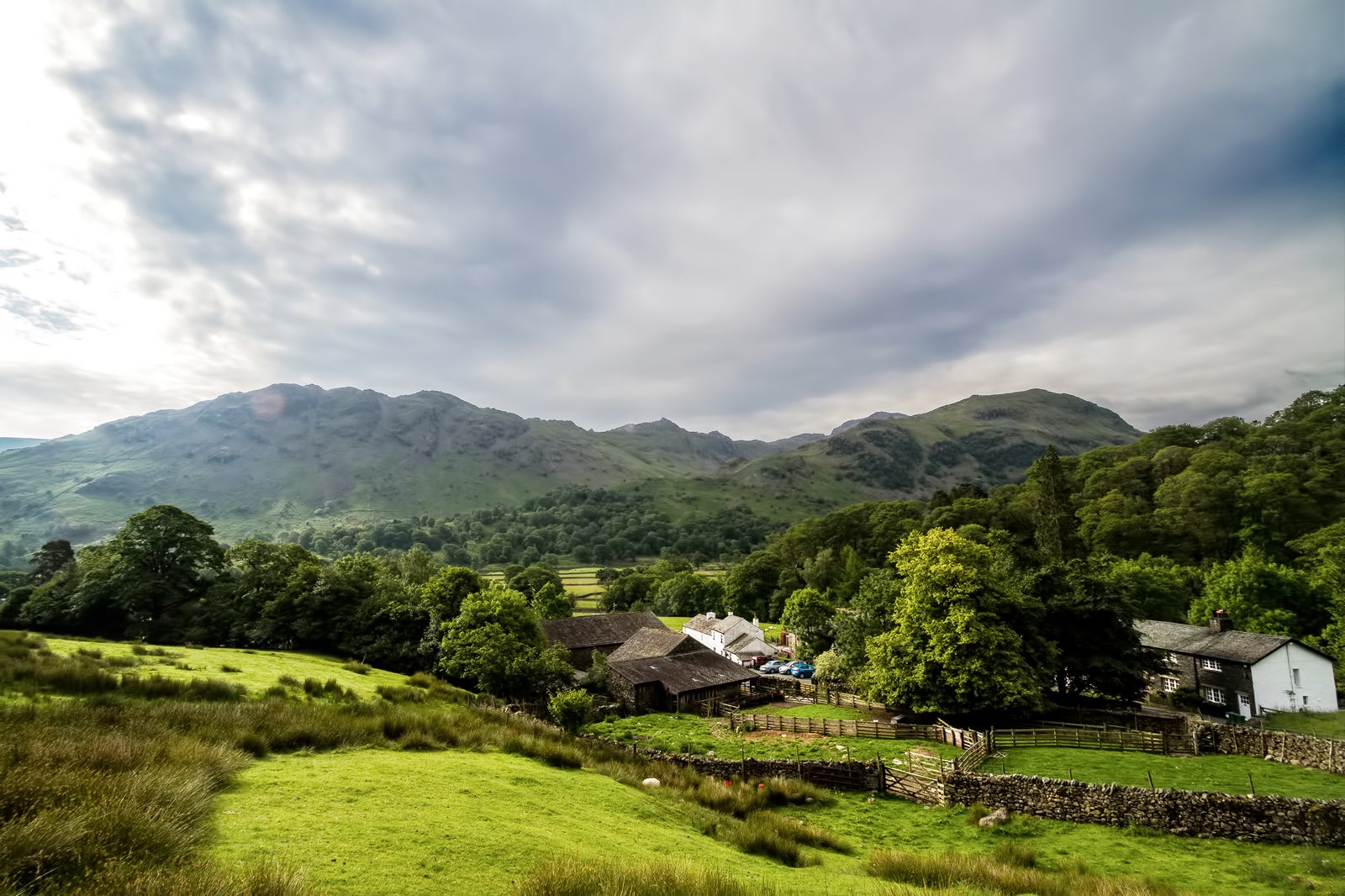 Seatoller
Summit hikes and underground climbs
Seatoller is a tiny hamlet set in a verdant landscape of fells, woodland and pastureland about 11 km from Keswick. This hiker's haven is a great starting point for a challenging ramble to the summit of Scafell Pike, the highest mountain in England. Walkers could also explore Castle Crag and other surrounding fells, or enjoy superb views of Borrowdale Valley on a wander along River Derwent to the shores of Derwentwater.
For some underground adventures, visit nearby Honister Slate Mine to take a tour or a heart-racing climb through the hidden passageways and caverns of the centuries-old mine.
photo by Graham Richter (CC BY-SA 3.0) modified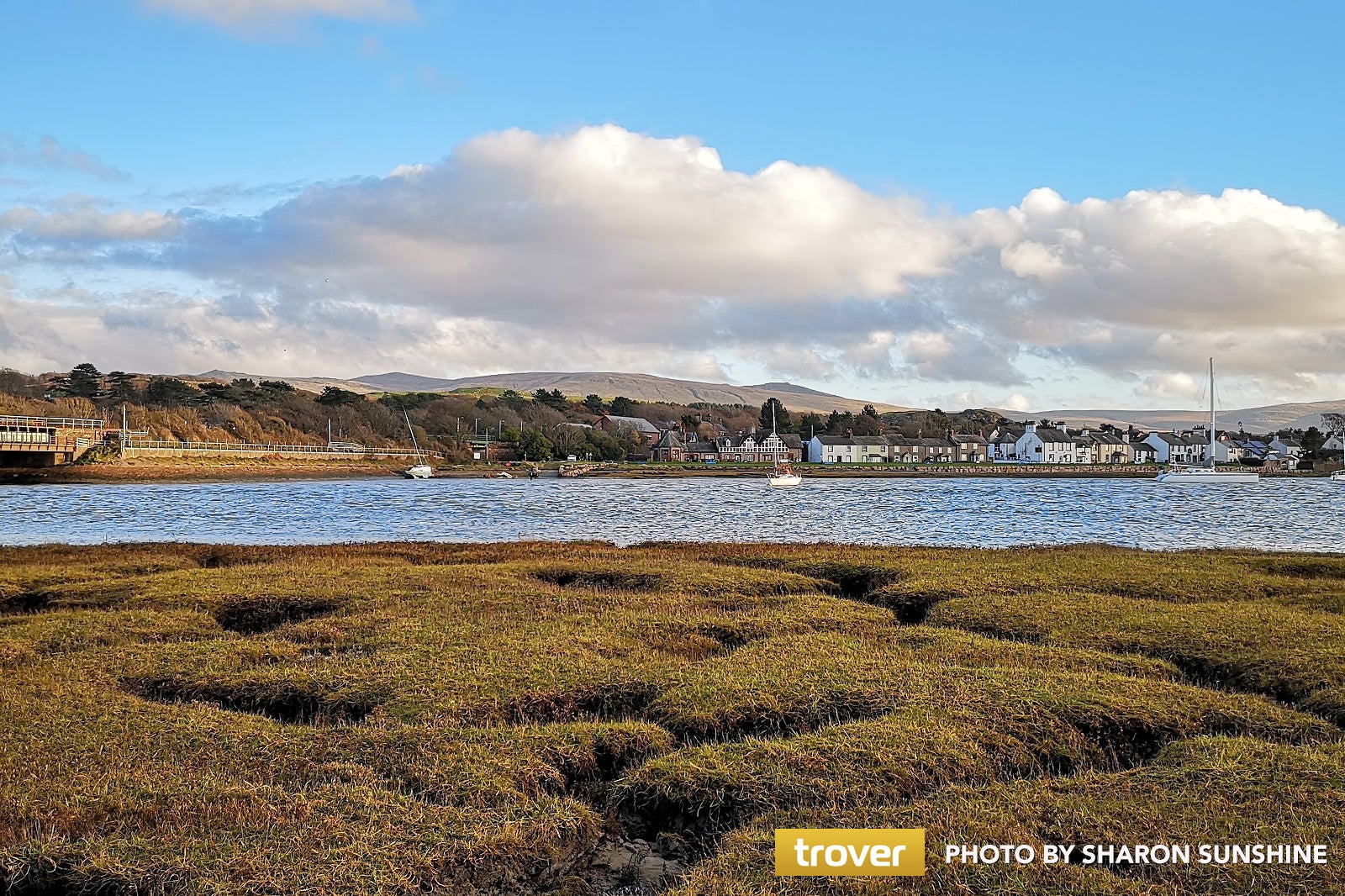 Ravenglass
Coastal hamlet with cobbled streets
Once a Roman naval port in the 2nd century, Ravenglass is a seaside hamlet of quaint cobbled streets set in the magical, rugged landscape of the Lake District's southwest area.
Its allure comes mainly from its steam railway line that meanders 11 km through the hills deep into Eskdale Valley. One of England's oldest narrow-gauge railways, it was once used to transport iron ore, granite and copper extracted from nearby mines – these days, only tourists make the trip. Ravenglass also serves as a gateway to Scafell Pike, with hikes to the top of the mountain starting at nearby Wastwater glacial lake.
Couples
Families
History
Photo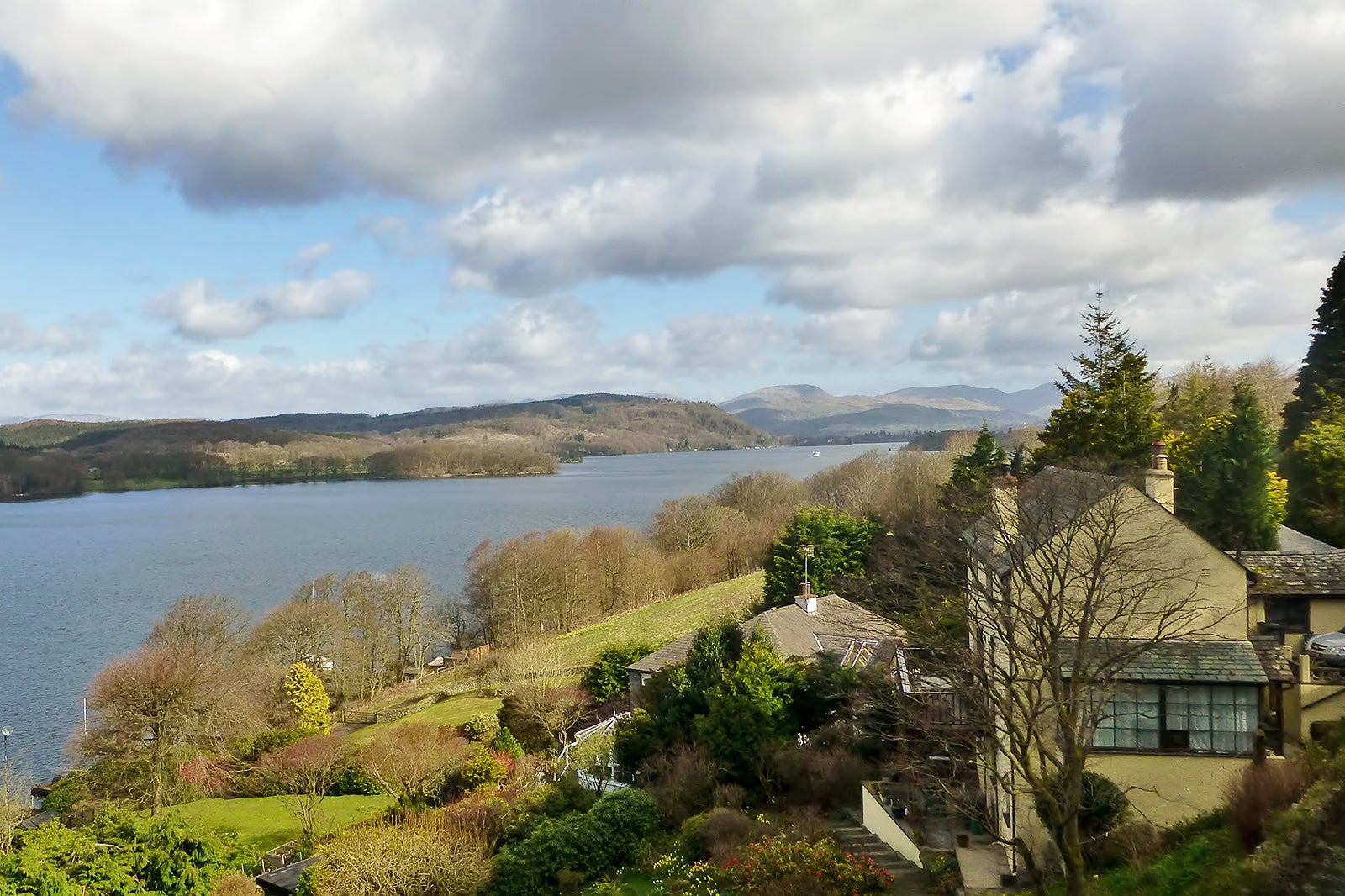 Cartmel
A medieval haven for pious pilgrims
Since the 12th century, Cartmel has drawn in everyone from pilgrims seeking sacred refuge to modern-day visitors gazing in awe at the majestic Cartmel Priory. Find charming boutique shops and pubs around its main square and narrow streets, or stop by Holker Hall to explore its elegant interior and gardens.
Devout foodies also make pilgrimages to Cartmel to try its famous sticky toffee pudding, artisanal cheeses and craft beers. If you're feeling fancy, there's even a 2-star Michelin fine dining restaurant, L'Enclume. For outdoor lovers, horseback riding through the fells and beaches is a popular tour. For a slower pace, wander along the nearby promenade at Morecambe Bay.
photo by Pat Neary (CC BY-SA 2.0) modified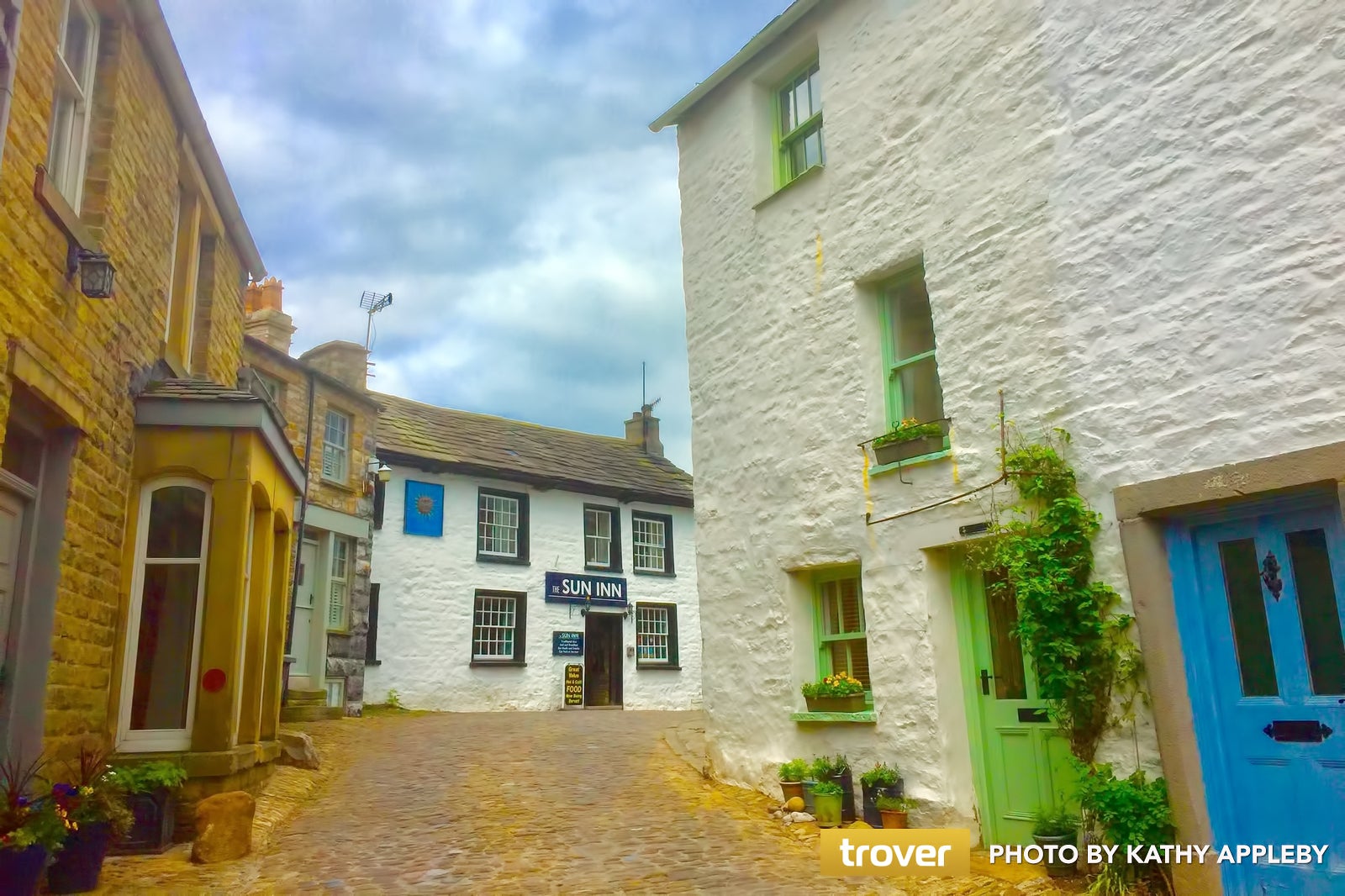 Dent
A secluded valley retreat
Dent is a beautiful village of curving cobbled streets and colour-washed cottages in the remote Dentdale valley, first settled by Vikings in the 10th century. Its St. Andrew church has retained its original Norman arched doorway and other 12th century architectural features. Look for the pink granite fountain that honours former village resident Adam Sedgwick, known as the father of modern geology, then stop by Dentdale Heritage Centre to learn more about this scenic area's history.
Those who venture beyond the village will find Dent Station, the highest mainland station in England, and numerous walking paths including the long-distance Dales Way that runs along the River Dee.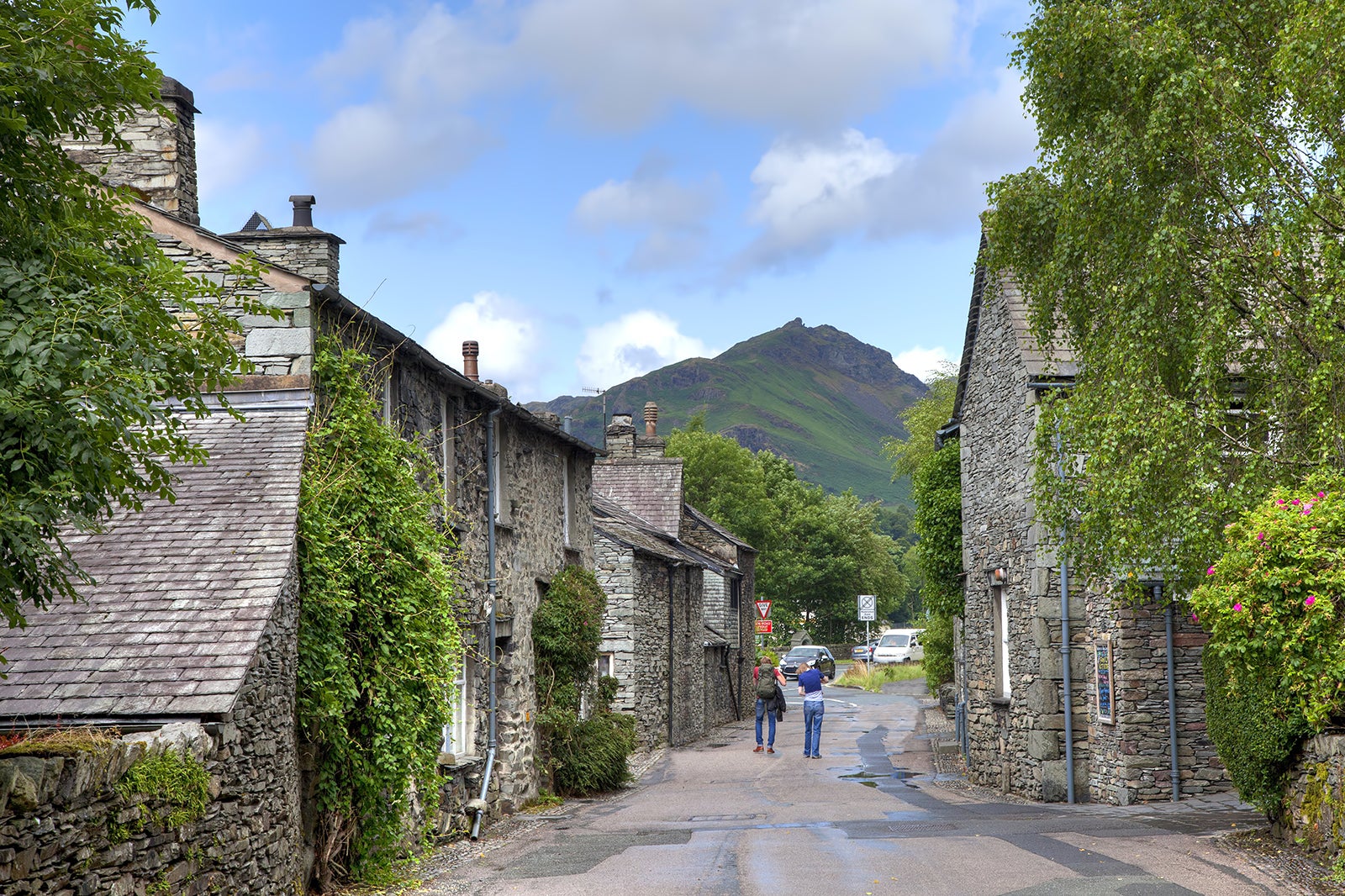 Grasmere
"The loveliest spot that man hath ever found." – Wordsworth
Grasmere is one of the most-visited places in the Lake District with its spectacular lakeside setting, scenic walking trails and charming village cottages. The poet William Wordsworth resided here for 14 years until 1813, and his home Dove Cottage still stands today. The cottage has been meticulously preserved and is open to visitors, who could also explore the gardens and adjacent museum with exhibits of his life's works.
Literary pilgrims could also find their way to St. Oswald's Church to see Wordsworth's tombstone, or stop by Sarah Nelson's Gingerbread Shop, a former village school where Wordsworth, his wife, and sister once taught.