10 Best Ski Resorts in the French Alps
Where to Go Skiing in France this Winter
The best ski resorts in the French Alps make memorable holidays on one of the most impressive mountain chains in western Europe. Besides the tallest mountain in France, Mont Blanc, the Alpes du Nord has the highest concentration of ski resorts in Europe. It hosts skiable domains like the 3-Valley, the Portes du Soleil, and the Espace Killy which offer hundreds of kilometres of ski slopes.
The extensive ski domains of the best Alps ski resorts, which are interlaced in some occasions, are the only common point they share. Each ski resort has its own architecture and atmosphere, which is why the short descriptions you'll read below could help you to find the right ski resort for you.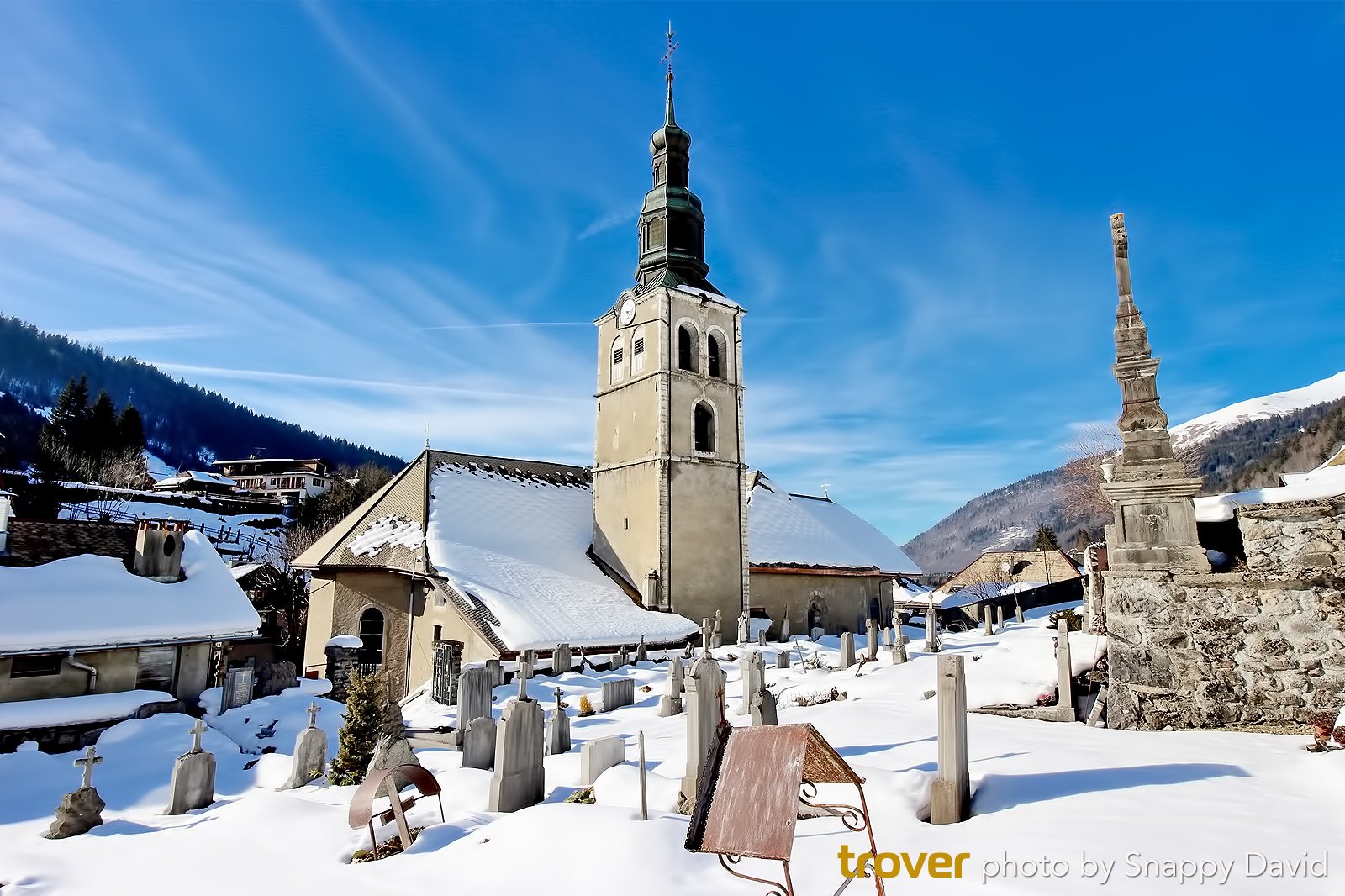 Morzine
Enjoy one of the largest ski domains in Europe
Part of the Portes du Soleil (sun gates) ski domain, Morzine gives you the opportunity to ski back and forth between France and Switzerland on the same day. The village of Morzine is located at an altitude of about 1,000 metres, a mere one hour's drive from Geneva Airport. Established since the Middle Ages, Morzine has retained a genuine vintage style that makes it a very charming place to stay. The atmosphere is very festive in winter in Morzine: live bands play outdoor for the Rock des Pistes festival and many bars host DJs to rock the nights in the ski resort.
Location: In Haute-Savoie department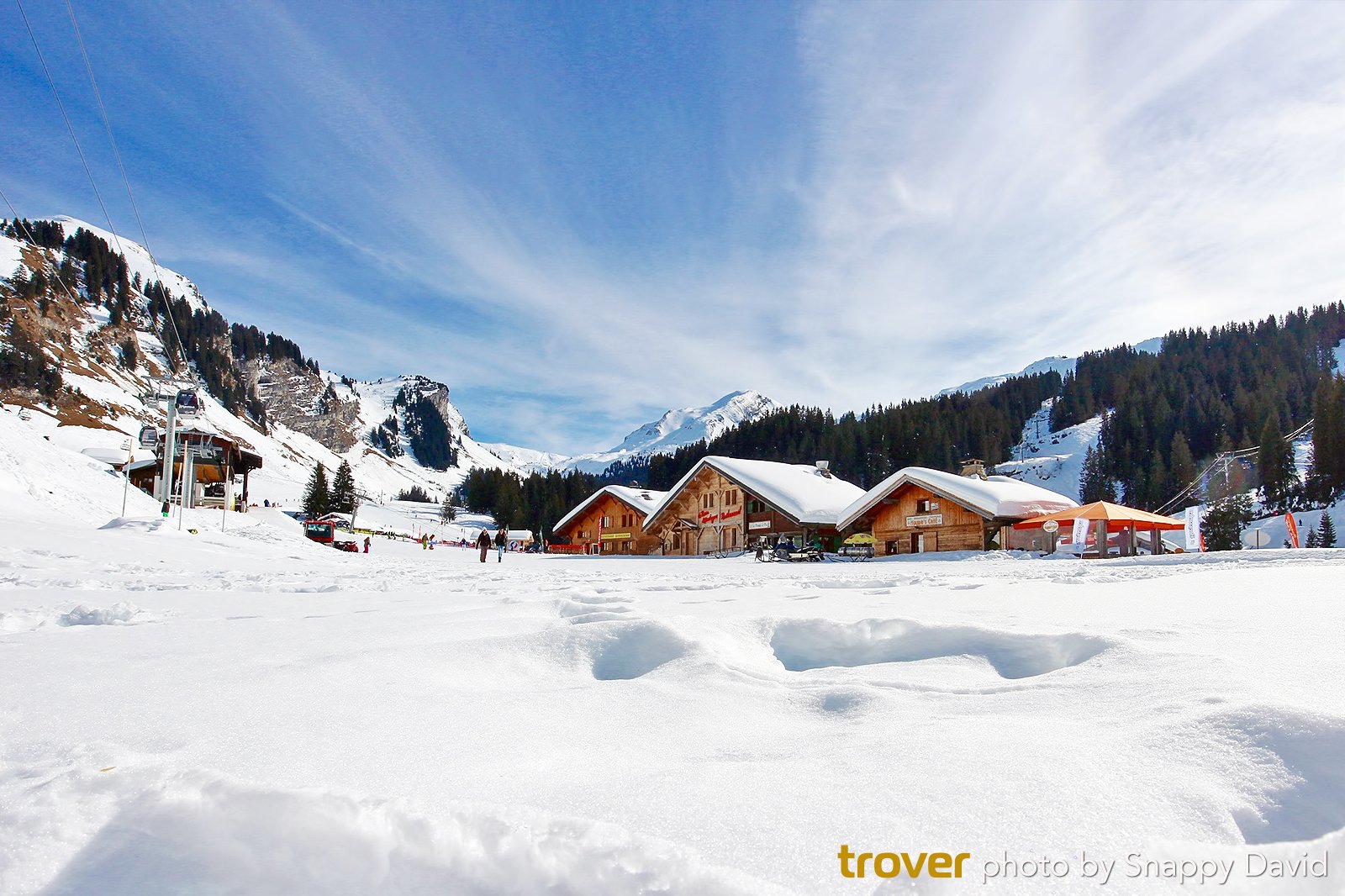 Avoriaz
Stay at one of the most originally designed French ski resorts
Located a short distance from Morzine and part of the Portes du Soleil ski domain, Avoriaz offers over 650 km of skiable area. As cars are forbidden in the ski resort, it's fully skiable, and horse-drawn sledge is the only mode of transport at hand besides walking and skiing. Avoriaz is a ski resort bustling with activities: music festivals, a skating rink, water park, squash courts and more, give you plenty of options to have fun besides skiing.
Location: In Haute-Savoie department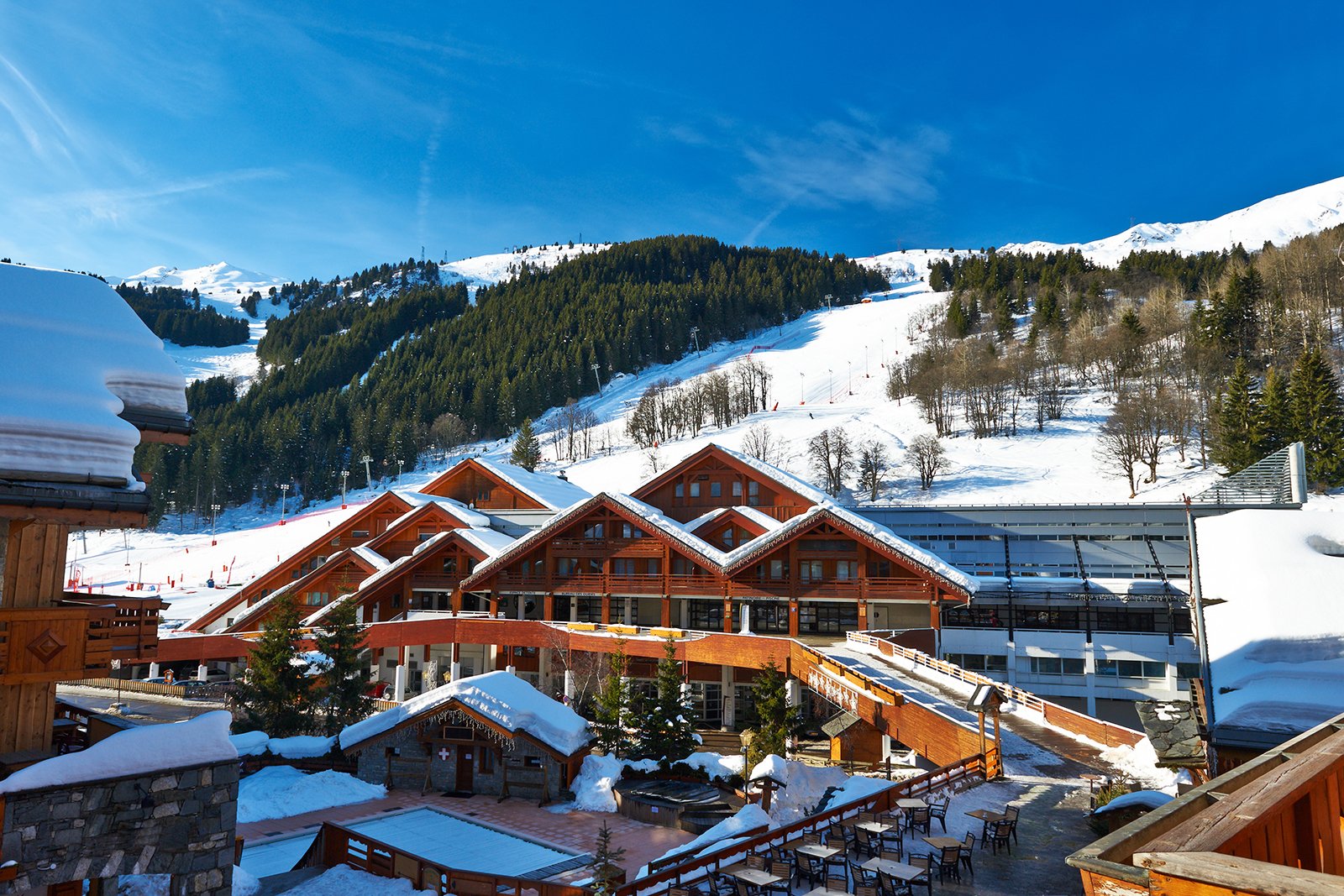 Méribel
Spend your winter holiday in a picturesque ski resort
Part of the Vanoise National Park and located in the Tarentaise Valley, Méribel is a quaint ski resort that features a genuine wooden chalet-style architecture in a family-friendly village atmosphere. Ski enthusiasts will find here plenty of slopes to hit as Méribel belongs to the 3-Valley domain. You'll find everything in this ski resort established since 1938: restaurants, night clubs, shopping venues, as well as leisure activity facilities such as swimming pool, indoor ice rink and fitness centre.
Location: In Savoie department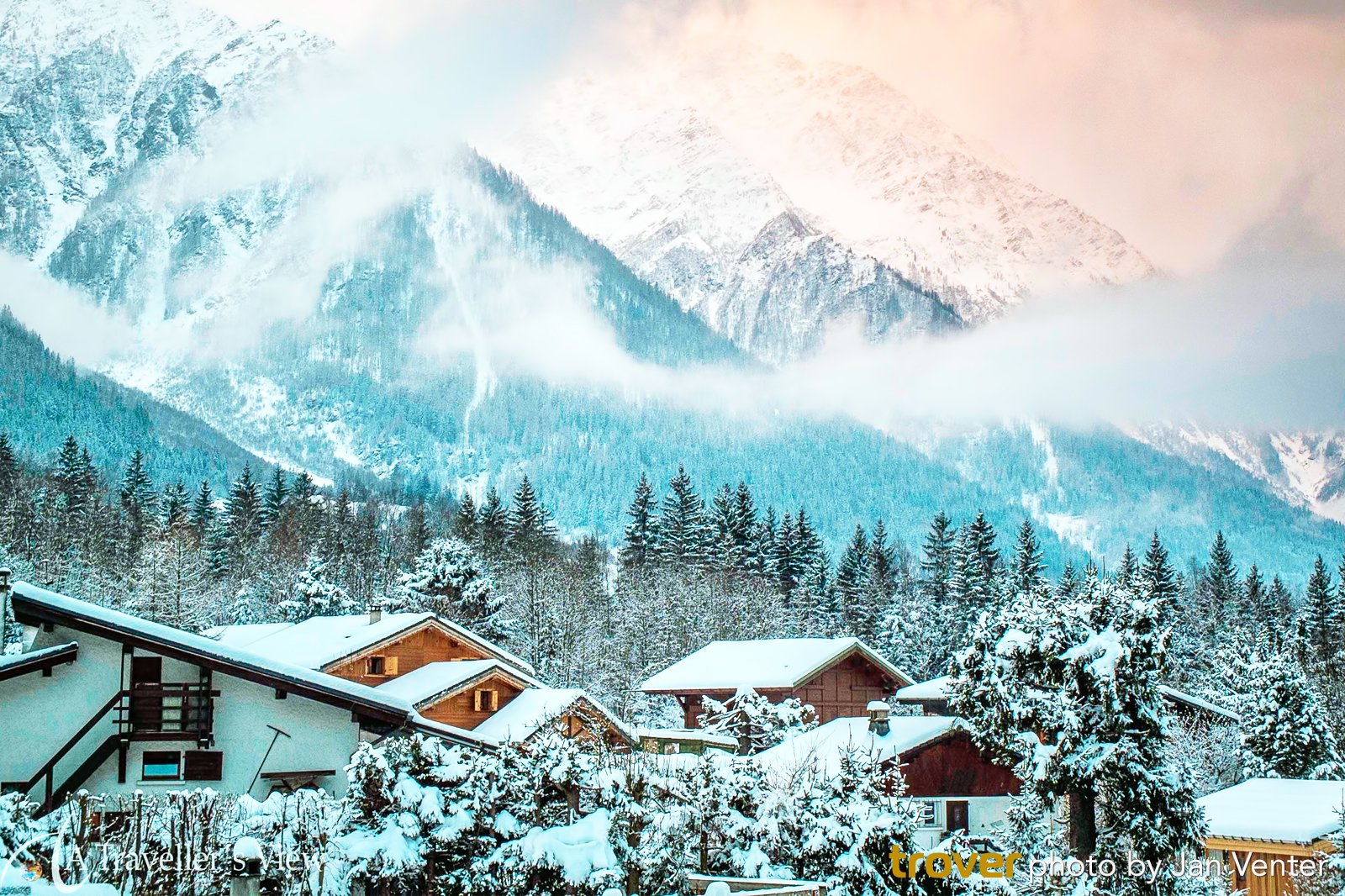 Chamonix
Stay under the shade of the mighty Mont Blanc
Fully named Chamonix-Mont-Blanc, Chamonix is the site at which were held the first ever Winter Olympic Games in 1924. One of the oldest ski resorts in France, it gives you access to 119 km of ski pistes, including one run of 19 km from top to bottom.
Chamonix is a very cosmopolitan town, and its proximity to the highest mountain in Europe, Mont Blanc, means the alpine backdrop is incredible. From a museum to casino and from theme parks to dogsledding, Chamonix has lots to enjoy.
Location: In Haute-Savoie department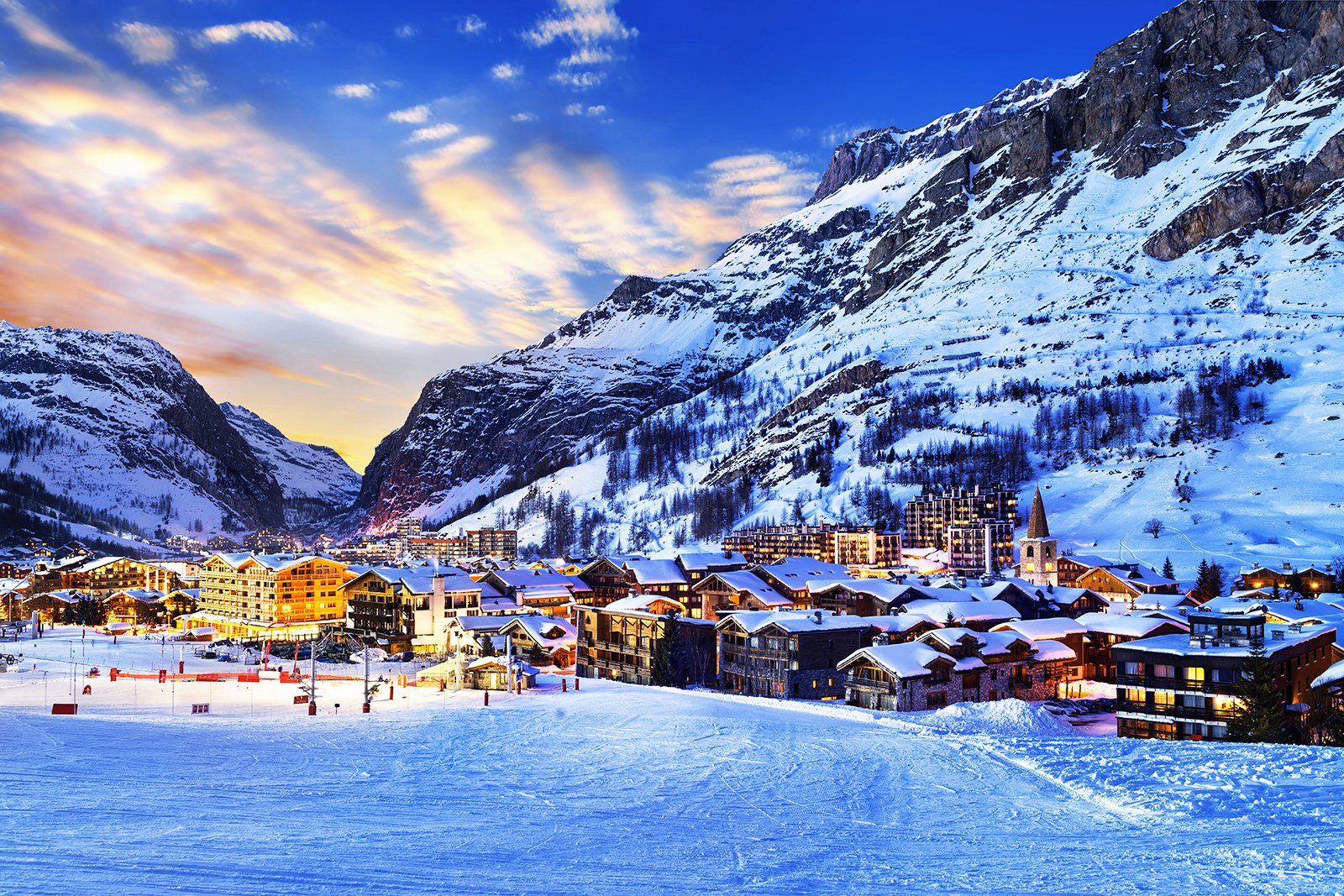 Val d'Isère
Ski in the tracks of Olympic champions
Val d'Isère is a stylish ski resort located 5 km from the border with Italy in the Vanoise Natural Park. From west to east, the resort goes from vintage traditional chalets to modern buildings. It shares with Tignes – a nearby ski resort – the Espace Killy, a ski domain which hosts over 300 km of pistes. Golf, film festivals, aqua-sports, and ice skating are just a few of the events and activities at hand in Val d'Isère in winter. As for dining, from fast food to gastronomic cuisine to local specialities, Val d'Isère has an eclectic range of options.
Location: In Savoie department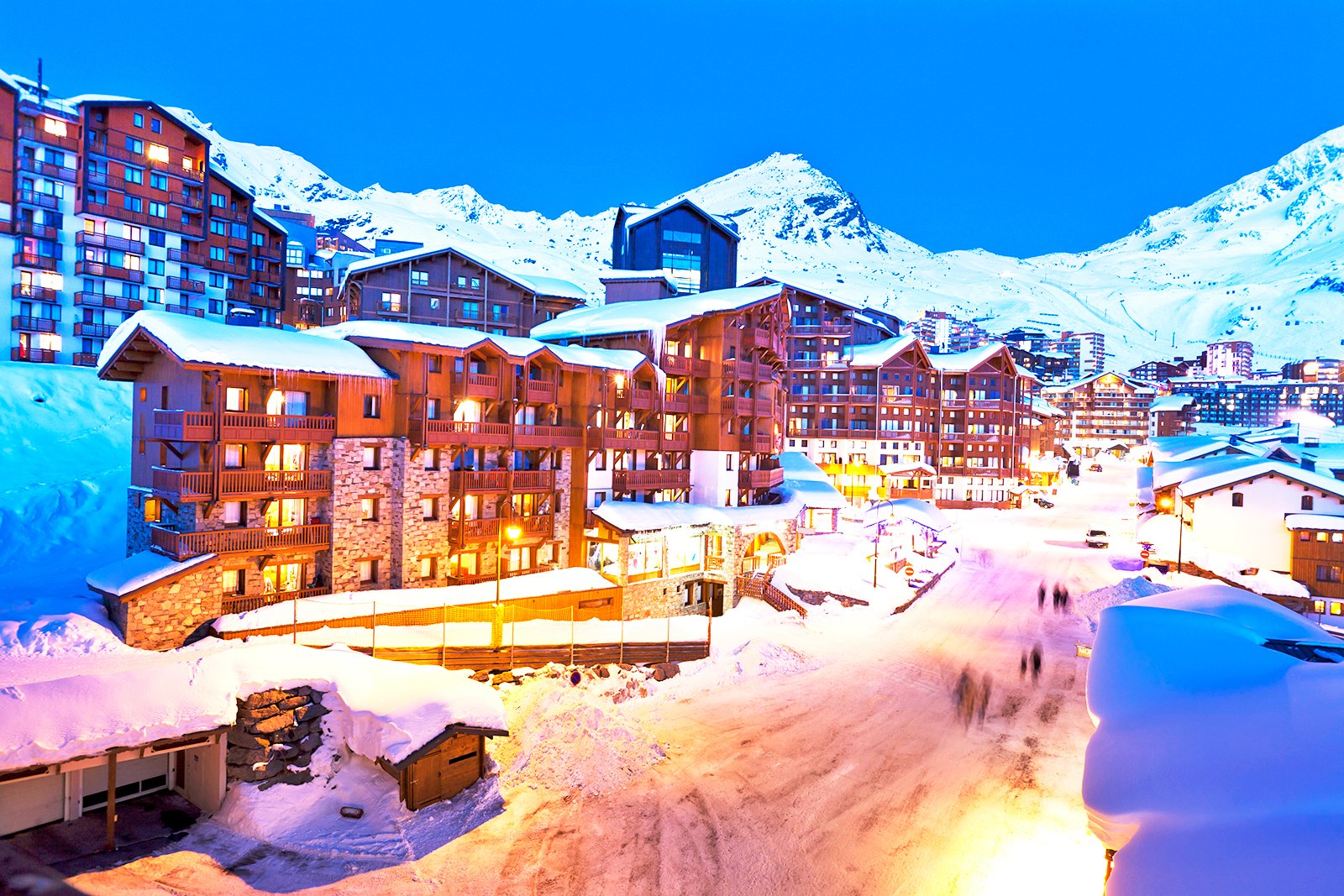 Val Thorens
Go skiing at one of the highest ski resorts in Europe
Located 60 km southwest of Chambéry, as the crow flies, Val Thorens is one of the highest ski resorts in Europe: it sits at an altitude of 2,300 metres and is part of the 3-Valley ski domain. From ice diving at the frozen Lac du Lou to benefiting from balneotherapy at the Aqua Spa, Val Thorens is a dynamic ski resort which offers a great choice of things to do besides skiing. With venues like Chalet de la Marine and Chalet Chez Pépé Nicolas, to name just a few, Val Thorens also hosts a lively dining scene for different tastes and budgets.
Location: In Savoie department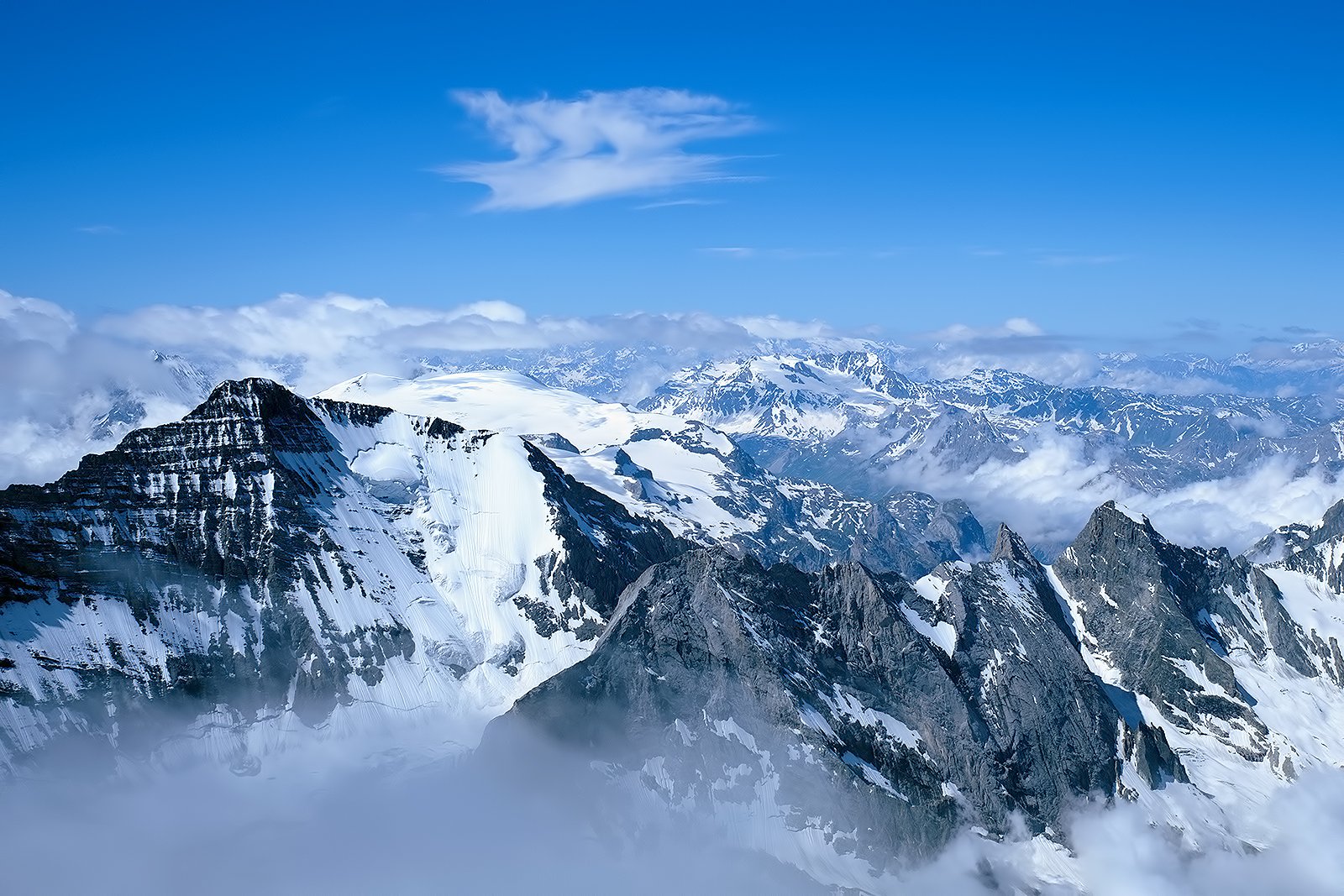 Tignes
Explore 480 hectares of marked ski runs
Tignes is located near two lakes, Tignes and Chevril, at the foot of a hydro-electric dam. The ski resort features 5 distinct areas, from quiet to buzzing: Les Brevières, Lavachet, Tignes 1800, the Lake and Val Claret. You'll find a good selection of dining, shopping, and leisure entertainment here. Sharing the Espace Killy ski domain with Val d'Isère, a classy nearby ski resort, Tignes offers you the choice of an impressive 154 runs (green, blue, red and black) plus 44 km of cross-country skiing tracks.
Location: In Savoie department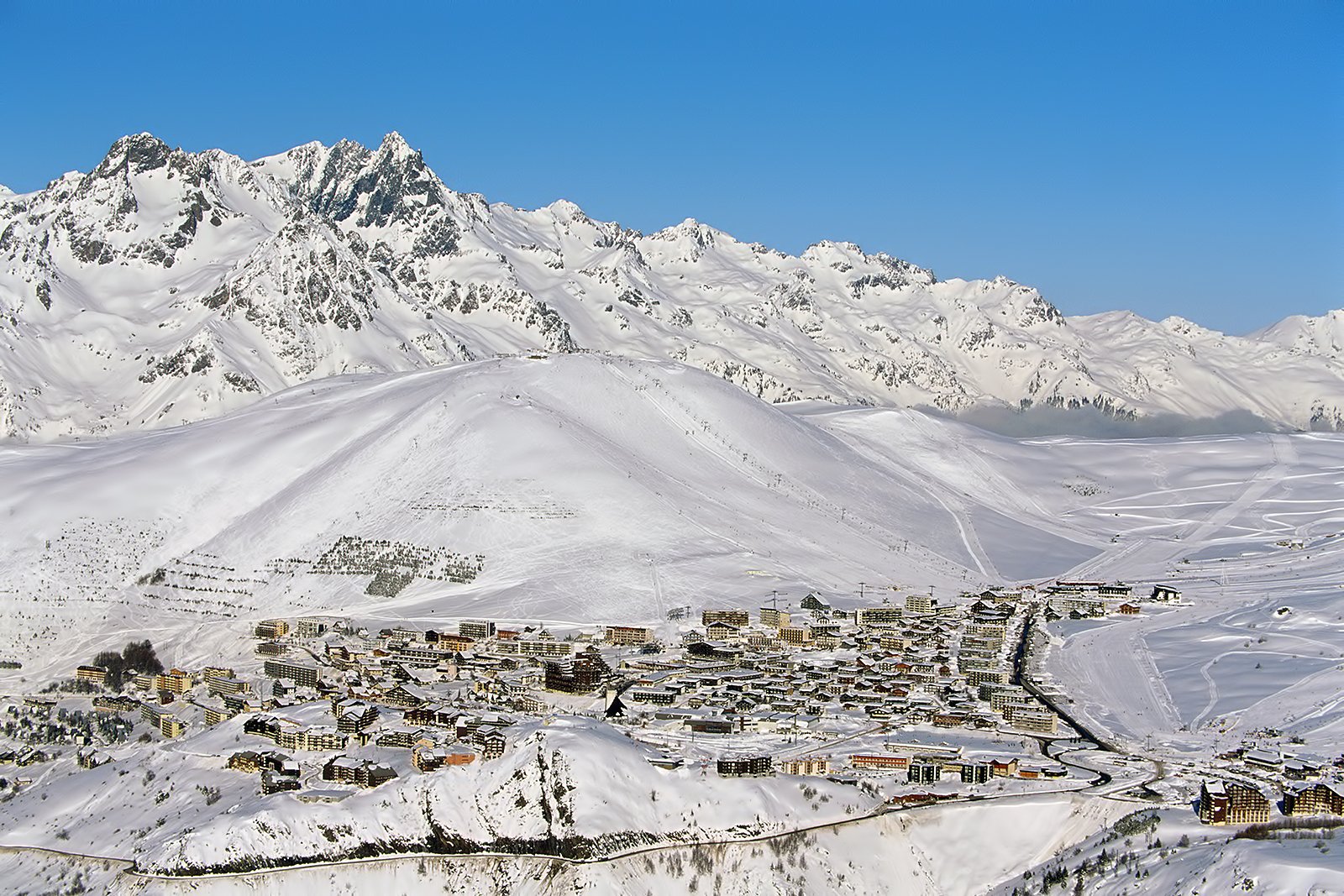 Alpe d'Huez
Ski at one of the sunniest ski resorts in the French Alps
Alpes d'Huez is almost as famous as a ski resort as it is as a regular stage of the Tour de France cycling race. Located about 60 km southeast of Grenoble, the ski resort is part of a village established here since the 11th century. Awarded an official family-friendly label by the French Tourism Organisation, Alpes d'Huez features almost 250 km of marked ski slopes for all levels. From live music events to motor racing on ice, and from relaxing spa treatments to helicopter sightseeing tours, Alpes d'Huez has a fair deal of cool activities at hand besides skiing and snowboarding.
Location: In Isère department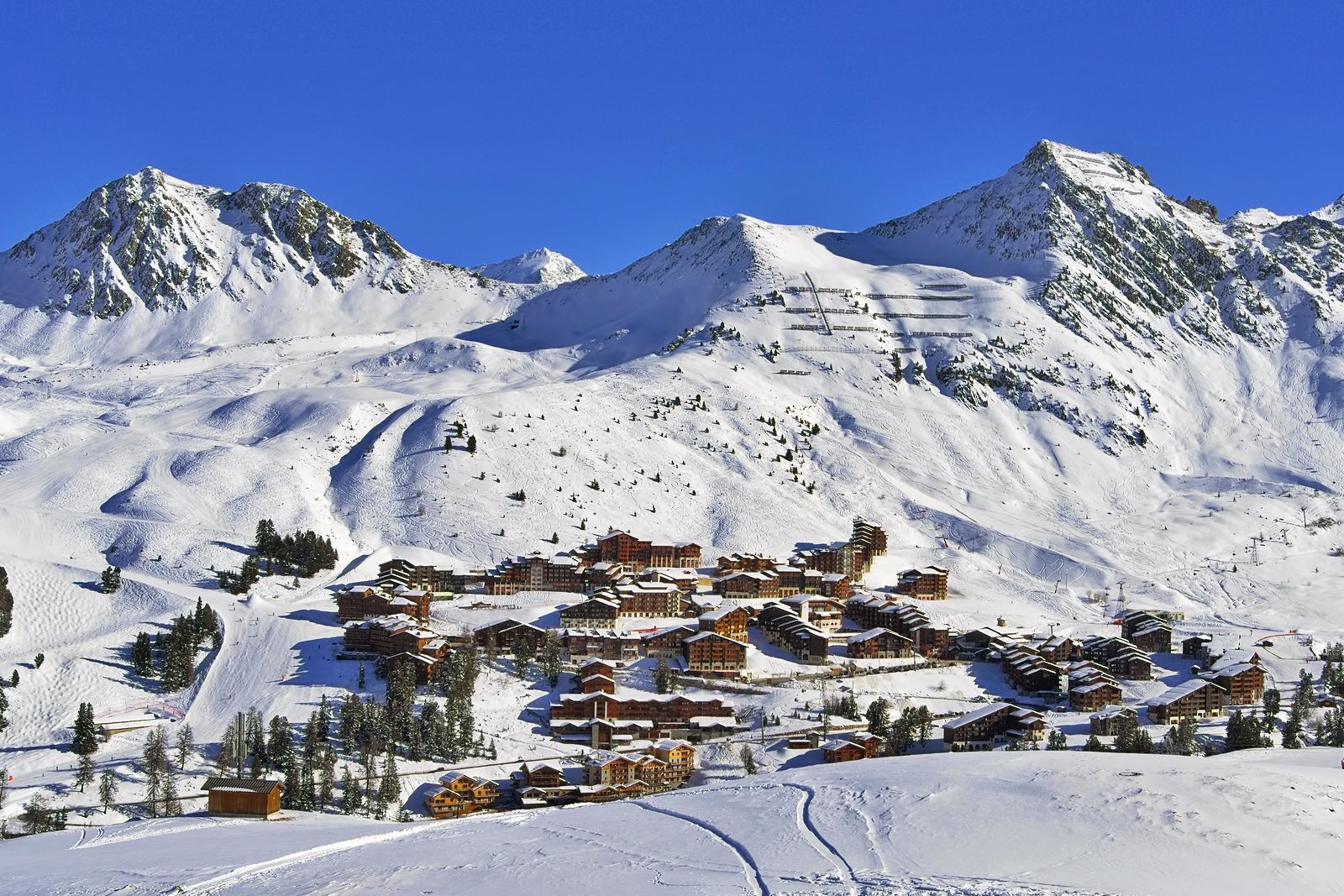 La Plagne
Lose yourself in a 100 sq km skiable domain
Featuring over 200 km of marked slopes plus a large off-piste skiing area, La Plagne has all you need to spend an exciting time on your skis. One of the most popular French ski resorts, La Plagne features 6 areas at which you can stay, between 1,800 and 2,100 metres of altitude. Built in 1961, La Plagne Centre is the main area. You'll find lively dining and shopping scenes as well as a good range of indoor and outdoor activities.
Location: In Savoie department
photo by Andreas Eichler (CC BY-SA 4.0) modified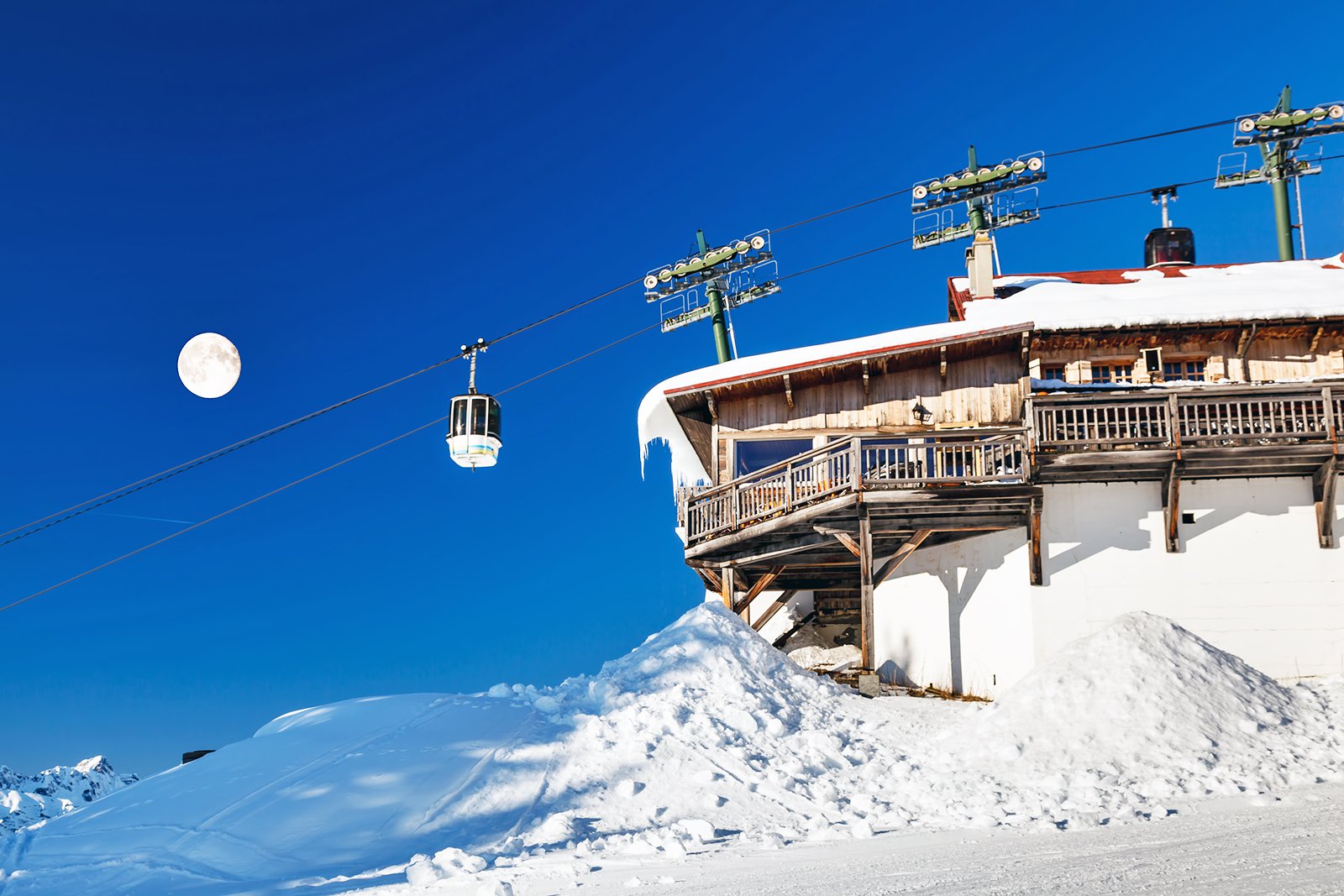 Megève
Spend your holiday in a genuine French Alps village
The first ski resort built in the French Alps in the 1910s, Megève is an upscale ski resort favoured by a wealthy set of trendsetters. Located a mere 20 km from Mont Blanc, the highest mountain in the Alps, Megève's skiable domain covers almost 450 km of ski slopes plus 95 km of cross-country ski trails. The main asset of Megève is that its village has retained a genuine French Alps village atmosphere. You'll find top-notch restaurants and trendy boutiques in the centre of the village in addition to many sport shops.
Location: In Haute-Savoie department