10 Things to Do in La Baule on a Small Budget
Holidays in La Baule Don't Have to Be Expensive
Thinking of things to do in La Baule on a small budget? We've compiled top choices for a great but inexpensive visit to this commune by the bay in western France. You can make the most of this charming destination on the Atlantic coast on foot or by bike, along the coast or through a tended pine forest. You can also go in search of the flora and fauna of the marshes at Marais de Brière or choose to simply take a stroll down by the port.
It's also worth taking the time to explore the market in La Baule and discover all the local produce, as well as trying your hand at gathering shellfish on the beach for dinner. Also, check out several free cultural shows and find out about the "Carte Membre" membership card that gives you attractive discounts. Read on and learn why holidays in La Baule don't have to be expensive.
1
Esplanade Benoît
Walk or jog along the seaside promenade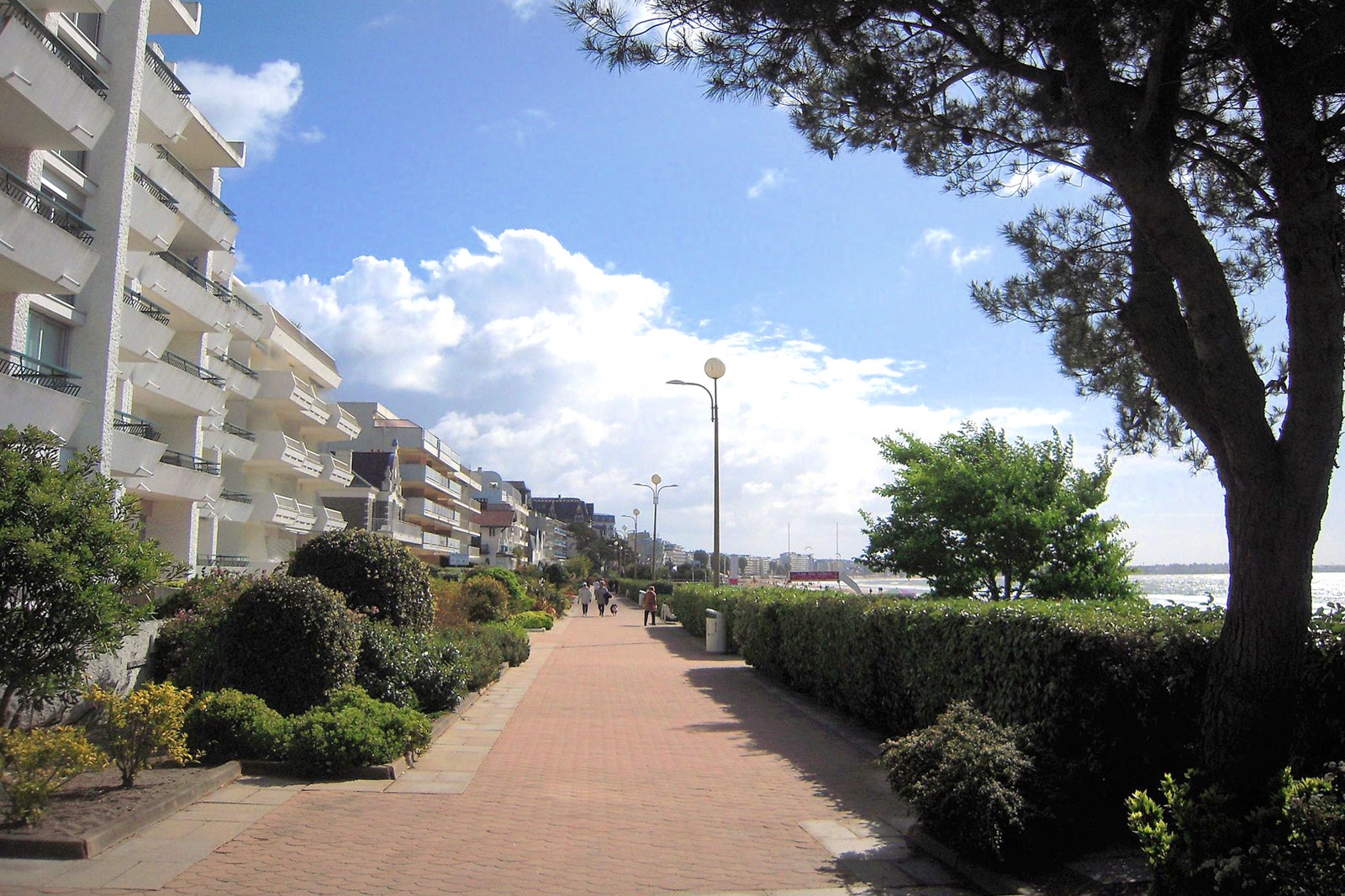 Families
Budget
Couples
Photo
Esplanade Benoît is a charming pedestrian promenade along the seafront of La Baule. It stretches for a kilometre along the beach to the west of the town, between the La Baule-Le Pouliguen harbour and Avenue des Hirondelles. It's a nice place to jog leading to Jardin Benoît at sunrise or for a scenic stroll at sunset.
If you head up towards Pornichet, it turns into Esplanade Lucien-Barrière. On the way, admire the seaside architecture of some fancy bourgeois villas in the city. This is a pleasant place to catch a breath of fresh air or have a rest on a bench as you watch the show of waves crashing onto the sand and passersby wandering along the esplanade.
Location: Espl. Benoît, 44500 La Baule-Escoublac, France
photo by patrick janicek (CC BY 2.0) modified
2
Escoublac Forest
Hike through a pine forest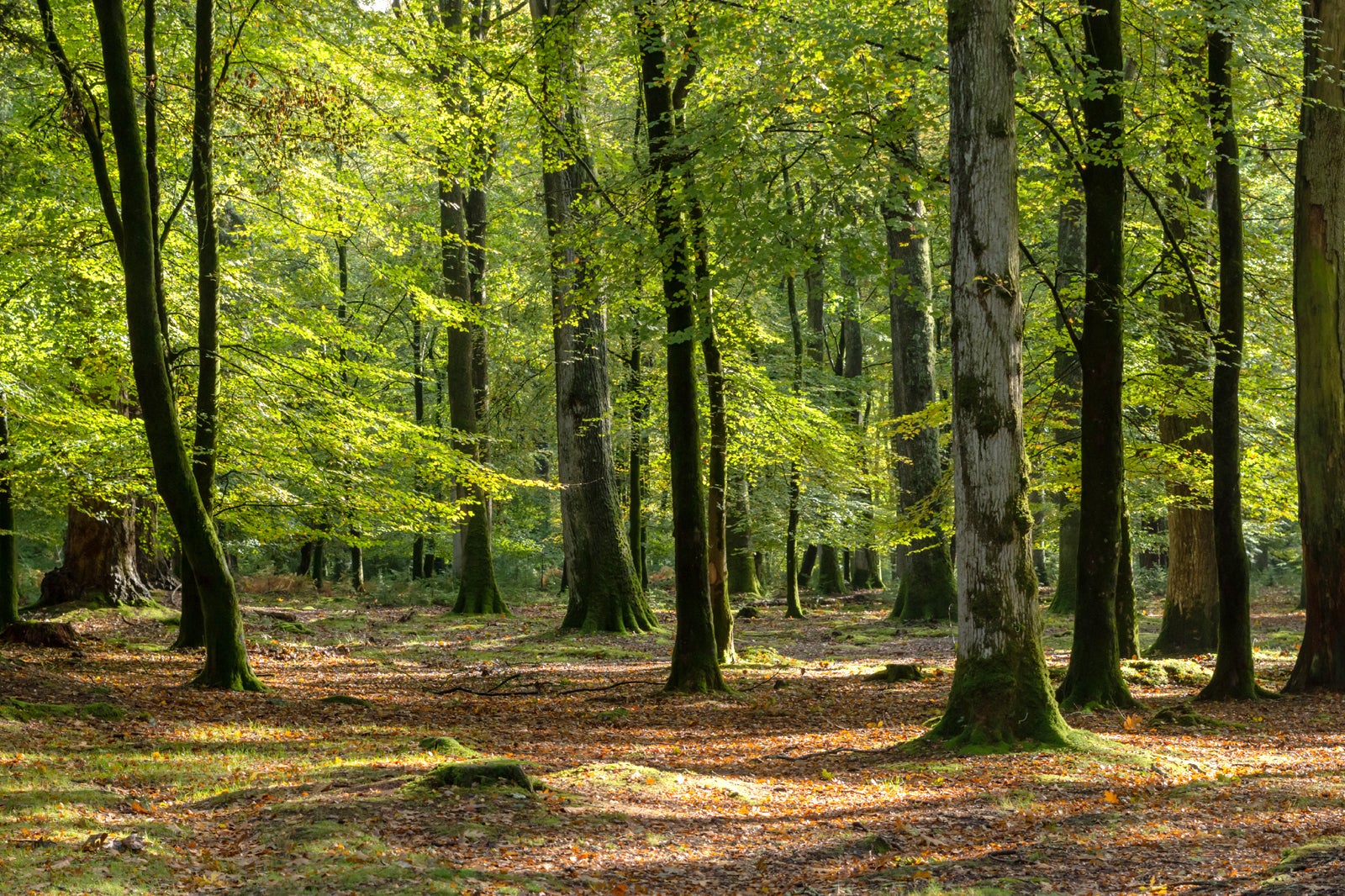 Escoublac Forest or Fôret d'Escoublac is a large hilltop pine forest in La Baule. This 47-hectare protected natural site is dense with pines, alders, poplars and acacias. Take a walk along the wooden tracks in shades of the trees, sheltered from the sun of the nearby beaches.
Its 0.8-mile jogging route is clearly marked and includes 40 or so different activities and winds through the western side of the forest. Start from next to Boulevard de Cacqueray and then take the path heading towards Avenue Guy-de-la-Morandais.
Location: Boulevard Jean Joseph de Cacqueray, 44500 La Baule-Escoublac, France
3
Vélocéan cycle path
Cycle along the coastal route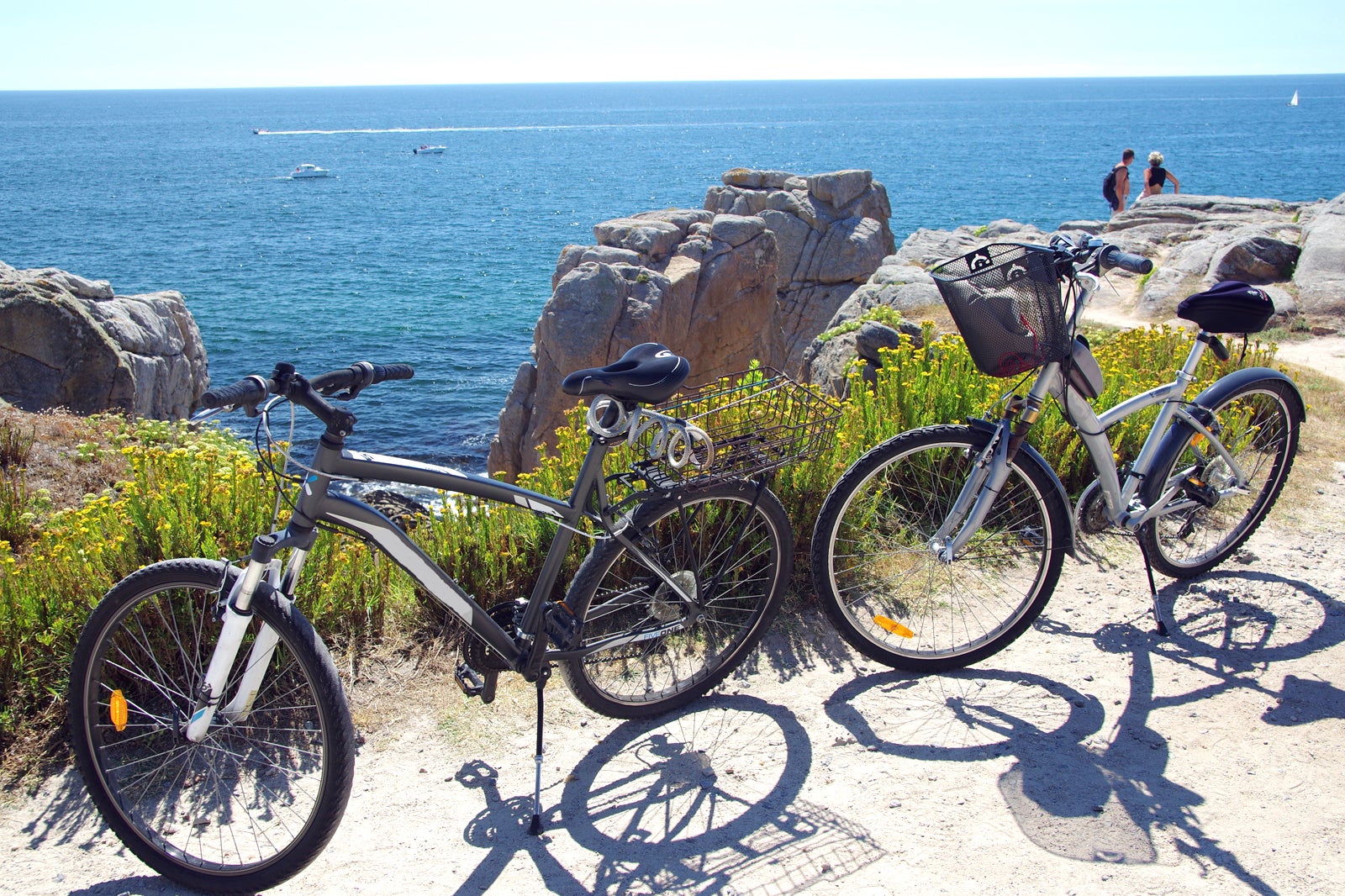 Families
Budget
Photo
Adventure
The Vélocéan coastal cycle path in the Loire-Atlantique region follows the Atlantic coastline, passing through La Baule. If you don't have a bike, there are 3 shops in town where you can hire one. The Nord Loire (North Loire) Vélocéan route follows small cross-country tracks towards the fortified town of Guérande in the northwest. From there, continue towards the fishing port of La Turballe and on to the picturesque city of Piriac-sur-Mer.
The route reaches Pornichet and then Saint-Nazaire to the east. Another section begins at Étier du Pouliguen and follows the salt marshes to reach the market town of Pouliguen before finishing at the charming city of Batz-sur-Mer in the Croisic peninsula. The route is well marked and has several converted paths and low-traffic areas for added safety.
Location: 3 Avenue des Noëlles, 44500 La Baule-Escoublac, France
4
Market La Baule
Shop at La Baule's central marketplace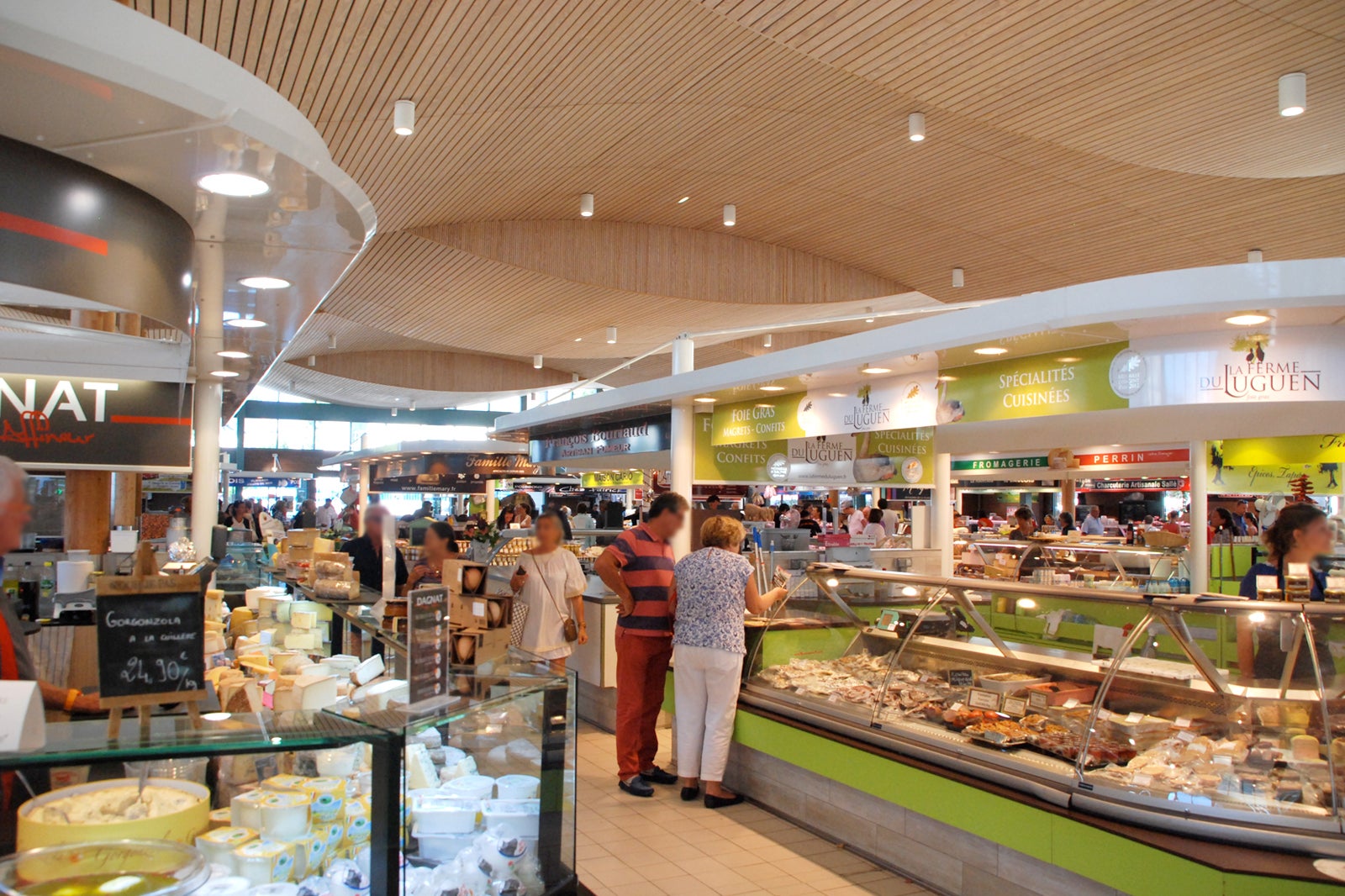 Market La Baule is a covered market and a traditional central marketplace where producers and craftspeople from the Guérande peninsula gather with their goods. Inside, you'll find a food section alongside a variety of stalls selling clothing, crockery, and local crafts. It's lively all year round and gets particularly busy on Sundays.
You'll find market gardeners, butchers, cheesemongers and fishmongers at the market every morning, as well as florists, caterers and pastry chefs. It's a good chance to buy fresh fruit and vegetables grown in La Baule and the surrounding areas and to discover local specialities such as La Baule fondant (le fondant Baulois) – a succulent fondant made with chocolate, caramel and butter salted with coarse la fleur de sel de Guérande salt.
Location: 1 Avenue du Marché, 44500 La Baule-Escoublac, France
Open: Tuesday–Saturday from 9.30 am to 8.30 pm, Sunday from 9 am to 2 pm (closed on Mondays)
photo by Harrieta171 (CC BY-SA 4.0) modified
5
Shore fishing by La Baule Bay
Fish or search for cockles and clams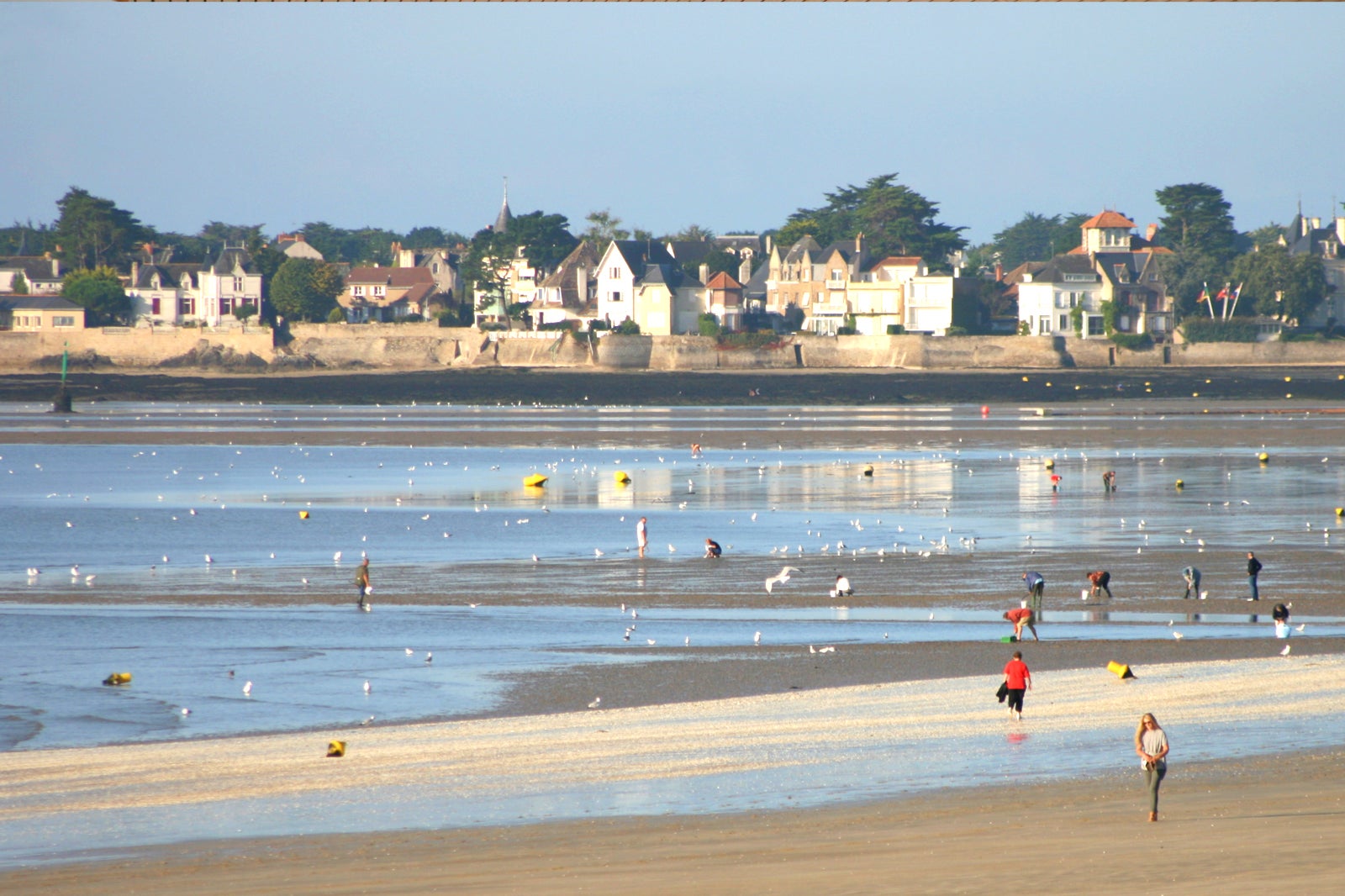 Shore fishing is a free and fun way to enjoy the beach in La Baule. You'll also find several sites well-suited to collecting cockles and clams in the bay, especially between Plage Benoît and Le Pouliguen. This activity combines relaxing in the great outdoors and the thrill and pleasures of getting your catches of the day. Check the right tidal times – low tide and during a spring tide are best.
Although this activity is open to all, there are still certain rules that need to be respected, especially with regards to the size of the shellfish. Don't forget to go to the tourist information centre before you leave to pick up a cali-pêche, a cardboard disc that allows you to check the size of the mesh. Then, the only thing left to do will be to put on your wellies, start wandering up and down the sand and rummage through the rocks.
Location: Baie du Pouliguen, 44500 La Baule-Escoublac, France
6
Brière Natural Regional Park
Go birdwatching through the marshes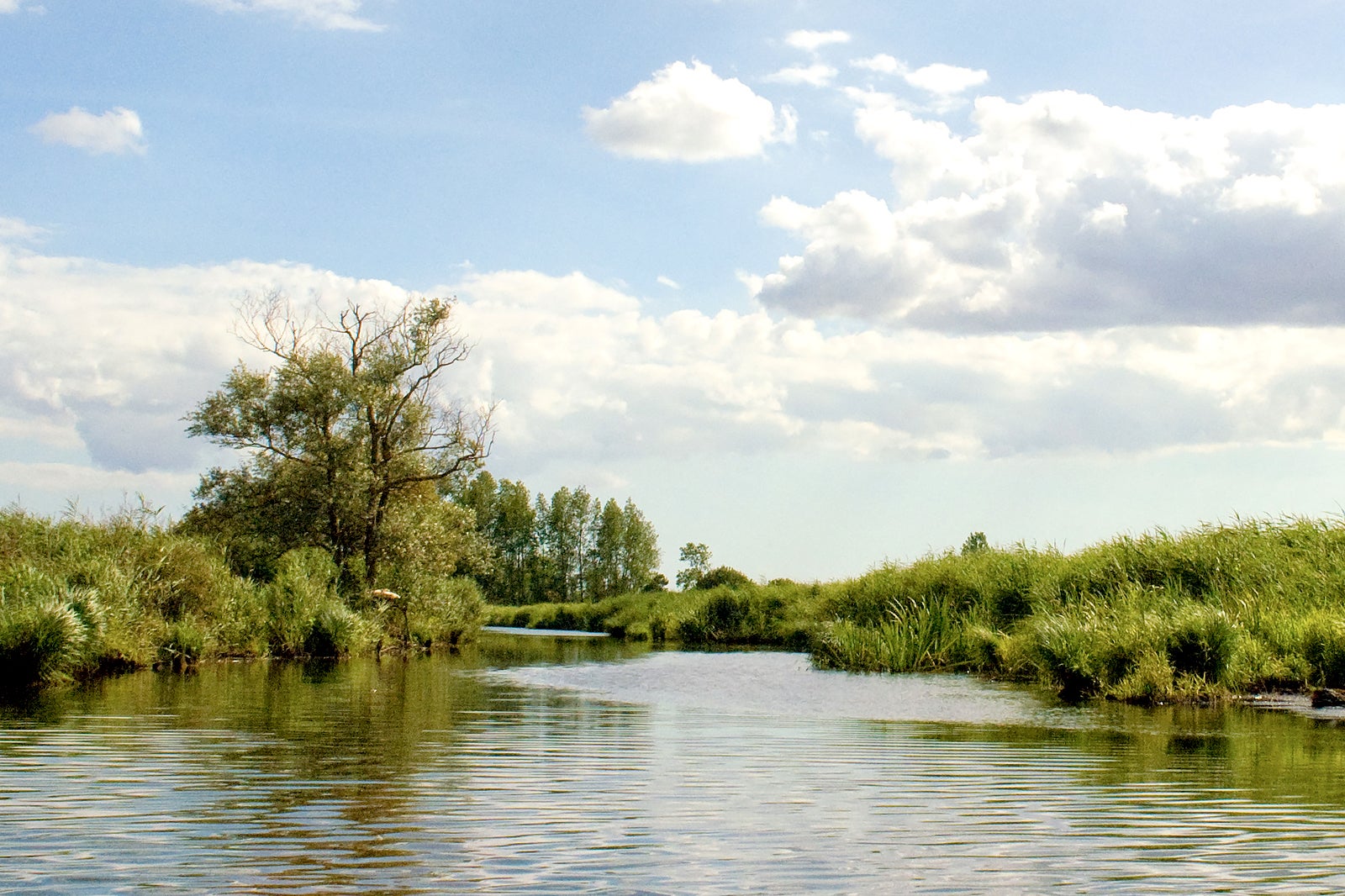 Families
Budget
Photo
Adventure
Brière Natural Regional Park is where you can discover exceptional biodiversity in La Baule. This protected space stretches over several regions of southern Brittany, including La Baule-Escoublac, adjacent to the marshland. A few villages stand in the middle of a peat bog which alternates marshy meadows and canals, in collections of traditional and elegant thatched cottages.
Explore the nature reserve accessible to the public from Site Pierre Constant by strolling along the footpath. From the shelters, you'll have a great view over the marshes and their inhabitants such as herons, spoonbills, teals, marsh harriers, wild geese and storks. Download the free Immersion en Brière app on your smartphone as a guide. You can also visit the park from the water by boarding a chaland, which is a traditional boat whose captain will guide you through the maze of reeds.
Location: Port de Rozé, 7 rue Laënnec, 44720 Saint-Malo-de-Guersac, France
Open: Daily from 8 am to 6 pm
photo by Fanny Schertzer (CC BY-SA 3.0) modified
7
Pouliguen Harbour
Take a stroll by the fishing port and marina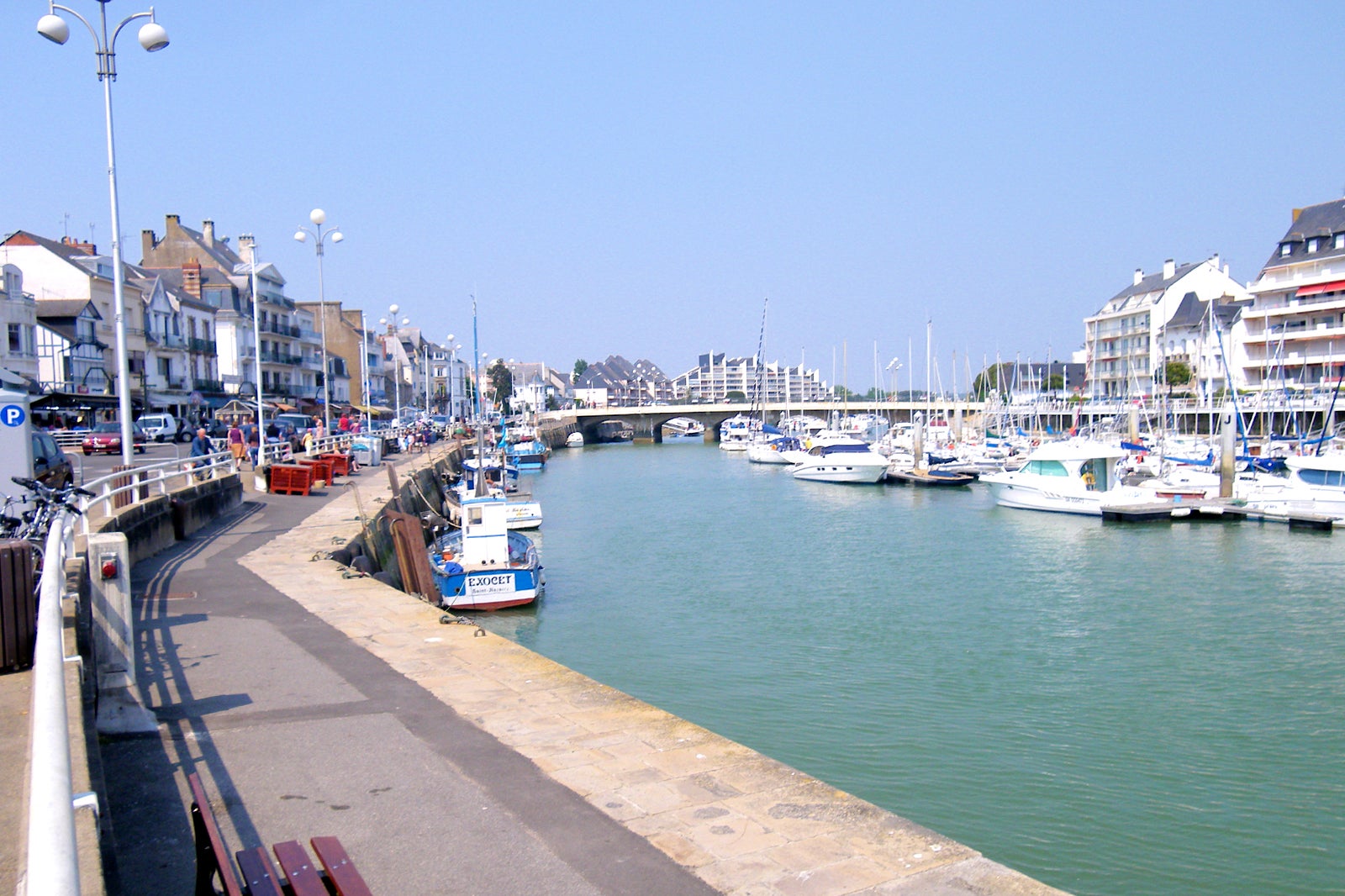 Pouliguen Harbour is where you can take a pleasant walk along the quays shared between La Baule and Le Pouliguen. Located at the end of the Étier du Pouliguen creek to the west of Plage Benoît, the port welcomes several pleasure boats as well as some fishing boats. Check out a reconstruction of an original sardine fishing boat, the Poulligwen.
The port follows the rhythm of the waves and offers a new spectacle when the catch comes in. Cross the bridge over the canal to enjoy the shops, cafés and restaurants which liven up Quai Jules-Sandeau. In Le Poliguen, you'll find ice cream, crepes and candy shops as well as a carousel and games room on the seaside promenade. There's also a pond sheltered by blackberry bushes where local kids have been sailing small boats for generations.
Location: 1 Quai Rageot de la Touche, 44500 La Baule-Escoublac, France
8
Chapelle Sainte-Anne Cultural Centre
A cultural and exhibition centre in La Baule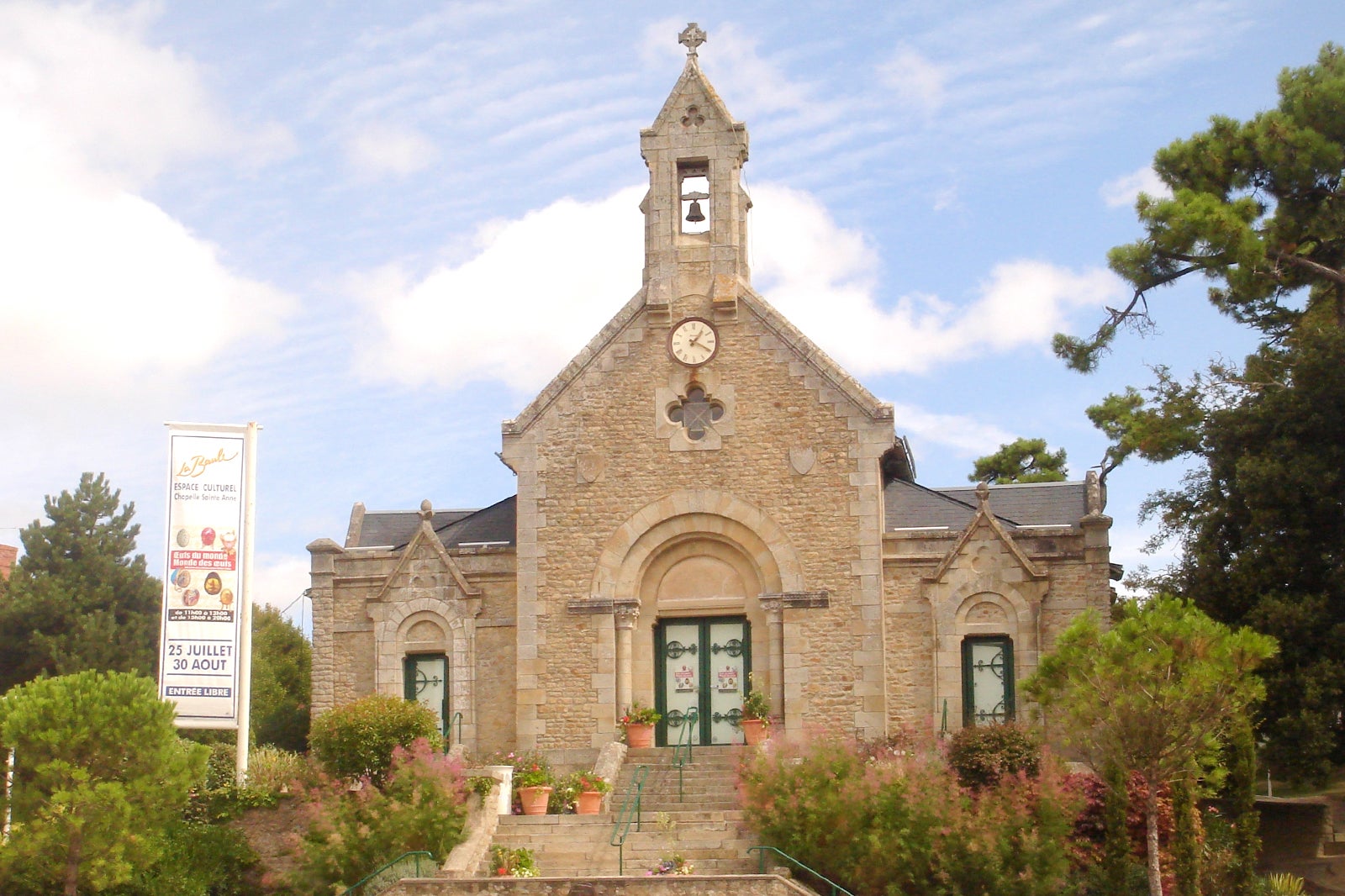 Budget
Couples
History
Photo
Chapelle Sainte-Anne hosts concerts and exhibitions in the magnificent setting of a religious building that's now converted into a cultural space. You can find it right in the city centre, just 2 streets away from the coast. Surrounded by trees and just a few flights of steps up from the local establishments on Place du Maréchal-Leclerc, this chapel stands out with its bell tower which looks up to the sky against a backdrop of greenery.
Expect plenty of free and varied cultural events organised throughout the year here, accentuated by the colourful rays through its blue stained-glass windows. Photo, painting, and sculpture exhibitions are held especially during the autumn and spring fairs organised by the Literary and Artistic Society of La Baule. Other types of events include concerts and food festivals.
Location: Place du Maréchal Leclerc, 44500 La Baule-Escoublac, France
Open: Tuesday–Sunday from 2 pm to 8 pm (closed on Mondays)
Phone: +33 (0)2 40 24 34 44
photo by Wikineptune (CC BY-SA 3.0) modified
9
La Baule Writers' Rendezvous
A major literary event in La Baule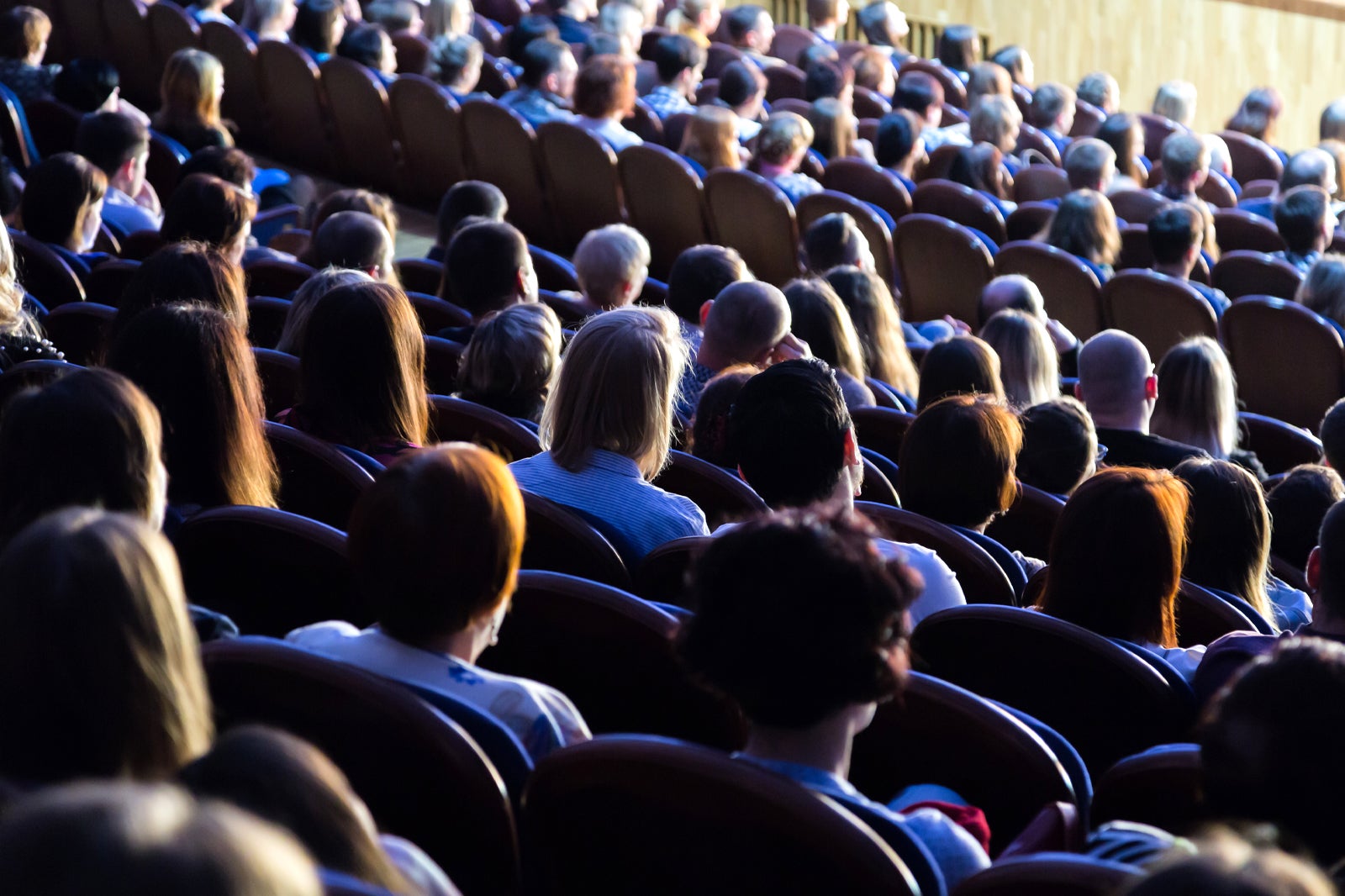 La Baule Writers' Rendezvous (Les Rendez-vous de La Baule) is an annual literary event that has become part of the region's cultural calendar. The events are held in Atlantia, the conference centre in La Baule. For about twice a month, free lectures are given by a leading literary figure such as authors as well as politicians. Speakers also feature singers, philosophers and journalists who come to meet their fans.
To take part, simply submit a booking request on the official Rendez-Vous de La Baule website. La Baule also organises writer meetups through Le Rendez-Vous des Écrivains each December. It's a literary marathon where various guests engage over a long weekend through debates and autograph sessions.
Location: Palais des congrès Atlantia, 119 Avenue du Maréchal de Lattre de Tassigny, 44500 La Baule-Escoublac, France
10
BaiedelaBaule.fr Membership Card
Discounts for residents and regulars of the bay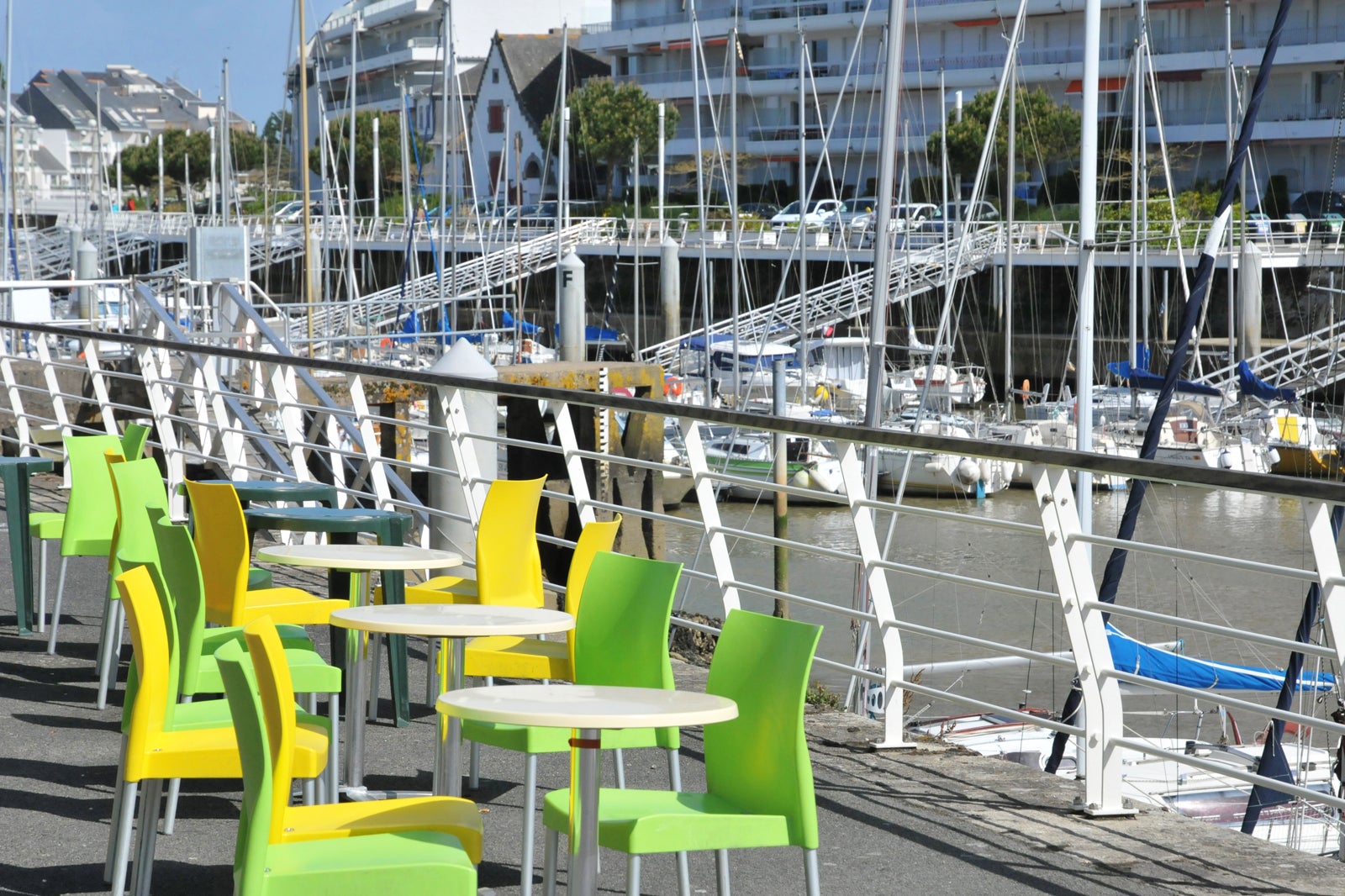 The BaiedelaBaule.fr membership card allows year-round residents and seasonal visitors to La Baule and the surrounding areas to benefit from various discounts and privileges. To get hold of this card, which lasts for a year, you need a postal address in La Baule, Le Pouliguen or Pornichet and it can be ordered via the La Baie de La Baule official website.
This free card then lets you enjoy discounts with around 50 partnering businesses in the bay and receive good deals locally. You can also take advantage of an aperitif on the house or a discount on your bill in certain restaurants, reduced cinema tickets or a small gift in some shops.
Back to top