10 Most Instagrammable Places in Nice
Ignite Your Feed with Cathedrals, Promenades and Pop Culture
Nice is a gorgeous city with roots dating back more than 1,000 years that serves as a hub of beauty, history and culture in the heart of France. Here you can find tons of opportunities for Instagram photos to ignite your feed with colour and breath-taking wonder. You can walk ancient cathedrals and monasteries and capture their architecture and frescoes. You can spend time in hilltop parks surrounded by tree-lined paths, colourful flowers and panoramic views of the city below and the Mediterranean waters. All of this awaits across this vibrant city. Check out 10 the most Instagrammable places in Nice that are must-see stops on your holiday.
1
Russian Orthodox Cathedral
Visit one of France's National Monuments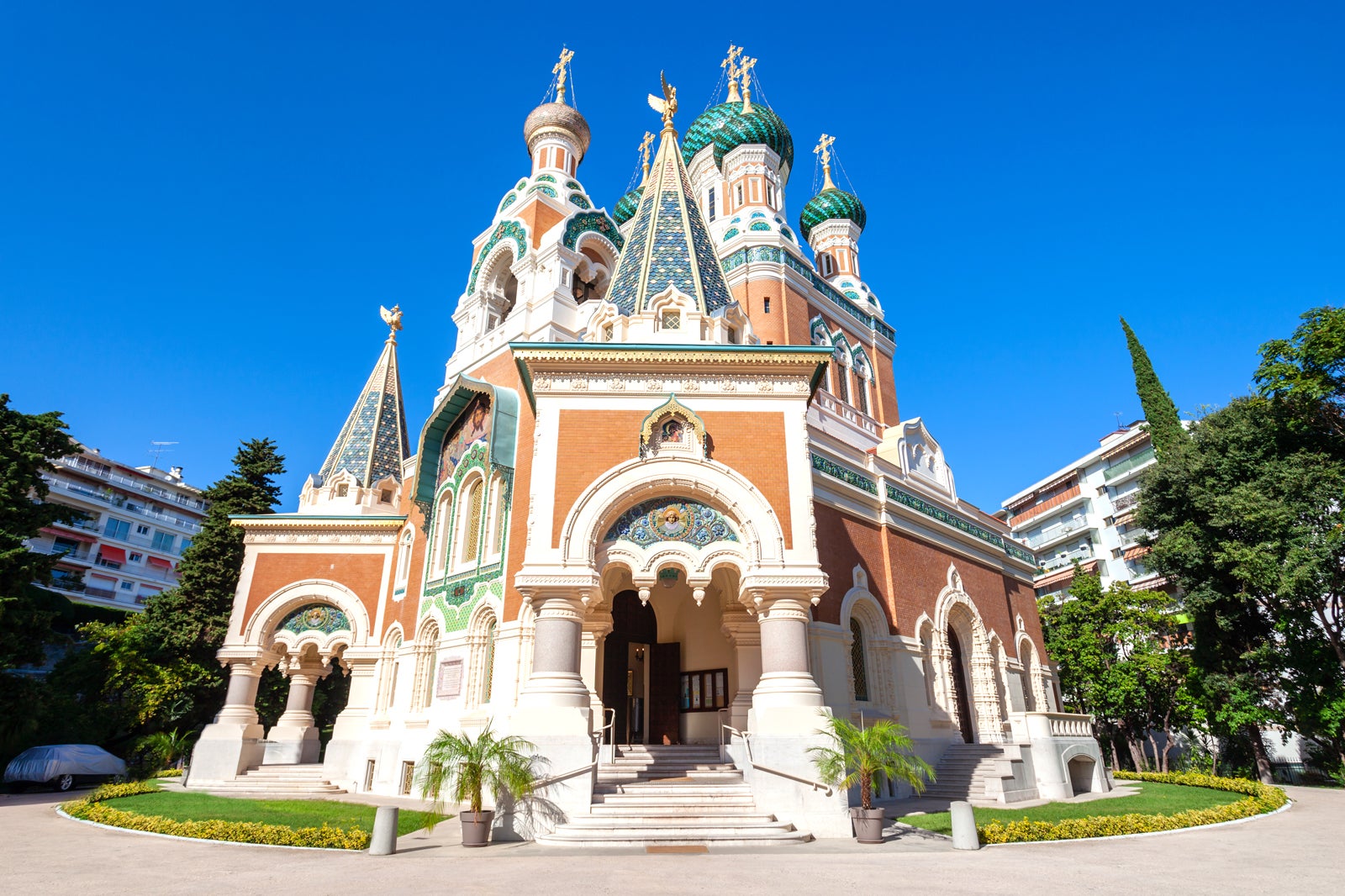 The St Nicholas Orthodox Cathedral in Nice is recognized as one of France's National Monuments and offers stunning turquoise, orange and gold architecture to adorn your feed. The church was established after Russian Tsar Alexander II visited Nice in the 19th century and decreed an Orthodox cathedral should be built here. The cathedral stands in the heart of the city centre to this day and is a hub of Russian Orthodoxy in France as well as a historic treasure of the city. Whether you're photographing the brightly-coloured exterior or the elaborate interiors it's sure to light up your Instagram feed.
Location: Avenue Nicolas II, 06000 Nice, France
Open: Monday–Saturday from 10 am to 6 pm, Sunday from noon to 6 pm
Phone: +33 (0)981 095345
2
Le Vieux Nice
Walk the twisting cobblestones of Nice's Old Town district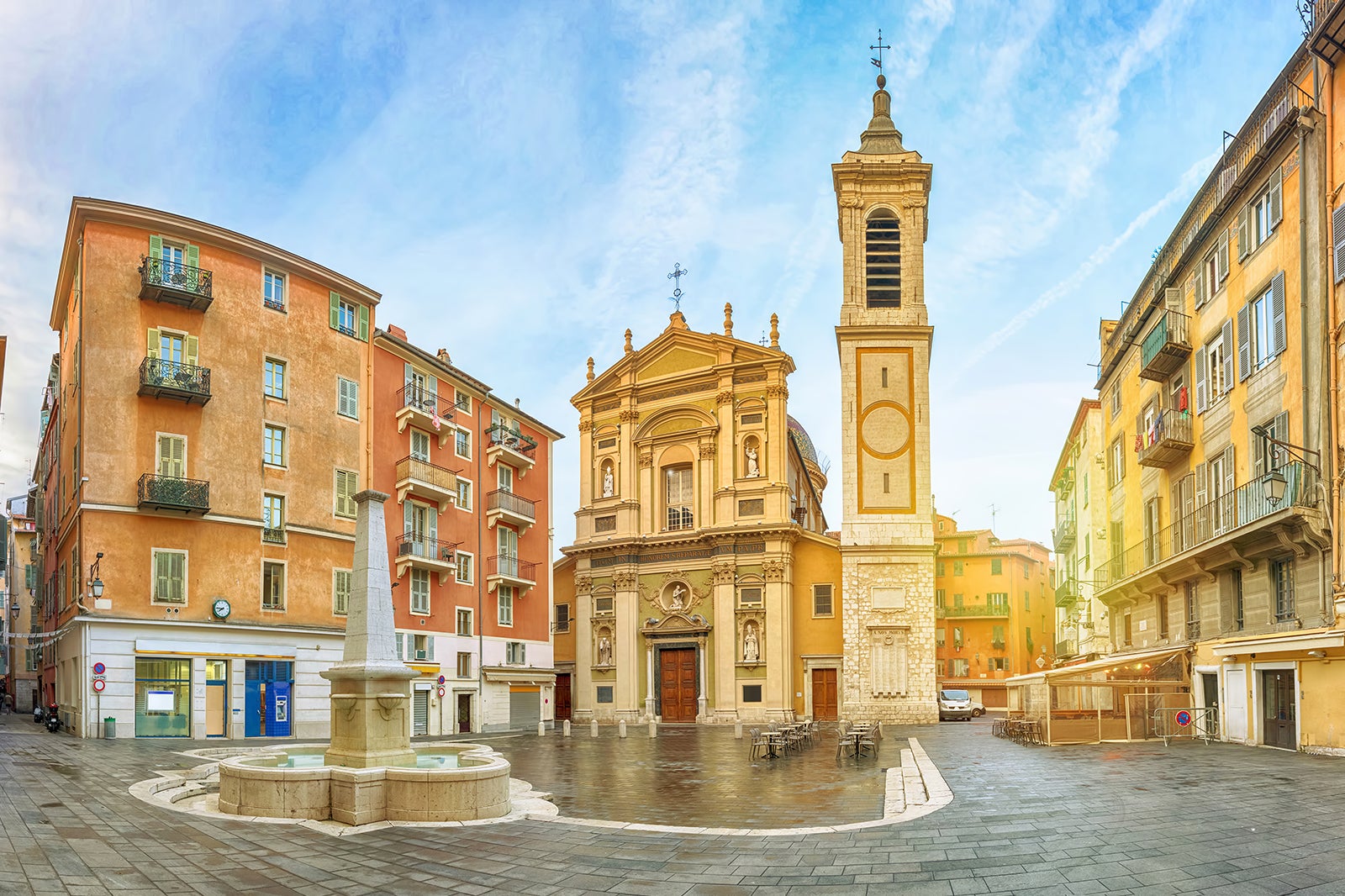 Le Vieux Nice is the formal name for the Old Town district of Nice and comprises a twisting maze of cobblestone alleys, cafes, bars, boutique shops, and restaurants. Head about 10 minutes east of the city centre and you can capture Instagram photos of alleyways and streets dating to medieval times with a quaint yet bustling atmosphere. Almost every day, you can check out the colourful flower market on the Cours Saleya, the main street of the neighbourhood. It's also a good place for a relaxed stroll or a cup of coffee at an iconic French sidewalk café.
Read more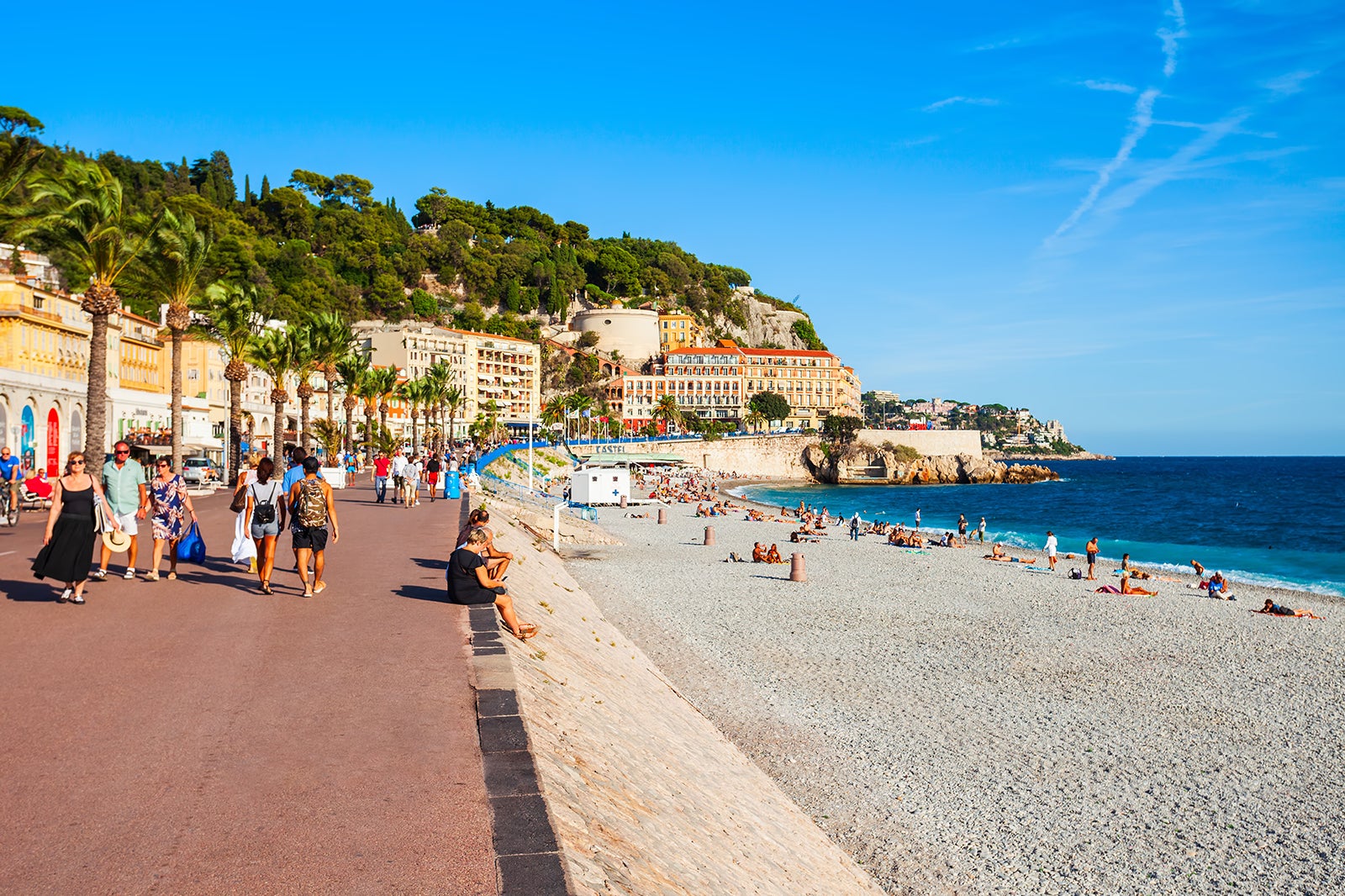 The Promenade Des Anglais covers miles of walkable boardwalk avenue along pebble- and white-sand beaches lined with elegant homes, upscale hotels and eclectic shops. You can grab tons of photos for your feed of the clear azure sea and of the action along the seashore. There are few sights like the clear blue skies with white cotton clouds over the deep, glasslike ocean waters. This boardwalk is a 10-minute drive south of the city centre and is a popular spot for visitors, so it can get crowded at times. Still, if you're looking for the opportunity to light up your feed with stunning landscape photos, this is certainly a place to visit.
Read more
4
Le Port de Nice
Sit by the docks and watch the ships roll in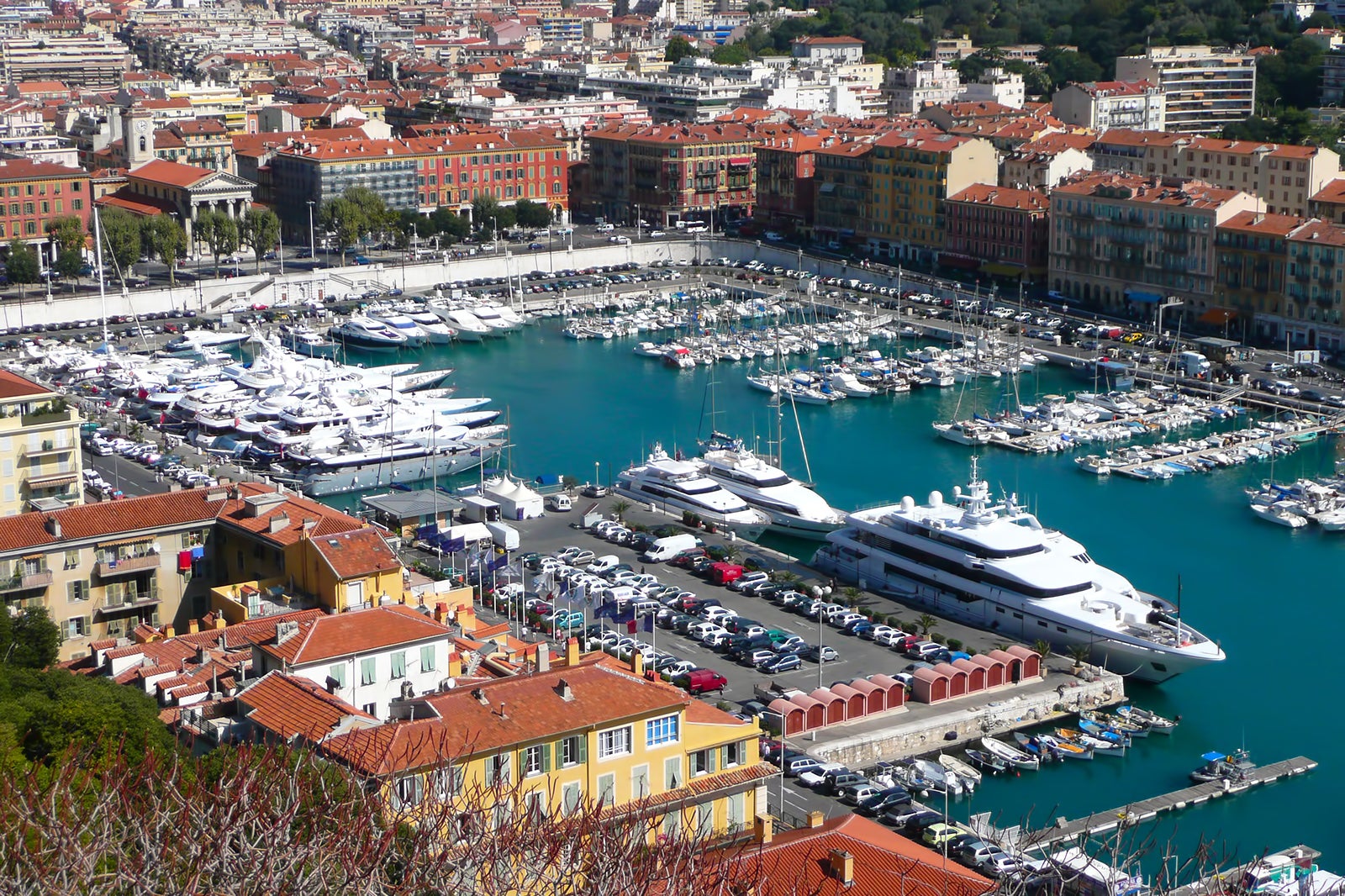 Le Port de Nice is a trendy and vibrant area full of picturesque Mediterranean houses, antique and vintage thrift shops, colourful boats and waterfront views. It's situated just about 15 minutes from the city centre and is a peaceful and scenic place to get away from the busy downtown area. You can catch photos of the buildings or just sit on the docks and watch the ferries move across the Mediterranean. Another attraction of le Port de Nice is that it is a swinging local hub for nightlife. Here you can party the night away with trendy and popular bars, pubs and clubs and catch that perfect selfie to capture the vibe of your holiday.
5
#I Love Nice Sign
Grab a whimsical photo with a ready-made hashtag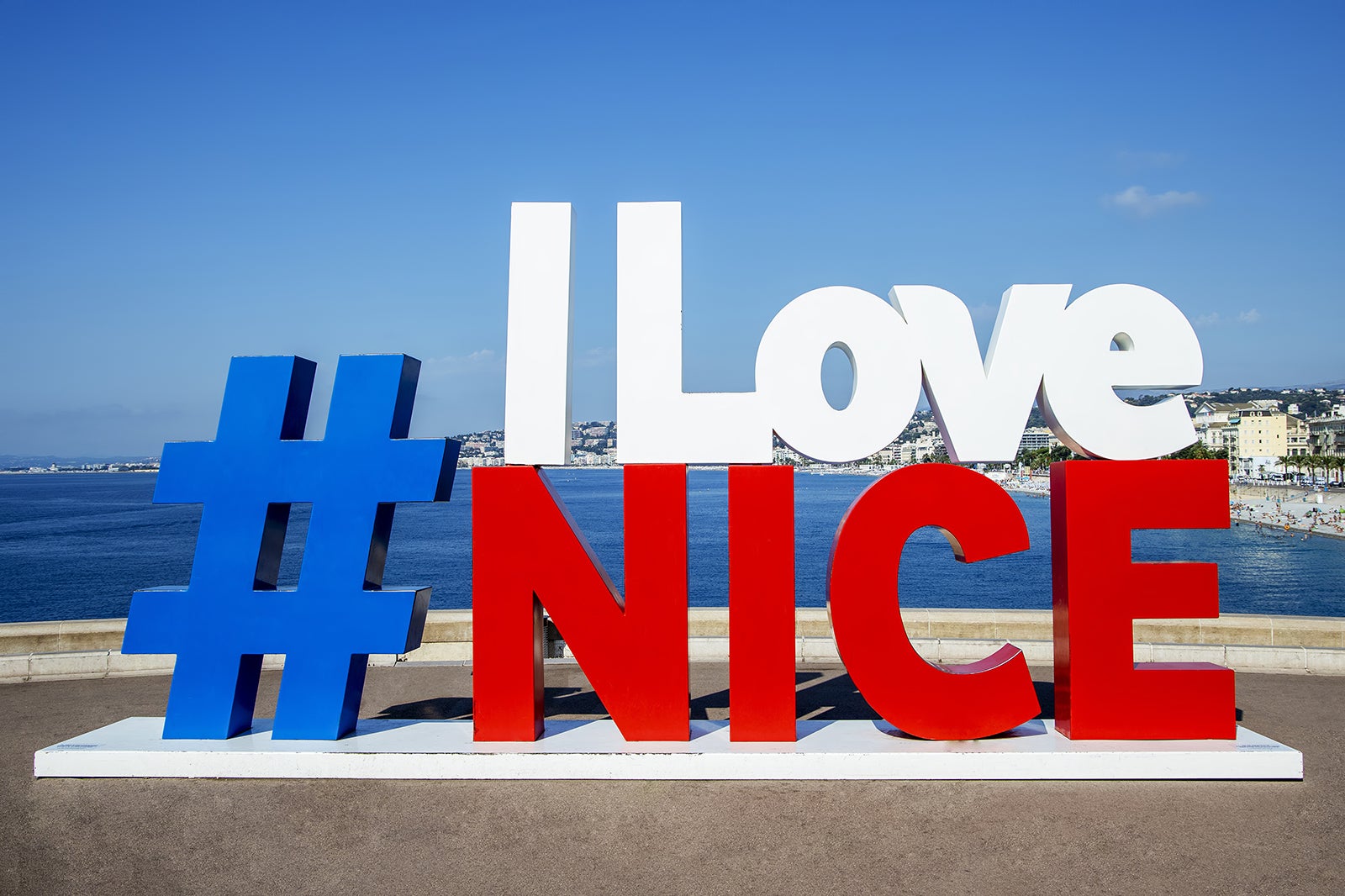 Couples
Families
Photo
Budget
Unusual
The #I Love Nice Sign is just what you think—a huge, colourful sign with the hashtag that shows the world you love Nice, and a great Instagram feed photo. Visitors come here from all over to sit in front of, or even inside, the sign with its bright red, white and blue colour pattern to catch the photo that shows off their holiday travel experience. The sign is located right on the seashore so it stands out against the backdrop of white clouds, baby blue skies, and dark crystal sea. It's only about 10 minutes from the city centre and is a must-visit site to memorialize your trip.
Location: 9 Quai Rauba Capeu, 06300 Nice, France
Open: 24/7
6
Monastère de Cimiez
Visit an 8th-century monastery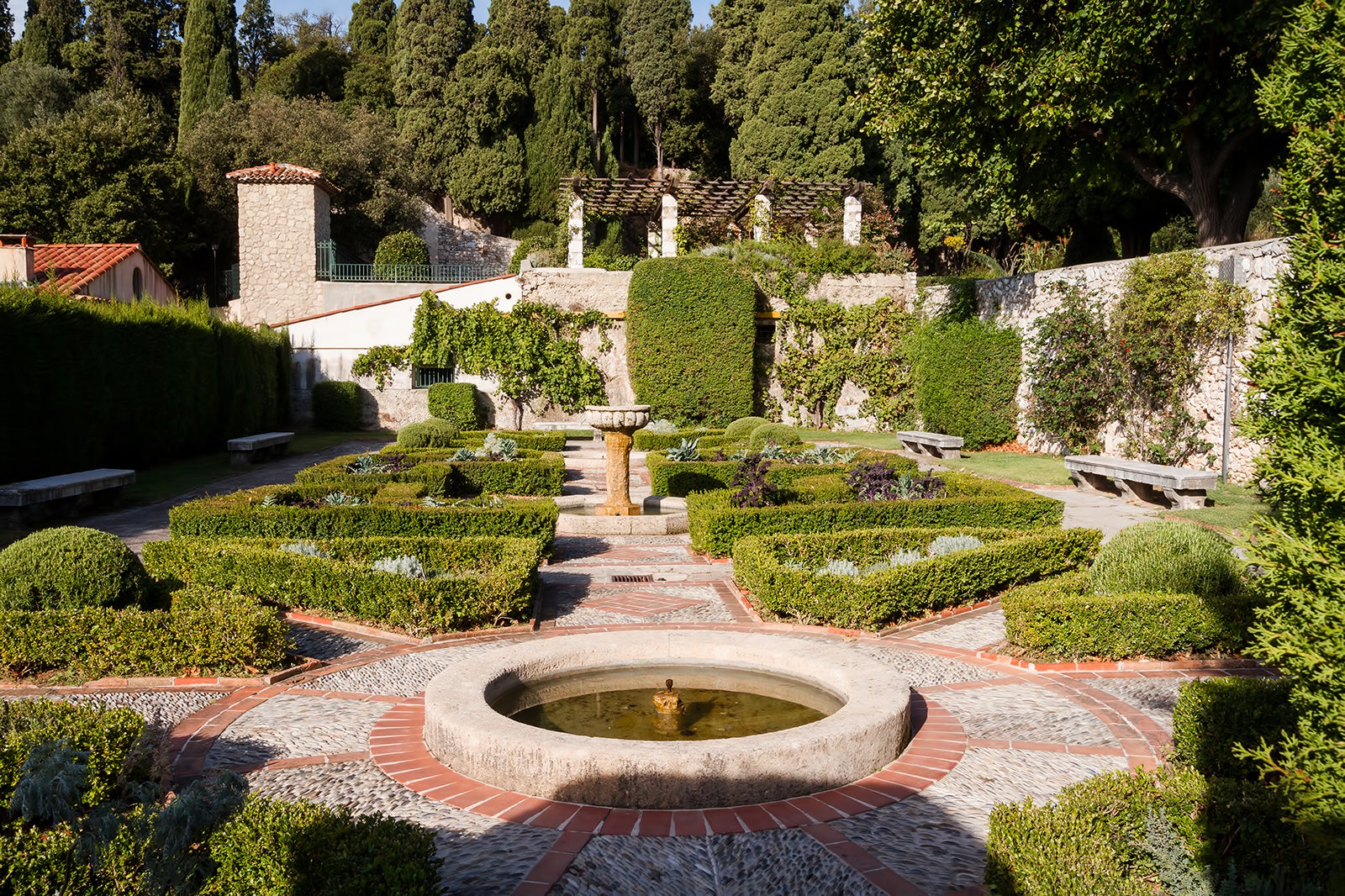 Families
History
Photo
Budget
The Monastère de Cimiez is an active monastery in one of the lesser-known regions and is a hidden gem sitting atop a hill with panoramic views, gardens, and gorgeous architecture. If you're looking to draw viewers to your Instagram feed, there's plenty of opportunities to find what you want here. The monastery dates to the 8th century and features towering spires, elegant crosses and red brick with a gothic sensibility. Steeped in history, it houses a museum and the graves of Henri Matisse, Raul Dufy and Roger Martin du Gard. It sits in the middle of incredible gardens immaculately kept by the monks with views of Nice from atop a high hill just 8 minutes' drive north of the city centre.
Location: Place Jean-Paul II Pape, 06000 Nice, France
Phone: +33 (0)493 810004
7
Place Masséna
Walk the iconic checkerboard stones of a bright town square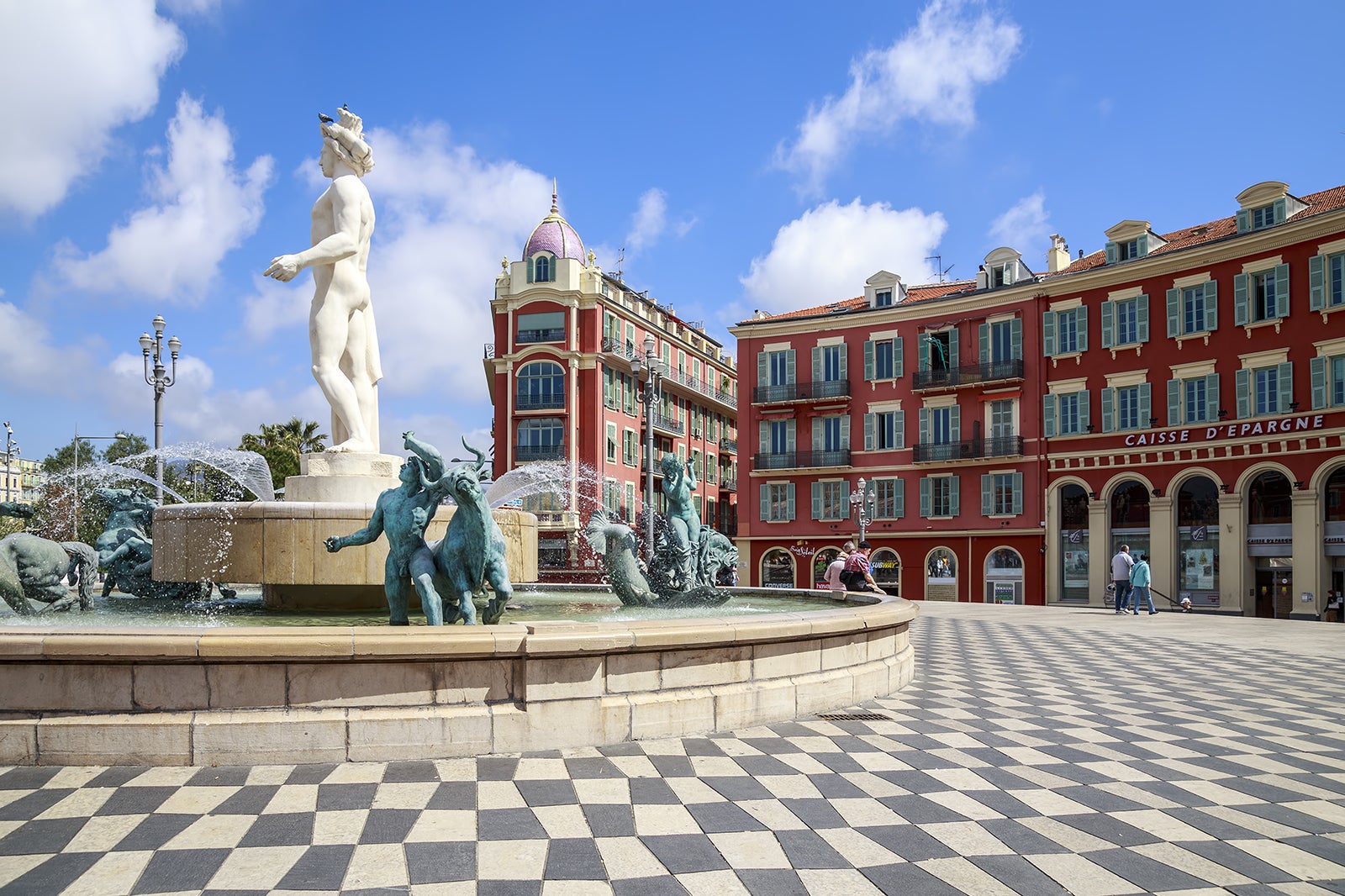 Place Masséna is an iconic town square in the heart of Nice surrounded by bright red buildings with a massive fountain adorned by a marble statue of Apollo. The square itself is designed with a checkerboard pattern and makes for a truly old-world Mediterranean vista that's sure to take the breath away of your Instagram viewers. The plaza is located about 10 minutes to the south of the city centre just a few blocks away from the shores of the Mediterranean Sea. For more sightseeing, the plaza is central to the seafront and a famed shopping district and surrounded by gorgeous gardens.
Location: 13 Place Massena, 06000 Nice, France
Phone: +33 (0)629 641012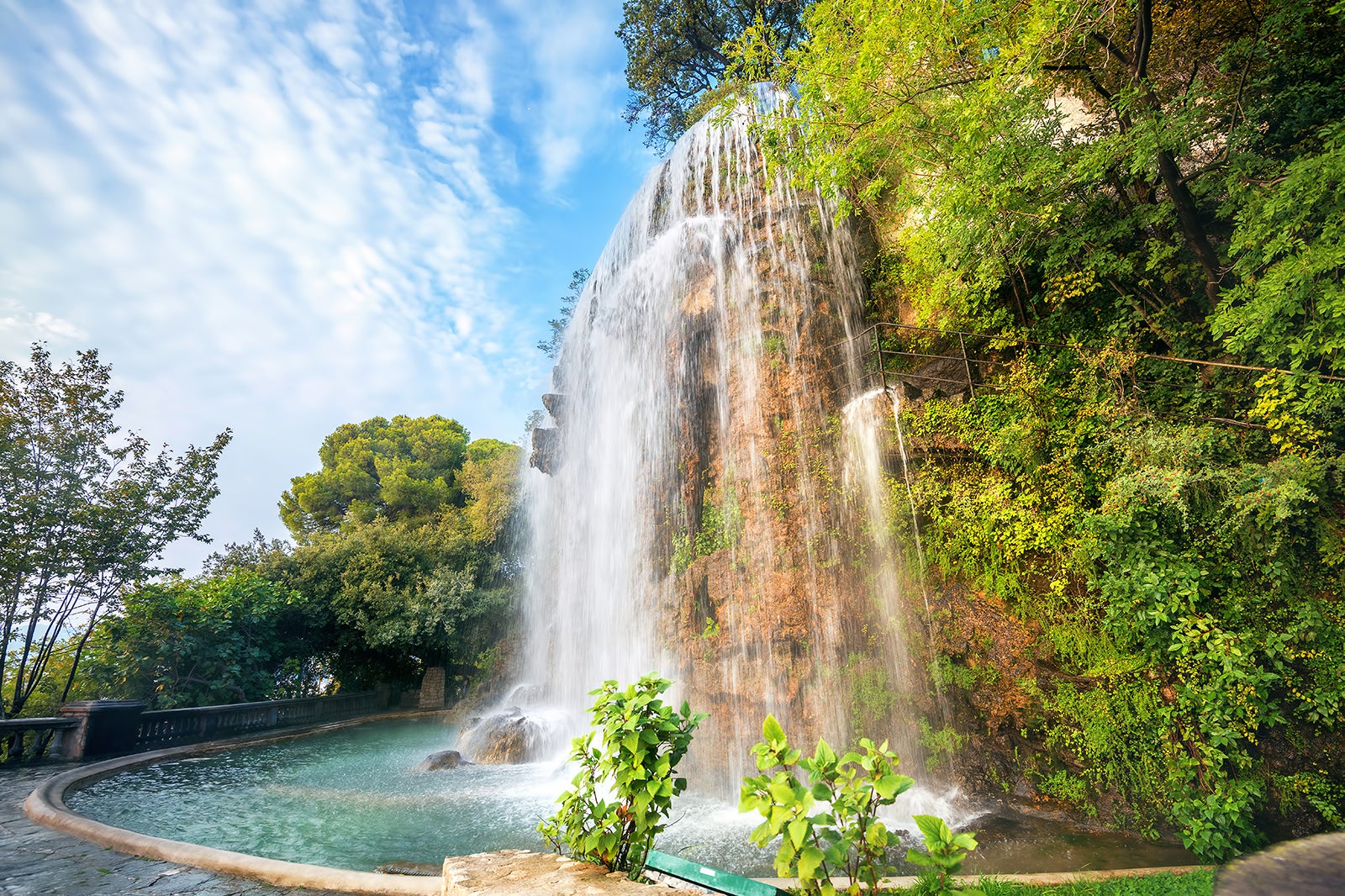 La Colline du Château, or Castle's Hill, once housed a military citadel but now offers breath-taking panoramic views of the city below. You can reach the summit of the hill either by elevator or by a long set of city stairs. Though the stairs are a gruelling climb, they also offer stunning views all the way up.. The hill is just over a 10-minute drive to the southeast of the city centre. When you reach the summit, you'll not only get great views of the city, you'll be surrounded by gardens and wild parklands. Renowned for its views, it's one of the most iconic places to snap photos of both the sunrise and the sunset.
Read more
9
Parc de Valrose
Explore 10 hectares of expansive parkland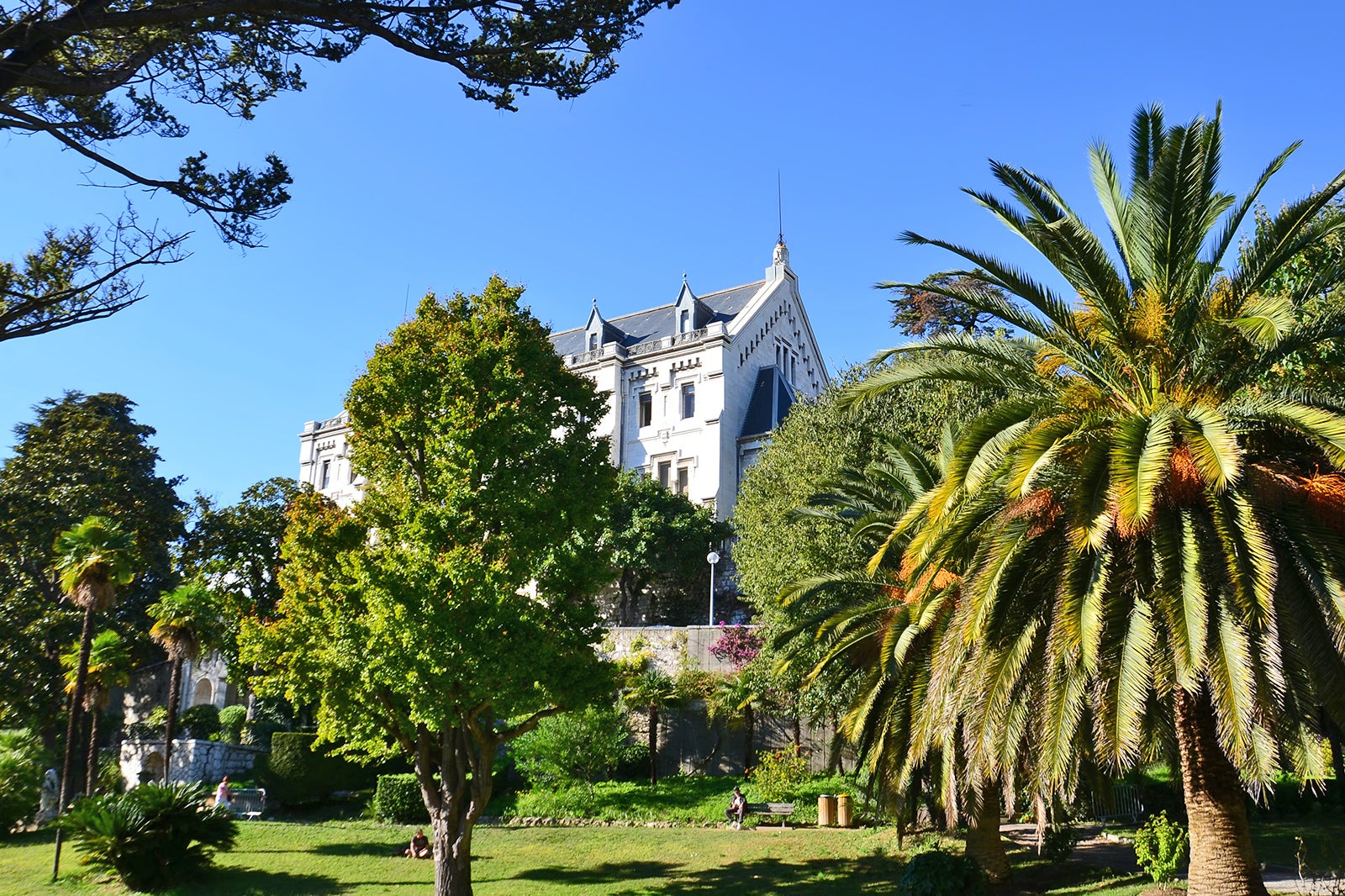 Couples
Families
History
Photo
Budget
The Parc de Valrose is an expansive parkland with rolling green fields spread over an area of 10 hectares located about 10 minutes north of Nice. The park's origins date to 1867 and it formally opened in 1870. It offers rich and colourful flora and a wealth of artefacts, complexes, fountains, statues, cellars, gazebos and artificial waterfalls with Victorian elegance. The land is owned and maintained by the University of Nice and is the seat of the University president and home of the faculty of sciences. It's classified as a historical monument and is a great place to snap photos of the buildings, their decor or the elegant statuary throughout the gardens.
Location: 65 Avenue Valrose, 06000 Nice, France
Open: Monday–Saturday from 8 am to 6 pm (Closed on Sundays)
Promenade du Paillon offers a walkable green space with diverse flora, shaded walking paths, fountains, a reflecting pool and a kids' play area. Here you'll find a wealth of opportunities for unique and beautiful photos for your Instagram feed right in the heart of the city, as well as finding a serene escape from crowds. The park covers 12 hectares of space and connects a number of local cultural institutions from museums to theatres and the waterfront. The 128 water jets in the reflecting pool offer staggering visual effects for your camera.
Read more
Location: Plassa Carlou Aubert, 06300 Nice, France
Open: Daily from 7 am to 11 pm
Phone: +33 (0)497 254900
Back to top