Montpellier Travel Essentials
Useful Information to Help You Start Your Trip to Montpellier
Our Montpellier Travel Essentials lays out the essential information you need to help you plan your trip to one of the most popular destinations in Occitanie, France. No matter how often you travel, some questions will always need answers: What's the weather like? How can I get from Montpellier–Méditerranée Airport to my hotel? What currency and type of plug do I need?
We have all these answers plus other basic info about the best time to go, getting there, getting around, and a few useful travel tips. You'll also learn about the most popular landmarks in Montpellier such as the Place de la Comédie, L'Écusson (the Old Town), and Montpellier Cathedral. It's all compiled in this Montpellier Travel Essentials. After going through this short and easy-to-read guide, you'll be a little more prepared to start your trip to Montpellier.
1
When is the best time to travel to Montpellier?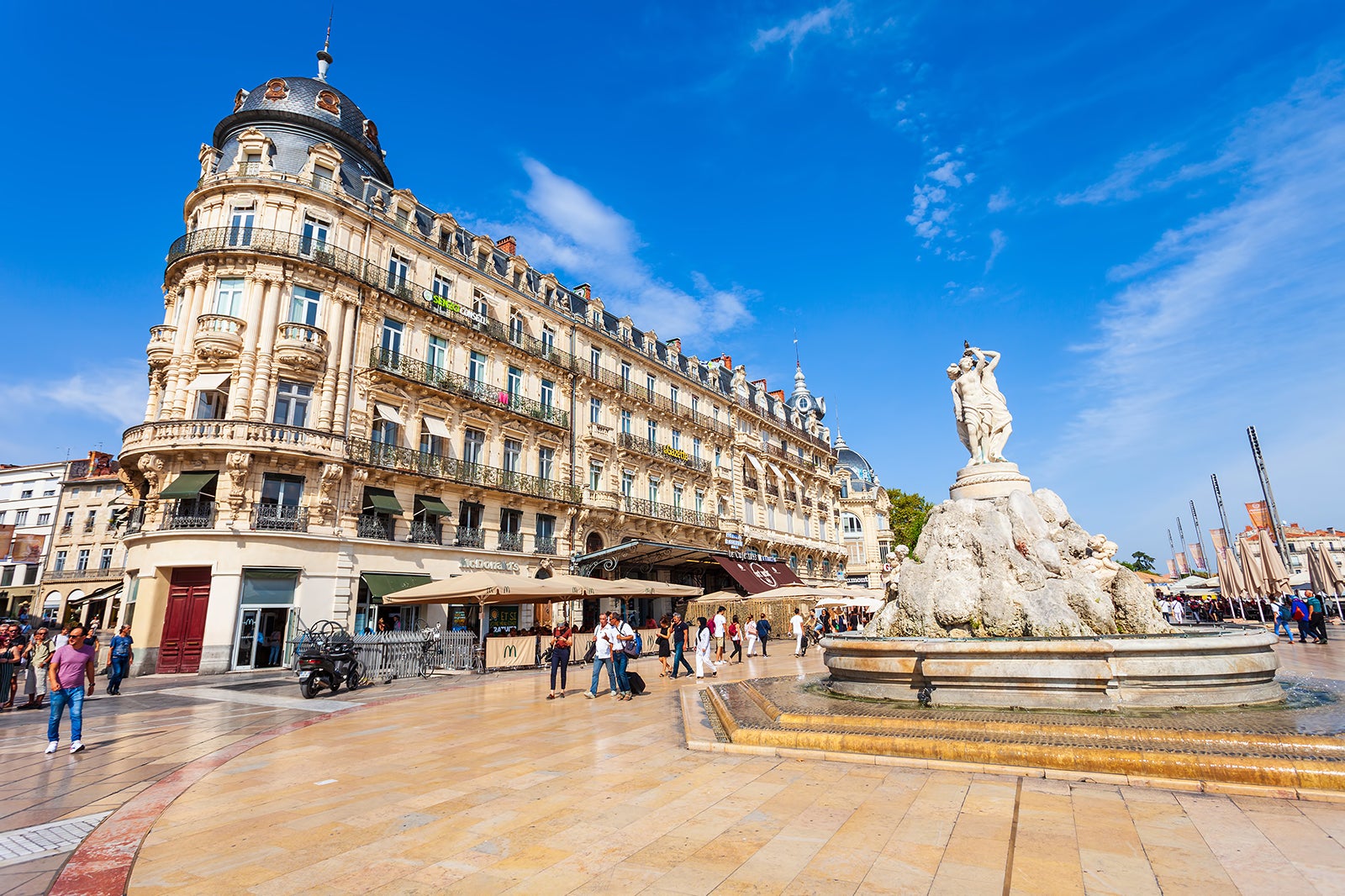 Montpellier has a Mediterranean climate with hot, dry summers and mild, humid winters. Average temperatures range between 7°C in winter and 24°C in Summer.
Montpellier is a rather dry city. On average, it rains up to 4 days per month in May–September and up to 6 days the other months.
The warmest time of the year is from May to September. The hottest temperature recorded was 43.5°C in June 2019. The peak tourist season is during the July–August school holidays, yet you can expect Montpellier to also be busy in June and September.
The best times to visit Montpellier are in spring (May–mid-June) and autumn (late-September–October). Hotels usually have lower rates, and the weather is mostly mild and pleasant. You'll also avoid the summer crowds.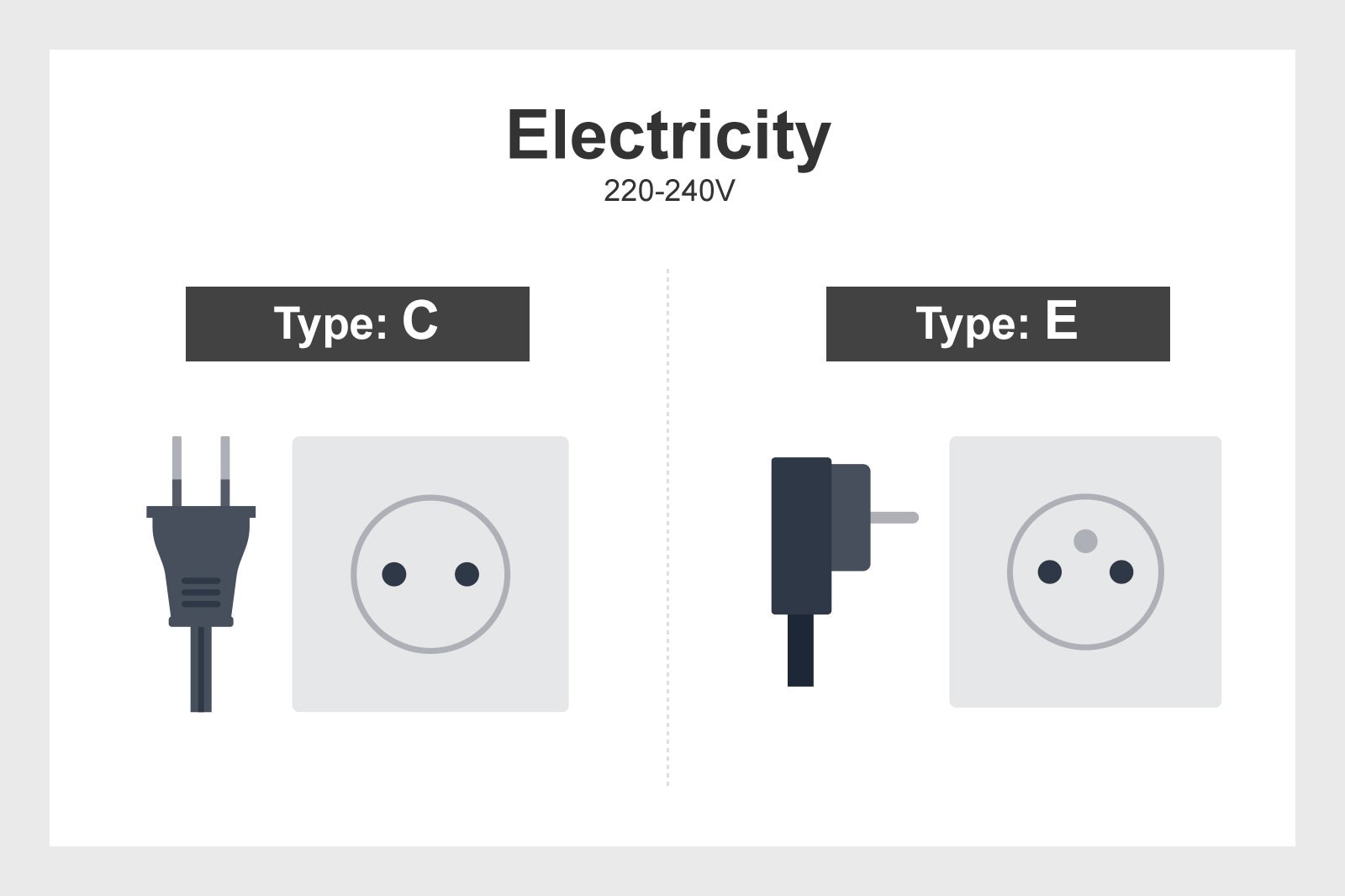 Plug type: C and E
Electricity: 220-240 V
Currency: Euro (€)
International dialling code: +33 4
Emergency telephone number: 112
3
How to get to my hotel in Montpellier?
Montpellier–Méditerranée Airport is the main arrival hub to Montpellier. It's 10.2-km transfer east-southeast of the city centre.
If you're already in France, you can also get to Montpellier by train. It takes about 5 hours to get to Montpellier by high-speed train (TGV – Train à Grande Vitesse) from Gare de Lyon in Paris. The ride through the bucolic east of France countryside is pleasant.
Montpellier–Méditerranée Airport (MPL)
Also known as Fréjorgues Airport, Montpellier–Méditerranée Airport serves domestic, European, and North African flights. Ranked among the 10 busiest airports in France, it features 2 runways and 1 terminal home to convenient dining and shopping options. The driving time between the airport and downtown Montpellier takes about 10–15 minutes.
Free Wi-Fi is available throughout the terminal. Ground transport options available are as follows:
Taxis can be found right next to the A Gate outside the Arrivals Hall.
Uber is also available at MPL.
The Airport Shuttle line 620 operates daily from 8.30 am to 12 pm and from 1.30 pm to 5.30 pm. It links the airport to the city centre in 15 minutes. It's the cheapest way to get to downtown Montpellier from the airport.
Major car rental agencies such as Avis, Hertz, and Budget can be found outside the terminal building, opposite the Business Centre and Arrival Hall. It's advisable to pre-book your vehicle online before getting there.
Montpellier-Saint-Roch train station
The Montpellier-Saint-Roch train station is on Place Auguste Gilbert in the city centre, just south of L'Écusson, the historic district. The station features Wi-Fi, a newsstand, and refreshment facilities.
As the main train station, Montpellier-Saint-Roch is also a junction point on the city's tram network. From here, besides the tram, other ways for reaching your hotel include bus, taxi, and rideshare.
4
How to get around Montpellier?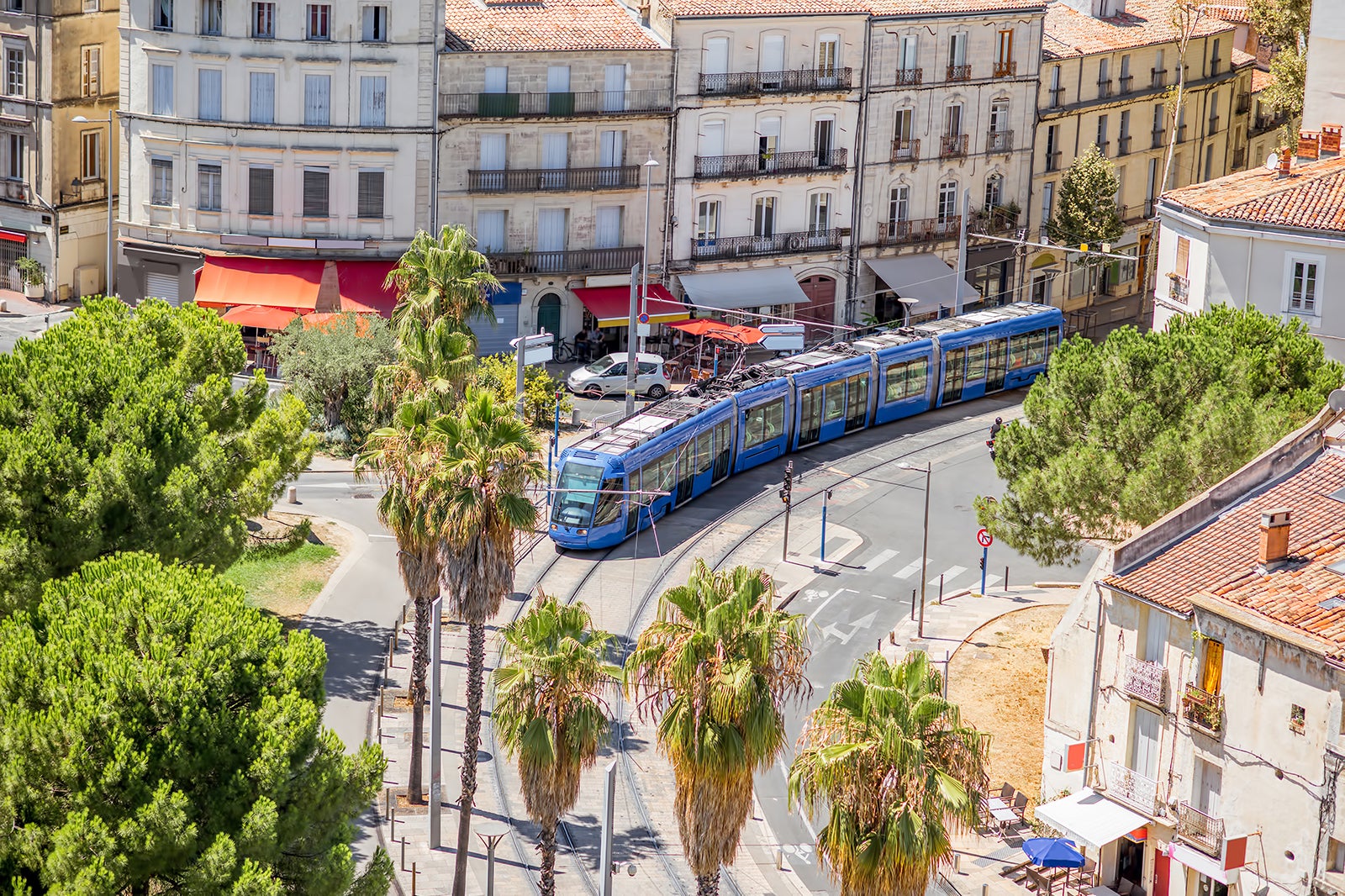 Travel tips
Montpellier city centre is easily walkable. It covers an area of fewer than 2 sq km. It's filled with landmarks and iconic buildings such as the Aqueduc Saint-Clément, the Botanical Garden, and Montpellier Cathedral, just to name a few. Downtown Montpellier is also home to a great range of dining and shopping options, as well as cool bars for enjoying a nightcap.
Cycling is also a pleasurable way of exploring the city on brighter days. For longer distances, Transports de l'agglomération de Montpellier (TaM) runs an extensive network of trams and buses that cover the city and its vicinity. TaM also runs a bike-sharing scheme called Vélomagg.
How does Montpellier's public transport work?
Transports de l'agglomération de Montpellier (TaM) runs 4 tramway lines and 41 bus lines. Tramway and bus lines are cleverly connected to offer convenient access to anywhere in the city as well as nearby towns and villages.
The tramway operates daily from 4.30 am to 1 am (2 am on Fridays and Saturdays). If you're a night owl, night buses are also available between midnight and 5 am (6 am in July–August) on Thursdays, Fridays, and Saturdays.
Single, 10-trip, day, and week tickets are available. Tickets can be purchased on the bus and at the vending machines at hand in the 84 tram stations. If you plan to travel a lot, you can also install the M'Ticket app on your mobile phone. Note that the trams and buses are wheelchair accessible.
Taking a taxi in Montpellier
Allô Taxi Montpellier (+33 (0)7 64 32 92 68), Taxi Bleu du Midi (+33 (0)4 67 03 20 00), and Taxi Giraud (+33 (0)7 86 56 25 26) are just a few of the taxi companies that operate in Montpellier. You can also easily find taxi lines in front of hotels and main attractions. It's easy to hail one on the street.
Convenient yet rather expensive, getting around Montpellier by taxicab is not your best option if you're on a budget, although a taxi ride may be your most convenient option to get back to your hotel if you're enjoying a late night out. Note that tipping for taxis in France isn't necessary, but if you're happy with your driver's service, you can give an extra 5% or 10% of the fare. In France, all taxis are obliged to accept payment by Visa and MasterCard.
Uber is the main ride-sharing app used in Montpellier. Uber rates are slightly cheaper than standard taxicabs.
Renting a car in Montpellier
Renting a car is preferable if you plan to go outside the city and explore the stunning landscapes of Camargue and enjoy the many beautiful beaches along the coast. Car rental companies are available at the airport and throughout Montpellier. Foreigners can use their country driving license accompanied by a notarized translation in French for up to 3 months. An International Driving Permit is fine too.
As for parking spaces, there are plenty across Montpellier with various price bands. Note that the inner city is a car-free zone, though.
Cycling around Montpellier with Vélomagg
Montpellier is one of the most bike-friendly cities in Languedoc-Roussillon. It hosts over 150 km of countryside and urban cycle routes. Different options for hiring a bike in Montpellier are as follows:
Vélomagg is the bike-sharing scheme run by TaM. You can join the system by downloading the M'Ticket app on your phone and enter your credit card info. You'll then just have to get to one of the over 50 stations settled throughout the city and get yourself a bicycle.
W Ville & Vélo (+33 (0)4 34 43 04 52), Ebike Premium (+33 (0)9 63 54 27 18), and Cyrpeo - Montpellier (+33 (0)4 67 27 87 72) are just a few of the shops at which you can hire bicycles in Montpellier.
5
What are the main annual events in Montpellier?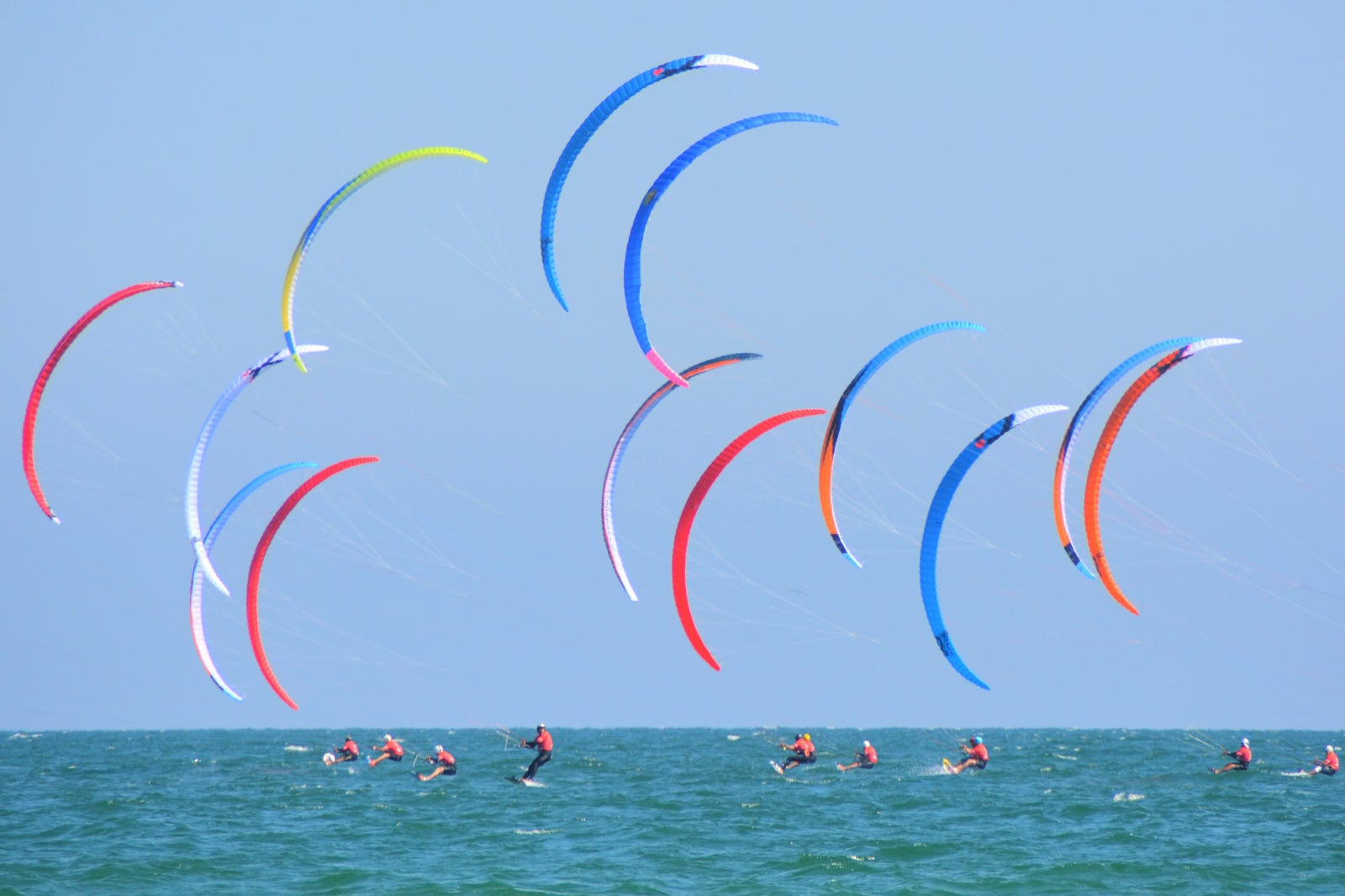 Festikite
May
An event dedicated to kite-surfing, featuring an international competition, a large exhibition showcasing the latest gear, alongside food trucks and a refreshment area. Kids activities include an inflatable water park.
Where: Prevost Beach in Villeneuve-les-Maguelone
Estivales de Montpellier
Every Friday in July-August
Every Friday during summer, stalls selling local food and wines at affordable rates are settled on the Esplanade Charles de Gaulle between 6.30 pm and 11.30 pm. It's a great opportunity to discover and sample delicious local products.
Where: Esplanade Charles de Gaulle
Enlightened City
November
A winter celebration with a sound and light show in the historic district of Montpellier. The façade of famous buildings such as Saint-Roch Church, the Arc de Triomphe, the Fabre Museum, and many others, are redecorated with stunning light effects.
Where: L'Écusson
6
What are the main landmarks in Montpellier?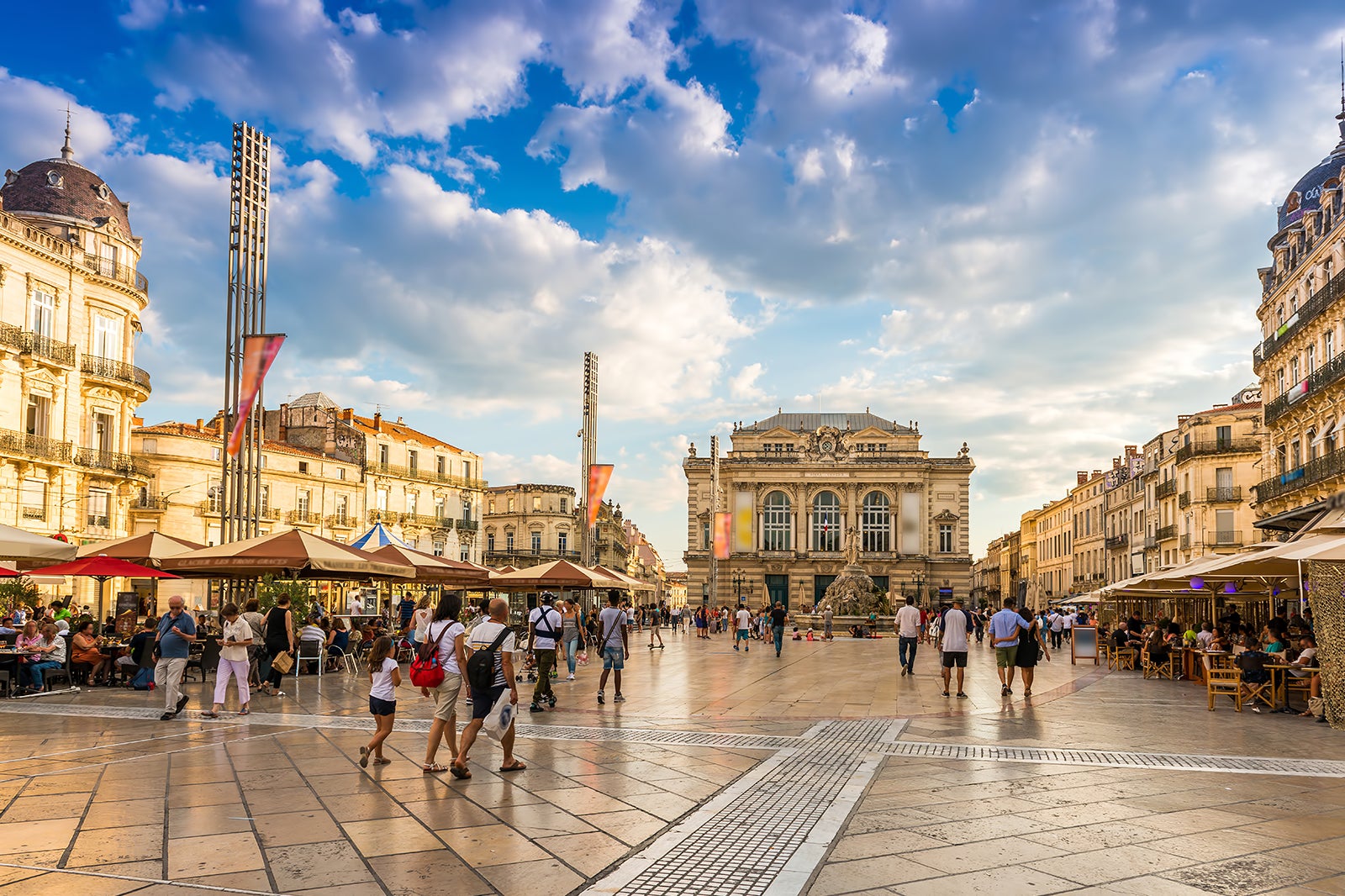 Place de la Comédie
The heart of Montpellier, this central square hosts the opera house at one end and the park Esplanade Charles-de-Gaulles at the other. Splendid 19th-century buildings and a great choice of bars and restaurants surround it.
L'Écusson
Since the Middle Ages, this pedestrianised neighbourhood spreading to the west and northwest of the Place de la Comédie offers pleasant strolls through winding streets. Quaint boutiques, excellent restaurants, and historical landmarks dot the area.
Montpellier Cathedral
A national monument in the northwest part of the Old Town that dates back to the 14th century. Rebuilt during the 17th century, this fortress-like Gothic cathedral features a huge vaulted ceiling and stained glass windows.
Les Halles Castellanes
The main covered market in Montpellier's Old Town. This building is 250 metres north of the Place de la Comédie and houses a myriad of stalls and shops selling all sorts of fresh regional products.
Back to top