10 Best Restaurants in Jimbaran
Where to Eat in Jimbaran
The best restaurants in Jimbaran include fine dining restaurants at 5-star hotels as well as popular local warungs and cafes along Jalan Raya Uluwatu and Jalan Bukit Permai. Muaya Beach is a section of Jimbaran Bay that's home to one of the most popular dining destinations in Bali – a group of seafood cafes that gets quite busy at sunset.
For a more refined and upscale luxury dining atmosphere, you don't need to go too far, as lavish beach clubs and restaurants offering haute cuisine are within walking distance along the sand. Below, we present the best places to eat in Jimbaran where you can enjoy your time around this popular and picturesque bay in Bali.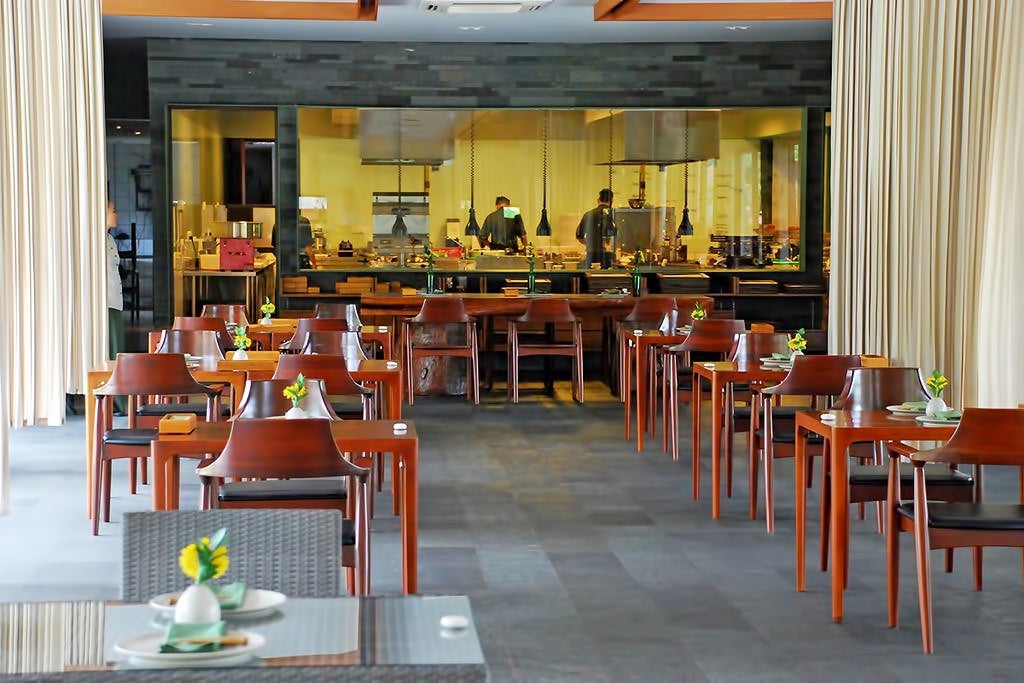 Cuca presents great tapas and desserts in a casual dining setting overlooking a gorgeous garden and coconut grove in Jimbaran. The restaurant flanks the Kayumanis Jimbaran Private Estate and Spa and has 3 distinctive dining spaces: an interactive food bar alongside a long teak counter, a relaxed and intimate dining room, and a chilled-out cocktail bar and garden lounge.
The restaurant presents western cuisine, prepared in an open kitchen and using locally sourced ingredients. Must-tries include pulled pork and mushroom croquettes and special fire-baked seafood rice. Cuca also offers cooking or 'tasting' classes that offer a great insight into local ingredients and the chef's techniques.
Location: Jalan Yoga Perkanthi, Jimbaran, Badung, Bali 80364, Indonesia
Open: Daily from midday to midnight
Phone: +62 (0)361 708066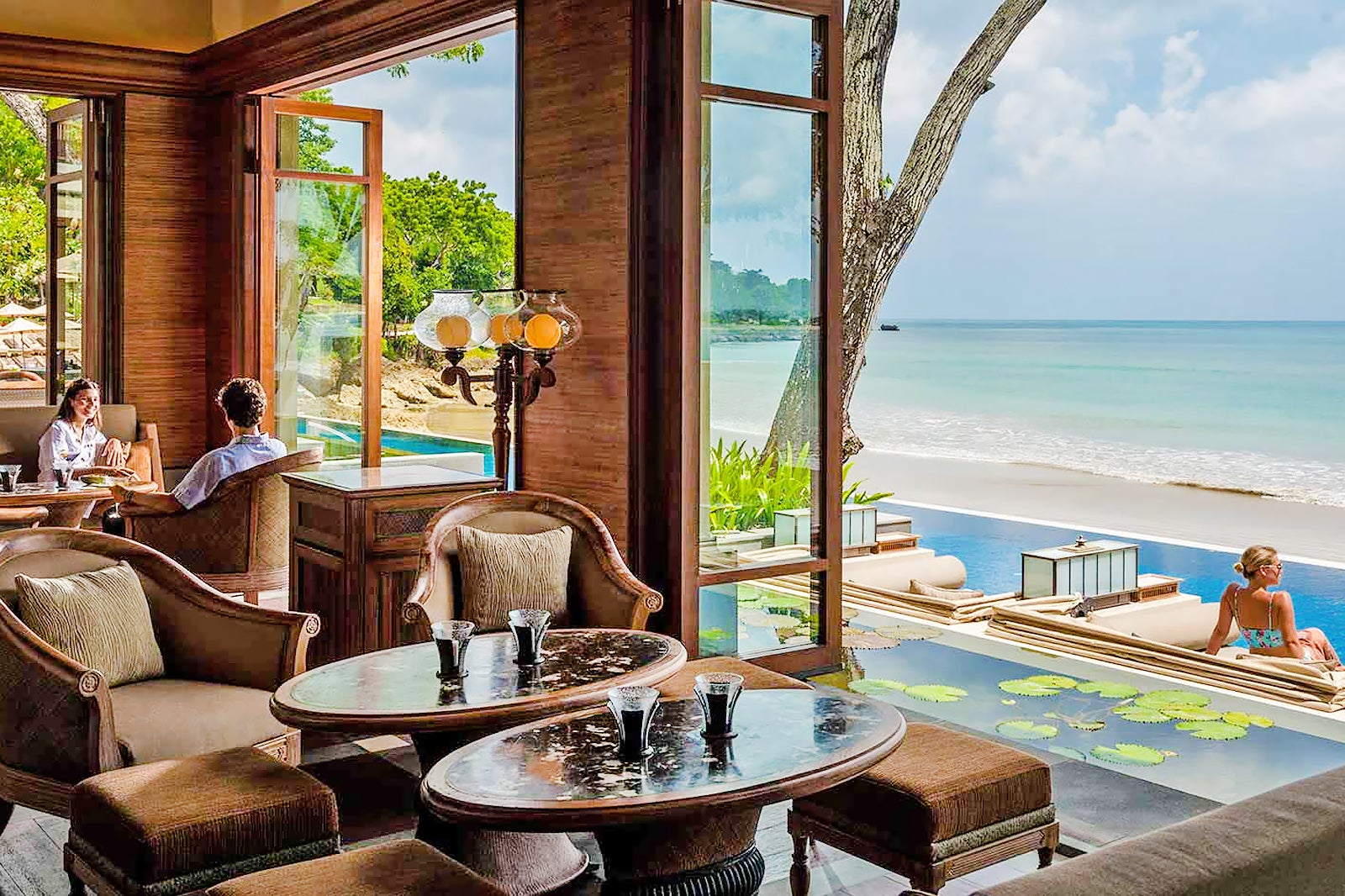 Sundara Bali at the Four Seasons Resort Jimbaran is a fine beach club that combines 5-star dining with excellent lounging options. It also makes good use of its hard-to-beat location on the southern end of Jimbaran Bay. A fresh beachfront hotspot by day and a sophisticated dining scene by night, Sundara features a blue infinity pool overlooking the blue waves and comprises a bar and a semi-open dining area for all-day dining.
From a semi-open kitchen, selections range from sushi, steaks, salads, and wood-fired pizzas. After sunset, innovative and classic dishes such as steak and seafood with wine pairings and cocktails hit the spot. DJs help set the cool and relaxed mood with chill-out music into the night.
Location: Four Seasons Resort Bali At Jimbaran Bay, Jalan Bukit Permai, Jimbaran, Badung, Bali 80361, Indonesia
Open: Daily from 8am to 1am
Phone: +62 (0)361 708333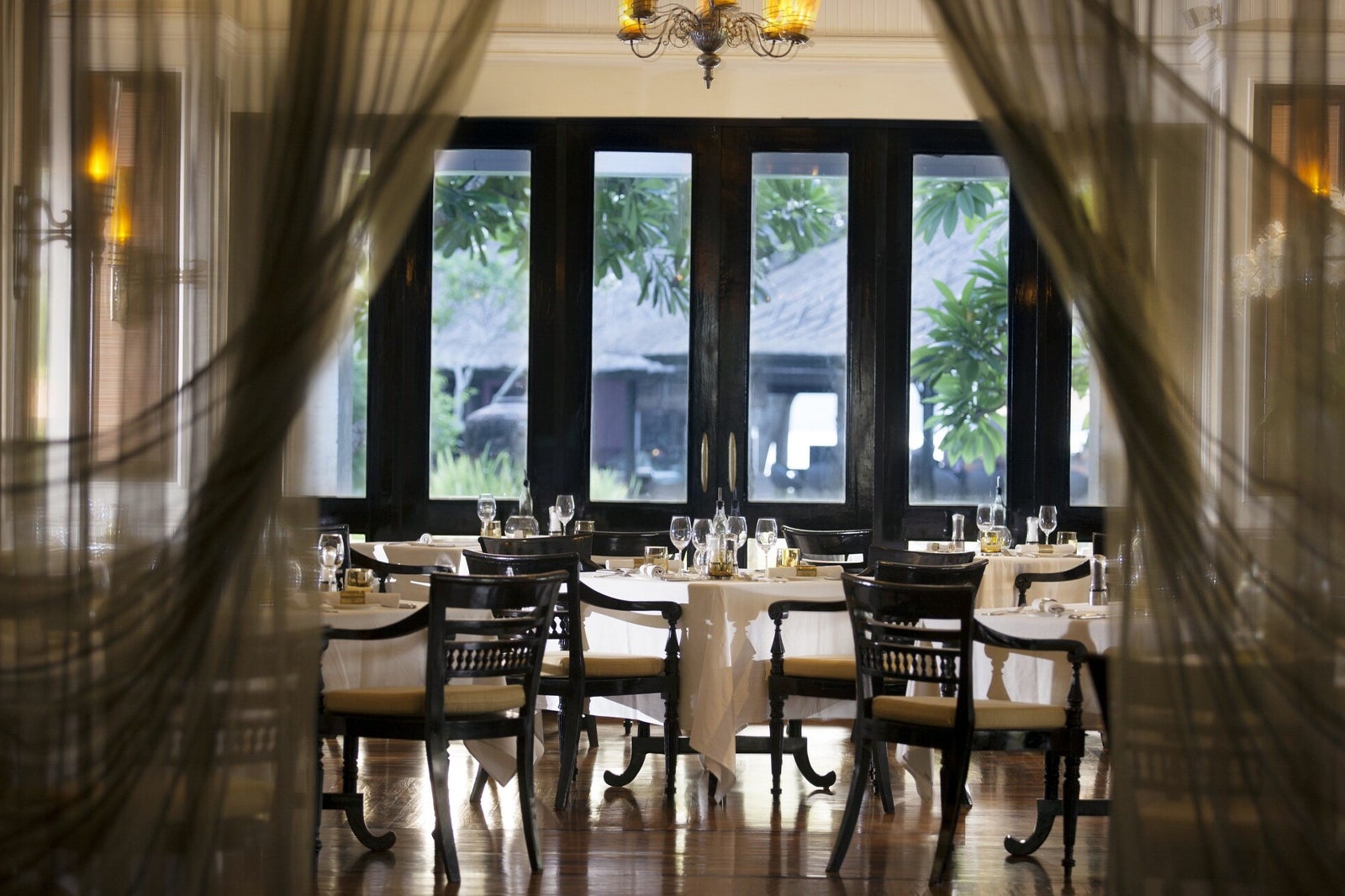 Bella Cucina at InterContinental Bali Resort presents fine dining with authentic Italian cuisine served in the elegant ambience of its grand dining pavilion. While the restaurant is open for dinner it also presents Sunday brunches with a la carte options regularly.
The culinary team cook up orders from behind a beautifully-designed open kitchen. There are 2 levels, with the upper floor offering more privacy and balcony dining options with cool Jimbaran sea breezes – perfect for candlelit dinners for couples. The menu offers a rich selection of fine Italian dishes, and there are pairings of wine available from its fully-stocked cellar.
Location: InterContinental Bali Resort, Jalan Raya Uluwatu No.45, Jimbaran, Badung, Bali 80361, Indonesia
Open: Daily from 6.30pm to 10.30pm
Phone: +62 (0)361 701888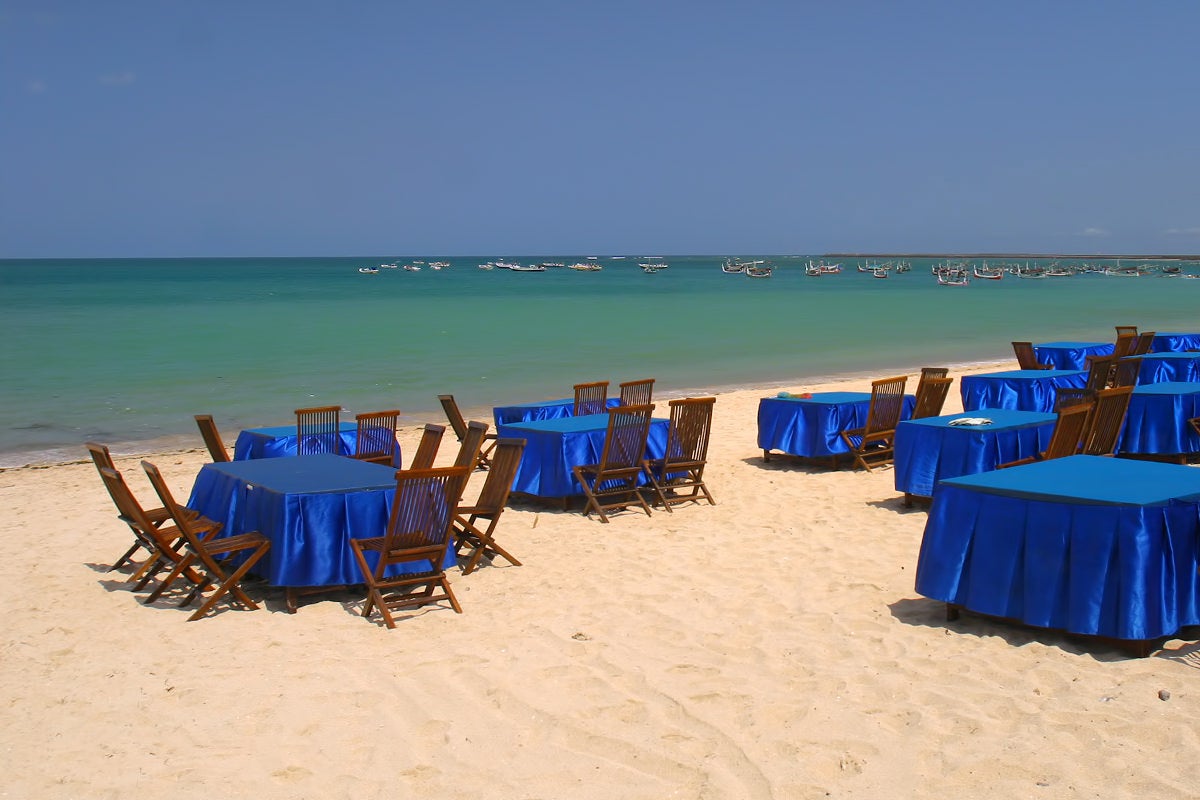 Kedonganan seafood cafés and restaurants
Kedonganan seafood cafés and restaurants line the coast of the namesake fishing village, serving the day's catch fresh from the sea, while you can enjoy ocean views with your feet in the sand. The popular dining destination is only half a kilometre north of the popular seafood dining section of Jimbaran Bay, otherwise known as Muaya Beach.
Sumptuous grilled seafood feasts, paired with Bali's dramatic sunsets, are the main draw of the seafood restaurants in Kedonganan. It offers a large variety to choose from, and while most feature a reasonable price range, some venues within the cluster are upmarket with fresh, modern designs and refined settings.
Location: Jalan Pantai Kedonganan, Jimbaran, Badung, Bali, Indonesia
Open: Most restaurants open daily from 4pm until late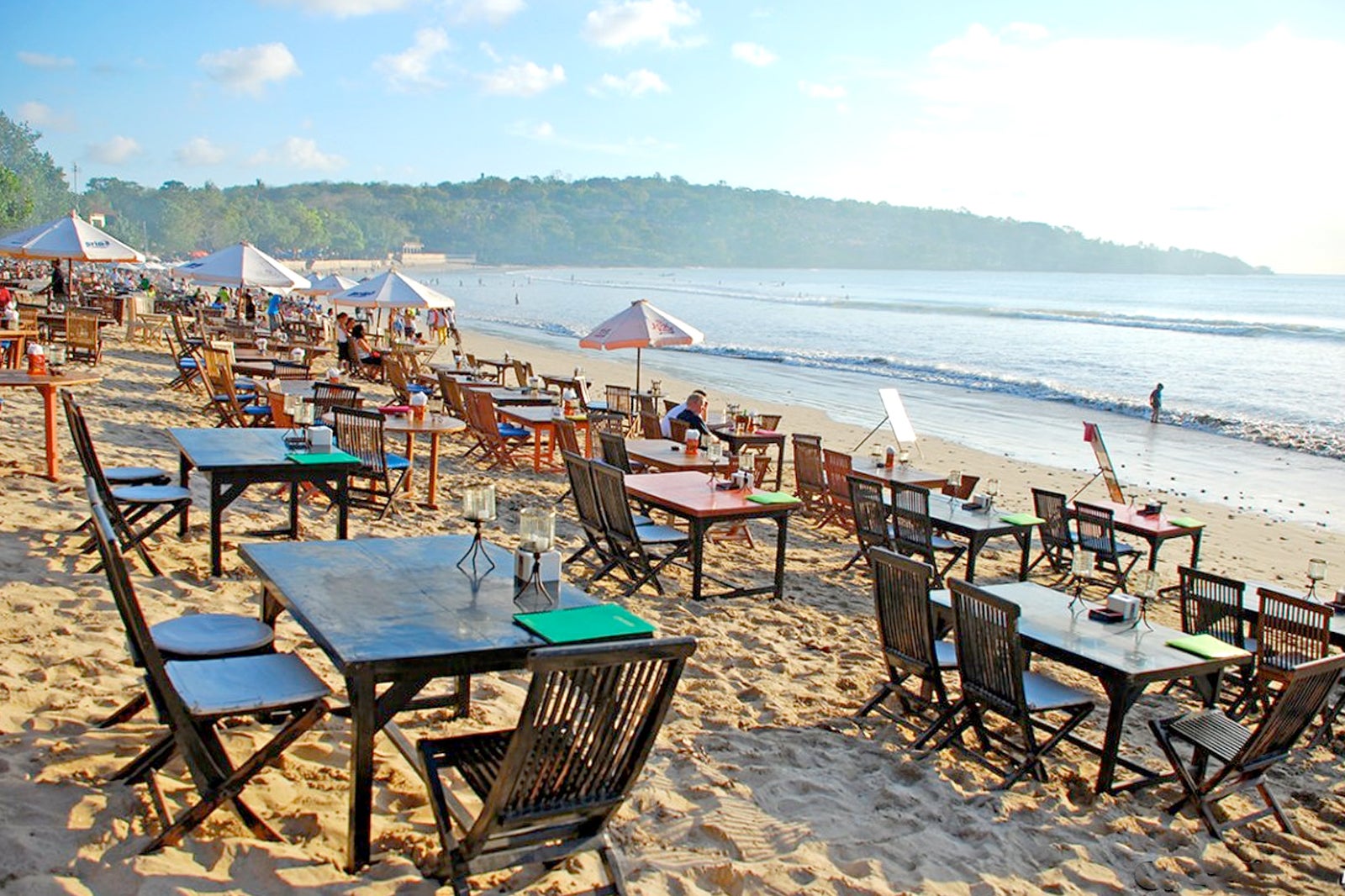 Jimbaran seafood cafés and restaurants
Jimbaran seafood cafes refer to a group of longstanding dining establishments on Jimbaran Bay, which the area owes its fame to. A barbecue and seafood lovers' haven, especially those who are looking to try out great local flavours, the group includes a total of 17 restaurants that each offers a slightly different set of appeals for dining families and couples.
These so-called seafood cafes mostly open afternoon with parasol-shaded wooden tables laid out near the tide's edge. Some cafes offer slightly gimmicky live entertainment or attractive palm leaf decorations to set themselves from the rest. Recipes of homemade Balinese sambal chilli dips vary from one café to another, but the ikan bakar Jimbaran grilled snapper is a definite must-try.
Location: Jalan Four Seasons, Muaya Beach, Jimbaran, Badung, Bali 80361, Indonesia
Open: Most restaurants open daily from 3pm to midnight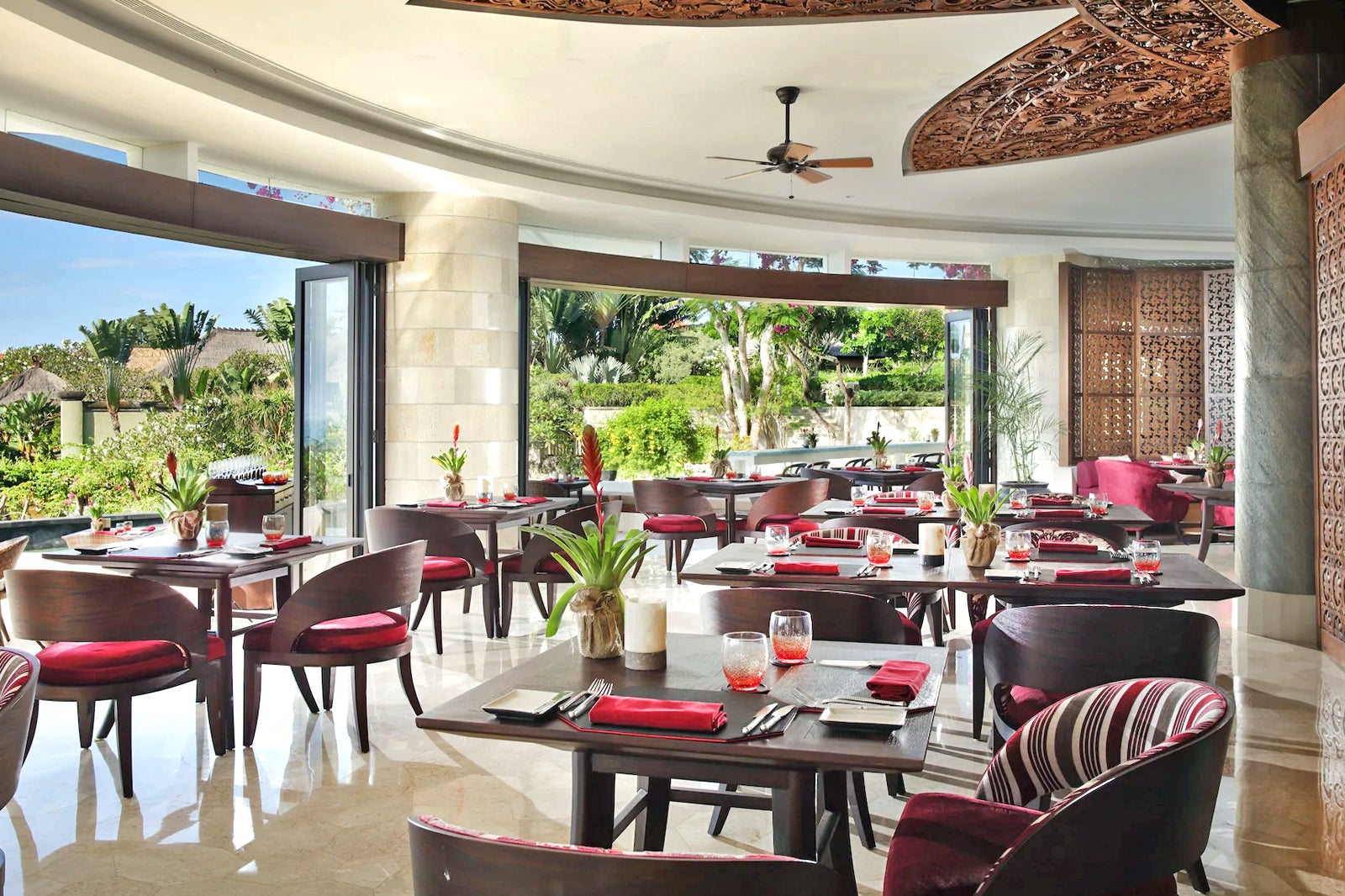 Dava Restaurant at AYANA Resort and Spa offers a spectacular setting with indoor and outdoor dining options. This fine restaurant offers a menu comprising steaks and grilled seafood to complement its gorgeous water-garden backdrop, complete with stunning sunsets – it's one of the best spots on Bali's south-western coast for celebrating a special occasion.
Must-tries at Dava include signature plates such as Stockyard Silver Label Wagyu tenderloin steaks and Canadian lobster. If you want to try some local bites, you can also go for a traditional feast with treats that include Balinese boneless roast pig or babi guling as well as locally inspired side dishes like papaya salad and fragrant steamed rice.
Location: AYANA Resort and Spa, Jalan Karang Mas, Jimbaran, Badung, Bali 80364, Indonesia
Open: Daily from 7am to 11am and from 6.30pm to 11pm
Phone: +62 (0)361 702222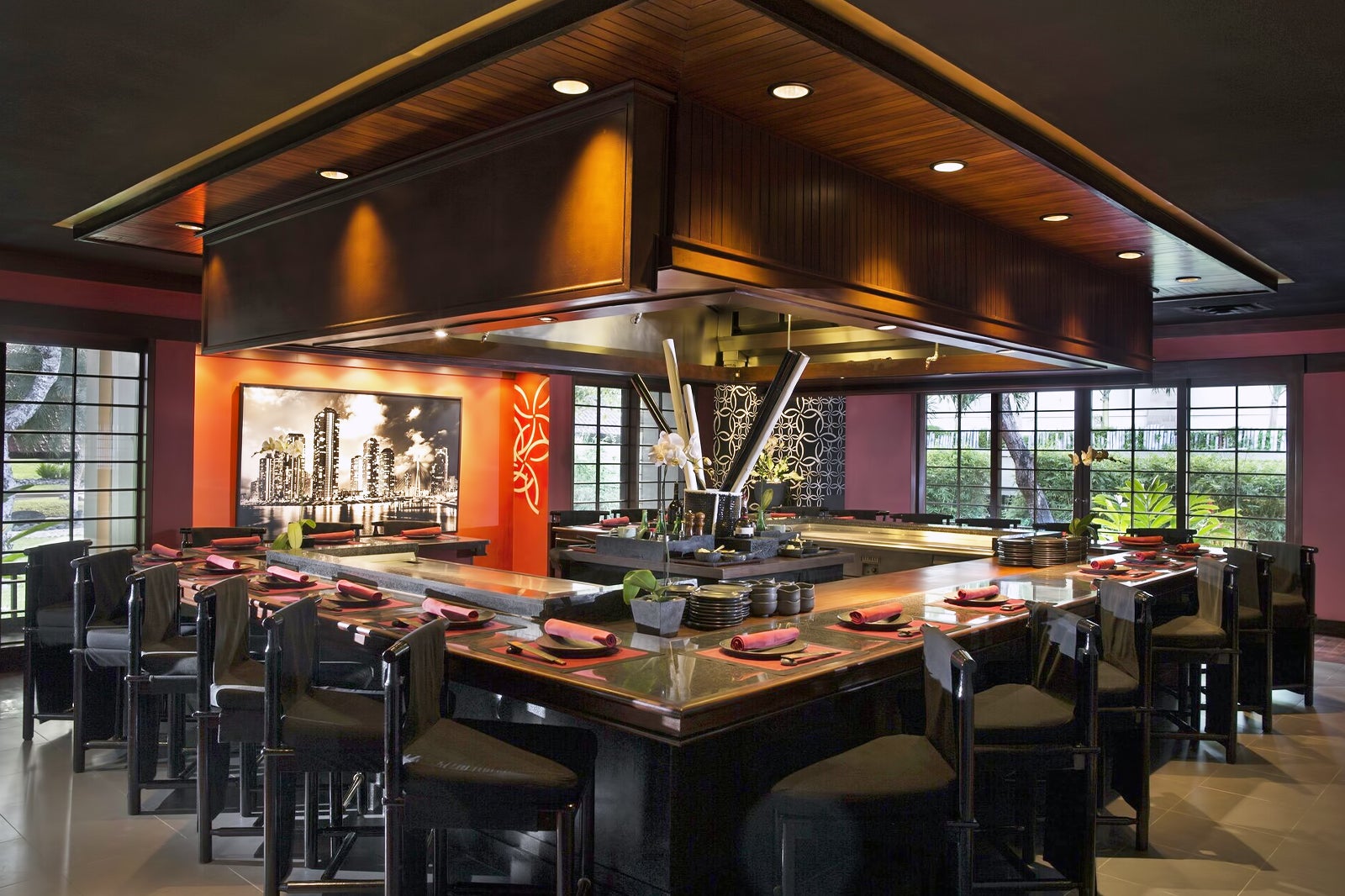 KO Restaurant, Teppanyaki and Cocktail Lounge
KO is the Japanese restaurant at InterContinental Bali Resort in Jimbaran which offers fresh seafood dishes in a setting that combines Balinese and Japanese elements. It's where you can head to for exceptional sushis and sashimis with the gentle scent of Japanese rice wine.
Getting to KO's dining spaces is part of the experience – you walk past well-manicured Japanese bonsai and stone gardens and subtly-lit hallways that transport you to the 3 main parts of the restaurant: a sushi lounge and bar, an adjacent cosy dining hall, and an action-filled 2-section teppanyaki area. The cocktail lounge is fitted with plush, silky sofas from where you can enjoy your pre-dinner gatherings with a great 'Tokyopolitan' cocktail at hand.
Location: InterContinental Resort Bali, Jalan Raya Uluwatu No.45, Jimbaran, Badung, Bali 80361
Open: Daily from 6.30pm to 10.30pm
Phone: +62 (0)361 701888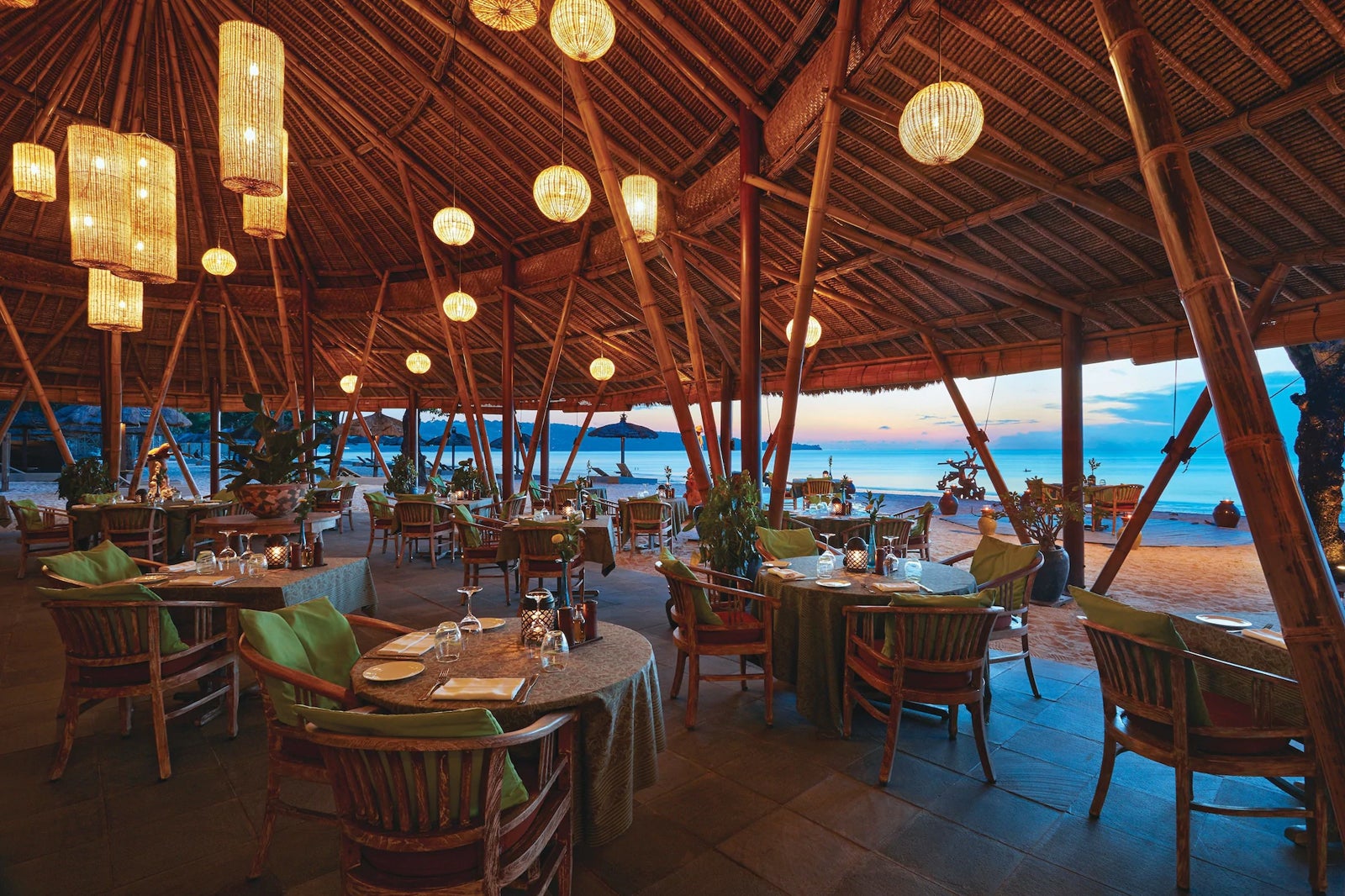 Nelayan Restaurant & Puri Bar
Nelayan Restaurant & Puri Bar is the main dining venue at the Belmond Jimbaran Puri resort, which offers a great range of seafood selections and Jimbaran's spectacular seascape to match. From the menu, there are uncommon seafood selections that are worth-trying such as barracuda fillet and mahi-mahi curry.
Other highly recommended dishes from Nelayan include tuna avocado tartar as starters, before heading to succulent mains such butterfish steak with curry sauce or baked duck breast with honey. A cup of Balinese coffee can be a fine ending to your seafood journey at Nelayan. You can also order a cocktail from Puri Bar and choose a beachfront spot to drink to a dramatic sunset as you bury your feet in the sand.
Location: Belmond Jimbaran Puri, Jalan Uluwatu, Gang Yoga Perkanthi, Jimbaran, Badung, Bali 80361, Indonesia
Open: Daily from midday to 5pm and from 6.30pm to 11pm
Phone: +62 (0)361 701605
OPIA Bali, up in the hills of Jimbaran, serves an eclectic range of Asian-inspired sharing dishes, paired with innovative molecular cocktail creations, all with sweeping views over the curving bay. The hilltop restaurant also offers a wonderful setting for signature afternoon teas – it's simply a place to chill out and enjoy the setting sun.
The menu at OPIA Bali features classic renditions and crossovers highlighting Chinese, Thai and Indonesian flavours – all while using mostly locally sourced island produce and fresh Jimbaran Bay seafood. The emphasis here is on sharing-style dishes, and the overall atmosphere is laidback. Flavourful starters include a Thai-influenced shaved cuttlefish salad with tamarind mint and coriander and an Indonesian-influenced shaved beef salad with lime and mint.
Location: Jalan Bukit Permai No. 2, Jimbaran, Badung, Bali 80361, Indonesia
Open: Daily from 5.30pm to 11pm
Phone: +62 (0)361 4724298
Warung Nasi Ayam Bu Oki in Jimbaran serves the popular local dish of nasi ayam or chicken rice. The dish is one of the most ubiquitous traditional dishes you'll find around the island. Even so, each warung (traditional restaurant) has its own special mix, and at Bu Oki's, many locals consider the variety to be just right.
You can find this warung on a side street of the Jimbaran main street. Another popular dish is the custom-portioned nasi campur, with various toppings to choose from that go onto your plate with steamed white rice. Portions are generous for its price. Each serving comes with spicy chilli sambal – remember to order according to your own preferred spiciness level.
Location: Jalan Celagi Basur No.3Y, Jimbaran, Badung, Bali 80361, Indonesia
Open: Daily from 7am to 6pm
Phone: +62 (0)361 8052059