24 Best Temples and Shrines in Kyoto
Kyoto's Most Important Shines and Temples
Kyoto is justly famous for its incredible temples and shrines – they number in the thousands and come in all sizes and designs. Some of them are dedicated to Buddhism, while others are Shinto shrines (Japan's ancient religion that believes that everything has a spirit and should be respected).
During any walk around the ancient capital you're bound to come across a sacred site as the city has built up around them. It's incredible how the authentic and serene some of Kyoto's best temples are, despite their location in the city centre. The list below contains what we believe are the very best temples and shrines in Kyoto.
Fushimi Inari is a Shinto shrine that boasts thousands of bright orange torii gates leading up the sacred Mount Inari. The upkeep of the gates is sponsored by local businesses and it is believed to keep these organizations financially prosperous. The shrine was built back in 711 and is dedicated to the fox (inari) which is believed to protect the annual harvests. It takes around 2 hours to hike to the summit of the mountain. You can reach the shrine by taking the Keihan Line to Fushimi Inari Station.
Location: 68 Fukakusa Yabunouchi-cho
Phone: +81 (0)75 641 7331
Couples
Families
Photo
Single
Group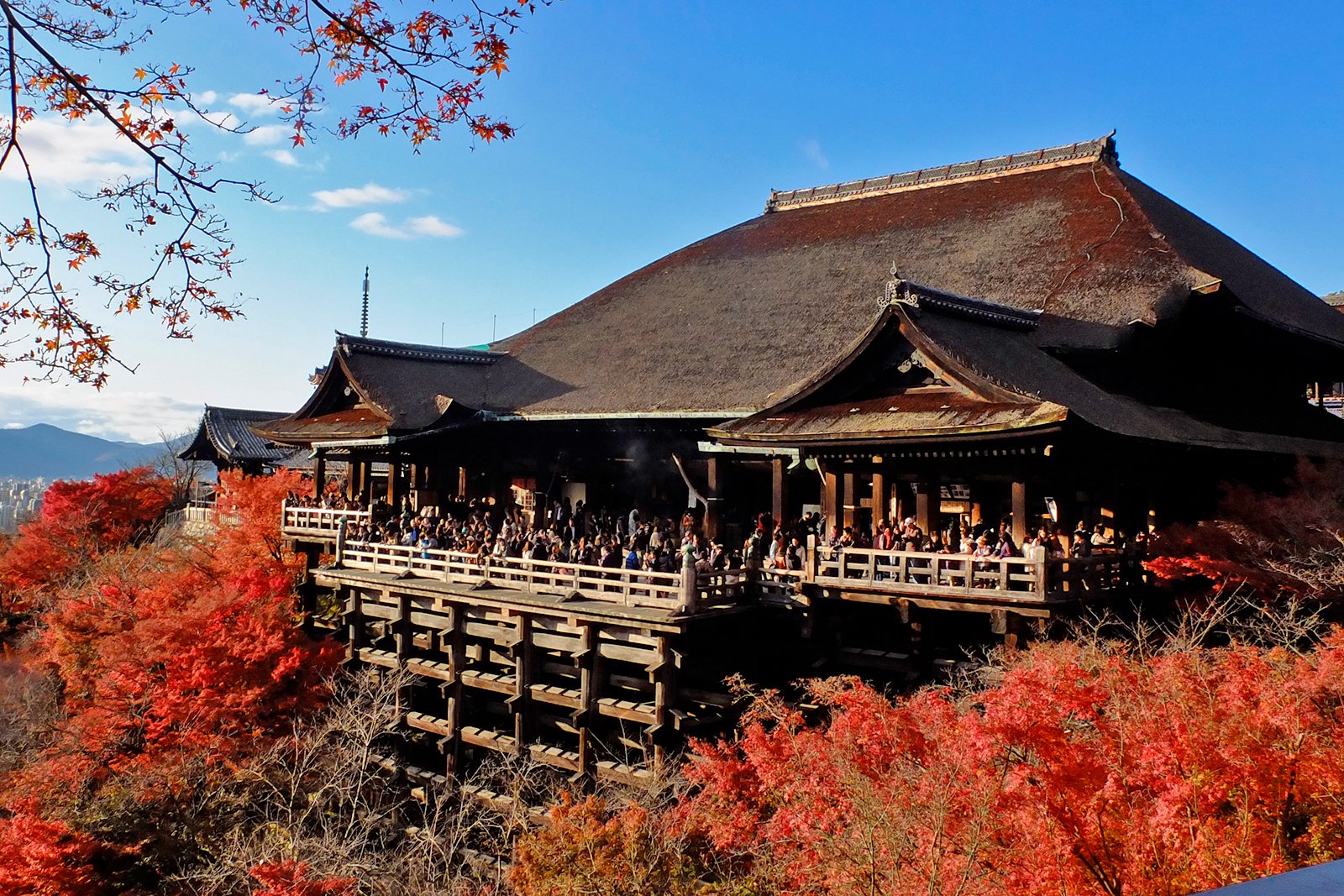 A visit to Kiyomizu-dera in the wooded hills east of Kyoto is like travelling back in time. Kiyomizu-dera ('Pure Water Temple') is a UNESCO World Heritage Site and one of the most celebrated temples in the whole country. Kiyomizu Temple is best known for its 13-metre high wooden platform that juts out from the main hall.
The platform affords visitors great views out over the numerous maple and cherry blossom trees below that burst into a bright sea of colour in spring and autumn. It also has panoramic views of Kyoto city centre in the distance. The main hall was built without the use of nails and houses the temple's primary object of worship – a small statue of the eleven faced, thousand-armed Kannon.
Location: 294 Kiyomizu 1-chome, Higashiyama Ward, Kyoto, Kyoto Prefecture 605-0862, Japan
Open: Daily from 6am to 6pm (extended opening times in the summer months)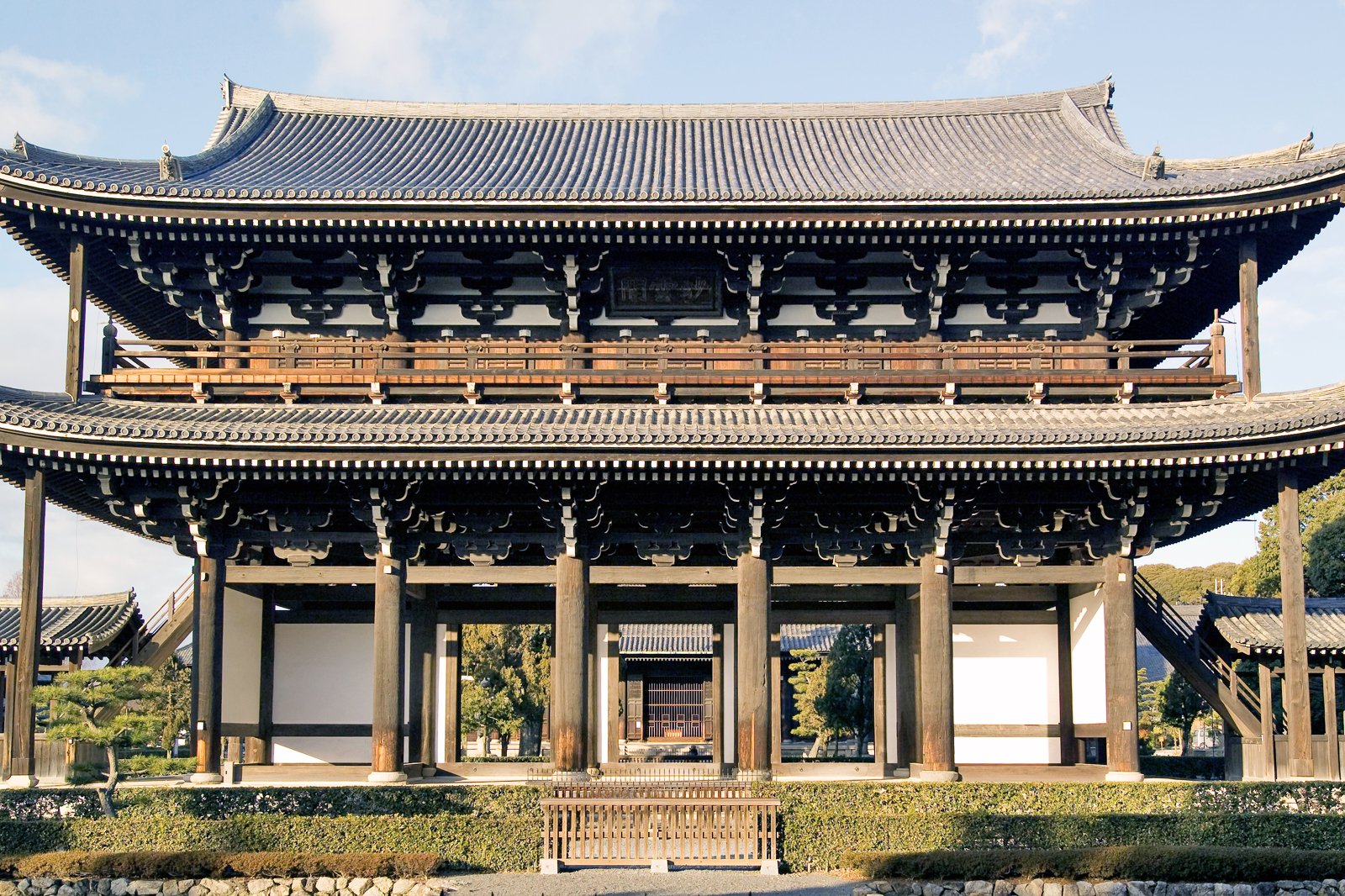 Tofukuji is a Zen temple with a huge open temple complex and beautiful gardens. Every autumn the temple is crowded with tourists who come to admire the perfect autumnal colours of the Japanese maple trees in combination with traditional temple architecture. It's considered traditional to view them from the Tsuten-kyo Bridge. The remarkable 22-metre tall main gate is the largest of all Zen temples in Japan. Most of the property in Tofukuji's grounds is free of charge to enter but the garden and Tsuten-kyo Bridge requires an admission fee. It's easy to reach the temple on the JR Nara Line or Keita Line to Tofuku-ji Station.
Location: 15-778 Hon-machi, Higashiyama Ward, Kyoto, Kyoto Prefecture, 605-0981, Japan
Open: Daily from 9am to 4pm
Phone: +81 (0)75 561 0087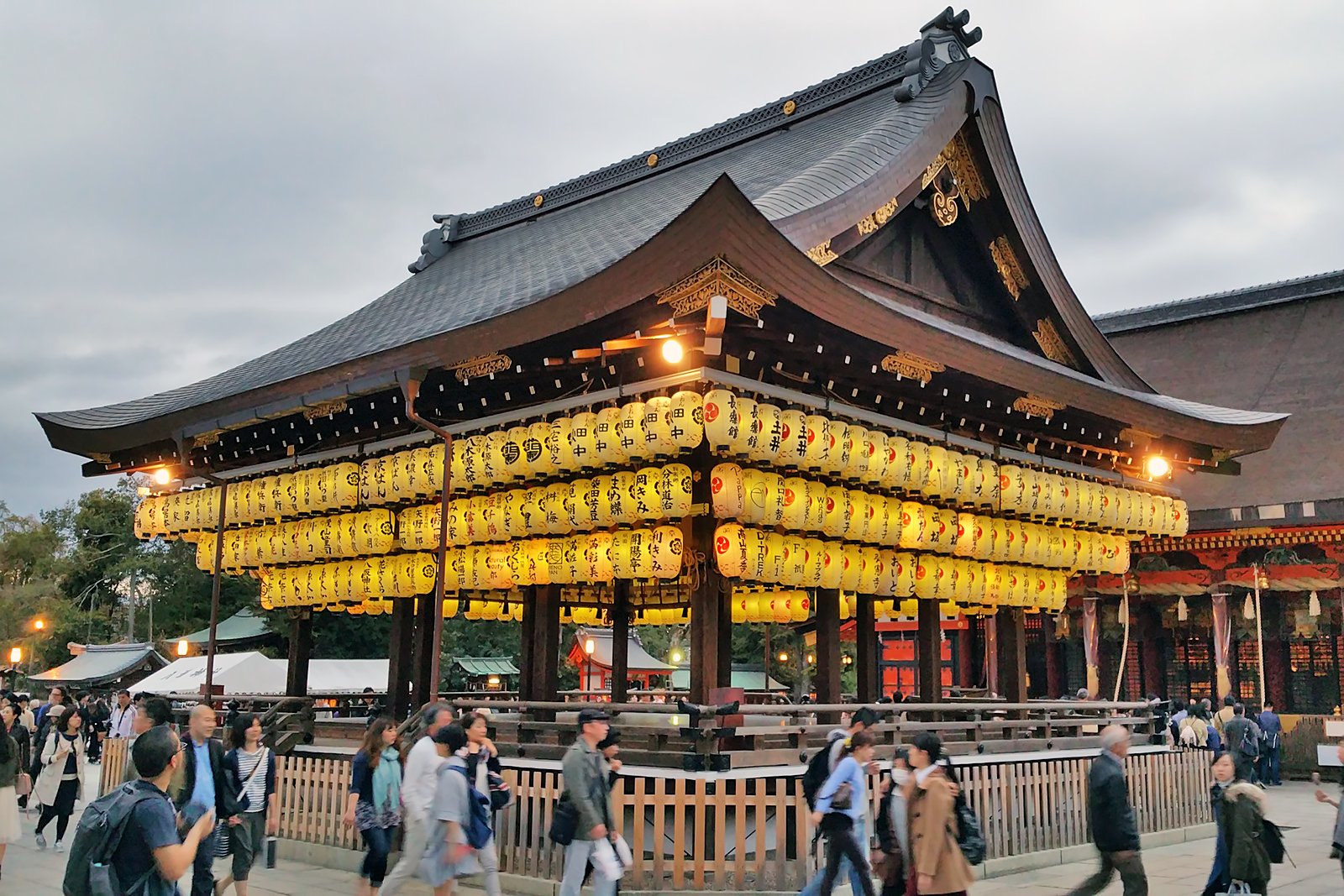 This beautiful 5-storey pagoda in the east of Kyoto is all that remains of a great temple that once stood here. Also called the Gion Shrine, it's the centerpiece of the annual Gion Festival. Built in the 7th century, the enshrined Shinto deity Susano-no-Mikoto symbolizes prosperity and protection against pestilence. A ritual when attending Yasaka Shrine is to write a prayer, wish or thought on a small piece of paper and tie it to the tree covered with tiny paper bows.
Location: 625 Gionmachi Kitagawa, Higashiyama Ward, Kyoto, Kyoto Prefecture 605-0073, Japan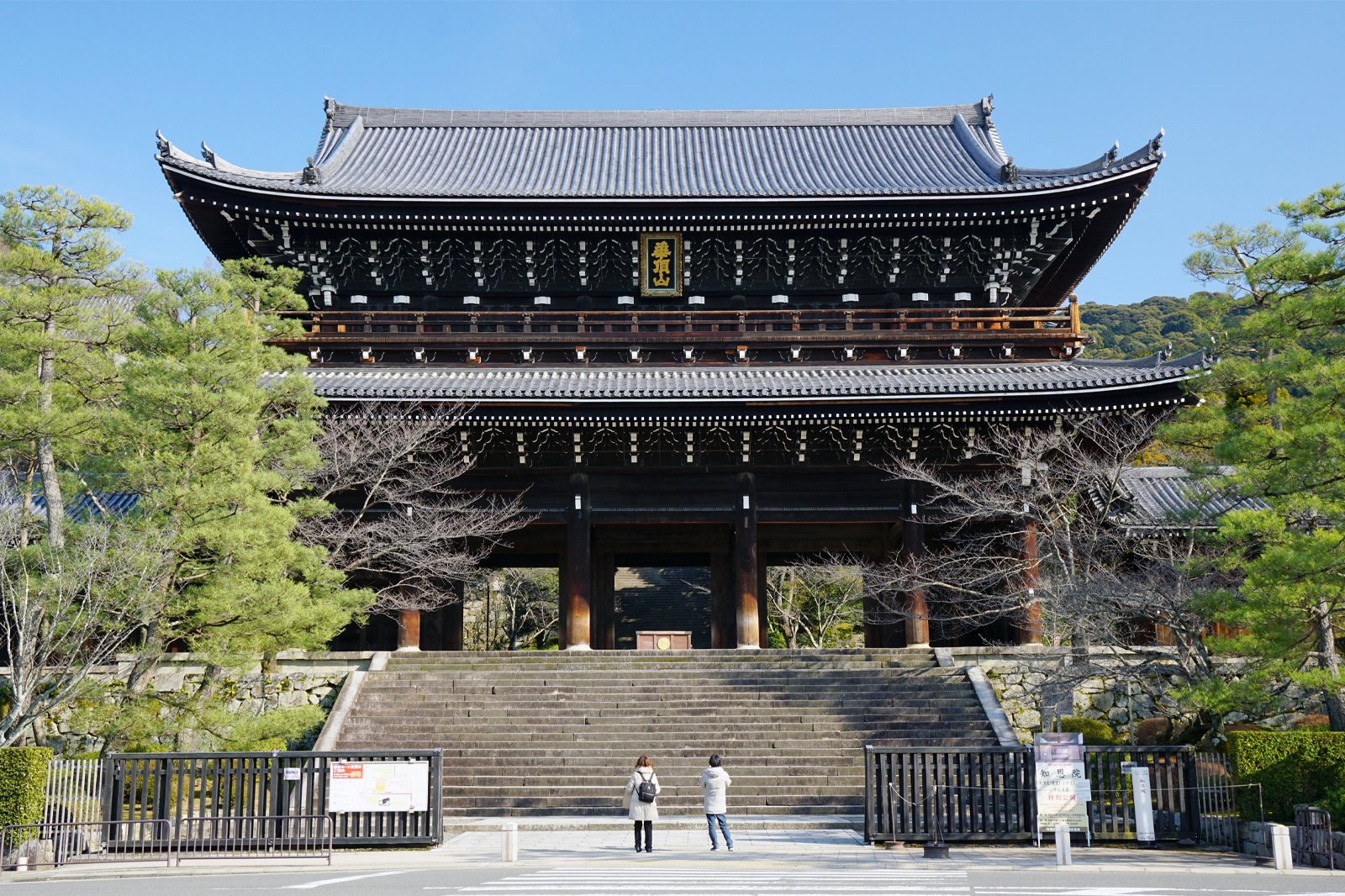 Built to proclaim the superiority of the Jodo sect of Buddhism, Chion-in features the colossal Sanmon gate – the most imposing of any Japanese religious site. The temple is located where Honen, the founder of the Jodo sect, initiated his teachings and later fasted himself to death in 1212. Suffering the fate of many Kyoto temples, it has been ruined by fires and earthquakes numerous times; the oldest buildings still standing are the Hon-do (Main Hall), which was rebuilt in 1633, and the Daihojo (Abbots' quarters) rebuilt in 1639.
The main hall houses a huge bell which plays a vital role in New Year celebrations. It's rung 107 times before New Year and once more to shake off the excesses of the year gone by. The temple is north of Maruyama Park and close to the Gion area of Kyoto.
Location: 400 Hayashi-shita-cho 3-chome, Yamato-oji, Higashi-hairu, Shimbashi-dori, Higashiyama-Ward, Kyoto, Japan
Open: March to October from 9am to 4.30pm, November - Feb 09:00 – 16:00; not all buildings open to public
photo by 663highland (CC BY-SA 4.0) modified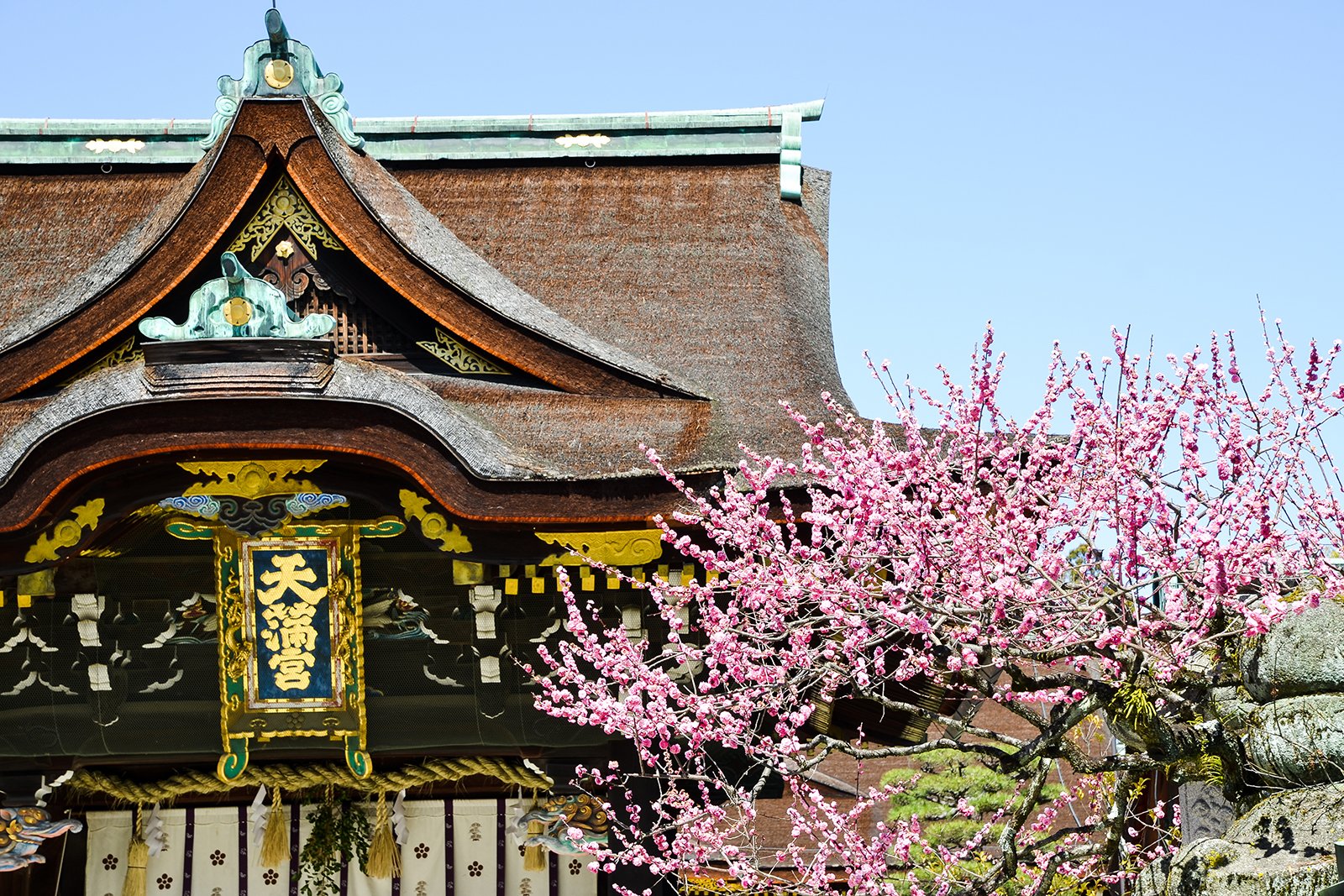 Kitano Tenmangu is a Shinto shrine built in 947 to conciliate the spirit of Sugawara no Michizane, a famous scholar, poet and official. The temple grounds are very scenic, overflowing with Michizane's favourite red and white plum blossom trees. Every year on 25th February the Plum Blossom Festival is held here to commemorate his death. It's a great chance for you to experience the rare sight of geiko and maiko hosting open-air tea ceremonies.
Location: Bakurocho, Kamigyo Ward, Kyoto, Kyoto Prefecture 602-8386, Japan
Open: Daily from 9am to 5pm
Phone: +81 (0)75 461 0005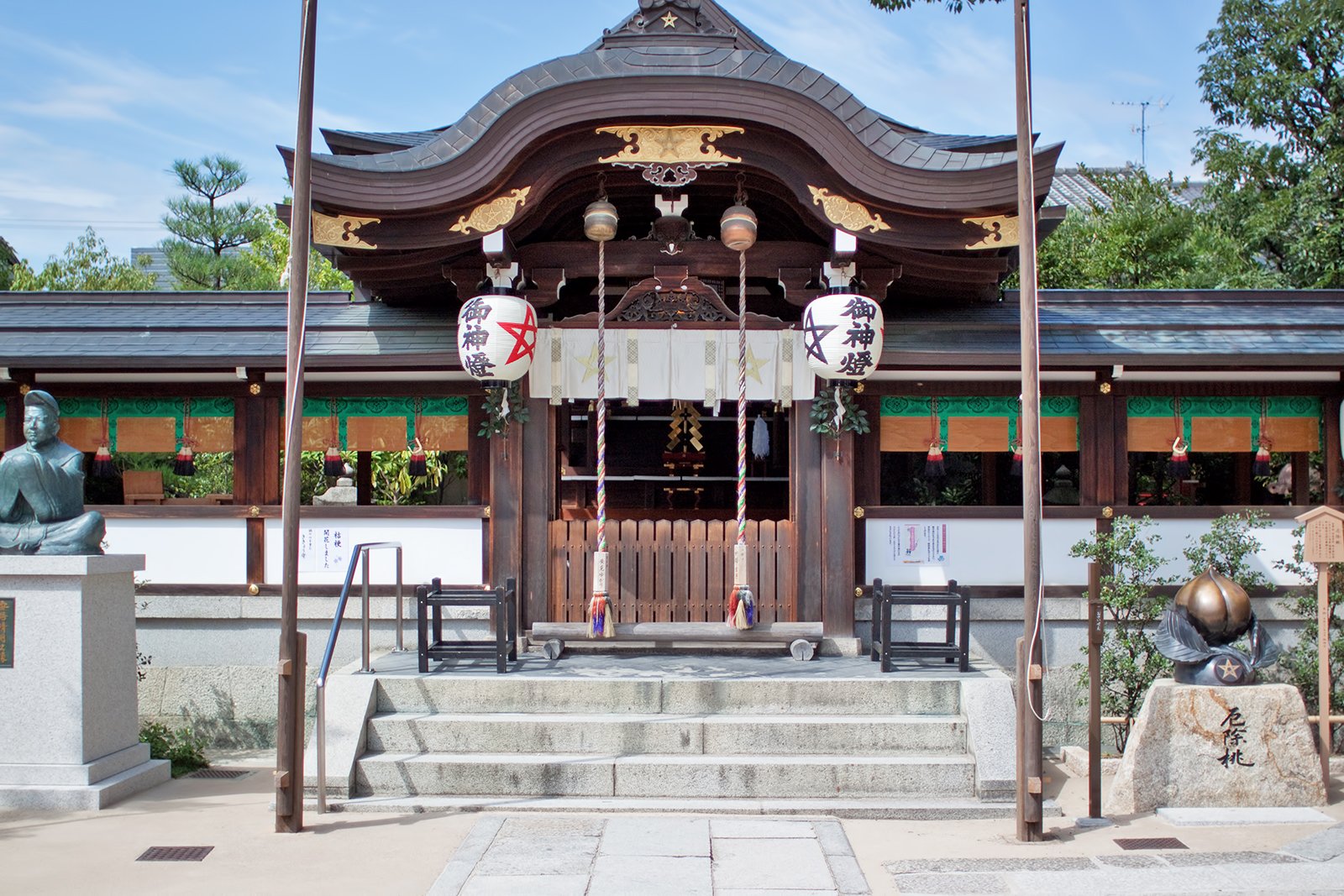 Over 1,000 years old, Seimei Shrine was commissioned by Emperor Ichijo in memory of Abe no Seimei, a spiritual advisor of emperors and the Heian government. The temple was built in 1007, on the site of his house following his death. It contains a famous well that is believed to have magical water. The symbol of a pentacle is found in many areas of the temple, representing the 5 Chinese elements. At the rear of the temple there's a bridge that some claim is the gateway to the spiritual world.
Location: 806 Horikawa Dori, Ichijo-agaru, Kamigyo Ward, Kyoto, Kyoto Prefecture, 602-8222, Japan
Open: Daily from 9am to 6pm
Phone: +81 (0)75 441 6460
photo by Yoko Nekonomania (CC BY 2.0) modified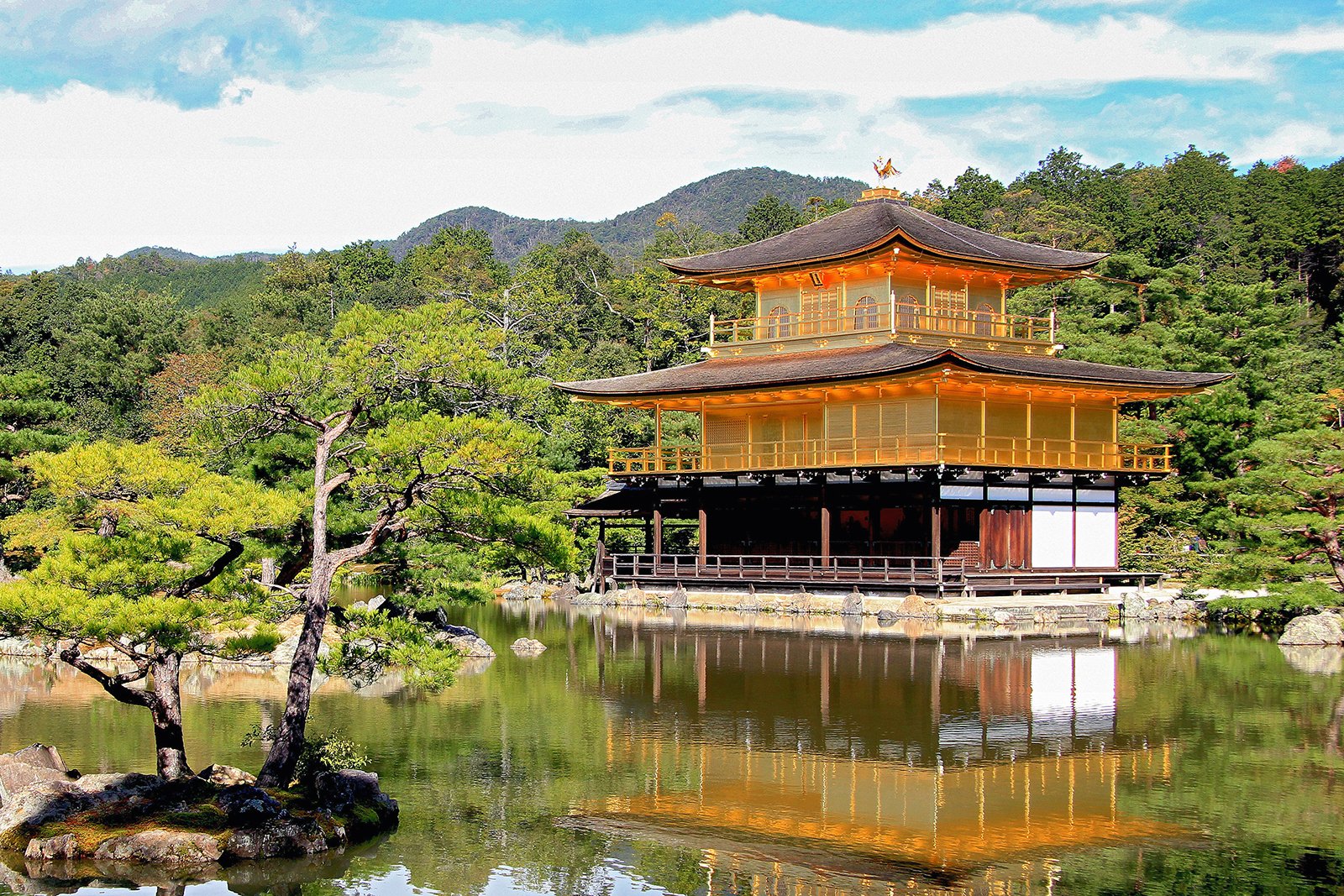 Kinkakuji (The Golden Pavilion)
Kinkakuji Temple is one of the most visited attractions of Kyoto. Literally meaning 'Temple of the Golden Pavilion,' this Zen Buddhist shrine is a UNESCO World Heritage site. It's a breathtaking piece of architecture and is surrounded by a Japanese style garden. Known by many as Rokuonji or the Deer Garden Temple, Kinkakuji was built in 1397 as a retirement pavilion for Shogun Yoshimitsu Ashikaga (1358-1409).
The Golden Pavilion has 3 floors and stands 12.8 metres high. Both the second and third floors are gilded with gold-leaf on Japanese lacquer, giving it such a unique appearance. Don't miss the traditional tea room within the temple grounds. Located in northern Kyoto, Kinkakuji can be accessed from Kyoto Station by direct Kyoto City Bus number 101 or 205 in about 40 minutes.
Location: 1 Kinkakujicho, Kita, Kyoto, 603-8361, Japan
Open: Daily from 9am to 5pm
Phone: +81 (0)75 461 0133
Couples
Families
Photo
Budget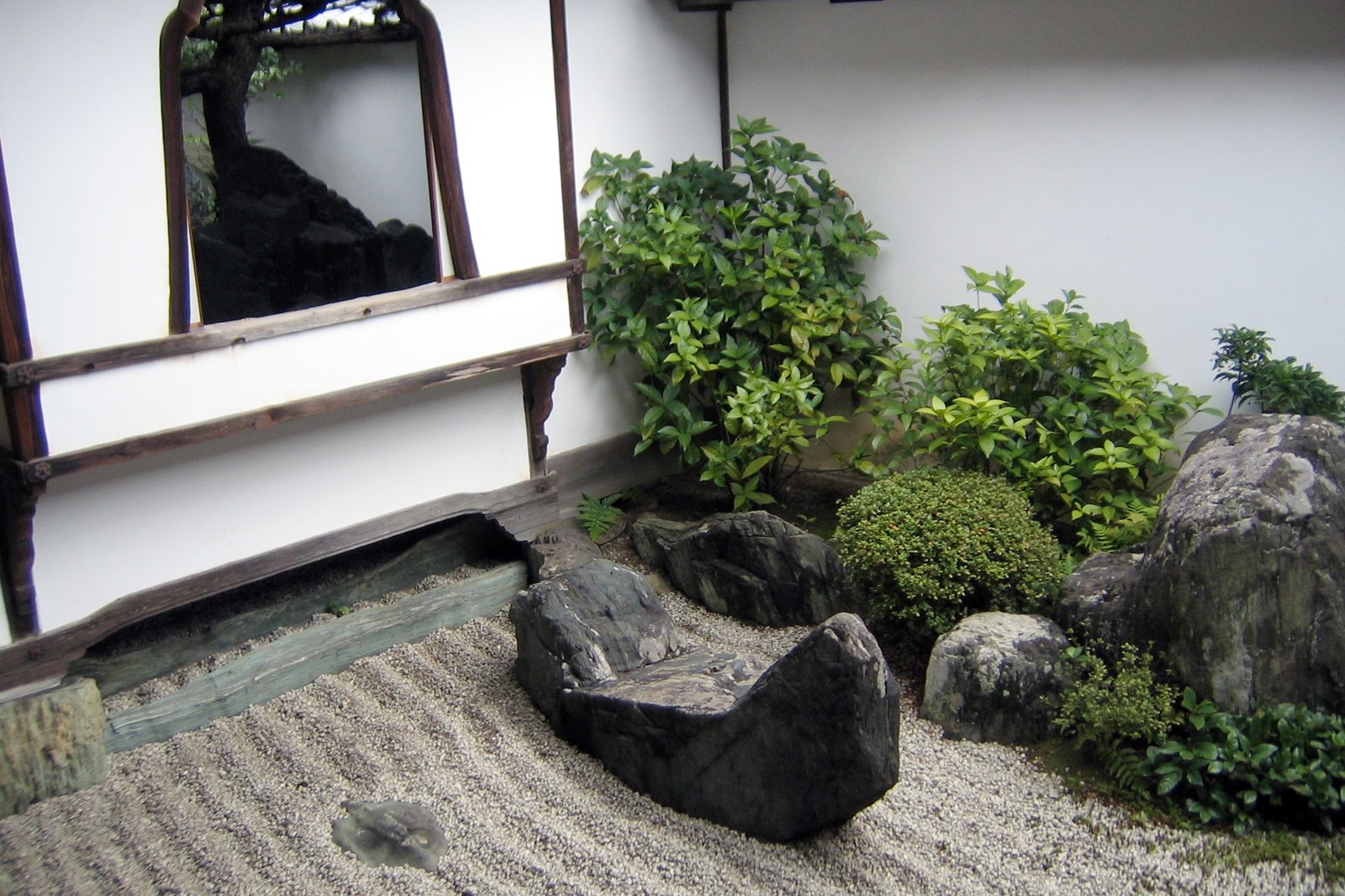 Daisen-in rock garden (Daitokuji Temple)
Located within the sprawling compound of Daitokuji, Daisen-in rock garden is an excellent example of the uniquely Japanese artistic and philosophical practice. See if you can identify the sea, the mountains and a boat represented in the rock formations, as many people claim. There are also animal faces and a waterfall depicted in the rock façade. Built in 1513 during the Muromachi era, the garden is a depiction of a dry landscape and well worth a visit early before the tour buses arrive. There is an entrance fee of around ¥400.
Location: Murasakino Daitokujicho, Kita, Kyoto, 603-8231, Japan
Open: March–November from 9am to 5pm. December–February from 9am to 4.30pm
Phone: +81 (0)75 491 8346
photo by Ivanoff~commonswiki (CC BY-SA 3.0) modified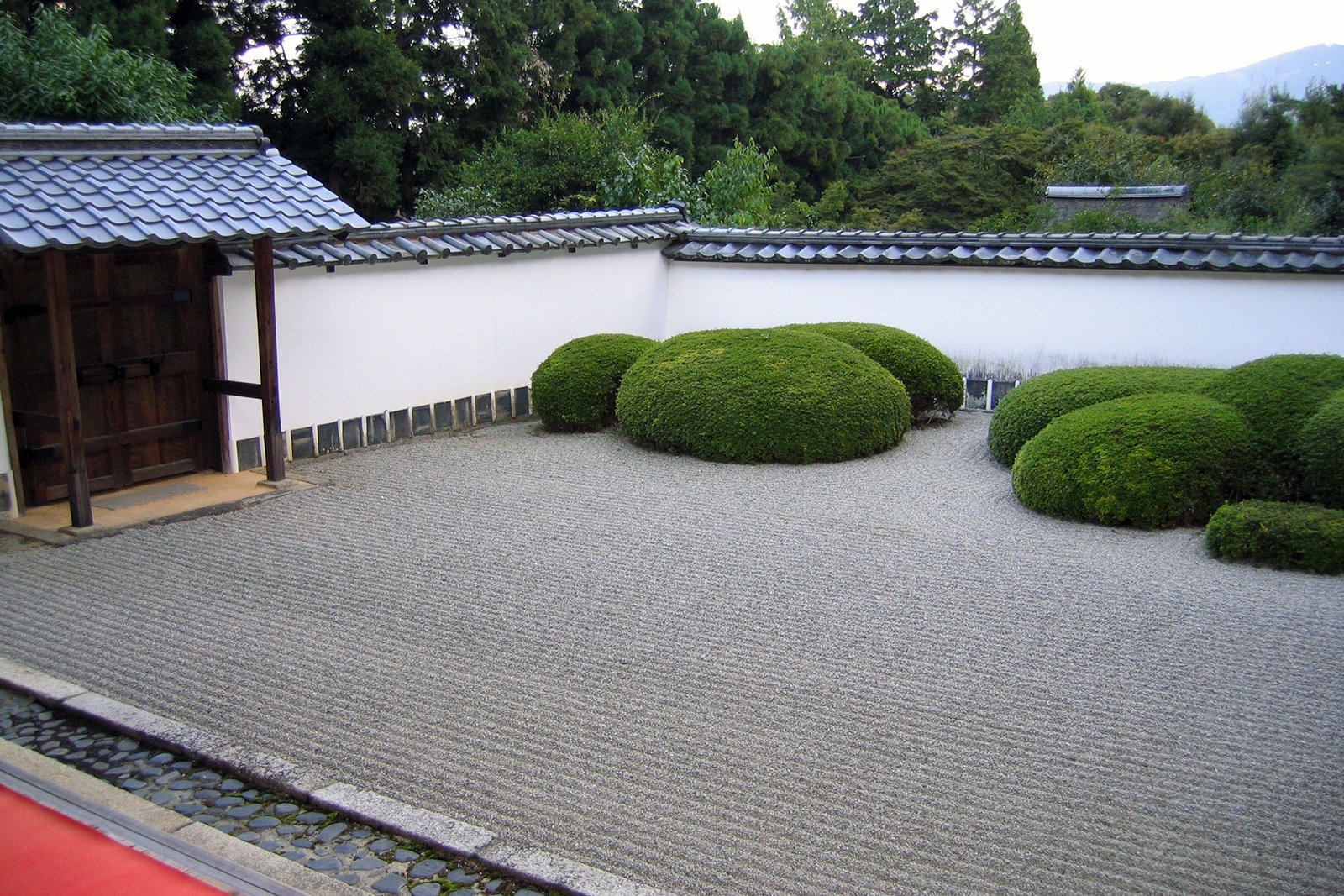 Drama is literally built into Shodenji Temple, tucked away at the foot of a hill. After suffering a shocking defeat in the Battle of Sekigahara, a group of soldiers committed mass suicide in Fushimi Castle. The bloodstained floorboards from the castle are used in the ceiling of this temple, however the tranquillity of the temple compound defies the tragedy of its history. Annually it is part of the Gozan Fire Festivals when 5 of Kyoto's mountainsides are set ablaze to spell out the phrase 'Wonderful Buddhist Law'.
Location: 72 Kitachinjuan-cho Nishigamo Kita, Kyoto, 603-8847, Japan
Open: Daily from 9am to 5pm
Phone: +81 (0)75 371 5649
photo by Nullumayulife (CC BY 2.0) modified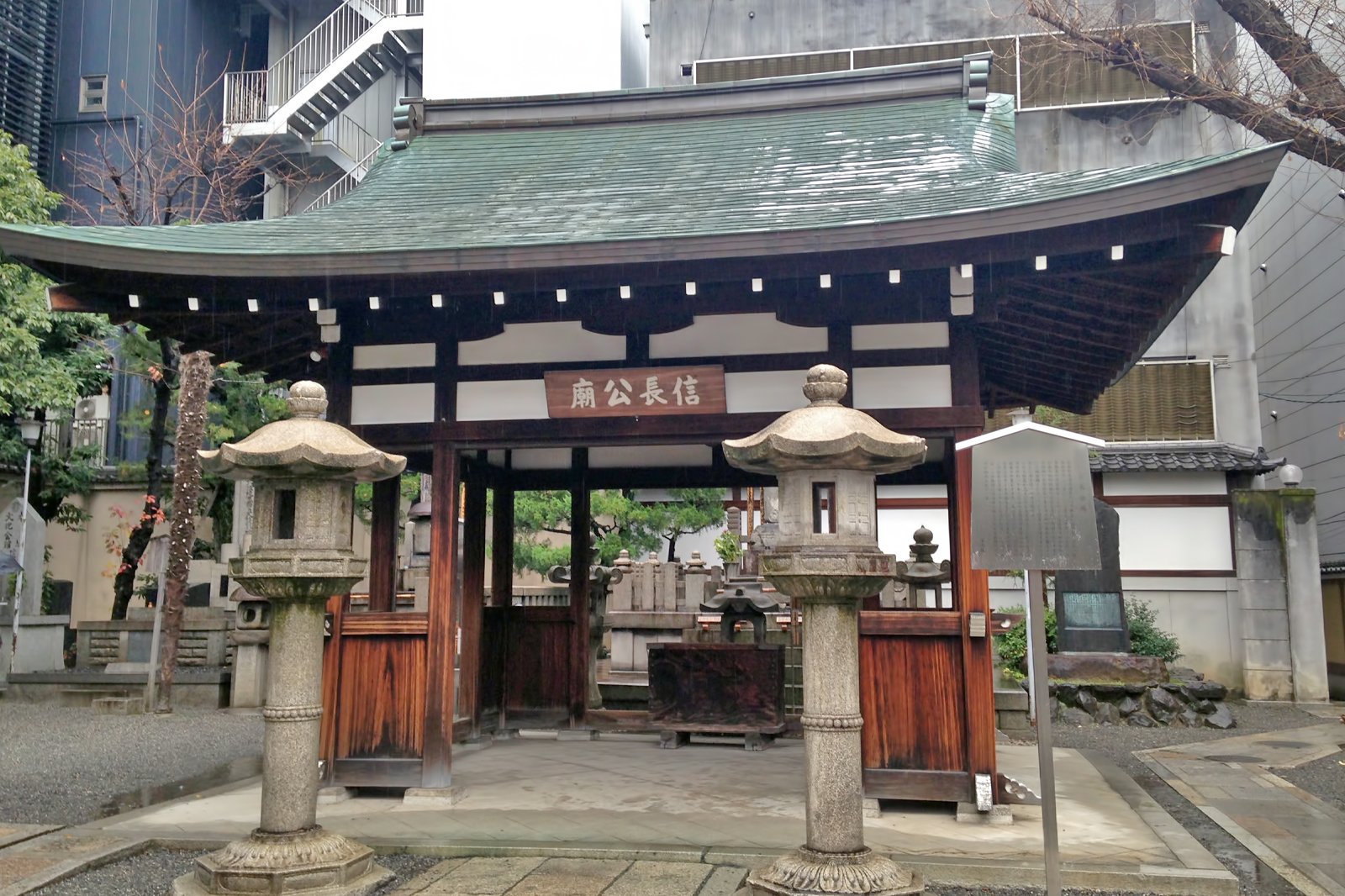 Suicide and betrayal underscore this Nichiren temple, which was built in 1415 and rebuilt in 1587 after being ravaged by fire. Here, infamous warlord Oda Nobunaga took his own life after being betrayed by his general Mitsuhide Akechi, and a monument to his sacrifice is located within the temple grounds. Honnoji Temple isn't as spectacular as some others in Kyoto, but it is very conveniently placed close to the main shopping district and Kyoto Shiyakusho Maeeki station.
Location: 522 Shimohonnojimae-cho, Teramachi-dori, Nakagyo, Kyoto, 604-8091, Japan
Open: Daily from 9am to 5.30pm
Phone: +81 (0)75 231 5335
photo by そらみみ (CC BY-SA 3.0) modified
Mibu-dera is a revered site belonging to the Risshu sect of Buddhism. Built in 991, the temple honours Enmei Jizo Bosatsu, the guardian deity of children. With Children's Days for boys and girls being two important national holidays, Mibu Temple is a sacred place believed to have the power to fend off evil spirits while ensuring prosperity in the future. A bean scattering festival called Yakuyoke-setsubun-e is held here annually in February. Mibu Temple is walking distance from Omiya station on the Hankyu line.
Location: 31 Mibunaginomiyacho, Nakagyo, Kyoto, 604-8821, Japan
Open: Daily from 8.30am to 5.30pm
Phone: +81 (0)75 841 3381
Families
History
Photo
Budget
photo by 663highland (CC BY-SA 3.0) modified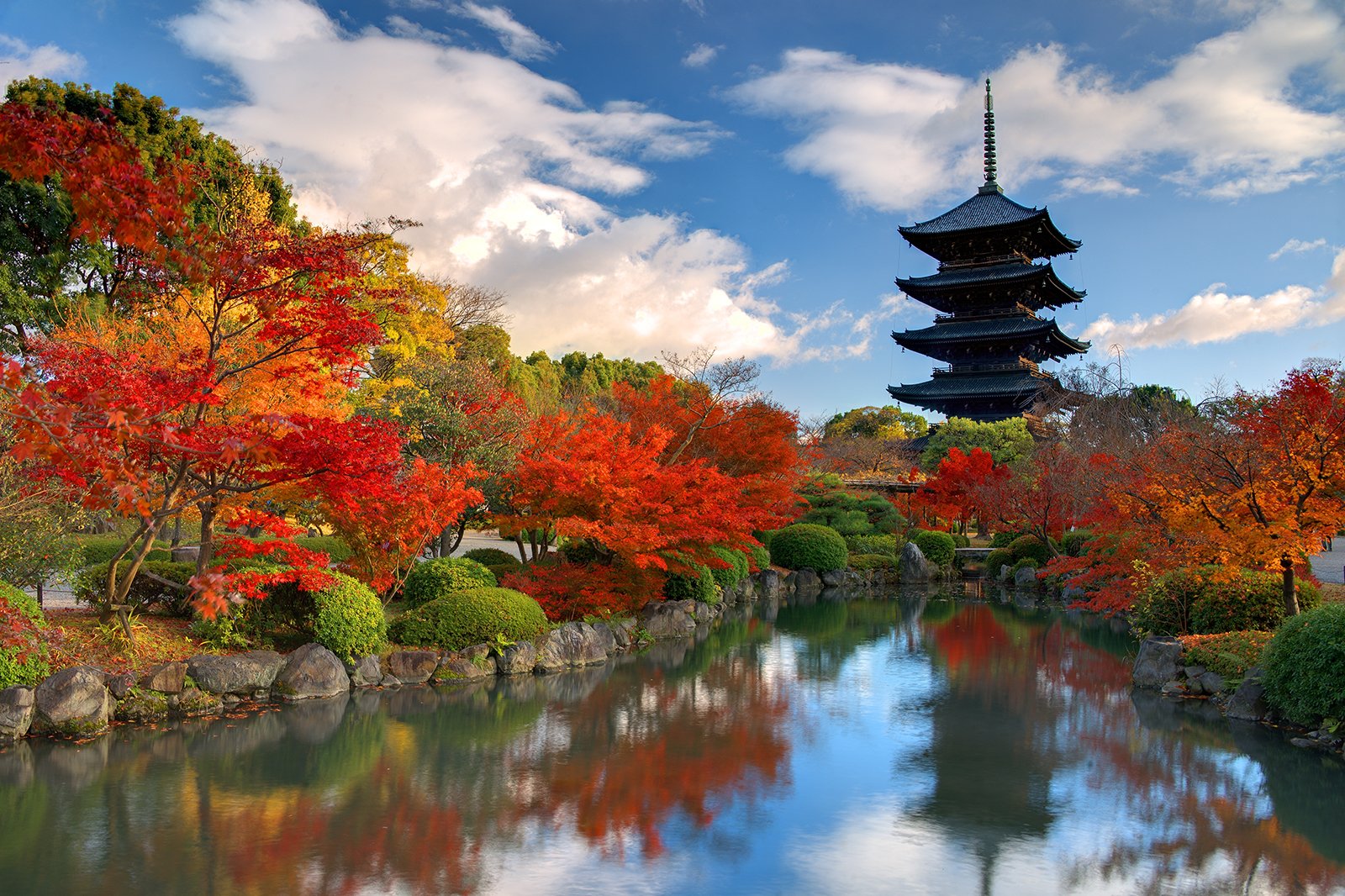 The 5-storey pagoda of Toji Temple is 57 metres tall and one of the tallest pagodas in Japan, as well as an iconic symbol of Kyoto. Last re-built in 1643 after a fire ravaged the temple, it was originally founded in the year 794. Toji Temple is associated with Kobo Daishi who established Shingon sect, and there's a plethora of tantric Buddhist artifacts housed within the temple halls.
The temple hosts a massive flea market on the 21st of each month where antiques are among the best buys. There is also a smaller antiques fair held the first Sunday of every month. Toji Temple is located in the south of Kyoto, around a 15-minute walk from Kyoto Station.
Location: 1 Kujocho, Minami Ward, Kyoto, 601-8473, Japan
Open: Daily from 9am to 4.30pm
Phone: +81 (0)75 691 3325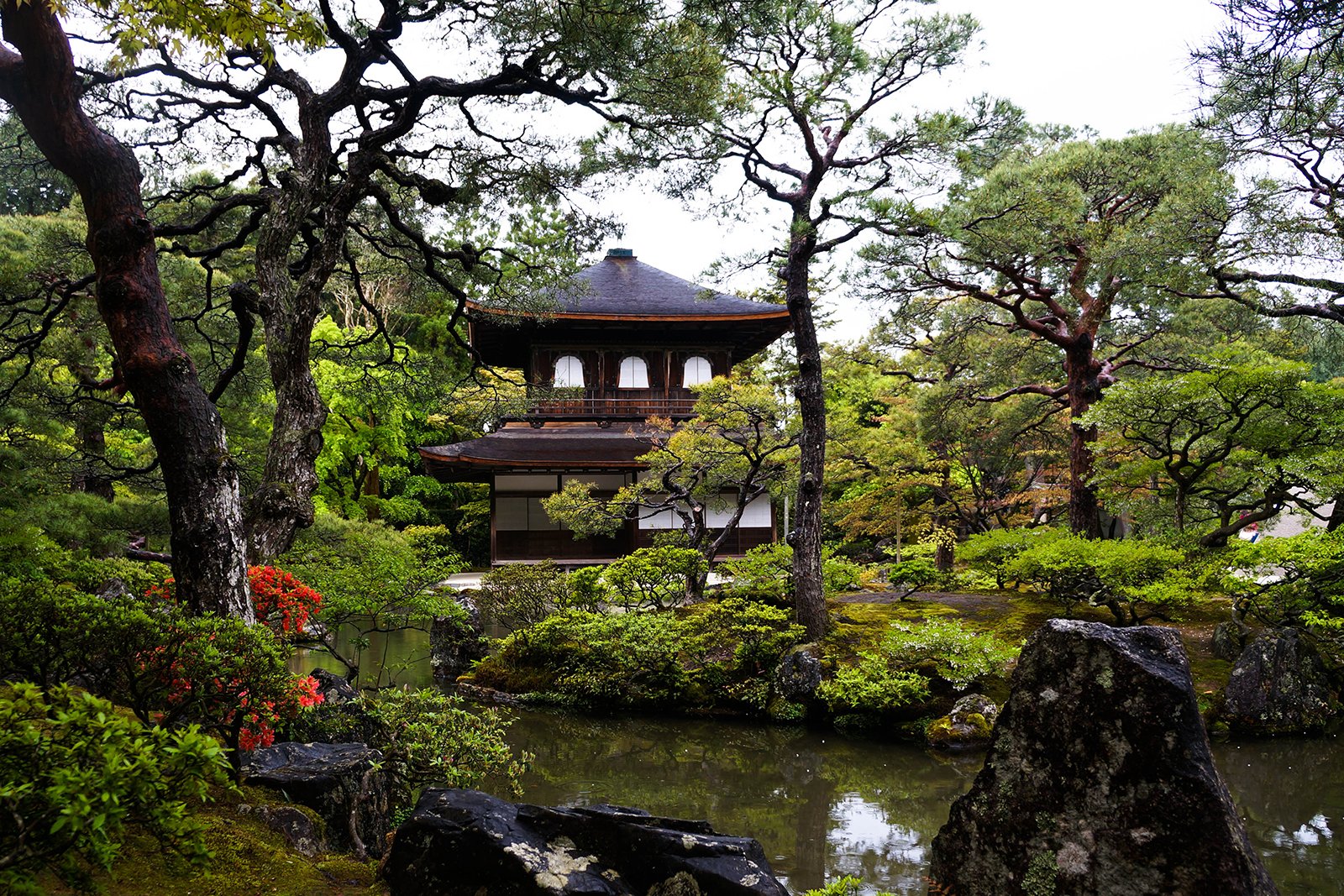 Ginkakuji (The Silver Pavilion)
Ginkakuji (the Silver Pavilion) was originally constructed as a retreat for shogun Ashikaga Yoshimasa in 1849. Modelled after the resplendent Golden Pavillion (Kinkakuji), this temple was supposed to be coated in silver, but the shogun's plans were thwarted by the Onin War. As it is, Ginkakuji is somewhat sombre compared to its golden counterpart, but it's still a place of great natural and man-made beauty. Within its walls the traditional arts of Noh theatre, flower arrangement and the tea ceremony are taken to their heights. The rock garden in Ginkakuji is one of the highlights of a visit and is frequently changed.
Location: 2 Ginkakujicho, Sakyo, Kyoto, 606-8402, Japan
Open: Daily from 8am to 5pm
Phone: +81 (0)75 711 5725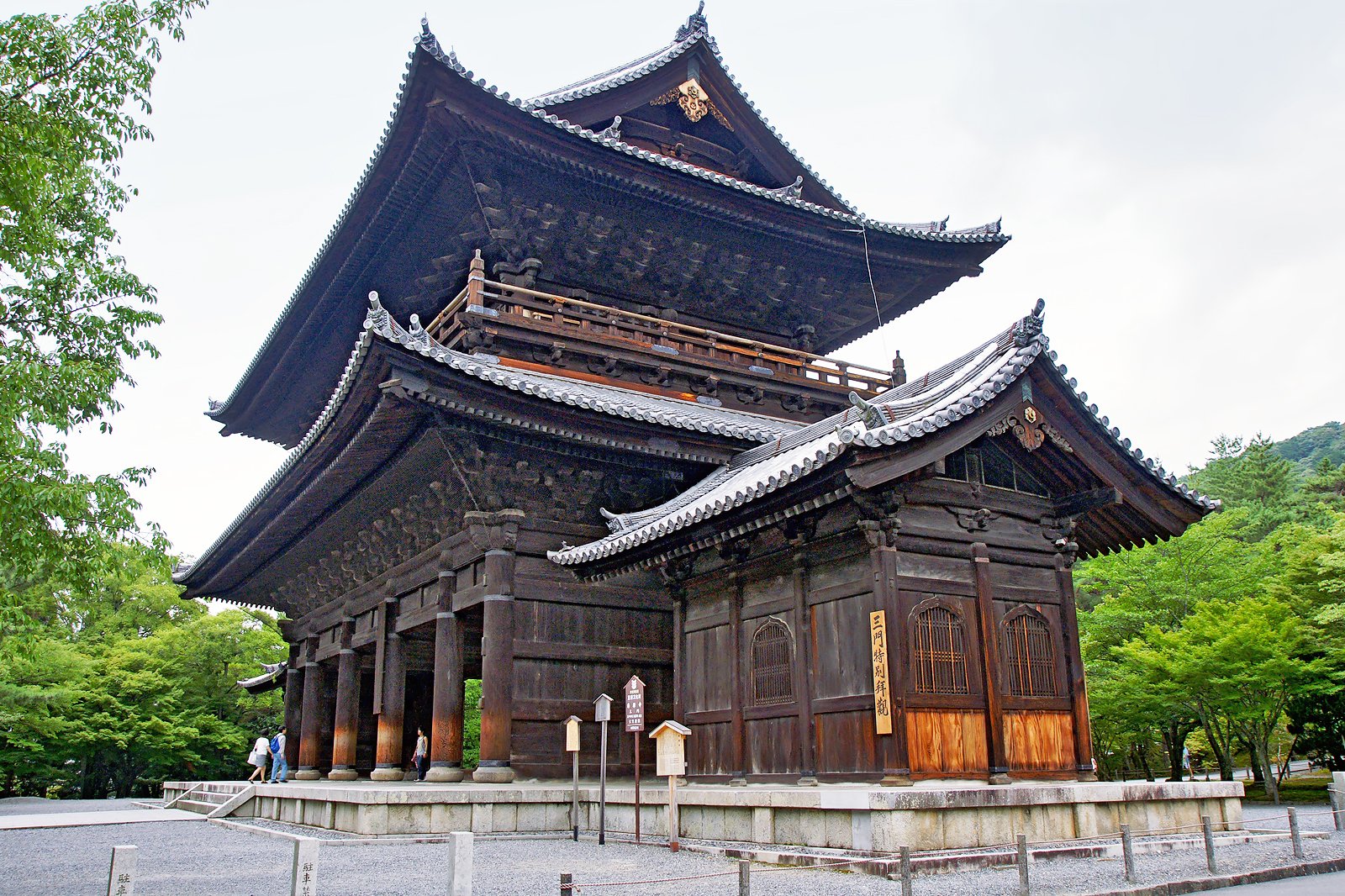 Built during the mid-13th century, Nanzenji is one of the most important Buddhist temples in the world. Originally, Emperor Kameyama decreed Nanzenji a retirement villa but later converted it to a Zen temple which prospered until it was destroyed during 200 years of civil war. Nestled at the foot of the Higashiyama mountains, and with a number of equally beautiful sub temples all rebuilt over time, Nanzenji is the quintessential tranquil Zen temple despite its enormous size. To reach Nanzenji, take the subway to Keage Station.
Location: 86 Nanzenji Fukuchicho, Sakyo, Kyoto, 606-8435, Japan
Open: Daily from 8.40am to 5pm (until 4.30 from December to February)
photo by 663highland (CC BY-SA 3.0) modified
Kamo Shrine comprises two important Shinto shrines lying on opposite sides of the Kamo River. Built to prevent demons from entering the city, Kamo-wakeikazuchi Shrine in Kyoto's Kita Ward and the Kamo-mioya Shrine in Sakyo Ward, are two of the UNESCO World Heritage listed Historic Monuments of Ancient Kyoto. The oldest of Kyoto's 3 famous festivals, Aoi Matsuri, is staged here annually in May.
Location: 59 Izumikawa-cho, Shimogamo, Sakyo, Kyoto, Japan
Open: Daily from 6am to 5pm
Phone: +81 (0)75 781 0010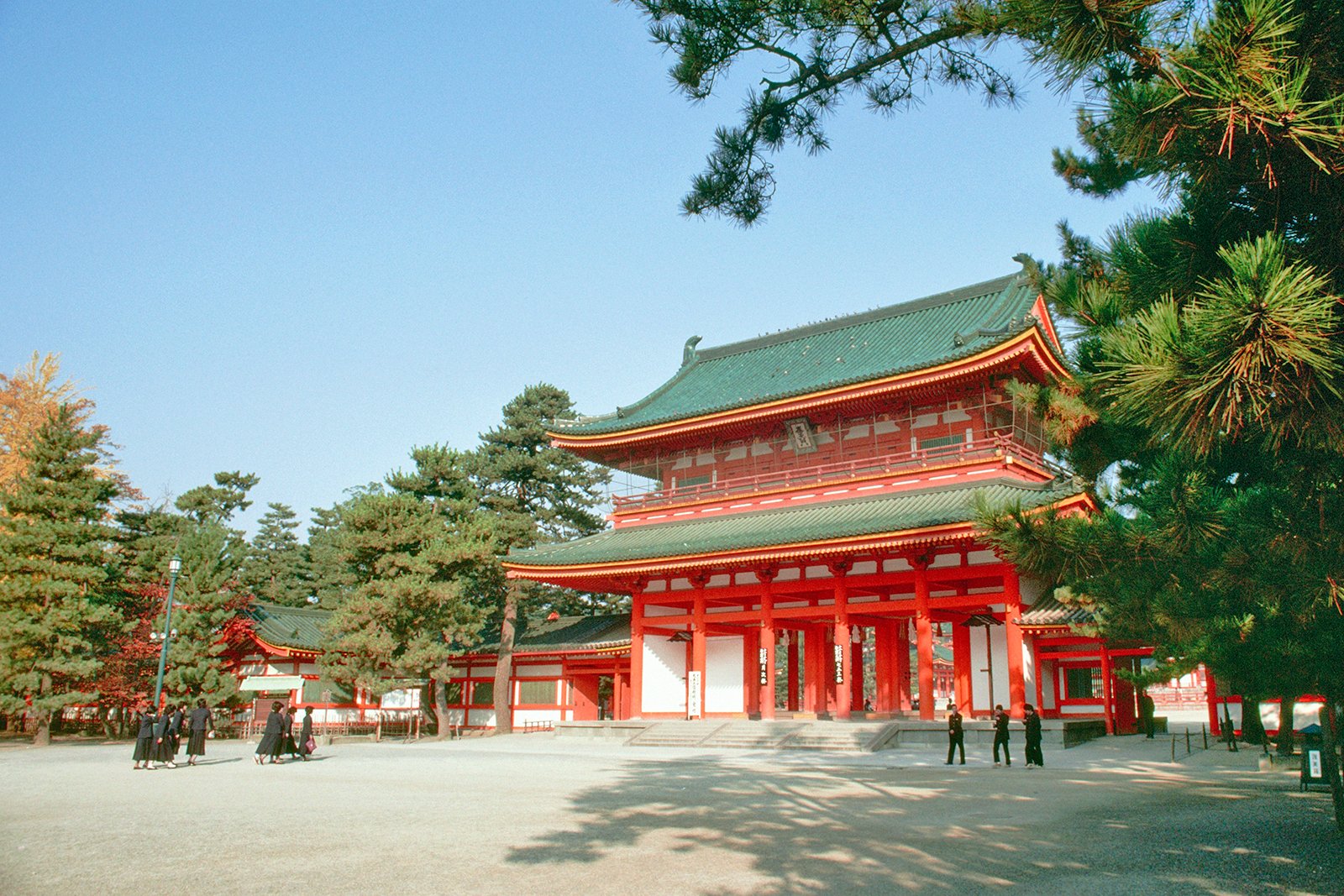 Japan's largest torii temple gates stand to welcome you to the Heian Shrine, an amazing ¾ scale model of the Kyoto Imperial Palace. Built in 1895 to celebrate the 1,100th anniversary of the founding of Heiankyo, now named Kyoto, Heian Shrine annually hosts one of the city's most important cultural events, the Jidai Matsuri festival.
Location: Nishi Ten-o-cho, Okazaki, Sakyo-ku, Kyoto 606-8341, Japan
Open: Daily from 6am to 5pm (until 5.30pm in March and September)
Phone: +81 (0)75 761 0221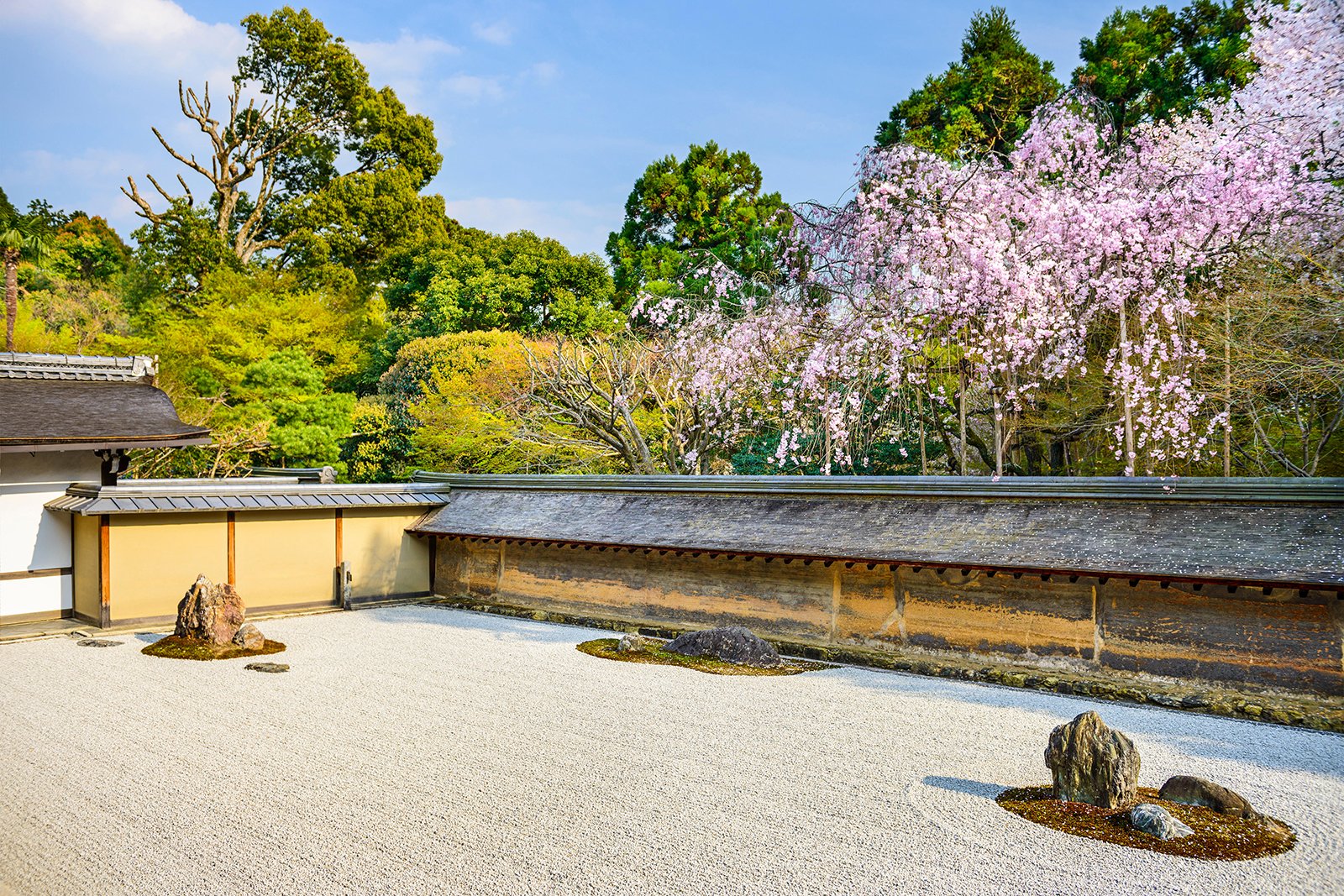 Ryoanji Temple and rock garden
Ryoanji is famous for its karesansui rock garden more than the temple itself. Belonging to the austere Rinzai sect of Buddhism, the raked stone and rock garden is the epitome of Zen. Containing 15 rocks arranged into 3 groups of 3, 5 and 7, the garden is constructed so that only 14 rocks can be seen at any one moment. If you adjust your position another rock will appear only to find a different one newly hidden. To avoid the crowds, try to get to Ryoanji early in the morning. To reach the temple, take the Keifuku Kitano line to Ryoanji-michi station.
Location: 13 Ryoanji Goryonoshitacho, Ukyo, Kyoto, 616-8001, Japan
Open: March–November daily from 8am to 5pm. December–February daily from 8.30am to 4.30pm
Phone: +81 (0)75 463 2216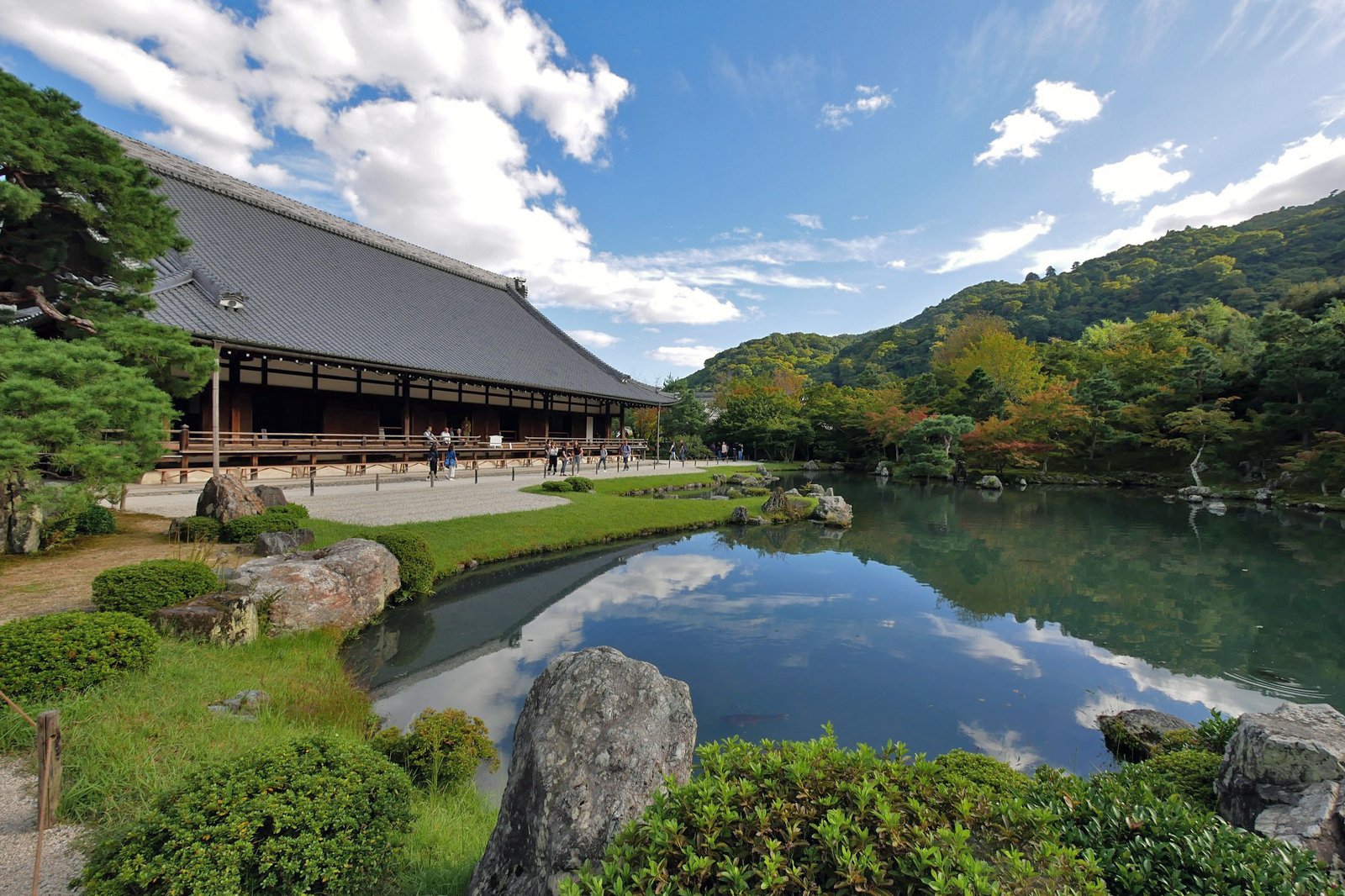 Tenryuji is an important temple in the Rinzai sect of Buddhism and a UNESCO World Heritage Site. It's colloquially known as the Temple of Heavenly Dragon because the founding abbot dreamed of a vanquished enemy, Emperor Go-Daigo, as a golden dragon rising from the nearby Oigawa river. Fearing ill fortune, shogun Ashikaga Taka had the temple erected in place of Go-Daigo's favourite villa retreat.
Dating back to 1339, Tenryu-ji has been destroyed by fire no less than 8 times. Present buildings were rebuilt in 1900. The garden was one of the first to use the 'borrowed scenery' technique recreating Mt. Horai in China thanks to its location next to several mountains. To reach the temple, take the JR San-in Main Line from Kyoto Station to Saga Station.
Location: Sagatenryuji Susukinobabacho, Ukyo, Kyoto, 616-8385, Japan
Open: April–October daily 8.30am to 5.30pm. November–March, daily 8.30am to 5pm
Phone: +81 (0)75 881 1235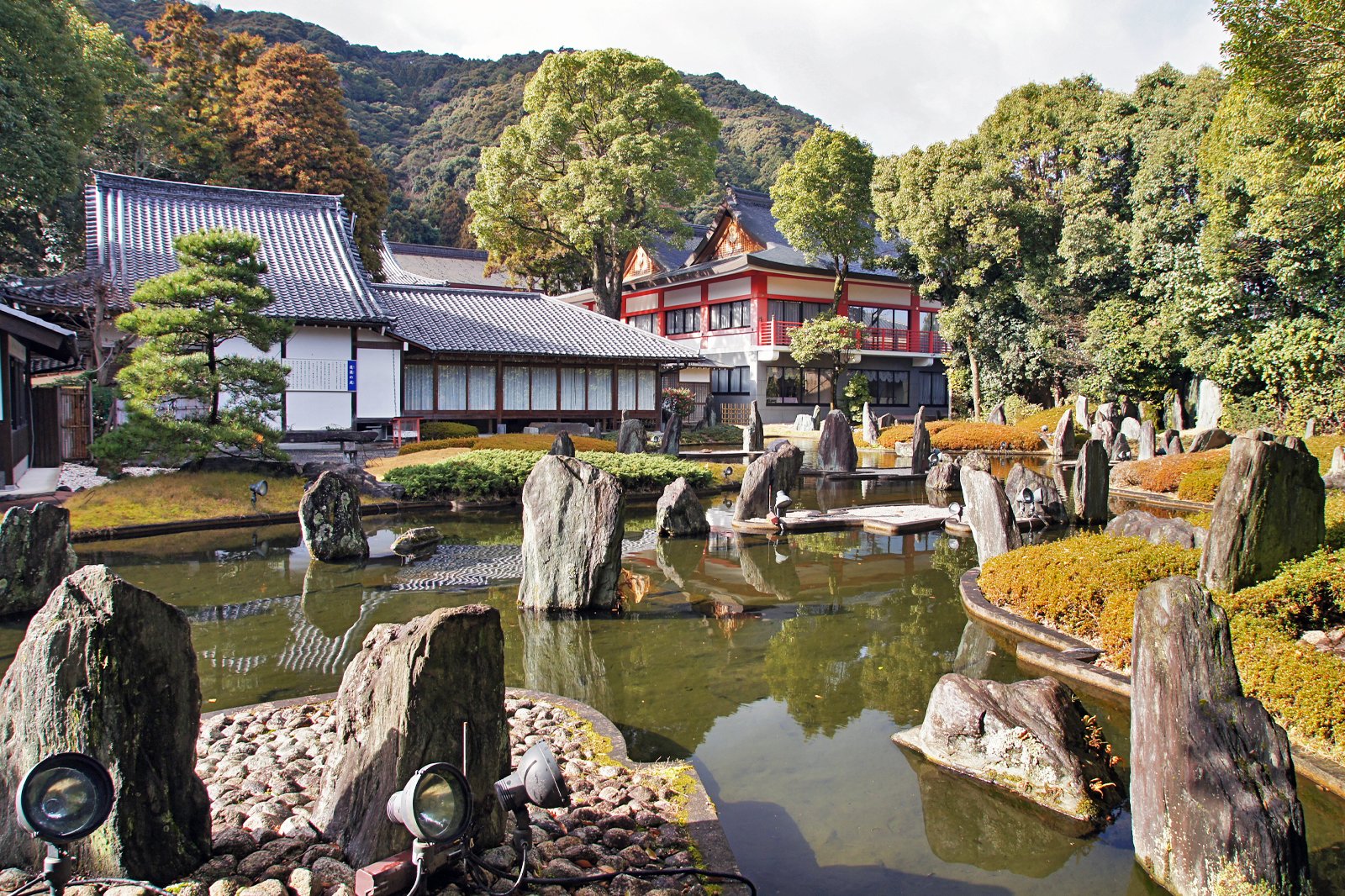 Matsuo-taisha is one of the oldest Shinto shrines in Kyoto, dating back to around 701, and is home to a natural spring that is believed to have blessed water. This water sees local sake makers and miso producers visiting the shrine to pray that their products are blessed and thus successful. The shrine serves kinpaku miki – a special blessed sake filled with gold leaf – during the New Year festival. The temple is walking distance from Matsuo station on the Hankyu Arashiyama line.
Location: 3 Arashiyama-miyamachi, Nishikyo, Kyoto, 616-0024, Japan
Phone: +81 (0)75 871 5016
photo by 663highland (CC BY-SA 3.0) modified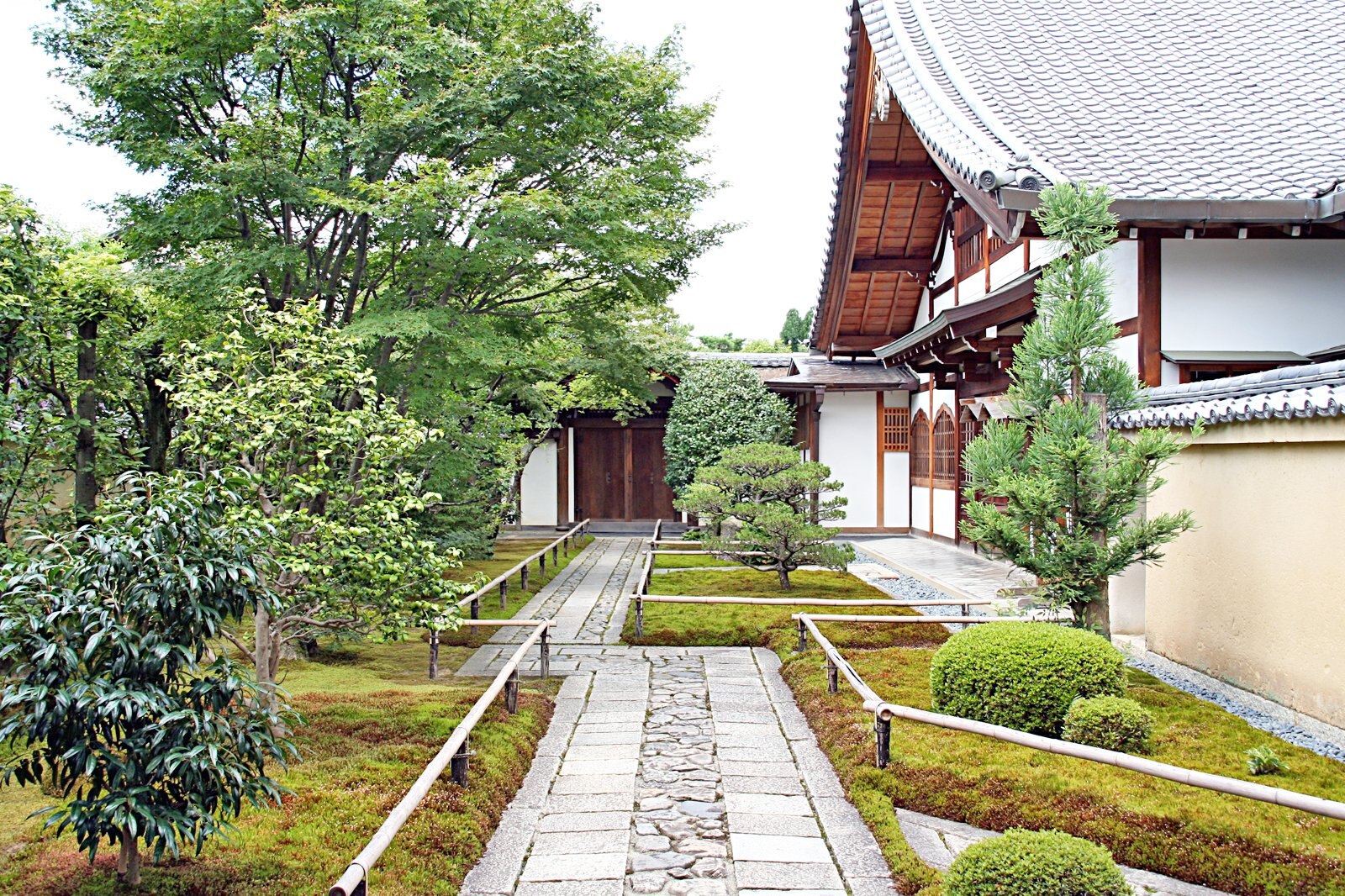 With 4 exquisitely maintained Japanese gardens, meditative rock gardens and some of the oldest and grandest temples in Japan, Daitokuji is the archetypical Zen Buddhist temple on a magnificent scale. Within its high walls Daitokuji contains many large temples and sub-temples dating back to the 14th century. To reach Daitokuji, take the Karasuma subway line to Kitaoji station.
Location: 53 Murasakino Daitokujicho, Kita, Kyoto, 603-8231, Japan
Open: Daily from 9am to 5pm
Phone: +81 (0)75 491 0019
photo by Markus Leupold-Löwenthal (CC BY-SA 2.0) modified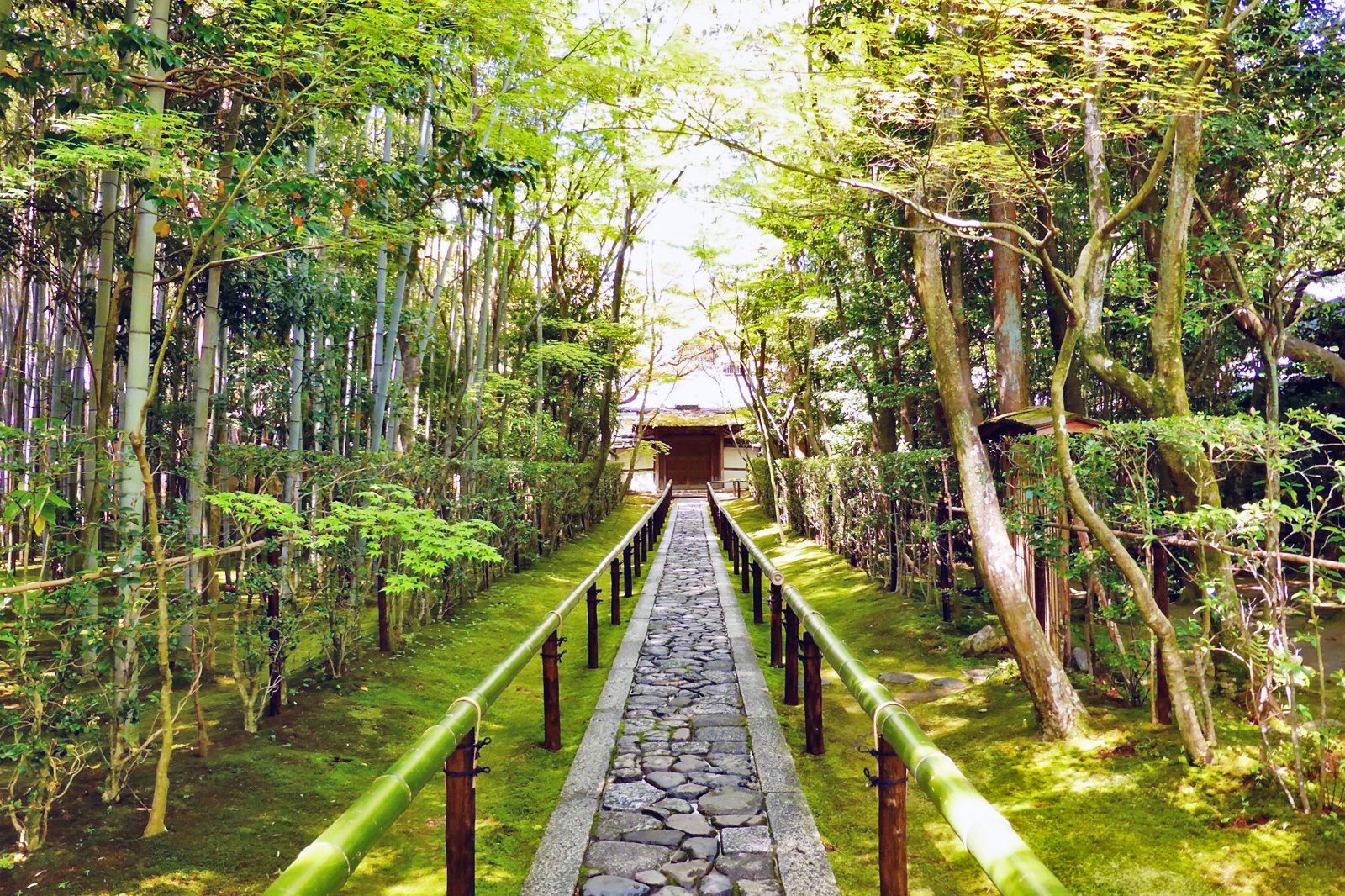 Hidden away on the western side of Daitokuji, this small, reclusive sub-temple deserves special mention for its priceless collection of national treasures from Japan and China. The mossy gardens enveloping the temple are stunning in autumn with the vivid colours and dappled sunlight through the maple leaves. A beautiful spot for contemplation, respite or a picnic. The temple grounds are a short walk west from Kitaoji subway station in northern Kyoto.
Location: 73-1 Murasakino Daitokujicho, Kita, Kyoto, 603-8231, Japan
Open: Daily from 9am to 4pm
Phone: +81 (0)75 492 0068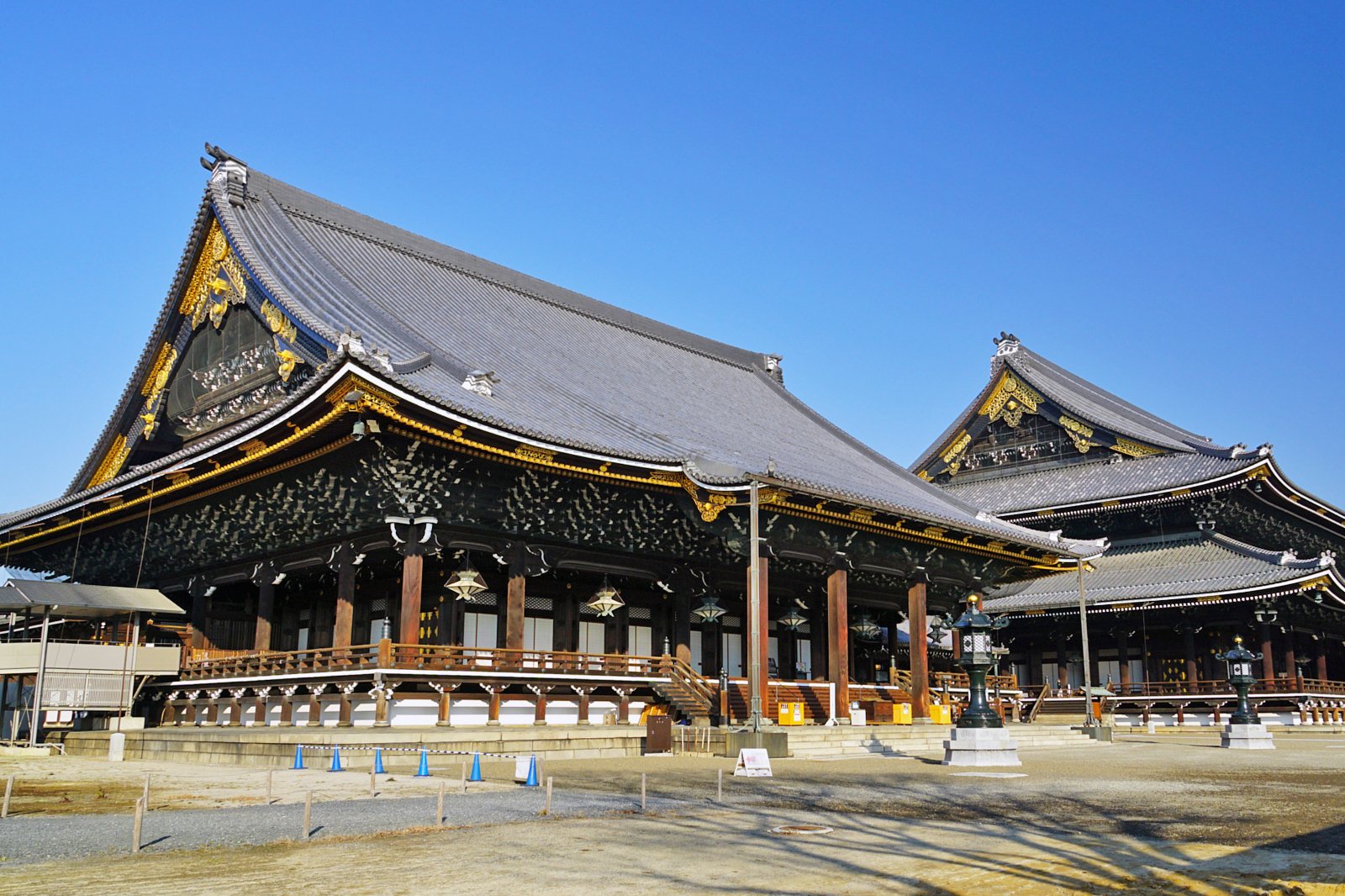 Nishi Honganji Temple (The Eastern Temple of the Original Vow) covers a large area near Kyoto Station. Within the complex, cavernous buildings demonstrate the might of the Tokugawa Shogunate. The large pigeon population in the central courtyard may well have annoyed him, though. This temple is full of ornate buildings. Enter though the 28-metre-tall Founder's Hall Gate for a feeling of grandeur. An interesting element of this temple is the long black rope which was used during the reconstruction of the temple during the 19th century; it is completely made of female devotees' hair.
Open: March–October from 5.50am to 5.30pm. November–February from 6.20am to 3.30pm
Phone: +81 (0)75 371 9181
photo by 663highland (CC BY-SA 4.0) modified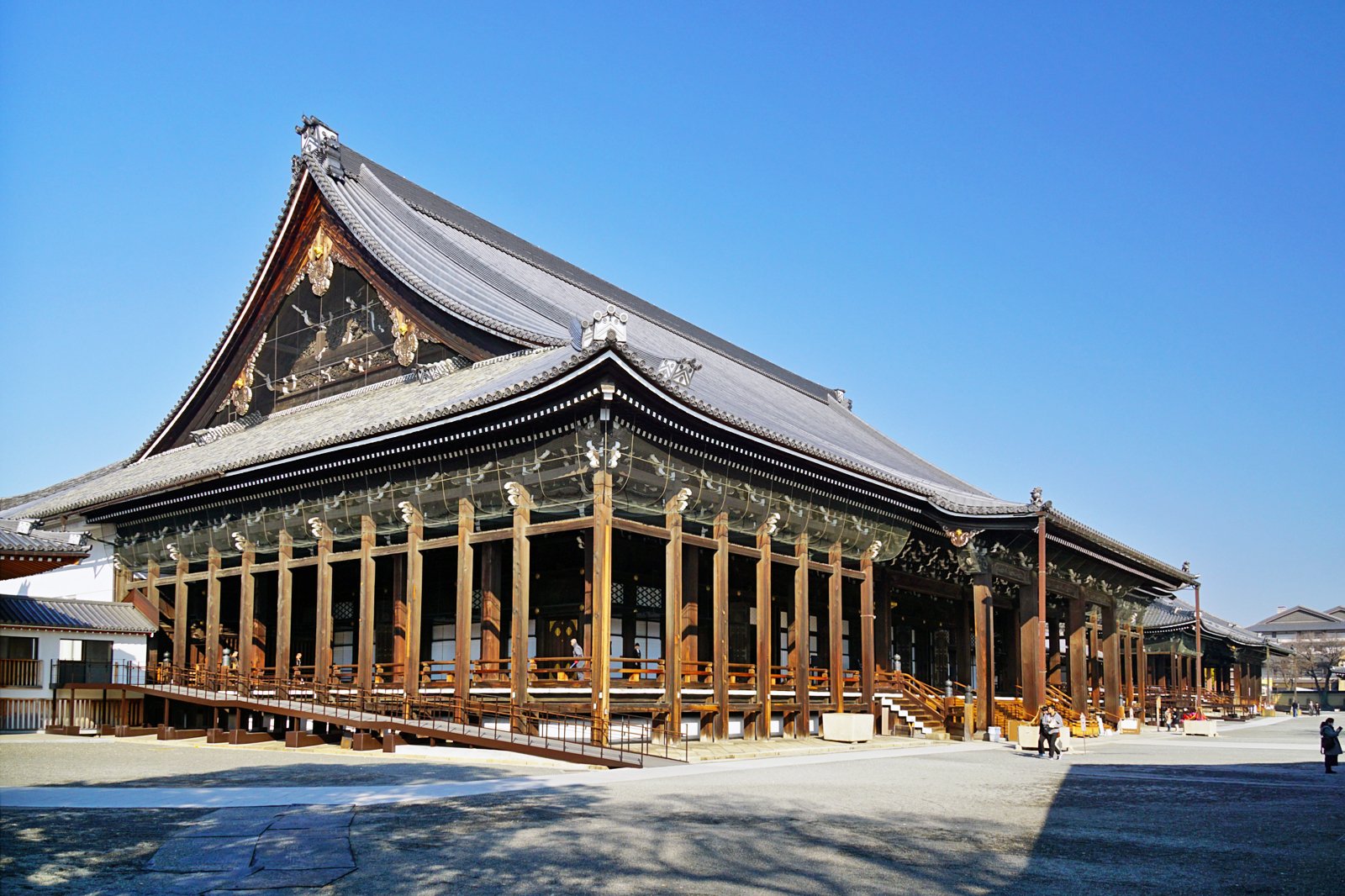 This vast temple complex is the oldest of the 2 Honganji temples and is now headquarters of the prosperous Jodo Shin-shu sect of Buddhism. Not all of the temple is open to the public; the 2 halls you can enter feature exquisite carvings and paintings on paper screens and walls created by the Kano school of artists. You can find Nishi Honganji Temple around 10 minutes' walk north of Kyoto Station.
Location: Horikawa-dori, Hanayamachi-sagaru, Shimogyo, Kyoto, 600-8501, Japan
Open: Daily from 5.30am to 5pm (May–August until 6pm)
Phone: +81 (0)75 371 5181
photo by 663highland (CC BY-SA 3.0) modified