13 Best Things to Do in Nara
Nara Attractions
Nara, once known as Heijo-kyo, was the first capital of Japan (710-794). It's home to 3 of Japan's World Heritage Sites and many impressive shrines, temples and ruins. Nara is blessed as it somehow escaped the widespread destruction during WWII, plus it has managed to preserve its historic charm very well.
If you don't have much time to spare, Nara Park – the same park where hundreds of Sika deer roam – is definitely a must. Nara's sights include Todaiji Temple, Kofukuji Temple, Kasuga Taisha Shrine, Heijo Palace, Nara National Museum, the Neiraku Museum and the Isuien Garden Complex.
What are the best things to do in Nara?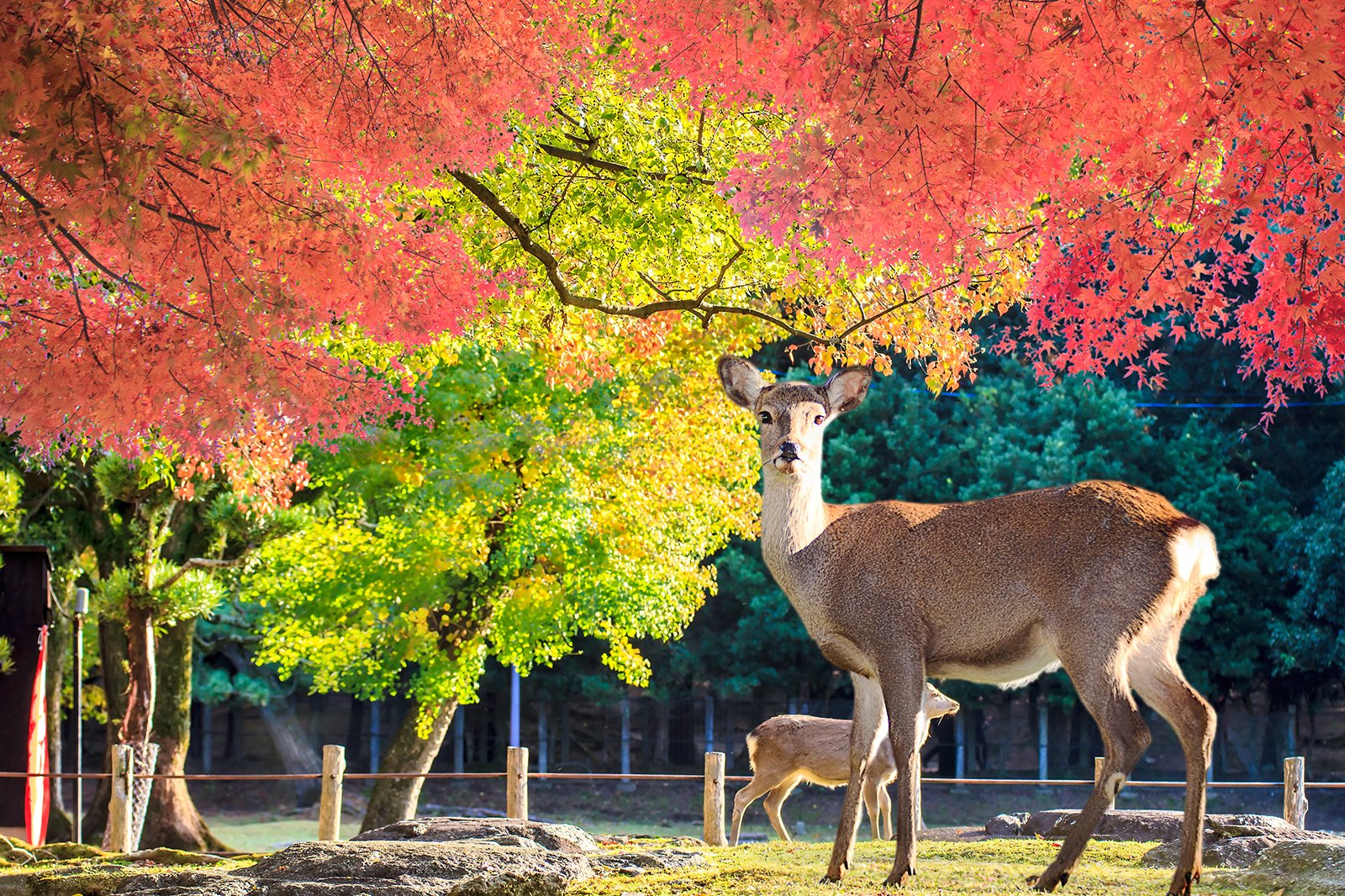 Nara Park, covering an area of over 500 hectares, is one of the biggest municipal parks in Japan and lies in the heart of the city. Locals love to come to the park, especially to the hanami spot to view the cherry blossom in spring. Look for the friendly deer that run freely inside the park, expecting people to feed them sembei (deer crackers). These deer have long been the symbol of Nara and according to Shinto belief they are regarded as the messengers of the gods so no one dares harm them. Visitors will find many interesting historical landmarks in and around the park such as Kofukuji Temple, Todaiji Temple, Kasuga Temple and the Nara National Museum.
Location: Zoshicho, Nara, 630-8211, Japan
Open: All year round
Couples
Families
History
Photo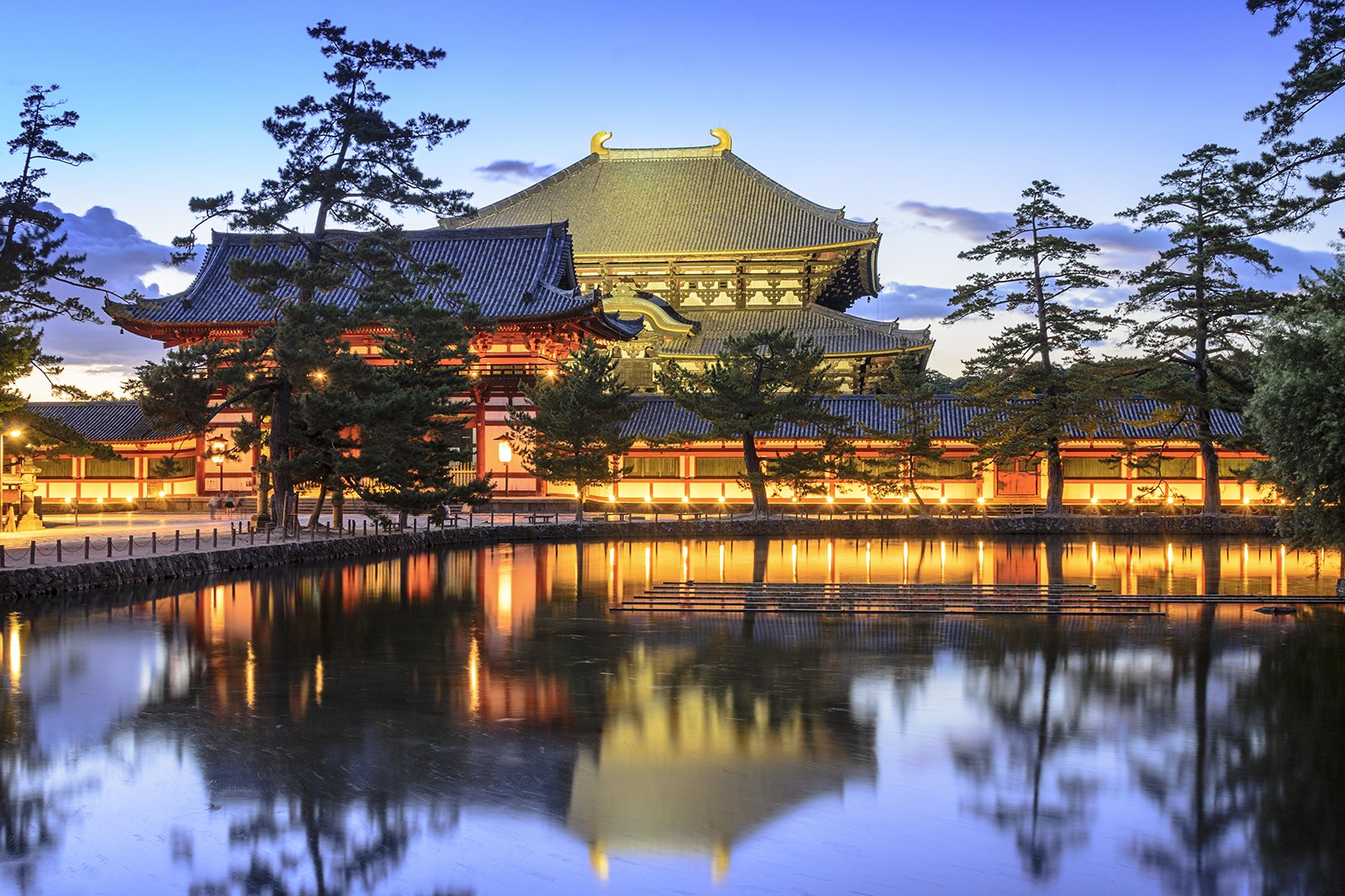 Founded by Emperor Shomu (724-749) this Buddhist Temple is probably the most famous attraction in Nara and is well known for its magnificent bronze Nara Daibutsu statue (or the Great Buddha of Nara). Like many historical places in Japan, the statue and its huge wooden hall and building have suffered damaged several times and have subsequently been restored. The current Daibutsu is one of the largest bronze statues in the world and was rebuilt by the Tokugawa Shogunate in 1692. Todaiji Temple is listed as a UNESCO World Heritage Site. Incredibly, the entire temple was built without a single nail being used.
Location: 406-1 Zoshicho, Nara, 630-8211, Japan
Open: Daily from 8am to 5pm
Phone: +81 (0)742-22-5511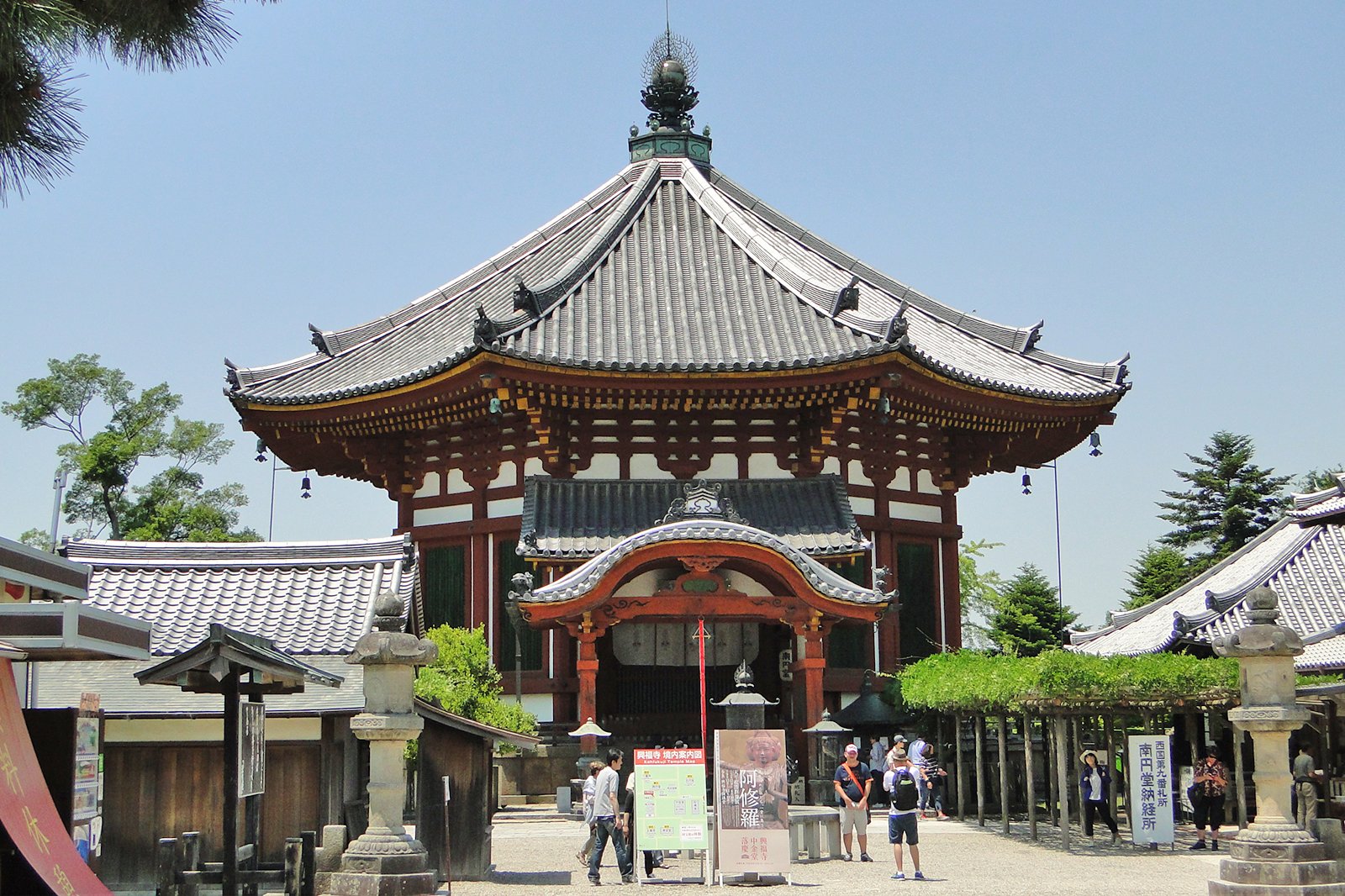 Kofukuji Temple is the beautiful 5-story pagoda you'll often see in tourist brochures and publicity for Nara City. This pagoda, actually one of the city's symbols and widely known throughout the country, was last rebuilt in 1426. Founded in 669 by the Fujiwara family, a powerful family in Japan, Kofukuji Temple was first located in Kyoto and was moved to the current location in Nara Park. At that time there were 175 buildings inside the temple; sadly only a few survived, including the 2 pagodas. Visit the Kokuhokan (the temple's Treasure House) to see many antique statues, some dating back as far as the 8th century. Kofukuji was named a UNESCO World Heritage Site in 1998.
Location: 48 Noboriojicho, Nara, 630-8213, Japan
Open: Daily from 9am to 5pm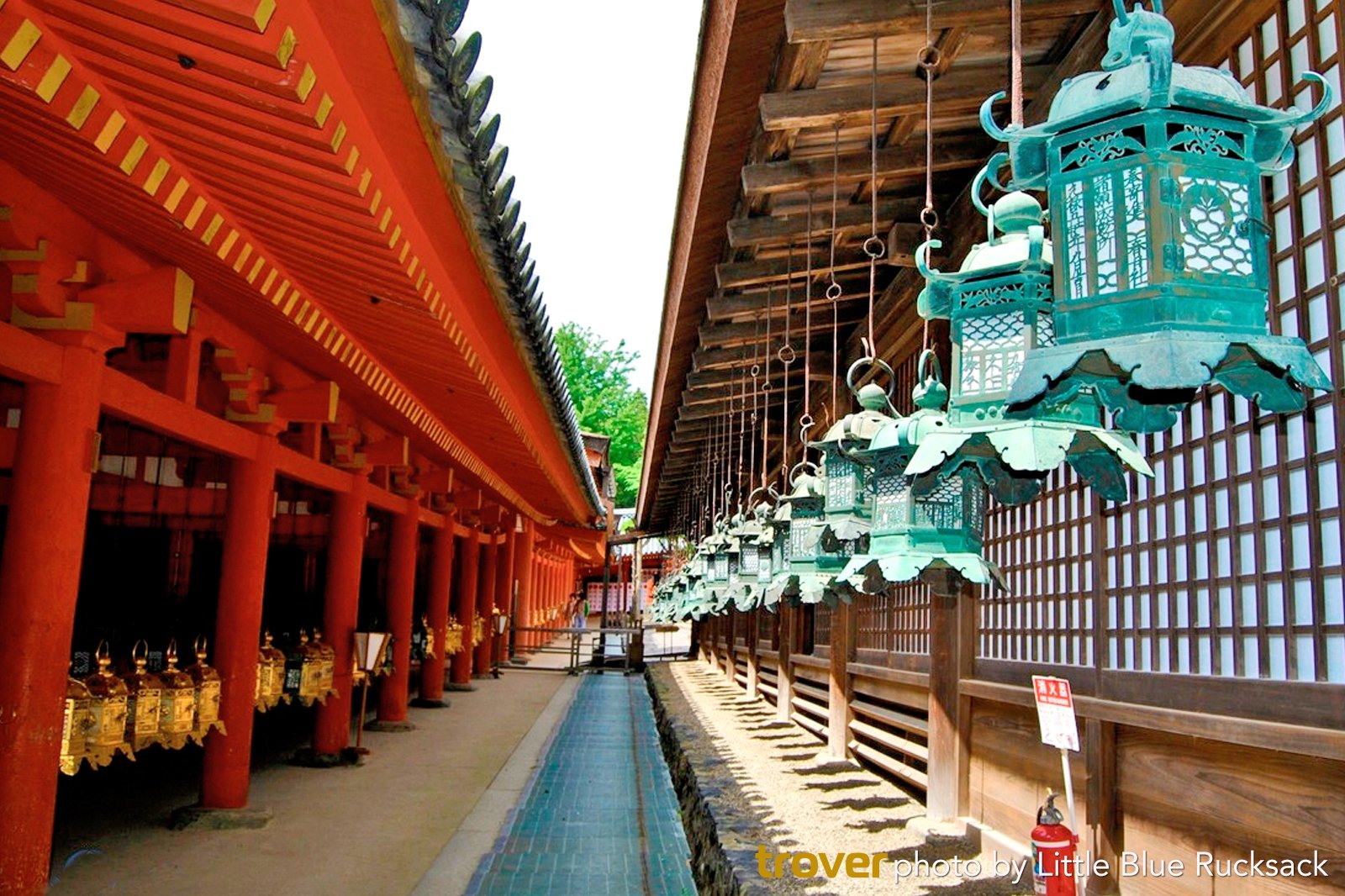 Kasuga Shrine (Kasuga Taisha Shrine)
A visit to the Kasuga Shrine, a UNESCO World Heritage Site and one of Japan's oldest Shinto shrines, is a must-do when in Nara. You will notice many lanterns lining the path leading up to the main building. There are many more of them inside the shrine – it's said there are 2,000 stone lanterns and 1,000 hanging bronze ones in total.
Kasuga Shrine is strongly linked to the powerful Fujiwara clan, which enjoyed strong connections with the Imperial family. It was founded in 768 with the current building last rebuilt in 1863. For an extra fee, tourists can admire many vintage items such as swords and traditional costumes inside the treasure house (homotsuden).
Location: 160 Kasuganocho, Nara, 630-8212, Japan
Open: Daily from 9am to 4.30pm (4pm in winter)
Phone: +81 (0)742-22-7788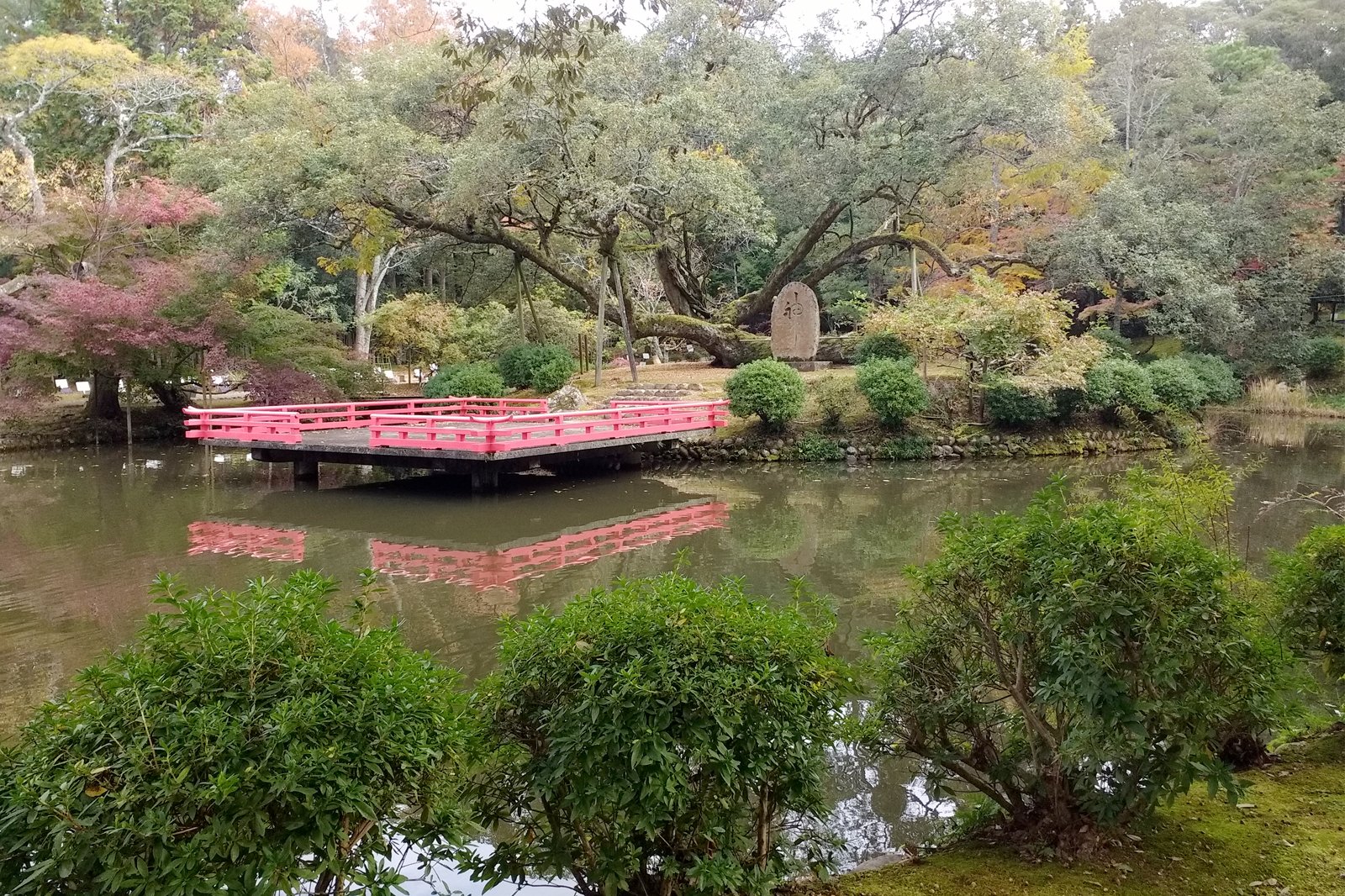 Manyo Botanical Garden (rokuen) features hundreds of native plants. Expect to see beautiful trees and plants such as Japanese figs, Japanese blue oaks, hydrangea, rabbit-ear iris, dianthus superbus, Chinese bellflowers, willows, Japanese cedars, Japanese plums and cluster maryllis. Many locals come in April and May to see the wisteria in full bloom. The botanical garden is located next to Kasuga Shrine in Nara Park.
Location: 160 Kasuganocho, Nara, 630-8212, Japan
Open: Daily from 9am to 4.30pm (December–February closed on Mondays)
photo by Mx. Granger (CC0 1.0) modified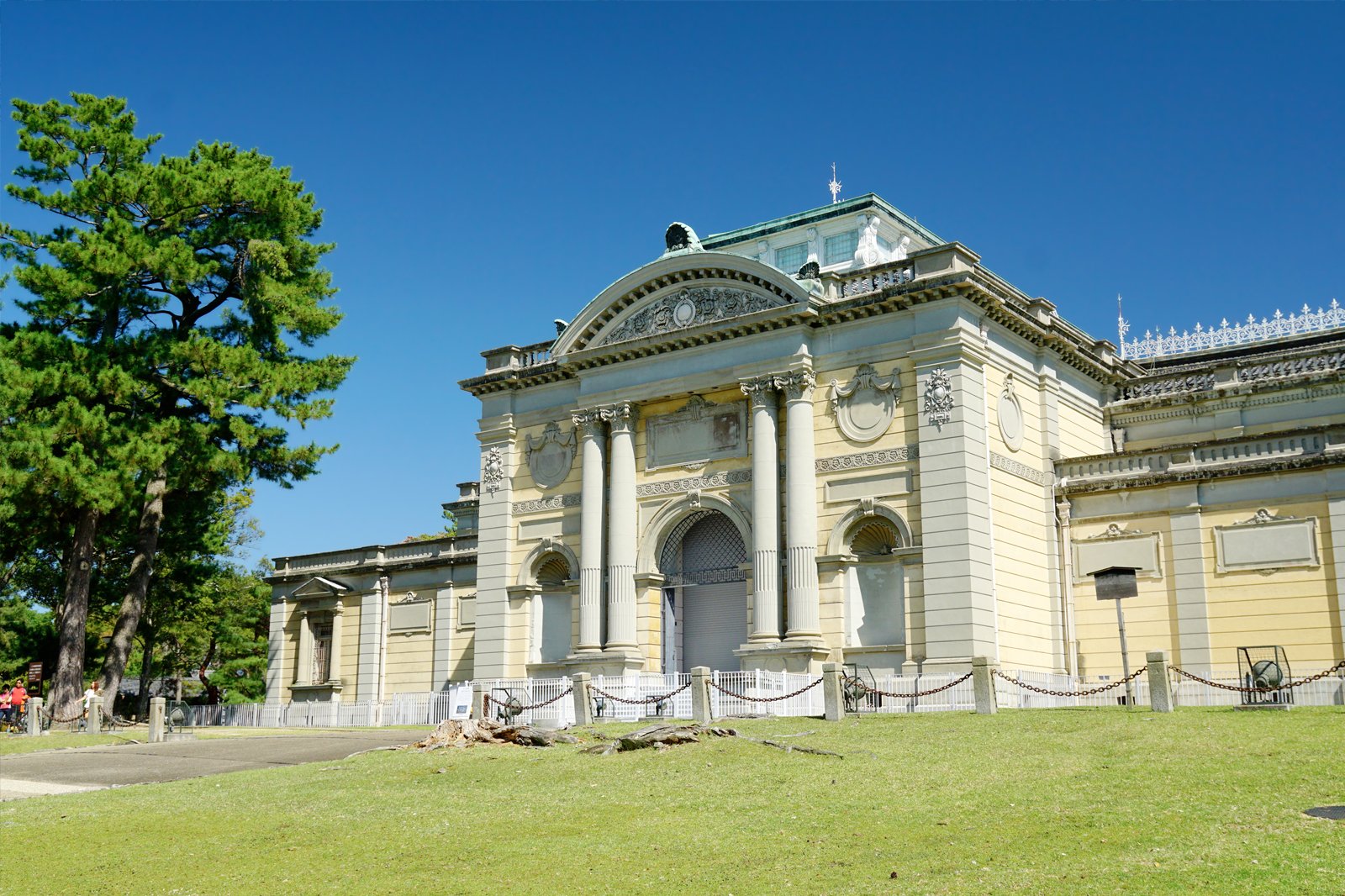 Nara National Museum (Nara Kokuritsu Hakubutsukan) exhibits many priceless Japanese Buddhist artworks, scrolls, paintings as well as archaeological items from various historical eras. The highlight of the museum is the Shosoin Treasure House. Shosoin is unique because it houses over 9,000 pieces – the world's largest collection of 8th century 'Silk Road' exhibits. The collection includes musical instruments from Tang China, lapis lazuli stones from Turkey, cut-glass bowls from Persia, cups made from rhinoceros horn from India and many items from Japan's own imperial collections. The annual Shosoin exhibition usually runs for a few weeks from October to November.
Location: 50 Noboriojicho, Nara, 630-8213, Japan
Open: Tuesday–Sunday from 9.30am to 5pm (closed on Mondays)
Phone: +81 (0)74 222 7771
photo by 663highland (CC BY-SA 3.0) modified
A temple dedicated to the 'Buddha of medicine', Yakushiji Temple was built in 680 and later relocated to its current site after Nara was named the capital. The temple is also known for its splendid collection of Buddhist artworks, including Buddhist bronze sculptures and a beautiful painting from the 8th century of Kichijoten, or Sri-mahadevi, the Buddhist goddess of peace, happiness, and beauty. Visitors will find an impressive number of buildings inside Yakushiji, such as the original 8th-century east pagoda and reconstructed west pagoda, as well as the kodo (lecture hall) which was rebuilt in 1852 and the kondo (main hall) constructed in 1976.
Location: 457 Nishinokyocho, Nara, 630-8563, Japan
Open: Daily from 8.30am to 5pm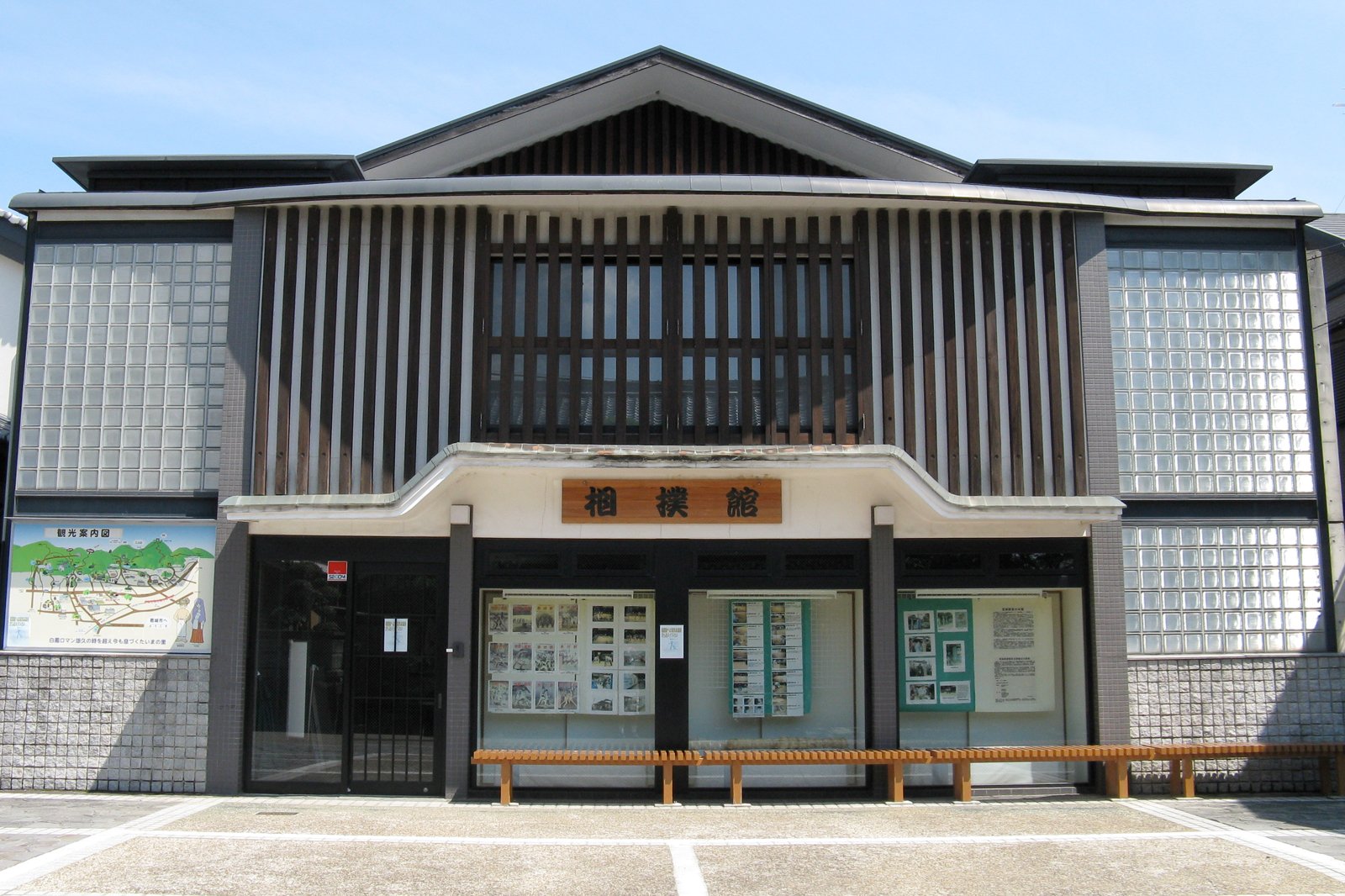 Katsuragi City Sumo Museum Kehayaza
Located in nearby Katsuragi City, this 2-floor museum is devoted to the world of sumo wrestling. It was opened in 1990 and displays about 12,000 interesting items, all related to sumo such as several kesho-mawashi (an ornate, embroidered silk belt worn by the wrestlers), geta (Japanese wooden sandals), historical documents of sumo, old photos and paintings. The first floor presents a life-size sumo ring but don't expect a real match here. It is said that sumo was invented here, so fans of the sport enjoy making the trip to this museum. You can find the sumo museum near Kintetsu Taimadera Station.
Location: 83-1 Taima, Katsuragi, Nara, Japan
Open: Thursday–Monday from 10am to 5pm (closed on Tuesdays and Wednesdays)
Phone: +81 (0)74 548 4611
photo by KENPEI (CC BY-SA 3.0) modified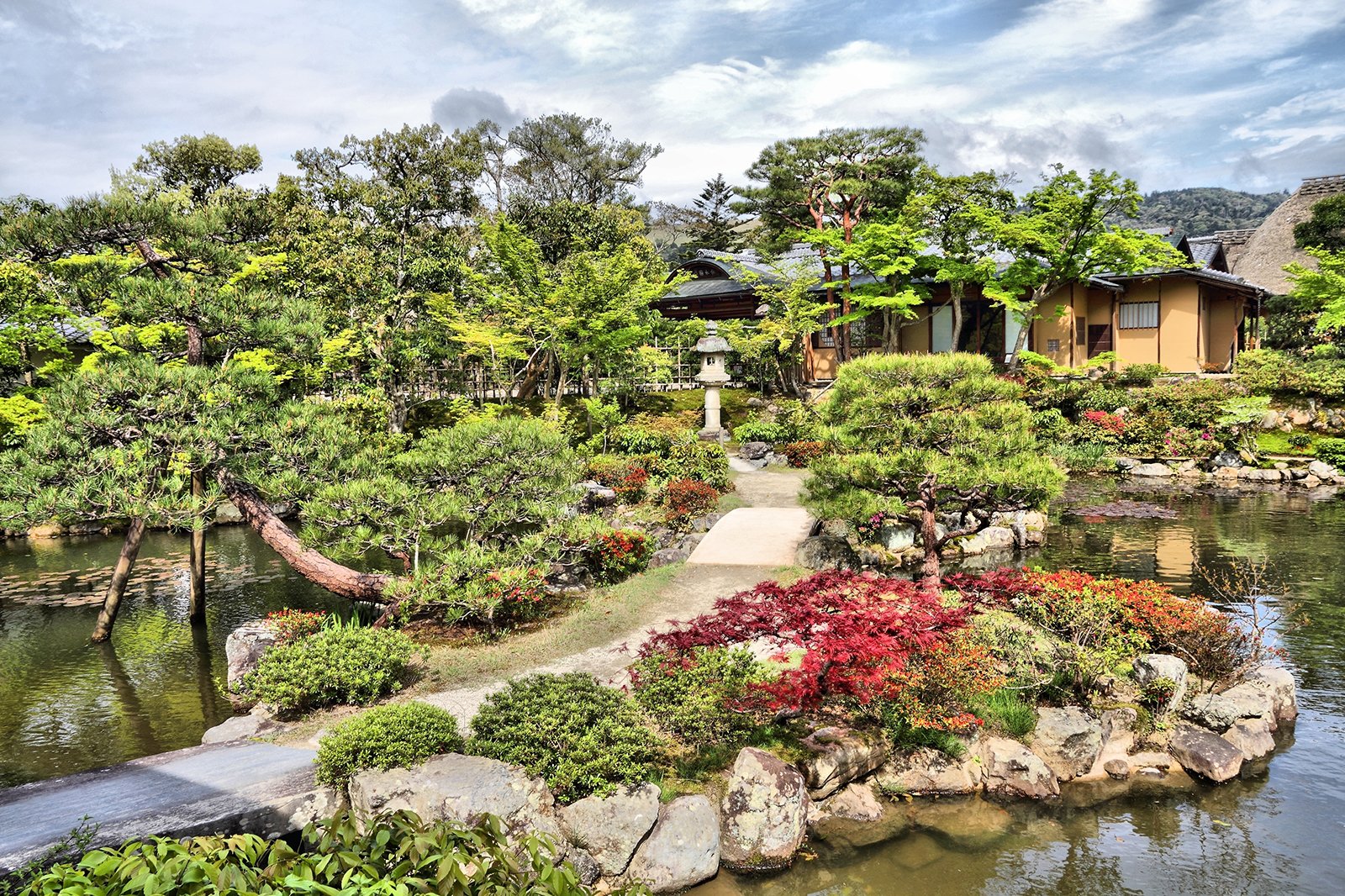 The beautiful Isuien garden is a good escape from Nara's major tourist attractions. It consists of 2 parts; the mid-17th century front garden and a rear garden which was built later in 1899. The 2 gardens are connected by an attractive walkway. Here, you'll find a few small tea houses as well as a very interesting museum featuring vintage pottery, ceramics, and arts and crafts from Korea and China.
Location: 74 Suimoncho, Nara, 630-8208, Japan
Open: Wednesday–Monday from 9.30am to 4.30pm (closed on Tuesdays)
Phone: +81 (0)742-25-0781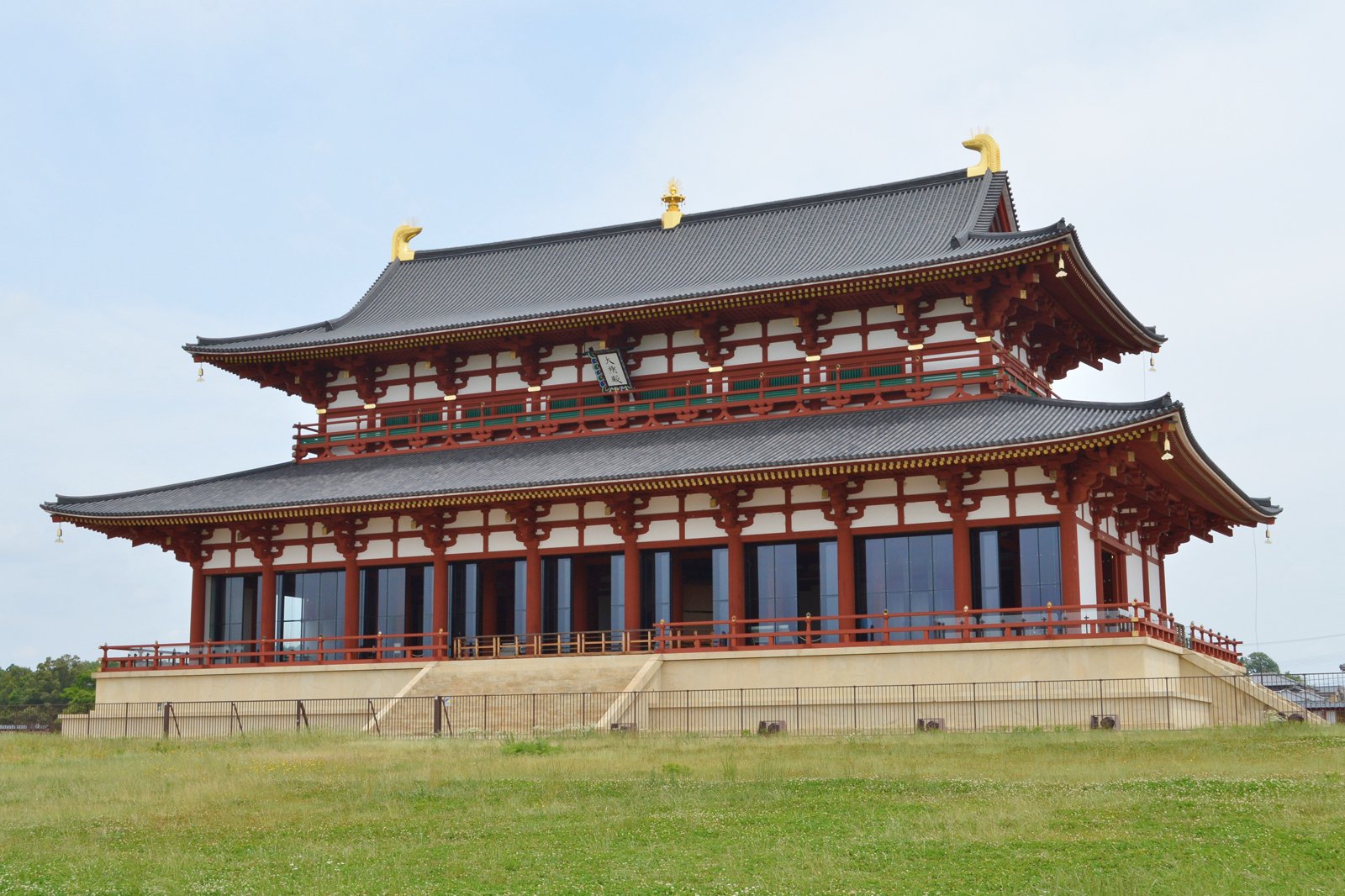 Heijo Palace was the emperor's residence for less than a century before it was completely abandoned when the capital was moved to Kyoto. One of the highlights of the Heijo Palace's grounds is the life-sized replica diplomatic ship that carried Japanese nobles to China in the 8th century. The palace itself serves as a museum with a good range of exhibits on display including the residential quarters of the emperor, bureaucratic offices, the Daigoku-Den hall for national ceremonies, traditional gates, Japanese gardens and courtyard. Visitors can also try on vintage costumes while there. Heijo Palace is one of Nara's UNESCO World Heritage Sites. The Japanese Government has undertaken archaeological research that has cost about US$100 million. It's a 20-minute walk from Yamato-Saidaiji Station.
Location: Sakicho, Nara, 630-8577, Japan
Open: Tuesday–Sunday from 9.00am to 4.30pm (closed on Mondays)
photo by Saigen Jiro (CC0 1.0) modified
Asuka Village, to the south of Nara, was an ancient capital before the Nara Period and has many historical sites including ruins, imperial tombs, temples, shrines and carved stones.
Asuka is also surrounded by beautiful countryside with colourful rice fields, many on terraced slopes. The traditional village is perfect for a day walking or cycling around it. It is popular as a getaway spot for those who want a break from the crowded touristic landmarks. Head to the village of Inabuchi for the best views.
Location: Asuka, Nara Prefecture, Japan
photo by 8-hachiro (CC BY-SA 4.0) modified
Horyuji Temple (also known as Ikaruga-dera Temple) was founded by Prince Regent Shotoku (574-622), and is considered Japan's oldest Buddhist Temple. Some of the buildings within the temple grounds are considered the world's oldest existing wooden structures. Horyuji features an original wooden kondo (main hall) that is more than 1,300 years old, a 5-story pagoda and many valuable Buddha images and sculptures. Besides being one of the 7 great temples of prefecture and the seat of the Shotoku sect of Buddhism, Horyuji Temple is credited to be the first UNESCO World Heritage site in Japan. It's about a About a 15-minute train ride from from JR Nara station in In Ikaruga-cho.
Location: 1-1 Horyuji Sannai, Ikaruga, Ikoma District, Nara Prefecture 636-0115, Japan
Open: Daily from 8am to 4.30pm
photo by Reggaeman (CC BY-SA 3.0) modified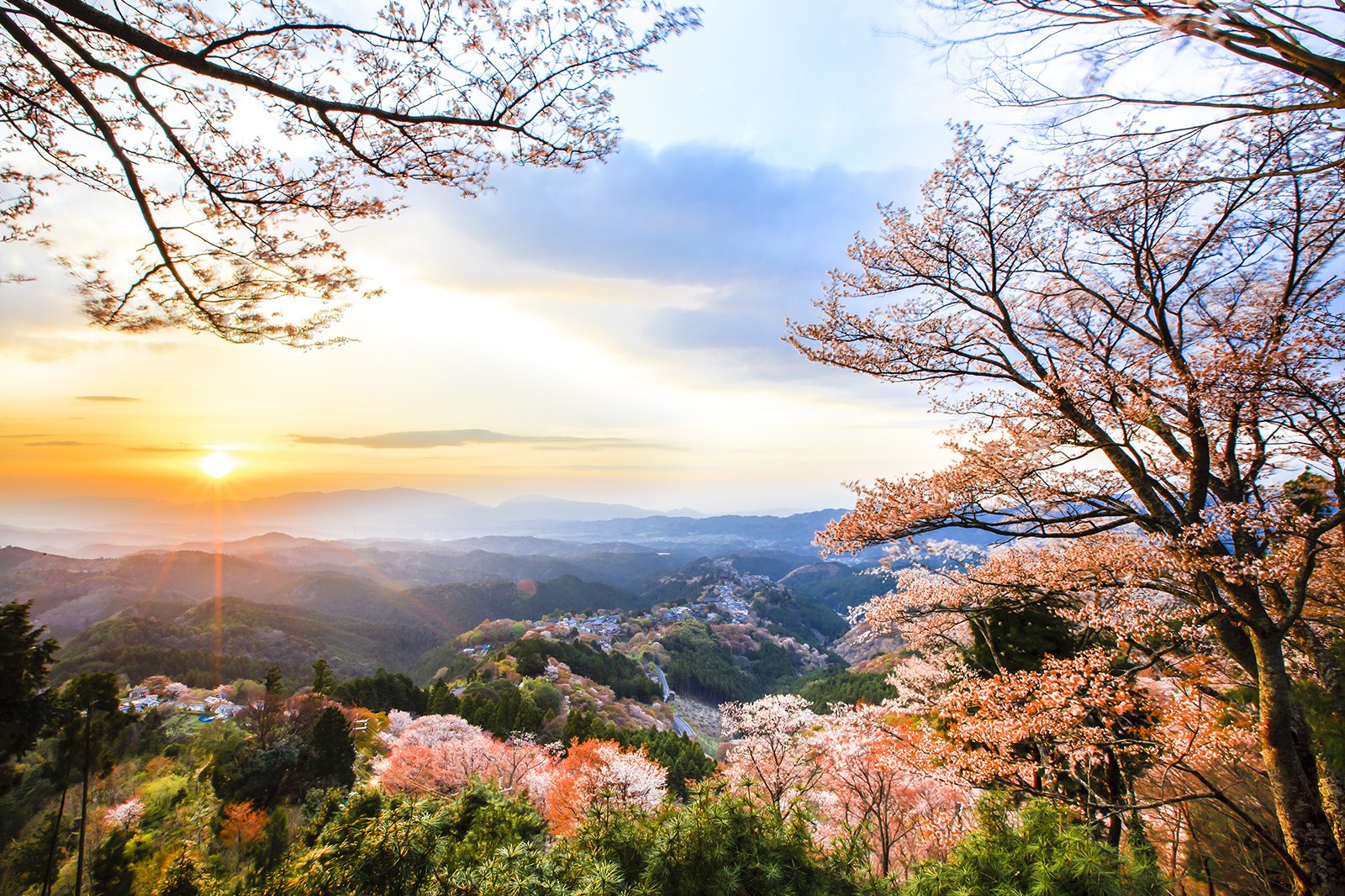 Yoshino Mountain is about 90 minutes away by train from Nara, and becomes lively every spring as it is a popular site for hamami (cherry blossom) viewing. More than 10,000 cherry trees cover the slopes of Yoshino Mountain. Due to the altitude, the trees blossom longer here, unlike at lower locations where the blossom is viewable for an average of only about two weeks.