12 Best Things to Do in Osaka
Osaka Attractions
Osaka is a large prefecture covering a huge area so to explore all its attractions in a short period of time might not be possible. The key attractions include Osaka Castle, Dotonburi shopping landmark, Universal Studios Japan, Osaka Kaiyukan Aquarium and the Tenpozan Ferris Wheel. If you are interested in Japanese history, make sure you pay a visit to the Osaka Prefectural Museum of Yayoi Culture. For those who appreciate traditional arts, a Sumo wrestling match as well as Noh and Kabuki stage performances are a must.
What are the best things to do in Osaka?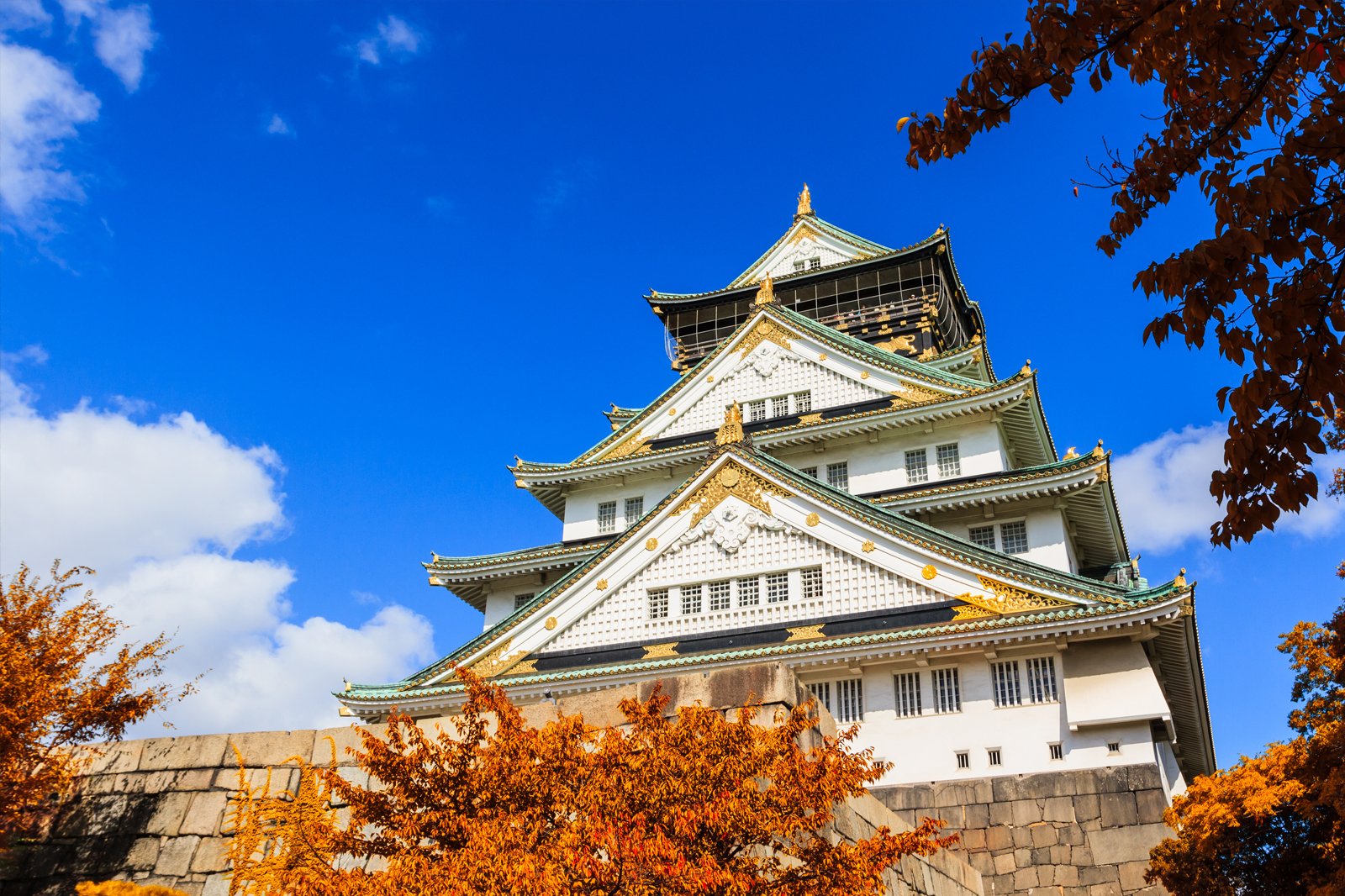 Osaka Castle, like many old Japanese castles and temples, has been damaged and rebuilt several times throughout its history, and is actually one of the finest castles left in Japan nowadays. Osaka Castle was founded in 1583, but was rebuilt in 1931. Its top floor offers splendid views of the city. Every spring, travellers from near and far visit the castle grounds to admire the beautiful cherry blossoms as well as for the vividly coloured leaves in autumn. The castle's museum, located inside the main building, has a massive collection of about 10,000 historical items such as swords, armour, portraits, lacquerware, multi-coloured woodblock prints and folding screens.
Location: 1-1 Osakajo, Chuo Ward, Osaka, Osaka Prefecture 540-0002, Japan
Open: Daily from 9am to 5pm
Couples
Families
History
Photo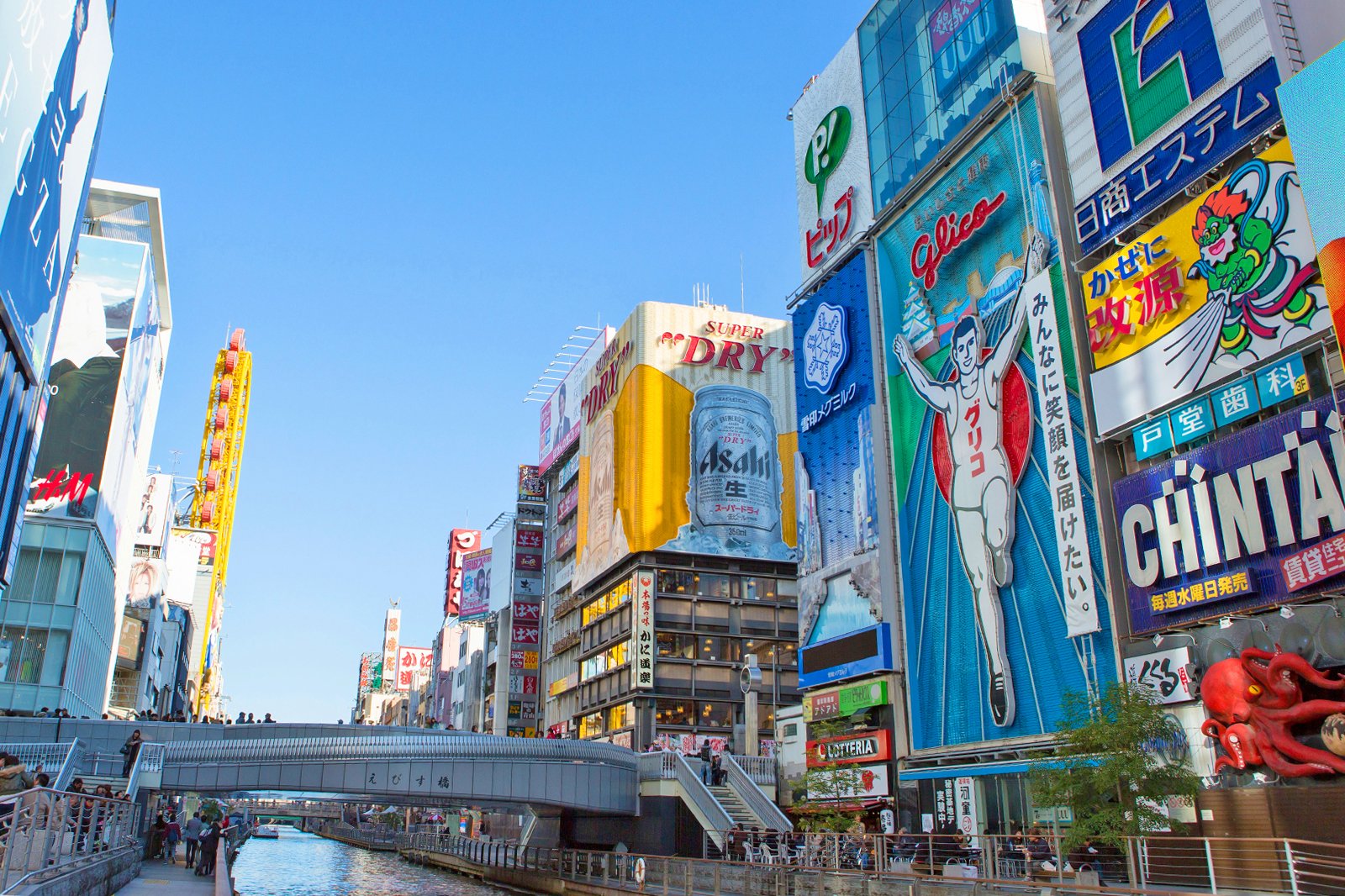 This famous landmark is the most well-known commercial district in Osaka. It features countless shops, restaurants and entertainment centres. Many tourists come here at night, mainly for the food, and to grab a few photos in front of the popular 'Glico Man' (Glico is one of the biggest Japanese snack companies), a large neon advertising sign in Dotonbori, as well as other flashing adverting signboards. You can reach Dotonburi by taking the subway to Namba station. It's just a few minutes' walk from the station.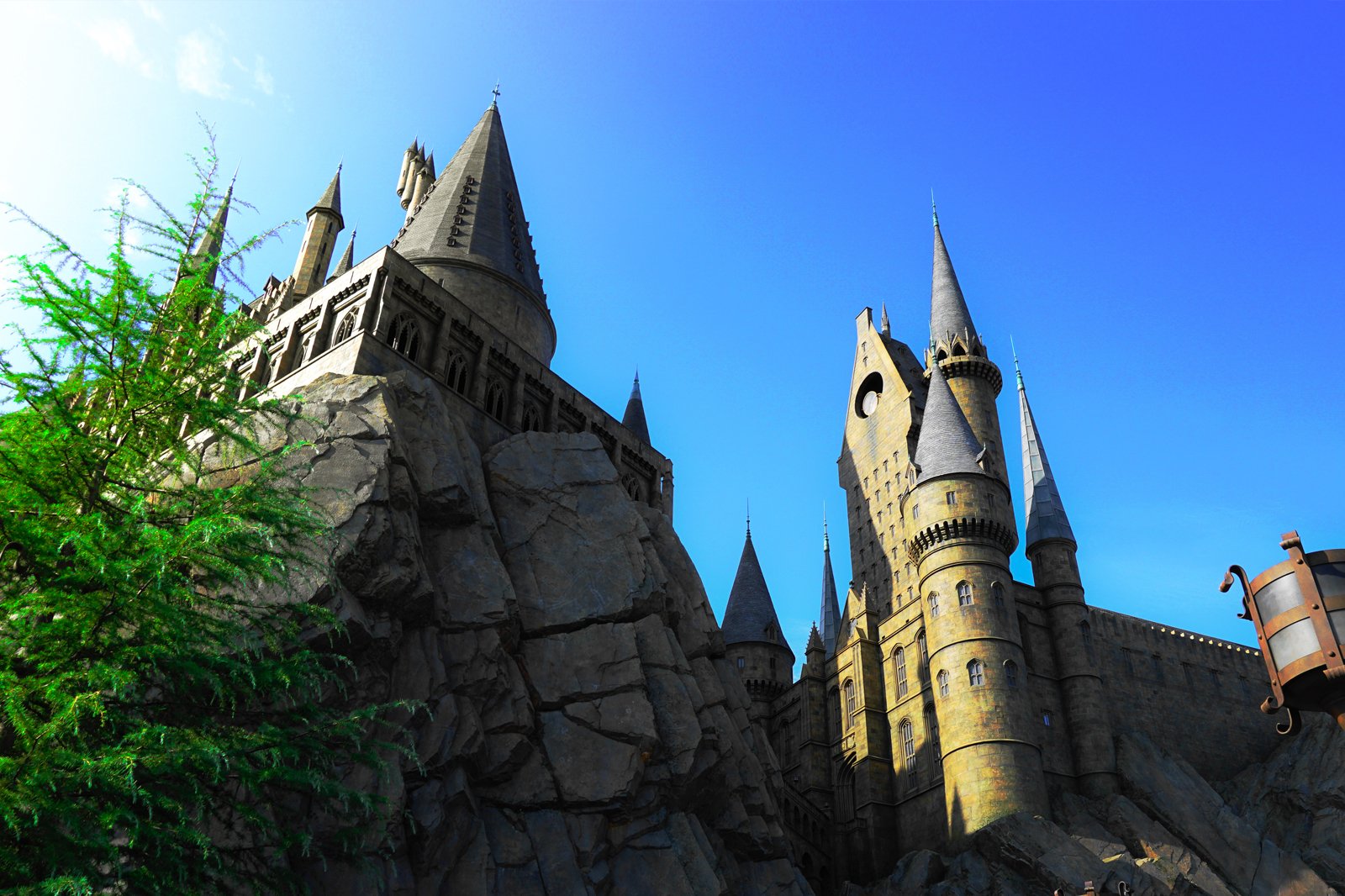 Universal Studios Japan is a fun place for families, especially for the little ones. Meet famous characters like Snoopy, Shrek, and Popeye, and enjoy many exciting rides based on famous movies. Popular rides include Jurassic Park, Jaws and Spiderman. You will never go hungry while at this theme park. Food selections range from Japanese to western and light meals as well as desserts and ice creams. Expect to queue about 20 minutes per attraction, longer for the more popular rides/attractions. Try to plan you visit on a weekday to have more of the park to yourself.
Location: 2 Chome-1-33 Sakurajima, Konohana Ward, Osaka, Osaka Prefecture 554-0031, Japan
Open: Daily from 8.30am to 10pm
Phone: +81 (0)570-200-606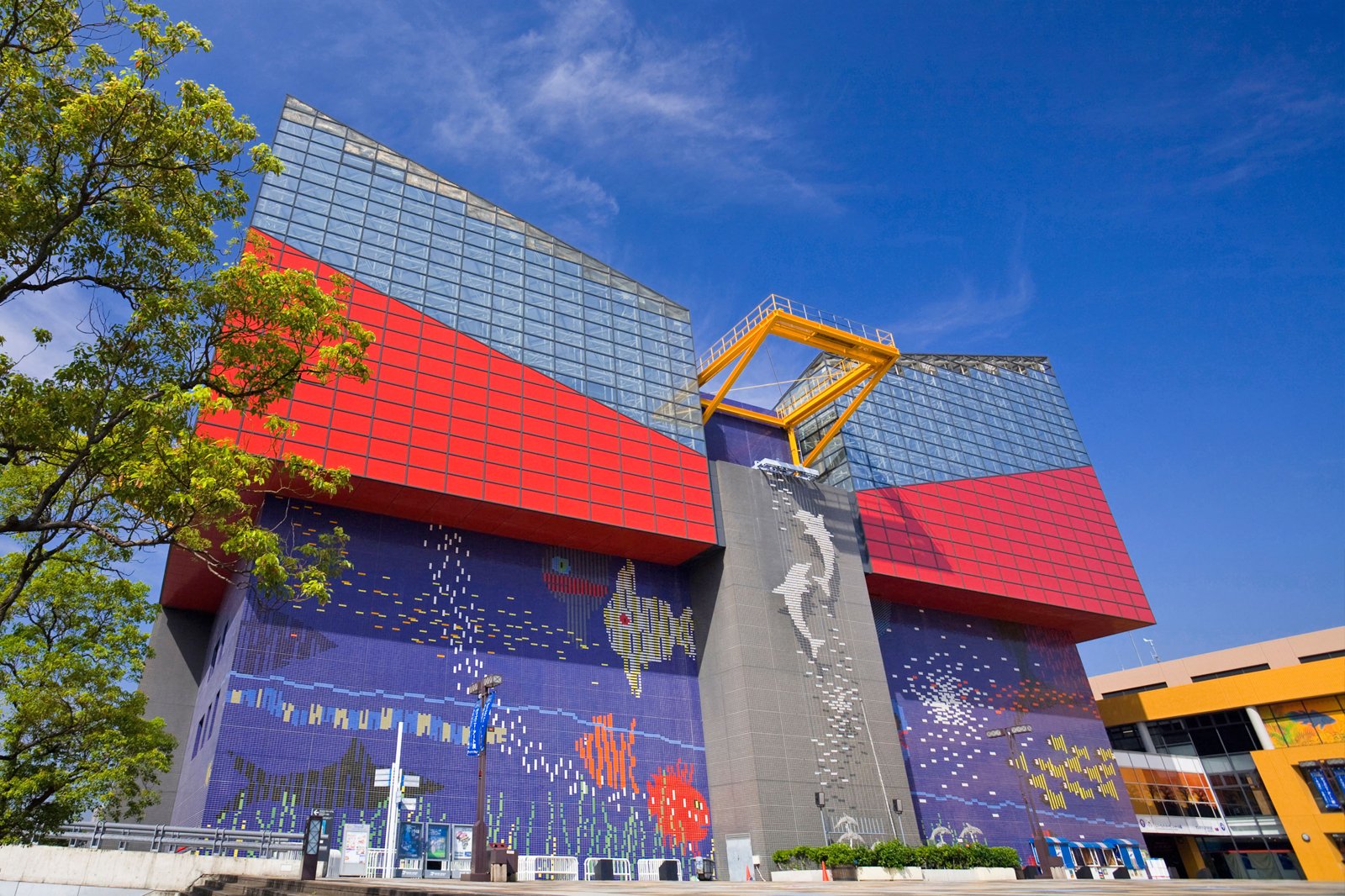 Osaka Aquarium Kaiyukan is one of the largest aquariums in the world. It features all kind of interesting marine creatures, ranging from whale sharks to sea lions and penguins, jellyfish, sea otters, turtles, manta rays, Japanese giant spider crabs, harbour seals and a tropical reef exhibit. The aquarium tank is made from acrylic glass sheets, giving visitors the impression that they are also underwater, along with the creatures exhibited. English-speaking audio guides are available for rent. It's best to avoid visiting on public holidays and weekends as the aquarium can be very crowded.
Kaiyukan Osaka Aquarium is located in Tempozan Harbor Village and is surrounded by many leisure activities including a giant Ferris wheel and the Market Place, where you'll find plenty of shops and restaurants.
Location: 1 Chome-1-10 Kaigandori, Minato Ward, Osaka, Osaka Prefecture 552-0022, Japan
Open: Daily from 10am to 10pm
Phone: +81 (0)6-6576-5501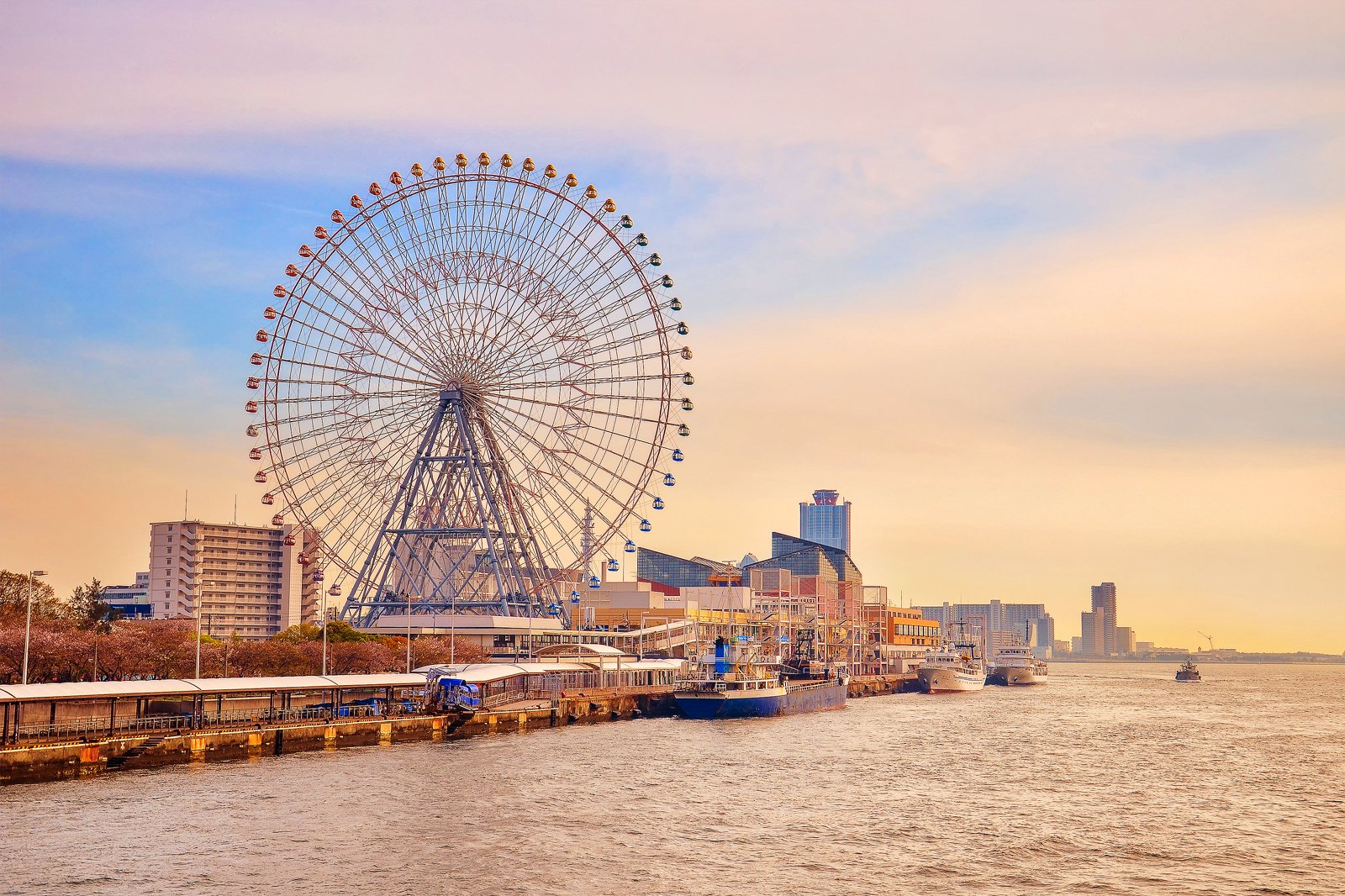 This giant Ferris wheel is run by the same company as Osaka Aquarium Kaiyuka, and is located nearby in the Tempozan Harbour Village. It is 112.5 metres high and takes about 15 minutes to complete a full turn. Made up of 60 cabins, each has room for 8 people and it's wheelchair friendly. Tempozan Ferris Wheel is a fun way to catch panoramic views of Osaka Bay and surrounding areas, such as the Ikoma Mountains to the east, Akashi Strait Pearl Bridge to the west, Kansai International Airport to the south, and Rokko Mountains to the north. You will hear commentary in both Japanese and English explaining each of the sights.
Location: 1 Chome-1-10 Kaigandori, Minato Ward, Osaka, Osaka Prefecture 052-0022, Japan
Open: Daily from 10am to 10pm
Phone: +81 (0)6 6576 6222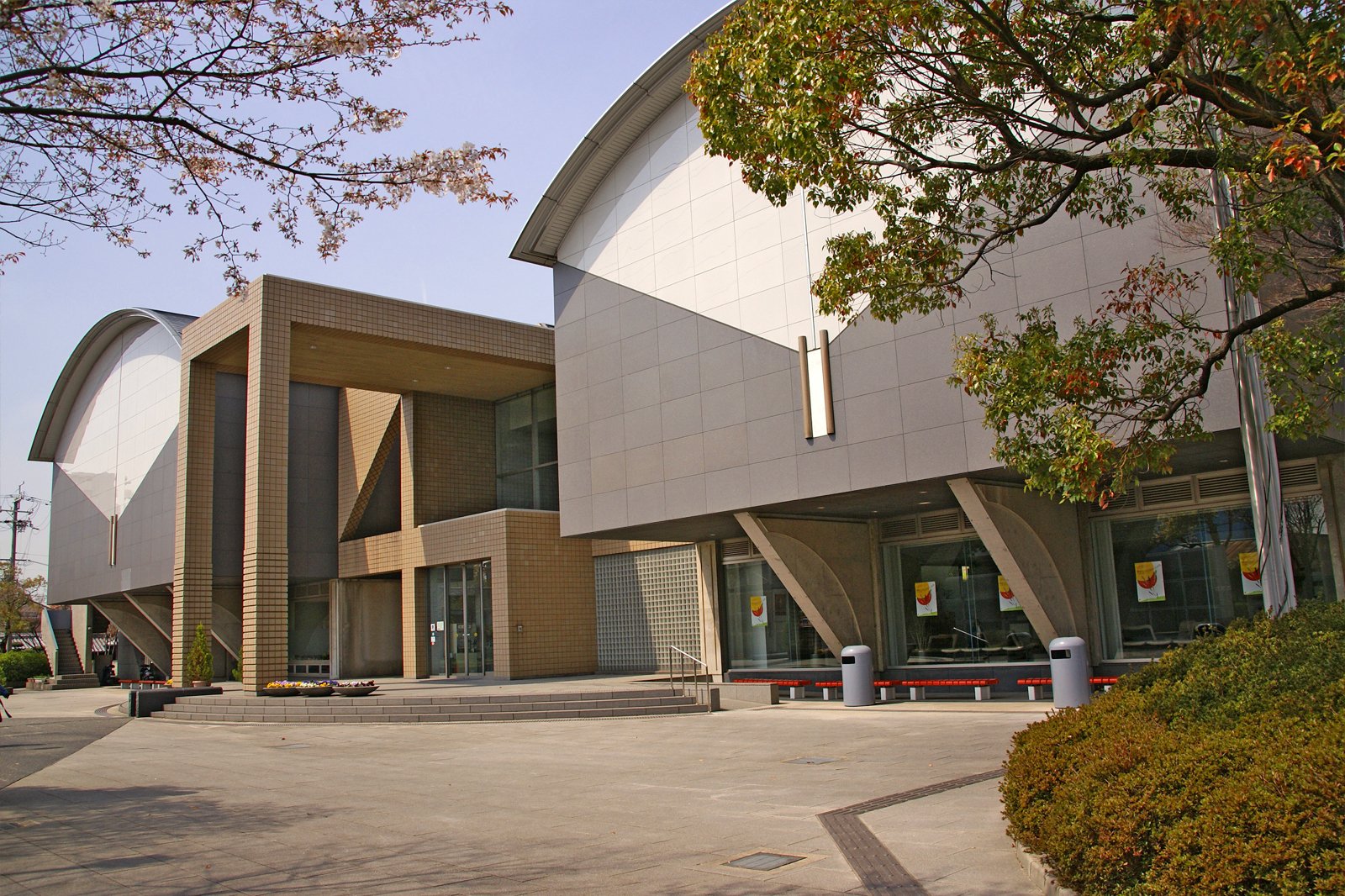 Osaka Prefectural Museum of Yayoi Culture
This interesting museum features Japanese culture of the Yayoi Period which prevailed in Japan from 300 BC to AD 250. The museum successfully recreates the general aspects of Yayoi culture by means of many media including a model of Himiko's Mansion (the first queen in Japan history), a model of Yayoi's rice fields in autumn, earthenware, vessels and pottery. After learning about this ancient culture, have a look at Ikegami-Sone Ruins next door. The museum is walking distance from Shinodayama Station.
Location: 4 Chome-8-27 Ikegamicho, Izumi, Osaka Prefecture 594-0083, Japan
Open: Tuesday – Sunday from 9am to 5pm (closed on Mondays)
photo by 663highland (CC BY-SA 3.0) modified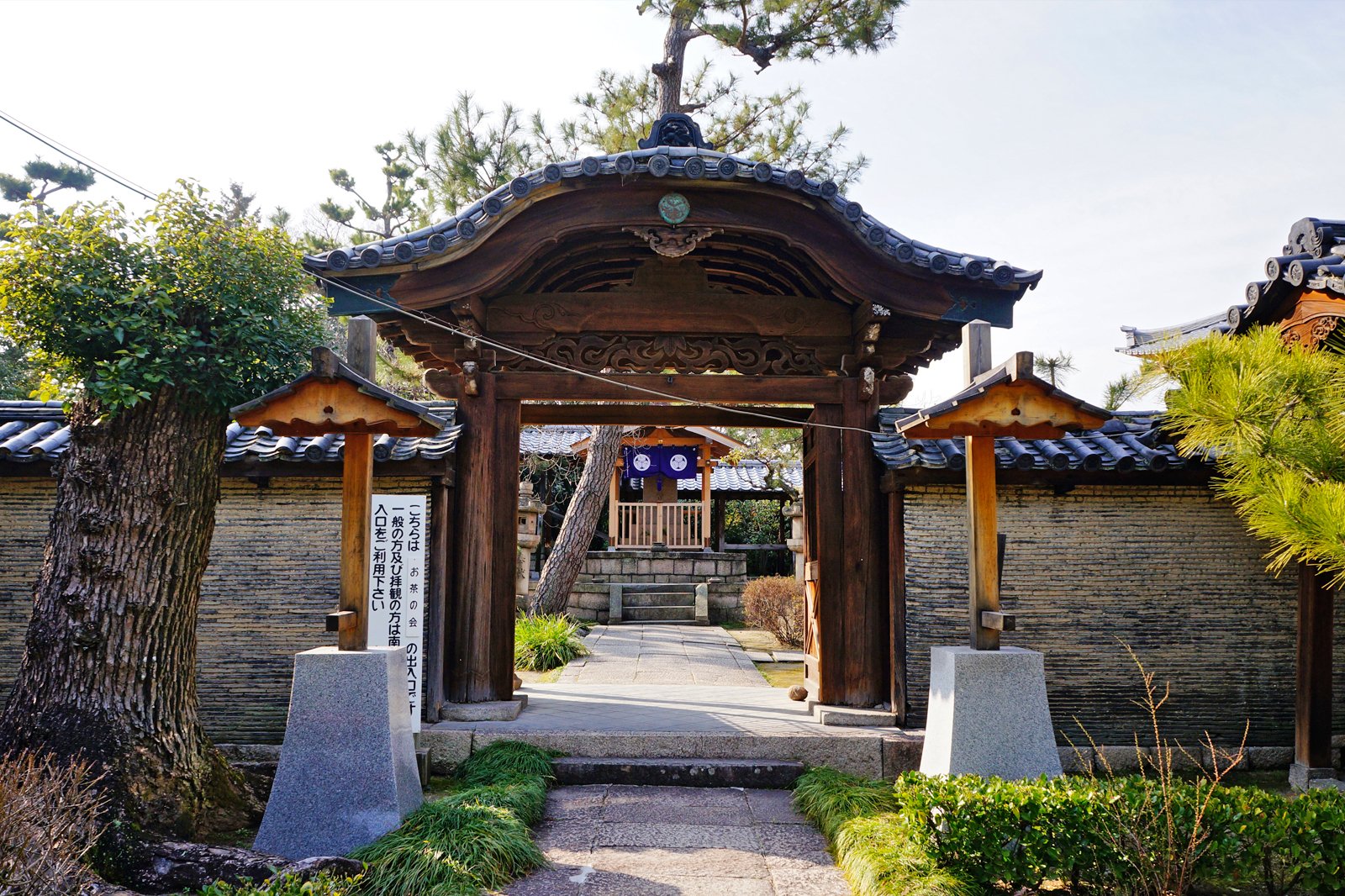 This temple was built in 1557 by Nagayoshi Miyoshi, the warlord who ruled Sakai at that time. The temple is well known as the place where Sen no Rikyu, the country's top tea master, created and started the Tea Ceremony. Nanshuji was burned down and eventually rebuilt in 1617. Visitors will find a beautiful Zen garden, a teahouse and a pagoda in the temple grounds. Nanshuji Temple is around 10 minutes' walk from Goryomae Station on the Hankai Line.
Location: Minamihatagochohigashi, Sakai Ward, Sakai, Osaka Prefecture 590-0965, Japan
Open: Daily from 9am to 4pm
photo by 663highland (CC BY-SA 3.0) modified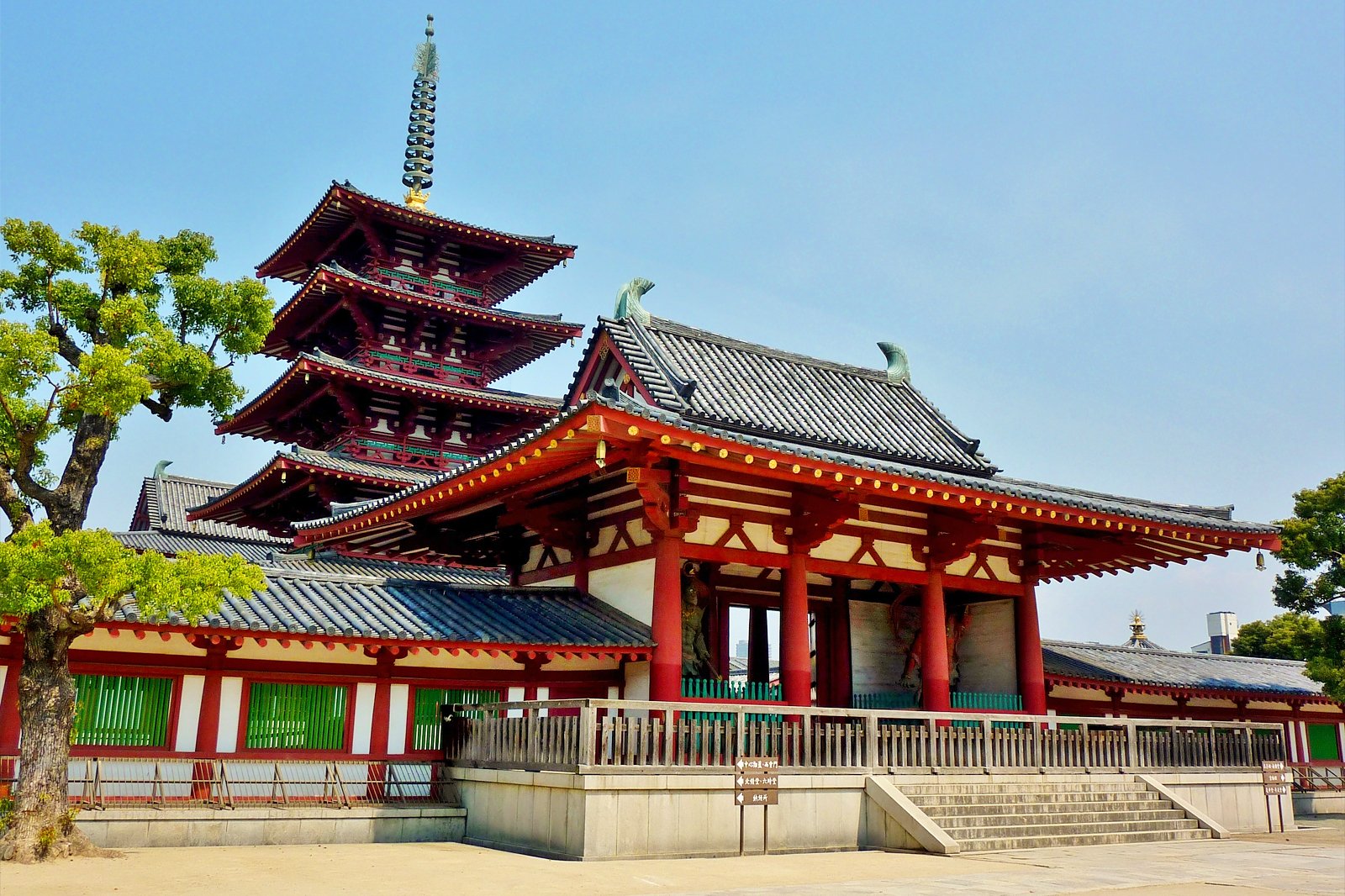 The oldest officially established temple in Japan, Shitennoji Temple is regarded as the spiritual heart of Osaka. It was constructed in 593 by Prince Shotoku, who is credited with introducing Buddhism to Japan. Throughout the ages its wooden buildings have been ravaged by war and by fire, and every time they were destroyed locals would faithfully reconstruct them according to the original plans. Major draws are the Main Gate, the five-story Buddhist Pagoda, and the Main Golden Hall. Locals go to Shitennoji in great numbers to pay respect to Prince Shotoku, who remains a revered, popular figure even today. There's also a turtle sanctuary. But the best thing to do here is to stroll through the temple's Japanese landscape garden, with its manicured bushes, meandering streams, and waterfall.
Location: Shitennoji, Tennoji Ward, Osaka, Osaka Prefecture 543-0051, Japan
Open: Daily from 8.30am to 4.30pm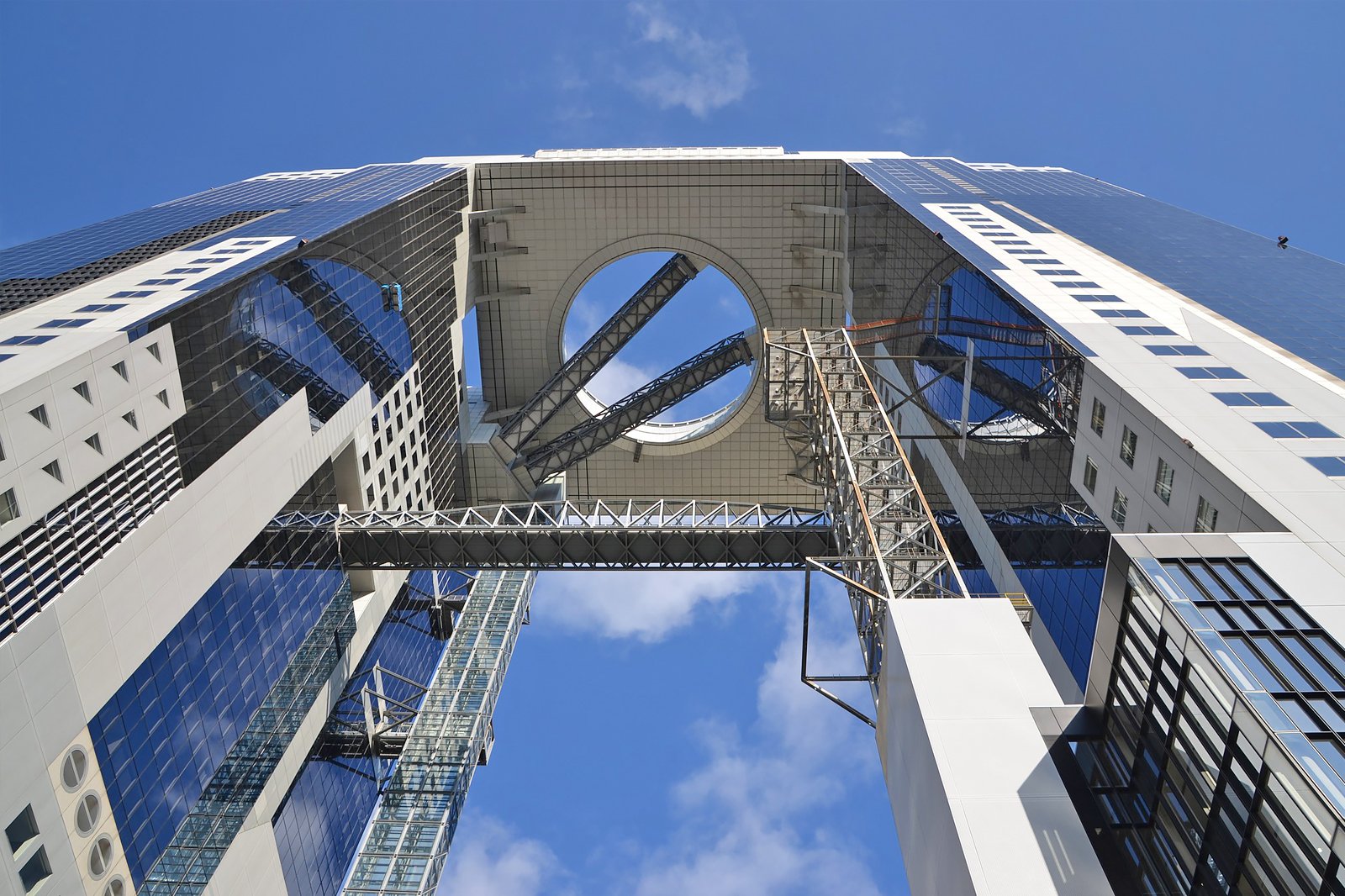 Umeda Sky Building Floating Garden Observatory
This futuristic project hanging between the twin towers of the Umeda Building affords fantastic views out over the cityscape. At 170 metres high and on the 39th floor it's quite an experience to be up there. Even going up towards the 360-degree view is an event in itself as the elevator and escalator are both transparent. This exhilarating experience is not for those afraid of heights. Located within walking distance of Osaka station, it's easy to find this unique landmark.
Location: 1 Chome-1-8 7 Oyodonaka, Kita, Osaka, Osaka Prefecture 531-6023, Japan
Open: Daily from 9.30am to 10.30pm (last entry is 10pm)
Phone: +81 (0)6-6440-3900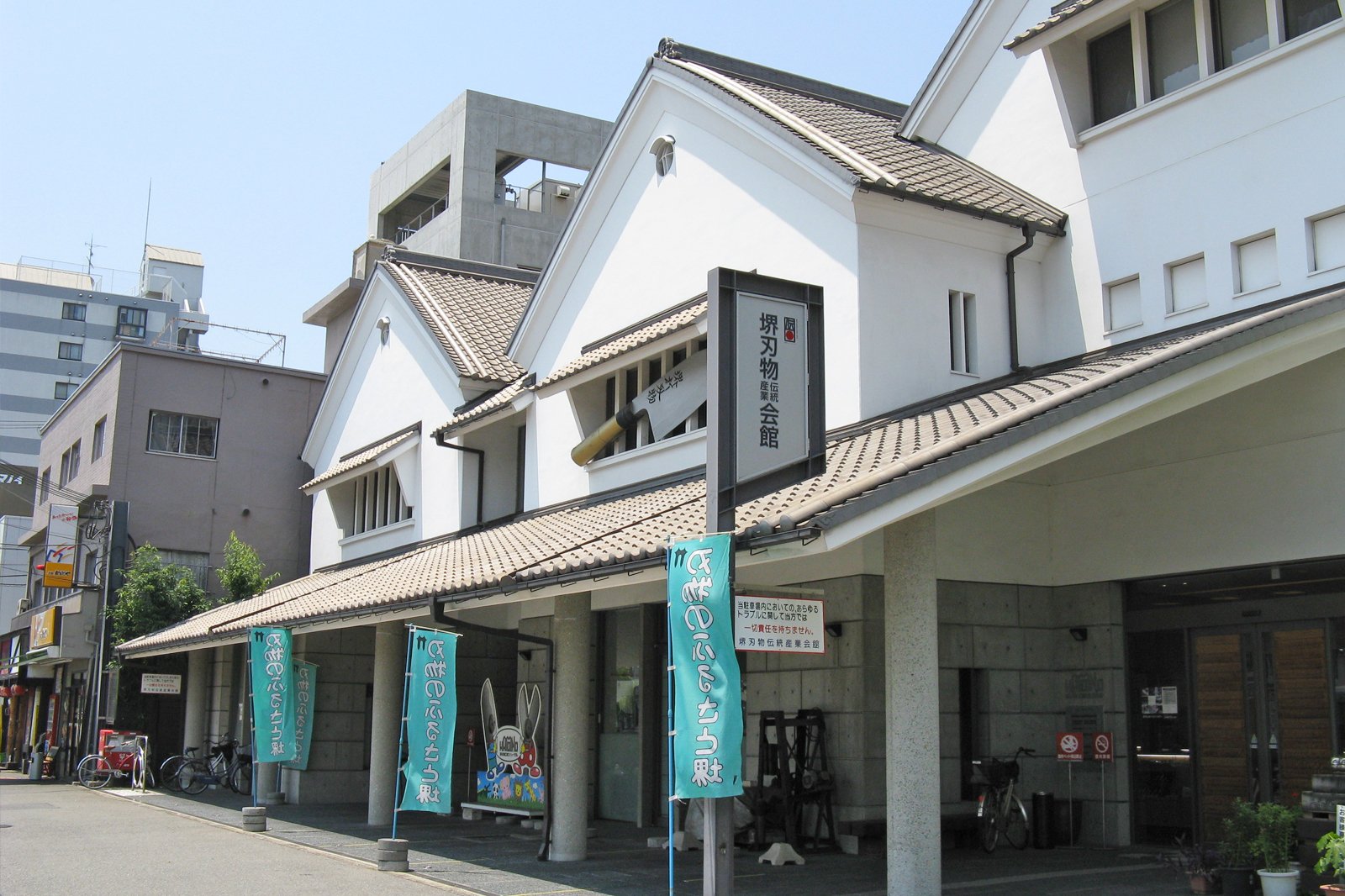 A trip to Sakai Hamono Museum is like visiting a knife shop and a cutlery museum at the same time. It is a good place to learn more about the Japanese traditional knife-making industry as well as to shop for top-quality knives and more. It;s said that the majority of kitchen knives in the country come from this area. Don't miss a chance to learn why Sakai knives are so popular. Sakai is around 15 minutes south of downtown Osaka. Take the JR Hankai Line and get off at Myokokujimae Station. The museum is only about a three-minute walk.
Location: 1-30 Zaimokuchonishi, Sakai Ward, Sakai, Osaka Prefecture 590-0941, Japan
Open: Wednesday - Monday from 10am to 5pm (closed on Tuesdays)
Phone: +81 (0)72-227-1001
photo by KENPEI (CC BY-SA 3.0) modified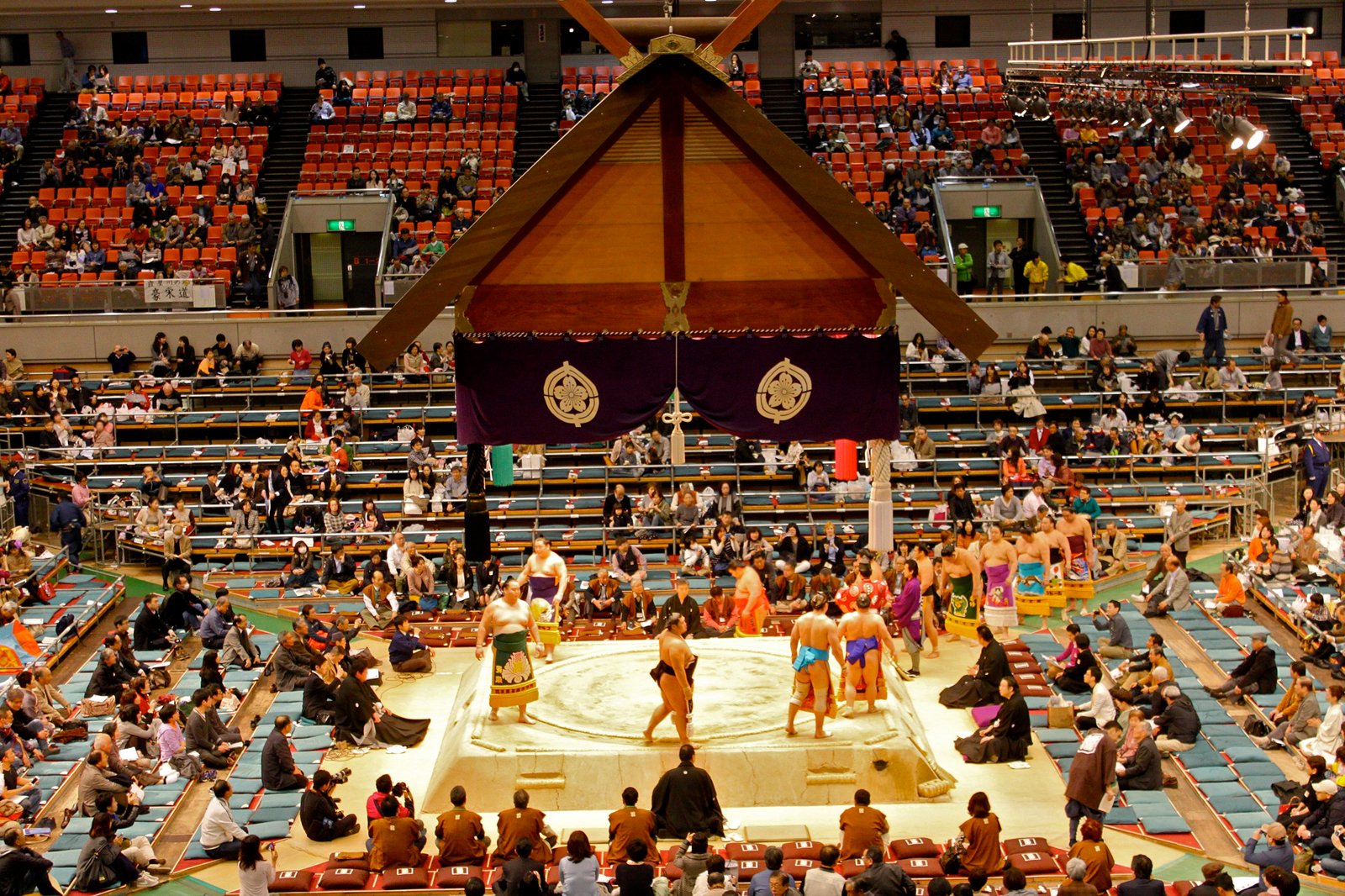 Osaka Grand Sumo Tournament
If you plan to be in Osaka in the last two weeks of March, try to catch a Japanese sumo wrestling tournament. The Sumo Spring Basho is the only competition of the year to take place in Osaka. It's an exciting and culturally fascinating experience. This popular traditional sport has been part of Japanese culture since ancient times. There are many fights in the course of one day and each fight lasts only a few seconds, or on rare occasions, for about a minute. Sumo wrestling in Osaka is held in the Osaka Prefectural Gymnasium, close to Namba station.
Location: Osaka Prefectural Gymnasium, 3 Chome-4-3 6 Nanbanaka, Naniwa Ward, Osaka, Osaka Prefecture 556-0011, Japan
Open: In March for 15 days each tournament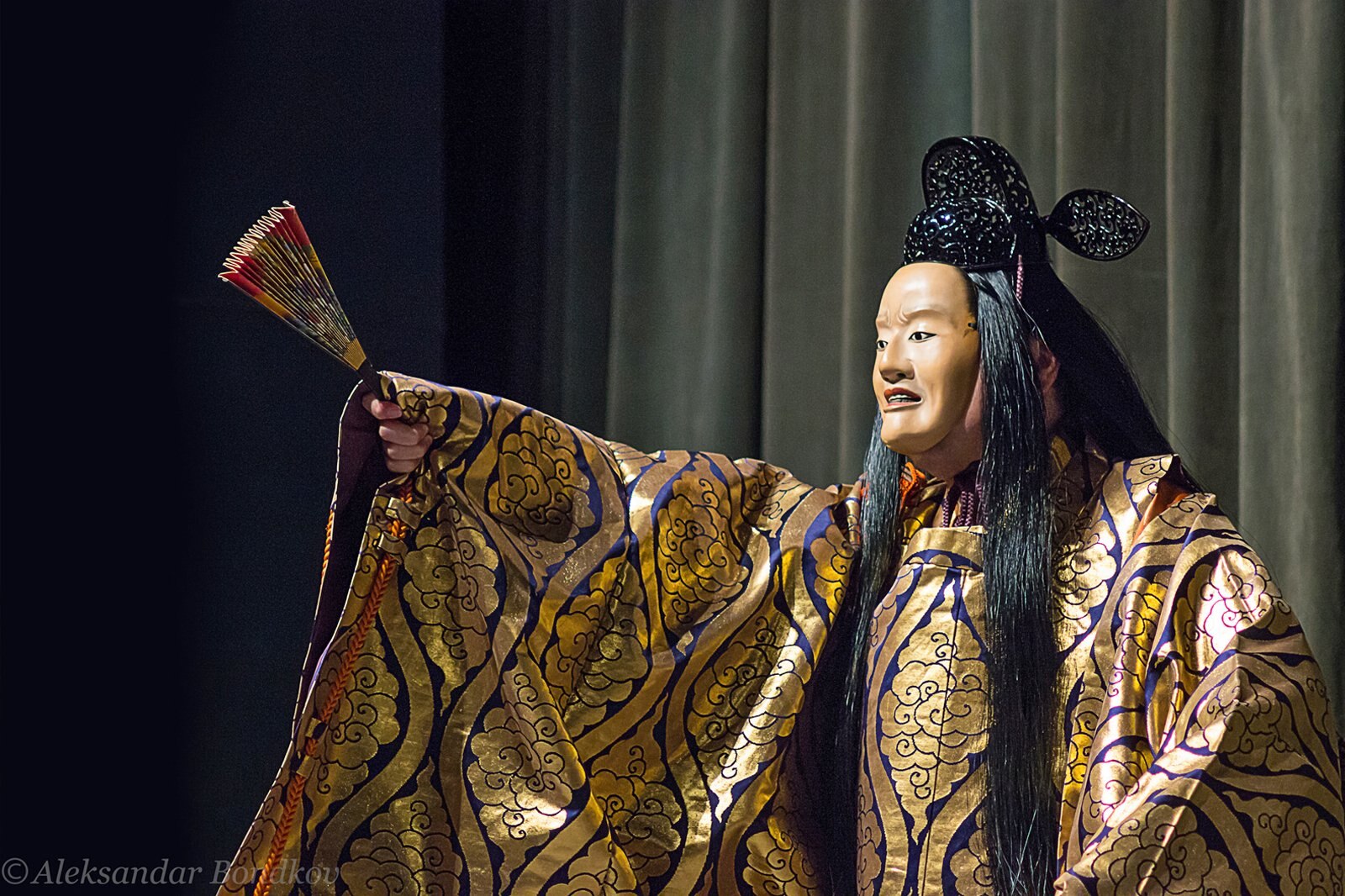 Traditional Japanese Theatre
You can witness the richness of Japanese traditions through artistic performances like Noh and Kabuki live theatre.
Noh dates back more than 700 years and is probably the only ancient performing art that is still performed in its original style. You can see this masked drama at Ohtsuki Noh Theatre, close to Osaka Castle.
Kabuki has colourful costumes, interesting dances, music and stories that deal with many subjects, including wars, loyalty and love affairs. The shows cover a variety of characters, from war lords or samurais, to common people like farmers and merchants. The best place to see Kabuki in Osaka is at Shochikuza Kabuki Theatre. It's easy to find close to Namba station.
photo by Aleksandar Bondikov (CC BY 2.0) modified