10 Great Laotian Dishes
What to Eat in Laos
Laotian dishes are very similar to Thailand and Vietnam in terms of flavour and ingredients, which often consist of fresh herb, spices, noodles, and rice. Khao niaw (sticky rice) is a staple food among the Laotians. Traditionally steamed in a cone-shaped bamboo basket, the rice is then placed in a covered basket, where it is eaten by hand alongside spicy soup, and meat-based dishes. Eating in Laos is also a communal activity, where dishes are shared by all at the table.
Aside from local delicacies, Laos' capital Vientiane is serviced by good French restaurants and cafes – a remnant of the country's colonial era. If you're looking to savour authentic dishes during your holiday, check out this list of must-try foods in Laos.
Kaipen (or kai paen) is a type of Laotian snack made with freshwater green algae harvested from the Mekong in northern Laos. After a rinse, the algae is pressed into paper-thin sheets and seasoned with sliced garlic and sesame seeds, before it's left to dry in the sun.
The best way to eat kaipen by frying the sheets until crispy and having it with jaew bong – this dipping sauce is a combination of roast chilli and thin pieces of buffalo skin.
photo by joaquin uy (CC BY 2.0) modified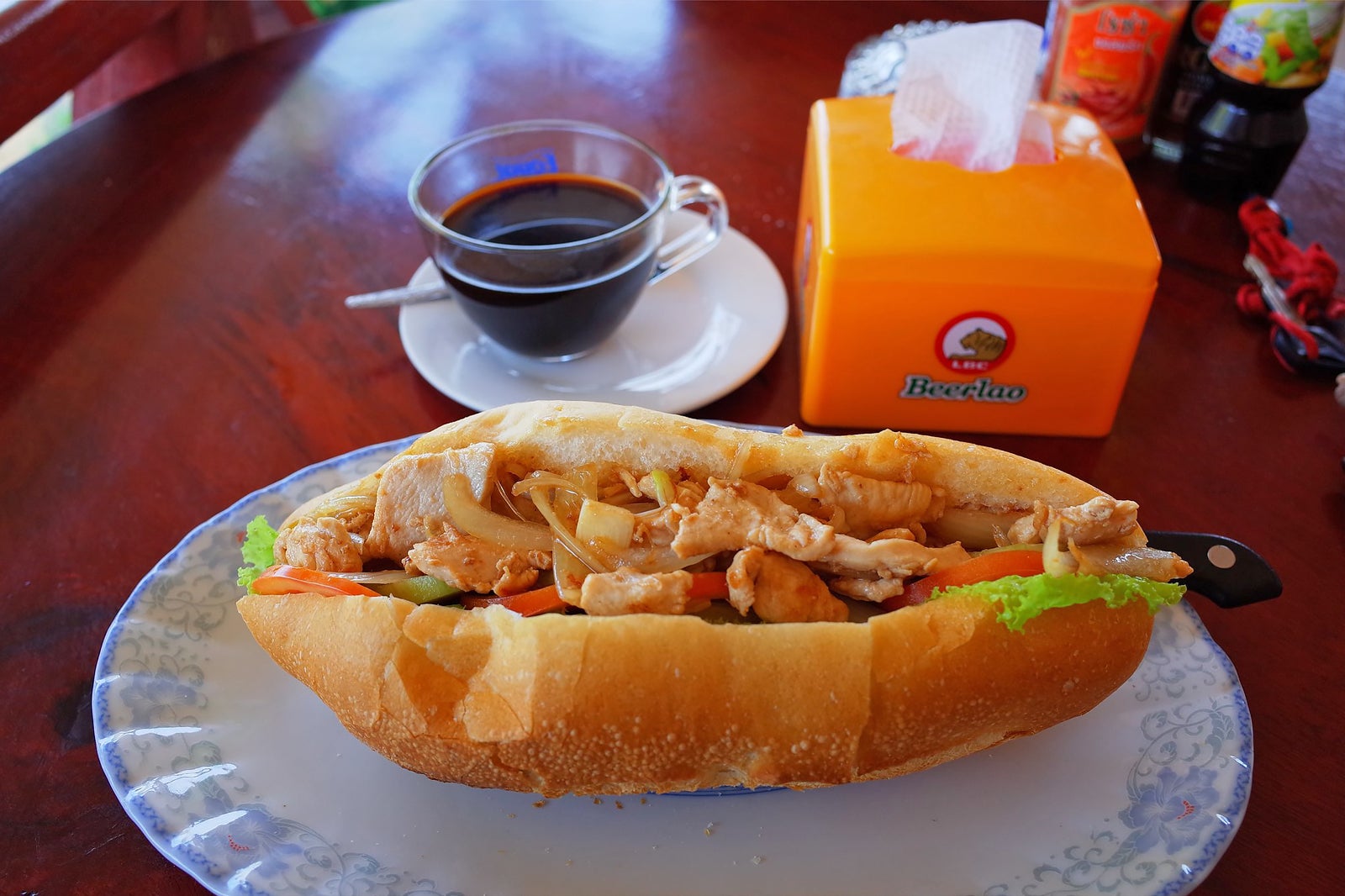 Khao jee is similar to the Vietnamese banh mi – you'll get a baguette stuffed with lettuce, sliced tomatoes, carrot, onion, moo yor (pork lunchmeat), chopped ham, and topped with pâté or chilli sauce.
You'll find many road vendors selling this portable Laos street food at rather cheap prices. Khao jee is often enjoyed for breakfast, together with a cup of strong filtered coffee.
photo by Basil Strahm (CC BY 2.0) modified
3
Khao Poon (Spicy Noodle Soup)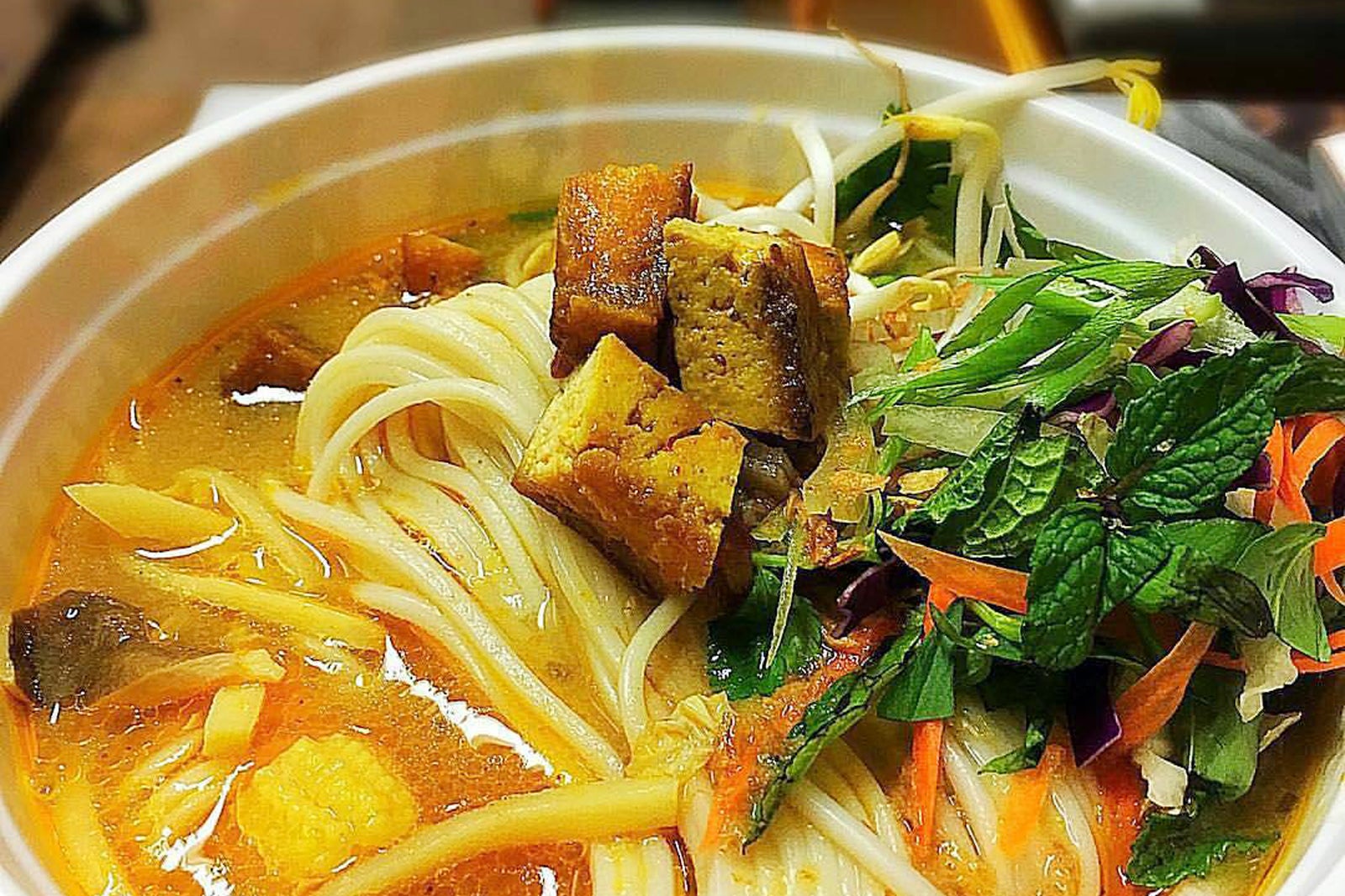 Khao poon is a type of comfort food in Laos, consisting of rice vermicelli noodles in a spicy soup. The long-simmered soup is made of pounded meat (chicken, fish, or pork), fish sauce, garlic, shallots, chillies, lime leaves, galangal, and perilla leaves.
You also get an assortment of toppings such as shredded cabbage, shallots, spring onion, coriander, mint leaves and string beans.
photo by Yellow Green Farmers Market (CC BY 2.0) modified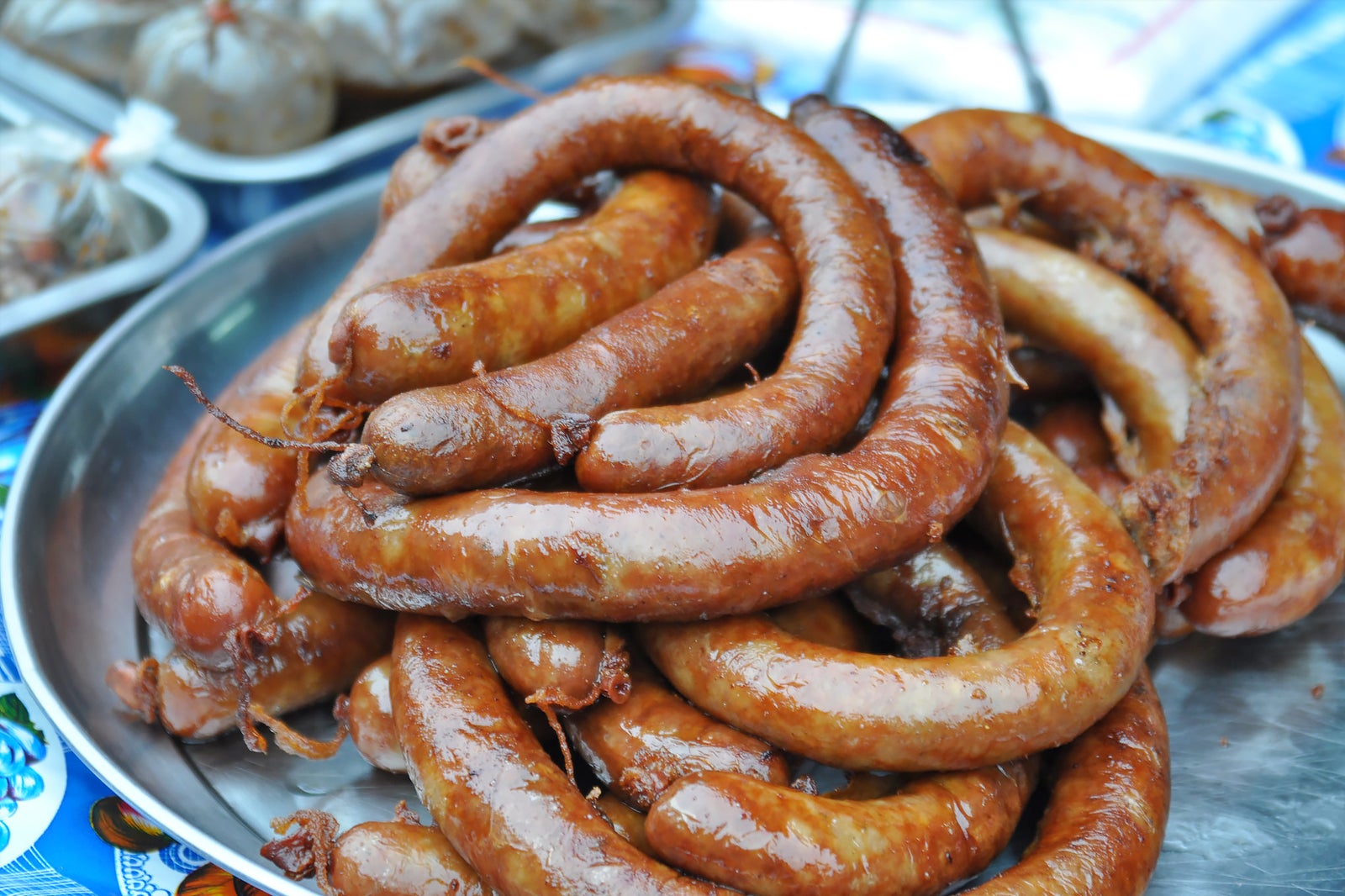 Sai gok (Lao sausage) is a popular Laotian appetiser that's often eaten with sticky rice and fresh vegetables. It's usually made with chopped pork meat and seasoned with lemongrass, galangal, kaffir leaves, shallots, cilantro, chillies, and fish sauce. You can find sai gok hanging on hooks at local markets and roadside stalls in Laos.
photo by shankar s. (CC BY 2.0) modified
5
Larb (Minced Meat Salad)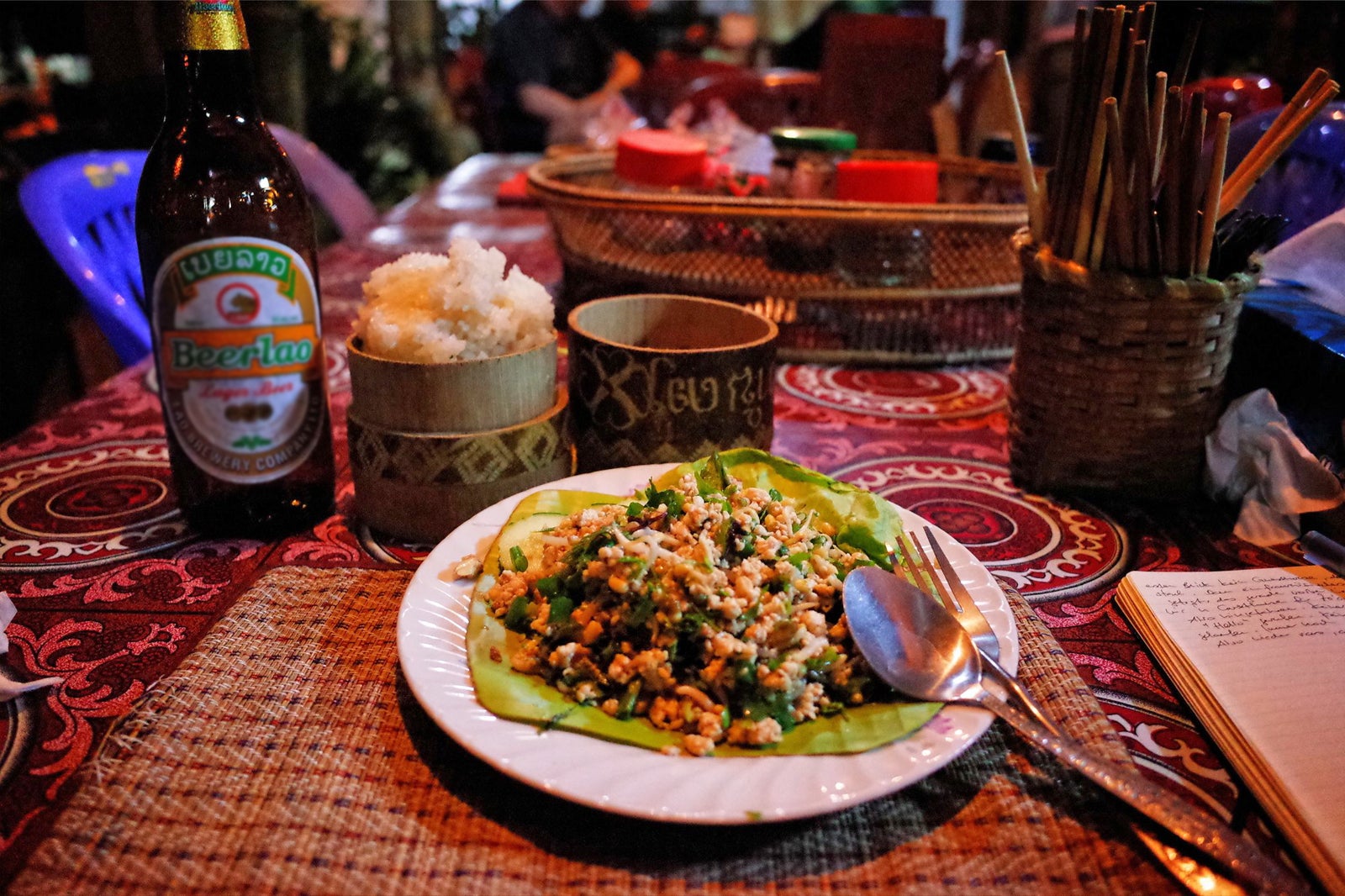 Larb or laap is widely considered as Laos' national dish – this meat-based salad is flavoured with mint leaves, chilli, fish sauce, and lime juice, giving it a zesty flavour. Most restaurants use pork or chicken to make larb, but you can also enjoy it with minced beef, duck, or fish.
Like most Laotian dishes, locals enjoy this salad with sticky rice and various side dishes.
photo by Basil Strahm (CC BY 2.0) modified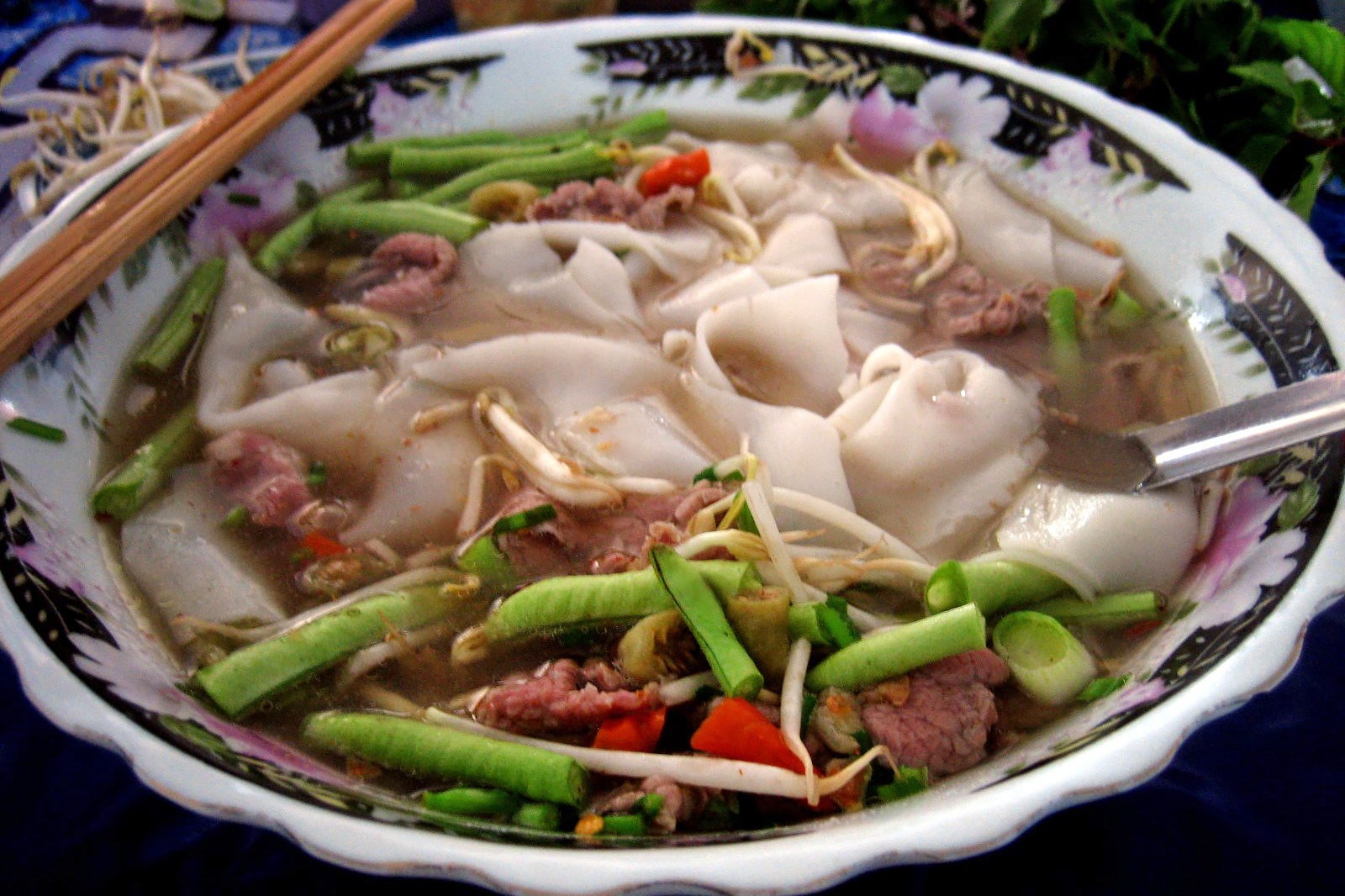 Laos pho is a beef noodle soup that originates from Vietnam, but is also commonly eaten by the local population. It has thin slices of beef, pork, or chicken, tripe, meatballs and sometimes innards (heart, liver, or tongue). You can choose to have it with flat or thin rice noodles. Laos pho is often topped with chilli oil, lime juice, bean sprouts, long beans, holy basil, and cilantro.
photo by Prince Roy (CC BY 2.0) modified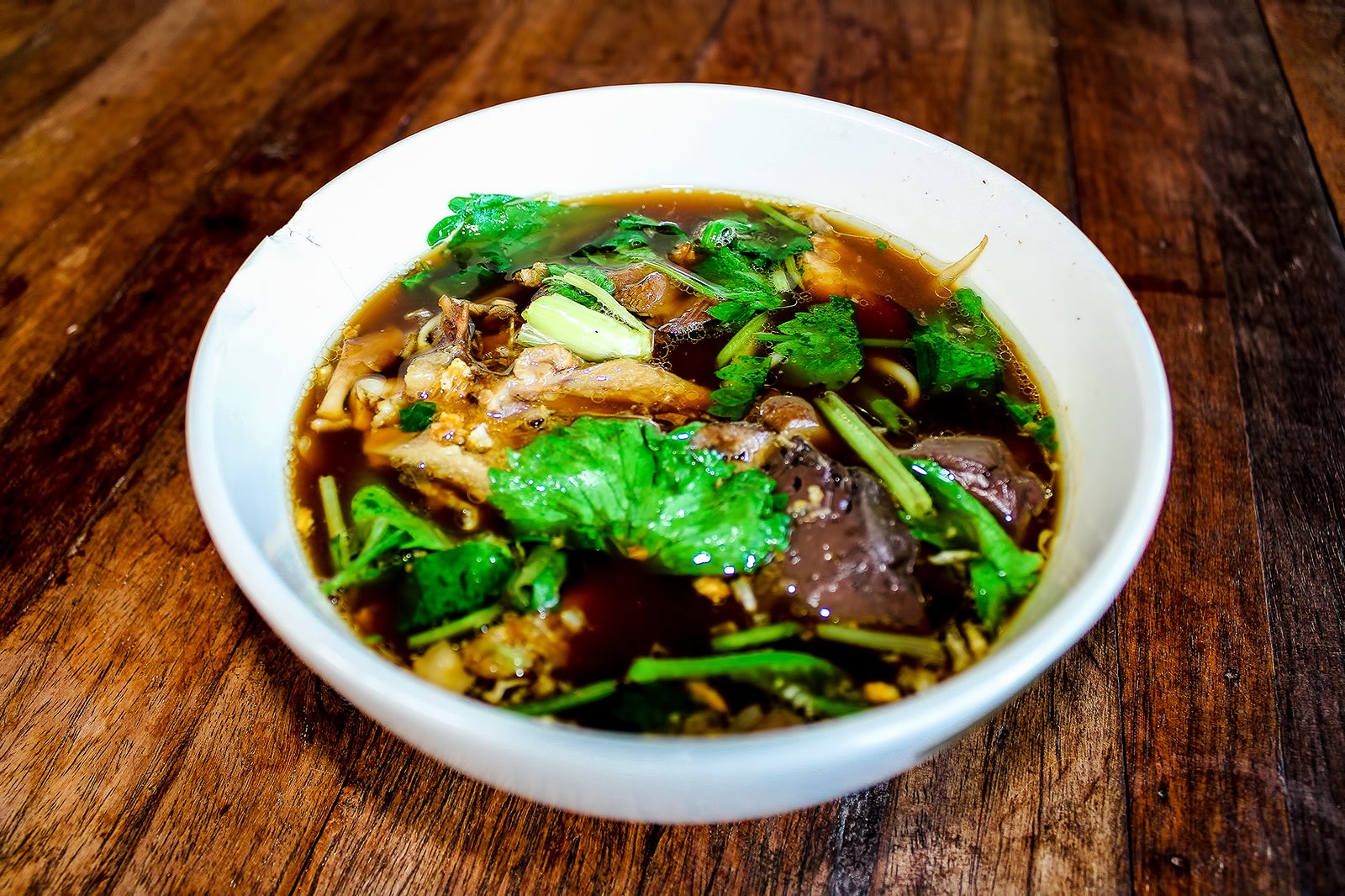 Or lam is a mildly spicy and thick Lao stew that originates from Luang Prabang. It contains beans, eggplant, lemongrass, basil, chilies, wood ear mushrooms, cilantro, and green onion.
A unique ingredient in this stew is mai sa kaan a locally grown vine that's not exactly edible (you're supposed to chew and spit it out). Or lam also contains dried buffalo meat, beef, or chicken meat.
8
Sien Savanh (Lao Beef Jerky)
Sien savanh is often eaten as a snack together with Beerlao (lagers produced by the Lao Brewery Company). Similar to beef jerky, it's made using beef flank steak (some places use water buffalo meat) that's marinated in a mixture of garlic, fish sauce, ginger, sesame seed, sugar, salt and black pepper.
The strips are then left in the sun until dried. Locals enjoy sien savanh by grilling it over a charcoal stove for a smoky flavour, before eating it with sticky rice or jaew maak len (a tomato-based chilli dip).
photo by Prince Roy (CC BY 2.0) modified
9
Som Moo (Preserved Pork Sausage)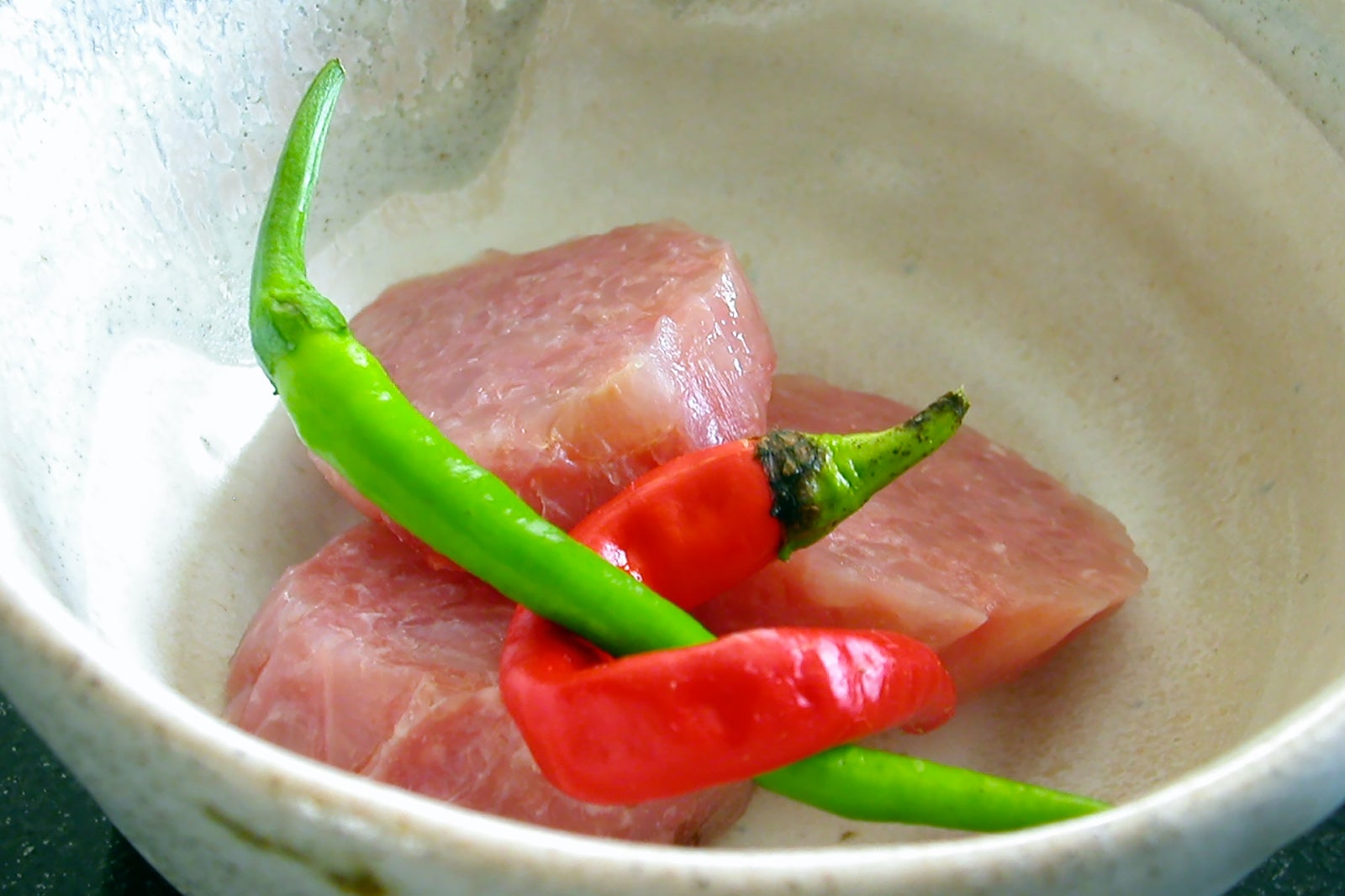 Som moo is made from chopped, fermented raw pork – including the rump and skin – wrapped in green leaves. Fresh chilies are usually mixed into the meat, which adds a spicy kick to this Laos appetiser.
You can enjoy it raw or grilled, though the raw version is preferable among locals. Enjoy som moo with raw cabbage leaves and string beans, which help reduce the sourness.
10
Tam Mak Hoong (Papaya Salad)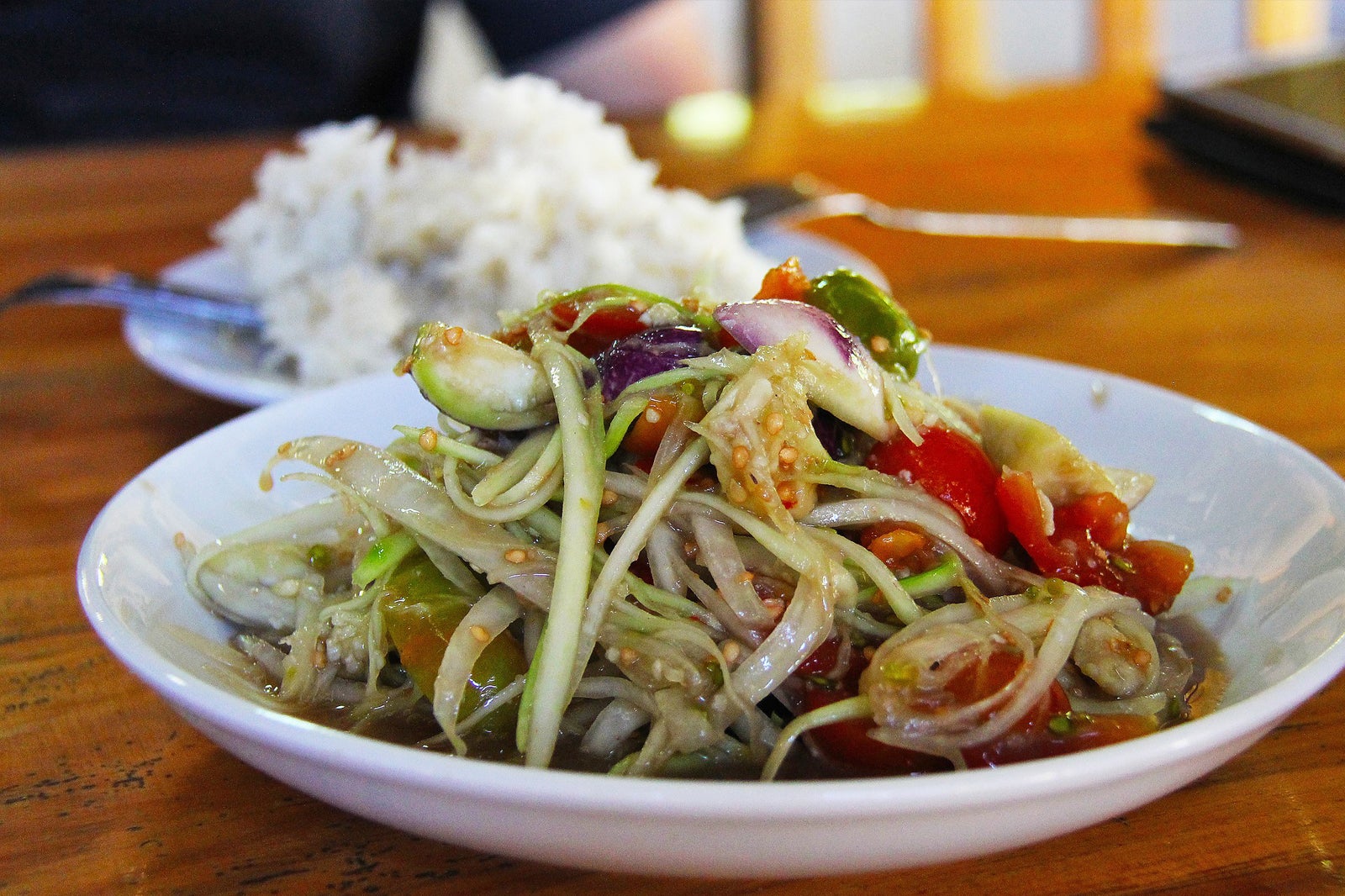 Tam mak hoong is similar to Thailand's som tam – shredded, unripe papaya, garlic, tomatoes, chilli, palm sugar, lime juice and fish sauce are pounded in a mortar. Unlike som tam, this Lao papaya salad omits peanuts but has fermented fish sauce and shrimp paste as the key ingredients.
It can be spicy to some, but you can tone down the spiciness by enjoying tam mak hoong with sticky rice.