14 Great Restaurants in Vientiane
Where and What to Eat in Vientiane
Restaurants in Vientiane include classy French and European venues, quaint cafes, and evening markets with dozens of food stalls in the city centre. Laos' capital has a vibrant and diverse culinary scene, meaning that even the most adventurous of appetites can easily be satisfied.
Take a walk around town and you'll find everything from swanky establishments presenting dishes resembling fine works of art, to local vendors serving up bowls of noodles by the riverfront – and pretty much everything in between. Check out this guide of where and what to eat in Vientiane for some of the city's great restaurants.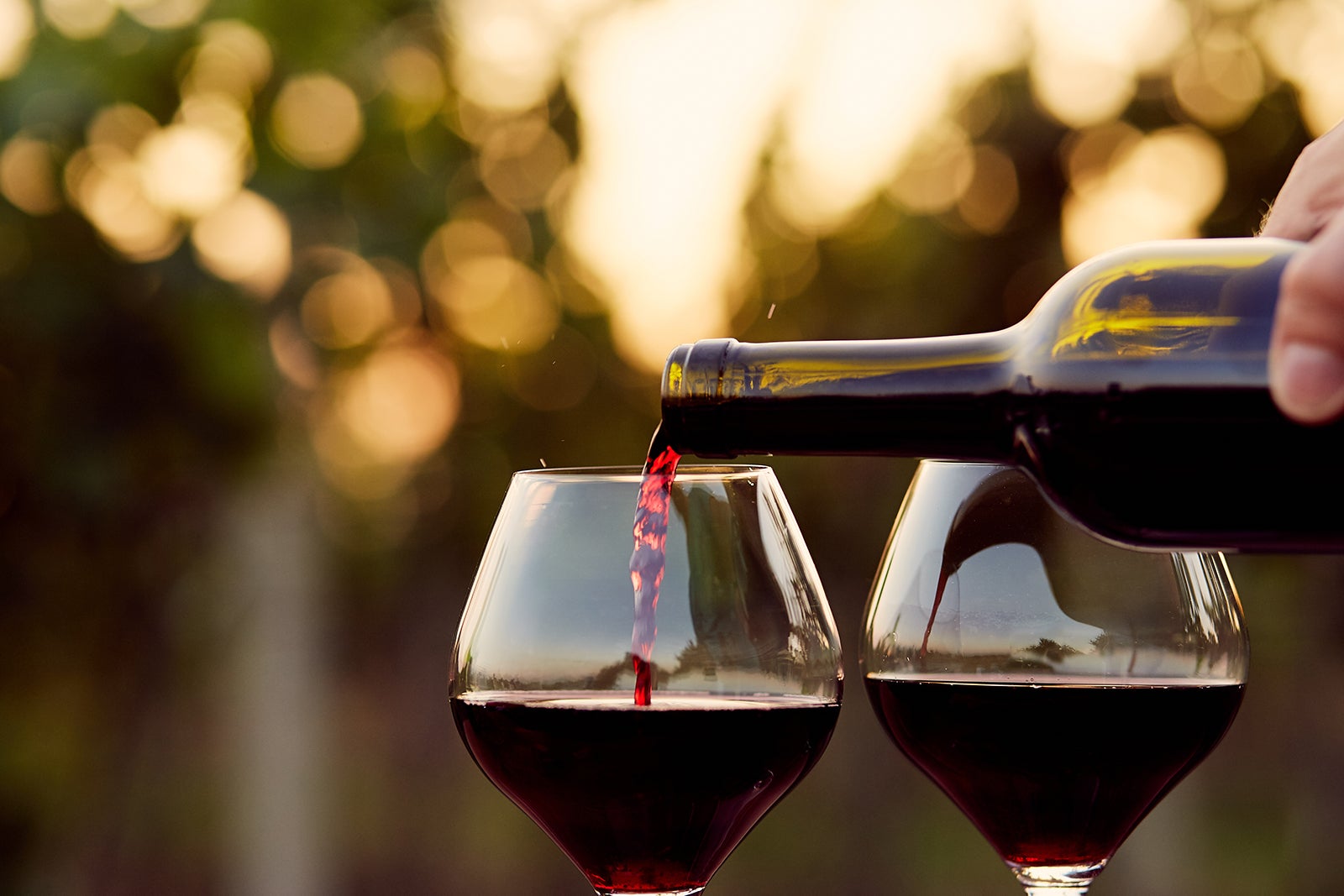 That Dam Wine House overlooks Vientiane's That Dam (black stupa) – it's particularly popular at night, when the ancient stupa is illuminated with spotlights. The restaurant serves Laotian and European dishes, as well as a cellar filled with international wines. Standouts include duck breast with orange sauce, Lao-style fried rice, red curry, and lamb tenderloin. Grab a seat at the secluded terrace, where you'll be surrounded by lush trees and plants.
Read more
Location: That Dam, Vientiane 0100 Laos
Open: Daily from 10 am to 10 pm
Phone: +856 21 217 368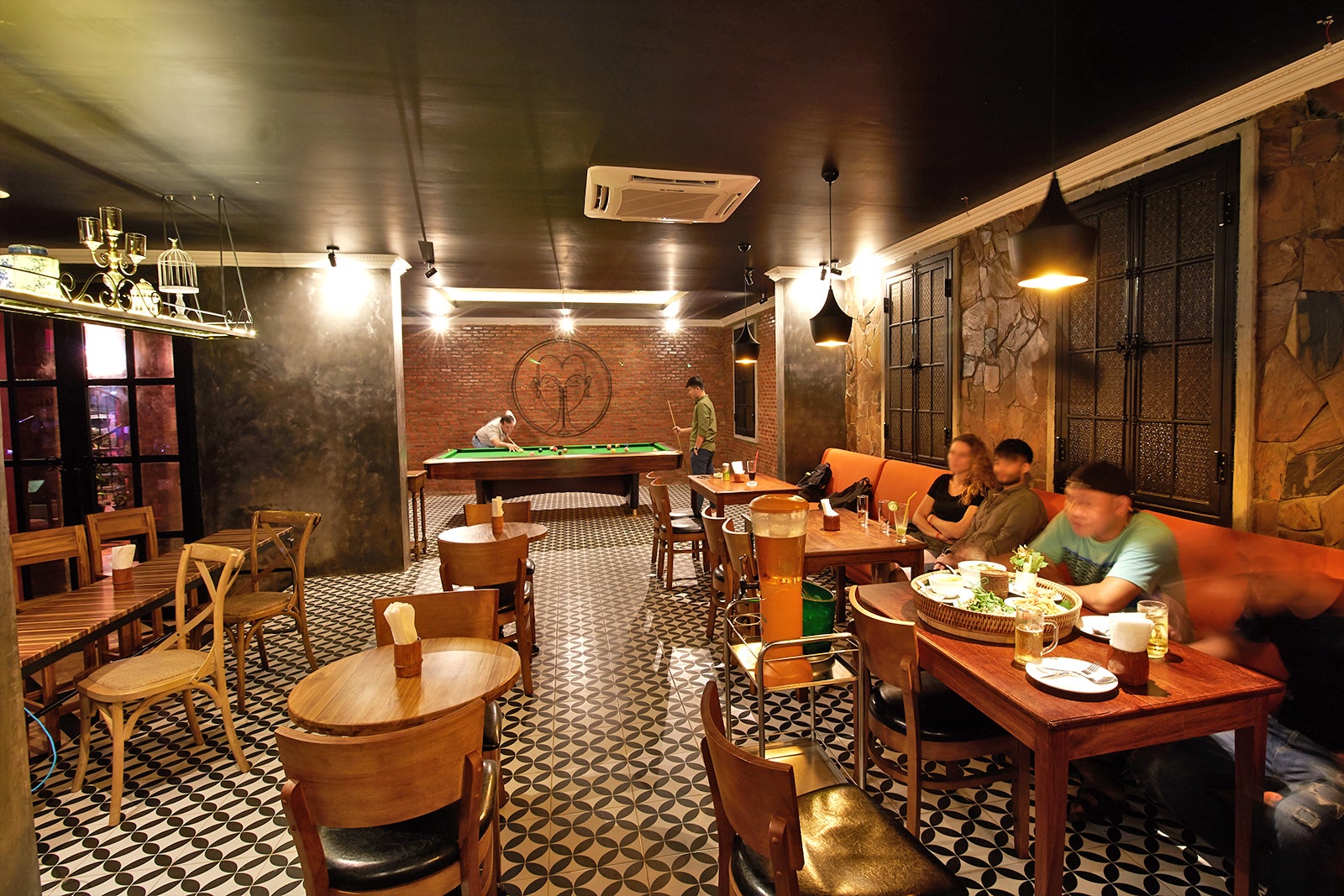 Khop Chai Deu occupies a colonial building close to the Nam Phu Fountain in central Vientiane. A favourite spot among expats, backpackers and tourists, the restaurant serves authentic Laos and international dishes – opt for the set menus of traditional Lao cuisine
The Discovery Lao set takes you through various short courses of typical Lao dishes with a glass of rice whiskey, while the Champasak set includes a sweet treat – mango with coconut rice. If you're craving western comfort food, Khop Chai Deu offers 9 types of pizzas, including a vegetarian option.
Location: 54 Sethathirat Road, Namphou, Vientiane, Laos
Open: Daily from 7 am to 11.30 pm
Phone: +856 21 263 829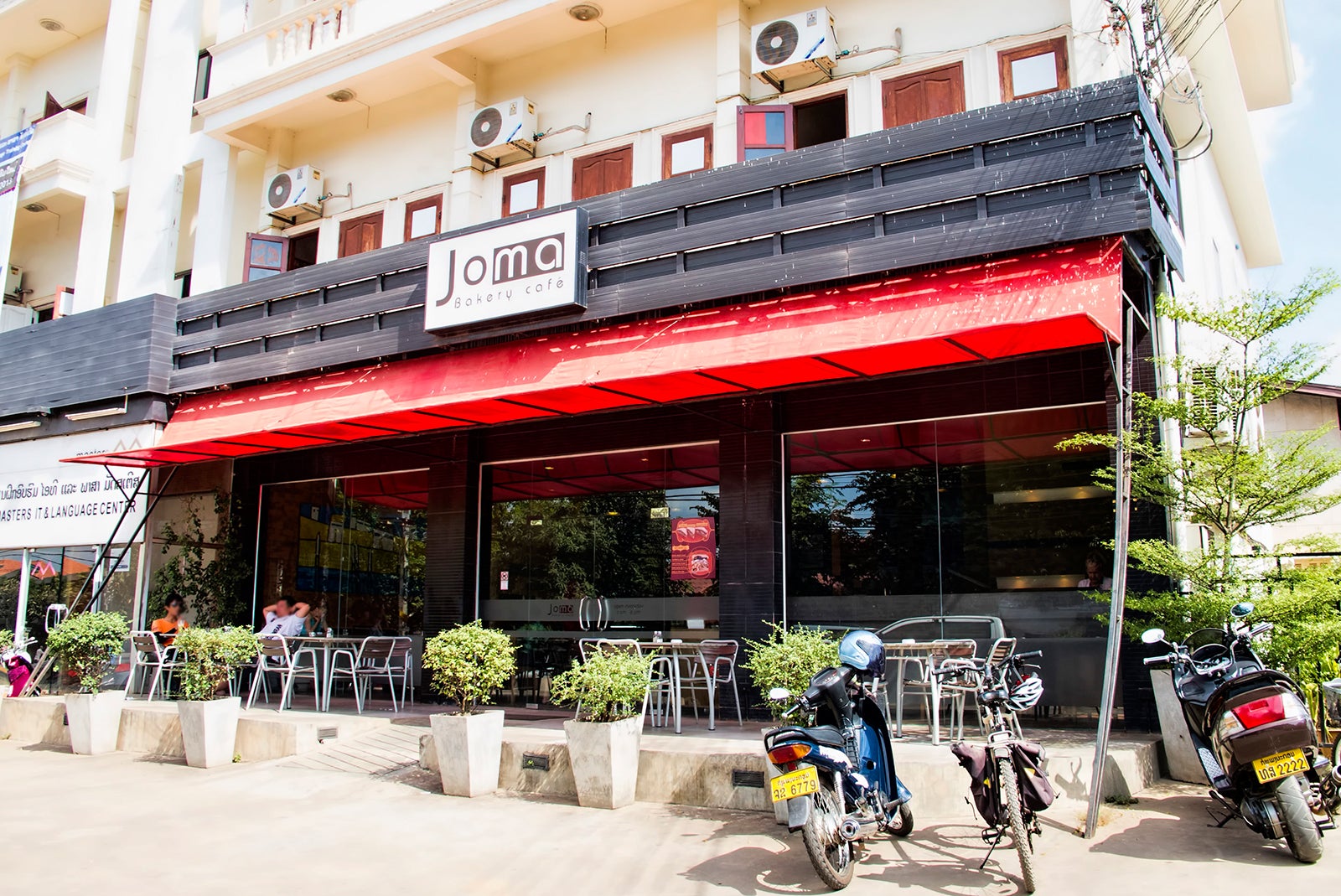 Joma Bakery Café is a popular spot for locals and expats craving for a cup of strong coffee to start the day. There are 3 outlets in central Vientiane, with several more in Cambodia and Vietnam. The café uses fair-trade organic coffee beans, as well as provide employment opportunities to disadvantaged people and victims of human rights. For breakfast, Joma Bakery Café has sweet and savoury options, including fruit salads, bagels, and sandwiches. You can also enjoy a variety of salads – standouts include the veggie and hummus plate, taco salad, and mango sesame salad.
Location: Nongbone and Singha Roads, Vientiane, Laos
Open: Daily from 7 am to 9 pm
Phone: +856 21 453 618
photo by Dan Lundberg (CC BY-SA 2.0) modified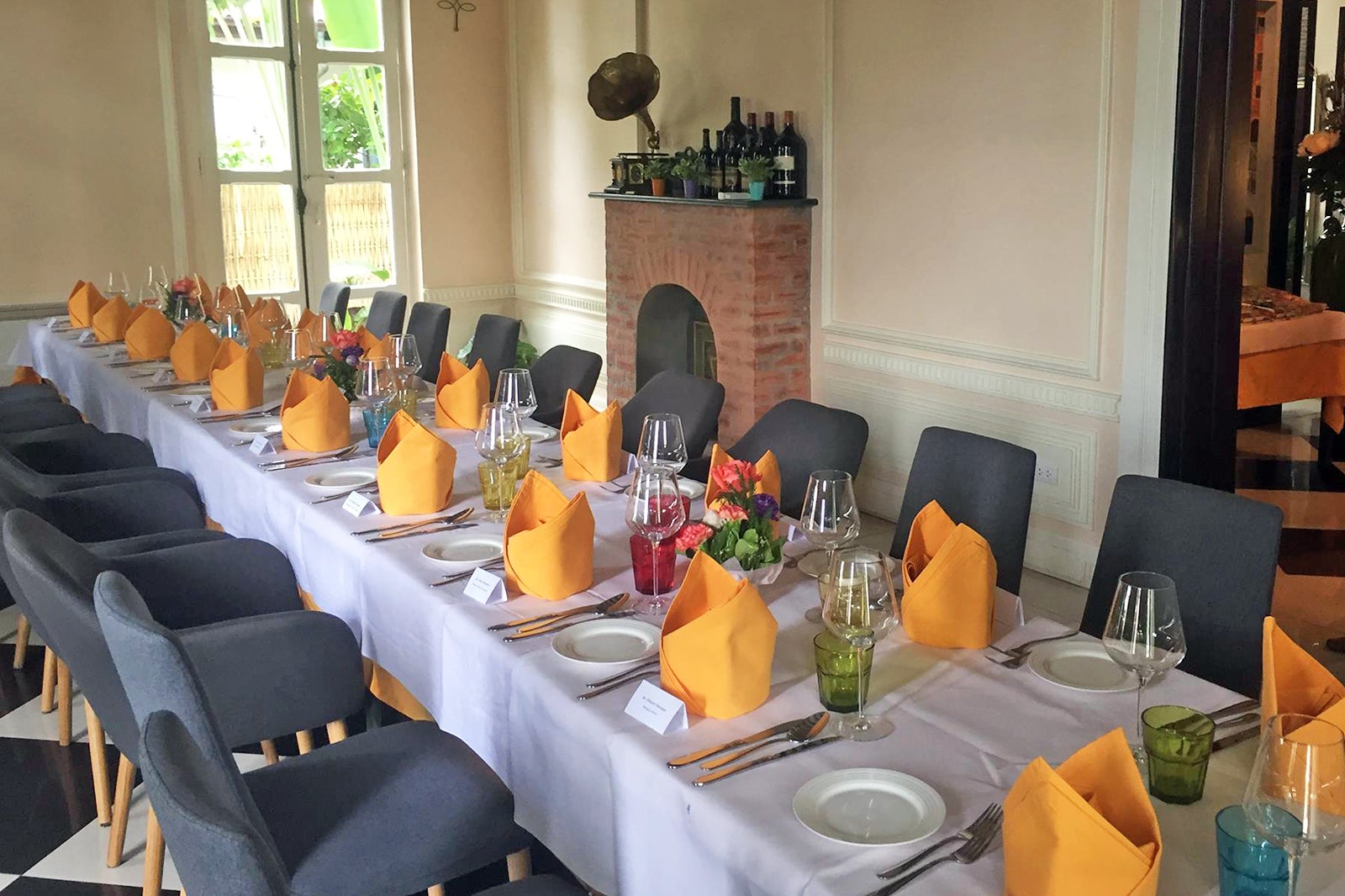 Villa Opera attracts locals and tourists with its affable staff, fine Italian cuisine, and extensive wine selection. This long-running restaurant occupies a refurbished French colonial villa dating back to 1930, with classy décor and furnishing that mirror that period.
Owner and host, Pino, is friendly and more than happy to introduce Villa Opera's dishes to diners – standouts include the Pizza Laos (tomatoes, cheese, chilies and Laos sausage), ravioli with tomato and cream sauce, and tiramisu.
Location: 42 Rue Panya Sri Si Thane Nuea, Vientiane 0100 Laos
Open: Daily from 11 am to 2 pm and from 6 pm to 10 pm
Phone: +856 21 215 099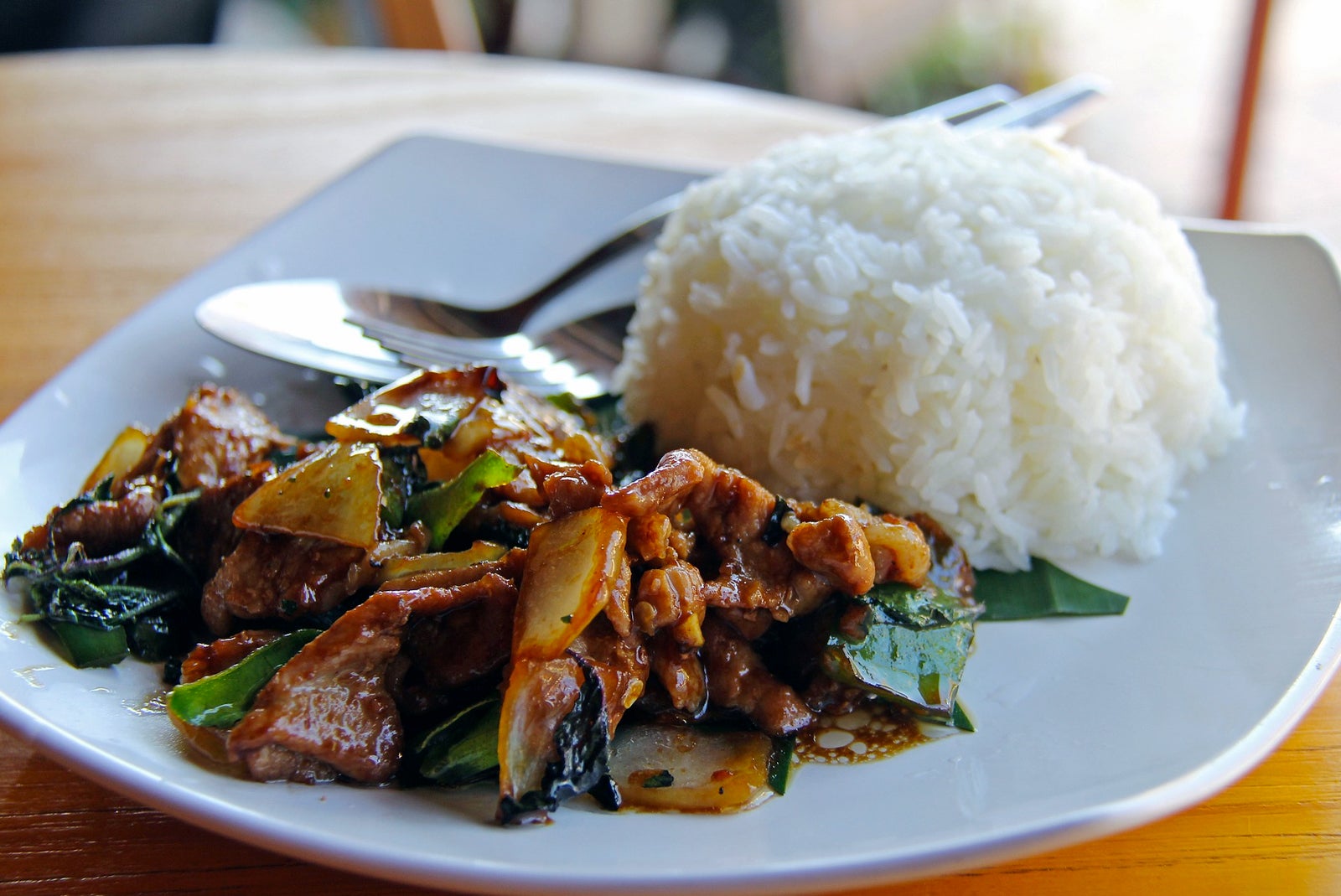 Lao Kitchen offers set menus that let you enjoy a variety of authentic local fare in one seating. Opt for a set of 12 (180,000 kip) Lao dishes, which include Pakse-style pork sausage, Luang Prabang-style stew, grilled Mekong fish, and bamboo shoot stew. There's also plenty of vegetarian options for those who prefer a meatless meal in Vientiane. For dessert, try Lao Kitchen's sticky rice with mango (or banana) and coconut milk.
Location: Rue Hengboun, Vientiane 0100, Laos
Open: Daily from 11 am to 10 pm
Phone: +856 21 254 332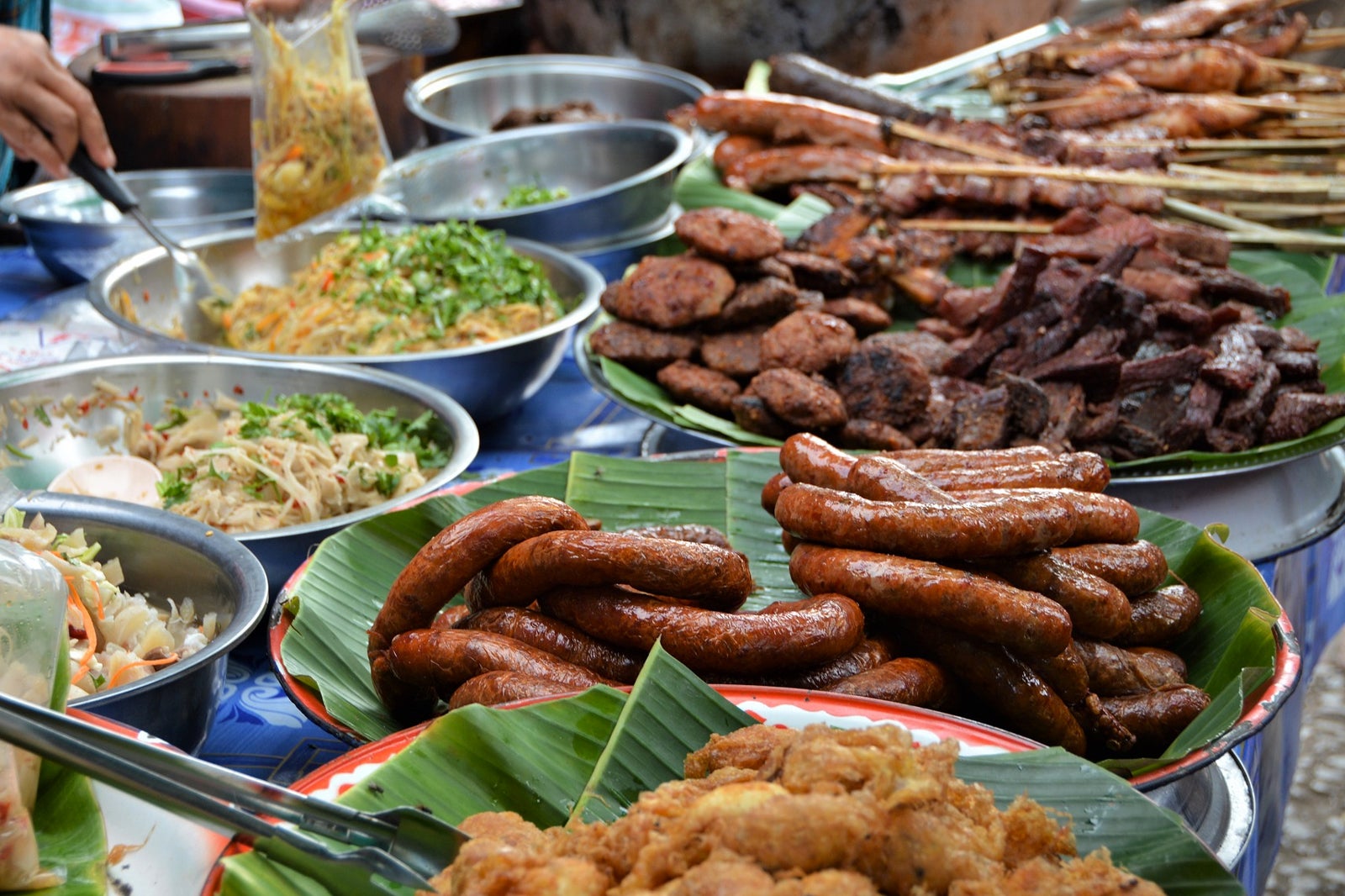 The Vangthong Evening Food Market attracts locals and tourists looking to enjoy authentic Laotian food at affordable prices. After sunset, the market becomes a hive of activity with dozens of stalls preparing traditional dishes such as bla kan sung (grilled fish), sai oua (Laotian sausage), and bet yang (roasted duck). A walk through Vangthong Evening Food Market also provides plenty of good photo opportunities – just make sure you ask for permission before clicking that shutter.
Read more
Location: Rue Phai Nam, Vientiane, Laos
Open: Daily from 5 pm to 10 pm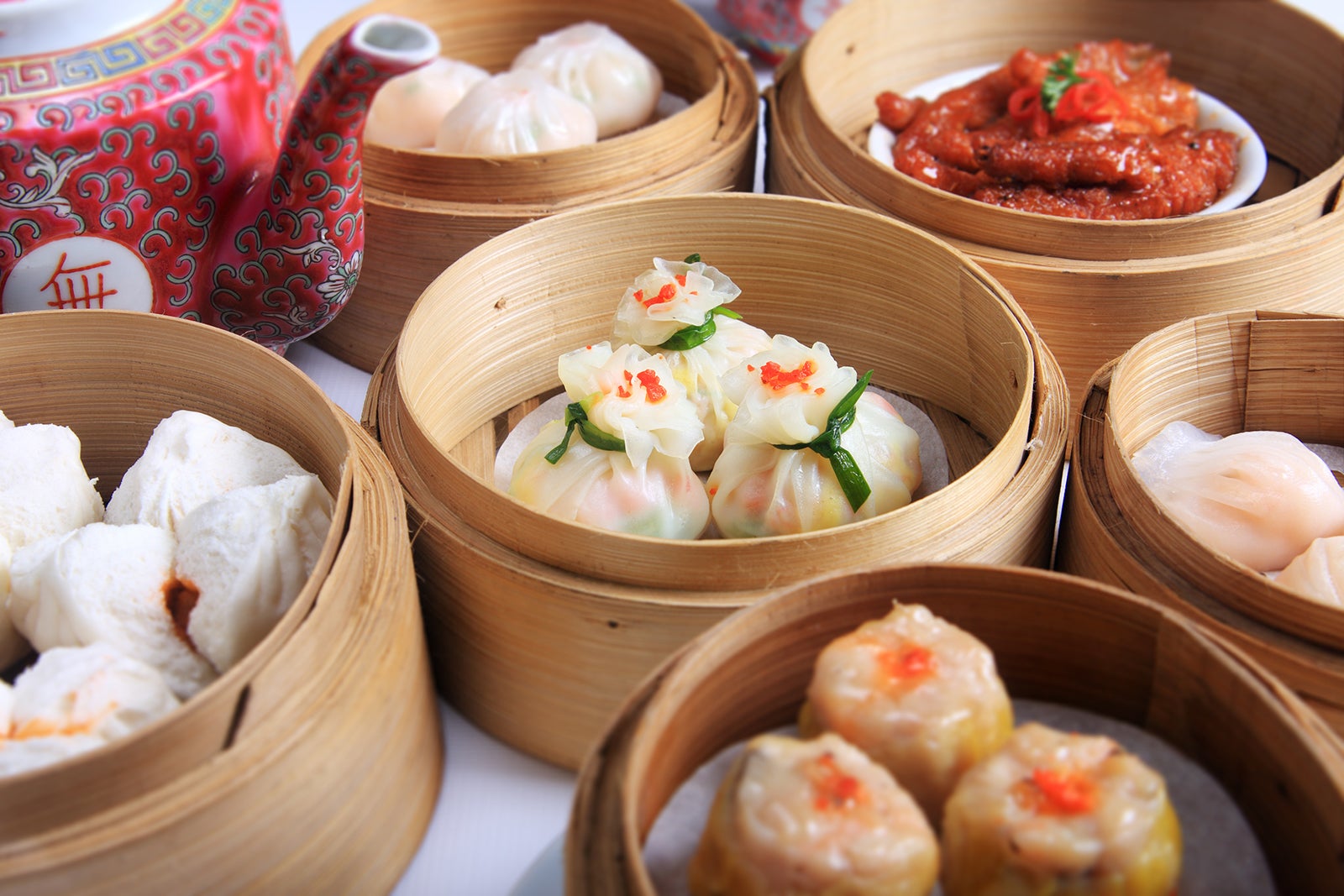 May Yuan Restaurant, located on the mezzanine floor of Lao Plaza Hotel, is where you can enjoy authentic Chinese food in Vientiane. There are 5 private dining rooms, along with a main dining area featuring oriental décor and furnishing.
The menu consists of Cantonese, Szechuan, and Teochew, as well as a variety of dim sum – bite-sized portions of Chinese food served in small steamer baskets. Standouts at May Yuan Restaurant include pork buns, congee, and shrimp dumplings.
Location: Lao Plaza Hotel, 63 Samsenthai Road, Vientiane, Laos
Open: Daily from 11.30 am to 2 pm and from 6.30 pm to 10 pm
Phone: +856 21 218 800
Bor Pen Nyang is a 4-storey bar and restaurant overlooking the Mekong River and central Vientiane. The vibe changes throughout the day, so depending on the time of visit, you may find a chill-out bar with pool tables, a sunset roof terrace, or a vibrant backpacker-friendly club. If you're planning to catch the sunset, head there early as seats by the terrace get filled up fast.
Bor Pen Nyang's food menu ranges from fajitas and pizzas to Lao-style BBQ and stir-fried dishes – standouts include larb (minced meat salad), spicy seafood soup, and the special Swiss cheeseburger. Draught BeerLao are served in pints, pitchers and beer towers.
Location: Quai Fa Ngum, Vientiane, Laos
Open: Daily from 10 am to midnight
Phone: +856 21 261 373
Kualao Restaurant serves Lao cuisine in an upscale setting, occupying a yellow-washed colonial mansion in central Vientiane. The menu includes som tam (papaya salad), deep-fried Mekong River fish, spring rolls, and handmade Laotian sausage. You can enjoy traditional Lao dance and music performance by the National Dance Troupe – arrive early or call in advance (and ask to be seated close to the stage).
Location: Rue Samsenthai, Vientiane, Laos
Open: Daily from 11 am to 2 pm and from 6 pm to 10 pm
Phone: +856 21 215 777
10
L'Adresse – Cuisine by Tinay
L'Adresse – Cuisine by Tinay is an authentic French restaurant just behind the 16th-century Wat Ong Teu. You'll find classic starters such as goat cheese rolls and tuna tartare, as well as main courses like confit duck cassoulet and beef tenderloin stuffed with foie gras.
L'Adresse – Cuisine by Tinay also offers a lunch menu (75,000–95,000 kip), which covers an entrée, main course, and dessert – the coconut profiteroles and crème brûlée come highly recommended.
Location: Wat Ong Teu, Vientiane, Laos
Open: Daily from 11.30 am to 10 pm
Phone: +856 20 56 913 434
Scandinavian Bakery's western breakfast options include bagels and quiches, as well as the traditional combo of eggs, bacon, and toast. You can also find lighter options such as muesli and salads, together with coffee, tea and fruit shakes. True to its name, Scandinavian Bakery offers a good selection of baked treats – doughnuts, Danish pastries, and cakes are priced from 15,000 kip.
Location: 74/1 Phangkam Road, Vientiane 0100, Laos
Open: Daily from 6.30 am to 9 pm
Phone: +856 21 215 199
Sticky Fingers is a long-running bistro in central Vientiane, with an extensive western menu and cocktail list. The Aussie-owned joint is usually packed during happy hours on Wednesdays and Fridays – try their famous tom yum martini at half price.
Standouts from Sicky Fingers' all-day brunch menu includes the Hangover Special (paracetamol available for 1,000 kip), eggs Benedict, and pancakes topped with apples, bananas and cinnamon.
Location: 10/3 Francois Ngin Road, Ban Mixay, Vientiane, Laos
Open: Monday–Friday from 5 pm to 11 pm, Saturday–Sunday from 10 am to 11 pm
Phone: +856 21 215 972
13
The Little House Vientiane
The Little House Vientiane is a roastery, café, and souvenir shop beside Wat Si Muang. This charming venue roasts (and sells) coffee sourced from local farms on the Bolevan Plateau, particularly in Paksong.
Enjoy handcrafted and full-bodied caffeine such as latte and mocha, together with your choice of pastries or cakes. Little House Vientiane also sells handmade silk and embroidery by ethnic groups across Laos.
Location: Ban Si Meuang, Vientiane, Laos
Open: Tuesday–Sunday from 8.30 am to 6 pm (closed on Mondays)
Phone: +856 20 55 406 036
Kong View Restaurant provides a great setting to enjoy stunning views of the Mekong River, together with an excellent menu of Laotian, Thai, and European dishes. The restaurant is decked out with wooden fixtures and tasteful mood lighting, which add to that chilled-out ambiance and welcoming feel. Half of the restaurant is set outside in a garden overlooking the river, and those who don't mind sacrificing those stunning river views can enjoy the comfort of air conditioning inside the main building instead.
Read more
Location: 183 Souphanouvong Road, Vientiane, Laos
Open: Daily from 8 am to 11 pm
Phone: +856 21 243 686