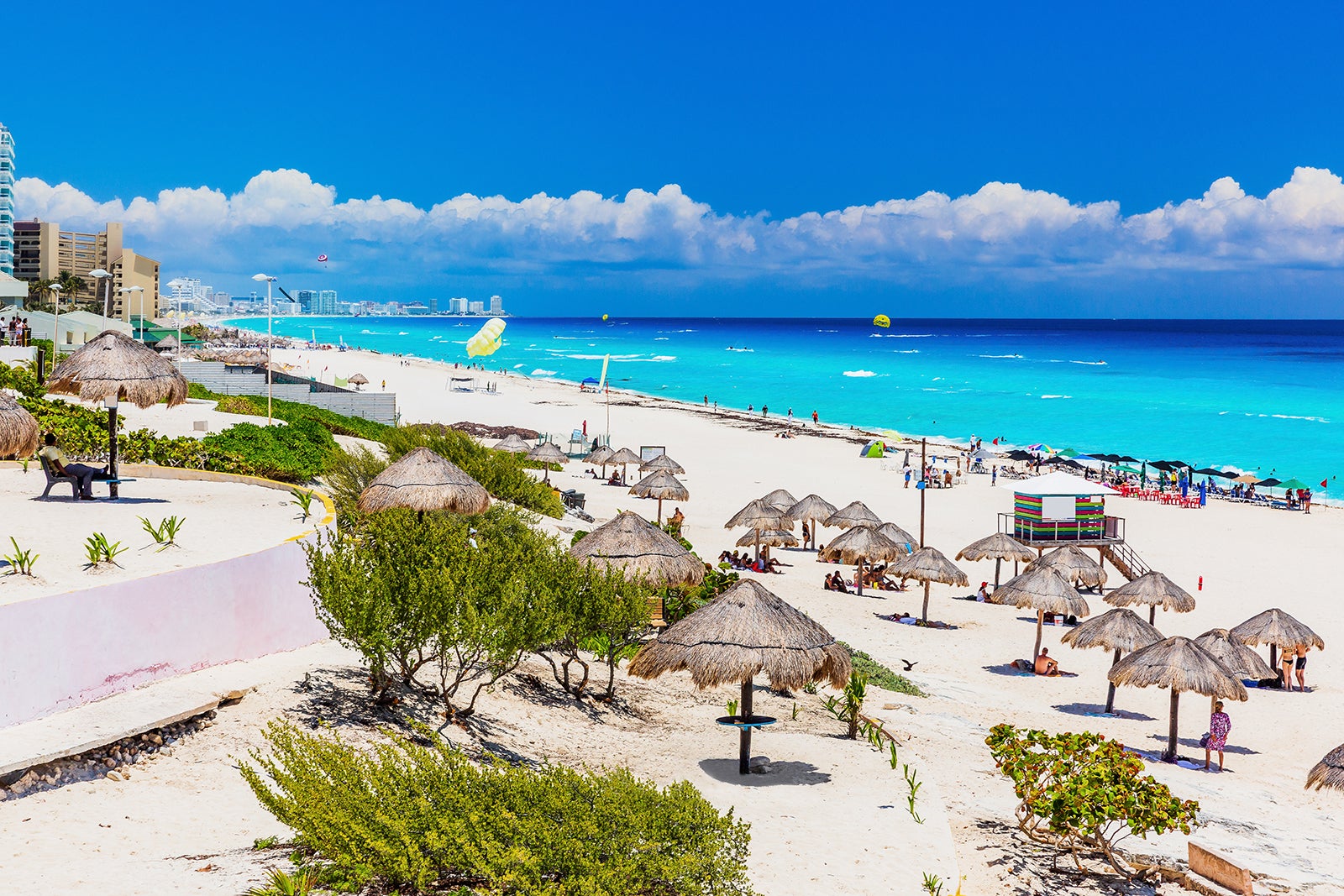 Delfines Beach in Cancun
Relax on the Soft White Sand of one of Cancun's Quietest Family Beaches
Delfines Beach is one of Cancun's hidden gems, a less-trafficked beach popular with locals and visitors alike. Located just 10 miles south of Cancun, this tropical beach offers a wide expanse of soft white sands and clear turquoise waters. There are no hotels or major businesses in the immediate area, making this a much quieter, unspoiled beach compared to some of Cancun's more well-known beaches. Best of all, this free public beach is easy to access by both bus and car.
Playa Delfines means "Dolphin Beach," named for the area's lively dolphins that can often be spotted playing and diving in the water. Dolphin tours are available from local companies around Cancun, but you're also likely to spot the majestic creatures from the shoreline if you keep a watchful eye on the water. You're also likely to see wild birds and native iguanas lounging and exploring on the shores of Delfines Beach.
Delfines Beach in Cancun - one of the highlights of 10 Cheap Things to Do in Cancun and 10 Most Instagrammable Places in Cancún (Read all about Cancun here)
Highlights of Delfines Beach in Cancun
Delfines Beach in Cancun is popular with families for its expansive, clean beach and gentle waters closer to shore. Daytime lifeguards typically patrol the beach, making this a great spot for families with younger children. You'll also find many free thatch umbrellas at Delfines Beach, perfect for shady naps and relaxing in the sand. Be sure to stop for holiday pictures in front of the large colourful "Cancun" sign on Delfines Beach.
Couples are drawn to Delfines Beach for its relaxed atmosphere, and it is a great place to enjoy quality time together and a romantic sunset stroll. Surfers often visit this beach for the mid-size waves further out in the surf, and water sports like snorkelling, paddle boarding, and bodysurfing are also popular in the area.
Where to eat and shop at Delfines Beach in Cancun?
While you won't find large restaurants around Cancun's Delfines Beach, you will find a fantastic variety of food vendors and street food trucks to enjoy. Cuisine often caters to the locals on this beach, so you'll find authentic Mexican cuisine and flavourful regional specialities. Best of all, these dishes are often far less expensive here than when compared to Cancun's more popular tourist beaches.
In addition to food, fresh fruit, and drink options, Delfines Beach's beachside vendors also sell a wide variety of souvenirs and gift items. You'll find a diverse collection of handmade crafts and unique artwork, often at lower prices than in Cancun's gift shops. If you find yourself looking for a store to shop in, there is a local convenience store a short distance south of Delfines Beach for any last-minute needs.
Good to know when visiting Cancun's Delfines Beach
Delfines Beach in Cancun can be easily reached by car, bus, or taxi. This is one of the few beaches in Cancun that offers free parking, a major plus if you're driving. This public beach is free to enjoy and open 24 hours, though lifeguards are only present during daytime hours. You'll also find clean, family-friendly bathrooms at Delfines Beach, plus a beachside playground for children.
If you want to snag a free umbrella on Delfines Beach, you'll need to arrive early, as they go quickly. If you miss out, don't worry, beach chairs and additional umbrellas are available to rent locally from beach vendors. Be sure to bring cash for beachside vendors, and to tip the local service workers. Remember to pack in items like sun cream and water, as there are few shops in the immediate area around Delfines Beach.
Delfines Beach in Cancun
Location: Punta Nizuc - Cancún 335, Zona Hotelera, 77500 Cancún, Q.R., Mexico
Open: 24/7
Back to top