Isla Mujeres in Cancun
Visit a Vibrant Tropical Island with Beautiful Beaches and Wildlife in Cancun
Isla Mujeres is a small tropical island off the coast of Cancun, where the blue waters of the Caribbean Sea meet the Gulf of Mexico. Located just a few miles off of Cancun's coast, the island is known for beautiful white sand beaches and bright turquoise waters. This popular holiday destination offers everything from water activities to animal sanctuaries, entertainment spaces, a lighthouse, and the remains of a Mayan temple.
Visitors of all ages are drawn to Isla Mujeres, for day trips and as a full holiday or resort destination. Daily ferry service is available to and from Cancun's mainland, with the ferry trip typically taking less than 30 minutes from shore to shore. Transport on Isla Mujeres is readily available via an island bus service, taxis, and golf cart rentals. The island's small size is especially beneficial for visitors and holidaymakers, with popular destinations often within easy walking distance of each other.
Isla Mujeres in Cancun - one of the highlights of 10 Best Things to Do in Cancun and 10 Best Things to Do for Couples in Cancun (Read all about Cancun here)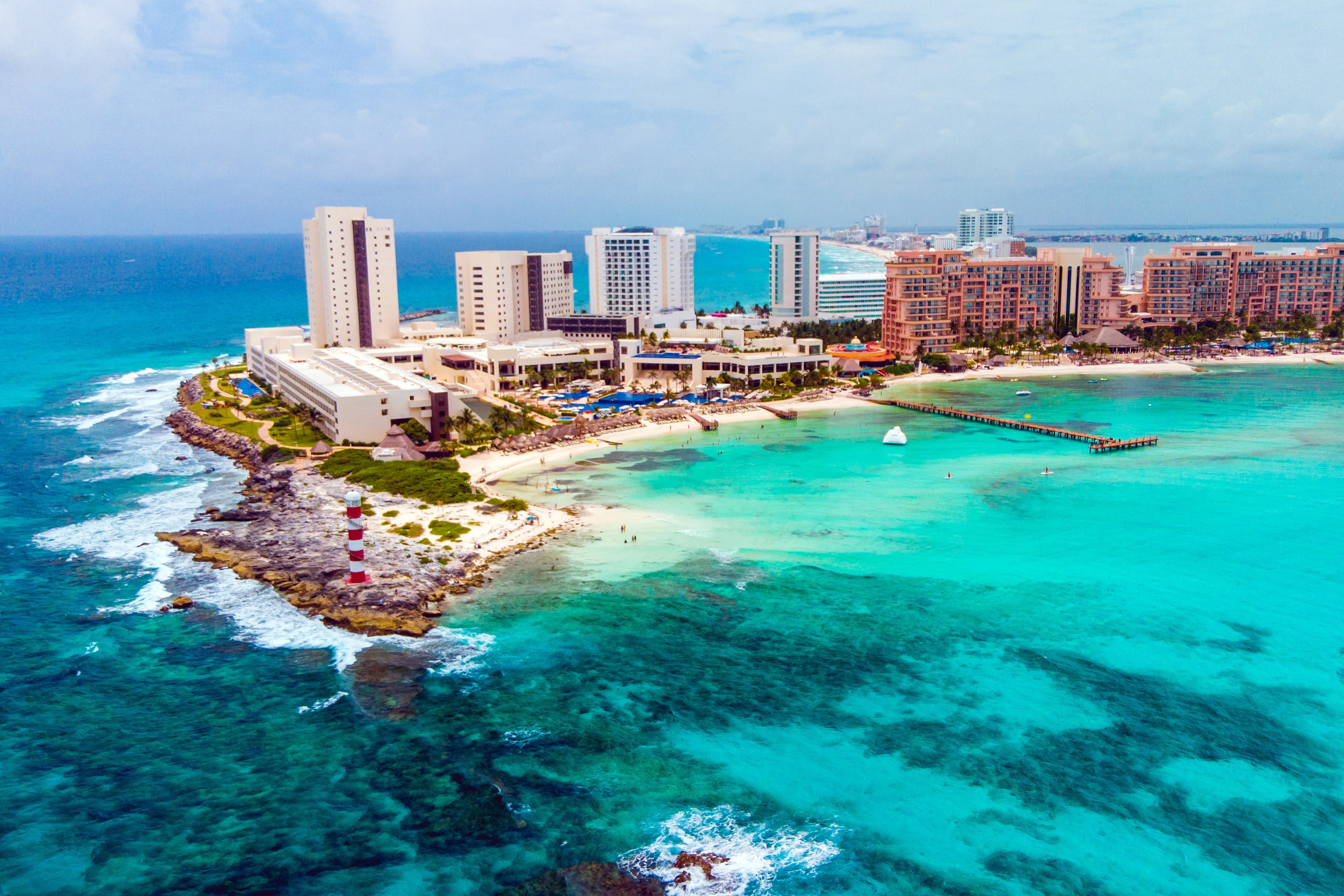 What are the highlights of Isla Mujeres in Cancun?
Isla Mujeres is known to maintain a much more relaxed, tranquil atmosphere compared to Cancun's mainland, making it an ideal holiday spot for families and couples. The island's west coast beaches offer soft white sand to relax on, and east coast beaches have rocky embankments to explore. On the north side of Isla Mujeres is Playa Norte, widely considered to be one of the most beautiful beaches in Mexico. Beaches on Isla Mujeres are popular with families with children, as the water is typically calm and gentle.
Water activities are plentiful around Isla Mujeres in Cancun. At Garrafon Reef Park, you can enjoy an adventure park with inclusive packages that feature kayaking, snorkelling, swimming, and dining. Local companies offer snorkelling and scuba diving tours, often centred around the island's natural reefs. Atlantic sailfish can be caught when fishing during the region's sailfish season.
What other activities are available on Isla Mujeres?
You'll find plenty of unique wildlife viewing and animal encounters on Isla Mujeres. Join a local tour for opportunities to swim with whale sharks or dolphins, or visit sea turtle patients on the island's rehabilitation centre. Cultural experiences include the MUSA Underwater Museum, street art installations, a sculpture garden, and a colourful local cemetery.
Historical locations on Cancun's Isla Mujeres range from lighthouses and former pirate hotspots to the ruins of a Mayan temple and a shrine to the Mayan Goddess of the Moon. For panoramic views over the ocean, you can head to the clifftop overlook on Punta Sur, one of the highest elevation points in the Yucatan Peninsula. Relaxation opportunities on Isla Mujeres include spas, massage spaces, and wellness centers.
Good to know when visiting Cancun's Isla Mujeres
If you're driving a car or golf cart on Isla Mujeres in Cancun, be aware and drive slowly. Streets on the island are narrow and typically one-way, often with pedestrians walking on or around them. Laws around golf cart use are virtually the same as car use, so no underage drivers or drinking and driving.
There are lots of options on Isla Mujeres for dining and shopping, and visitors often remark on the friendly, welcoming locals. Be sure to check out some of the local restaurants for flavourful regional specialities, fresh seafood, and even some ancient Mayan recipes. Dining etiquette in the region dictates that the wait staff will only bring you your bill when you ask for it. Be sure to tip generously, and remember to only tip in Mexican currency.
Isla Mujeres in Cancun
Back to top