10 Best Ways to Cruise the Canals of Amsterdam
Explore Amsterdam Along the City's Famous Waterways
Taking a cruise along the famous canals in Amsterdam is one of the city's most popular things to do. You'll be able to take in grand 17th-century canal houses, historic museums like the Anne Frank House, Seven Bridges, and much more, while giving your feet a rest from all of the walking you're bound to do.
There are multiple ways to cruise Amsterdam's famous canals, from classic journeys to unique trips focusing on history, comedy, food, drinks, and music. Choose the one that interests you most and whatever you do, don't forget your camera. After all, Amsterdam is a city that's best seen from the water.
1
Amsterdam Boat Center
Step aboard an authentic saloon boat to tour Amsterdam's highlights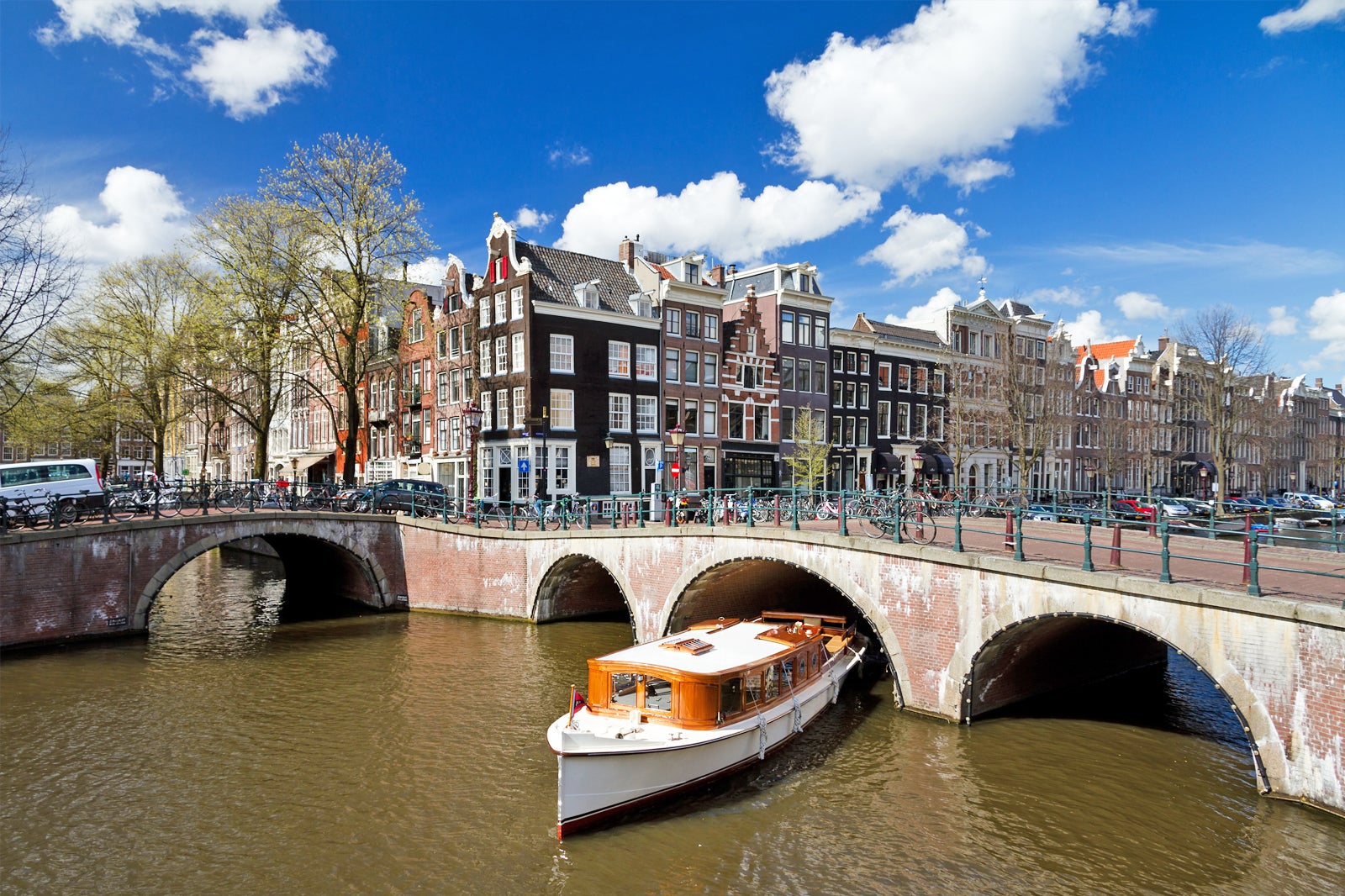 Couples
Families
Photo
Group
The Amsterdam Boat Center is a highly rated operator that hosts classic canal cruises of the city. A 90-minute excursion takes place on a traditional and authentic 20th-century saloon boat. You get to cruise through the UNESCO-listed canals, sailing past iconic landmarks like the Anne Frank House and Rijksmuseum.
A knowledgeable captain provides commentary throughout the cruise, giving you a good general overview of the historic gabled buildings and other sights. A free cup of coffee or tea and refreshments are included, too.
Location: Singel 315, 1012 WJ Amsterdam, Netherlands
Open: Monday–Saturday from 9 am to 6 pm, Sunday from 10 am to 3.30 pm
Phone: +31 (0)20 428 2725
2
Hop-on, hop-off canal cruise via City Sightseeing Amsterdam
Build your own memorable canal tour, hopping on and hopping off as you wish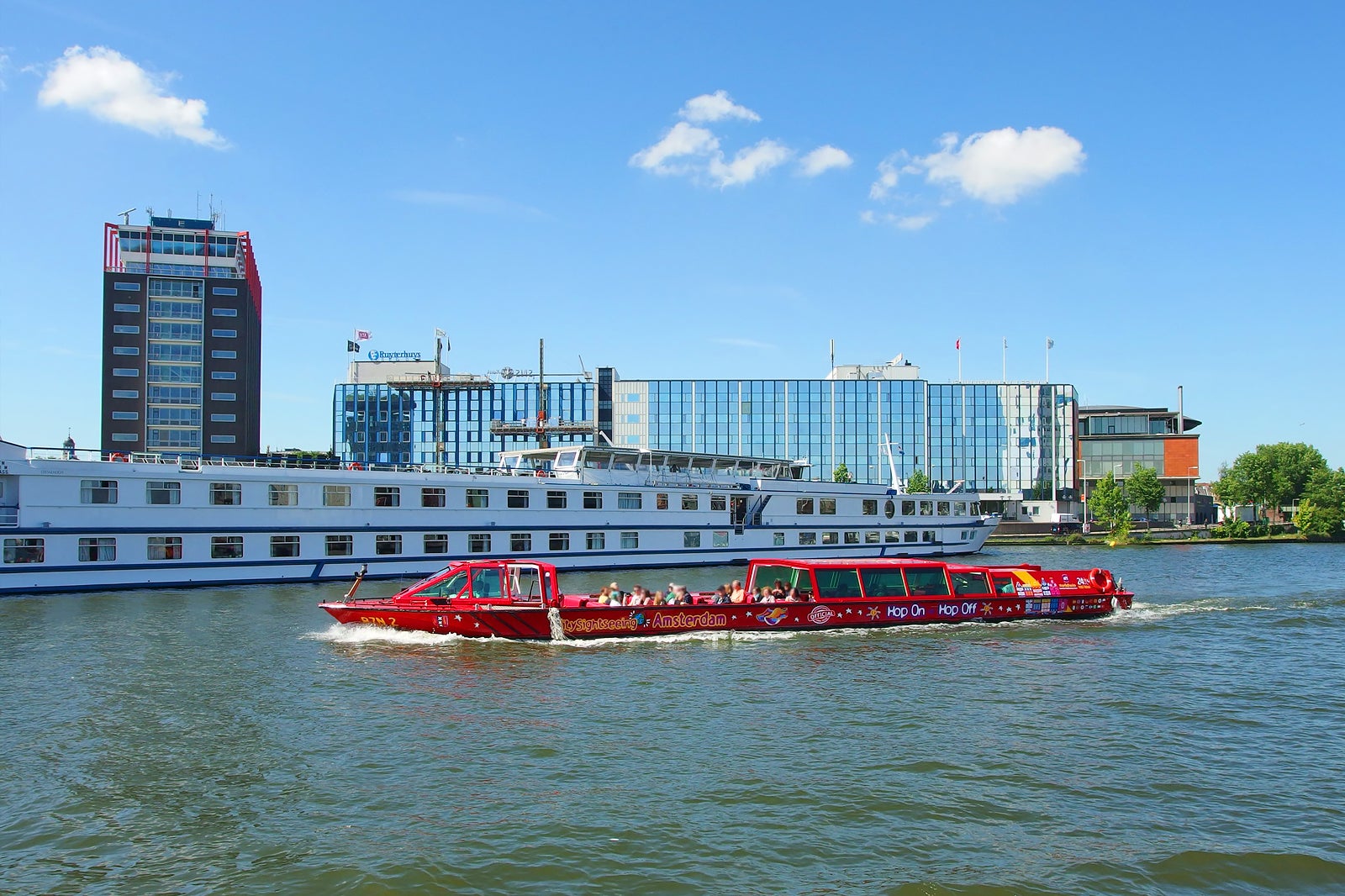 The City Sightseeing Amsterdam hop-on, hop-off boat provides the flexibility to embark and disembark as you wish, which means you can visit a variety of major attractions while soaking up the charms of Amsterdam in a truly authentic and budget-friendly way.
Create your own enchanting tour by taking either the Green or Blue route, which can bring you to the National Maritime Museum, the Nemo Science Museum, Anne Frank House, the Amsterdam Icebar, Windmill de Gooyer Amsterdam, and more. While cruising the celebrated canals, you'll listen to onboard commentary and witness the picturesque bridges, barges, and waterfront buildings with decorated gables.
Location: Damrak 34, 1012 MB Amsterdam, Netherlands
Phone: +31 (0)20 420 4000
photo by Guilhem Vellut (CC BY 2.0) modified
3
Romantic dinner cruise on a candlelit antique riverboat
Enjoy a guaranteed window seat and intimate ambience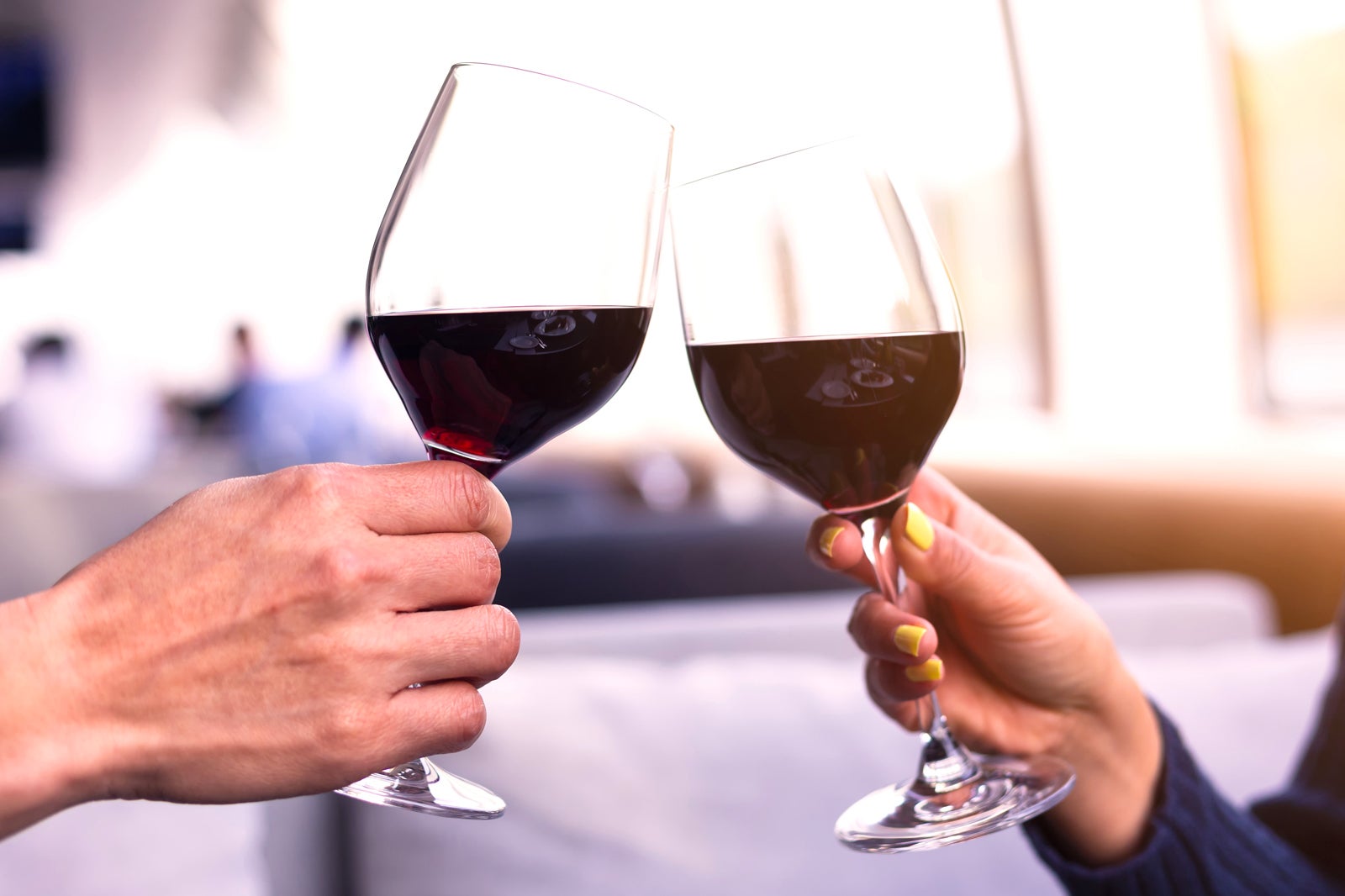 Jewel Cruises is a leader when it comes to romantic tours in Amsterdam, especially excursions on antique riverboats. It's a sailing restaurant offering a delicious 3-course candlelit dinner cruise, complete with background music and views of 17th-century canals.
The vessel has elegant features, such as rich mahogany red upholstery and a copper bar. While the route can change to suit special events, it often includes all the city highlights, including the Skinny Bridge along the Amstel River, Seven Bridges, and the Anne Frank House. Couples are even guaranteed a window seat.
Location: Singel 235, 1015 VB Amsterdam, Netherlands
Open: Monday–Saturday from 10 am to 5 pm (closed on Sundays)
Phone: +31 (0)20 422 1385
4
Open-air electric boat tour via Amsterdam Boat Trips
A peaceful small-group tour without the noise of a motor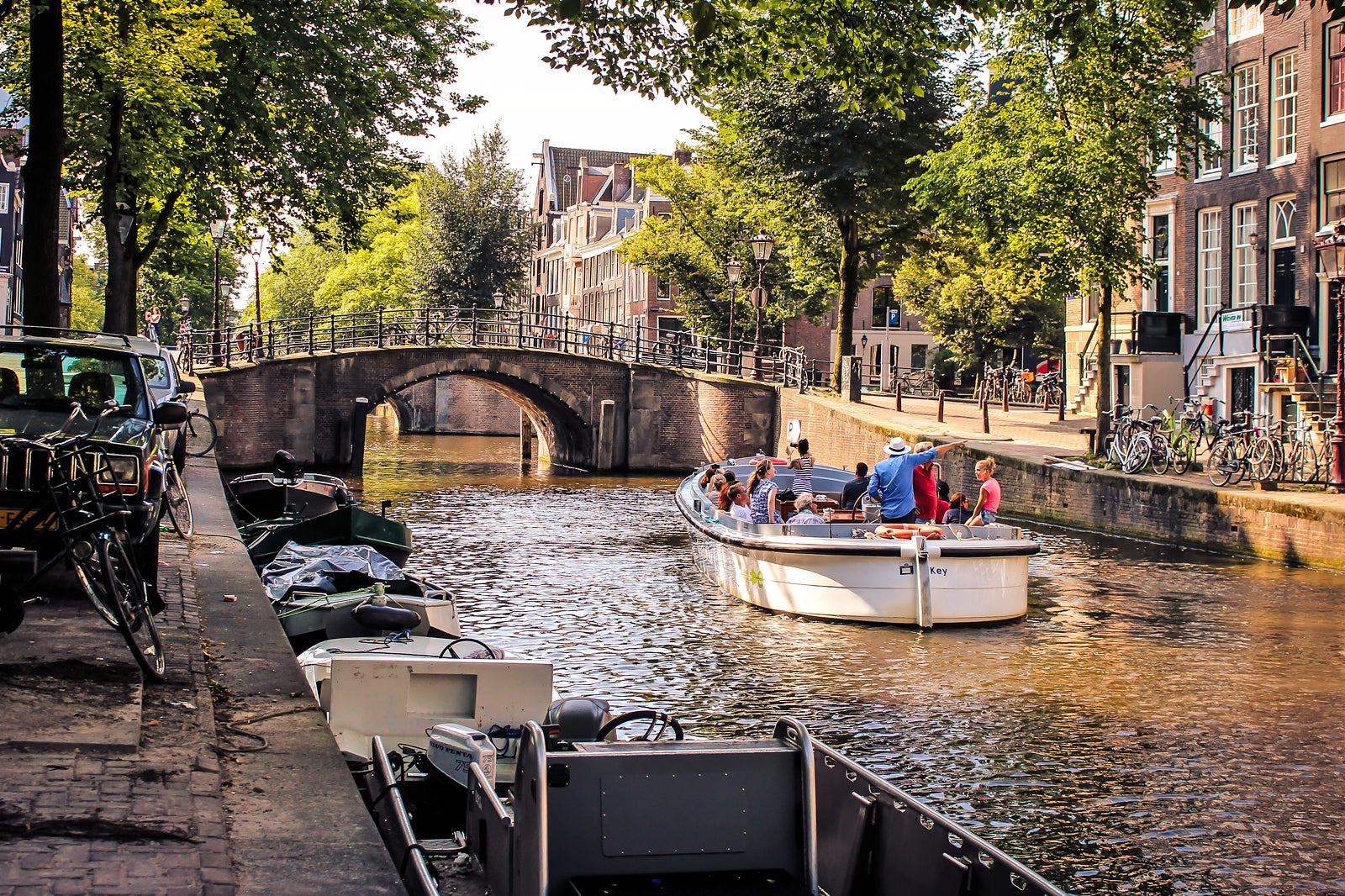 Traversing the canals of Amsterdam in an open-air electric boat provides a quieter ride without the noise of a motor. Operated by Amsterdam Boat Trips, the beautifully restored century-old canal boats take advantage of modern technology, powered by underdeck batteries instead.
As it's a small group tour, no headphones or microphones are needed. This provides an authentic way to enjoy and learn more about the city's many sights. Your host will provide you with a complimentary drink of your choice, and you can sample a Dutch treat while taking in the oldest part of the city.
Location: Oudezijds Voorburgwal 232, 1012 GJ Amsterdam, Netherlands
Open: Daily from 9 am to 10 pm
Phone: +31 (0)65 069 5668
5
Booze cruise via Ultimate Party Amsterdam
The ultimate Amsterdam party getaway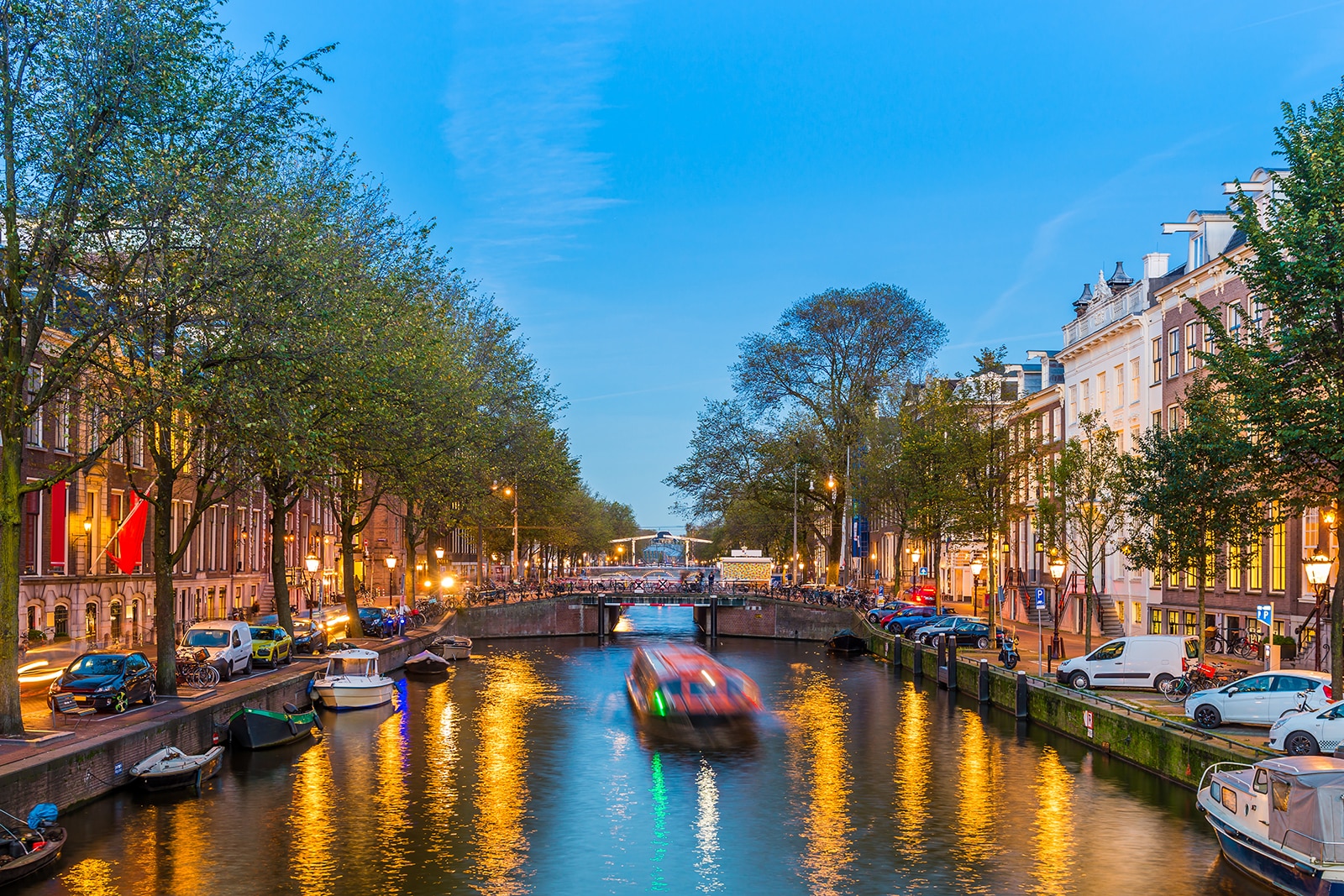 Amsterdam is a destination where people often come to let loose and get a little wild, so it's no surprise that you can party out on the water in the form of a booze cruise. Ultimate Party Amsterdam is a pub crawl host that offers this experience almost every night of the week.
A fun way to celebrate a birthday, stag, or hen party, you'll have fun exploring this scenic city for 90 minutes, all with a drink in hand. Tours can be customised if you want to add special extras, like tasty bubbly to sip as you weave through the canals.
Location: Leidsekruisstraat 35, 1017 RG Amsterdam, Netherlands
Phone: +31 (0)20 776 7888
6
Eating Europe Food Tours in Amsterdam
A tasty way to explore the canals and Amsterdam's neighbourhoods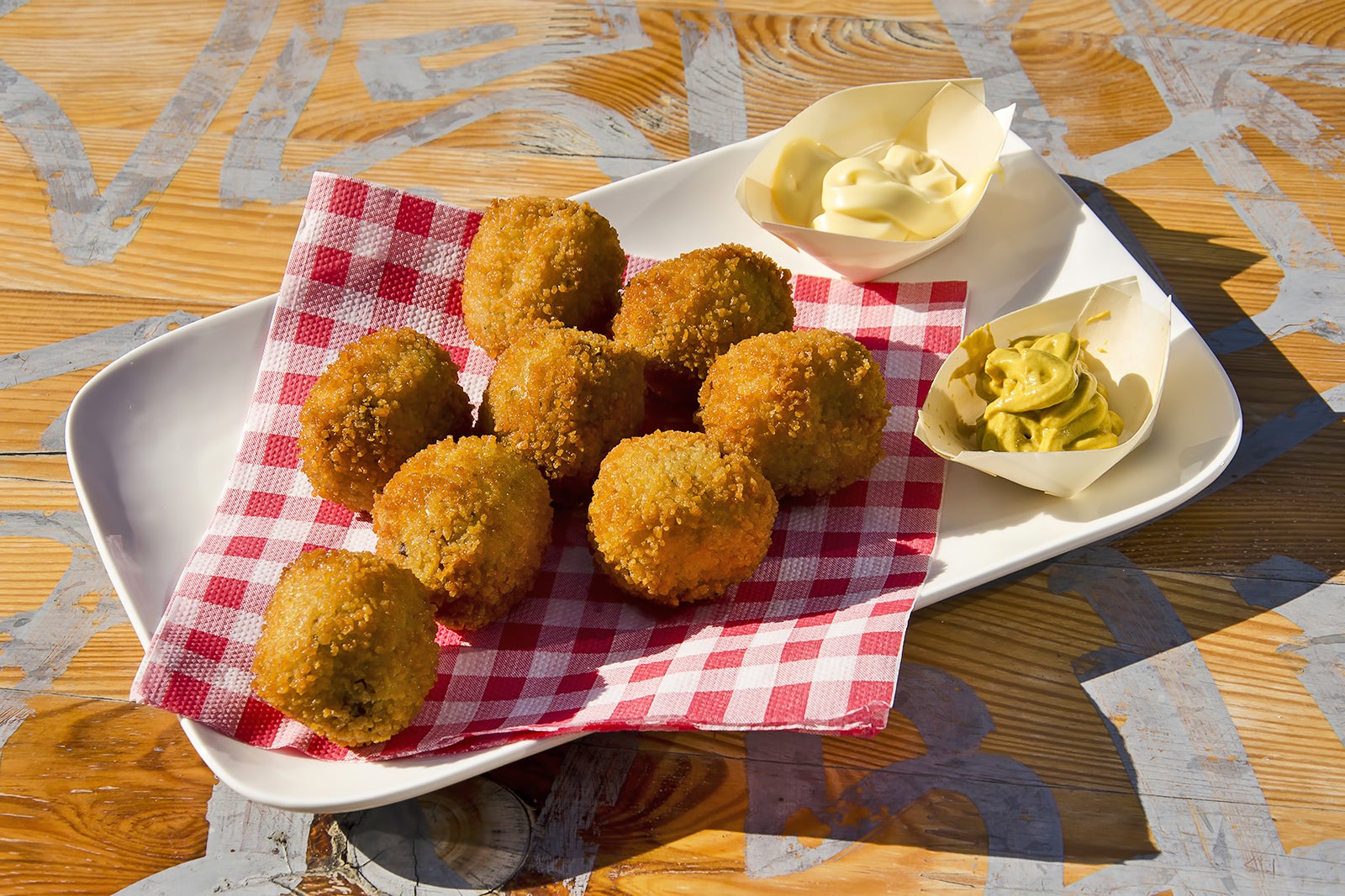 The Amsterdam Food & Canals Tour by Eating Europe Food Tours brings the ideal combination of a walking food tour and a cruise through the UNESCO-listed canals. In total, the 4-hour excursion takes you to the city's best local haunts, where you'll delve into Dutch food traditions and meet some of the city's food icons.
As you explore several neighbourhoods, you'll dine and drink along the way, with a dozen tastings included such as gouda cheese and bitterballen (Dutch meatballs), along with cider and beer. Once aboard your private boat, you'll enjoy delicious Dutch wine and snacks too. Your local guide will enhance your Amsterdam canal tour by revealing some of their own stories about the city.
Location: Joop Geesinkweg 801, 1096 AZ Amsterdam, Netherlands
Open: Daily from 9 am to 11 pm
Phone: +31 (0)20 808 3099
7
Stand-up paddle boarding via M&M SUP Amsterdam
A fun and active way to explore Amsterdam's canals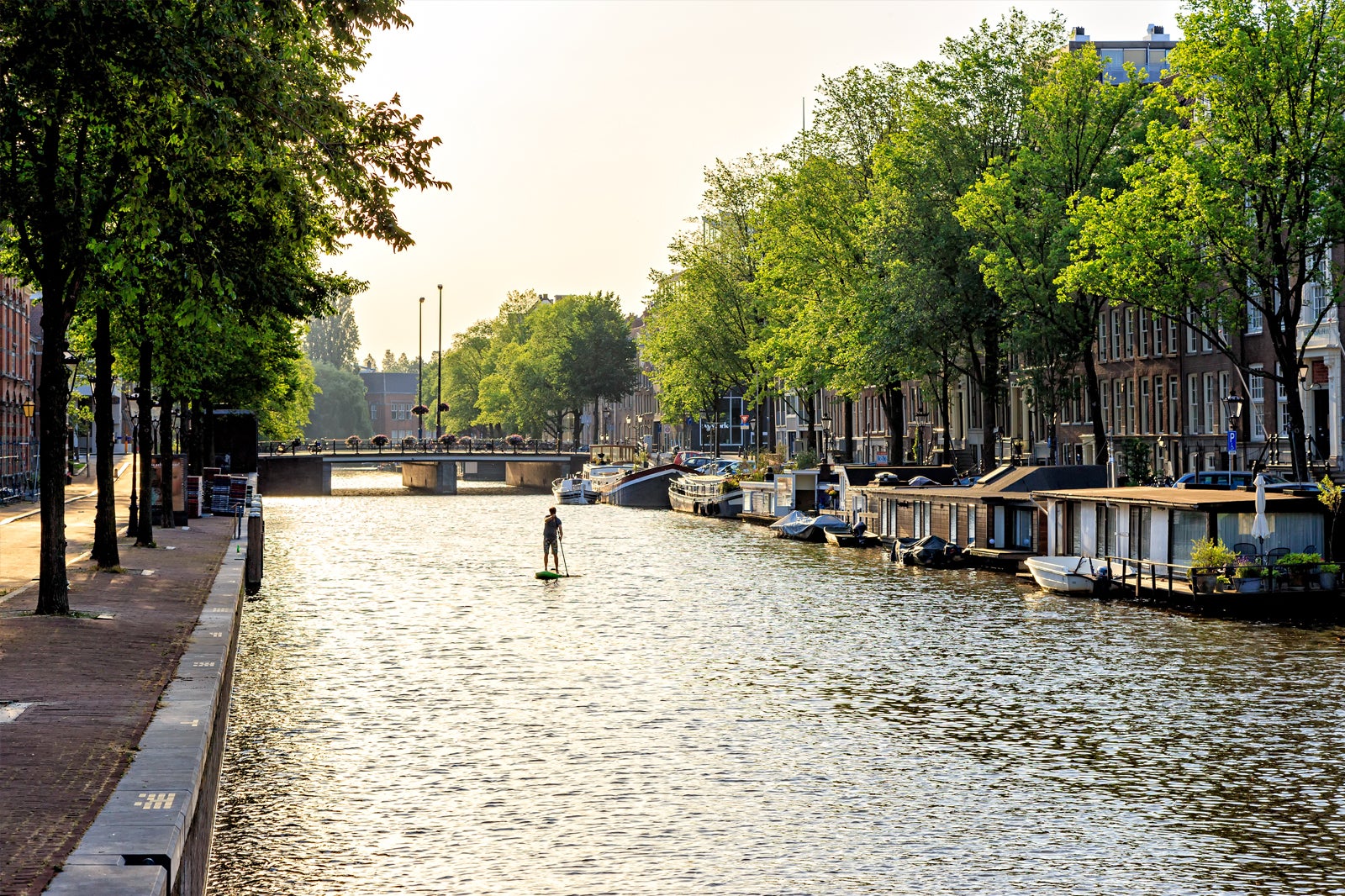 M&M SUP Amsterdam offers stand-up paddleboarding tours for those looking to enjoy an active and unforgettable way to experience the beautiful canals and bridges of Amsterdam. It provides yet another unique perspective, paddling while enjoying fabulous views that include hundreds of historic buildings.
As you'll be standing at full height, you'll have a vantage point for viewing both the water and what's out on the horizon. Plus, it's a great way to stay active during your Amsterdam trip. Customised tours are also available, including private options that are great for a family or group of friends.
Location: Zeeburgerpad 10, 1018 AJ Amsterdam, Netherlands
Phone: +31 (0)62 120 2222
8
Rent your own boat through Adam's Boats
Commandeer your own vessel and sail the route of your choice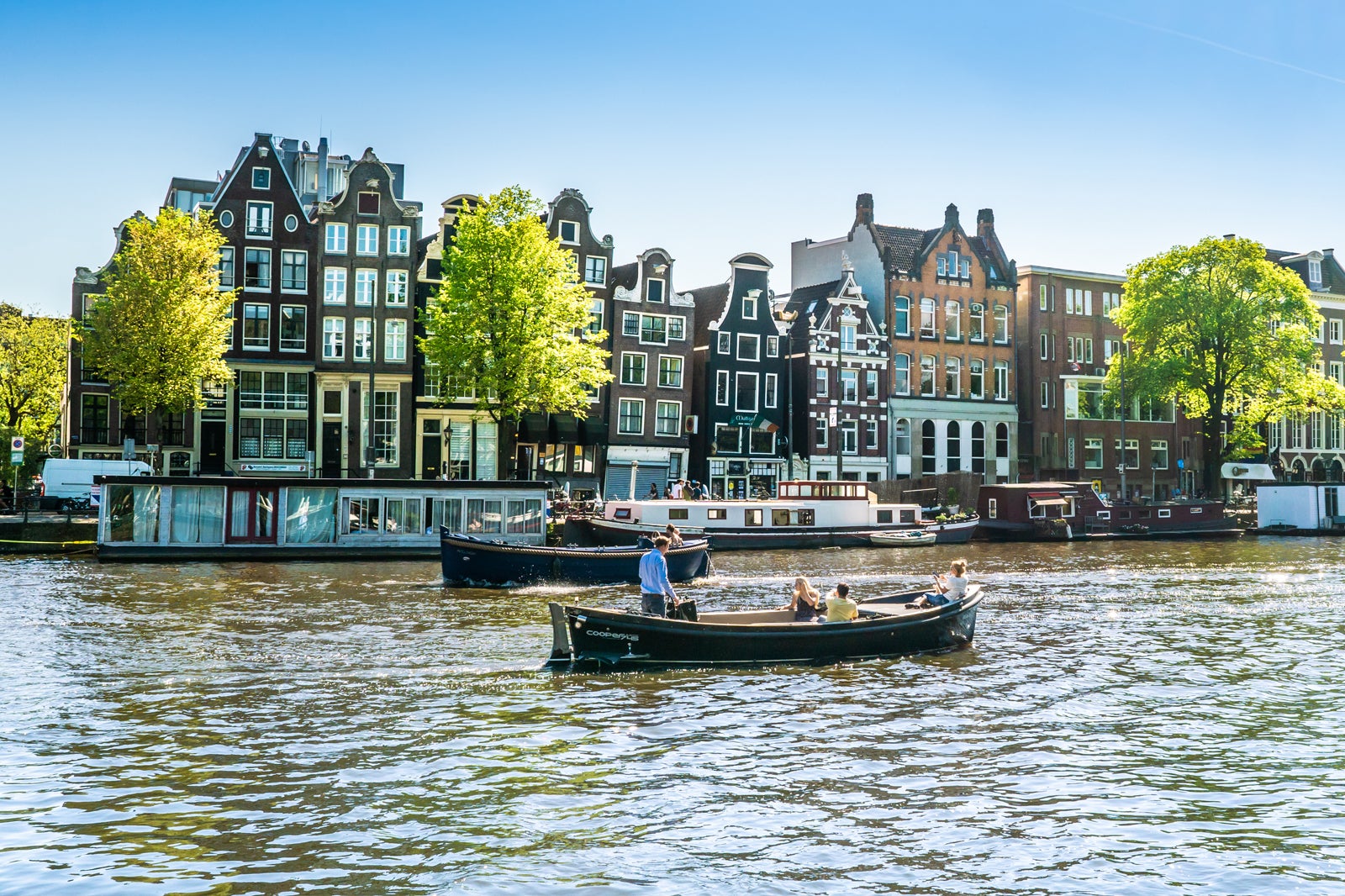 Do you like the idea of exploring Amsterdam's canals independently? Why not be the captain of your own boat? Adam's Boats offers affordable boat rentals by the hour with no license required. These vessels are battery-powered, comfortable and easy to steer, while the speed is set with a joystick.
You'll be able to cruise the winding canals with your family or friends in peace, without the loud sounds of a motor. Sail the route of your choice or pick from a variety of routes by Adam's Boats. Each boat offers space for up to 9 passengers and includes a sailing map with detailed instructions.
Location: Mauritskade 3, 1091 GC Amsterdam, Netherlands
Open: Daily from 10 am to 10.30 pm
Phone: +31 (0)61 431 6465
9
Comedy cruise via Those Damn Boat Guys
A comedic canal sightseeing tour
Booking a comedy cruise through Those Damn Boat Guys is a great way to discover Amsterdam in an entertaining yet educational way. You'll learn about the city's history while taking in the stunning sights on this laidback tour, along with several quirky attractions.
Your brilliant guide is sure to bring plenty of laughs and will be happy to answer any questions about the city, with no topics off-limits. If there are children on board, the tour will be toned down to accommodate all.
Location: Prinsenstraat 4, 1015 DC Amsterdam, Netherlands
Open: Daily from 10 am to 10 pm
Phone: +31 (0)20 210 1669
10
Kids' cruise with Amsterdam Canal Cruises
The only canal cruise tour designed for families with children
Amsterdam Canal Cruises' Wanted: Freshwater Pirates is a family-friendly canal cruise that ensures kids stay entertained while parents enjoy the views of the city. It's a 75-minute excursion that tells the story of Johnny the Mouse.
Tailored for children, the youngsters get their own pirate binoculars to spot animals in Amsterdam. They can also design a tattoo, lucky sign, and ship house to become a certified Freshwater Pirate. The adults get their own audio guide to learn about all of Amsterdam's magnificent sights, making it an ideal outing for the whole family.
Location: Stadhouderskade 550, 1072 AE Amsterdam, Netherlands
Open: Daily from 10 am to 5.15 pm
Phone: +31 (0)20 679 1370
Back to top