Vondelpark is the largest urban park in Amsterdam with 47 hectares of green space in the Amsterdam-Zuid borough. Founded in 1865, it has since expanded with the addition of several gardens, ponds, playgrounds, and pathways. There's also a wide range of family-friendly amenities, including bicycle and skateboard rentals, restaurants, an open-air theatre, and public events throughout the year.
Over 10 million people come to Vondelpark to relax, enjoy picnics, and exercise on sunny days. Summer is when the park is at its busiest, with free concerts, children's shows, and film screenings taking place at several sections. It's very convenient to get to the park, thanks to Amsterdam's convenient tram and bus lines.
Vondelpark in Amsterdam - one of the highlights of 7 Best Things to Do in Summer in Amsterdam and 10 Best Free Things to Do in Amsterdam (Read all about Amsterdam here)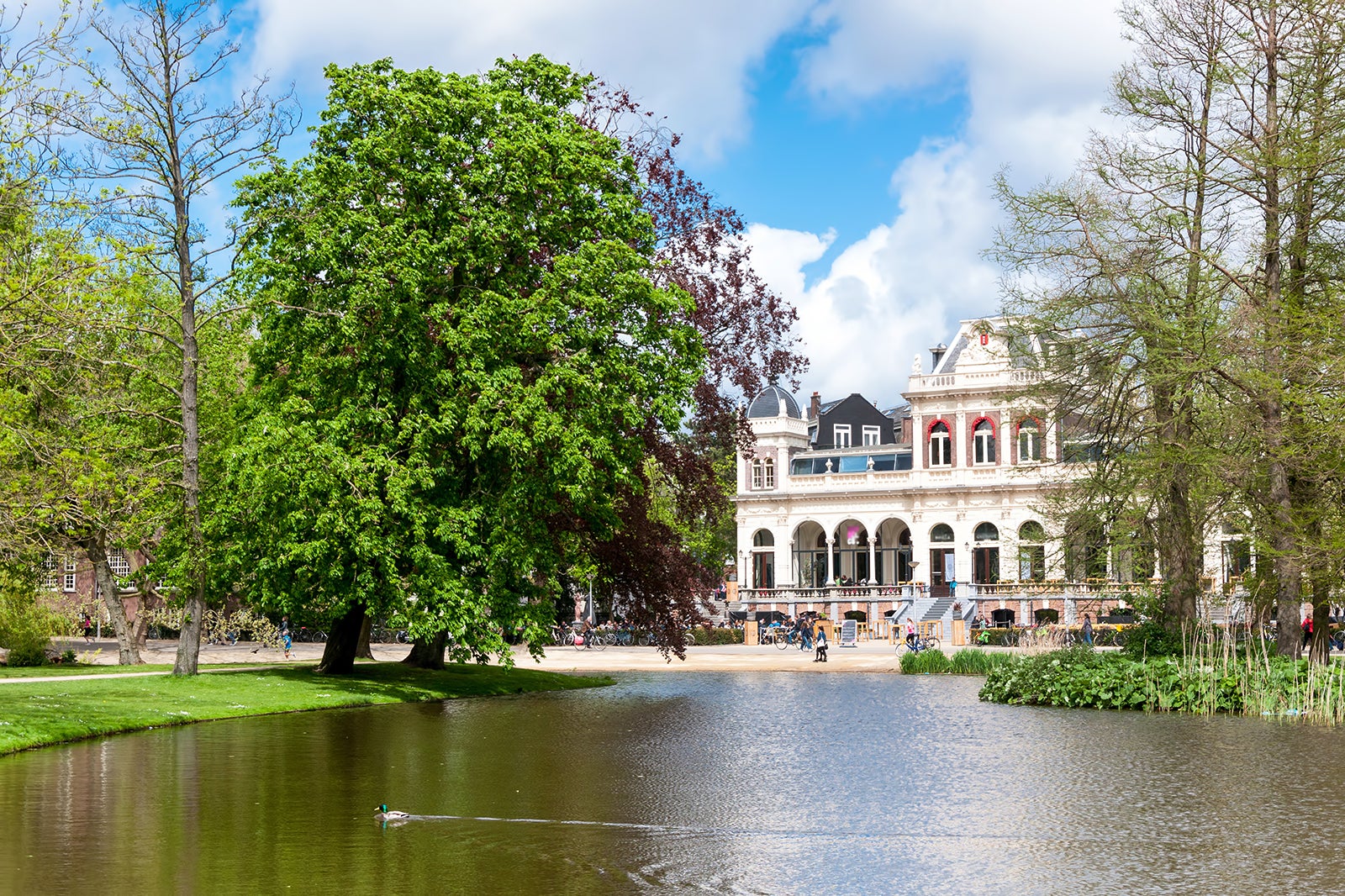 What are the highlights and features of Vondelpark?
As the largest urban park in Amsterdam, Vondelpark has plenty to see and do throughout the day. You can simply enjoy a stroll along paths that meander the park's vast grounds, passing by flowery bushes, picnic areas, and various trees.
The park's 4,500 trees come from 150 species, including plane, birch, and chestnut. Some were planted in the 19th century, with 17 listed as monumental trees of the Netherlands. Animal lovers can spot songbirds, blue herons, hedgehogs, and squirrels that call Vondelpark home.
Rosarium Vondelpark lies in the north-western section, featuring over 60 rosebushes. The best time to see the flowers in full bloom is in spring, but you can visit this idyllic setting any time of the year.
Notable statues dot the park, one of which is a 3-metre-high bronze monument of Dutch playwright Joost van den Vondel (1867) by Louis Royer. Nelson Carillho's 1985 Mama Baranka is just south of Royer's work, while Pablo Picasso's 1965 abstract sculpture, The Fish, is in the middle of Vondelpark.
If you want to get active, Lawn Tennis Club Festina hosts 11 tennis courts as well as activities and tournaments throughout the year. You can also find many skateboard and bicycle rental shops surrounding Vondelpark.
Families can find 6 play areas, a children's pool, and a large playground in Vondelpark. You can let the little ones enjoy some fun while relaxing on the grass. The park's largest playground, which faces Groot Melkhuis, has been around for decades. During the summer, the area becomes a fairground with bouncy castles, special games, and food concession stands.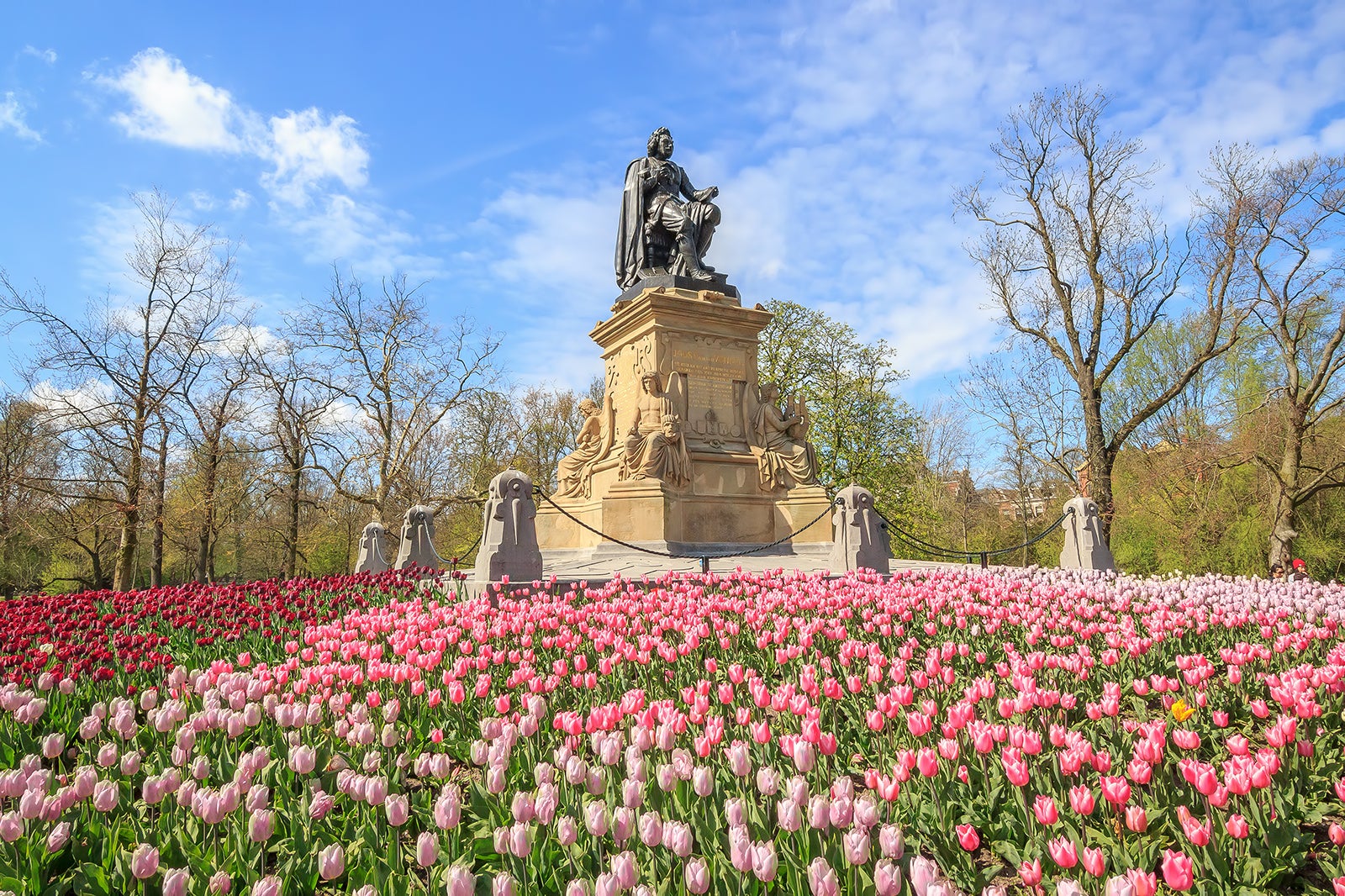 What are the best events in Vondelpark?
Vondelpark hosts many festivals and events throughout the year. Openluchttheater is a long-running and open-air theatre that hosts concerts, dance, and children's shows from June to August. Admission is free, but seats get filled up rather quickly.
King's Day is the Netherlands' national celebration that takes place on 27 April. While most of Amsterdam turns into a massive party, Vondelpark becomes a kid-friendly space, with games and activities specifically tailored to families.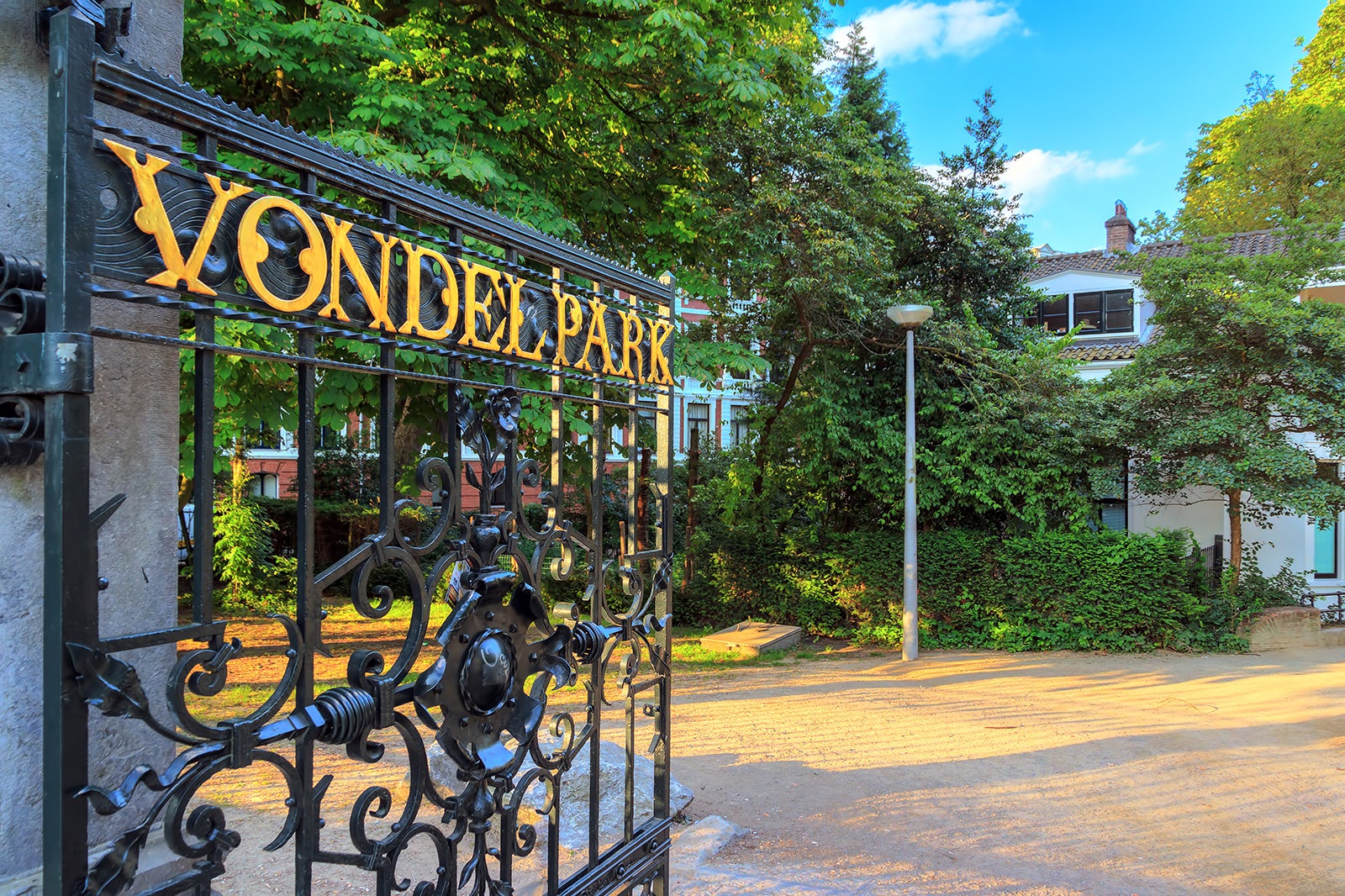 Good to know about Vondelpark in Amsterdam
Vondelpark is just south of Leidseplein and west of Museumplein in Amsterdam. The park is easily accessible via several Amsterdam public transport. You can take trams 1, 2, or 5 from Central Station to Leidseplein, then walk for about 15 minutes to reach the park.
You can also take the bus on lines N47, N57, N97, 347, or 357 to Emmastraat – this is the closest bus stop to Vondelpark. A great way to get around like a local is by cycling – it takes around 15 minutes to reach Vondelpark from Amsterdam-Centrum.
After enjoying some outdoor fun at Vondelpark, you can walk for around 1 km to Museumplein. This public space is known for hosting many festivals throughout the year. The Van Gough Museum, Stedelijk Museum, Rijksmuseum, and Artexpo Amsterdam are some of the must-visit spots in the area.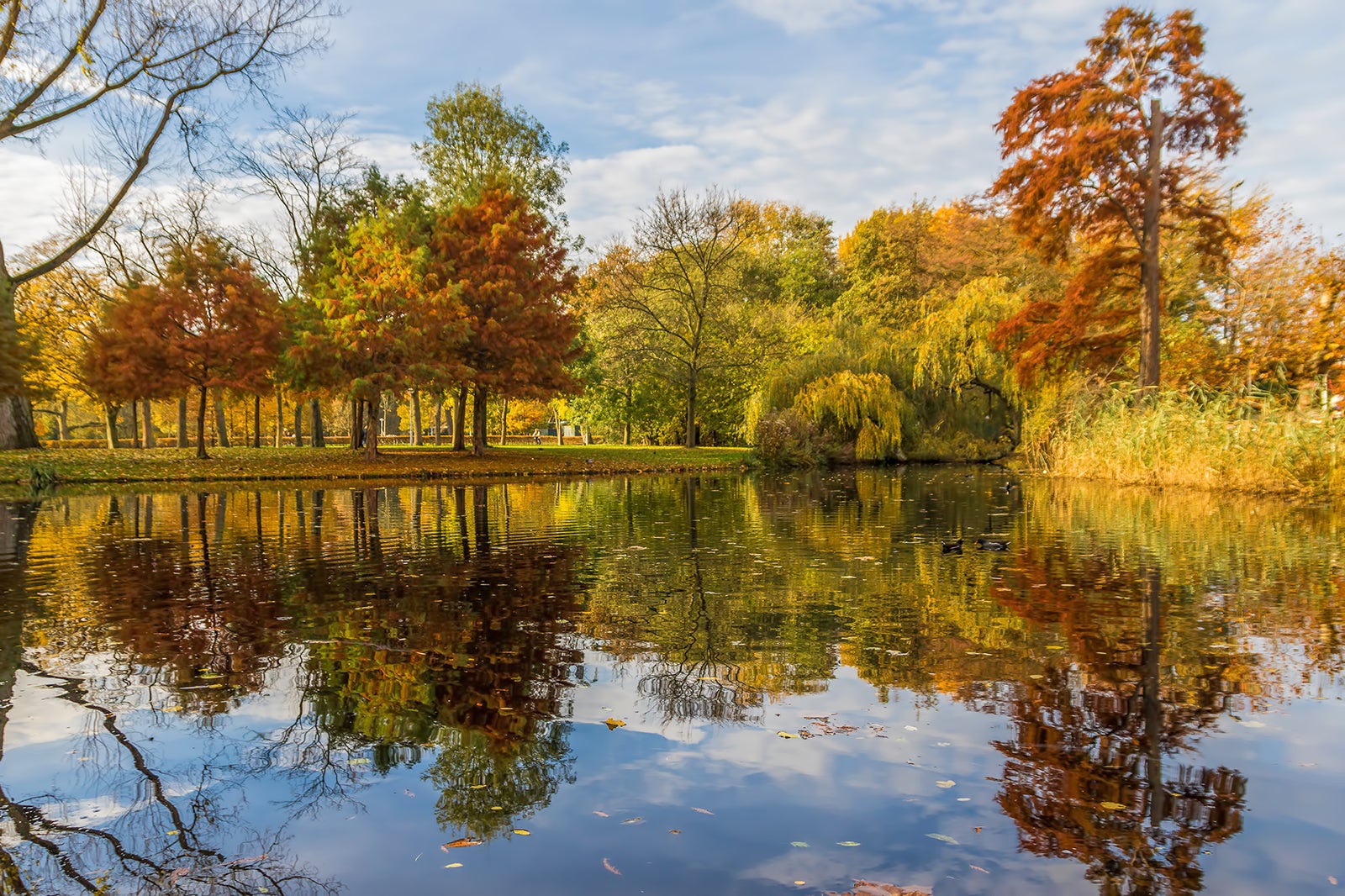 Vondelpark in Amsterdam
Location: Amsterdam, Netherlands
Back to top