15 Best Things to Do in Jeju
What is Jeju Most Famous For?
Jeju is a place full of museums, adventure spots, and unexplored territories. Situated along the Southern coast of South Korea, along the Korean Straits, Jeju boasts of a healthy tourist influx from all over the world, especially Japan and other Pan-Asian countries. Jeju also has an international airport that connects it to mainland South Korea as well as other nearby countries, making it well connected to the rest of the world.
The island enjoys a mild sub-tropical climate which makes it enjoyable to roam around almost all year round. Outdoor enthusiasts can enjoy a variety of activities during their stay – from scaling the highest peak in South Korea to watching the splendid sunset and sunrise scenes along the coast, Jeju has it all.
What are the best things to do in Jeju?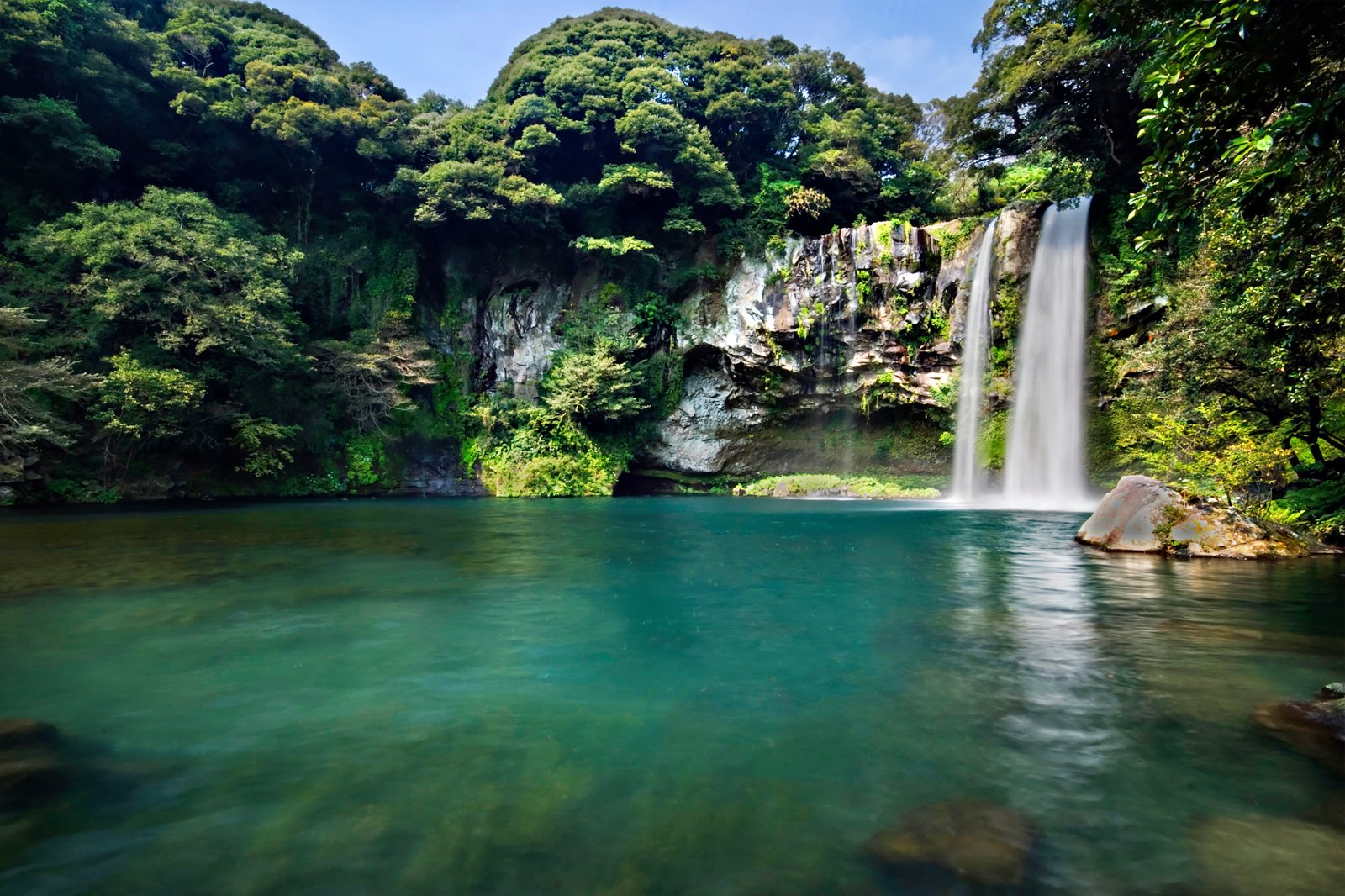 Cheonjiyeon Waterfall is one of the most famous waterfalls in Jeju. The name translates to 'the connection between land and sky'. There's a scenic trail that leads you to the falls – visit at night to see a formation of rocks illuminated with artificial lights.
The 22-metre-tall waterfall breaks up into a number of smaller streams emerging from the main area. The water falls into an artificial basin formed by 2 small dams, which keep the water from overflowing.
Location: Cheonji-dong, Seogwipo, Jeju-do, South Korea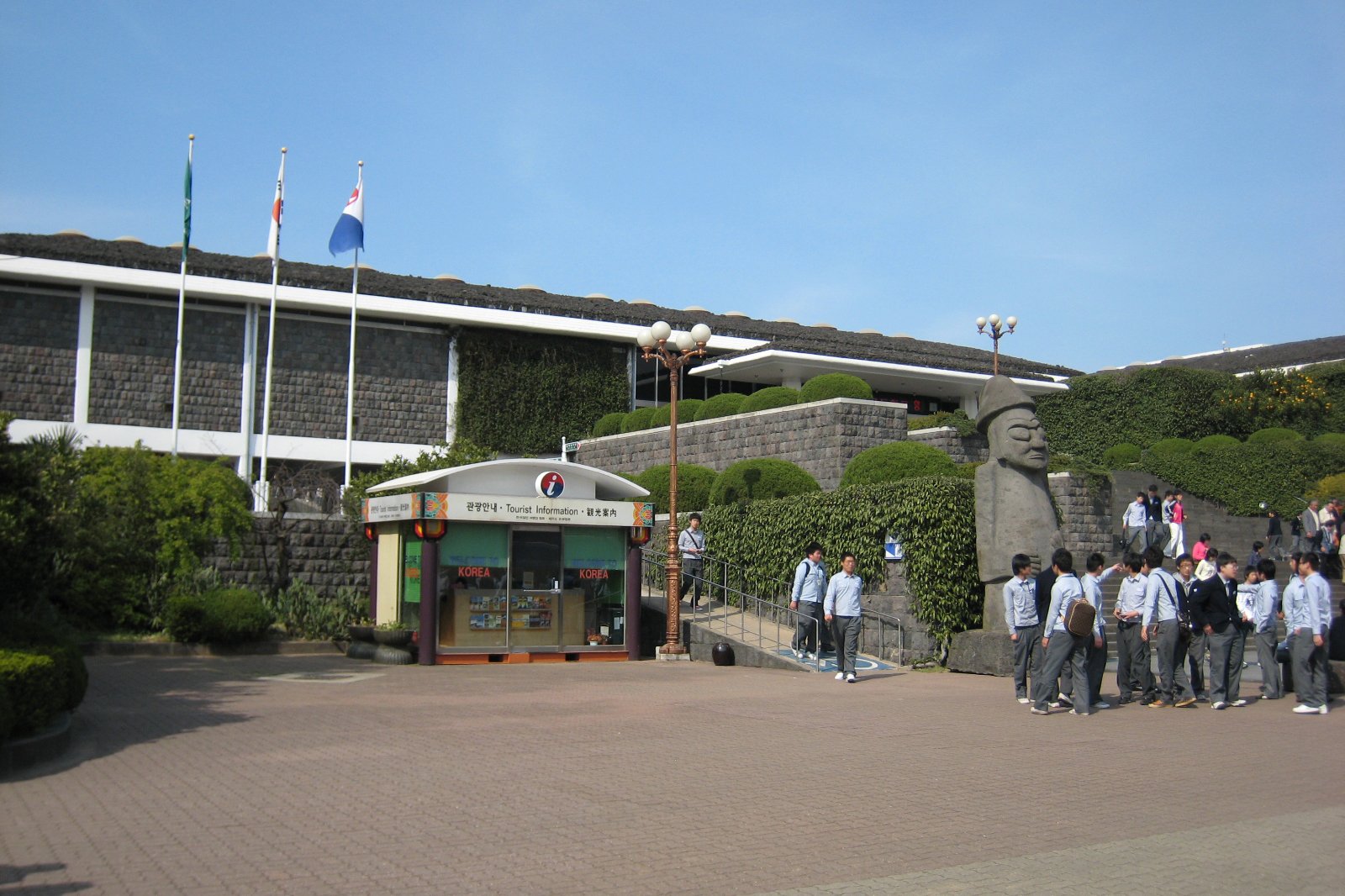 Folklore and Natural History Museum
The Folklore and Natural History Museum has 4 exhibition halls: folklore, history, natural and special resources. Visiting the museum is a great way to learn about the history of Jeju as it displays replicas of animals and plants that are found on the island. There is an additional hall used as an audio-visual room.
Location: 40, Samseong-ro, Jeju-si, Jeju-do, South Korea
Open: June–August: daily from 8.30am to 7pm. September–May: daily from 8.30am to 6.30pm
photo by karendotcom127 (CC BY 2.0) modified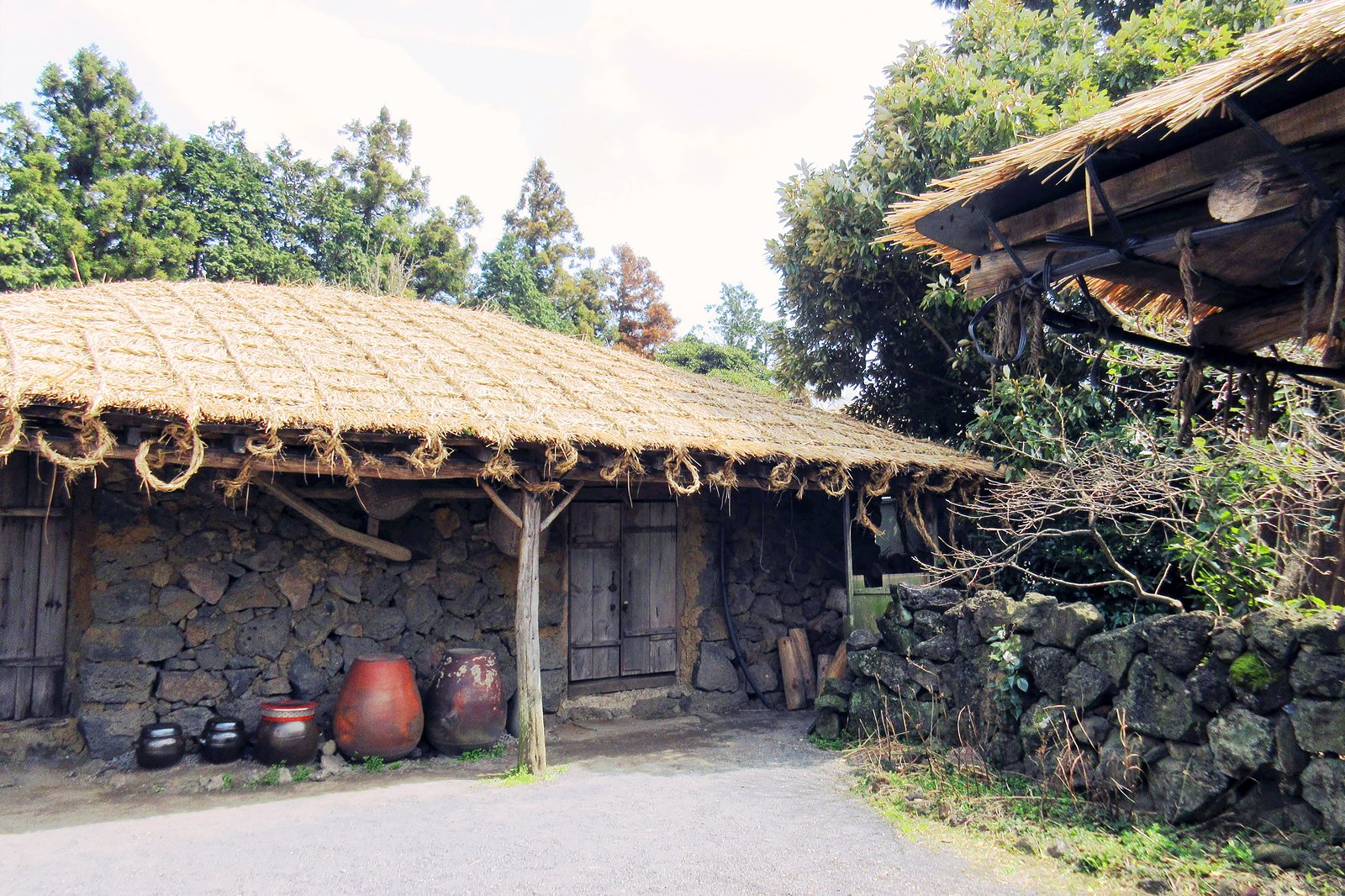 The Jeju Folk Village Museum represents the island's rich cultural heritage and folklore. It's built over an area of 150,000 sq m and has around 117 traditional houses. Among the many artefacts on display here include thousands of folk items made from wood, iron, and bamboo.
You can get an audio guide and gather knowledge about Korean history, culture, and beliefs. Exploring each and every part of the Jeju Folk Village Museum takes about 4 hours.
Location: 631-34 Minsokhaean-ro, Pyoseon-myeon, Seogwipo, Jeju-do, South Korea
Open: Daily from 8.30am to 6pm
Phone: +82 64-787-4501
photo by anokarina (CC BY-SA 2.0) modified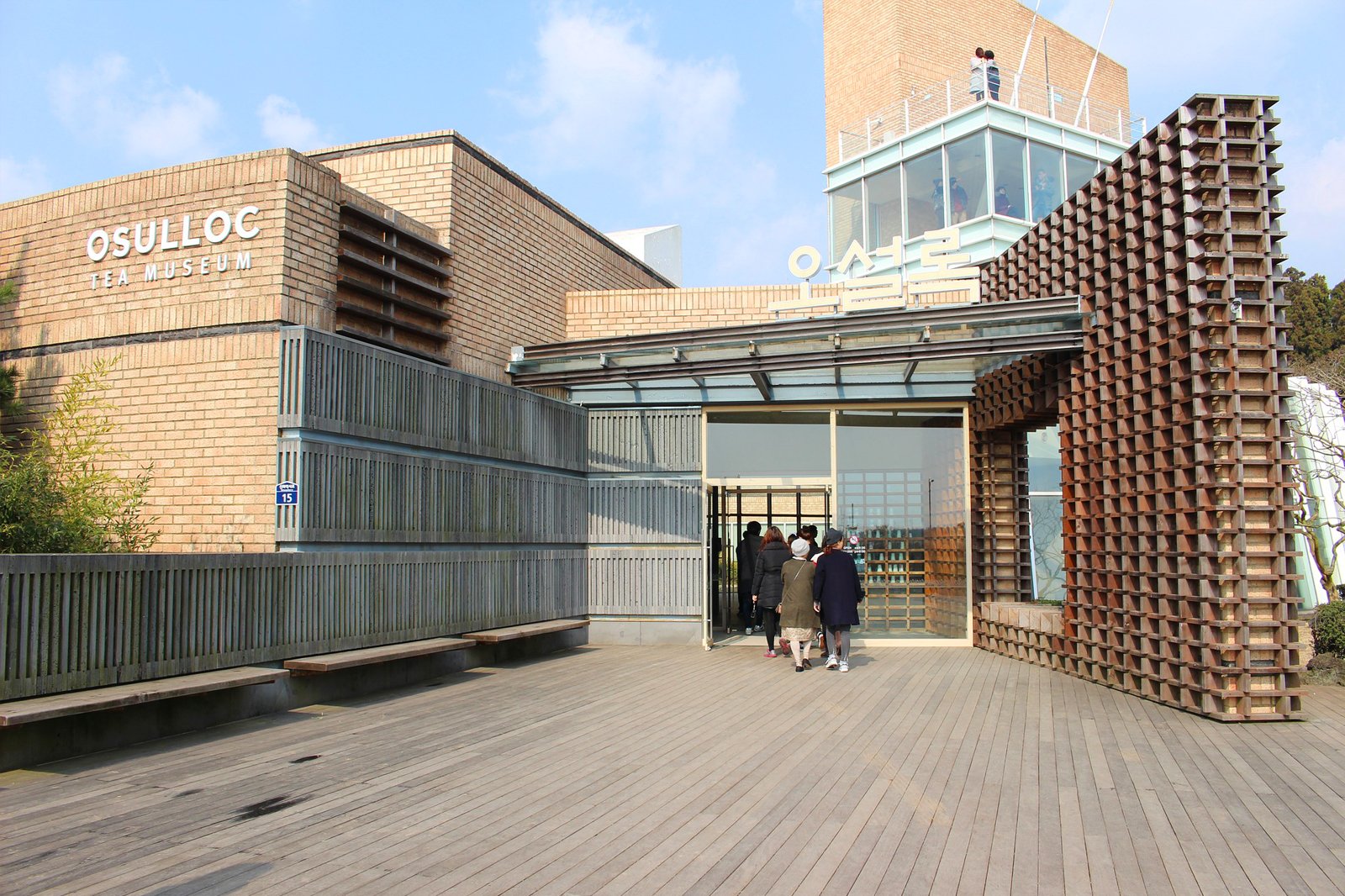 Osulloc Tea Museum attracts those who want to learn about Korean tea tradition. It overlooks O'sulloc's Seogwang Tea Planation, which dates back to 1979. There's a gallery showcasing tea wares and artefacts used during the Joseon Dynasty, and a workshop that runs lectures on the various methods of tea plantation, packing, and green tea supply-chains.
You can also shop for souvenirs at the gift shop and enjoy views of Jeju countryside from the museum's observatory. If you're feeling hungry, Osulloc Tea Museum serves a variety of food and beverages, including green tea ice cream, cakes, and tea lattes.
Location: 15 Sinhwayeoksa-ro Andeok-myeon, Seogwipo city, Jeju-do, South Korea
Open: Daily from 9am to 6pm
Phone: +82 64-794-5312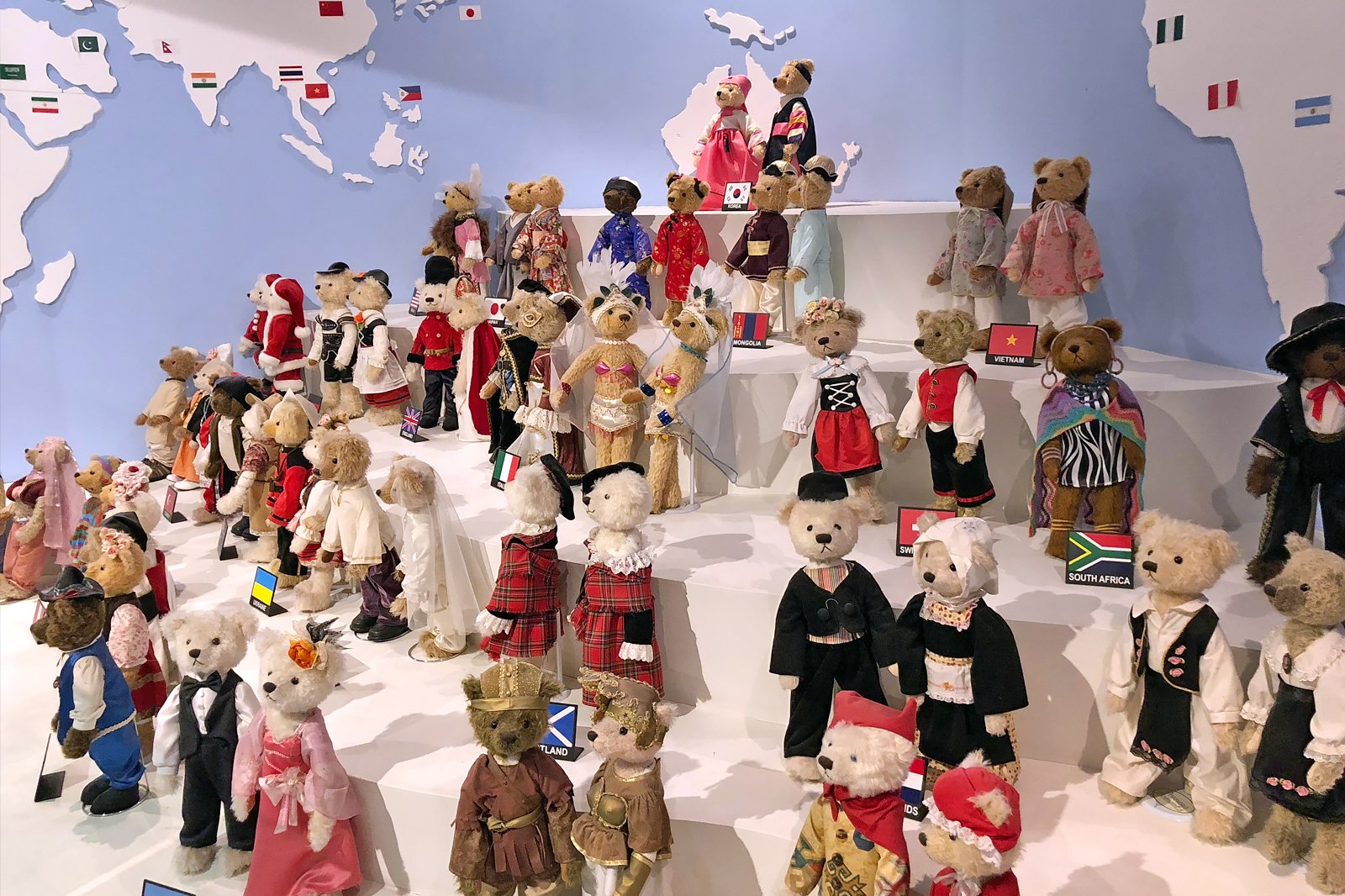 Jeju Teddy Bear Museum is one of the very few museums in the world that allows people to buy items on display. Displaying some of the most unique teddy bears in the world, the museum also lets people buy the toys on display and make them a part of their personal collection.
The museum was opened primarily to attract tourists and foreign collectors and has done pretty well – it attracts those who are on the lookout for conceptually fresh museums. Entrance to Jeju Teddy Bear Museum costs around 10,000 won per adult and 8,000 per child.
Location: 2889 Saekdal-dong, Seogwipo, Jeju-do, South Korea
Open: June–August: daily from 9am to 10pm. September–May: daily from 9am to 7pm
Phone: +82 64-738-7600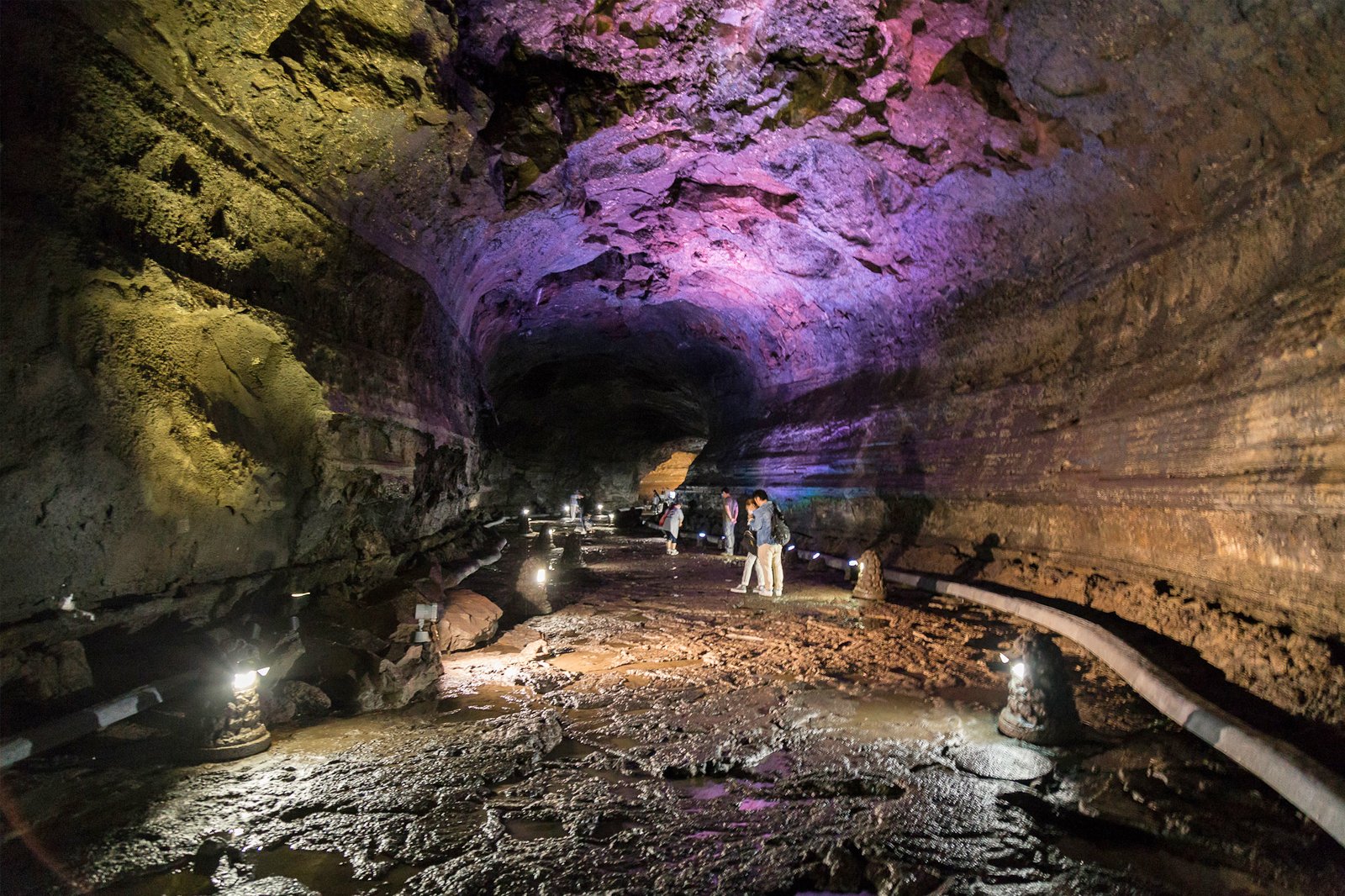 Manjanggul Lava-Tube Cave
The UNESCO-listed Manjanggul Lava-Tube Cave spans a total of 7 km with only 1 km open to the general public. The tunnels are the result of lava activity in the region over time, and spans up to 23 metres in height at some places.
Manjanggul Lava-Tube Cave is one of the most visited landmarks in – you can take a bus from the Old Seogwipo Bus Terminal. The journey takes about 2 hours, and another 30 minutes on foot to reach the Manjanggul Lava-Tube Cave.
Location: 182, Manjanggul-gil, Jeju-si, Jeju-do, South Korea
Open: Daily from 9am to 6pm (closed every 1st Wednesday of the month)
Phone: +82-64-710-7905
photo by Laurie Nevay (CC BY-SA 2.0) modified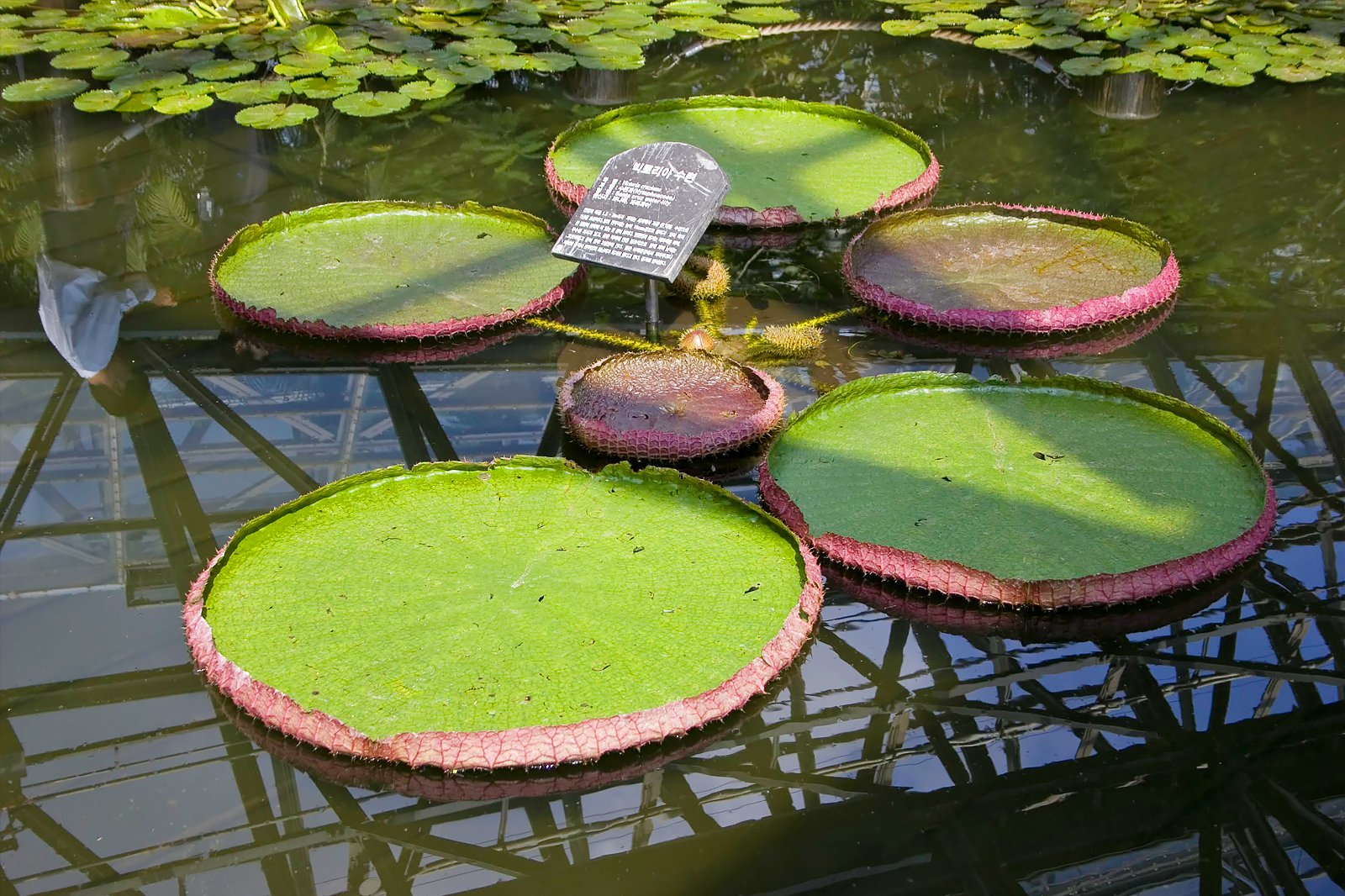 Yeomiji Botanical Garden, located within Jungmun Resort, occupies an indoor complex with multiple galleries showcasing different types of plants. From cacti and tropical fruits to water lilies and flowers, Yeomiji has about 2,000 species of rare plants and 1,700 species of flowers and trees. The garden covers a total space of 1,100 sq m and is considered to be one of the most beautiful and well-maintained indoor gardens in Asia.
Location: 93 Jungmungwangwang-ro, Saekdal-dong, Seogwipo, Jeju-do, South Korea
Open: Daily from 9am to 6pm
Phone: +82 64-738-3828
photo by A____ R__ (CC BY-SA 2.0) modified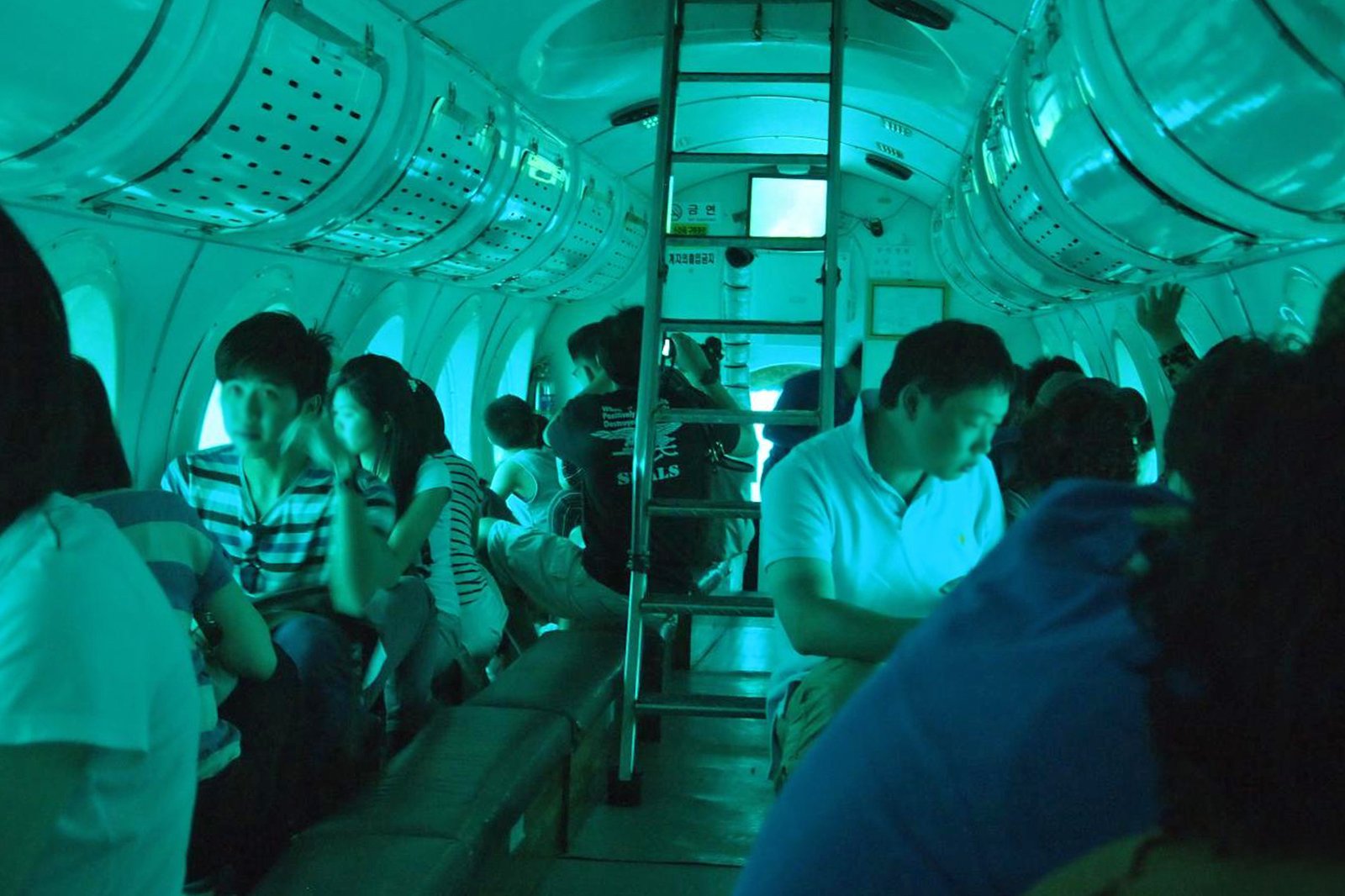 Jeju is a volcanic island that lies in the southwest corner of the Korean peninsula. Taking a submarine tour is one of the best ways to see the island's diverse underwater life. The tour usually operates at a depth of about 30 metres, and the submarine travels about 2.8 km in length. The ocean is home to colourful corals, many types of fish and enchanting underwater sculptures.
photo by Walter Lim (CC BY 2.0) modified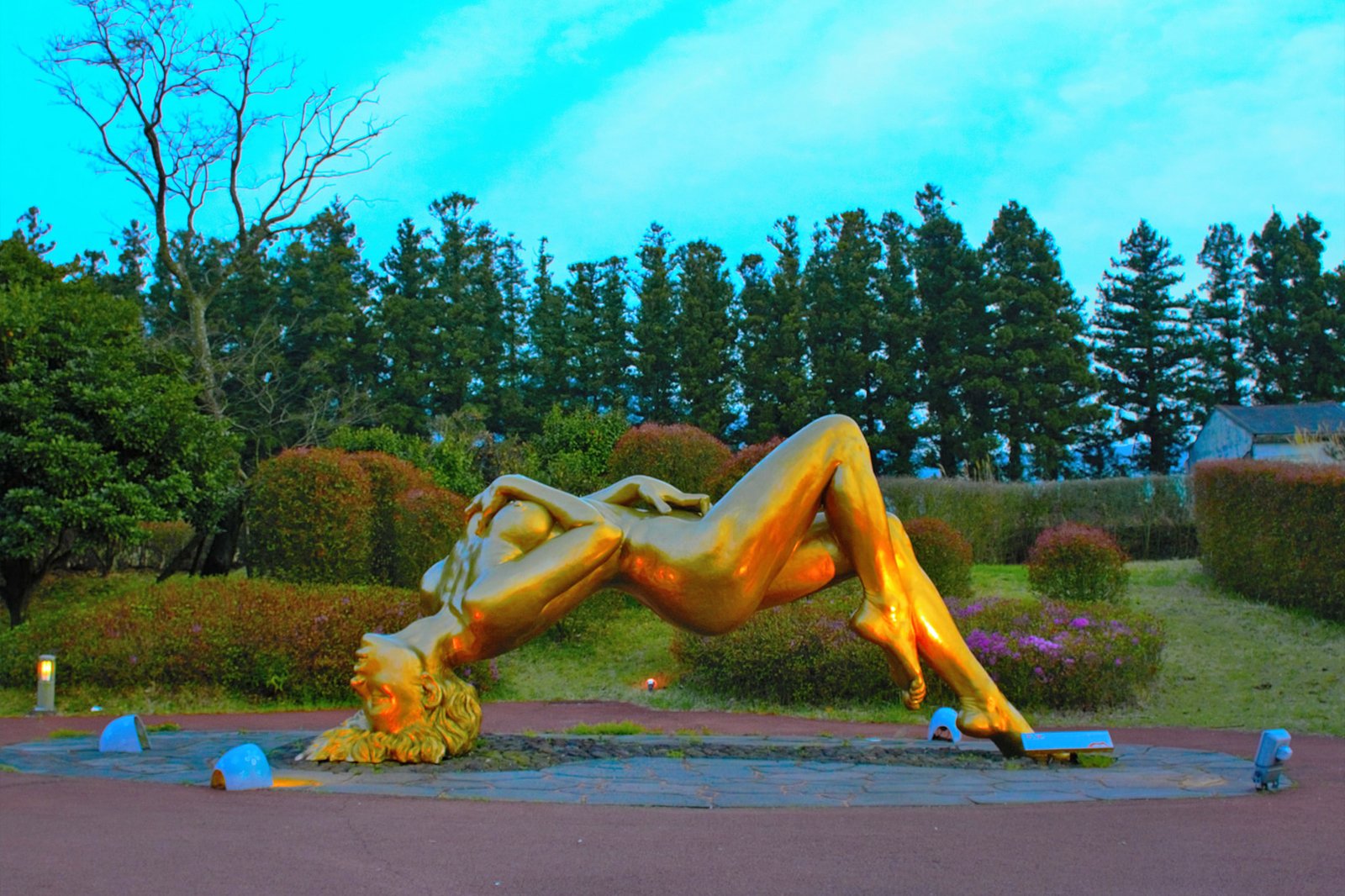 Love Land is an eccentric and erotic attraction near the Jeju Museum of Art. Founded in 2004, the outdoor theme park has around 140 explicit sculptures created by the students of architecture at Seoul University. If you are travelling with children, there's a kid-friendly amusement park to distract them while you're visiting Love Land.
If you're unclear about the concept of the sculptures at Loveland, here's a tip: don't visit the place with your parents! Love Land makes for a great outing with your close friends and offers some rather interesting photos. The sculptures are sometimes shocking, but you will have a great time if you're not too prudish.
Location: 2894-72, Cheonbaengi-ro, Jeju-si, Jeju-do, South Korea
Open: Daily from 9am to midnight
Phone: +82-64-712-6988
photo by Damara Avila (CC BY-SA 2.0) modified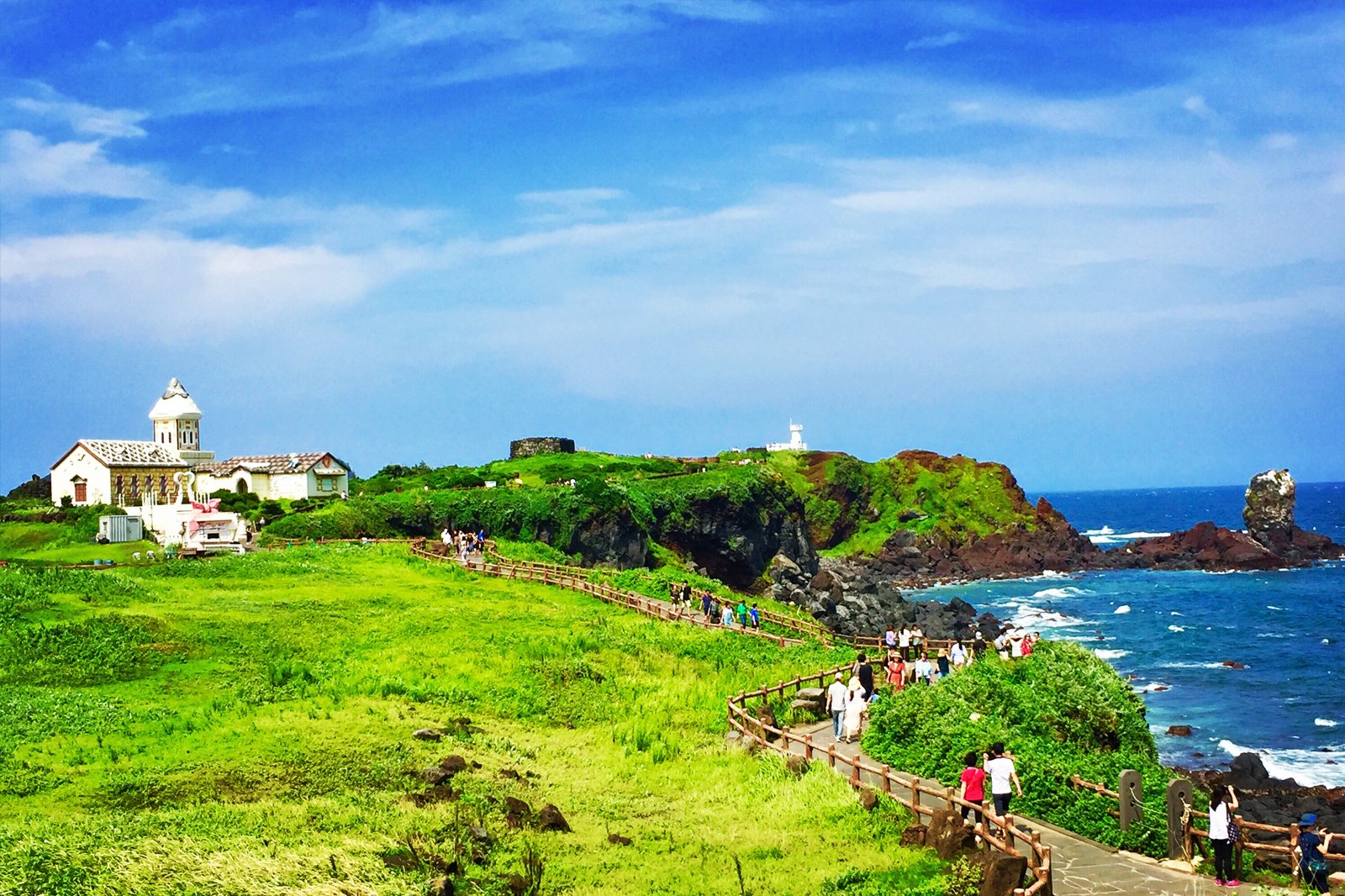 Seopjikoji is one of the most famous capes in South Korea, largely because the cape and its surroundings was the backdrop for several Korean TV series, including Gingko Bed, All In, and One Thousand and One Nights.
The best time to visit Seopjikoji is in April, when canola flowers are in full bloom. You can enjoy views of the ocean at Hyeopja Beacon Fire Station, which stands 4 metres on top of a hill.
Location: 107, Seopjikoji-ro, Seogwipo-si, Jeju-do, South Korea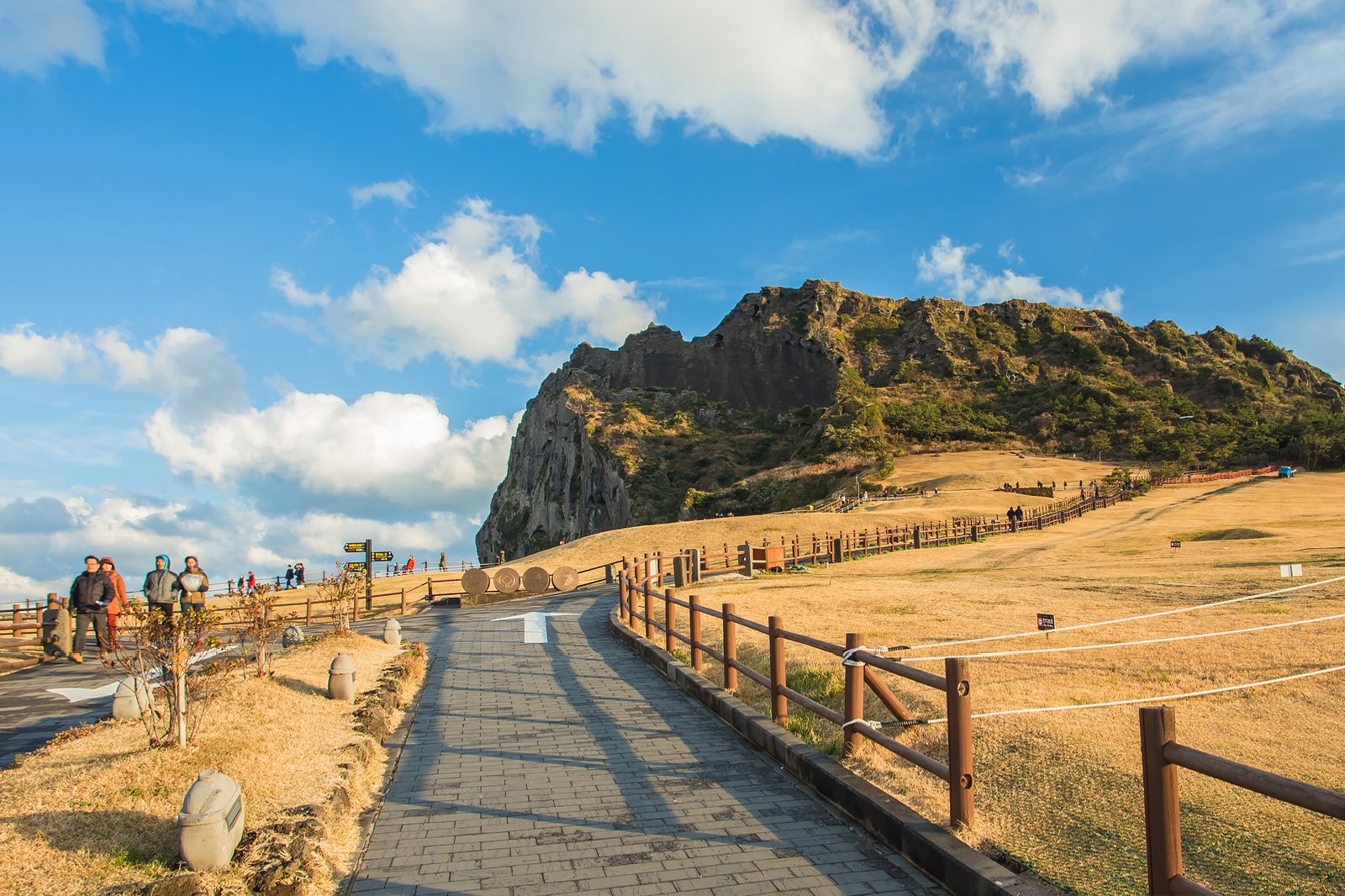 Seongsan Ilchulbong, also called Sunrise Peak, is a popular spot for trekking and watching the sunrise. The sunrise however, is not visible every day because it's mostly foggy at the peak. The climb, however, is an interesting one. It has a trekking route of almost 600 steps. Be sure to take loads of water, warm clothing and snacks in order to make the most of your climb.
Location: Seongsan-eup, Seogwipo-si, Jeju-do, South Korea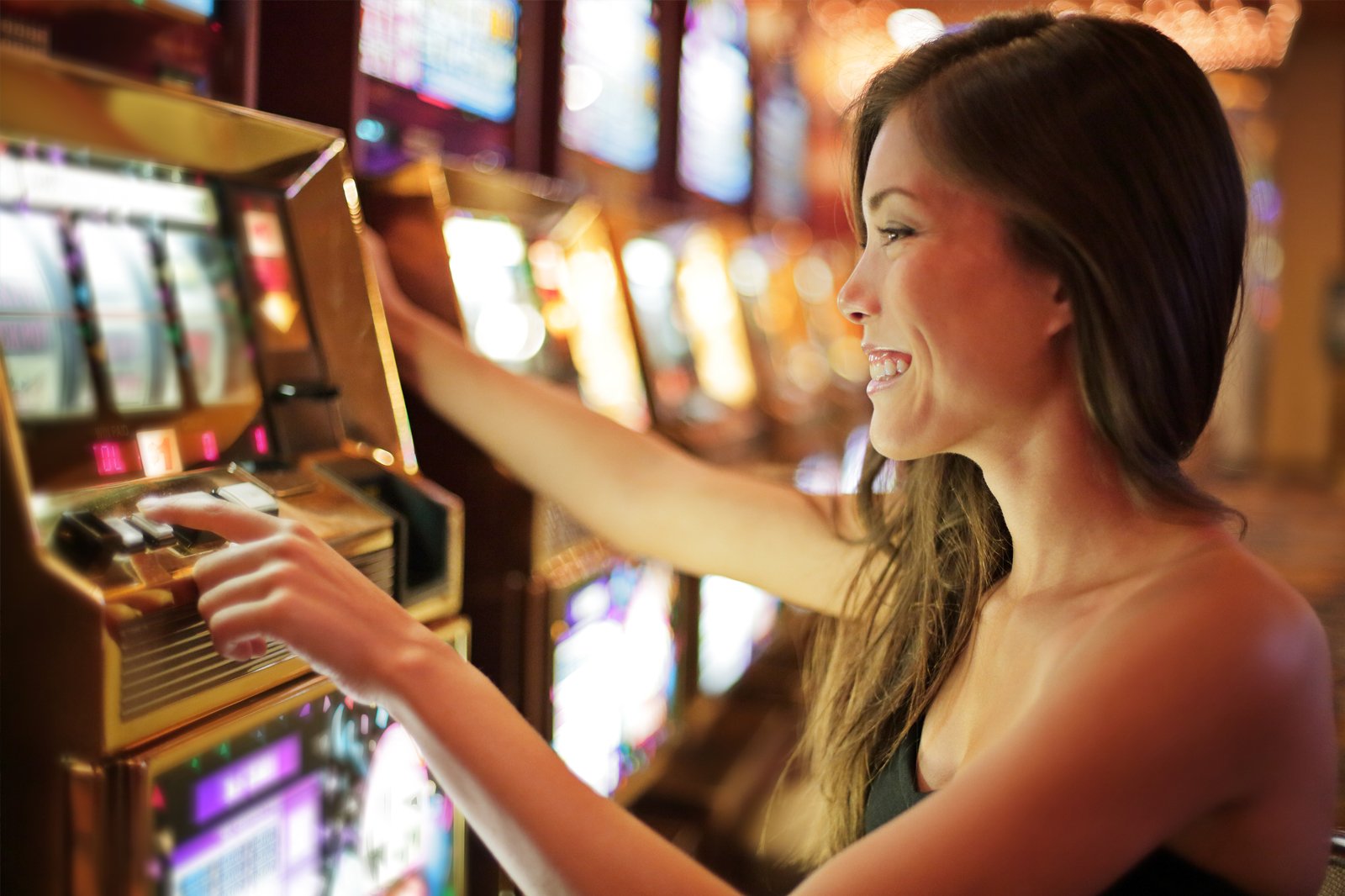 Casinos in Jeju stay open 24/7, attracting those who want to try their luck at winning some cash during their holiday. Popular casino hotels here include Lotte Hotel Jeju, Ramada Plaza Jeju Ocean Front, and Jeju Sun Hotel & Casino.
As locals are prohibited from gambling, you'll only see foreign visitors at the gambling tables and slot machines.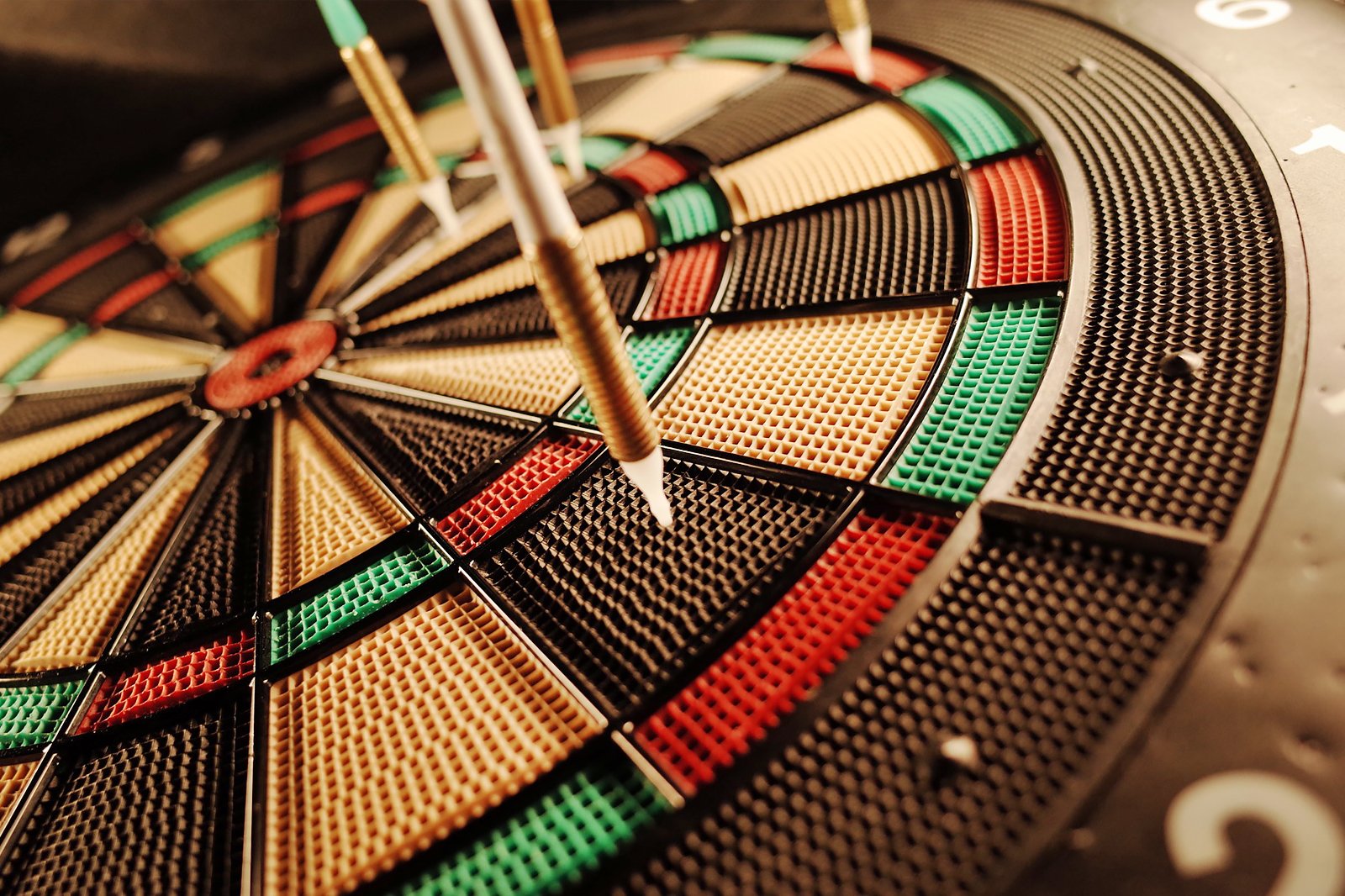 Darts Bar Bull's is the place to be for a few games of darts and drinks in Jeju. Located opposite Gyeongju City Hall, the underground bar is more or less geared towards the fairer sex as the owner runs a monthly women's darts.
A round of darts starts at about 500 won and cocktails at 7,000 won. If you prefer a beer, Darts Bar Bull's serves Heineken and Guinness on tap.
Location: 1773-6, Idoi-dong, Cheju, Jeju-do, South Korea
Open: Daily from 7pm to 4am
Phone: +82-64-759-5559
Jeongwol Daeboreum Fire Festival
The Jeongwol Daeboreum Fire Festival is by far the most prolific event on the island. Situated on Route 95, it marks the end of the harvest. The festival marks the burning of leftover grass by the local farmers in order to ward of harmful insects and is usually celebrated on Daeboreum- a local festival in South Korea.
The exact date of the celebrations varies according to the local calendar, but it typically falls during early February or March. The festival showcases folk games, markets, dances, and concerts – don't miss the torch-lighting ceremonies and fireworks displays that take place during the celebrations.
Location: San 59-8, Bongseong-ri, Ayeol-eup Jeju-si, Jeju-do, South Korea
Jeju Mini Land Park displays miniature replicas of iconic structures from around the world. You can find are over 115 architecture and UNESCO World Heritage sites from 50 different countries – some of the most famous include the Leaning Tower of Pisa, the Taj Mahal, and the Eiffel Tower.
This family-friendly attraction also offers 30-minute workshops such as tee shirt making, pouch crafting, and handkerchief making. Admission to Jeju Mini Land Park costs about 9,000 won per adult, 7,000 won per teenager, and 5,000 won per child (above 3 years old).
Location: 606, Bijarim-ro, Jocheon-eup, Jeju-si, Jeju-do, South Korea
Open: Winter: daily from 9am to 6pm. Summer: daily from 8.30am to 7pm. Spring: daily from 8.30am to 6pm
Phone: +82-64-782-7720