10 Best Beaches in Mallorca
Discover the Great Beaches of Spain's Largest Island
Mallorca has no shortage of beautiful beaches. This corner of the Balearics boasts over 260 sandy coastal strips, 29 of which received the coveted Blue Flag in recognition of their exceptional water quality and commitment to preserving the coastal environment.
There's something for everyone on Spain's largest island. Whether you prefer a secluded cove accessed only on foot or a lively resort strip flanked by restaurants and sophisticated beach clubs, there's a beach that's just perfect for you somewhere on this delightful Mediterranean island. You'll soon realise why so many holidaymakers return year after year as you check out these great beaches in Mallorca.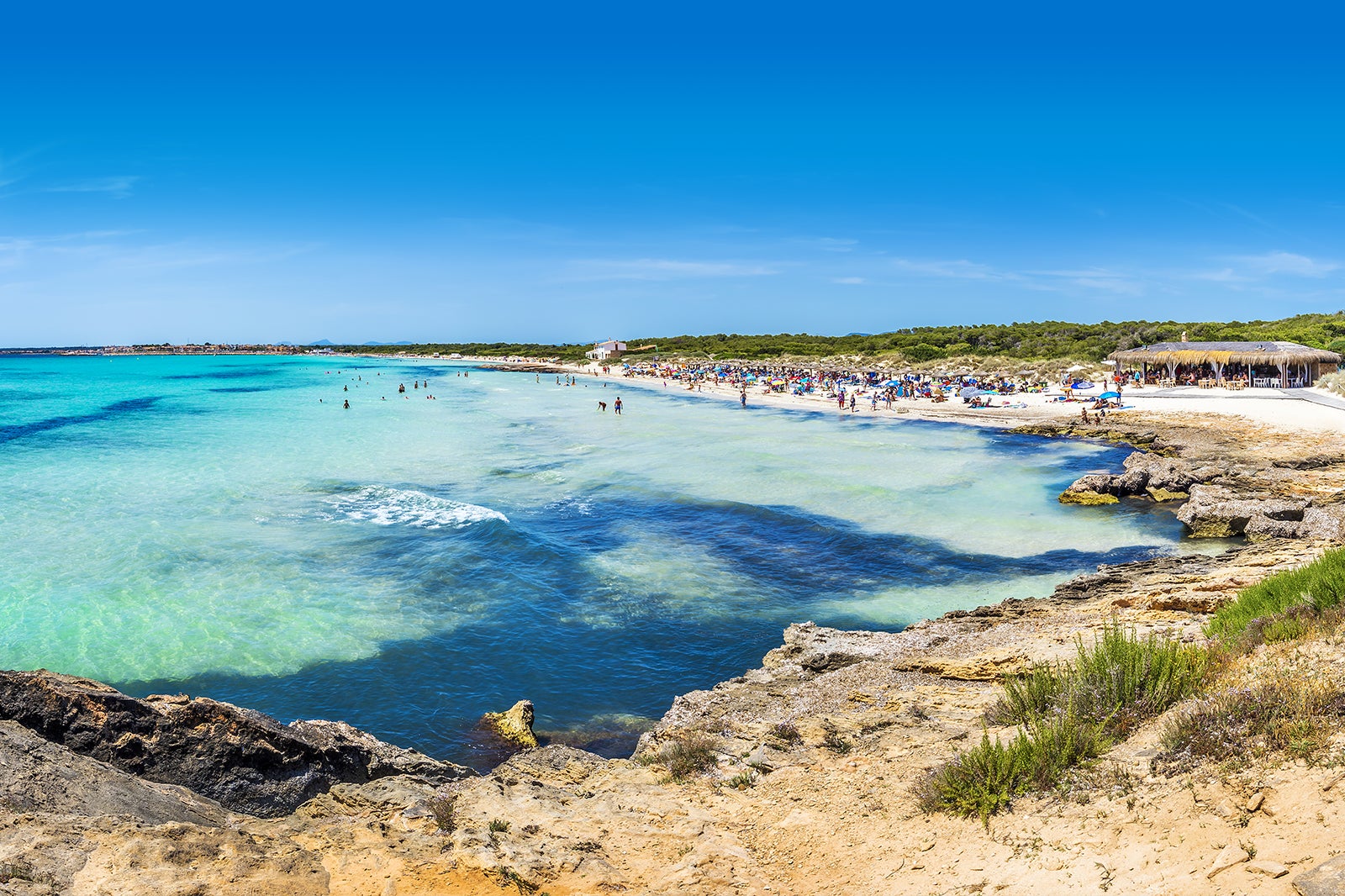 Es Trenc
Where you can pretend you're in the Caribbean
At Es Trenc, you'll have to pinch yourself to believe that the island with its pristine white sand and shallow turquoise waters isn't in the Caribbean. This glorious stretch of coastline is a real head turner and its immediate hinterland of pine trees, sand dunes, and salt flats are almost as stunning.
The beach is between the towns of Ses Covetes and Colonia Sant Jordi in southern Mallorca. It also benefits from not being directly attached to any resort, making you feel more secluded than you actually are. As all chiringuitos (casual Spanish beach bars) have been removed from the beach, bring your own snacks and drinks.
Location: Platja des Trenc, Mallorca, Balearic Islands, Spain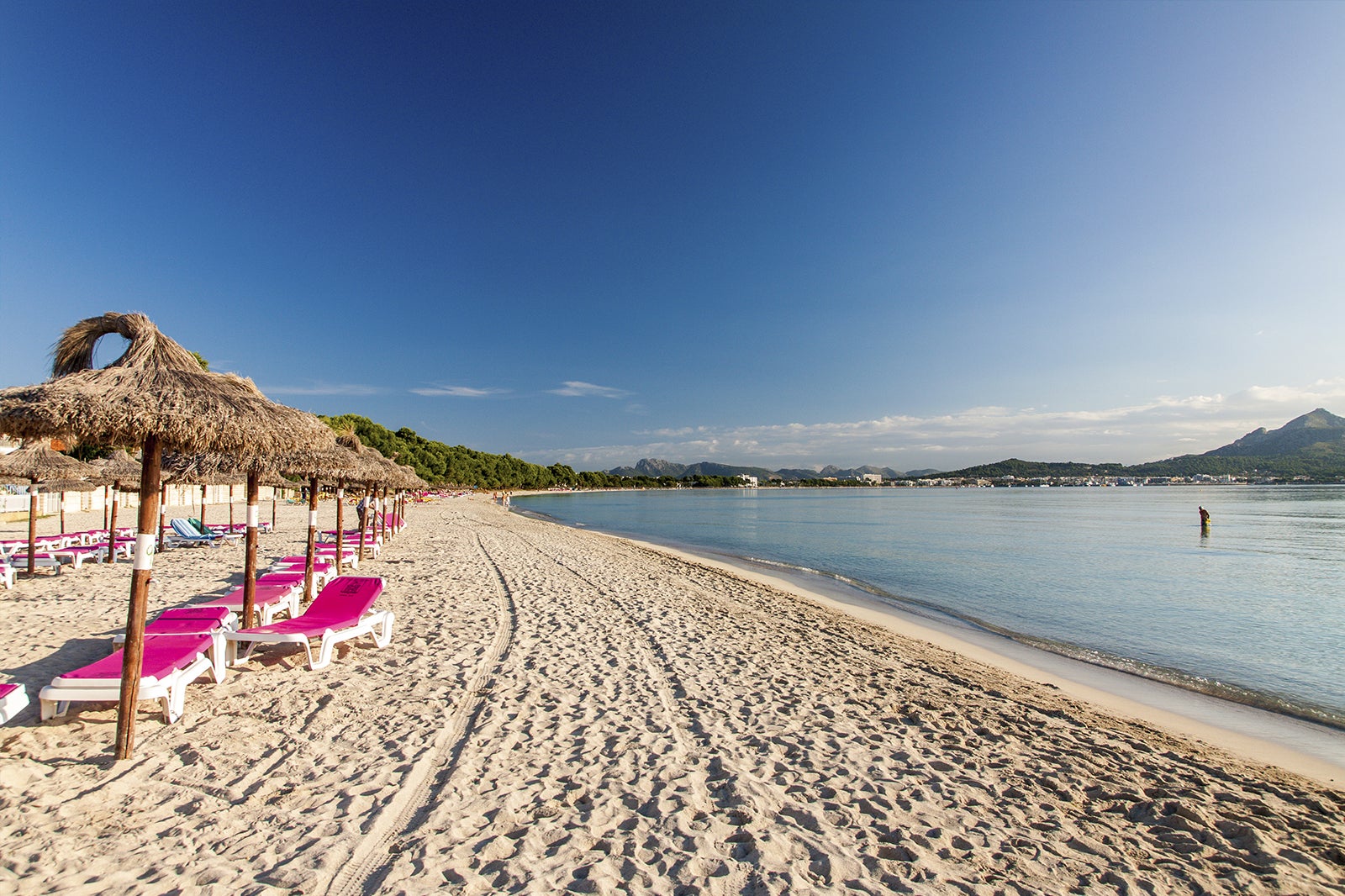 Playa d'Alcúdia
Have fun at the family-friendly Blue Flag beach
Families regularly flock to Playa d'Alcúdia for many reasons. This 7-km-long strip of fine white sand forms the largest beach on the island, so there's plenty of room for the kids to let off steam. This Blue Flag beach offers fun for all ages, with plenty of waterslides, banana boat rides and pedalos. Teens can try windsurfing or parasailing to satisfy their need for adventure.
If that sounds like too much effort, you can rent a sunbed and parasol to relax while watching the kids play in the sand. There's a good selection of family-friendly restaurants, lifeguards on duty, and parking spots nearby Playa d'Alcúdia.
Location: Platja d'Alcúdia, Mallorca, Balearic Islands, Spain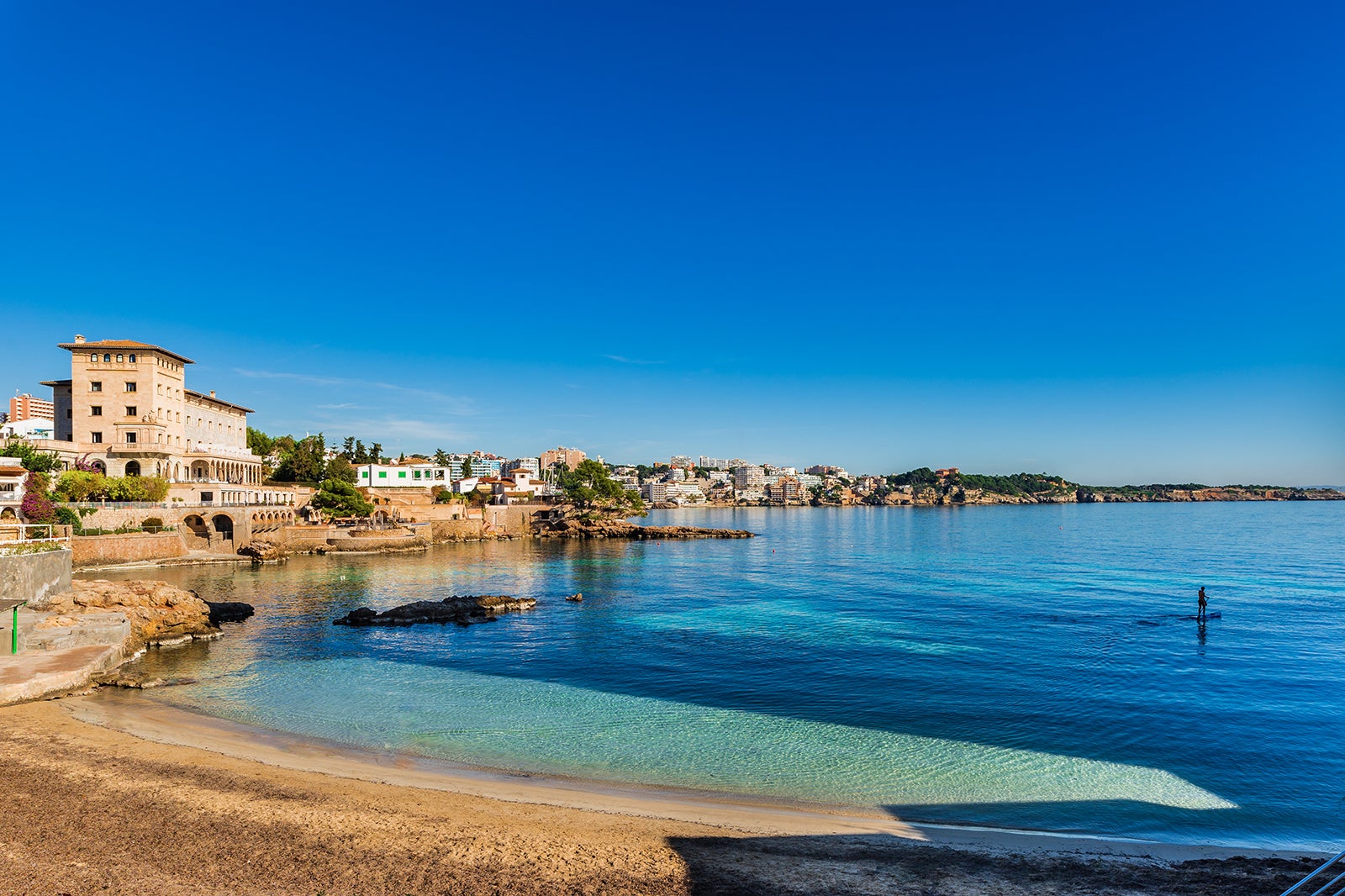 Calvia Beach
Experience Mallorca's beach partying vibes
Calvia Beach is Mallorca's party central – it shows that Ibiza doesn't have the Balearic monopoly when it comes to having fun. If you like your beach wild, colourful and loud, this spot in Magaluf is where you need to be. Chill poolside by day and then as night falls, turn up the volume and dance the night away.
Some of the island's most glamorous beach clubs are located right on this beach. At Zhero Boathouse, sip a cocktail by the pool or take a dip in the sea. A few doors down, the sophisticated Nikki Beach looks out across the bay to the Illa de sa Porrassa. The luxe cabanas and chic sun loungers are an Instagrammer's dream.
Location: Playa De Magaluf, Calvià, Mallorca, Balearic Islands, Spain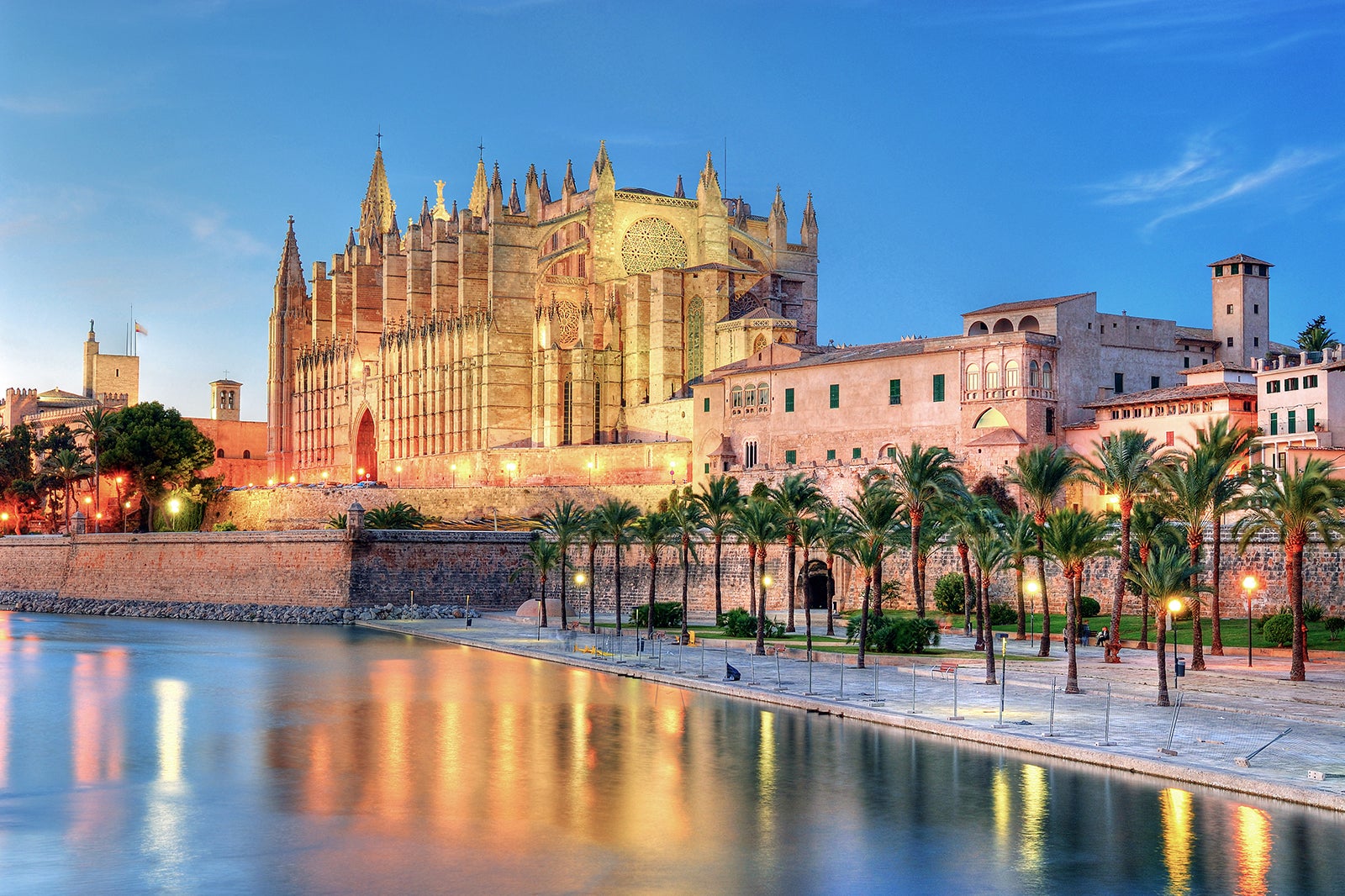 Platja de Can Pere Antoni
Sunbathe on the palm-fringed city beach
At Platja de Can Pere Antoni, you can have the best of both worlds: the beach and Palma's rich history. Explore Mallorca's delightful capital to see impressive sights such as its 13th-century cathedral and the Moorish-style Almudaina fortress.
Wander down to this palm-fringed city beach, located just 1 km from the cathedral. You can position your sun lounger to admire this Gothic masterpiece from afar. The beach isn't huge, and its proximity to the city means you won't have it to yourself. But with a view like this, that wouldn't be much of a problem.
Location: 07006 Palma, Mallorca, Balearic Islands, Spain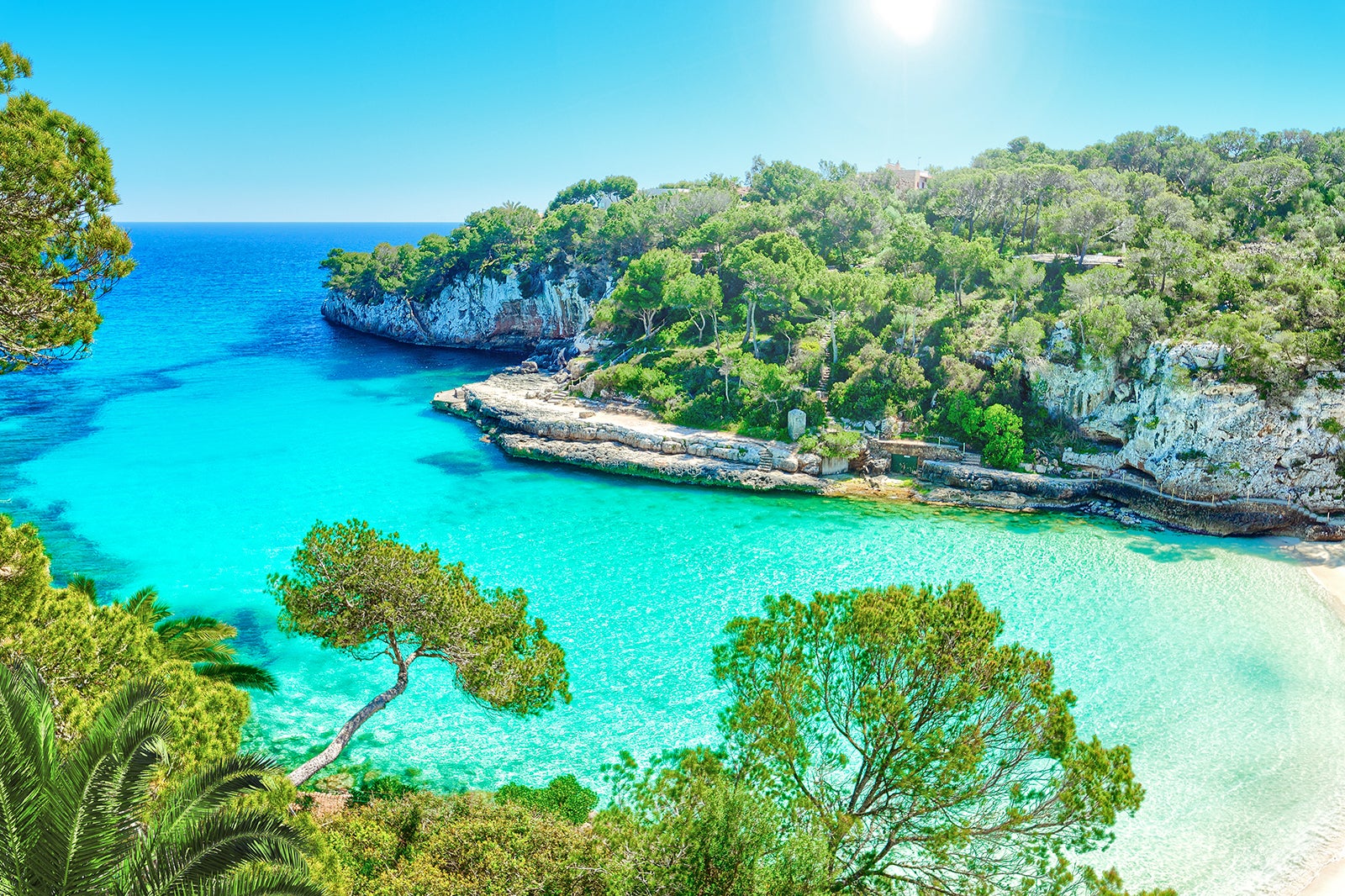 Cala Llombards
Snorkel in crystal-clear waters right off the white sand
You'll find the cove which contains Cala Llombards in the southeast of Mallorca. It's tucked almost out of sight, with steep cliffs and narrow beach leading some to liken it to a Norwegian fjord (with considerably better weather). The sand stretches back almost 150 metres from the shore, with pine trees forming a natural border.
The bay's restricted girth blocks larger waves and the water is calm inbound of the headlands, making this an excellent snorkelling spot. Schools of tropical fish flit in the Tiffany-blue waters. It's no surprise to learn that Cala Llombards is a firm favourite with locals.
Location: 07690 Cala Llombards, Mallorca, Balearic Islands, Spain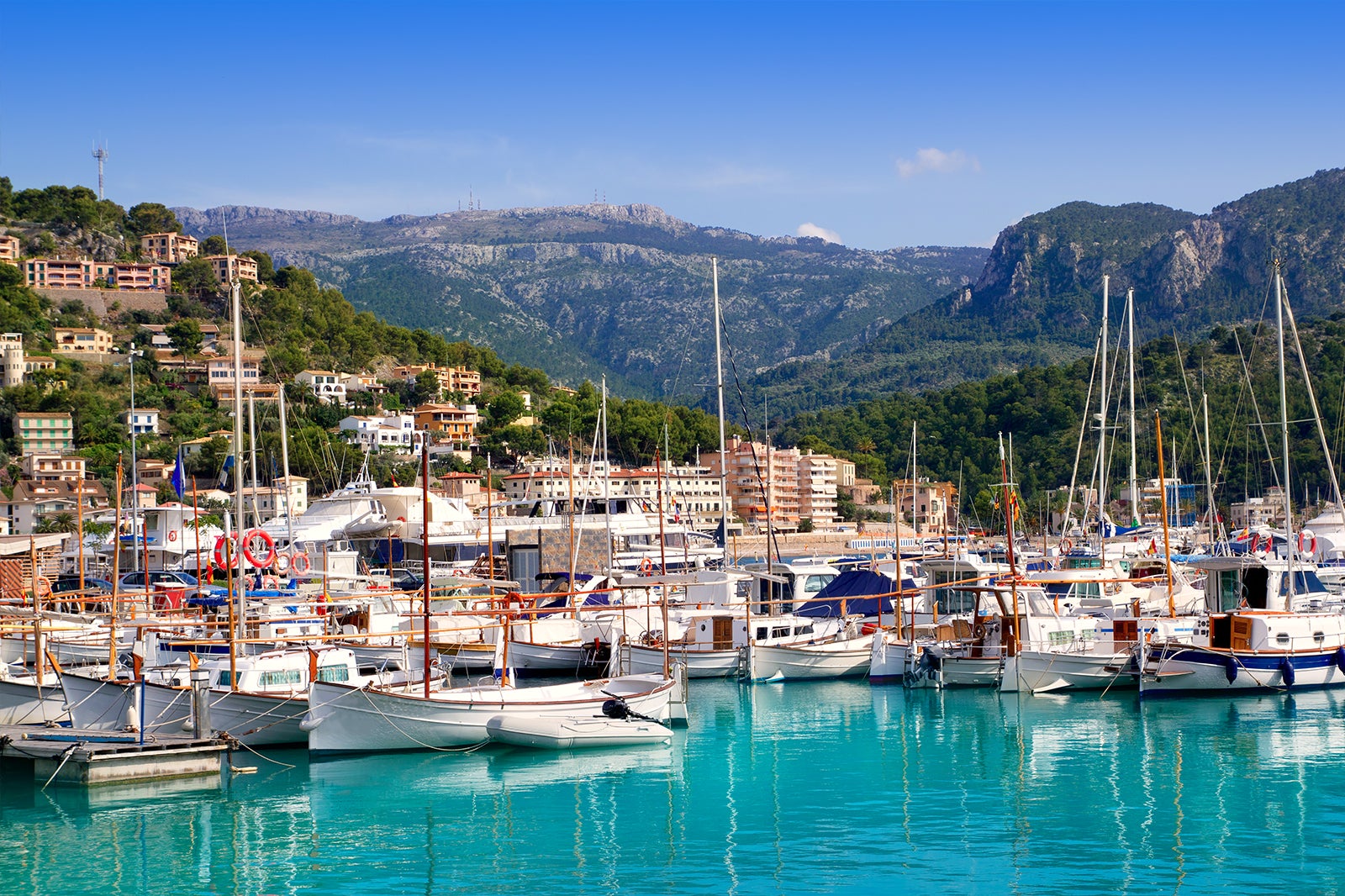 Es Traves, Port de Sóller
Swim between mountains and the Balearic Sea
Charming Port de Sóller has some of the best beaches on Mallorca's western coast, including the delightful Es Traves and the smaller Playa d'en Repic. Hemmed in by the Sierra de Tramuntana, a tunnel was only blasted through in the late 1990s, meaning the resort escaped some of the mass tourism excesses that blight other locales.
Arrive the traditional way, riding the Orange Express over the mountains on a vintage train that links Palma to Sóller. From Sóller, hop on a tram that shuttles between the town and its port. Throw open the windows: the citrusy scent of oranges hangs heavy on the air. Make your final stop in the Balearic Sea to enjoy the mountain panorama.
Location: Sóller, Mallorca, 07100 Balearic Islands, Spain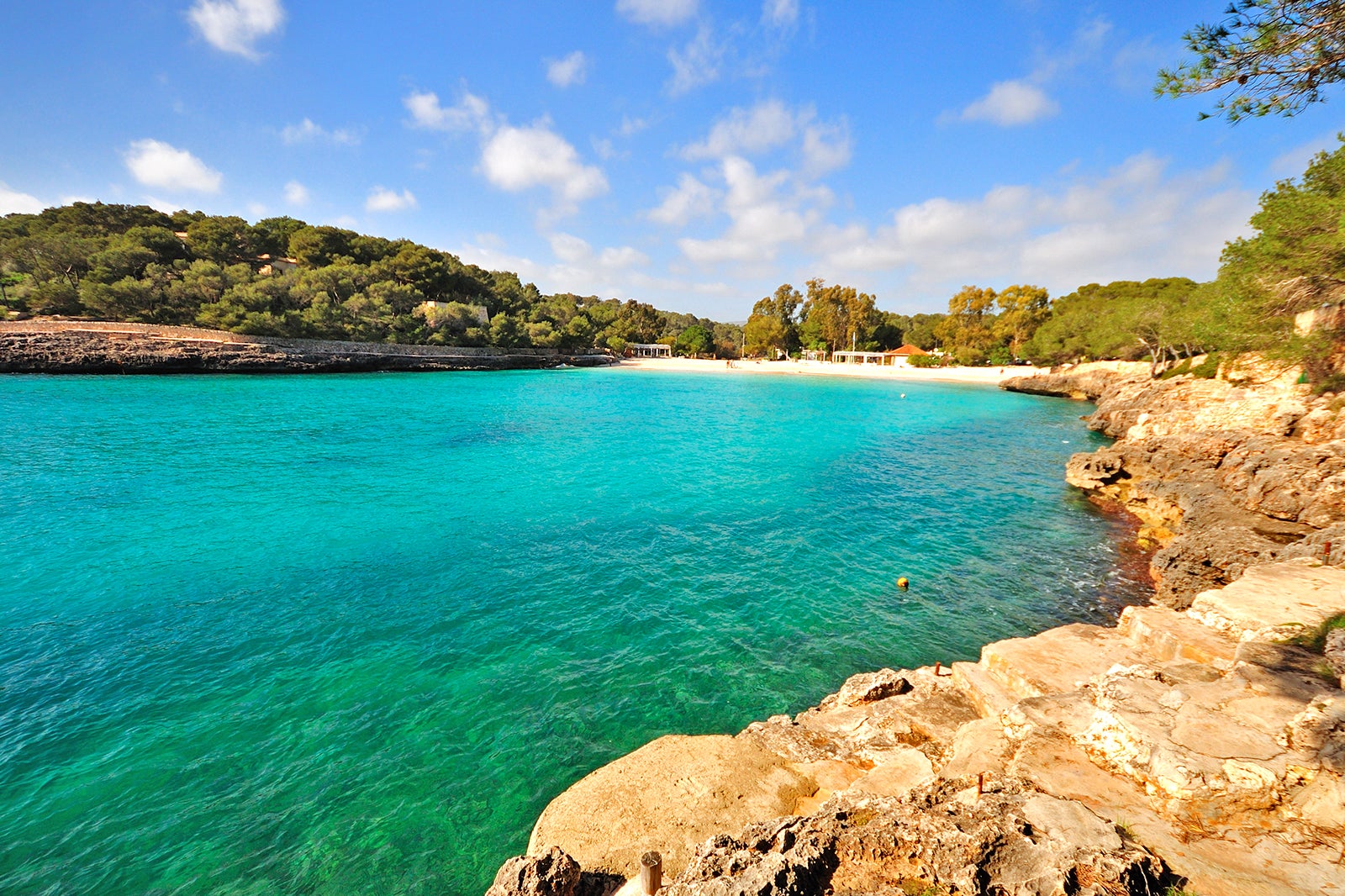 Cala Mondragó
Take in the lovely seascapes of an unspoilt beach
Cala Mondragó is within Mondragó National Park in the southeastern end of Mallorca. This unspoilt corner of the island is one of its most attractive, blessed with sand dunes, rocky coves and pine forests. The fine, soft sand and gently shelving shoreline make this a top pick among families.
Stroll down the coast path to the next cove where S'Aramador beach provides a bit more space. Visitors of all ages can enjoy snorkelling in its clear warm water or seeing the marine life on a glass-bottom boat tour. The balance of facilities is just right, with toilets, showers and lifeguards (during peak season).
Location: Mondragó Natural Park, Mondragó, 07691 Portopetro, Mallorca, Balearic Islands, Spain
photo by Random_fotos (CC BY-SA 2.0) modified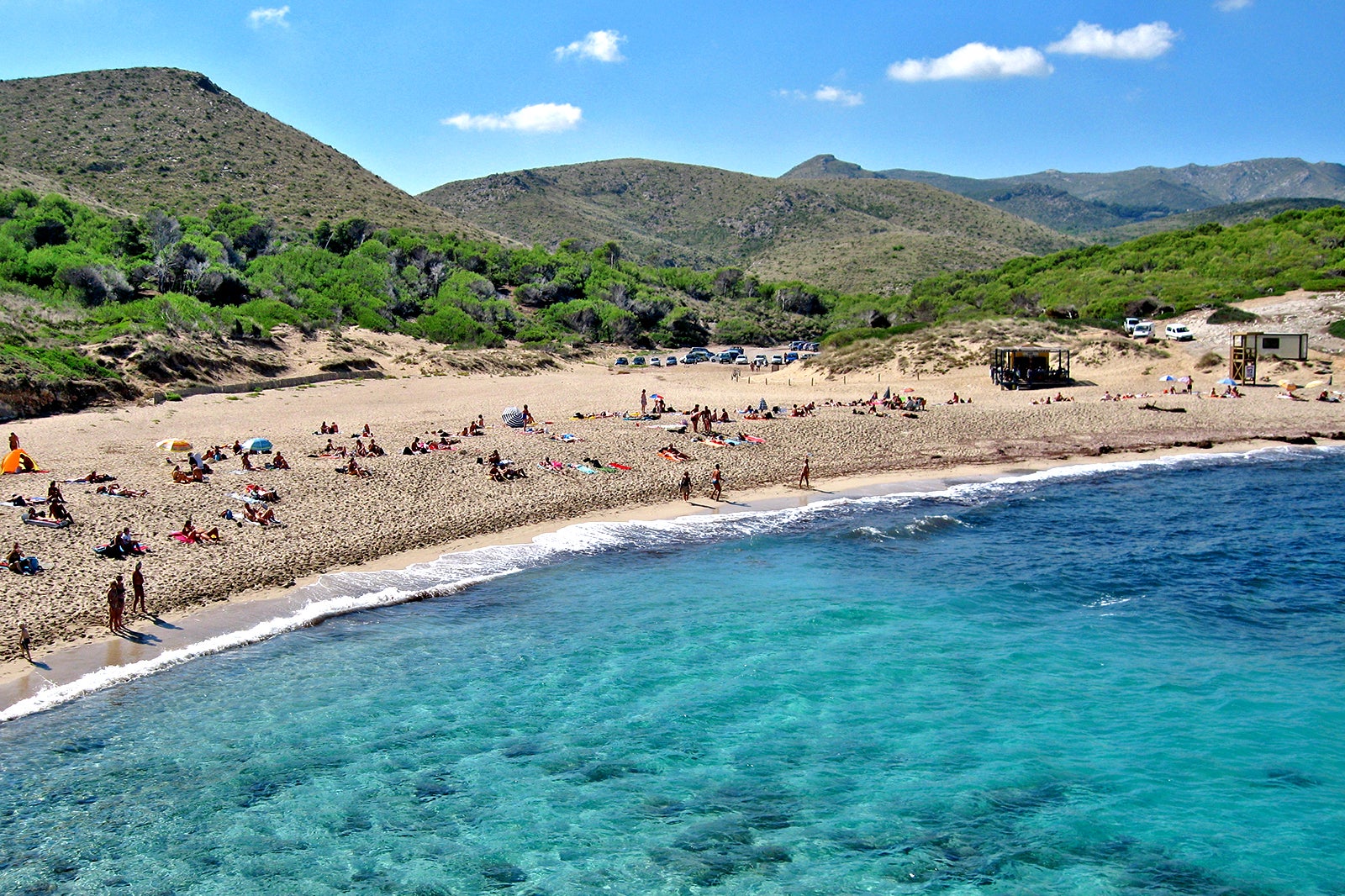 Cala Torta
Go skinny dipping in the magnificent blue sea
Freedom comes in many forms and skinny dipping at Cala Torta is one of them. This gorgeous beach nestles among the rocks and dunes of a nature reserve near the resort of Cala Ratjada. For those seeking an all-over tan, nude sunbathing is positively encouraged here.
The beach shelves quickly and families might be put off despite the presence of a lifeguard. At least that gets parents off the hook when it comes to those awkward questions about the whereabouts of other people's clothes. But if you've come to snorkel or dive, such easily accessible deep water is a godsend.
Location: 07579 Artà, Mallorca, Balearic Islands, Spain
photo by Olaf Tausch (CC BY 3.0) modified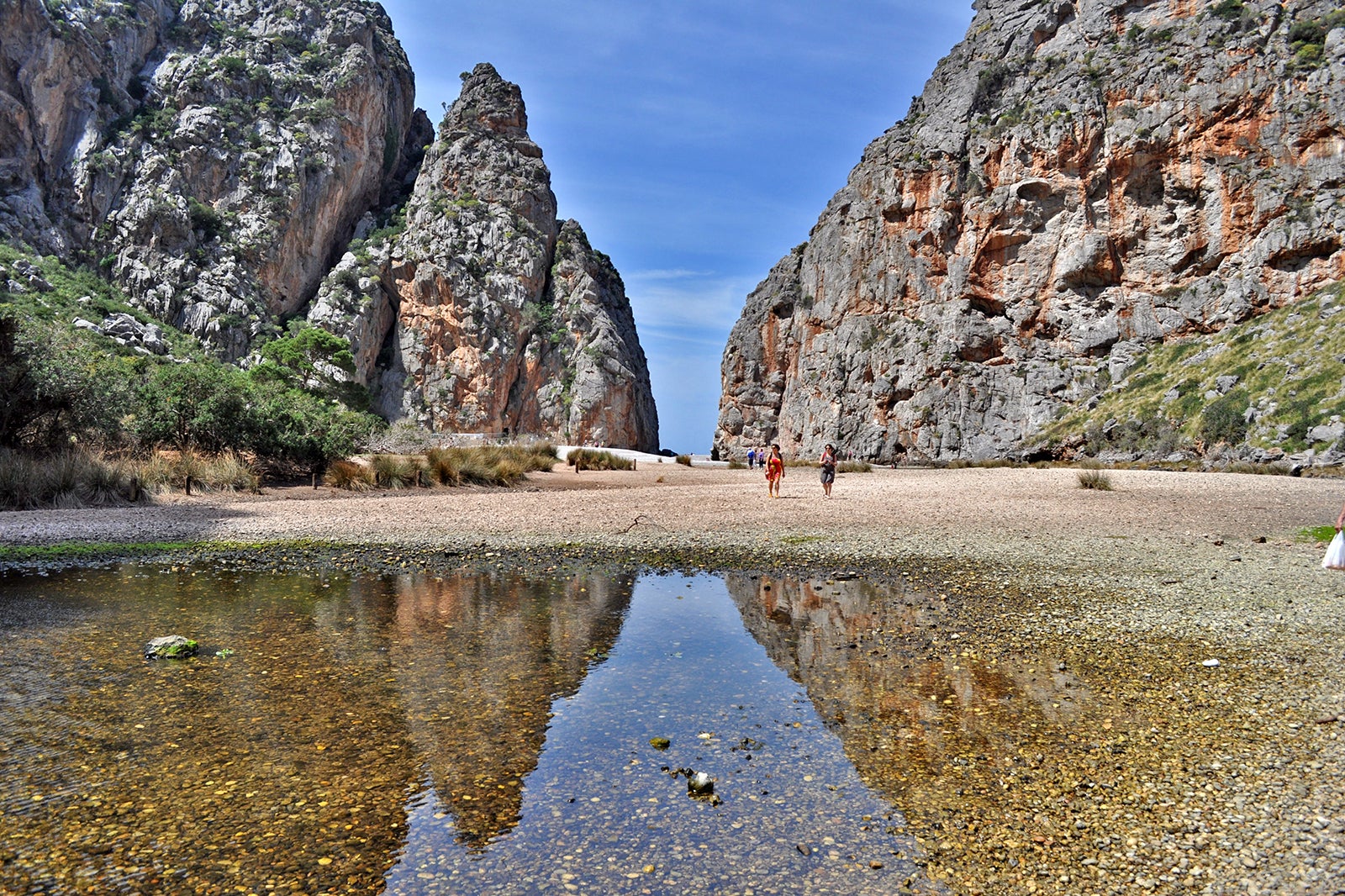 Sa Calobra
See one of the most dramatic sunsets in Mallorca
Sa Colobra offers a paradise-like setting where you can watch a sunset with a soundtrack of gently lapping waves. This beach squeezes into a narrow gap between vertiginous cliffs at the mouth of the Torrent de Pareis carved by centuries of fluvial erosion.
Allow plenty of time to reach Sa Colobra, as the road follows a convoluted track through the mountains to reach this isolated coast. When you arrive, you'll be relieved to hear that your destination won't be the underwhelming stony beach that you reach first from the car park. Instead, follow the paved path and tunnel to emerge onto a much more scenic stretch of sand that's much more deserving of the camera.
Location: 07315 Escorca, Palma de Mallorca, Balearic Islands, Spain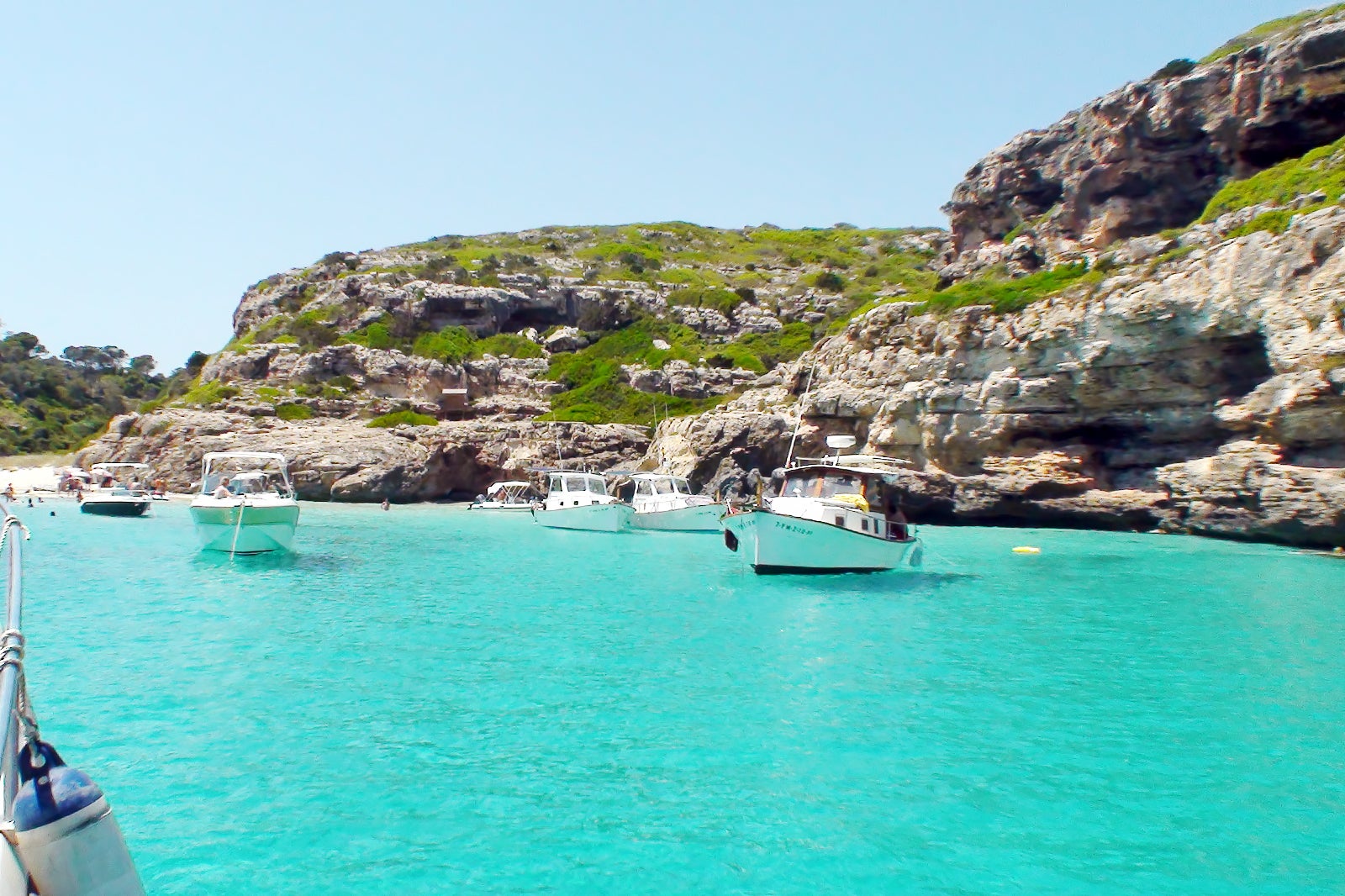 Caló des Màrmols
Escape to a remote and secluded bay
Caló des Màrmols is a quiet corner of paradise that's far from Mallorca's crowded beaches and busy resorts. The sand and gravel beach is only 40 metres long and is flanked by tall cliffs. To get there, you have 2 options: a tough 5.5-km hike from the lighthouse at Cap de Ses Salines or to drop anchor in the bay. It's this geography that keeps visitor numbers low.
For those who do make it, the rewards are great. This is one of Mallorca's few undeveloped beaches. There's nowhere to buy food or drink, so it's a good idea to pack a picnic. When it comes to watersports, you can only swim or snorkel in the enticingly transparent water.
Location: 07650 Santanyí, Mallorca, Balearic Islands, Spain
photo by mateu mulet (CC BY 3.0) modified