10 Best Things to Do in Conil de la Frontera
What is Conil de la Frontera Most Famous For?
Conil de la Frontera offers a small slice of Andalusian seaside paradise on Spain's Costa de la Luz. The traditional fishing town borders a small but great collection of immaculate beaches along a 14 km coastal stretch. A popular surfing destination in Spain, the Atlantic waves off Conil can be enjoyed year-round.
Exploring the low-rise old town, there are historical towers to admire, such as Torre de Guzman, which you can climb up for wonderful views. Off the beach and slightly out of town, fun for the whole family awaits at an exciting treetop adventure park. From a weekly market for bargain hunts to great bar scenes after dark, here are things to do in Conil de la Frontera in a day or two, showing you the best of this small but rich seaside town.
What are the best things to do in Conil de la Frontera?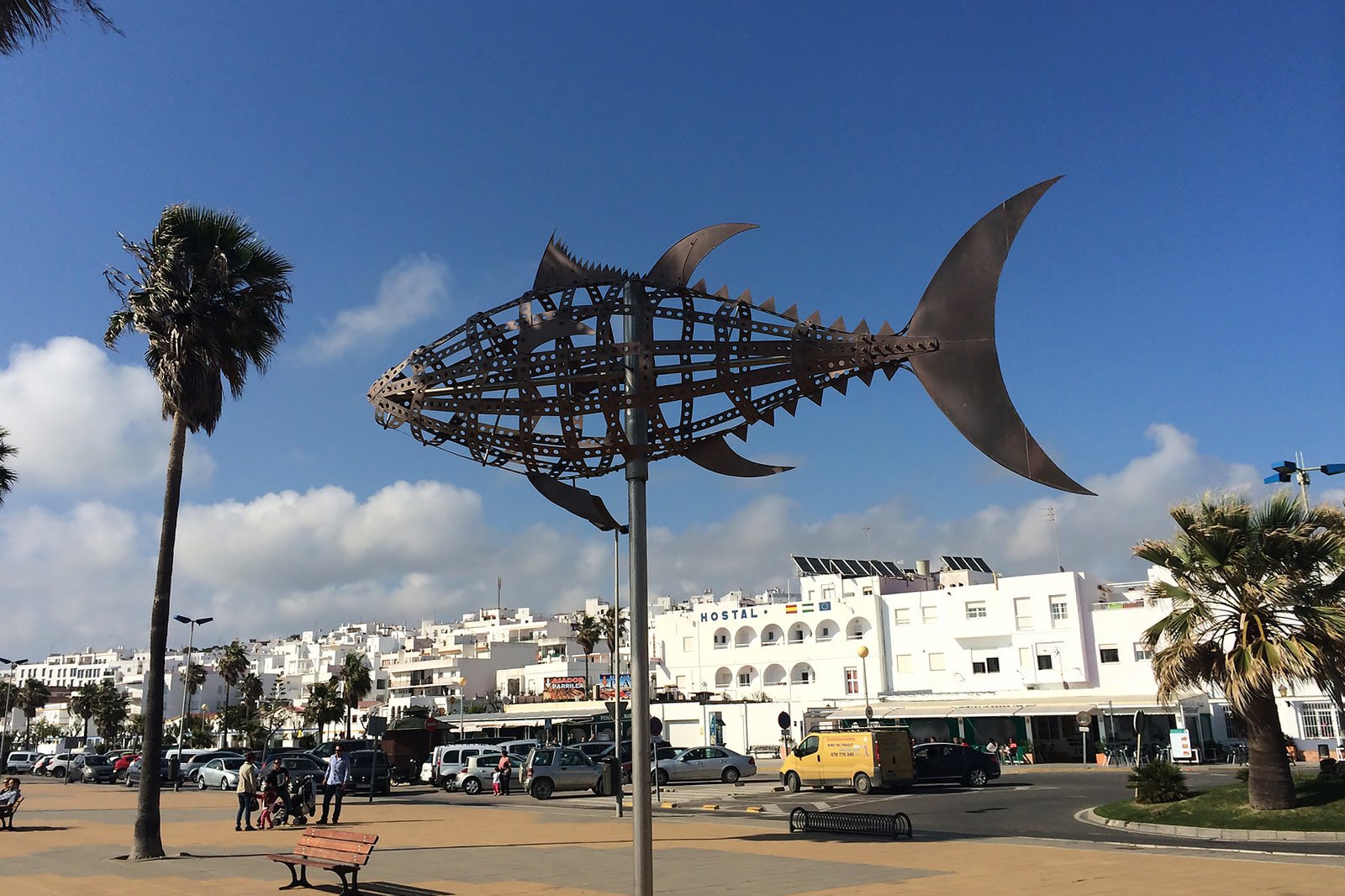 Start the day along Calle Paseo del Atlantico
Conil's scenic beachfront promenade
Conil de la Frontera's seaside views and vibes are best taken in from the beachfront promenade of Calle Paseo del Atlantico. This half-kilometre boulevard borders the Playa de Los Bateles beach, which makes up most of the southern end of Conil's whole coastline. It's clean and well-maintained, with a palm-lined park to its south, and with numerous bars and café's lining its adjacent road. Further north, the continuation known by Acceso La Fontanilla runs parallel the Playa de La Fontanilla beach.
Location: Calle Paseo del Atlantico, 11140 Conil de la Frontera, Cadiz, Spain
photo by Antonio Periago Miñarro (CC BY-SA 2.0) modified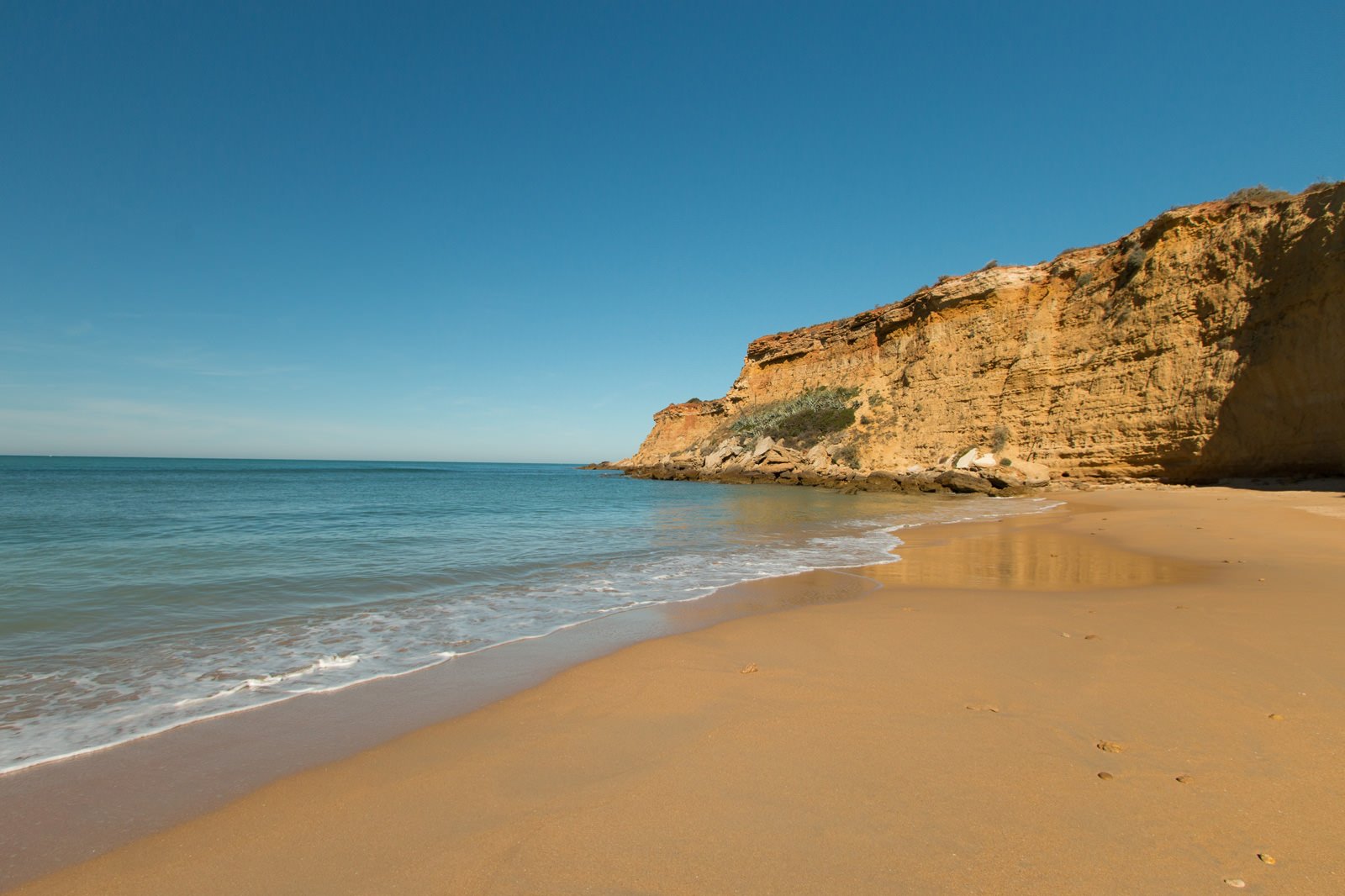 Sunbathe on the beach
From golden sand to rocky bays
The clear blue waters of the North Atlantic Ocean kiss this 14 km stretch of Andalusian coastline. The coastline of Conil comprises 3 main beaches. Starting from the north, there's the exotic Playa de La Fontanilla, with its rugged cliffside landscape. Playa de Los Bateles, with its beachfront promenade, is where most of the action happens. The widest but farthest from downtown is Playa de Castilnovo, where the historical tower of the same name looks over the golden dunes and surf. Conil's beaches offer a great escape year-round.
Location: 11140 Conil de la Frontera, Cadiz, Spain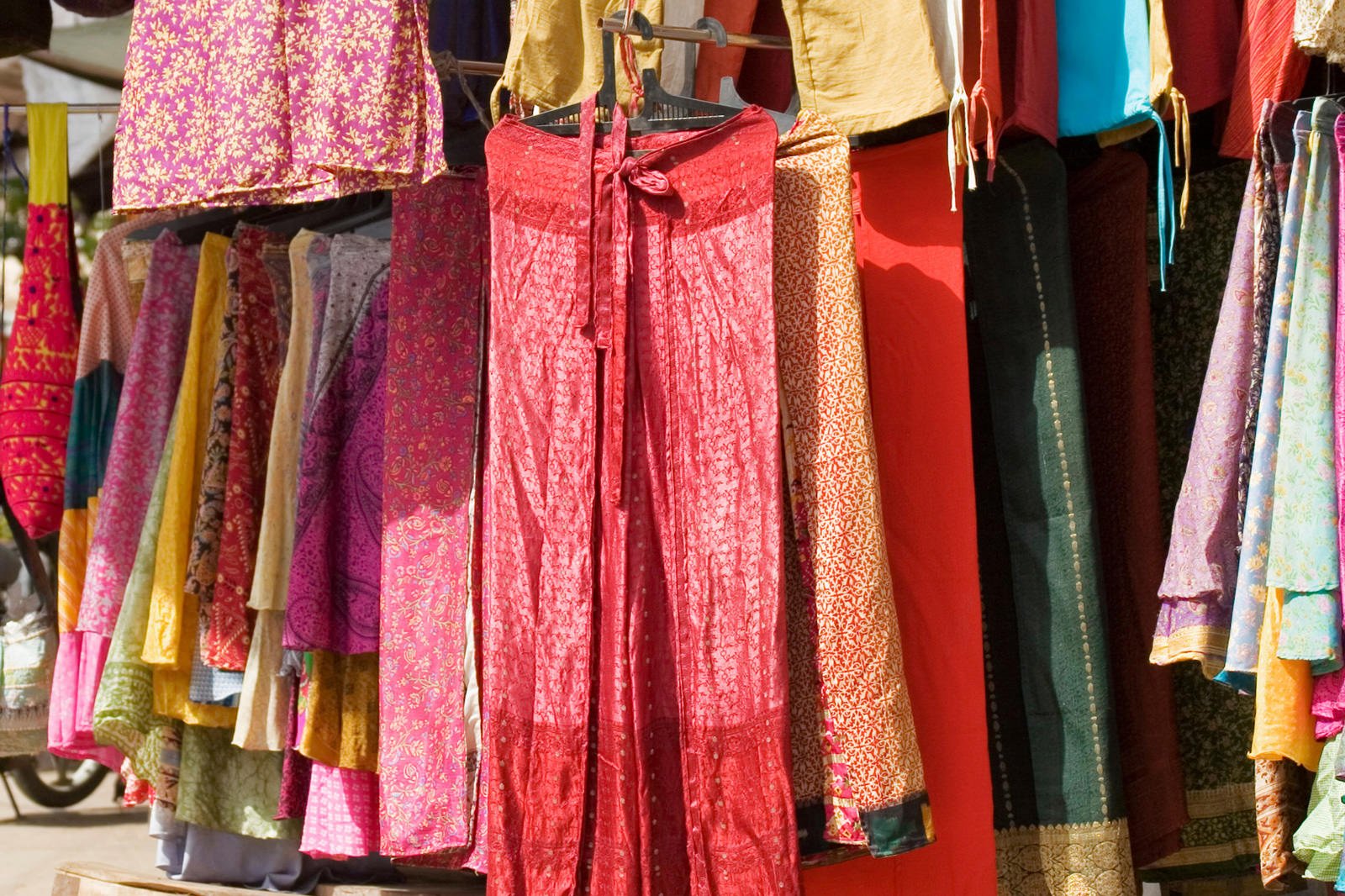 Bargain hunt at Mercadillo Ambulante
Conil's street-shopping experience
Conil's main street market, Mercadillo Ambulante, opens every Friday with a lively assortment of stalls in the vast parking space off Avenida de la Musica. The goods you'll see at this typical weekly market range from fashion and home linens to fresh farm wares such as nuts, jams, and pickles. There are also vendors that deal with a variety of art items and antiques. For a market scene solely specialising in arts, you can check out the Mercado del Arte in downtown, on Calle Pascual Junquera.
Location: Av. de la Musica, 1X, 11140 Conil de la Frontera, Cadiz, Spain
Open: Fridays from 9am to 3pm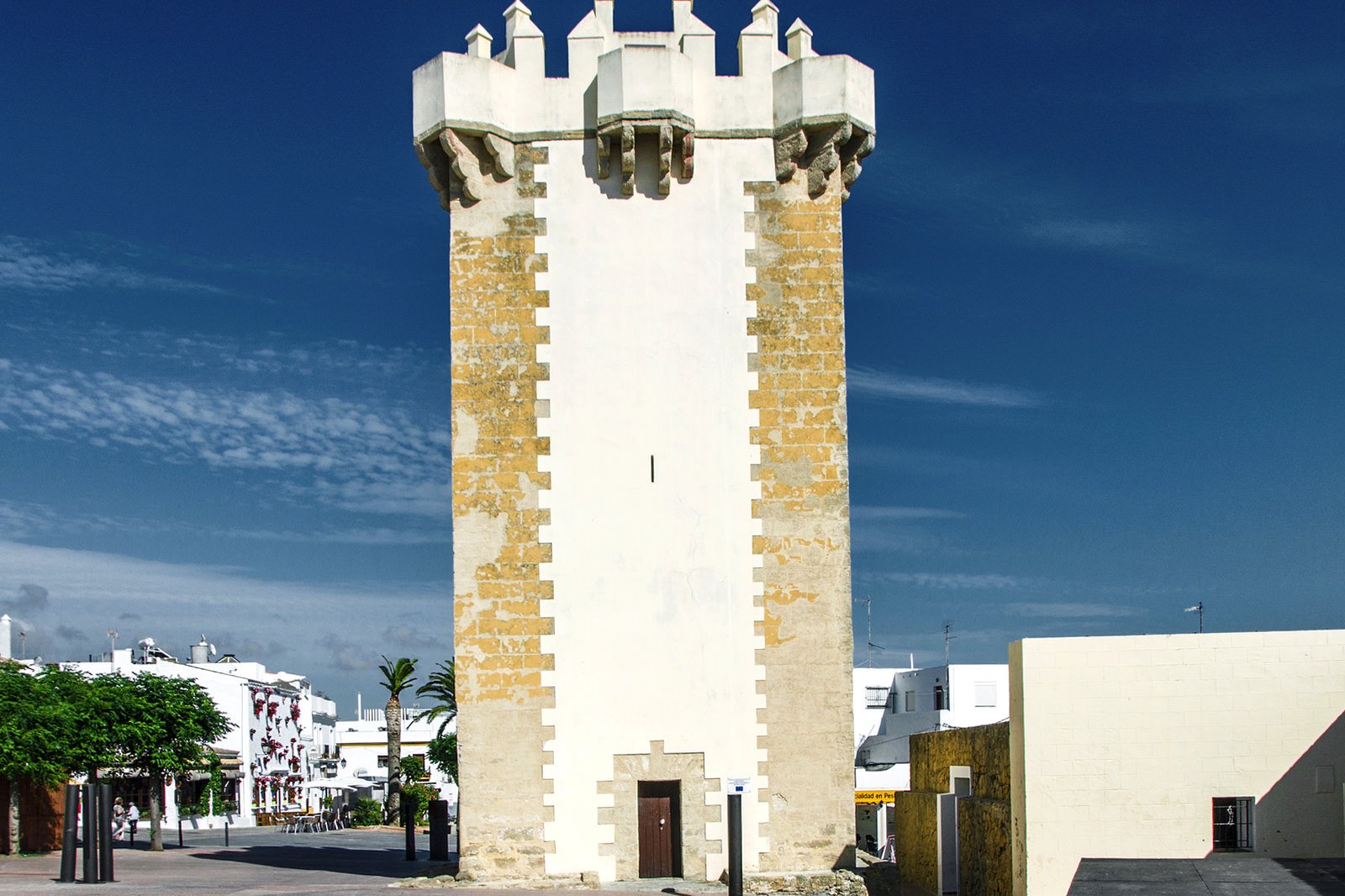 Climb up Torre de Guzman
For great views over Conil's townscape
Capture stunning views from the top of this historical tower in the heart of Conil's old town. You might have seen taller towers during your trips in Spain, but Torre de Guzman is a 15th-century tower that provides the highest point over the low-rise townscape of Conil. Other similar towers include the Castilnovo overlooking the beach of the same name. A narrow staircase leads you up to the breezy top of the tower, and it can be a surprisingly cool and pleasant way to escape the heat in summer.
Location: Av. de la Playa, 8, 11140 Conil de la Frontera, Cadiz, Spain
Open: Wednesday – Sunday from 10am to 2pm and from 6pm to 9pm (closed on Mondays)
Phone: +34 956 440 501
photo by rey perezoso (CC BY-SA 2.0) modified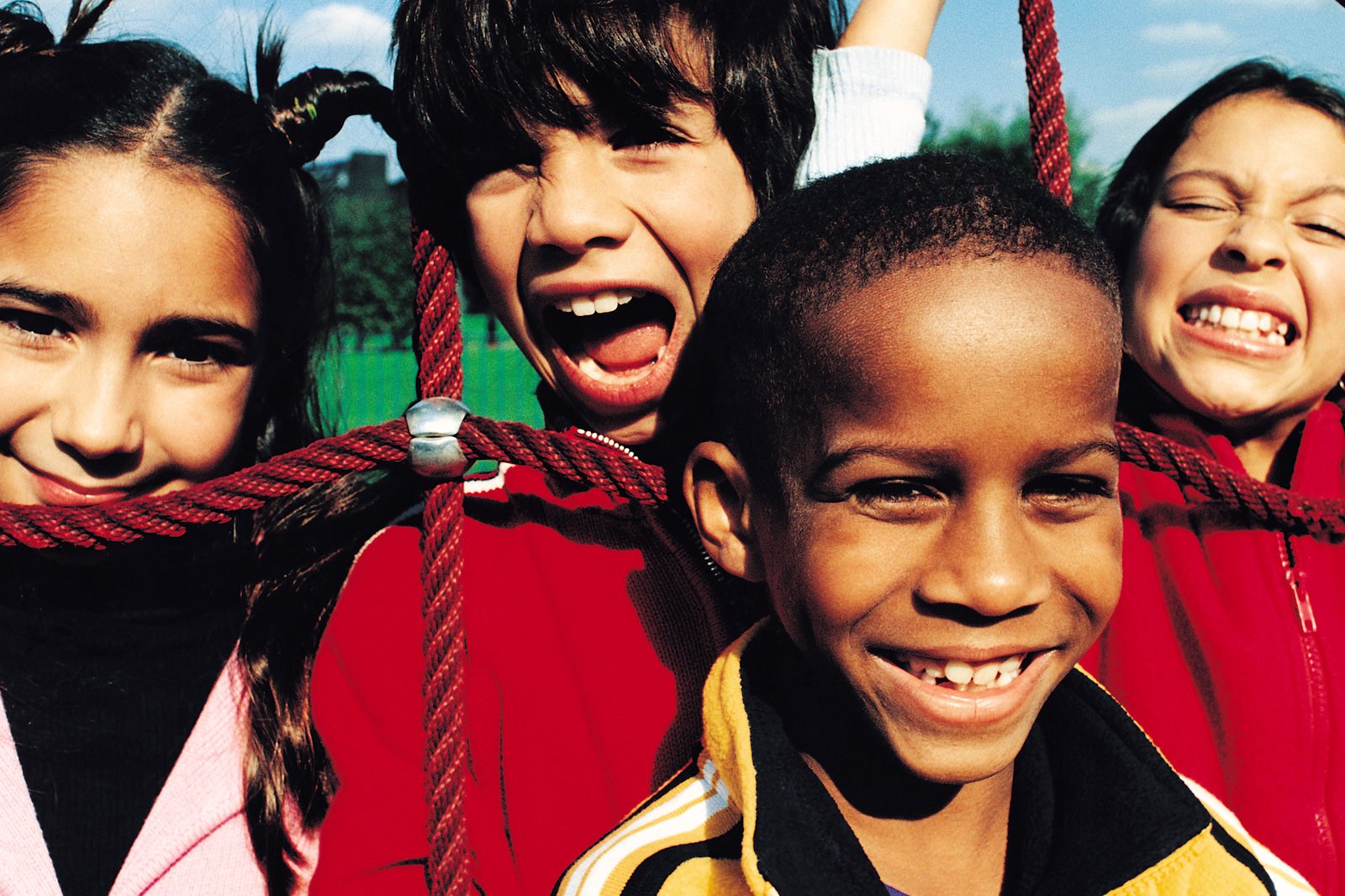 Take the kids to Entre Ramas Aventura
Zoom through the treetops along ziplines
A fun alternative to the beach, this treetop adventure park is great for the whole family. Entre Ramas Aventura (roughly translating to "adventure park in the trees") features a series of different circuits that are each suited to different age levels. The kiddie Verde 1 circuit has low-rise obstacles such as wobbly suspension bridges and tree trunk walks. Mum and dad can challenge the medium-level Cabana circuits with Tibetan bridges and ziplines, while thrill-seekers can go for the Black circuit, where a giant zipline serves as the final reward. Tickets are from €13.
Location: Carretera Urb roche, 11149 Conil de la Frontera, Cadiz, Spain
Open: (February – October) daily from 11am to 6pm
Phone: +34 633 698 334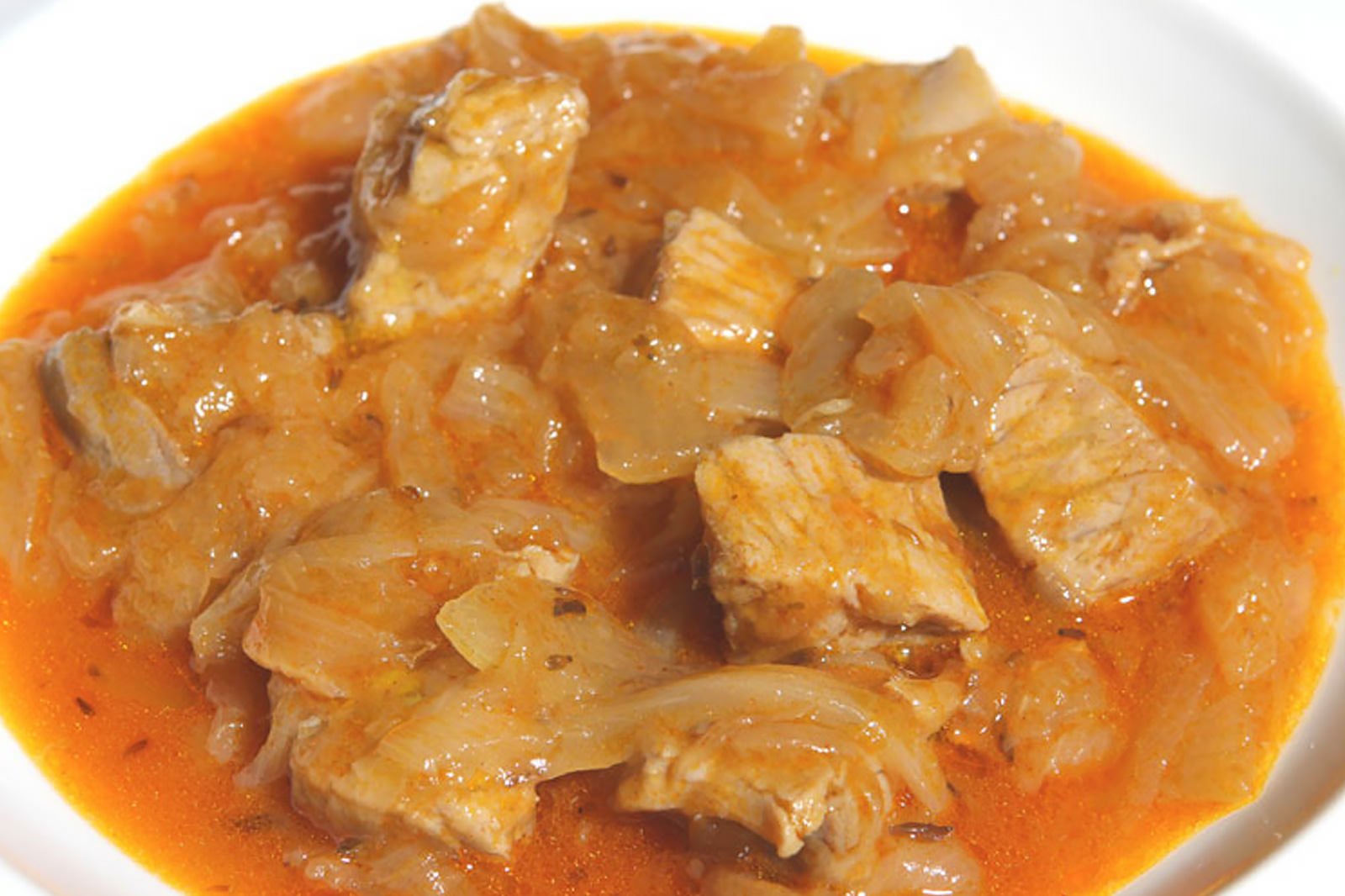 Try atun encebollada
Conil's specialty of the sea
The seaside town of Conil de la Frontera has a strong heritage in tuna fishing. One of the town's specialty tuna preparations is atun encebollado (tuna in caramelised onions). The best version of the dish uses bluefin tuna, with its rich texture and flavour. Among the great places in Conil serving the dish is the Taberna La Strazza on Calle la Virgen. Other noteworthy spots include Bar Sopa on Calle Cadiz, and El Chuleton on Camino Hijuela de Lojo.
Location: Calle la Virgen, 5, 11140 Conil de la Frontera, Cadiz, Spain
Open: Thursday – Sunday from 1pm to 3.30pm and from 9pm to 11pm
Phone: +34 856 158 713
photo by Soledadsanjose (CC BY-SA 3.0) modified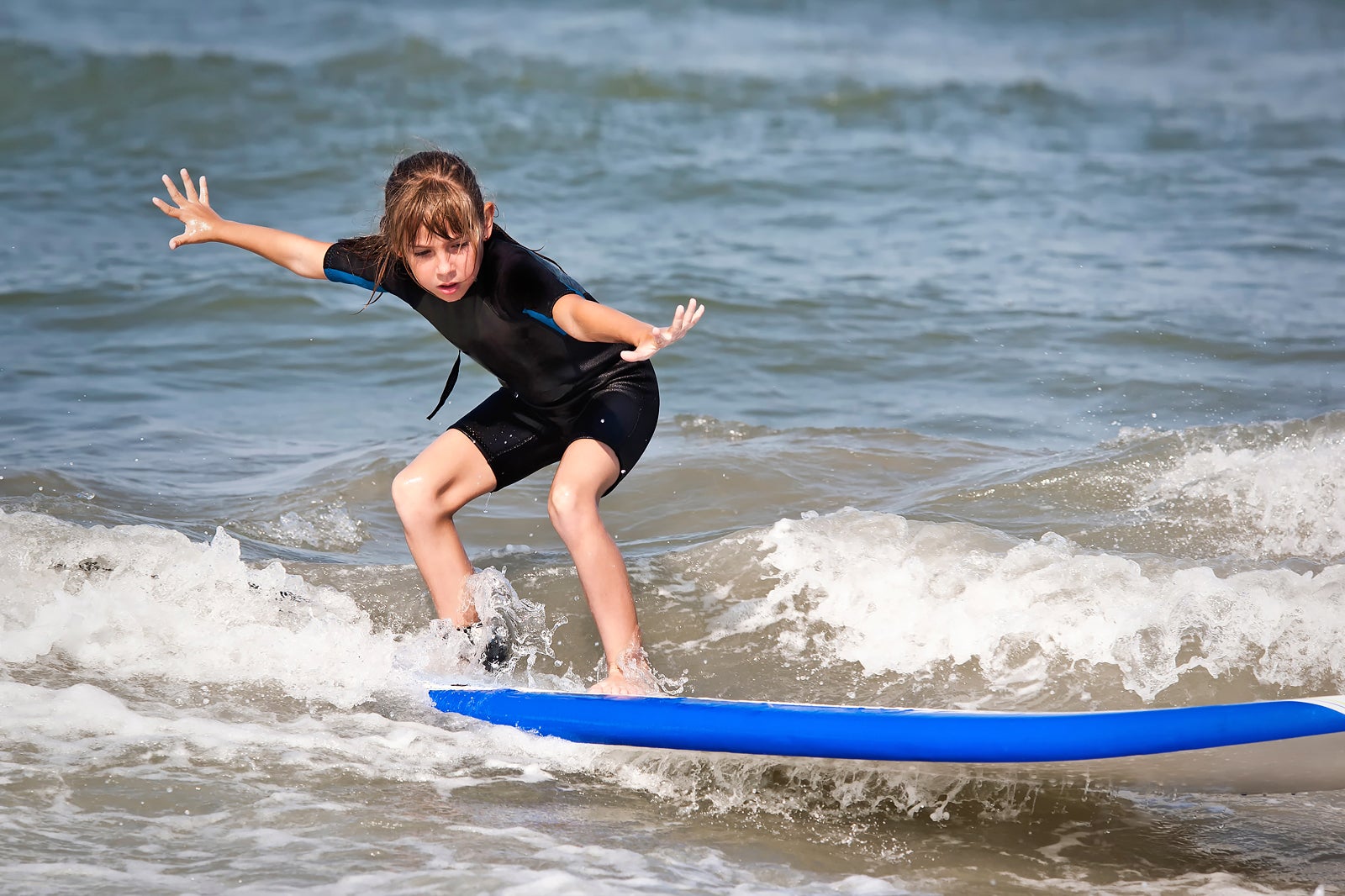 Learn to surf
A better way to enjoy the waves off Conil
If you're new to wave riding, you can learn to surf Conil's waves at the many choices of surf schools along the beaches of Playa de La Fontanilla and Playa de Los Bateles, where you can learn the basics with a foam-lined learner's surfboard. Among the notable surf schools are Oceano Surf School and Trafalgar Surf on Los Bateles, Escuela de Surf Conil on Castilnovo, and the Waterman School Escuela de Surf Conil on the far northern coast of Calle Roche. If the reason for your holiday is surfing, you will find different hotels to choose from in the Trafalgar Surf area.
Location: Calle Pleamar, 2, 11140 Conil de la Frontera, Cadiz, Spain
Open: Daily from 10am to 8pm
Phone: +34 650 703 871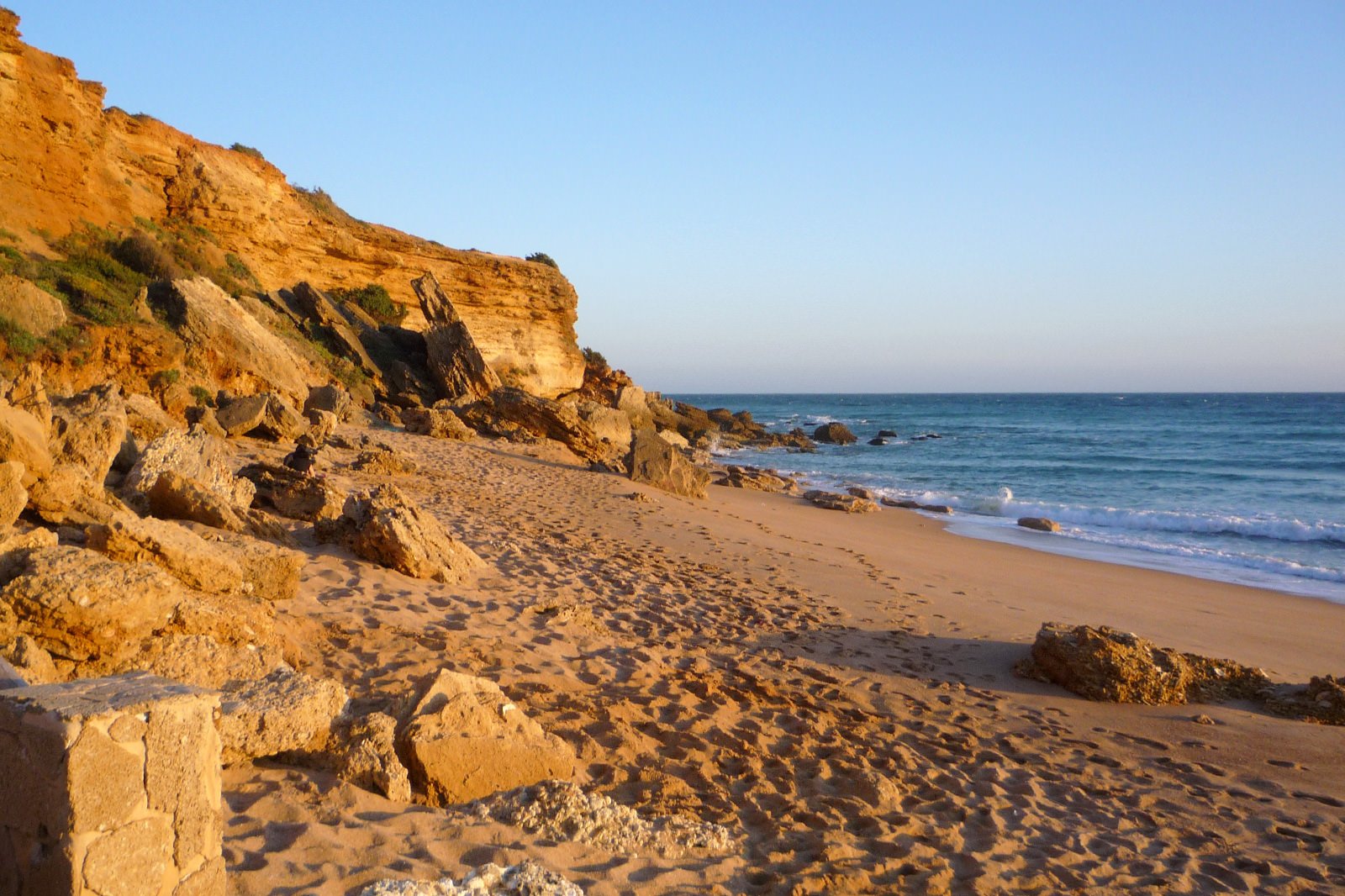 Bike to Calas de Roche
Spectacular coastal trails to conquer
With scenic trails running along most of the length of Conil's coastline, you have plenty of chances to enjoy the view in an active way. Calas de Roche is a great trail in Conil where you can hike, run, or bike along, accompanied by the spectacular seascapes. The Calas is a rugged cove area, complete with sandy sections sheltered from the winds by crimson cliffs. There are also some unique inland features to explore in between your bike trips here. These include a lighthouse, a small harbour, as well as some cornfields. Along Cape Roche you will find numerous hotels, such as those located in Cala del Frailecillo.
Location: Av. Mónaco, 6I, 11149 Conil de la Frontera, Cádiz, Spain
photo by Martin Haisch (CC BY-SA 2.0) modified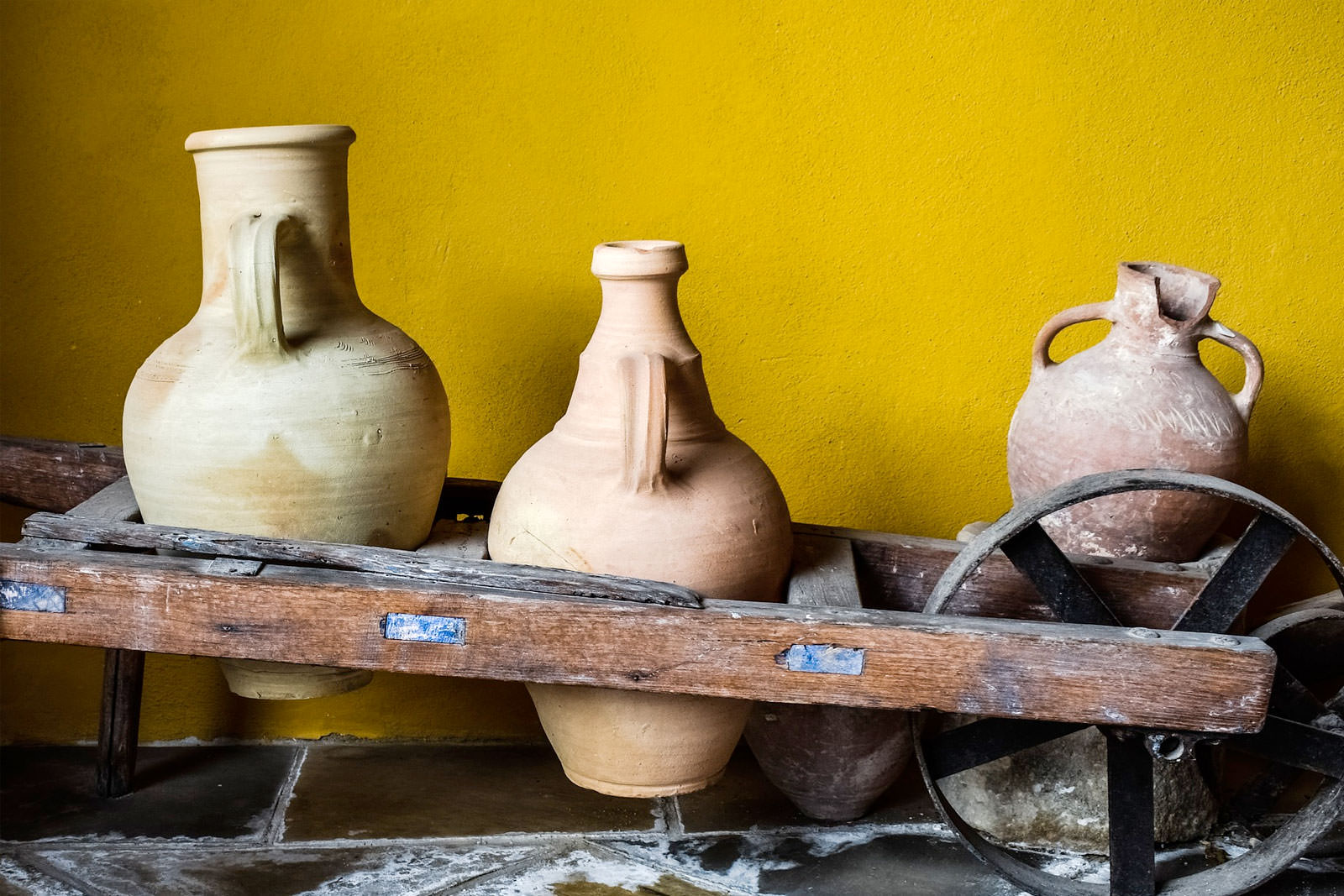 Learn history at Museo Raíces Conilenas
Local relics of the seaside town
This quaint ethnographic museum in downtown Conil may be small, but it's worth looking at if you're interested in learning a bit more about the town's history. Interesting artifacts include old household furniture and farming tools used by villagers from long ago, as well as fishing tools and old pictures of fishermen going about their daily routines. The museum's exhibits are spread out among 4 main sections, and entry is free. Another small museum dedicated to Conil's tuna fishing heritage is La Chanca, on Calle Aladraba near the seaside.
Location: Plaza de Sta. Catalina, 9, 11140 Conil de la Frontera, Cadiz, Spain
Open: Tuesday – Friday from 10am to 2pm and from 5.30pm to 8.30pm
Phone: +34 956 440 501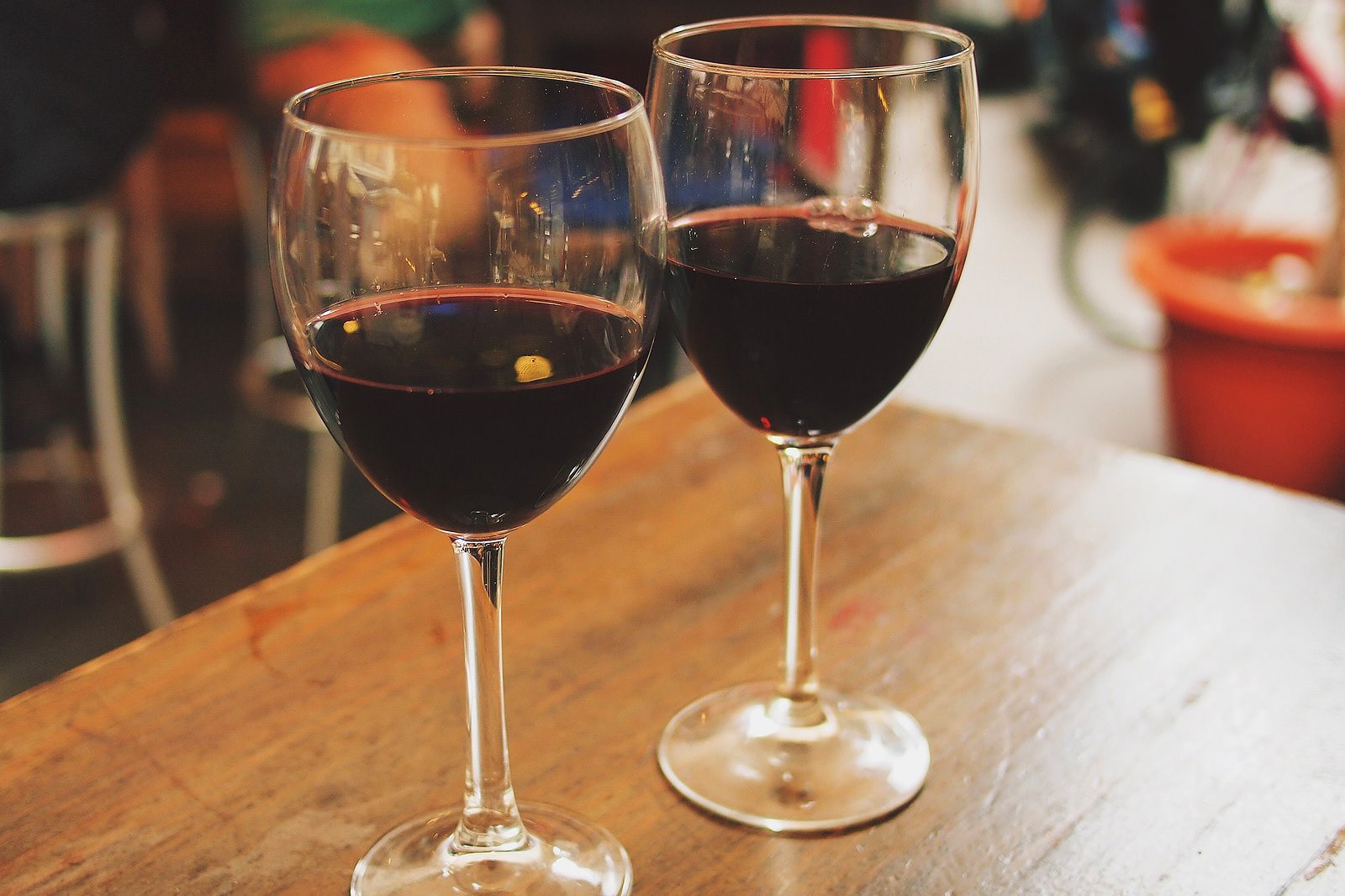 End the day bar-hopping around Plaza de Espana
A small public square surrounded by many bars
This tiny square at the heart of Conil de la Frontera is the go-to spot in town if you're looking for a bit of nightlife. Piano bars such as the La Casa Inquieta and pubs like Feduchy are all a short walk from the plaza. Plaza de Espana also serves as a great starting point for heading down to the more lively clubbing scenes along Avenida Andalucia, with the likes of Discoteca Icaro featuring resident DJs playing regularly.
Location: Plaza de Espana, 16, 11140 Conil de la Frontera, Cadiz, Spain
Open: most bars open from 5pm until late