6 Best Shopping in Tainan
Where to Shop and What to Buy in Tainan
Tainan is an interesting shopping destination, offering both budget night markets and high-end department stores within a relatively small area. There are a few main streets and areas that are heaven for shoppers, where practically every building is a store or mall. The few buildings that aren't retail outlets are usually restaurant, where you can rest and recover between shopping sprees.
Each area has its own distinctive feel, ranging from local to luxury, traditional to contemporary, and quaint to classy. You perhaps won't find the range of wares you would in Taipei, and even the swankiest of Tainan's malls isn't a patch on the offerings in the north of the island, but the prices are usually significantly lower.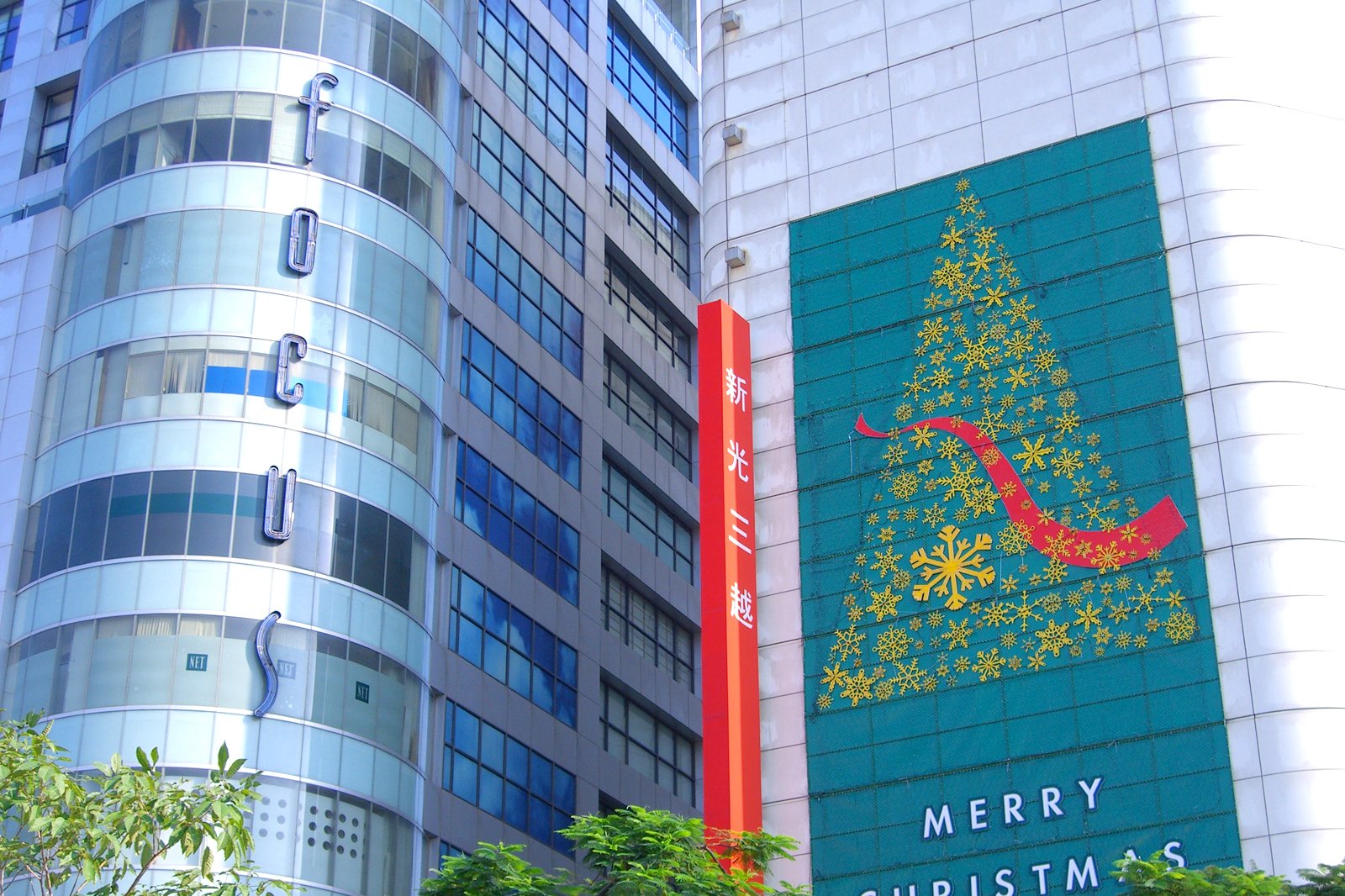 Central Shopping District
The Central Shopping District spans a small area close to the train station and is packed with stores and malls. Based around Weiman Street and Section 2 of Minzu Road, it contains large complexes like the Shin Kong Mitsukoshi Tainan Zhongshan Store as well as countless small shops. There are plenty of electronics stores, fashion outlets, sports shops and even a large amount of niche interest establishments.
You will also find an open food market known as the South Park in this area. Live musical performances are often held here at the weekends. Alternatively, if you want a proper restaurant, you'll find plenty of choice along Minzu Road.
Location: Weimin Street, West Central District Tainan City, Taiwan 700
photo by KevinAction (CC BY-SA 3.0) modified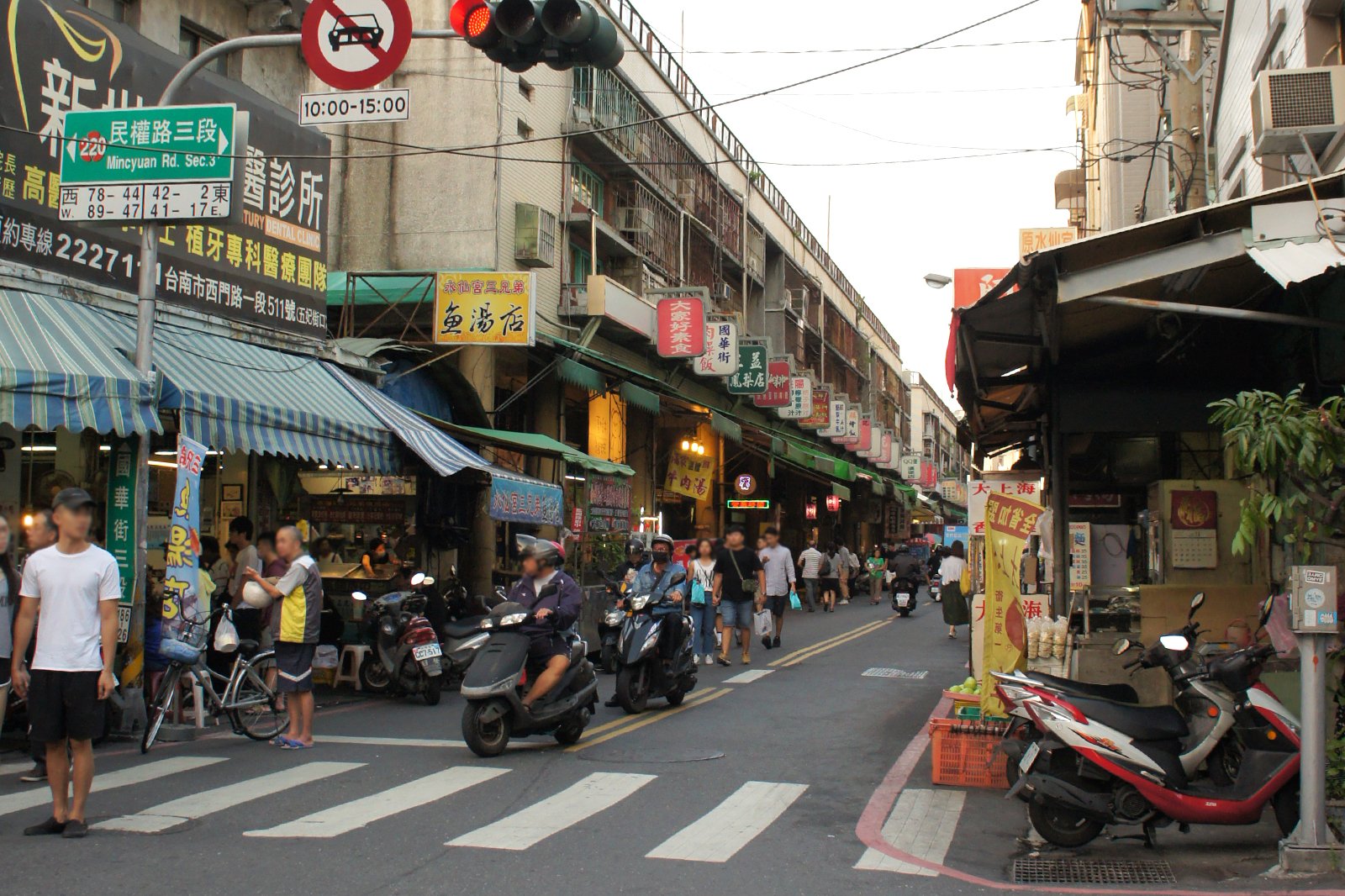 If you're looking for a really local shopping experience in Tainan, you'll find it on Guohua Street. It's quite a narrow lane, and isn't pedestrianised, so expect to be dodging trucks and motorbikes as you go between shops. However, it's worth it for the savings as the prices are generally much better than you'll find in any of the big department stores.
Being very much a local place, language might be a barrier if you can't read or speak Chinese. Be ready to communicate mostly by gesturing. However, by doing so, you'll get great deals on street snacks, souvenirs and clothes, among other things.
Location: Guohua Street, Yongkang District Tainan City, Taiwan 710
Couples
Families
Shoppers
Budget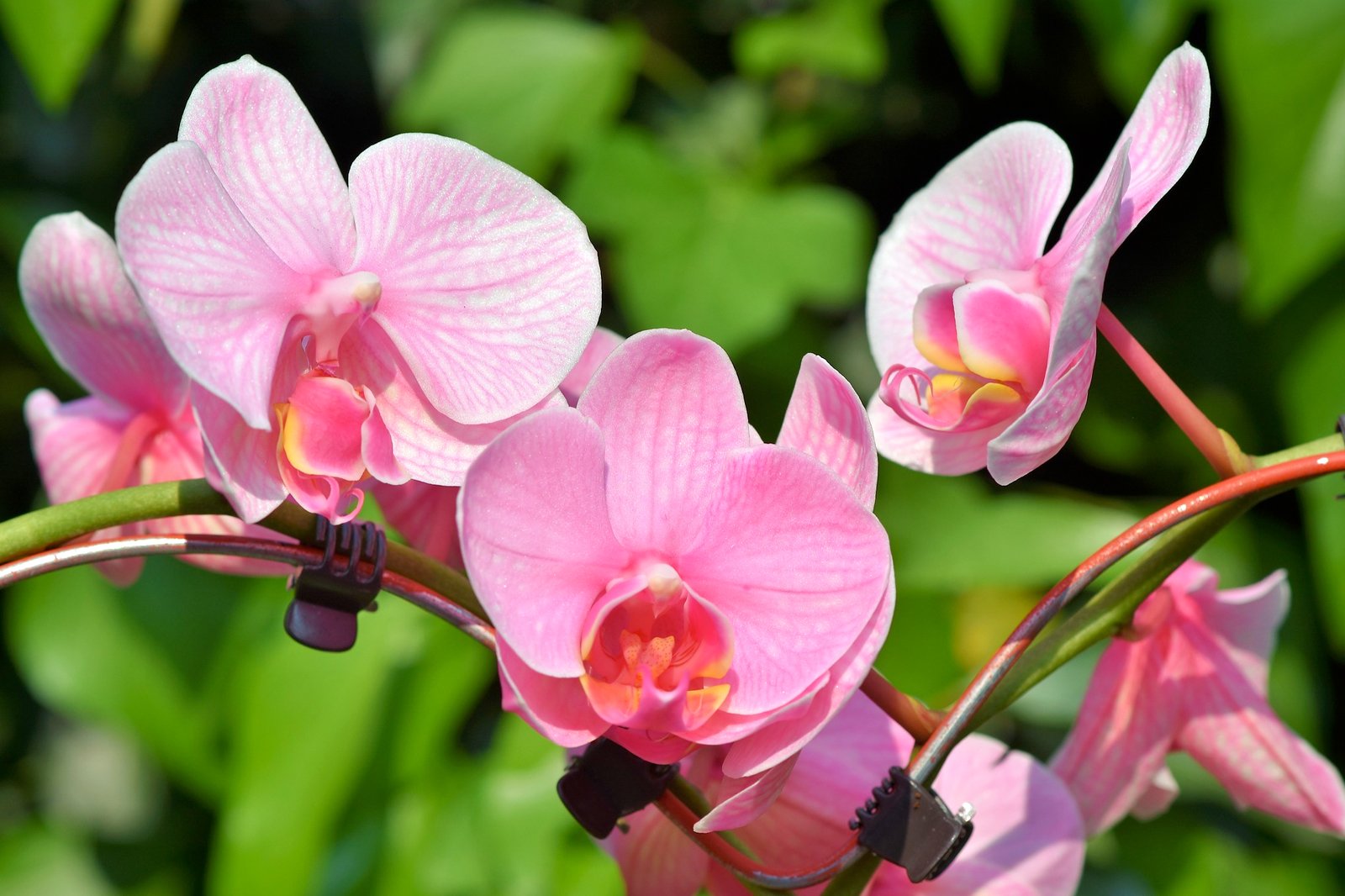 Nanmen Weekend Flower Market
Even if you don't want to buy any plants, the Nanmen Weekend Flower Market is well worth a visit. Aside from the concentration of fresh air and floral aromas it provides, the colourful orchids, interesting bonsai trees and plentiful supply of other plants and flowers can give you some inspiration for your own garden at home. There are also some stalls selling stuff that has nothing to do with gardening, so you might find some interesting souvenirs there, too. It's a popular place with locals and visitors alike.
Location: No. 28, Nanmen Road, West Central District, Tainan City, Taiwan 700
Open: Saturday–Sunday from 8.30am to 6.30pm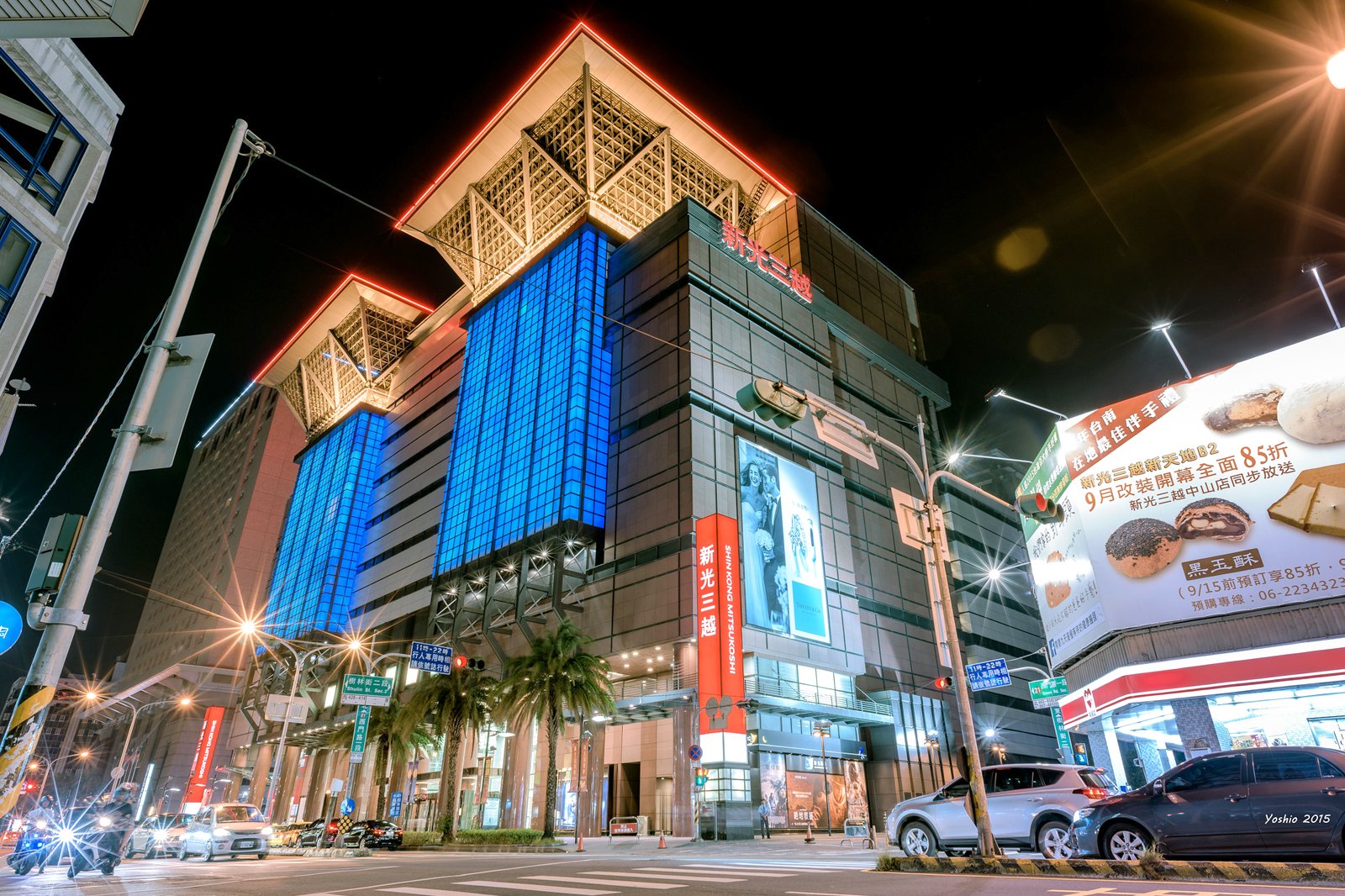 Shinkong Mitsukoshi Department Store – New Life Square
Shinkong Mitsukoshi is the biggest department store in the city. It has 9 spacious floors containing cosmetics and fashion accessories, clothes, international boutiques, children's wear, casual wear, and home décor. Up on 5th floor, you'll find a cineplex, but be wary of going to the bathrooms here as they're said to be haunted!
The mall also has a fabulous food emporium. However, the prices of clothes and food are all quite high here, especially when compared to the markets and shopping areas around Tainan.
Location: No. 658, Section 1, Ximen Rd, East District, Tainan City, Taiwan 700
Open: Daily from 11am to 10pm
Phone: +886 (0)6 303 0999
photo by 大雄 汪 (CC BY-SA 2.0) modified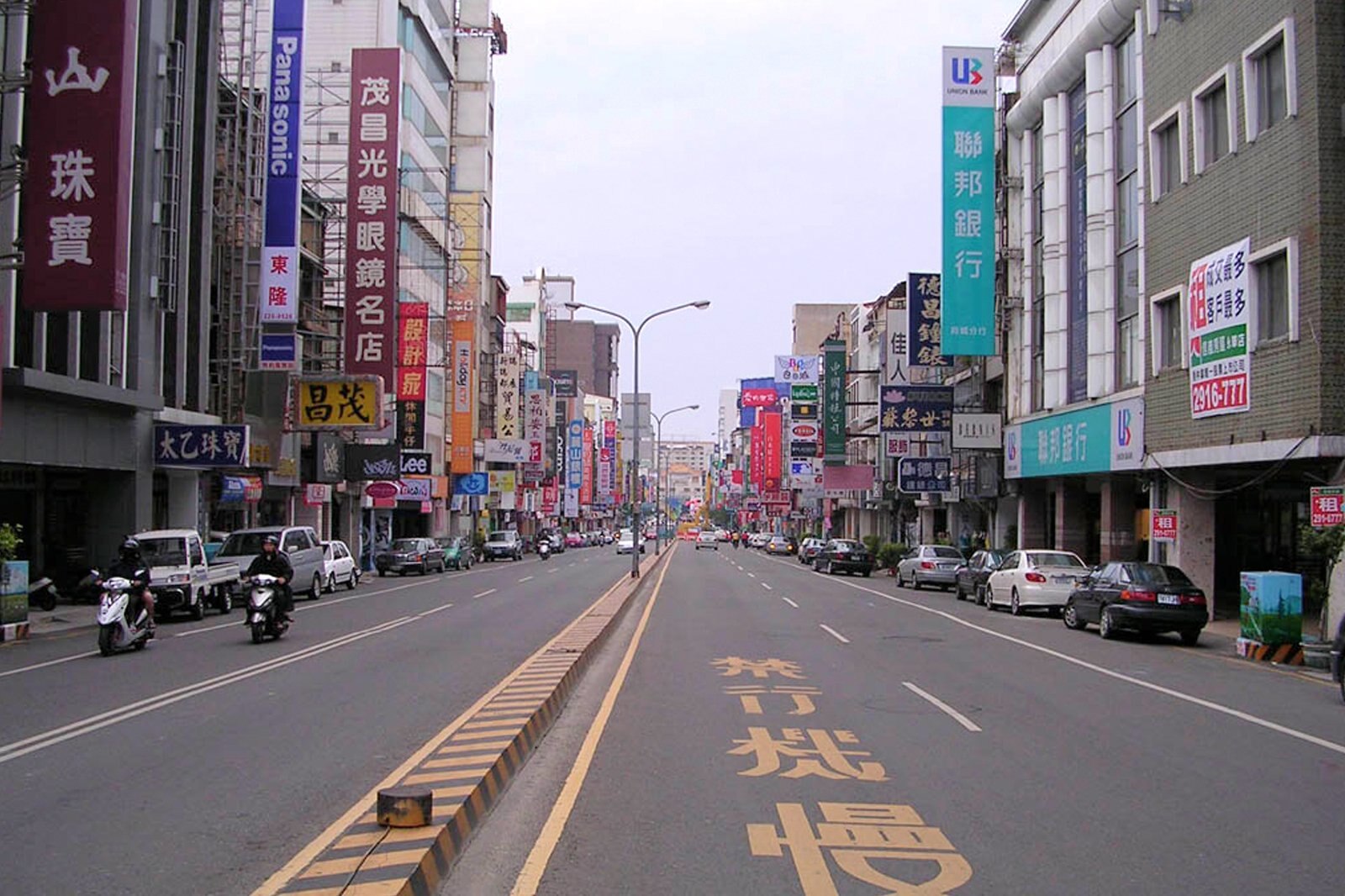 If you want to shop for clothes in Tainan then head to Zhongzheng Road. The shops here get busy and crowded, especially at night. Expect mostly mid-ranged brands and goods, with stores like Hang Ten and Easy Shop being very popular. Many of the stores in this area are independent, which is great if you're looking for something a bit different. As a bonus, Zhongzheng Road is famous for its jewellery outlets.
The street was one of the first built by the Japanese when they occupied the island in 1895, so many of the buildings have an interesting historical look to them.
Location: Zhongzheng Road, West Central District Tainan City, Taiwan 700
photo by Ikaridon (CC BY-SA 2.5) modified
Fuzhong Street is dotted with teahouses, eateries, and cafés. The tree-lined pedestrian street gets very busy and lively on holidays and weekends. It's quieter on weekdays, though you'll have to dodge between young couples doing their wedding photo shoot in the charming setting.
The street starts from by the Confucian Temple, through the historical Pan Gao Stone Arch. It's an excellent place to find traditional souvenirs.
Location: Fuzhong Street, West Central District Tainan City, Taiwan 700
Couples
Families
Shoppers
Budget